Vegan Raspberry Tiramisu Cupcakes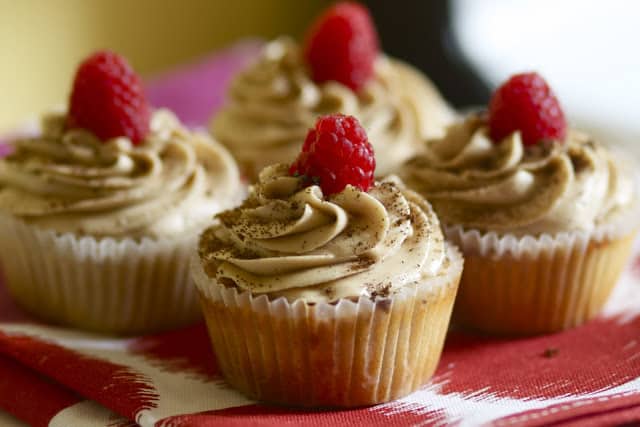 There is a secret about these cupcakes guys, they are vegan! Would you believe it? You especially wouldn't believe it if you tried them, because they were delicious, rich, and full of flavor. I was very hesitant to try vegan baking, but my friend Emily had asked me to make her something and I can't say no to a baking request! I had also watched the "Cupcake Wars" episode where Chef Chloe wins with this recipe, and had since thought they sounded amazing! It was a great choice as Emily and the rest of my friends
loved
them!
Turns out, though Vegan baking is a whole new science, it wasn't as hard as I have imagined. And with a great recipe like this- it is probably hard to mess it up. The cake consists of a vanilla cupcake filled with an espresso/amaretto "soaking liquid," some raspberry sauce and then topped with a fluffy Espresso frosting. If Vegan isn't your thing- this could easily be made with a regular vanilla cupcake.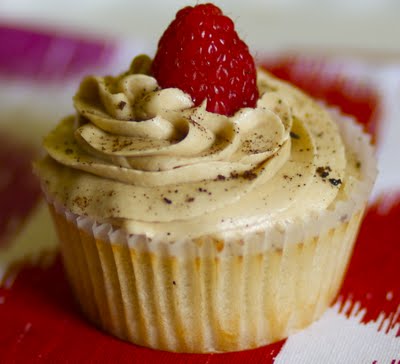 Notes: When baking- mine took a little longer than Chloe suggested. Keep an eye on them and bake for 5 minute extra increments. Also- Dark rum could easily be used for Amaretto if you don't have it or want to buy a large bottle. Enjoy!
Vegan Raspberry Tiramisu Cupcakes
Ingredients
*Cupcakes
1 1/2 cup flour
1 cup sugar
1 tsp. baking soda
1/2 tsp. salt
1 cup coconut milk
1/2 cup canola oil
2 tsp. pure vanilla extract
2 tbsp. apple cider vinegar
*Soaking Liquid
1/3 cup amaretto, or dark rum.
1 tbsp. instant espresso powder
*Raspberry Sauce
1 cup raspberries, fresh or frozen.
1/2 cup agave or sugar
1 tsp. pure vanilla extract
1 tsp. lemon juice
1/8 tsp. cinnamon
dash of salt.
*Frosting
1 tbsp. instant espresso powder., I used Medaglia D'Oro brand. If you can't find espresso powder, you can use finely ground coffee!
2 tbsp. amaretto liquor
1 tbsp. pure vanilla
1/2 cup non hydrogenated shortening., I used Spectrum Organics brand, but feel free to use any brand you find at your local market. Non- hydrogenated margarine and refined coconut oil could also work.
4 cups confectioners sugar
2 tbsp water
*Garnish, optional
12 fresh raspberries
Sprinkling of espresso powder
Instructions
Cupcakes:
Preheat oven to 350. Sift or whisk together flour, sugar, baking soda and salt into a bowl. In a separate bowl, mix the coconut milk, oil, vanilla and vinegar. Combine the wet and dry mixtures and whisk until thoroughly mixed. Distribute batter into lined cupcake baking pan, and bake for 15-20 minutes.
Soaking Liquid:
Combine amaretto and espresso powder and set aside.
Raspberry Sauce:
In a small saucepan, cook raspberries and agave on medium heat until raspberries wilt down. Let simmer on low for 5 minutes until the mixture becomes a pourable consistency. Remove pot from heat and mix in vanilla, lemon juice, cinnamon and salt. Taste and adjust sweetness by adding more sugar of needed. Let cool in refrigerator.
Frosting:
Combine espresso powder, amaretto, and vanilla in a small bowl and mix or swirl bowl until espresso has dissolved. (about one minute.) Beat shortening in a large bowl with an electric mixer for about one minute and then gradually add confectioner's sugar. Add the expresso mixture to the frosting a little at a time as you beat it. You may not want to add ALL the espresso mixture depending on the climate and how the frosting looks. Once it becomes desirable consistency, you can stop adding it. If you dump it in all at once it may become runny. If it is too dry (mine was almost crumbly,) add 1 tablespoon of water at a time until desired buttercream consistency is achieved. I beat mine on high for about 5 minutes, scraping down the sides with a spatula often Pipe or frost with a knife.
Assembly:
Using a spoon or knife, cut out a small hole form the top of each cupcake (scoop out about 1 tablespoon of cake) and discard. In the hold of the cupcake, layer approximately 1 tsp of soaking liquid, 1 tbsp of raspberry sauce, and piped frosting on top. Garnish with a raspberry and a sprinkle of espresso powder. Enjoy!
Nutrition Information:
Serving Size:

1 grams
Amount Per Serving:
Unsaturated Fat:

0g