What Motherhood Feels Like. (honestly)
Here I am- 2 months exactly since little Hugo was born and turned my world around. It really goes by much much too fast! 2 months seems like an eternity and yet I feel like I just held him for the first time. That saying, "Long Days, Short Years" really is true. Overall, I feel pretty good about how things are going. Every single day is easier than the one before, and I finally think he's old enough for me to notice patterns that actually stick.
In the beginning we'd have something like 3 days in a row where he took a nap at a certain time and I'd think I "got him" you know? "Hugo always takes a nap at 3…" and then just like that, the next day, everything would change, he'd not take hardly any naps and I'd be flustered and confused.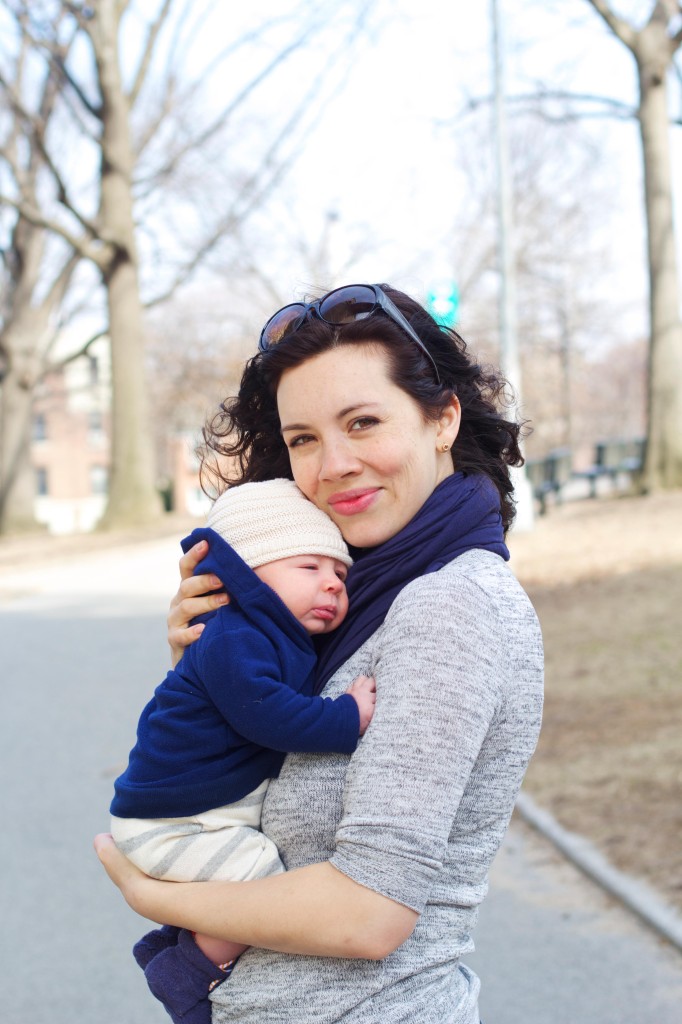 It seems like babies change and grow so much that as soon as you master one "problem," they go through a different phase of development and there's a whole new issue!
I had days in the early weeks when I was all alone and the poor thing was screaming bloody murder and I just didn't know why. He was fed, dry, burped and had just woken up from a long nap. I couldn't for the life of me understand why why why he was crying!? It's infuriating and frustrating and makes you want to punch a wall. You want so badly for your sweet baby to be happy and when you've done everything in your power to soothe them and nothing works, it sure is tough.
It was around that time I discovered the vaccum cleaner. (Thanks Mom!) Man oh man was that a game changer. All I had to do was turn the sucker on and the crying stopped. Instantly. Something about the deep loud white noise and vibrations was just what the doctor ordered and for 2 weeks the vacuum was almost always on.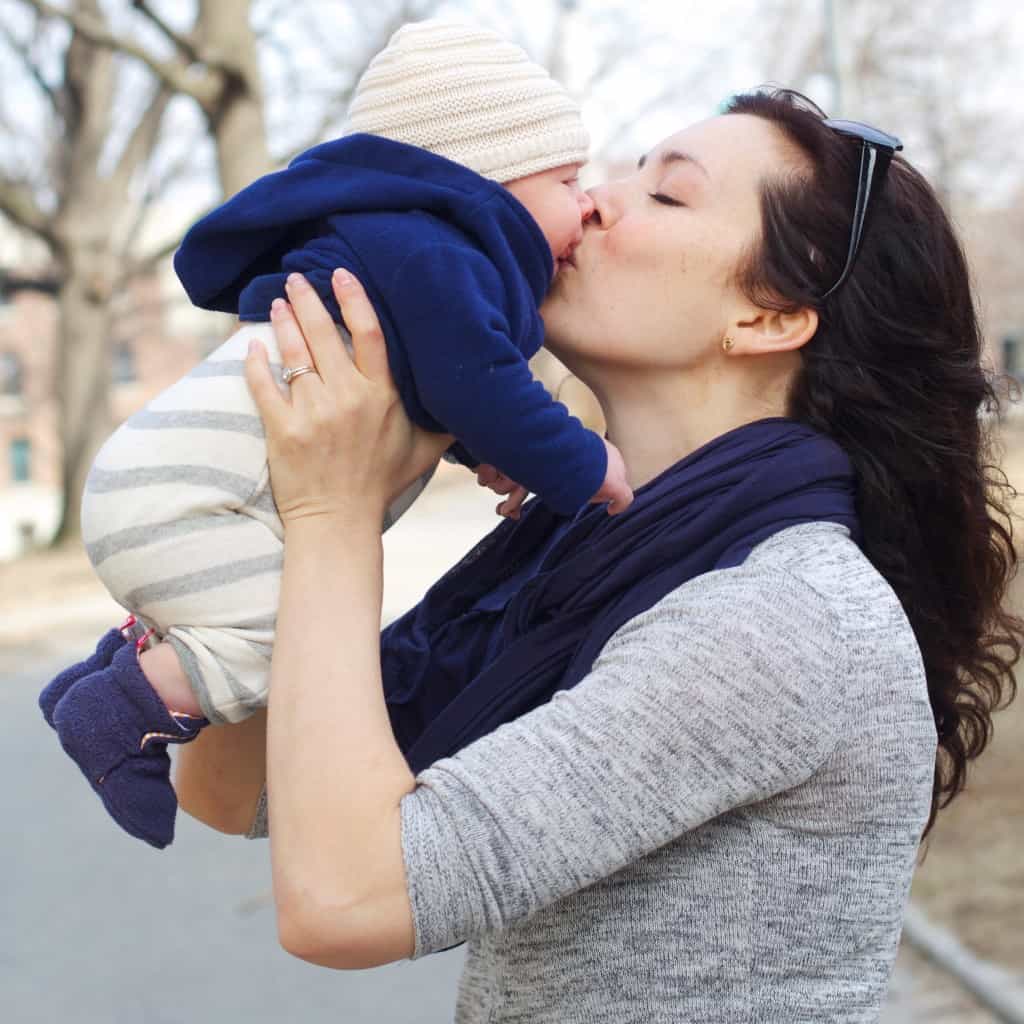 Then that phase ended and we're onto something else. See what I mean?
Another thing is outings. I'm a girl who loves being out and about. Walking around the city, exploring my neighborhood, running errands- all of it. So it's not much of a surprise that I was eager to get out with Hugo when I had recovered enough. Short stroller rides around the neighborhood then turned into braver excursions. An example is on my birthday when Andy and I took the stroller with us into the city to walk around the East Village and have a special lunch. (This ultimately ended in disaster with each of us taking turns bouncing a screaming baby outside while the other ate.) Then other days- he's great and sleeps the whole time. It's so hard to predict what will happen. My biggest fear is him having a hunger meltdown (or worse a poopy blow-out) when I'm somewhere where I just can't take care of that need, (like on the subway.) I found that if I bring an oz. or two of pumped milk with me I'll be much more relaxed in case hunger strikes when I least expect it, (and of course those are the times I never need it!)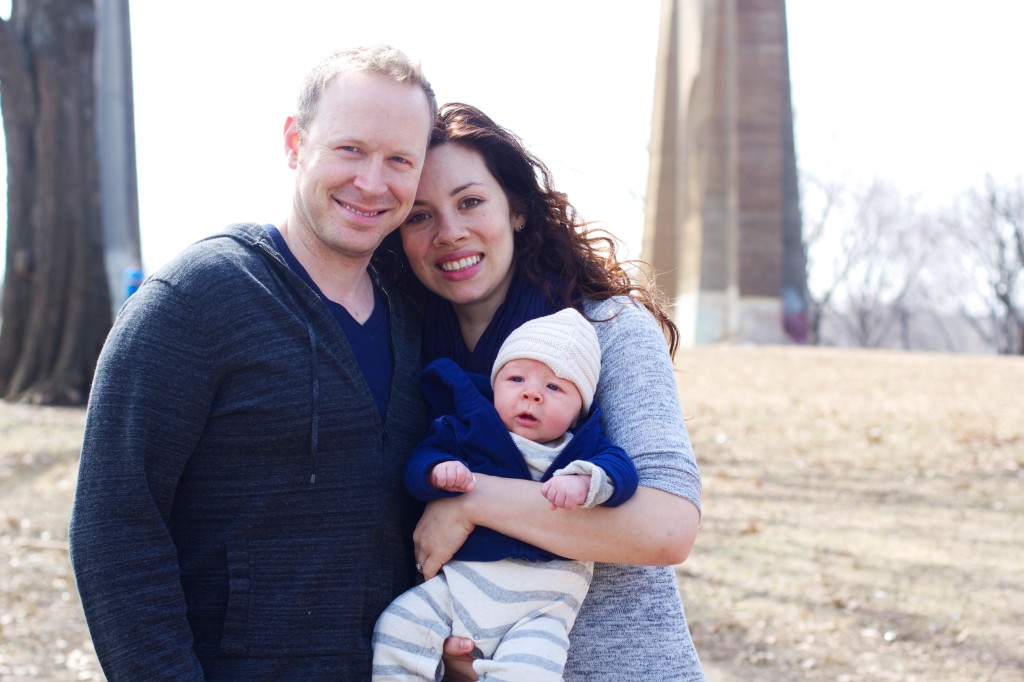 Luckily I've found great activities like baby/mama yoga and the "Crybaby Matinee" (a movie designated for mamas and babies- crying is allowed and there's even a changing station,) that make me feel at ease about nursing in public and not worrying if he needs to be changed.
Every day is different, every day is better. Sometimes when I'm in the recliner nursing- with no water in my glass, the remote on the other side of the room and no food in arm's reach- I feel a bit trapped. Literally. It's times like those I feel frustrated that I can't take care of my own needs, knowing that even though he's asleep, if I try to put him down he *may* wake up- and is it worth it? Even if I'm thirsty, hungry and needing to pee, I can still watch TV and browse facebook on my phone for a few minutes!
Anyway- that is my scattered train of though regarding this early part of motherhood! I really do love it though… I love that baby to the moon and back, and I try so hard to enjoy each moment when he is so little. Even in the middle of the night, through my exhausted, zombie-like glaze, I try to savor him being so needy of me and sweet. I know these moments are all fleeting and I'll miss them soon.
Oh, and it's true that I will likely never really get a good night sleep again. The truth is though, I've just about forgotten what restful sleep even feels like. Yes- I'm beyond exhausted most of the time and some nights poor babe will only actually sleep on my chest, but I try my best to cherish our special Mama/baby moments! :)