White Chocolate Gingerbread Blondies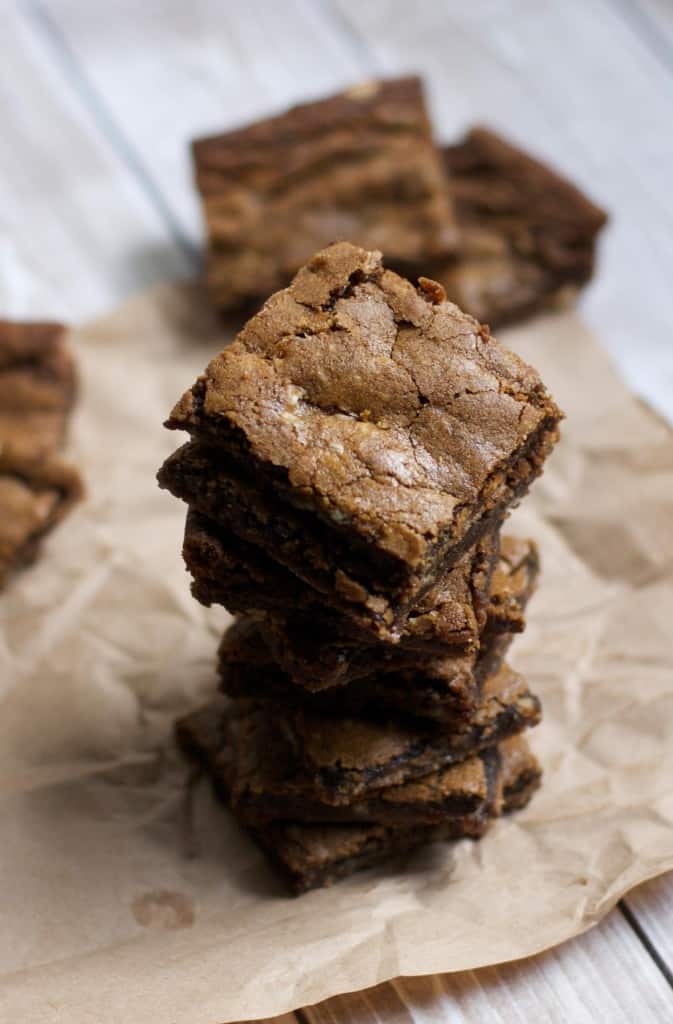 I hope you all had a fabulous Thanksgiving weekend! Mine was filled with an large amount of food, fun and family time leaving me totally tuckered out. Maybe it's the whole 32 weeks pregnant thing, or maybe just that I haven't had a good night's sleep in weeks- but I think I may be ready for my long winter's nap right about now. Wouldn't it be nice if humans could hibernate too?
Lucky for me- I made these delicious blondies several weeks ago, which is perfect because I'm just not quite ready to jump back into the kitchen. (Making about 10 pies in 3 weeks can do that to a girl.) I am always so bad at holding out on delicious treats that I've made, but these are so worth the wait.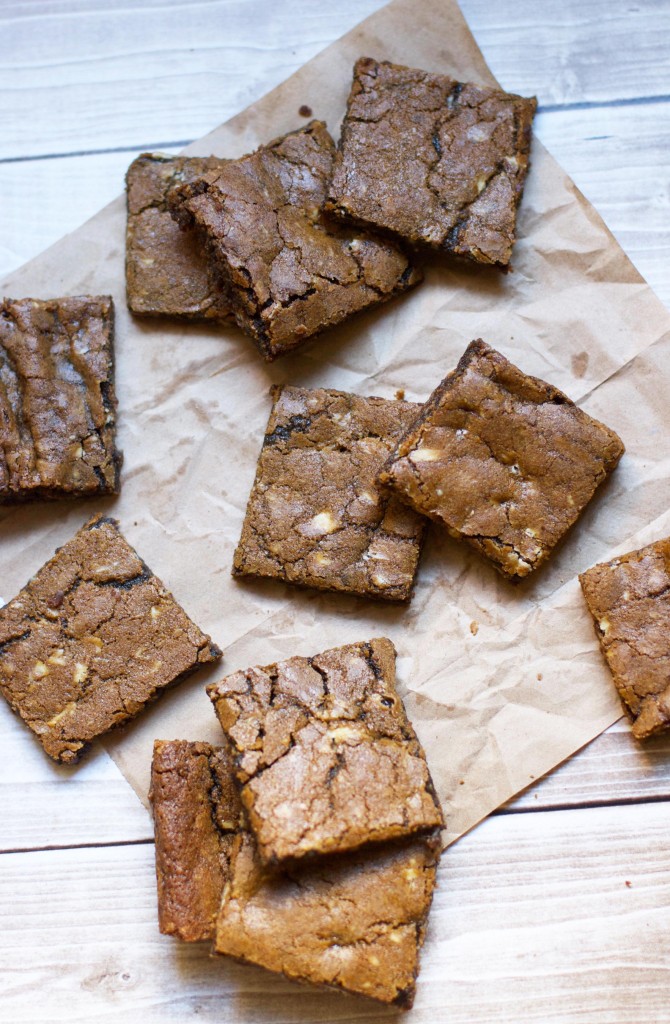 To me, December marks the beginning of some of my favorite winter flavors included spicy gingerbread. You should plan to see several ginger-y recipes in the coming weeks, starting with this gem. These blondies (which look more like brownies,) have everything you'd want in a bar, crisp edges, chewy centers, and tons of delicious flavor. The recipe makes a huge batch which means this is the perfect recipe to make for your next holiday get together or gift-giving baking session. I chopped up the white chocolate pretty fine, but bigger chunks or even chips would work well too.
Hooray for the Holiday season folks! I'm gonna get super excited about it any day now, but first I'm going back to bed. ;)
White Chocolate Gingerbread Blondies
Yield: 48 2-inch blondies
Ingredients
2 3/4 cups plus 1 tablespoon all-purpose flour
1 1/4 teaspoons baking soda
1 1/4 teaspoons salt
1 1/2 teaspoons ground cinnamon
1 1/2 teaspoons ground ginger
1/2 teaspoon ground cloves
2 1/4 sticks unsalted butter, room temperature
1 1/4 cups packed light-brown sugar
1/2 cup plus 2 tablespoons granulated sugar
2 large eggs, plus 1 large egg yolk
1 1/4 teaspoons pure vanilla extract
1/3 cup unsulfured molasses
10 ounces white chocolate, chopped
Instructions
Preheat oven to 350. Line bottom of a 17 x12 rimmed baking sheet* with parchment cut to fit, lightly spray parchment with cooking spray.
Whisk together flour, baking soda, salt, and spices- set aside.
Beat butter and brown and granulated sugars with a mixer on medium-high speed until pale and fluffy. Add eggs and yolk, 1 at a time, beating well after each addition and scraping down sides of bowl as needed. Beat in vanilla and molasses. Reduce speed to low. Slowly add flour mixture, and beat until just combined. Fold in white chocolate chunks.
Spread batter into prepared pan- it may seem tricky as it's a thick batter, but do your best. The batter will spread on it's own while it's baking as well.
Bake until edges are golden, about 25 minutes. Let cool in pan on a wire rack and then cut into squares.
Notes
*I used a half sheet pan and liked the thin and chewy blondies. You could use a smaller pan like a 9x13 but the texture may be a bit different. (You'd also have to bake them for longer.) Recipe adapted from: Martha Stewart
Nutrition Information:
Yield: 48 Serving Size: 1 grams
Amount Per Serving: Unsaturated Fat: 0g