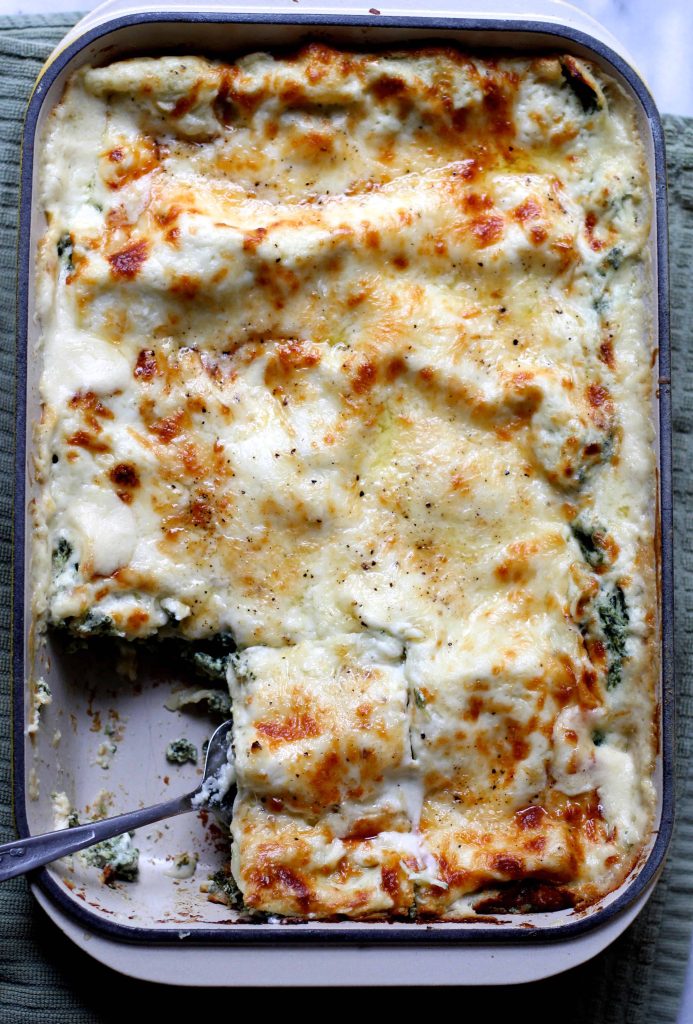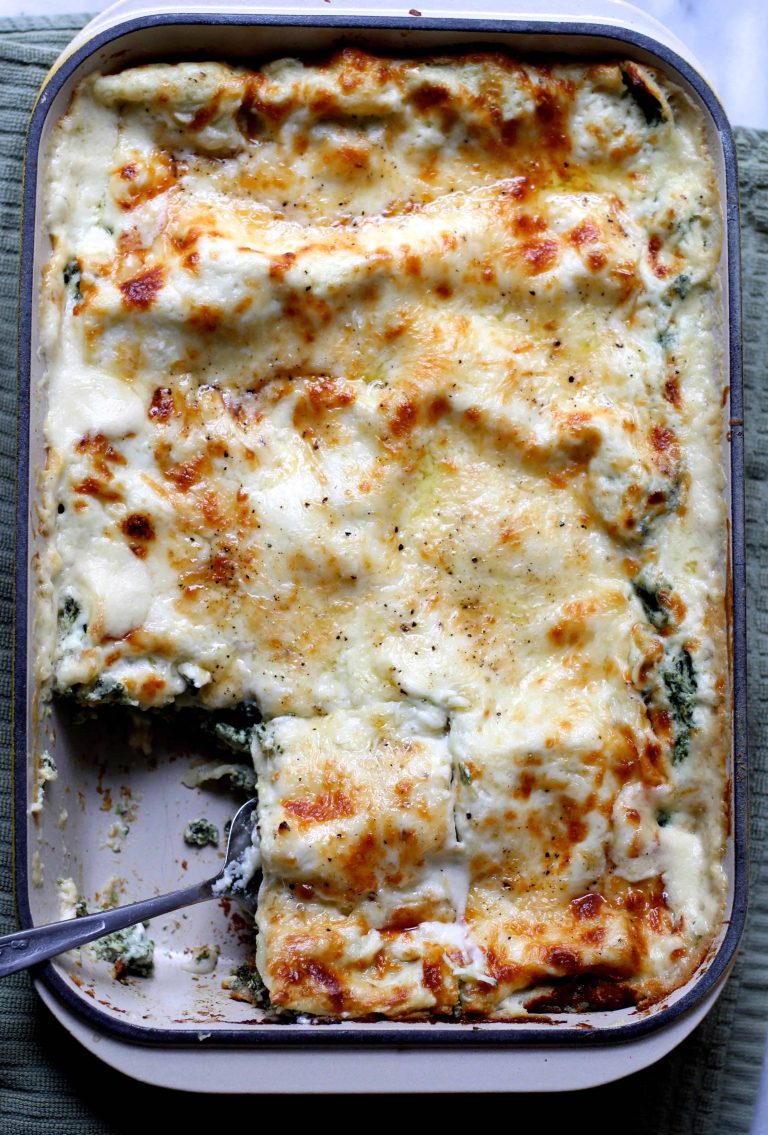 Sorry to interrupt the cookie making, but we all need to eat dinner don't we?
I for one have been craving cozy, hearty dinners to balance the holiday confections, so this white lasagna was so perfect last weekend.
Something about the cheesy from-scratch white sauce, the thick, creamy spinach filling, and layers of noodles is just what I've been craving lately. (and it's a great way to sneak some green veggies into Hugo's diet so I can't complain!)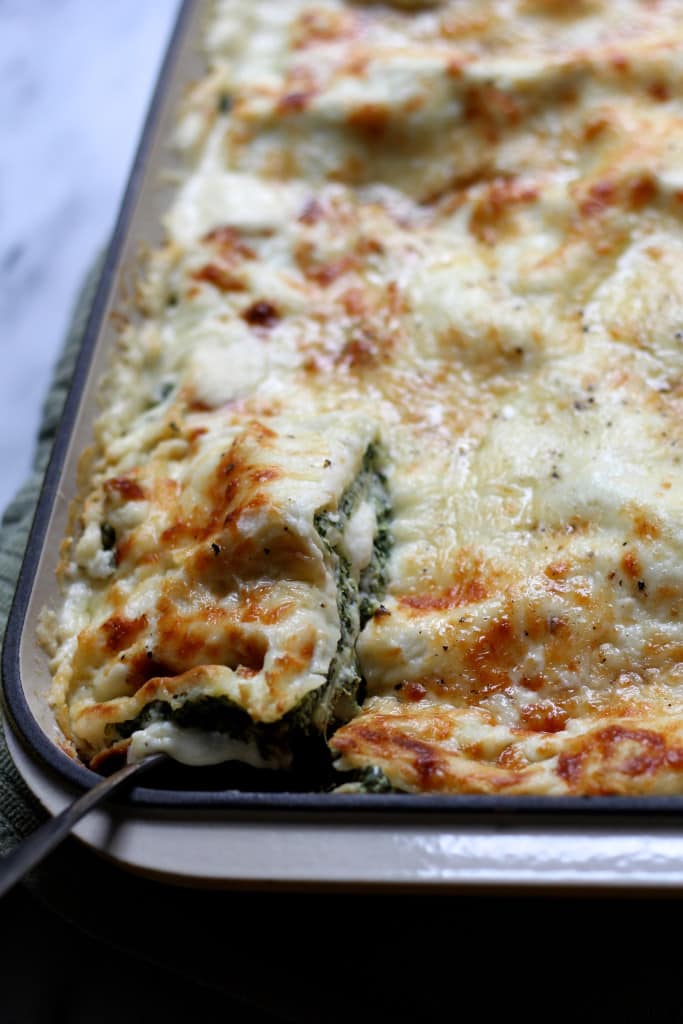 This white lasagna is truly spectacular. It's pretty easy to make, and yields a huge pan that lasted our family for 3 meals. (I loved it with a big lemony salad on the side.)
The spinach is sautéed with onions and garlic, mixed with a creamy ricotta mixture, and layered with the most decadent cheesy sauce filled with mozzarella and gruyere. I highly recommend getting the best cheeses you can, as the flavors really stand out and good cheese makes all the difference. Enjoy!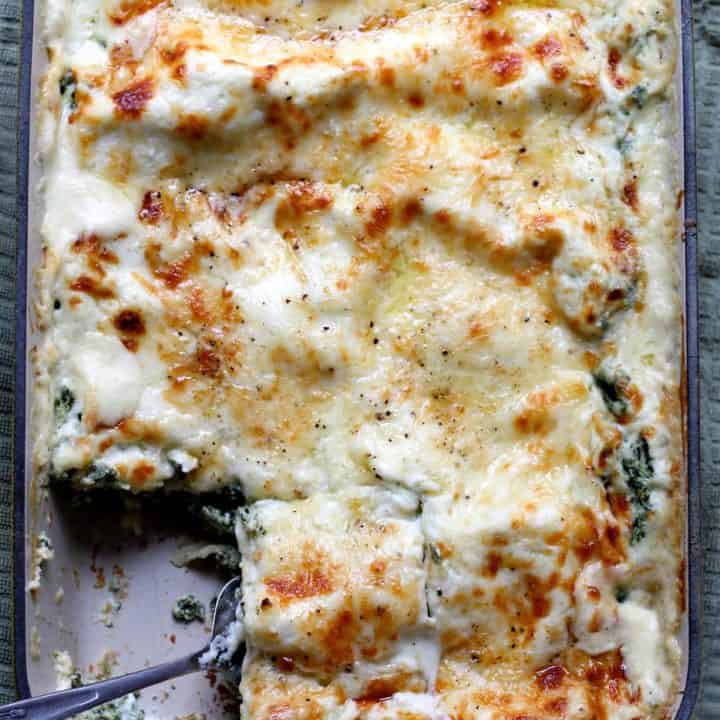 White Spinach Lasagna
Total Time:
1 hour
10 minutes
Ingredients
For the Spinach:
4 tablespoons butter
1 small onion, minced (about 1/2 cup)
6 medium cloves garlic, minced
Kosher salt and freshly ground black pepper
2 lbs of frozen spinach, thawed and drained
For the Ricotta:
2 pounds fresh ricotta cheese
2 eggs
4 ounces finely grated Parmigiano-Reggiano cheese
1 teaspoon freshly grated nutmeg
1/4 teaspoon cayenne pepper (or more or less if you want a kick or not)
For the White Sauce:
5 tablespoons butter
1/4 cup plus 1 tablespoon flour
5 cups whole milk
12 ounces grated low moisture mozzarella cheese
12 ounces grated gruyere cheese
For Assembly:
16-20 no-bake lasagna noodles
Instructions
For the Spinach/Ricotta Mixture:
In a large saucepan (I like using my big 5 qt dutch oven just to have a lot of room.) melt the 4 tablespoons of butter. Add the garlic and onions and sauté until golden. Add the spinach and stir for a few minutes to marry all the flavors. Turn off heat and set aside.
In the bowl of a food processor fitted with a steel blade, add half the ricotta, the eggs, parmesan cheese, nutmeg and salt & pepper. Process for a few minutes until blended and smooth. Transfer to a large bowl. (don't wipe the food processor bowl out.)
To the food processor add the spinach/garlic mixture and pulse until finely chopped. Add to the bowl with the ricotta mixture as well as the rest of the ricotta cheese. Stir until blended and smooth.
For the White Sauce:
In a large saucepan (I like to wipe out the dutch oven a bit and use that again,) melt the 5 tablespoons of butter and then add the flour- whisking constantly until golden. Add the milk gradually, about a cup at a time, stirring well between each addition. When thick and bubbly, add 3/4 of the mozzarella and 3/4 of the gruyere. Add salt and pepper to taste.
To assemble:
In a 9x13 lasagna pan, start by spreading a small amount of the white sauce onto the bottom of the pan. Top with a layer of noodles (I used 4 across for each layer,) Spread 1/3 of the spinach mixture on top of the noodles, followed by 1/4 of the sauce. Repeat 3 more times, noodles- spinach- sauce. Topping with a 4th layer of noodles, the last 1/4 of sauce and the remaining cheese.
Cover tightly with foil, and bake at 400F for 20 minutes. Remove the foil and bake for another 20 minutes or until the cheese is golden and bubbly.