Whole Wheat Chocolate Chip Cookies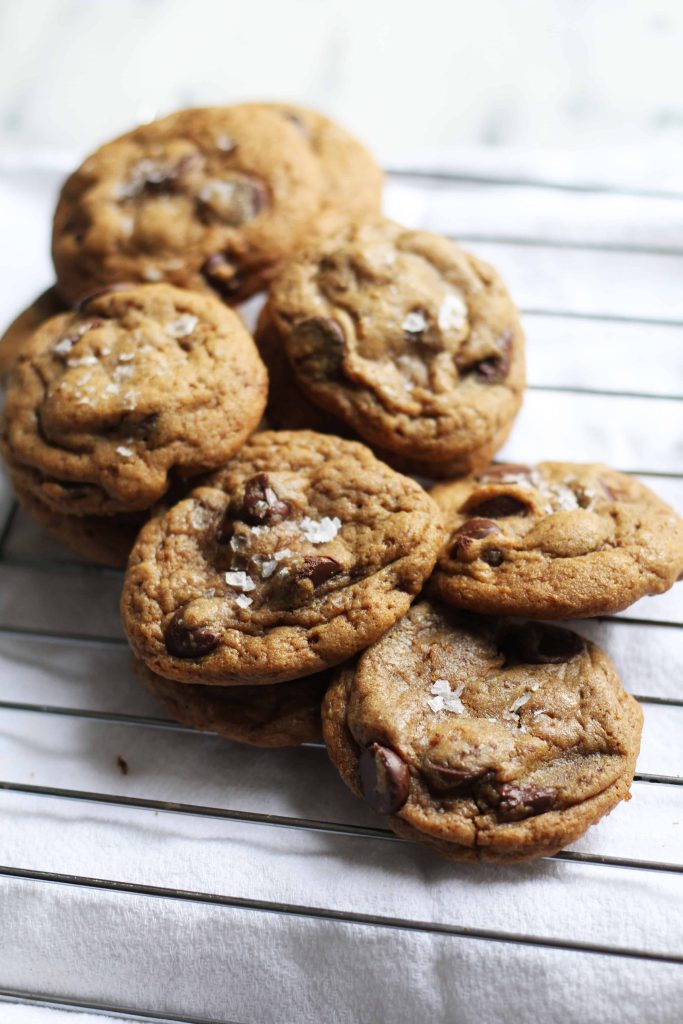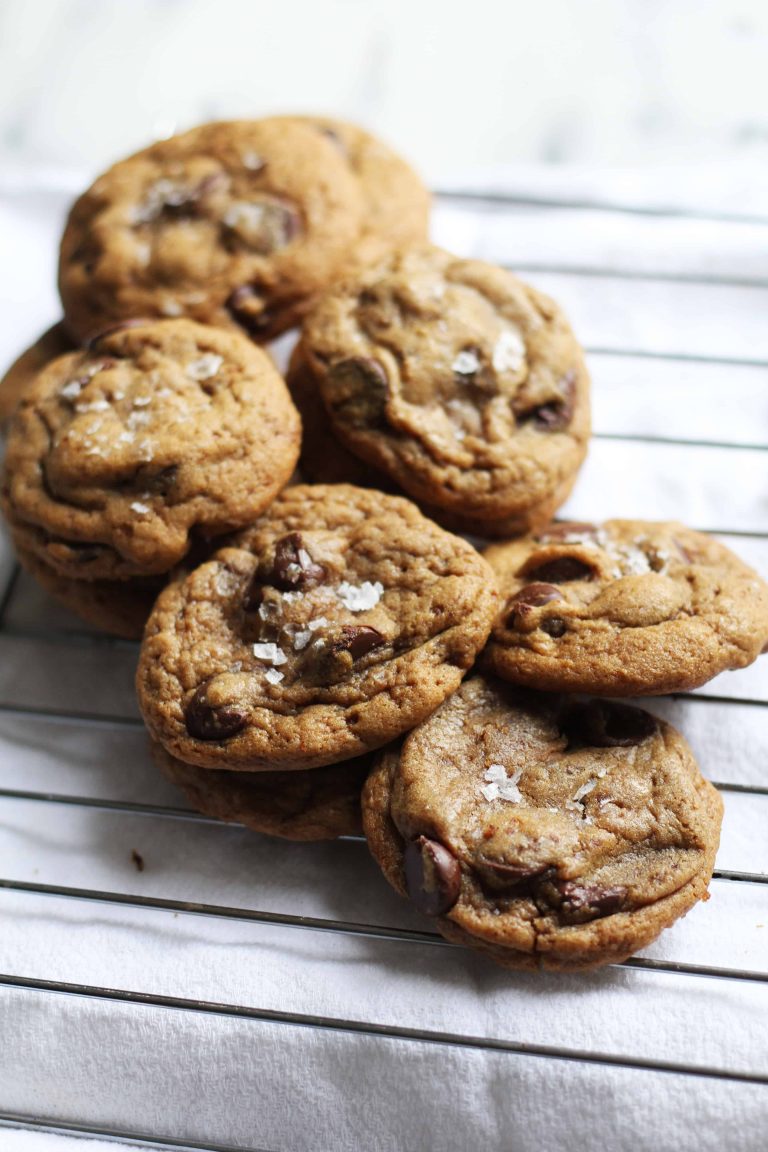 With Mother's Day right around the corner, I've been thinking a lot about my own Mom, as well as what my life is like now that I have babies. I've mentioned many times how my Mom was a bit of a health nut, something I really appreciate and can relate to now that I have kids of my own. We only got sugary cereal for dessert, she fed us organic, healthy food before that stuff was even hip, and her baked goods always were made of whole grain flour, natural sugars, etc. Now here is a minor confession, (sorry Mom,) while I loved when you would bake us chocolate chip cookies, I never really loved them. See once I'd tasted "real" chocolate chip cookies, the healthy version just didn't cut it.
Once I got into baking, I had a bit of a resistance to subbing too many ingredients with healthier ones for that very reason. I know what good chocolate chip cookies taste like and I just couldn't deal with dry, healthy-tasting ones. Then I had a toddler…a toddler who finally knows what chocolate chips and cookies are and goes nuts for them. I feed him as healthy as I can, but sometimes I just want to bake something with him that I don't feel guilty letting him try. Enter these cookies.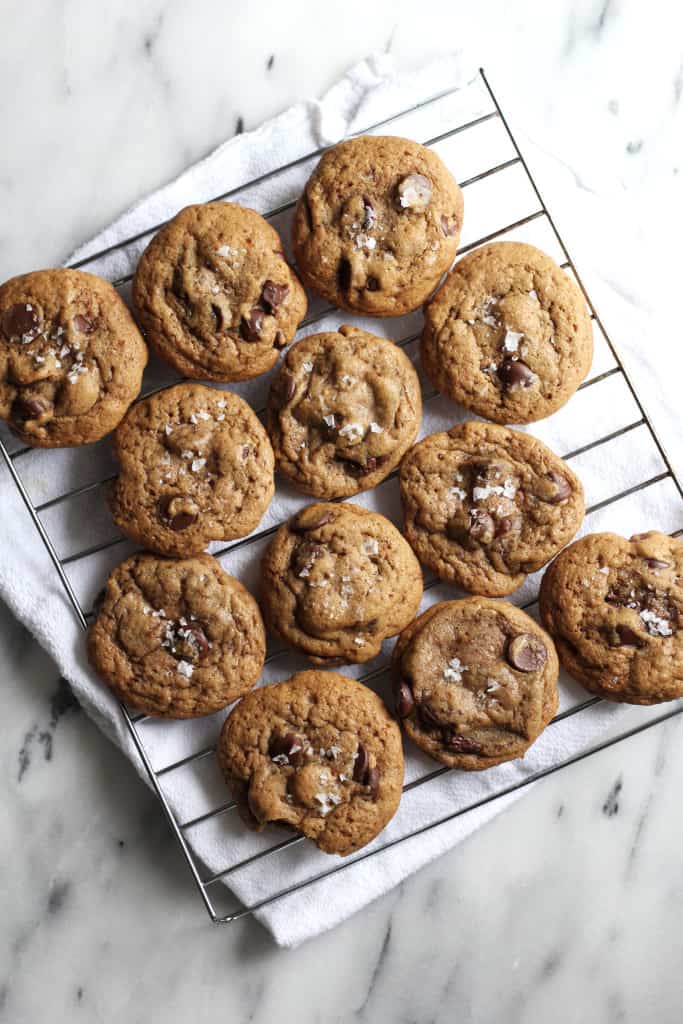 These cookies are nothing short of fabulous. They are made with whole wheat pastry flour, coconut sugar, and dark chocolate chips. Considering they don't contain refined sugar or flour they are SO good. Crisp edges and soft, chewy, gooey centers. Yes, they still are still sweet, but if he's going to have a cookie I still feel better about him having these.
Also- I have fallen so in love with baking with Hugo. I think I've been dreaming about baking with my own child for so long. It's partially adorable and partially a horrible disaster, but nothing makes me happier these days than his sweet reaction when I ask "Hugo, do you want to bake cookies with Mama?" and he smiles his sweet 2-year old grin and says "YES!" I love it. We don't have as much time together as we used to so these moments are so special…and these cookies!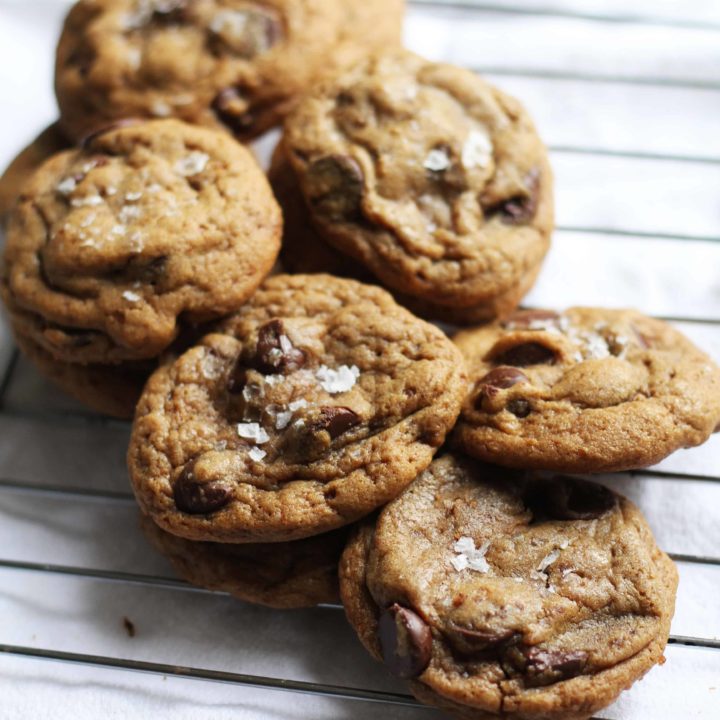 Whole Wheat Chocolate Chip Cookies
Ingredients
2 cups plus 2 tbsp. whole wheat pastry flour
½ tsp. baking soda
½ tsp. salt
12 tbsp. unsalted butter, room temperature
1 1/2 cups coconut sugar
1 large egg plus 1 egg yolk
2 tsp. vanilla extract
1 ½ cups dark chocolate chips
*optional- sea salt for sprinkling
Instructions
Preheat oven to 350F. Line cookie sheets with silpats or parchment paper, set aside.
In a large bowl cream together the butter and coconut sugar. Add the egg. yolk, and vanilla and mix until well combined.
In a small bowl stir together the flour, baking soda and salt. Add to the butter mixture and stir until just-combined. Fold in the chocolate chips.
Scoop dough onto cookie sheet and sprinkle with flakey sea salt if desired.
Bake for 9-10 minutes or until the edges are set.
Notes
Recipe adapted from Baking Illustrated
Nutrition Information:
Yield:

2
Serving Size:

1 grams
Amount Per Serving:
Unsaturated Fat:

0g