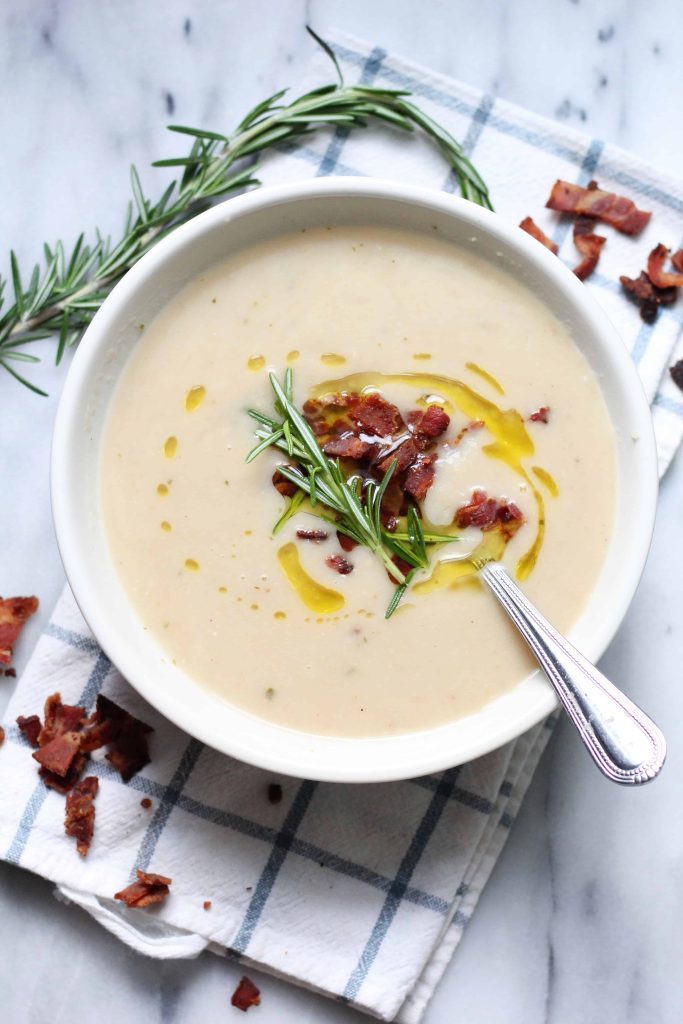 Winter storm Jonah has come and gone and while the NYC streets are slushy and full of tall snow banks, we made it out in one piece. Hugo sadly got hit with a virus of some kind but being cooped up for two days was just the thing to rest to force us all to rest on the couch and just chill. I wasn't able to cook too much during the actual snow day because the grocery store closed at 1 pm randomly, but yesterday I couldn't wait to get to the store to make something cozy and comforting.
This soup was just the thing. It's incredibly easy, delicious, and healthy to boot. (I mean I topped it with bacon, but all things in moderation right?) The whole thing can be thrown together in no time and the end result is super creamy and comforting even though there's not actually any cream in there! We topped this with some crunchy bacon and it was just so good. Next time I'm making some crusty bread to go along with this, that would be perfect don't you think?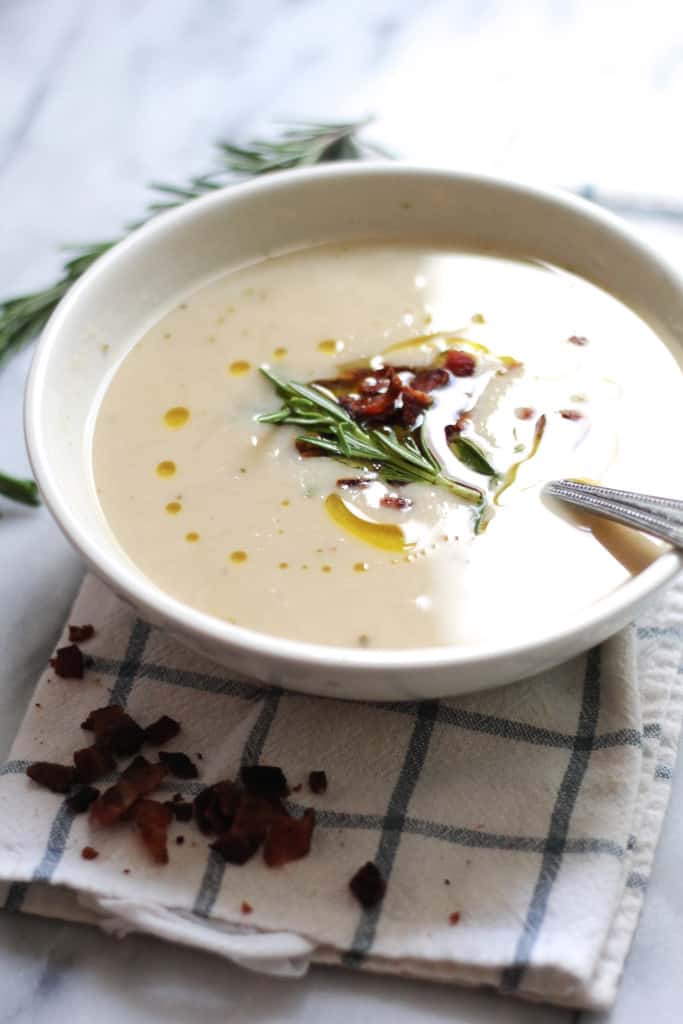 Creamy White Bean Rosemary Soup
Ingredients
3 15 oz cans white cannellini or great northern beans rinsed and drained.
4 cups sliced yellow onions (from 2 large onions)
¼ cup olive oil
2 garlic cloves, minced
1 large branch fresh rosemary off the stem
1½ quarts chicken stock
2 teaspoons kosher salt
½ teaspoon freshly ground black pepper
Cayenne pepper to taste (optional)
Bacon for topping
Instructions
In a 5-6 qt. large stock pot or dutch oven heat the olive oil on medium high heat. Add the onions and cook for about 15 minutes- or until soft and golden. Add the garlic and cook for another few minutes.
Add the beans, broth, rosemary, salt & pepper. Bring to a boil, and then simmer for about 20 minutes. Use an immersion blender, food processor, or regular blender to purée the soup until smooth. Add cayenne pepper to taste. Top with crispy bacon.