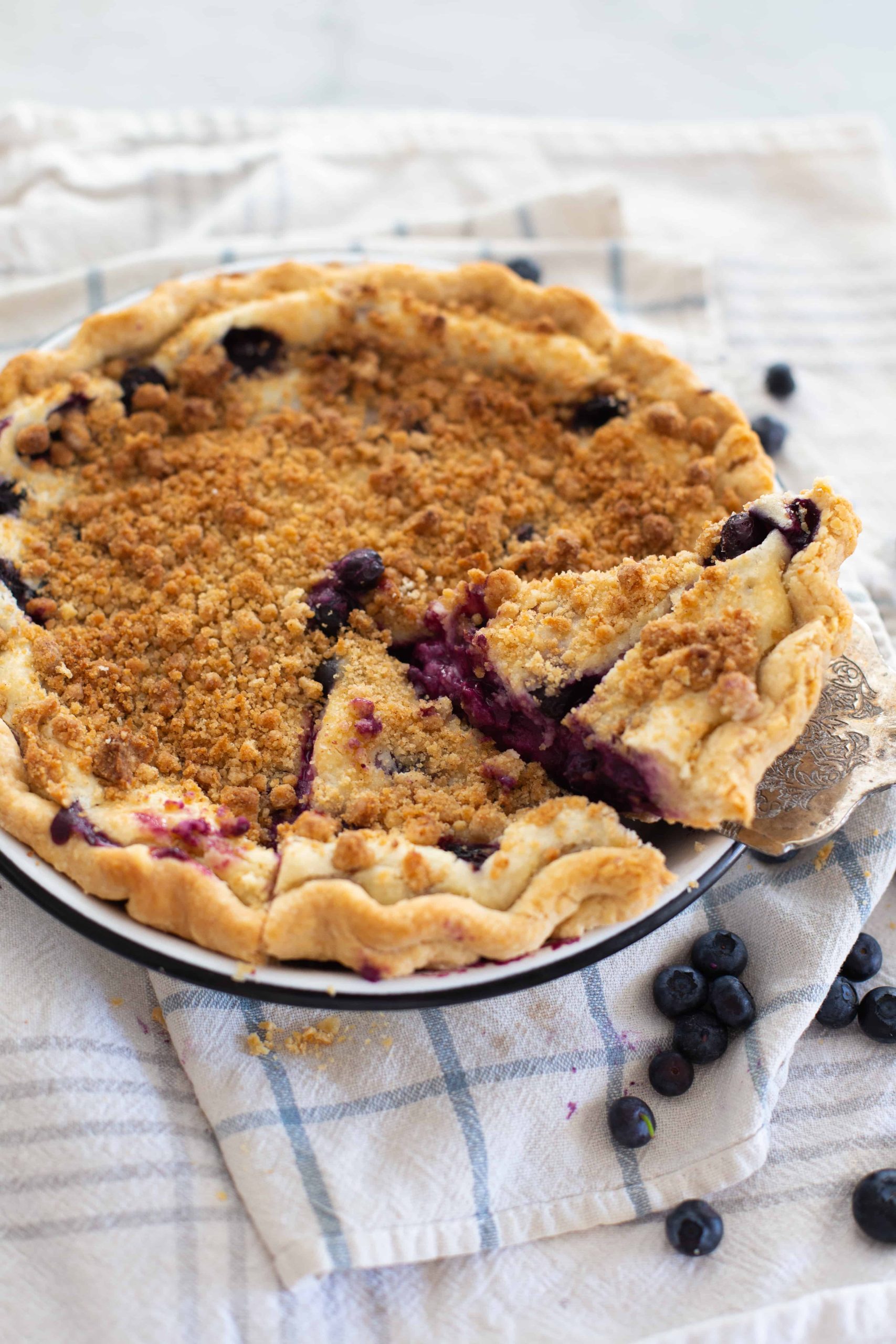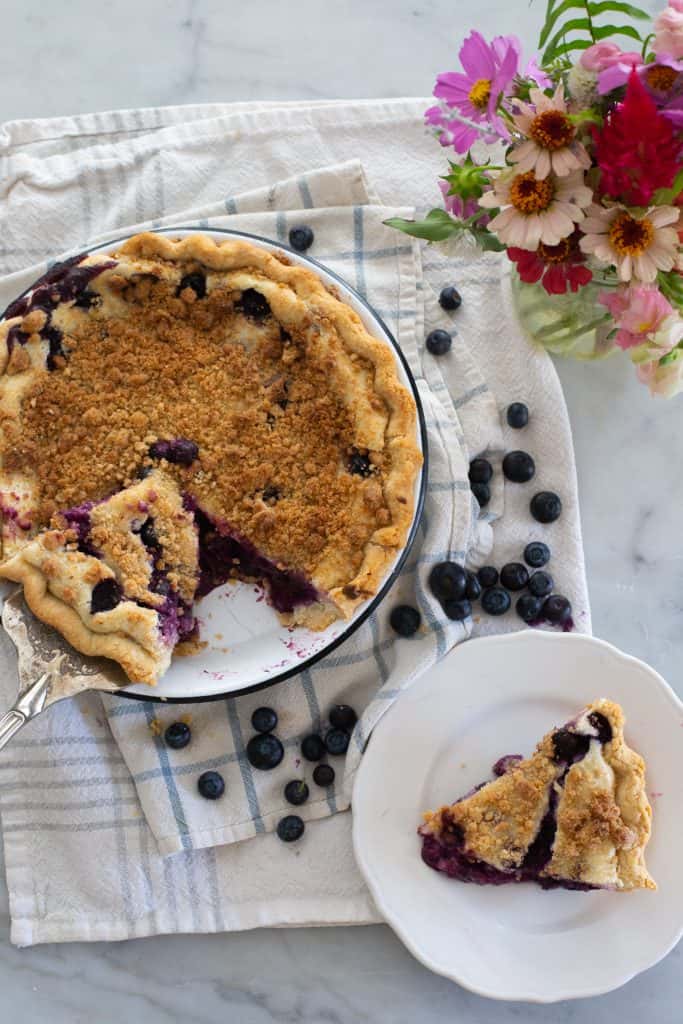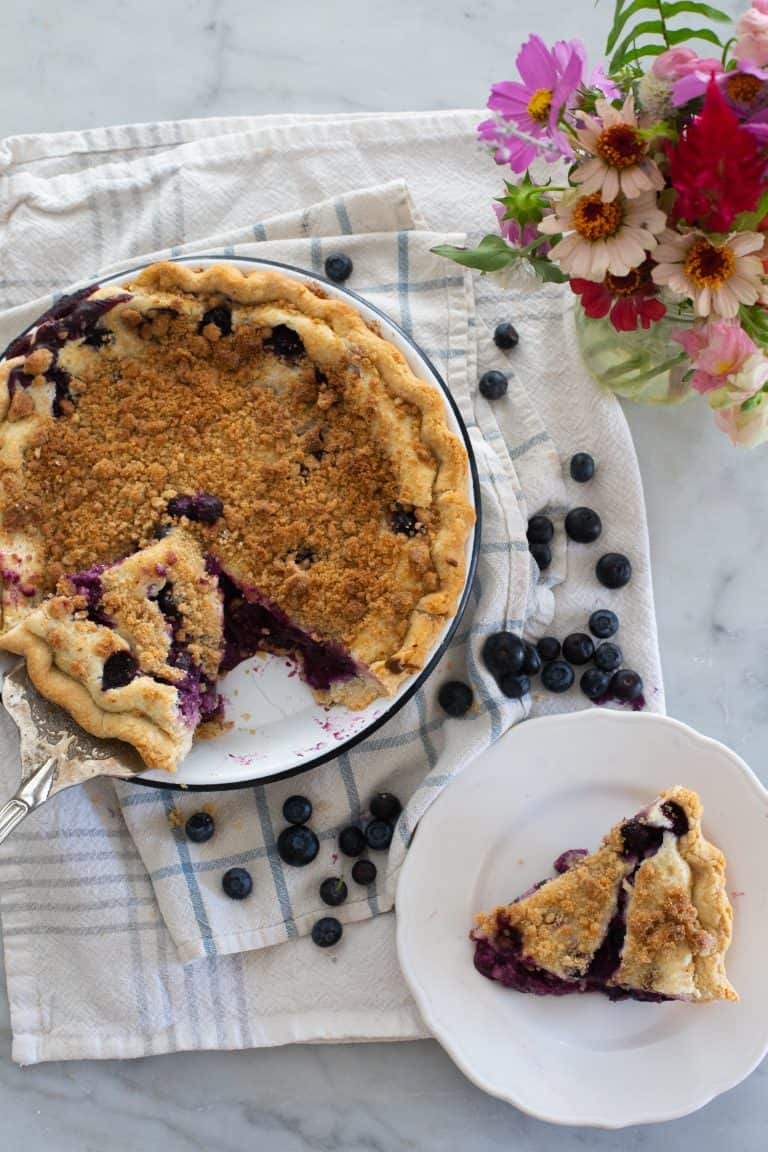 It is blueberry season and this blueberry cream pie is the perfect recipe for summer. It is always a struggle to find refreshing summer treats. Of course there is always ice cream, sorbet, or just fruit, but I'm talking baked desserts. I love pie recipes for warm, double crust pies that you serve with vanilla ice cream or whipped cream, but this chilled pie really hits the spot on a hot day. This is the best pie I've has this summer- I hope you make it too!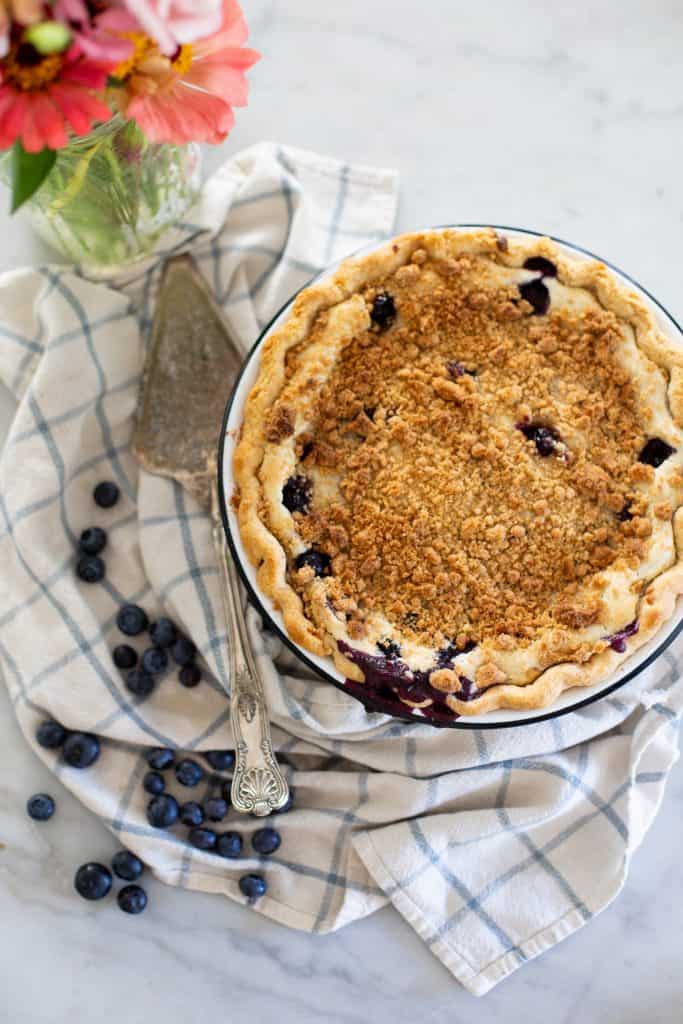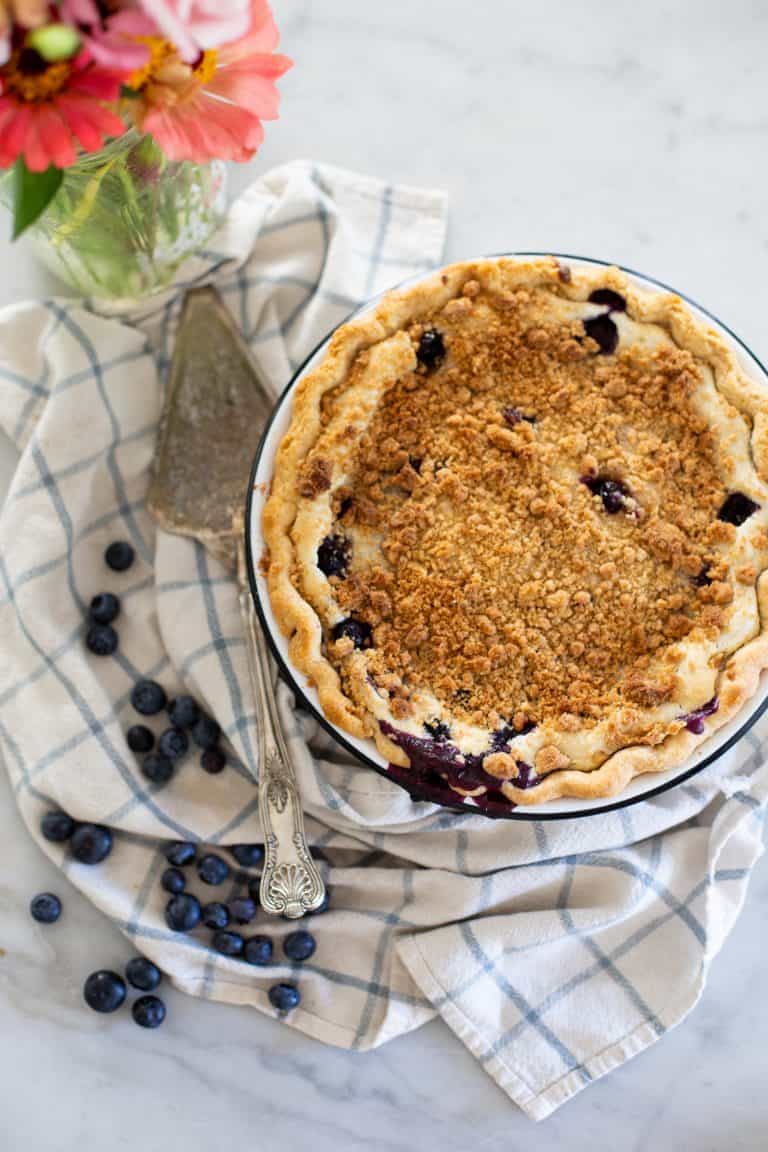 Reasons I love this pie:
It is incredibly easy to make.
It is served chilled which makes it super refreshing on a scorching day.
It could be adapted with a number of different fruits and berries, which makes this my new go to pie recipe. This version uses plump fresh blueberries, but I think peaches would be fab as well!
It uses a traditional pie crust but you could also make it with a homemade graham cracker crust if you prefer.
It's the perfect dessert to bring to family gatherings or picnics.
If you're going to bake pie in the summer- good news: this blueberry cream pie not only uses seasonal ingredients but is light and refreshing!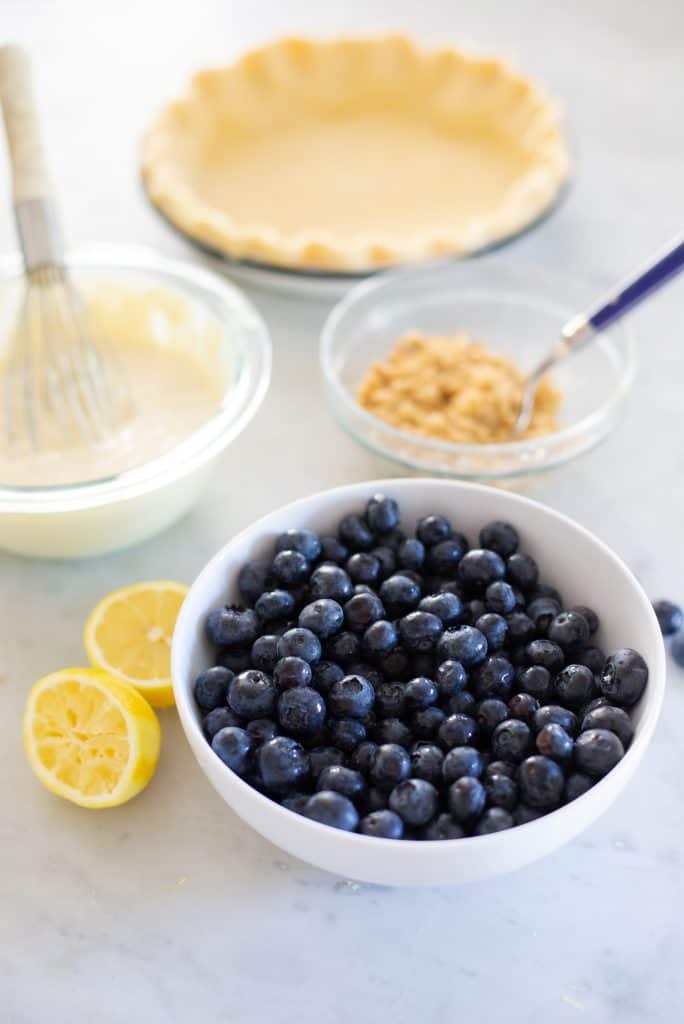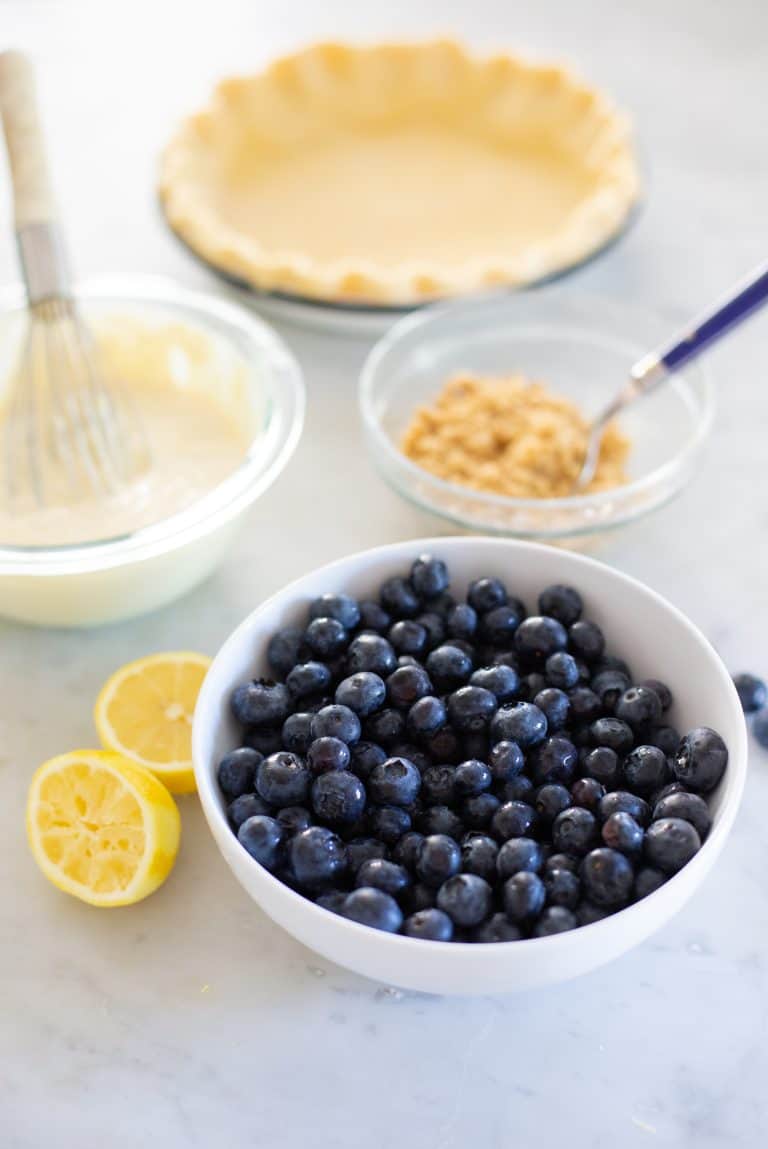 Ingredients used in Blueberry Cream Pie:
3 cups of blueberries (always fresh berries, some recipes use blueberry pie filling but this version is so easy with fresh.)
Sour Cream
Heavy Cream
Lemon Juice and lemon zest
Pie Shell (my favorite pie crust recipe is here)
Melted Butter
Brown Sugar
Vanilla Extract
Flour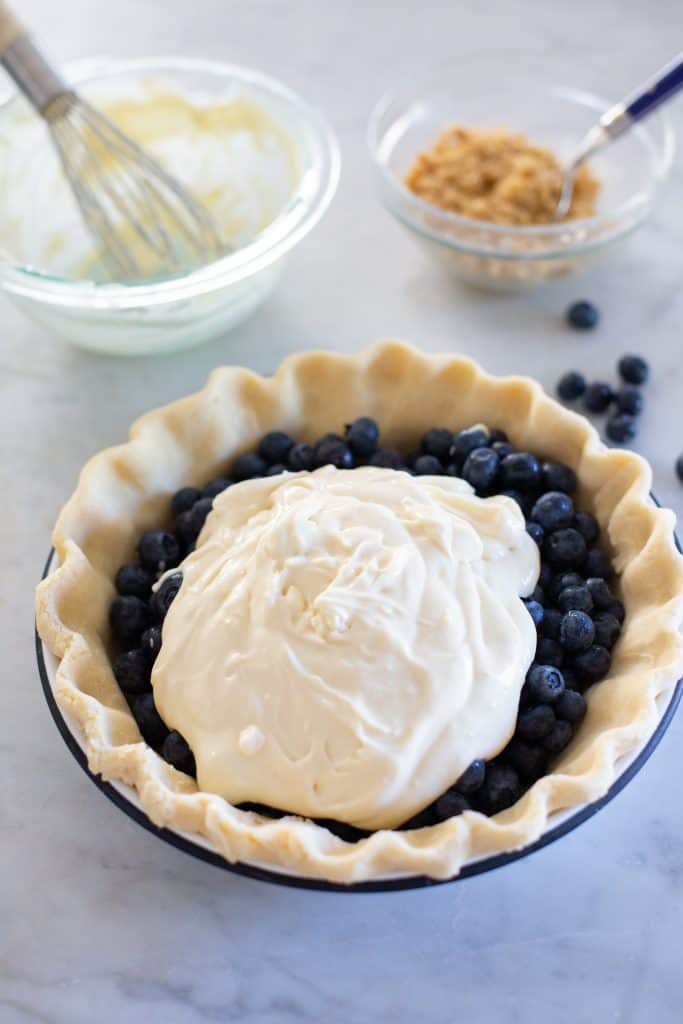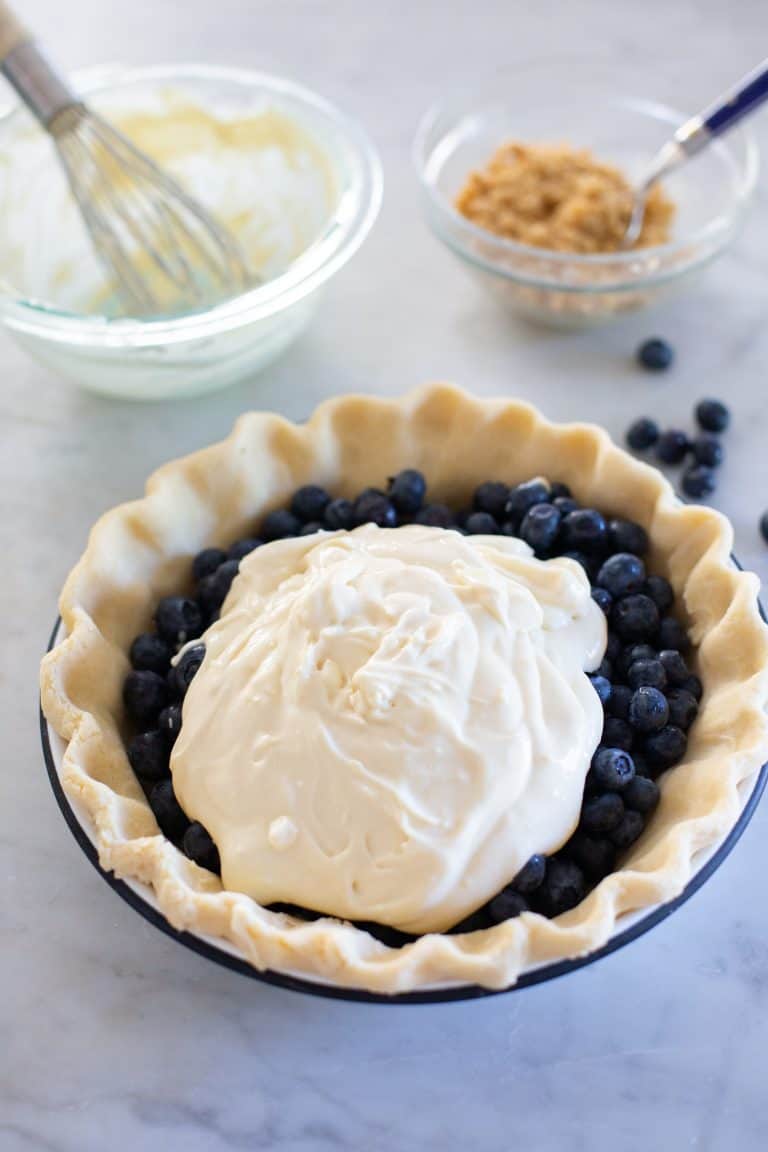 Making this pie is as simple as this, start with your favorite unbaked pie crust. Toss into it 3 cups of blueberries, Top it with the cream mixture which is basically just cream, sour cream, sugar, vanilla extract, a bit of flour and lemon juice and lemon zest.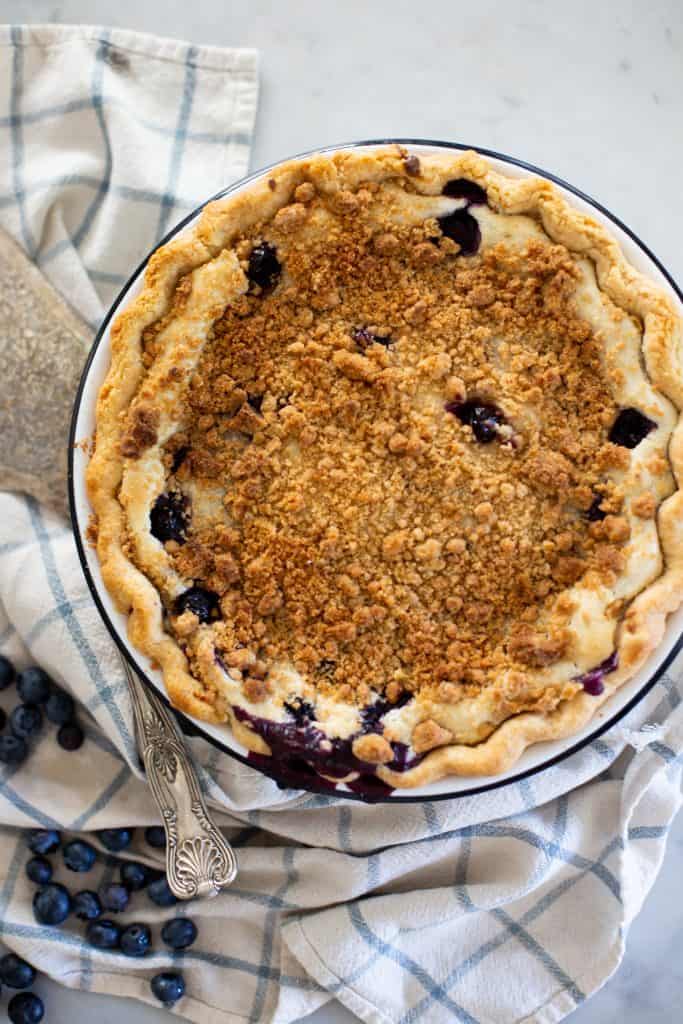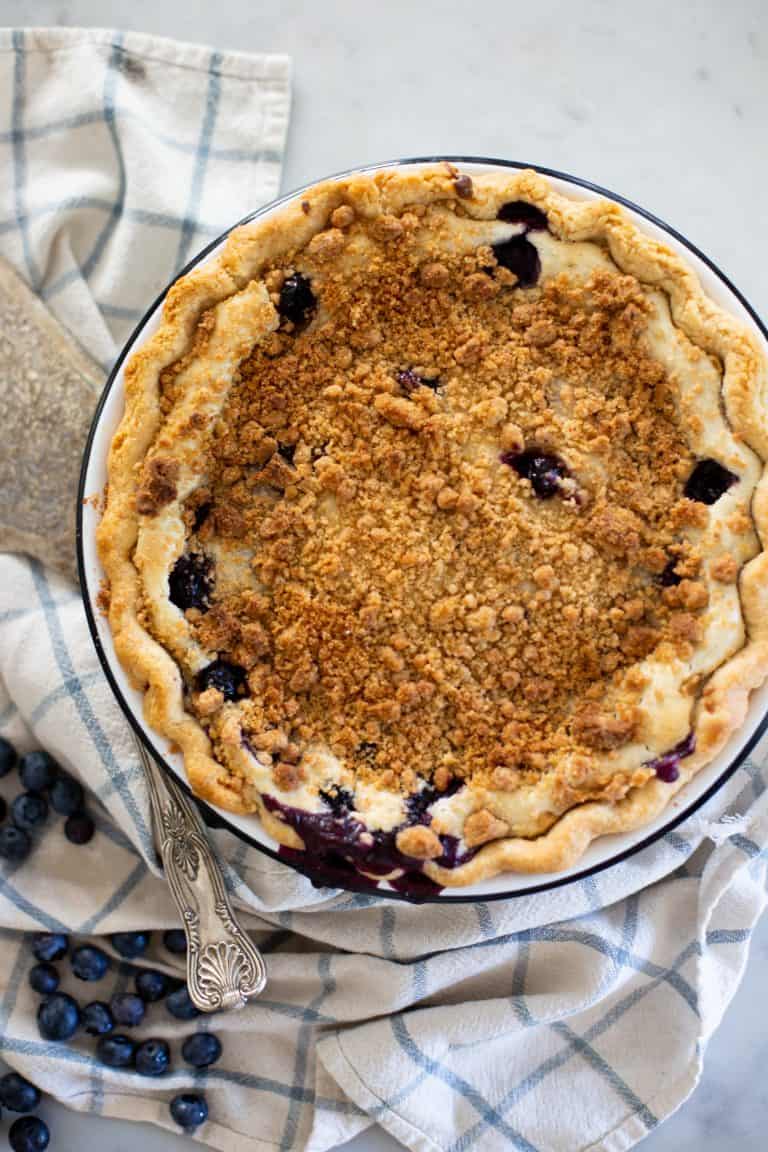 Then, while the pie is baking, put a small or medium saucepan over medium heat and melt some butter. Add it to flour and brown sugar to make a simple crumb topping. Add the crumb topping to the top of the pie, and bake it a bit more. Let it cool and after a few hours for chilling it is ready to be devoured. The result? A creamy blueberry pie full of delicious blueberry flavor with a touch of creamy lemon.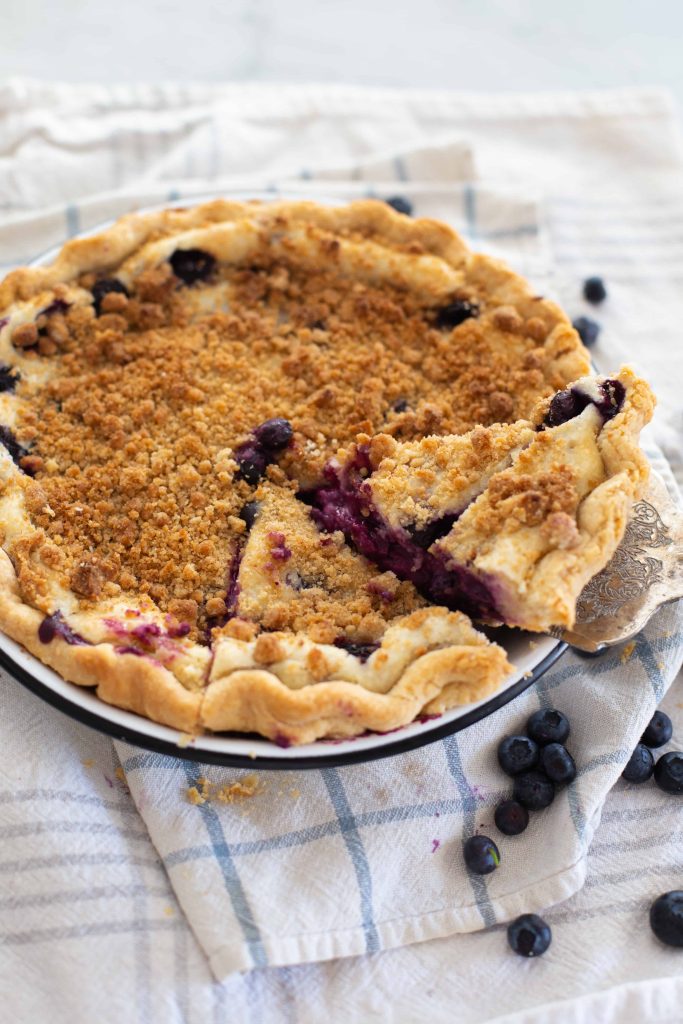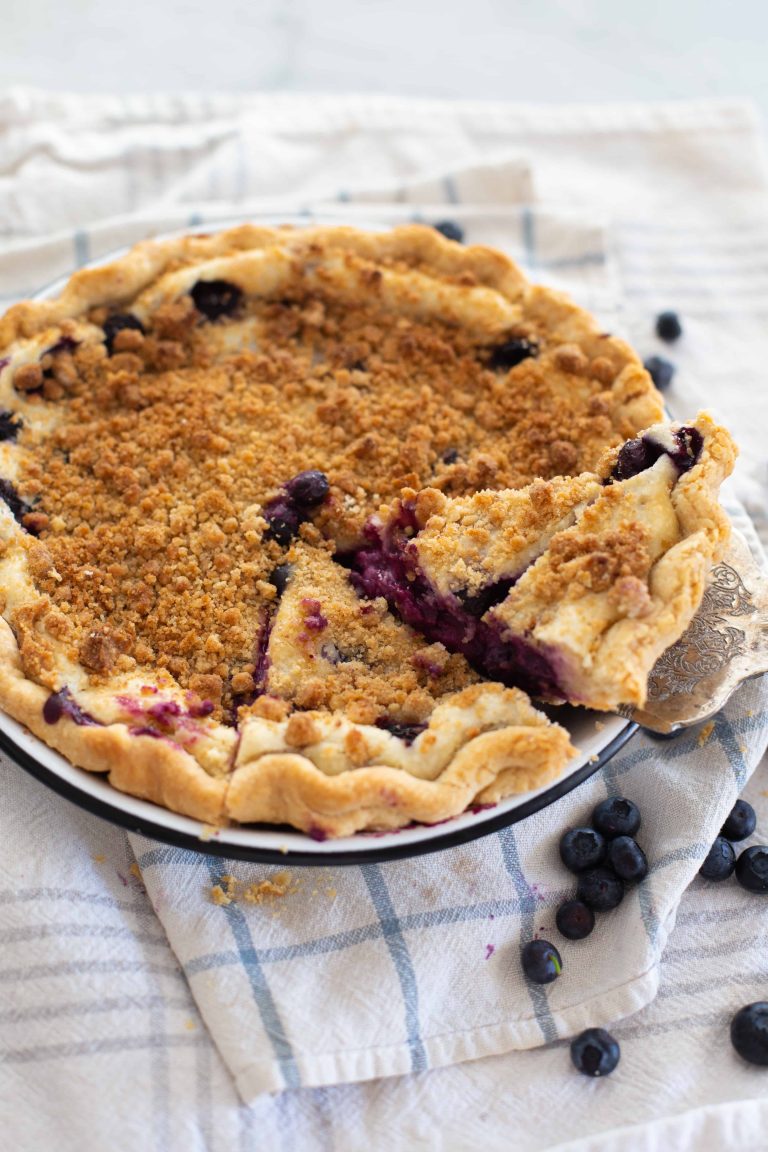 (The original recipe suggested letting it chill in the fridge overnight, but since I have already admitted how much I hate overnight steps, I stuck it in the freezer for 2 hours and in the fridge for an hour or so until it was ready to be eaten. It was gooey, berry perfection.)
Supplies needed for Blueberry Cream Pie:
9-inch pie dish
medium bowl
small bowl
small saucepan for melting butter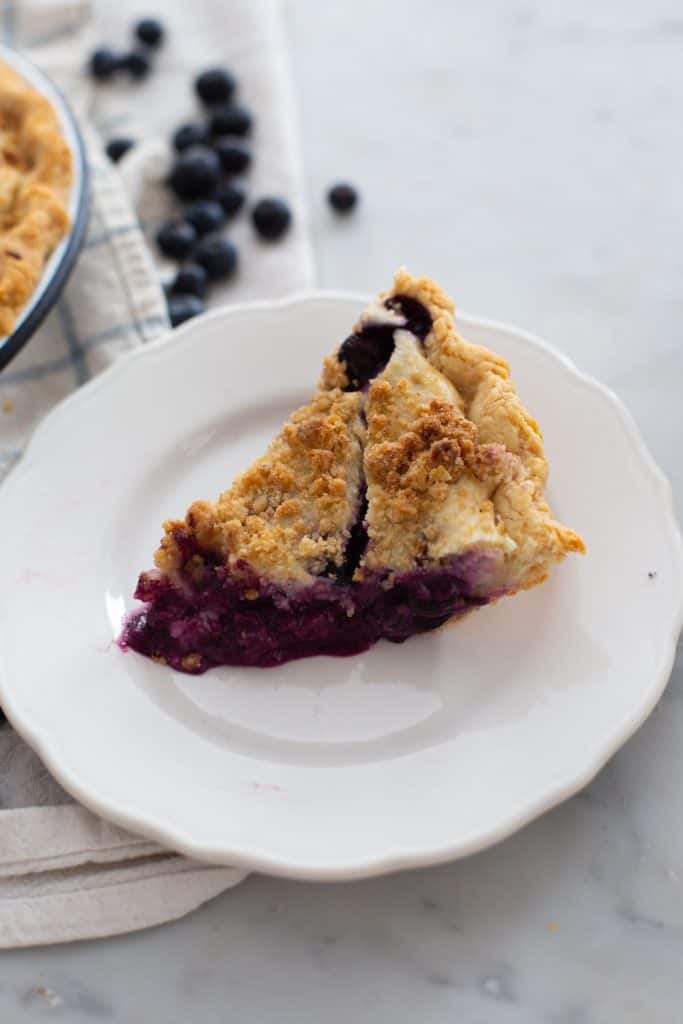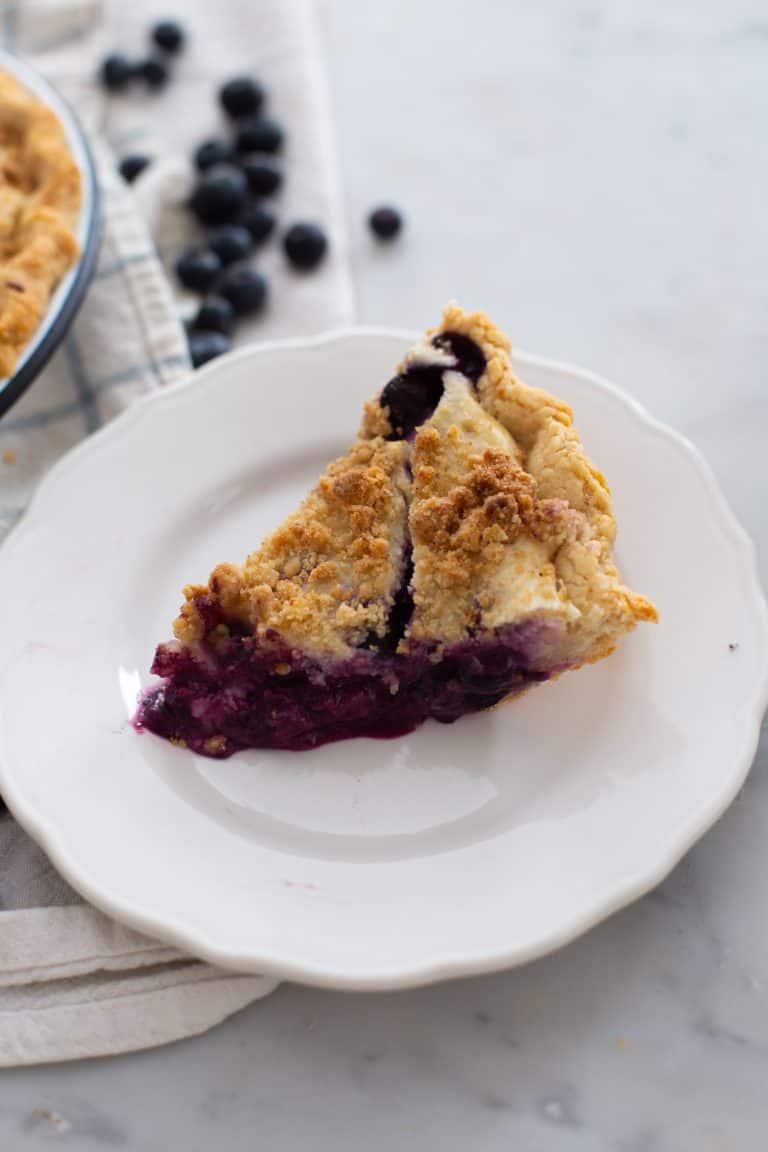 Can I store this pie?
Yes! Storing the pie is as easy as covering it with plastic wrap and storing it in the fridge for up to a week!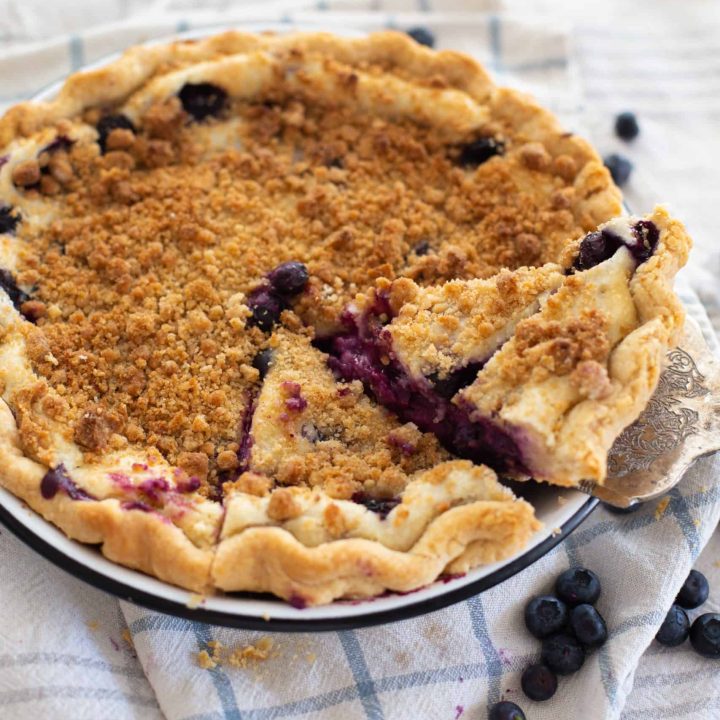 Blueberry Cream Pie
A refreshing summery pie full of fresh blueberries, sour cream, lemon and a brown sugar crumb topping!
Ingredients
1 single pie crust*
3 cups of fresh blueberries.
3/4 cup of heavy cream
1/2 cup sour cream
1 teaspoon vanilla extract
⅔ cup sugar
4 tablespoons flour
¼ tsp salt
zest and juice of 1 lemon
2 tablespoons butter, melted
1/2 cup of flour
1/3 cup brown sugar
pinch of salt
Instructions
Preheat oven to 400.
Roll out pie crust to ¼ inch thickness. Drape it over the pie dish and trim the edges, crimping them if desired. Pop it into the freezer while you prep the filling
In a small bowl whisk the sour cream, sugar, salt, heavy cream, vanilla, lemon zest, juice & flour together.
Fill the pie dish with the blueberries and then pour the cream mixture over the berries and stir them together gently, smoothing the top with the back of a spoon. Place the pie dish onto a cookie sheet in case the filling bubbles over.
Bake for 25 minutes. While baking make the streusel topping by mixing the flour, brown sugar & melted butter together with a fork until crumbly.
Take the pie out of the oven and sprinkle crumble evenly over the pie.
Return pie to the oven for 20-25 minutes or until crust and topping are golden and the blueberries are bubbly. Let pie cool completely and then chill in fridge or freezer. Best served cold.