Lattice-topped Cranberry Blueberry Pie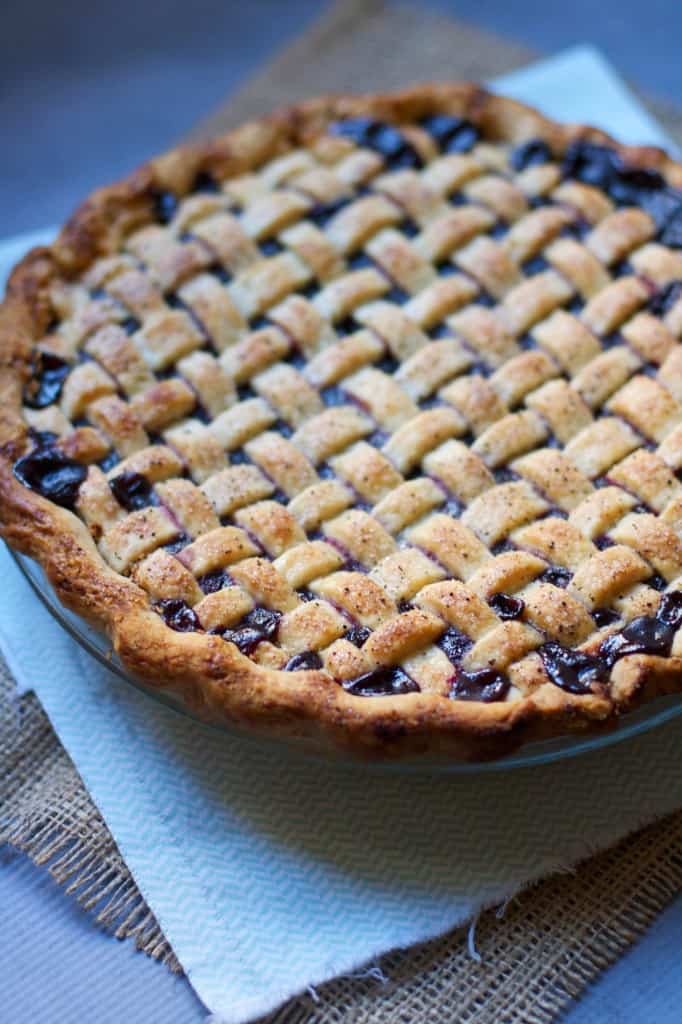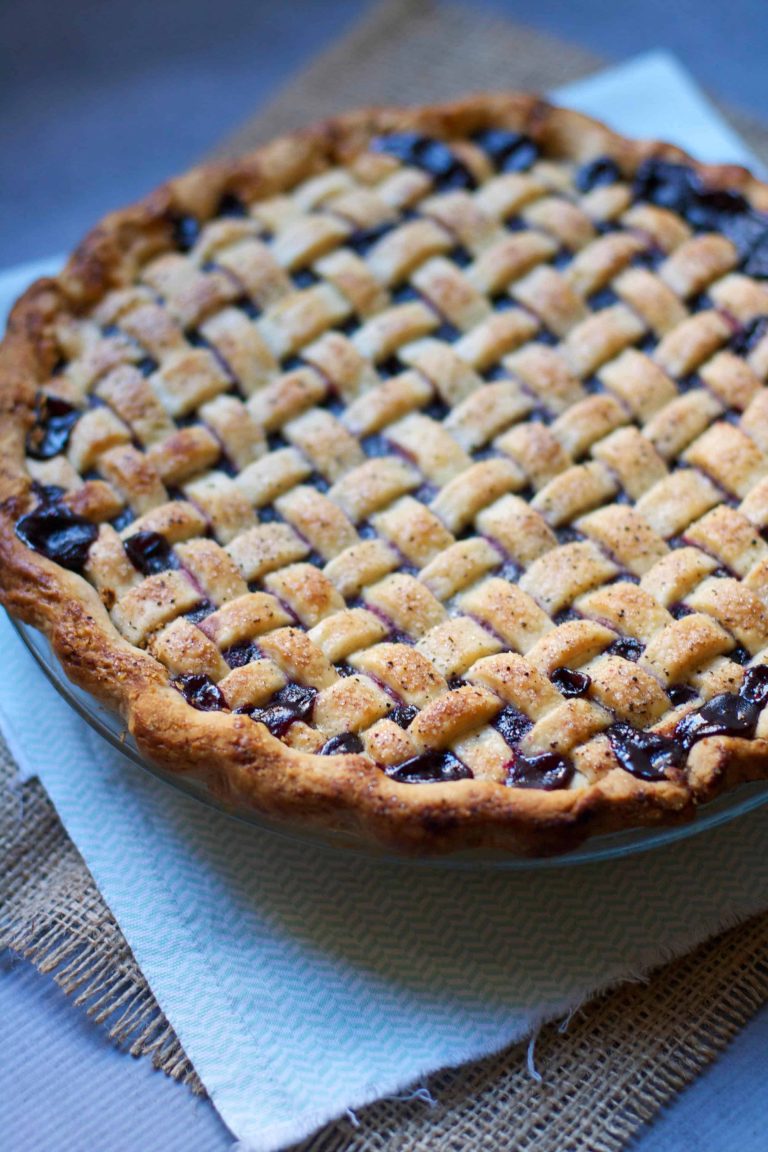 Another day another pie! Today I'm sharing a pie I've had my eye on for almost a whole year now and I'm so happy that Pie Week has given me the chance to bake it.
I am a huge sucker for fruit pies all summer long, and it's really a shame that often times they get looked over on the Holiday circuit. Cranberries especially seem to be a bit lost in the pie-making action, and this pie includes the fresh berries we usually only see in summer, with fall and winter's favorite tart red fruit. (If you are looking for a pie where cranberry really shines, check out my Cranberry Meringue Pie from last year!)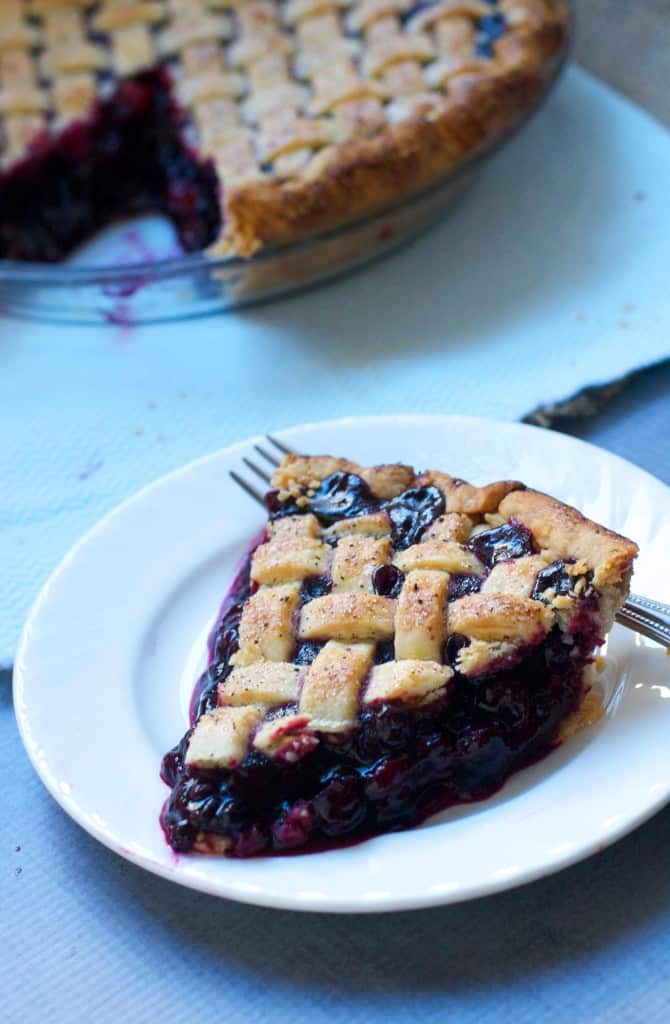 This recipe uses frozen blueberries which makes it easy (as pie ha!) to make even in the fall and winter when they are out of season.
I loved the combo of maple syrup with cranberries so much after trying it in this Cranberry Butter, that I subbed some of the sugar for syrup, and also added some vanilla extract because well- everything is better with a little vanilla don't you think? Before baking I sprinkled this pie with a special concoction called "Nutmeg Vanilla Sugar" that I was given a sample of ages ago, and I've been waiting for the right chance to use it.
Though it is made from ground whole vanilla beans, I think the same effect could be re-created using nutmeg, sugar and some vanilla bean seeds. It's totally not mandatory for this pie, but adds a wonderful spice to the crust and gives the bright jammy fruits an autumn touch!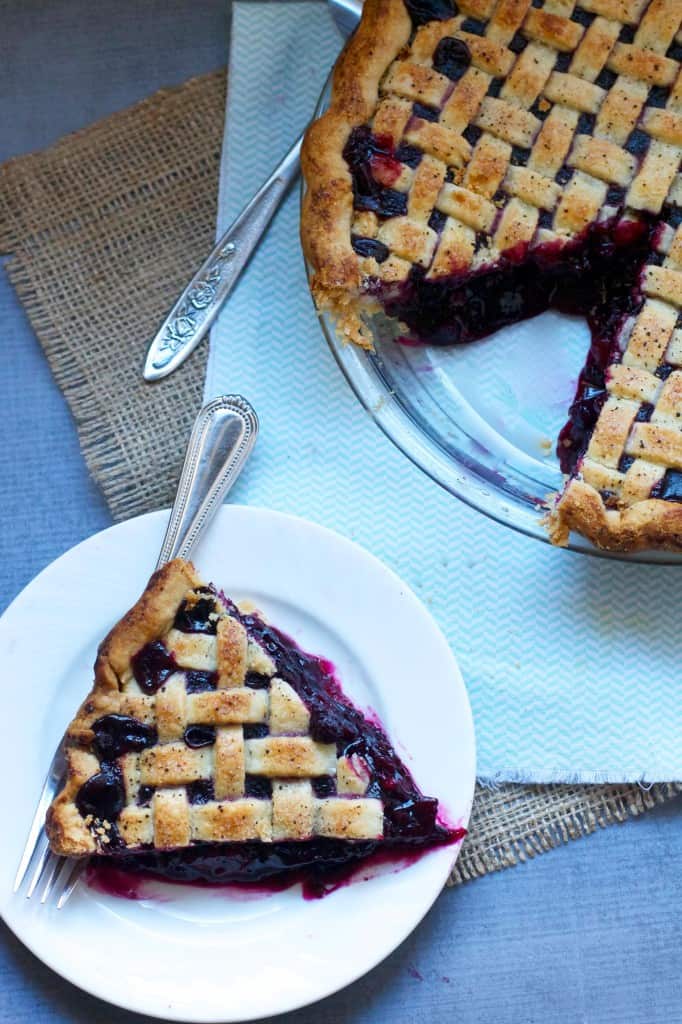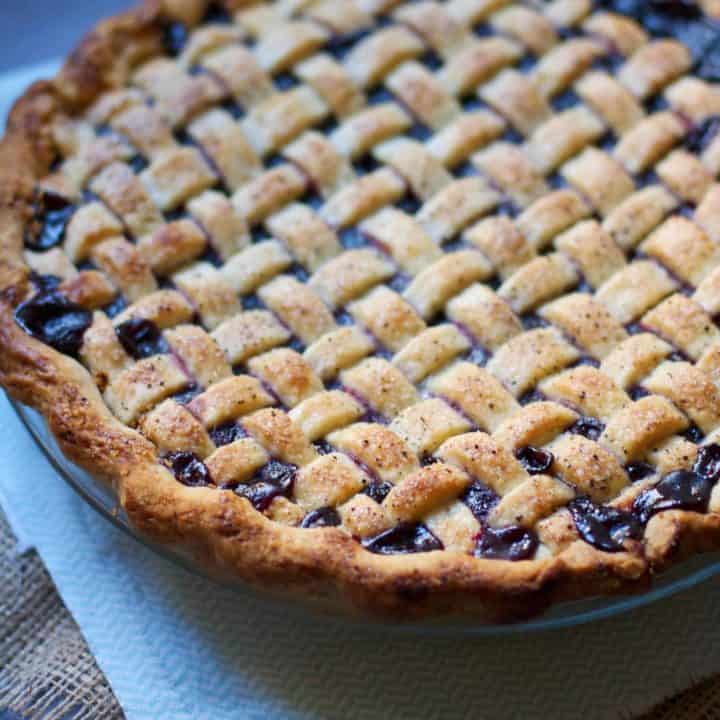 Lattice-topped Cranberry Blueberry Pie
Ingredients
16 ounces frozen organic wild blueberries (do not thaw)
12 ounces fresh or frozen cranberries (do not thaw; about 3 cups)
1 cup sugar
1/4 cup pure maple syrup
3 tablespoons cornstarch
3 cinnamon sticks
juice and zest of 1 small lemon
1 teaspoon pure vanilla extract
Topping:
heavy cream for brushing
1 teaspoon sugar
1 teaspoon nutmeg
1/4 of a vanilla bean scraped out (optional)
Instructions
In a medium sized saucepan, combine all the filling ingredients except for the cinnamon sticks. Stir mixture well until berries are evenly coated.
Add the cinnamon sticks and cook over medium heat for 12-14 minutes, stirring occasionally. The berries will burst, and the mixture will reduce and thicken.
When the mixture starts to bubble like lava, stir constantly for another 2 minutes or so. Pour filling into a heat-proof bowl and cool completely in the fridge. (Or use the freezer to speed things up. The filling can also be prepared up to 3 days in advance.)
When the filling is ready to go, Roll out one layer of the crust to a 12-inch circle and drape it over a 9-inch pie pan, trimming the excess dough so there is a 1-inch over hang all around.
Pour the filling into the crust. Roll the top layer of dough out into another 12-inch circle, and either drape the whole thing over for a traditional double crust, or cut the dough into strips for a lattice-top. (I used a ruler and cut each strip 1/2 inch wide.)
Trim and fold over the edges, crimping as desired.
For topping:
In a small bowl mix together the sugar, nutmeg and vanilla bean (if using.) Brush the heavy cream over the crust and sprinkle with the sugar mixture.
Bake at 400F for 50-60 minutes or until crust is golden and filling is bubbly. If the crust is getting too dark too fast, cover it with a bit of foil.