Caramel Apple Upside Down Cake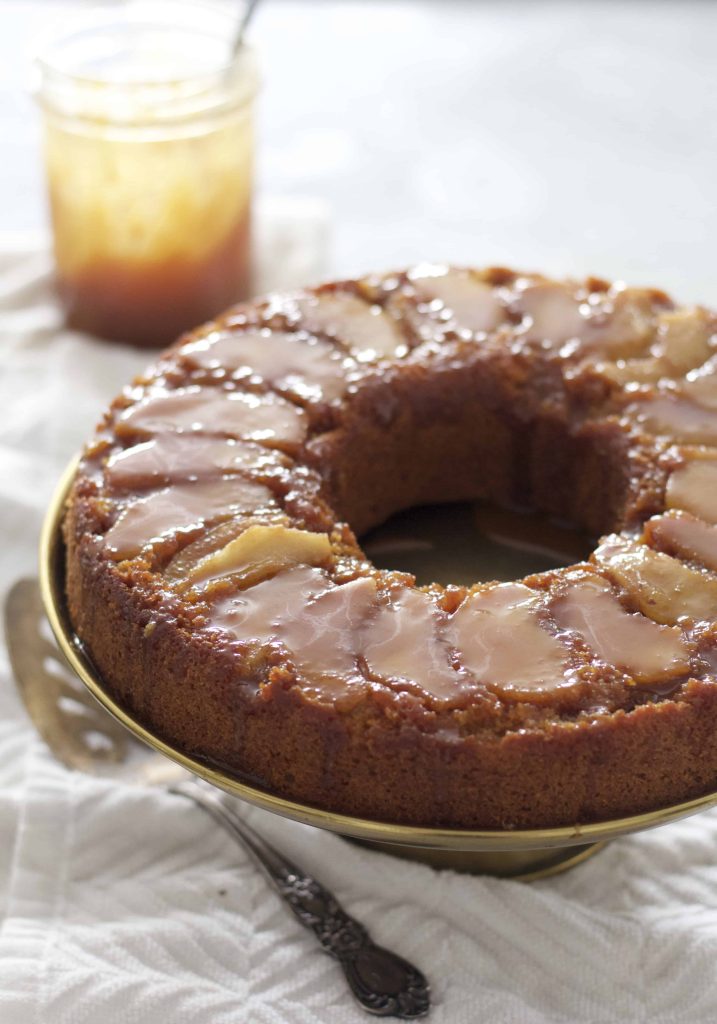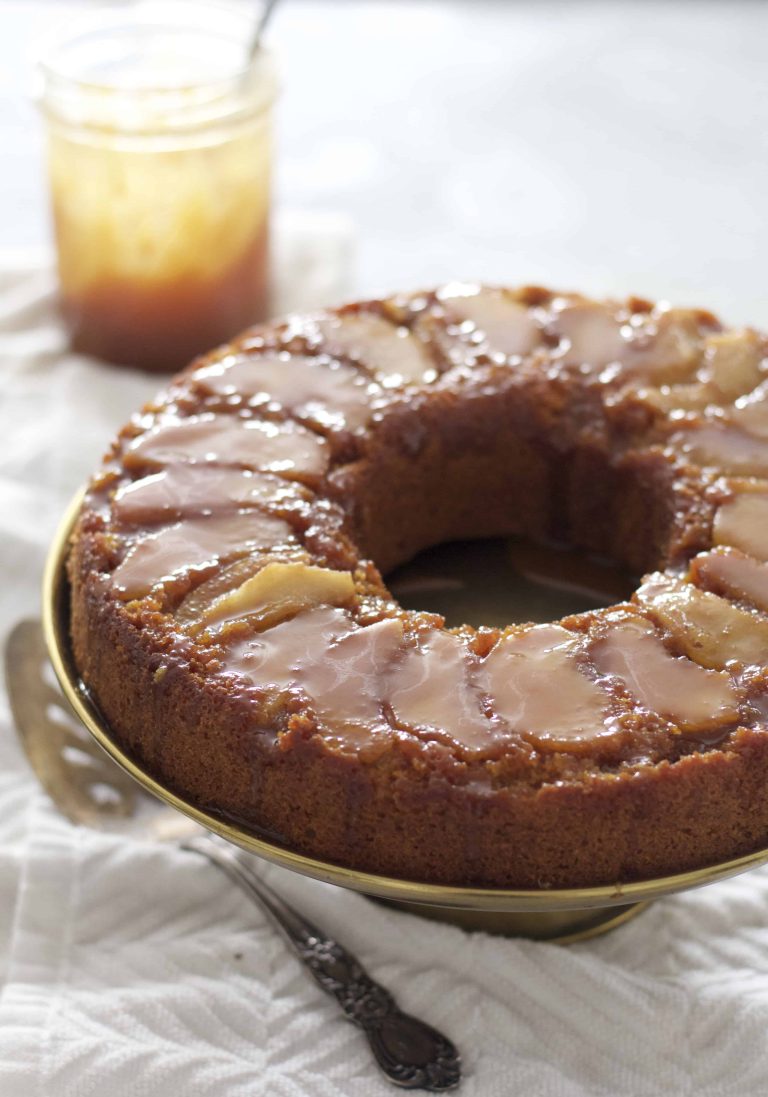 Revamping this recipe that was originally posted in 2011.
Does it feel like fall where you live?
We had a minute of cooler temps after a week of blistering heat mid September, and how it's back to mid 80s. I know Chicago winter will be here any minute, so I don't want to wish it away, but seriously can we just have a little fall?
I want a week of mid 60s with brisk mornings that require scarves and warm coffees in hand…..instead, I'll deal with mid 80s today by taking my kids to the zoo and eating this cake to get me into the fall spirit.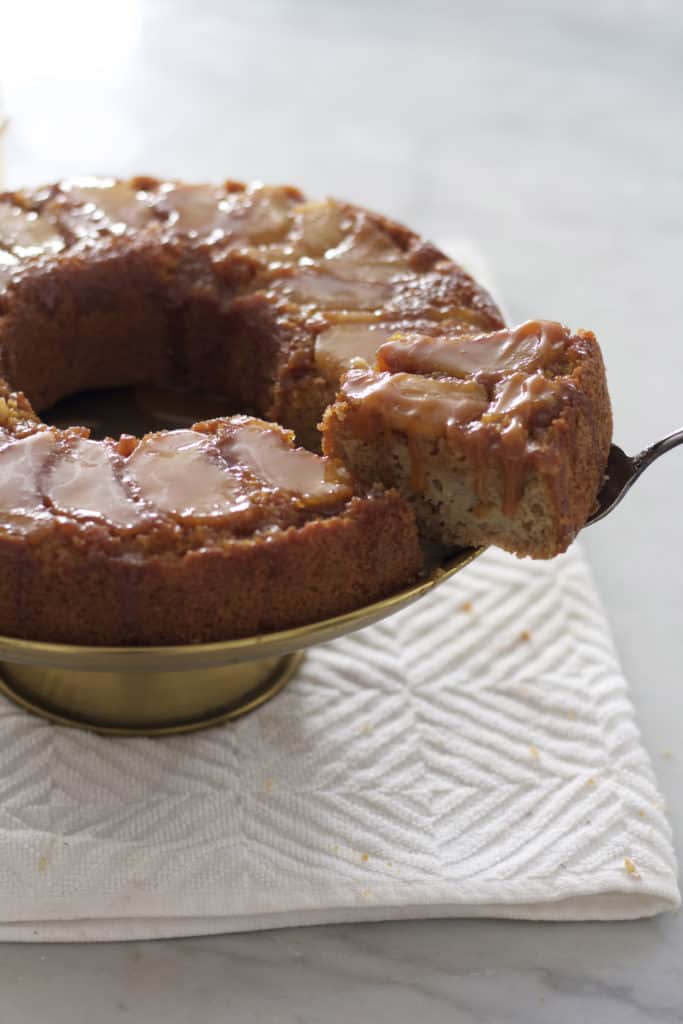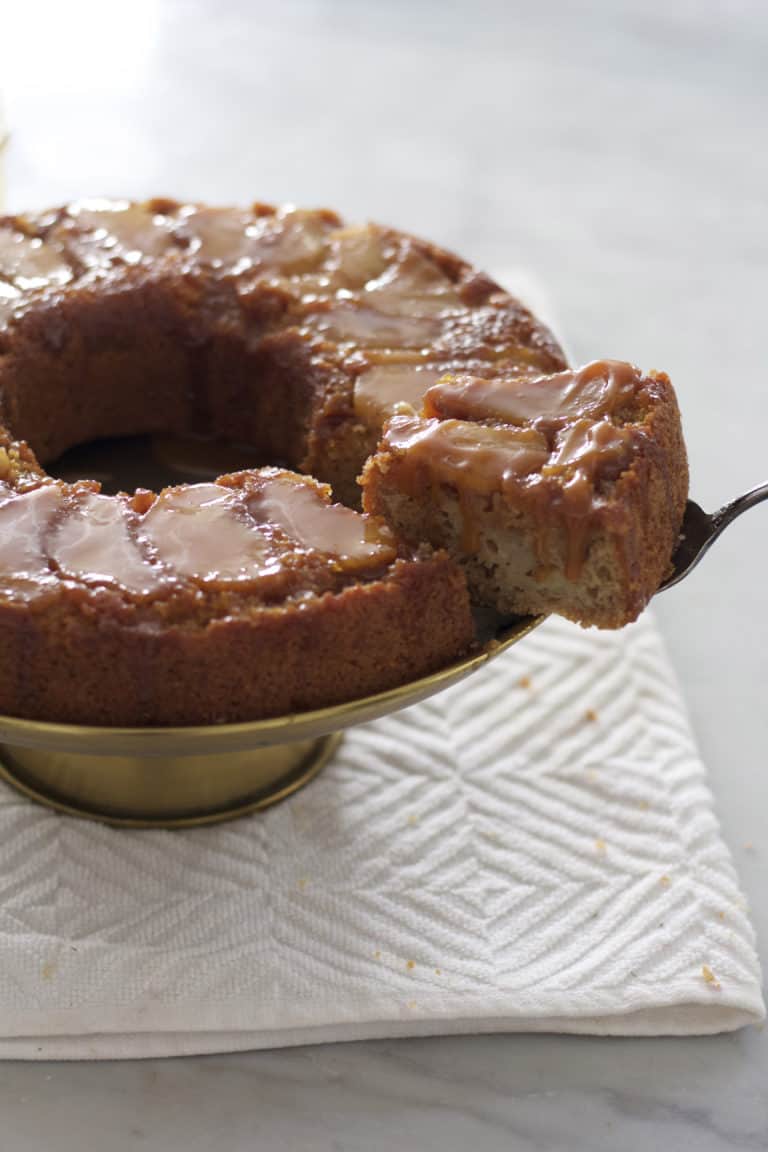 This recipe is simple and delicious. I used 3 large apples I picked from the orchard a couple weeks ago, baked them into a light and fluffy cake, and topped it with some homemade caramel sauce.
It was sweet and rich enough to be eaten for dessert, but with coffee and some fruit I think it would be a perfect in the morning.
I used a tube pan, but you can totally use a bundt pan or even a round 9-inch cake pan- anything that can be flipped over to get that caramel-y goodness on the bottom.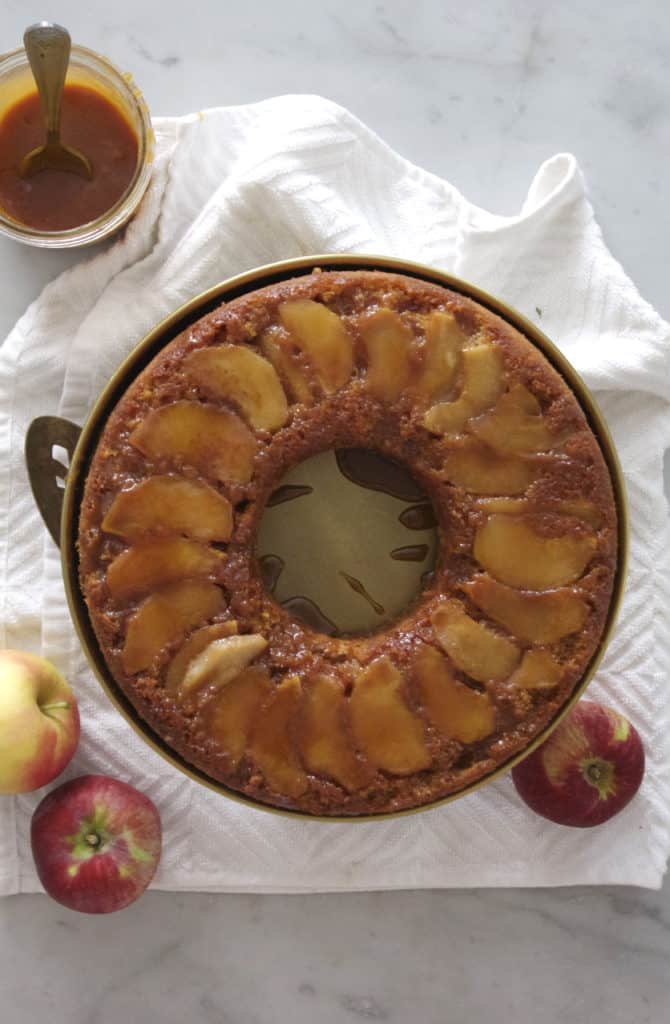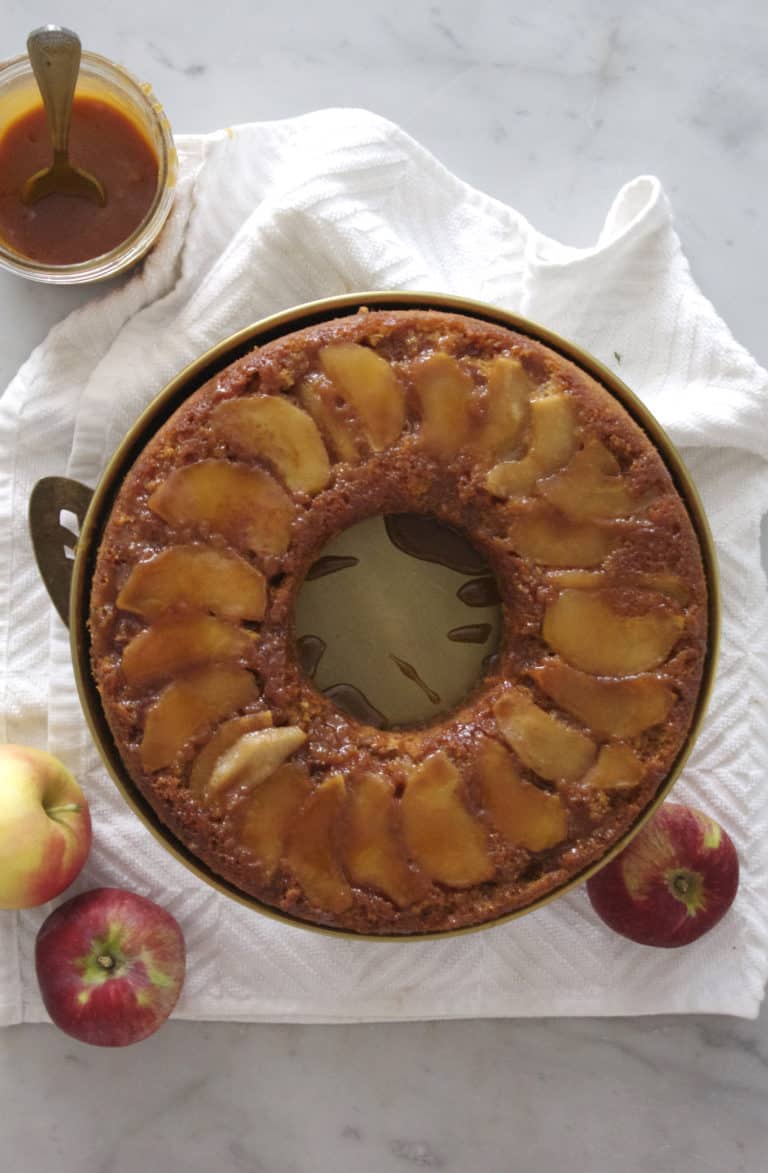 Wish me some fall vibes you guys- I hope where you live is crisp and lovely today!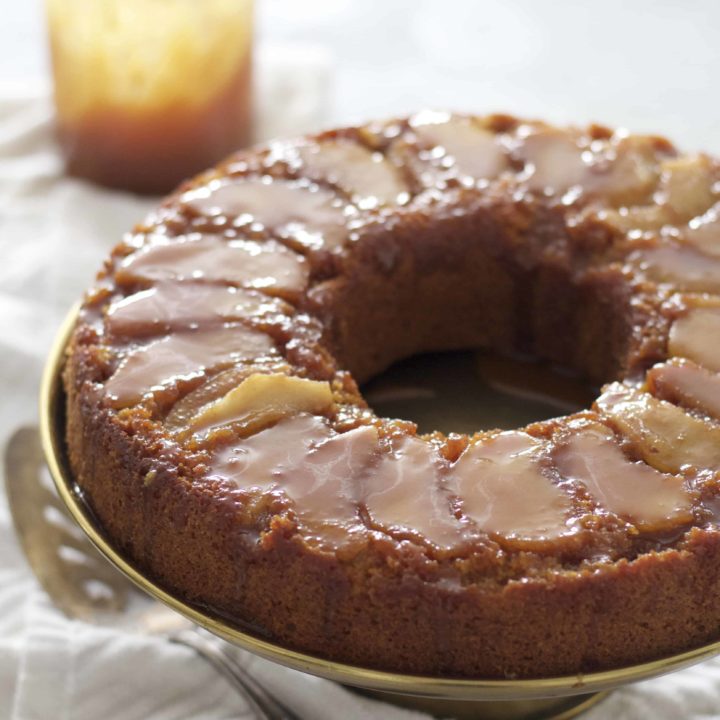 Caramel Apple Coffee Cake
Ingredients
6 tablespoons melted butter
3/4 cup brown sugar, packed
2 large eggs
1 tsp. vanilla
1 3/4 cup all-purpose flour
2 tsp. cinnamon
1 tsp. ground ginger
1 1/2 tsp. baking powder
1/2 tsp. baking soda
1/4 tsp. salt
1 cup sour cream, plain yogurt, or buttermilk also work.
2-3 apples, unpeeled and sliced
1 cup caramel sauce*
Instructions
Preheat oven to 350F. Spray a 9/10 inch bundt, ring or tube pan with nonstick spray.
In a large bowl, whisk together the butter and sugar until sandy. Mix in the eggs and vanilla until smooth and combined.
In a smaller bowl, whisk together the flour, cinnamon, ginger, baking powder, baking soda and salt. Add about a third to the butter mixture and whisk together just until blended. (as the batter gets thicker you may need to change to a wooden spoon.) Add half the sour cream, another third of the dry ingredients, the rest of the sour cream, and the rest of the dry ingredients, stirring by hand just until combined.
Drizzle the bottom of the pan with 1/4 cup caramel sauce. Arrange a layer of sliced apples onto the top of the caramel. Scrape the batter into the pan on top of the apples.
Add the rest of the apples onto the surface of the batter, arranging them however you like – they will shrink as they cook, so feel free to place them tightly together.
Bake for 45 minutes, until the cake is springy to the touch.
Let cool in pan for 5-10 minutes and then on a cooling rack. When mostly cooled, invert cake and drizzle with remaining caramel sauce.
Notes
*homemade is the best but store bought caramel is ok too
Nutrition Information:
Yield:

10
Serving Size:

1 grams
Amount Per Serving:
Unsaturated Fat:

0g