Salted Caramel Apple Pie Bars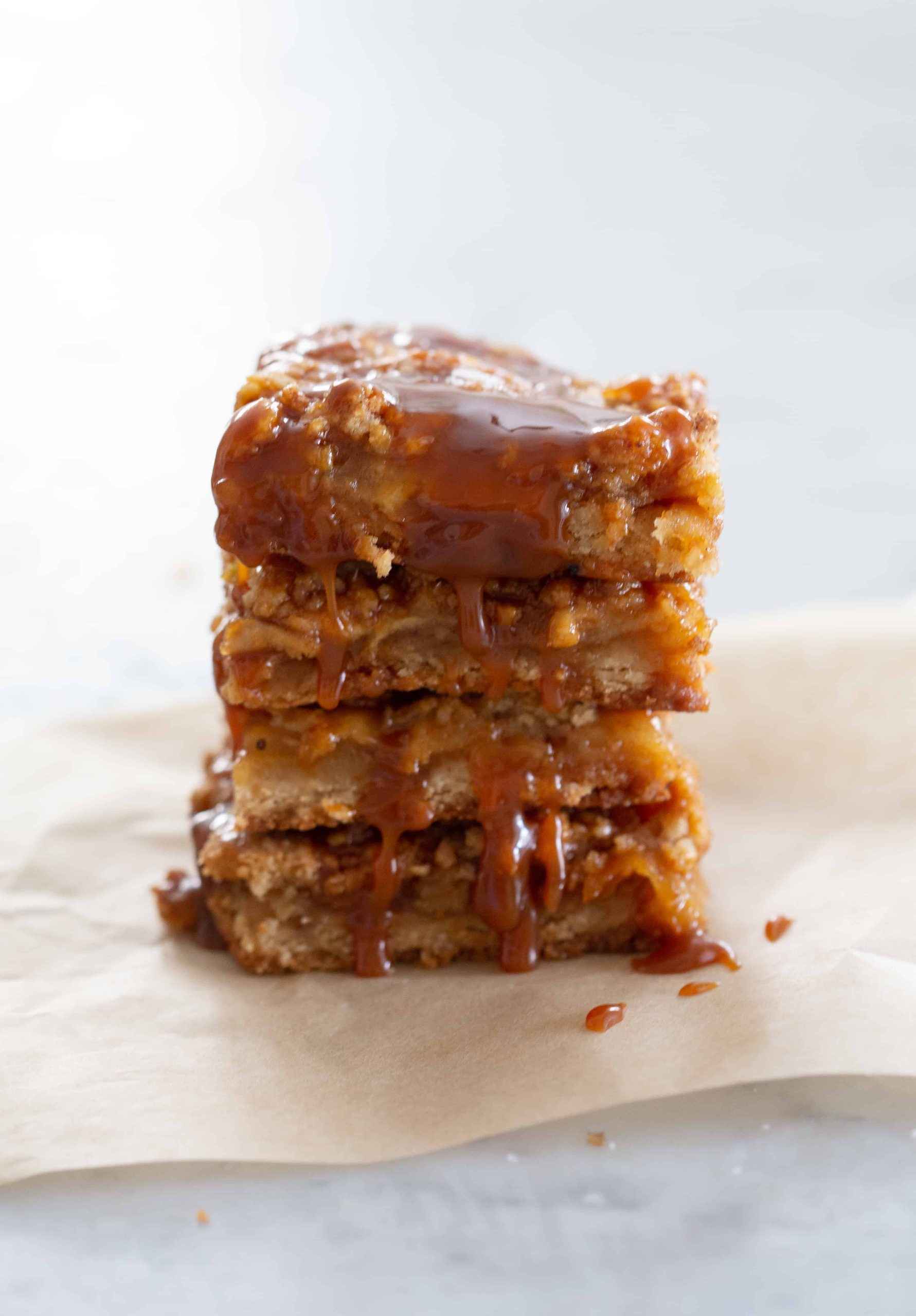 Apple season is here! Fall is the best time of year for baking don't you think? These buttery, crumbly, sweet & salty Salted Caramel Apple Pie Bars are a delicious way to use some seasonal apples. They come together quickly, are fun and simple to make, and are melt in your mouth good!
A simple pie crust type dough is made and left a bit crumbly. You add about half of it to the bottom of a pan, pressing it in to make a crust, add a layer of thinly sliced apples, and top with the remaining crumbly dough.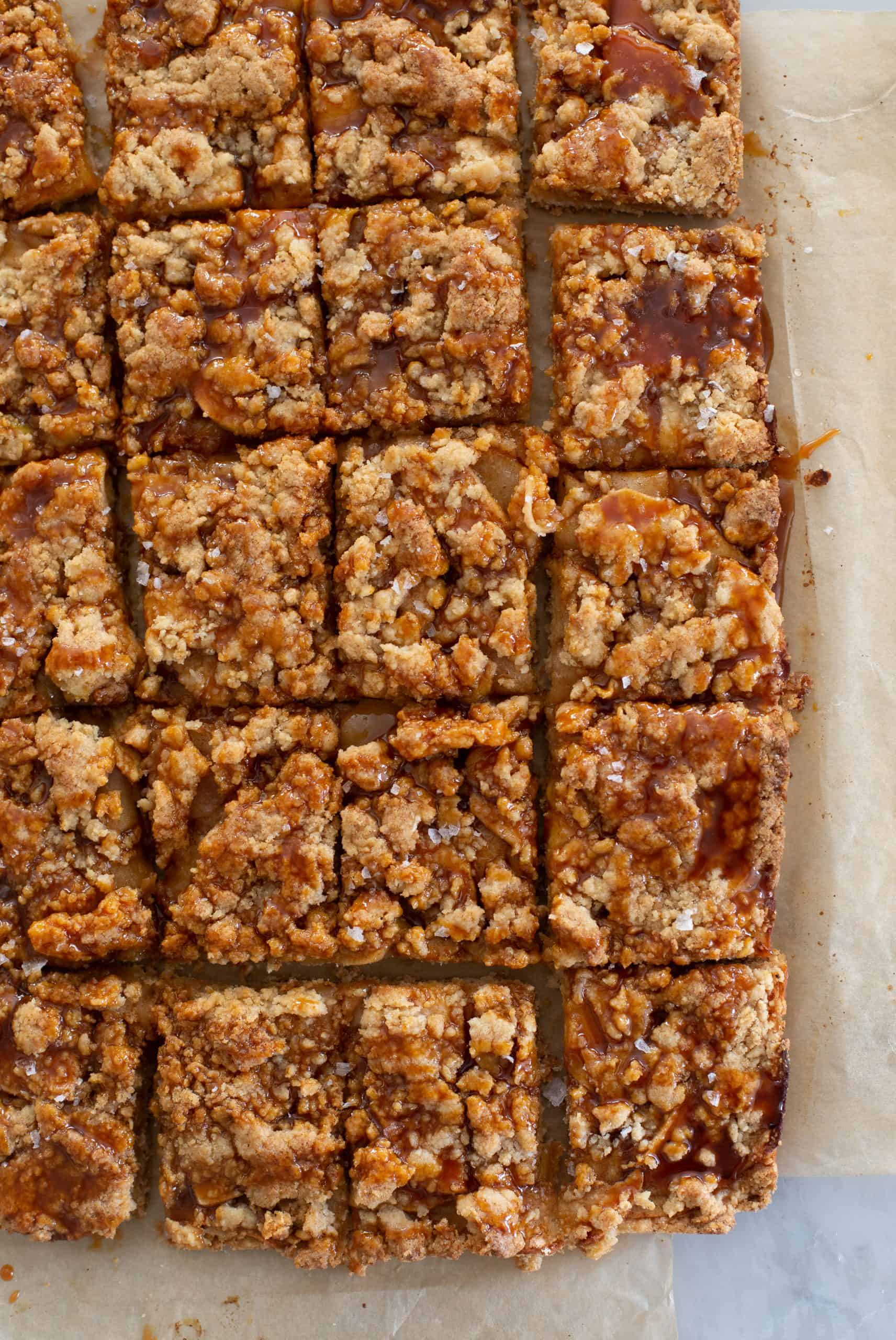 Bake and watch it transform to the perfect golden crust and streusel topping. Drizzle with salted caramel sauce and you have a delicious fall treat.

Ingredient List for Salted Caramel Apple Pie Bars:
All Purpose Flour
Baking Powder
Unsalted Butter
Egg
Brown Sugar
White Sugar
Salt
2 large apples, peeled and thinly sliced (or 3 medium apples)
Cinnamon
Vanilla bean paste (or vanilla extract.)

Supplies needed for Salted Caramel Apple Pie Bars:
Large Bowl
Medium Bowl
9×13 baking pan
Airtight container for storage
Piece of parchment paper for lining pan

The process:
First thing- combine dry ingredients in a large bowl and whisk together. Add in one egg and the chilled butter, cut into small pieces. Use your hands, a pastry blender, or two knives to cut the butter into small pieces until coarse crumbs have formed. (You can also do this step easily in a food processor.) The dough will crumbly, but work it until it seems mostly blended.
In another bowl combine the apple slices with cinnamon, a squeeze of lemon juice, and vanilla. Press half the crust into a prepared pan and then spread the apples evenly over the crust and sprinkle the rest of the crust mixture over the top evenly. (I love how it doubles as a bottom crust and crumb topping.) Bake in a preheated oven until golden brown. cool for a few minutes on a wire rack, and then add a caramel drizzle on top of the warm crust. Sprinkle some flaky sea salt on if desired. Slice and enjoy warm or room temperature.

What type of apples are best to use for this Caramel Apple Pie Bar recipe?
I always like a mix of different kinds of apples when I bake with them. For this I used granny smith apples, pink lady, and some honeycrisp apples

Can I use store-bought caramel sauce?
Sure. I like the Trader Joes Fleur de Sel Caramel and use it in a pinch myself even though making homemade caramel sauce is pretty easy! It lasts a month or more in the fridge so I love to have a jar of caramel sauce on hand in the fall.

Topping ideas:
Want to make these into Caramel Apple Pie Sundaes? Top apple crumble bars with vanilla ice cream and another caramel drizzle.
Or- whip up some heavy cream, add a touch of maple syrup and top with fresh maple whipped cream.
Other favorite Apple Recipes:
Apple Cinnamon Cake with Brown Butter Frosting
Caramel Apple Upside-down Cake
And another amazing Sweet & Salty Bar Recipe: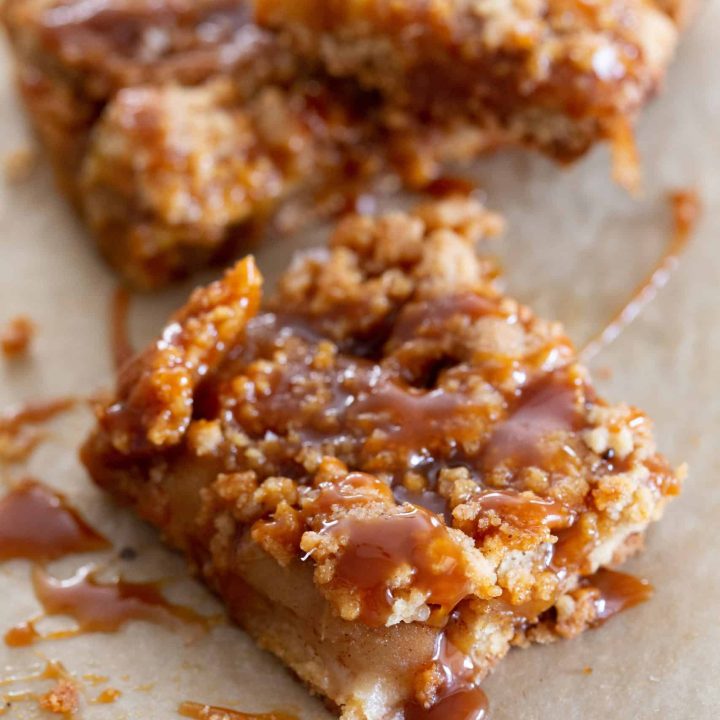 Salted Caramel Apple Pie Bars
Total Time:
1 hour
5 minutes
A buttery crust, sweet apple filling and a salty caramel drizzle- fall dessert perfection!
Ingredients
1/2 cup white sugar
1/2 cup plus 1 tablespoon brown sugar- divided
1 teaspoon baking powder
3 cups all-purpose flour
1 cup cold unsalted butter (2 sticks or 8 ounces)
1 egg
¼ teaspoon salt
2 large or 3 medium sized apples, peeled and sliced thinly
2 teaspoons of cinnamon
juice of half a lemon
1 teaspoon vanilla bean paste or vanilla extract
1 cup caramel sauce
flakey sea salt for sprinkling
Instructions
In a medium sized bowl combine the sliced apples with lemon juice, 1 tablespoon of brown sugar, cinnamon and vanilla. Set aside
In a large bowl combine the flour, 1/2 cup of both white and brown sugar, and baking powder.
Add egg and stir together with a fork, and then add the cold butter cut into small pieces
Using your hands, a pastry blender, two knives, (or a food processor!) break the butter down one piece at a time until the dough is crumbly and the butter pieces are no bigger than pea-sized. (dough WILL be crumbly and not totally uniform.)
Prepare a 9x13 or quarter sheet pan by lining it with 2 overlapped sheets of parchment or grease with butter or cooking spray.
Put half of the crust mixture into the pan and press down with your hands, an offset spatula, or a spoon.
Add the prepared apples in an even layer- spreading them to all the edges.
Top with the remaining crust- crumbling it over the apples.
Bake at 375F for 40-45 minutes or until the top of the bars are golden.
Drizzle with caramel sauce, cut and serve warm or room temperature.