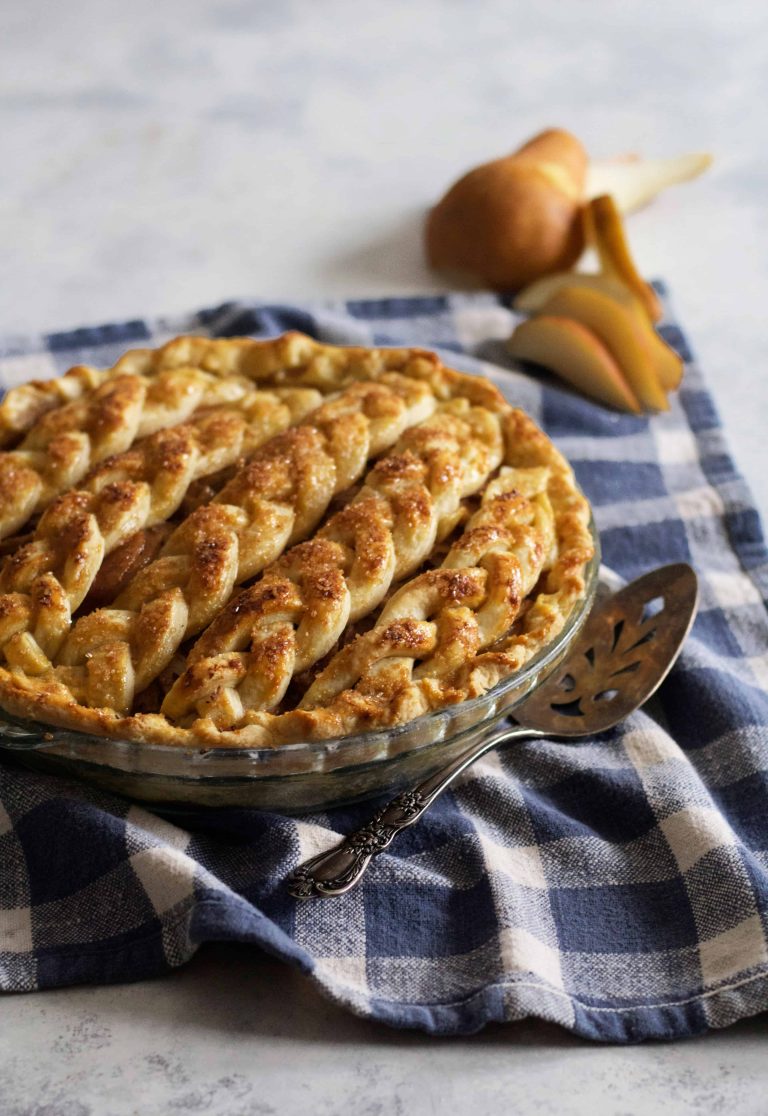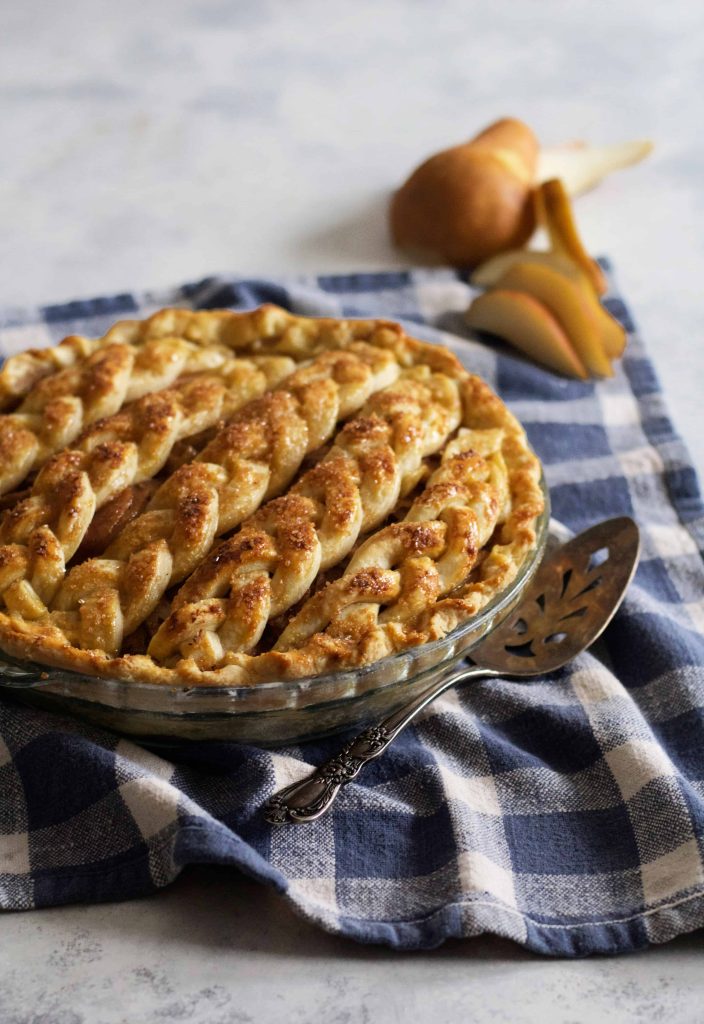 I can't possibly let you enter Thanksgiving week without another pie recipe.
As the person in charge of desserts in my family, I'm always looking to make something classic with a twist and this gorgeous pie is just that apples get all the attention in the fall, but baking with firm, sweet pears is in my opinion just as good but way more unique and impressive.
This pear pie is tossed with warm chai spices like cardamon, cinnamon, ginger and even a crack of black pepper. The result is just a bit more kick than what you're probably used to with apple pie, but that same warm, melt-in-your-mouth goodness just waiting for a scoop of vanilla.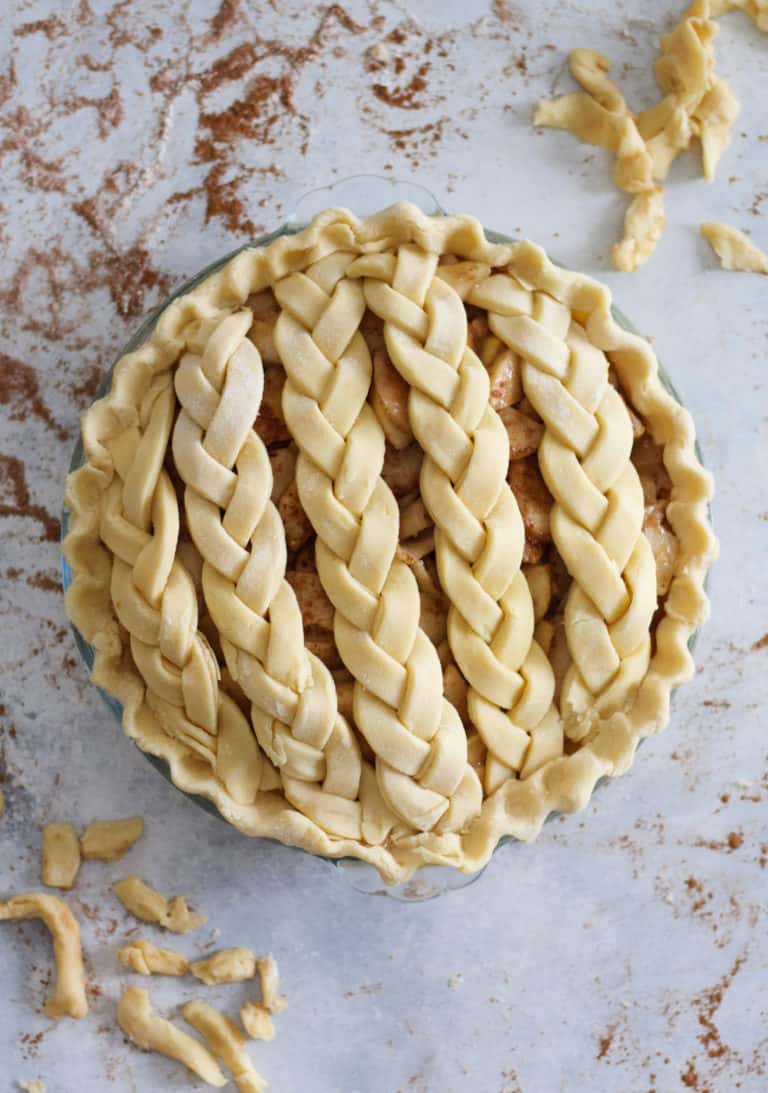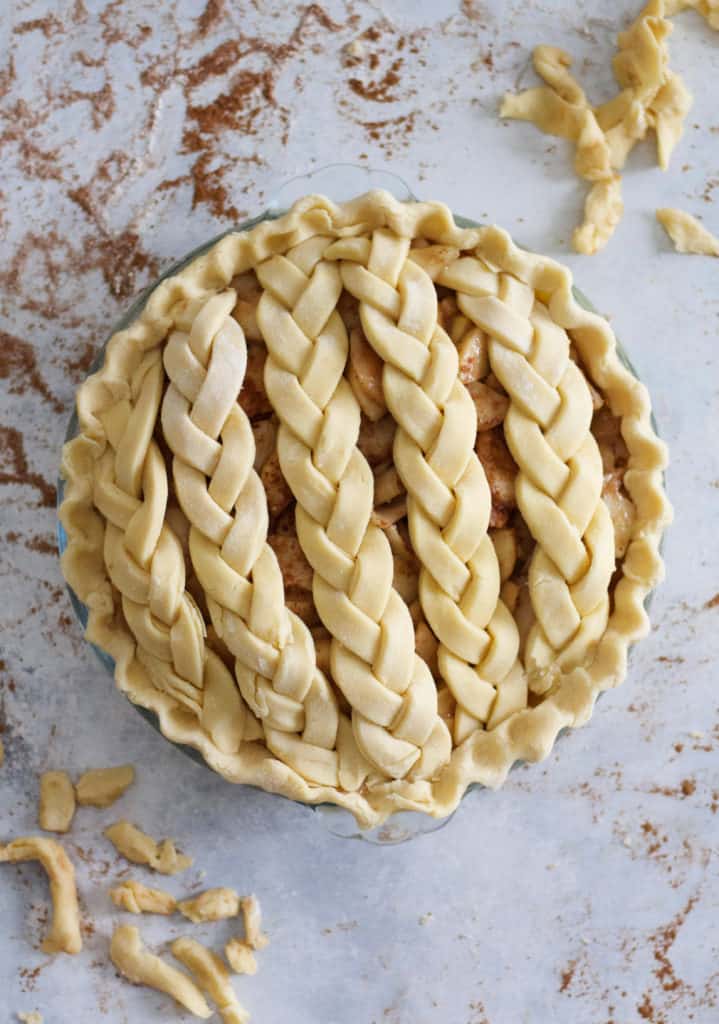 I don't always take the extra time to make an extra special, decorative crust, but it really is so fun to me and results in a truly gorgeous pie.
If you want to go this route, I suggest making a little extra pie crust so you have plenty to work with. For this I used 3 single pie crust recipes, and combined two together to roll out for the strips I used for the braids. I had a lot extra that I have in the fridge for when Thanksgiving rolls around.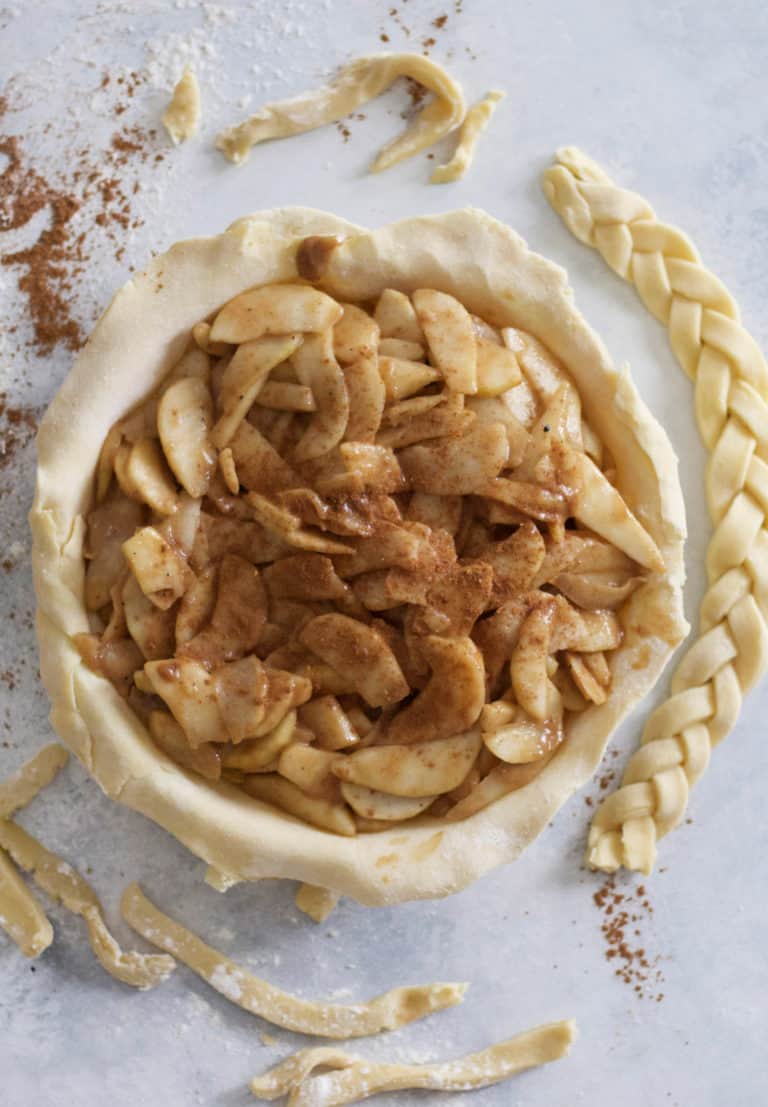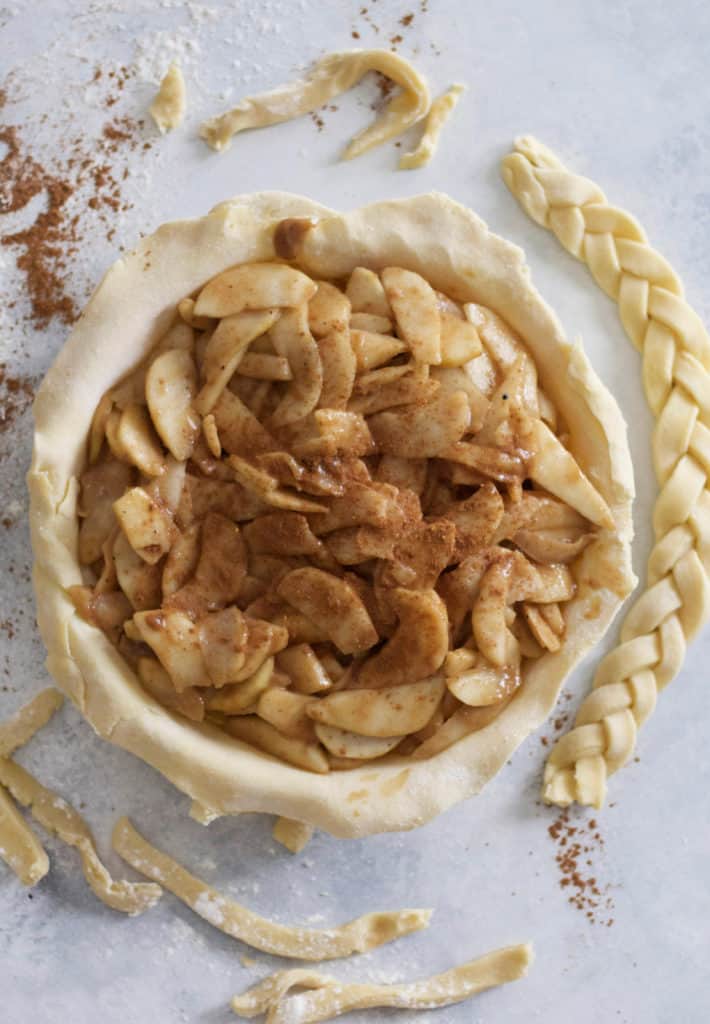 The key is using really cold dough- and chilling it in between steps. Once you have cut the strips and created the braids- pop them in the freezer while you get everything else ready and then arrange them on the pie. And you MUST freeze the whole pie for 15-30 minutes before baking. This will ensure that your pretty crust holds it's shape in the oven. (If you are just doing a simple double crust I'd still freeze it for a few minutes to make sure the crust is cold going in.)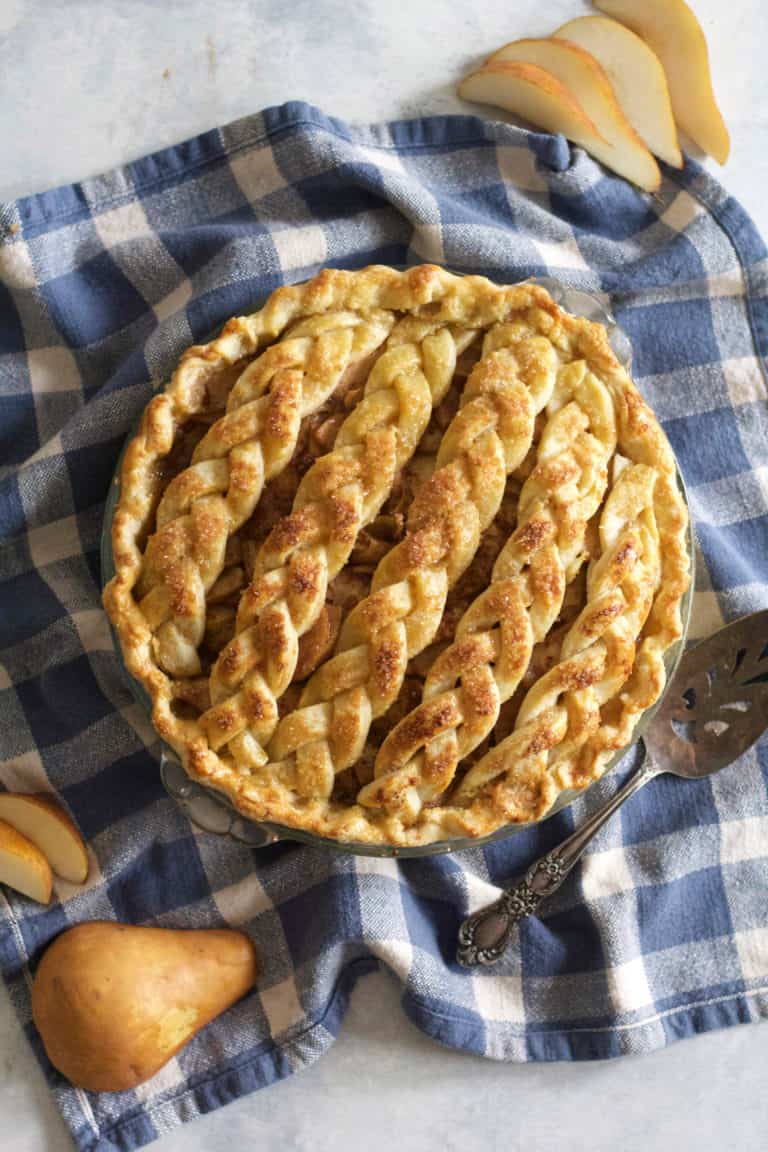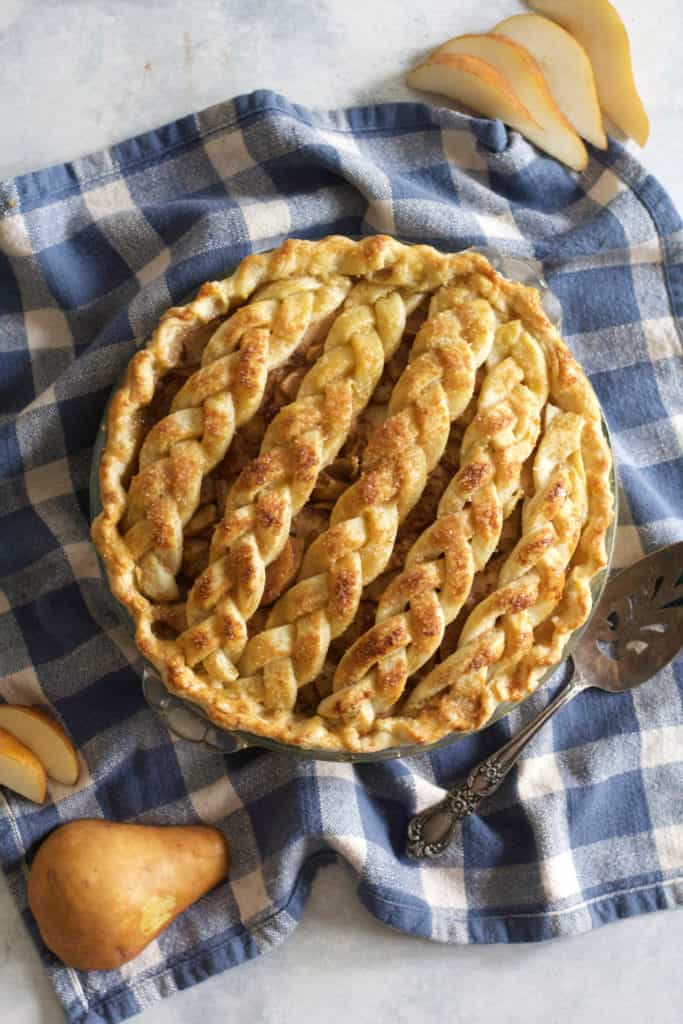 What's on your pie menu this year? I haven't finalized mine yet, but am debating between this and the Cheddar Streusel Apple Pie (one of my forever faves,) either a more classic Brown Sugar Pumpkin Pie or the Pumpkin Mousse Torte, and for the final wild card slot either Brown Sugar Banana Cream Pie, or Blackberry Cranberry Crisp Pie. It's hard having so many options right??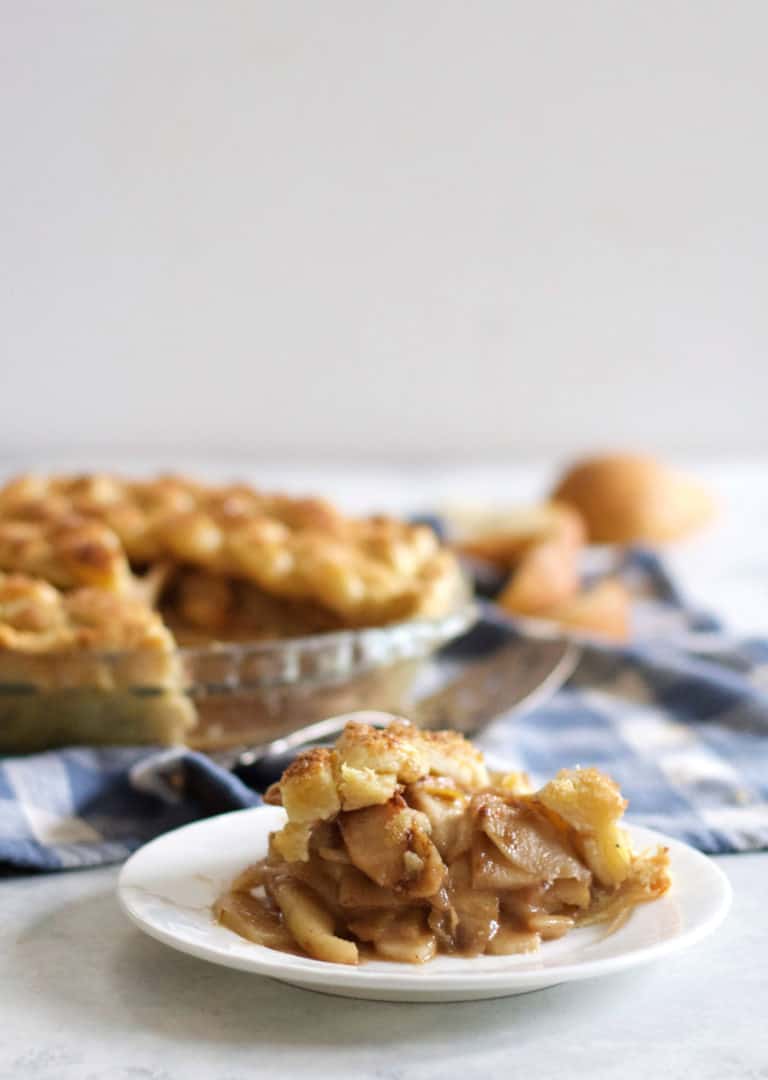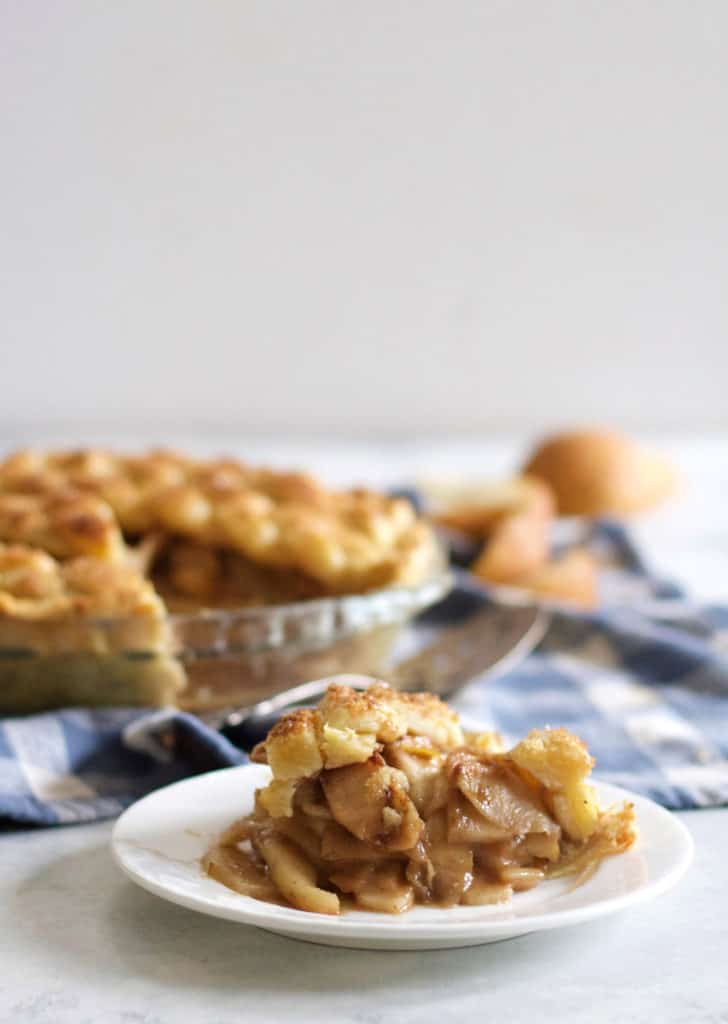 Stay tuned this weekend and early next week for two more Thanksgiving recipe ideas coming your way!

Chai-Spiced Pear Pie
Ingredients
2-3 single layers of Pie Crust (see note)
10 cups of peeled, thinly sliced pears (from about 8-10 pears depending on size, use something firm like bosc)
½ cup brown sugar
¼ cup flour
1 teaspoon ground cinnamon
½ teaspoon ground cardamom
½ teaspoon ground ginger
¼ teaspoon ground nutmeg
¼ teaspoon ground cloves
3-4 twists of freshly ground black pepper (1/8 teaspoon, optional)
¼ cup water
2 tablespoons butter
Instructions
Keep crust chilling in the fridge while you prep the pears.
In a large pot or dutch oven, toss together the pears, brown sugar, flour, and spices. Stir in water and dot with the butter.
Cook on medium heat, stirring frequently, tossing everything around to par-cook the pears a bit. Keep checking to see when a pear slice is "bendy" and slightly tender, but for me I cooked them for 10-15 minutes.
Allow pears to cool while you prep your dough. If you are doing a lattice or braided crust, roll some of the dough out now, form the braids, and freeze them until pie is ready to be assembled. If you are just doing a double crust- wait until the pears are mostly cool.
Roll out one layer of crust and drape over the bottom of a 9- inch pie pan leaving a bit of overhang. Pour the cooled pears into the crust and top with another sheet of pie crust, a lattice top, or the braids.
Trim and crimp edge of crust and pop the whole thing in the freezer for 10-30 minutes.
Preheat oven to 425.F. Place pie onto a cookie sheet and bake for 10 minutes, then reducing the heat to 350F and baking for another 45-50 minutes.. If the crust seems to be getting too dark you can drape some foil on top for the remainder of the baking.
Serve warm with vanilla ice cream.
Notes
*If you want a little extra pie dough to work with for a decorative crust, I like to have a bit extra and usually make 3 batches of crust. If you are just doing a classic top, two single layers is fine!