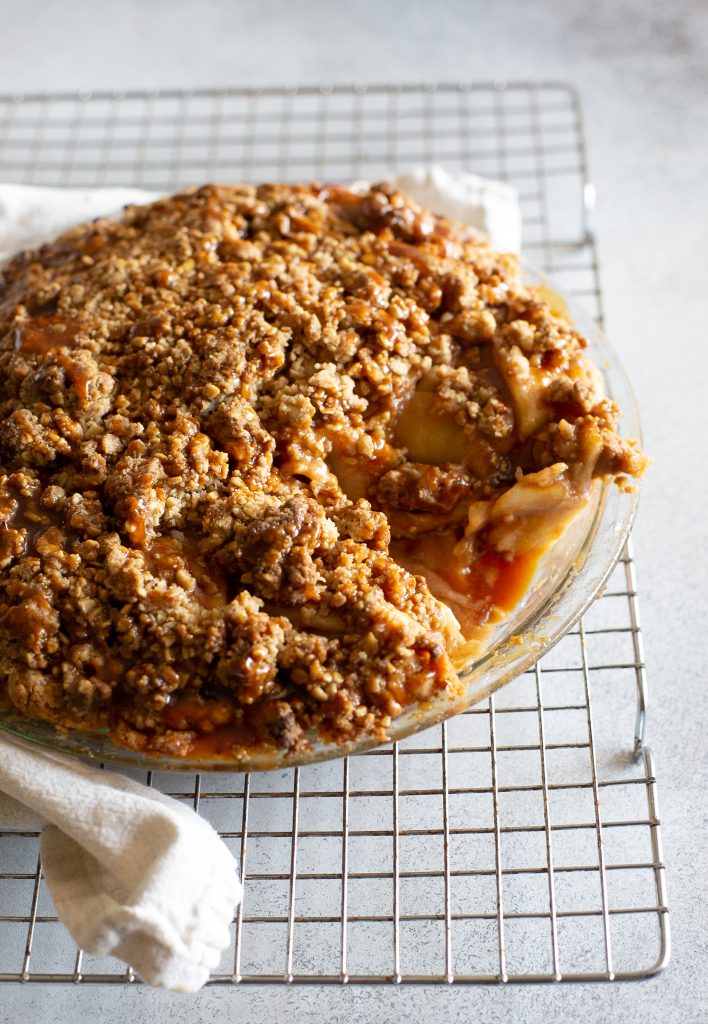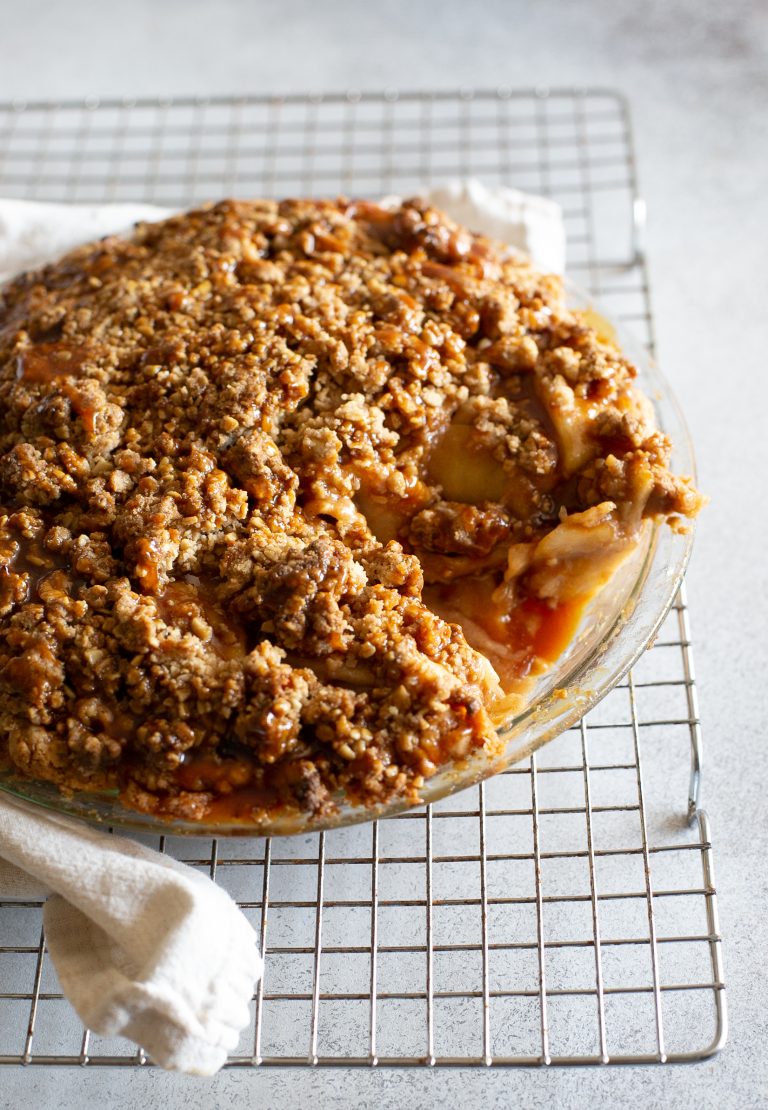 Traditional Apple Pie is a must-have center piece for post Thanksgiving dinner or any special occasion this fall and holiday season. There are lots of varieties of apple pie recipes, but my current favorite is this one, complete with a flaky crust, tart apples, and a sweet crumble on top. Finished with a drizzle of rich caramel sauce, this caramel apple pie recipe is just the best.

Filling Ingredients needed for Caramel Dutch Apple Pie:
Apples
Cinnamon
Brown Sugar
Vanilla
Lemon Juice Butter
Crust ingredients for this Dutch Caramel Apple Pie:
All purpose flour
Cold Butter
Salt

Topping Ingredients for Caramel Apple Pie Recipe Crumb Top:
All purpose flour
Oats
Brown Sugar
Cinnamon
Butter

Supplies needed for Dutch Caramel Apple Pie:
Large Bowl
Pie Plate
Aluminum Foil
Rolling Pin
Plastic wrap
Rimmed baking sheet
Wire Rack
The Process:
For the crust: In a large bowl add the flour and salt and stir to combine. Add the butter in chunks and use a pastry cutter, your hands, or two knives to break the butter down to small pea-sized pieces. (Or streamline this whole process in a food processor!) Stream in ice water until the dough comes together, form a disc, and wrap in plastic wrap. Chill in the fridge for at least an hour, or up to a week.

For the apple mixture:
Toss thin apple slices with brown sugar, warm spices, lemon juice, and flour. Cook mixture in a dutch oven or sauce pan for 10-15 minutes until the apples are tender crisp. Save for later or allow to cool at room temperature.
For the topping:
In a medium sized bowl combine the flour, brown sugar, cinnamon and oats. Add in the butter pieces and cut in with your hands or a pastry cutter until a crumble forms. Save in the fridge for up to a week or use right away.
To assemble the pie:
Roll out your pie dough on a lightly floured surface to about 12 inches and drape into a 9-inch pie pan. Fold/crimp the outside crust- trimming with a sharp knife if needed. Par-bake the crust by filling it with parchment paper and pie weights. What to use instead of pie weights? Find out here. Add the apple filling to the baked crust and add the crumb topping to the top of the pie and heat oven and bake at 400F for 45-55 minutes. Place pie on a baking sheet in case of filling drips and if the topping gets too golden brown top with foil. Garnish baked pie with a caramel drizzle.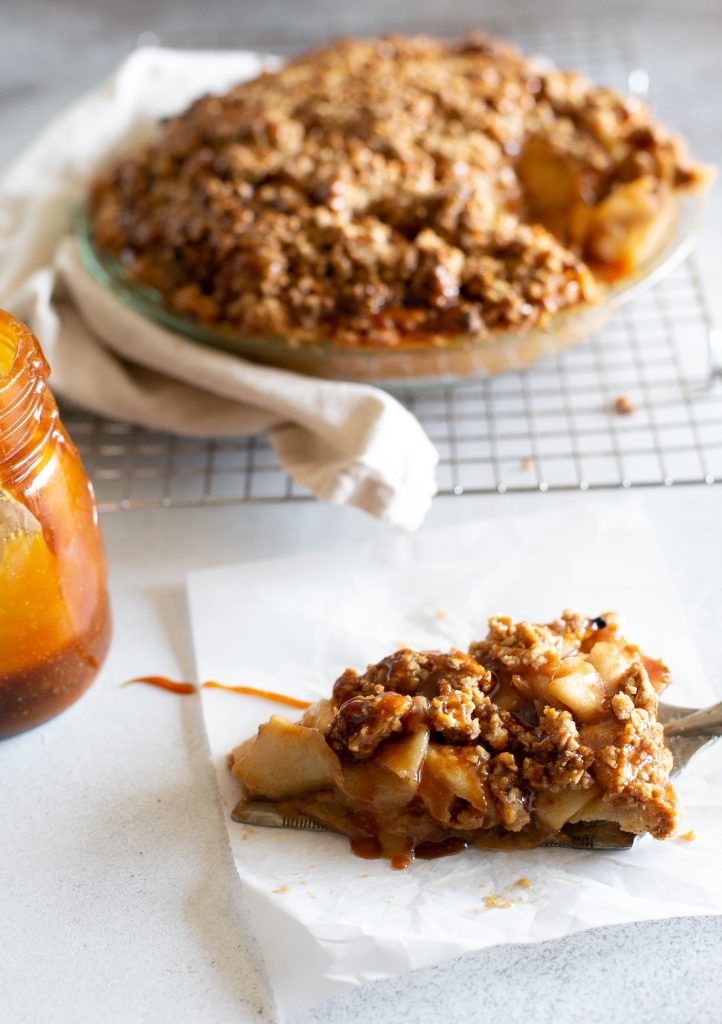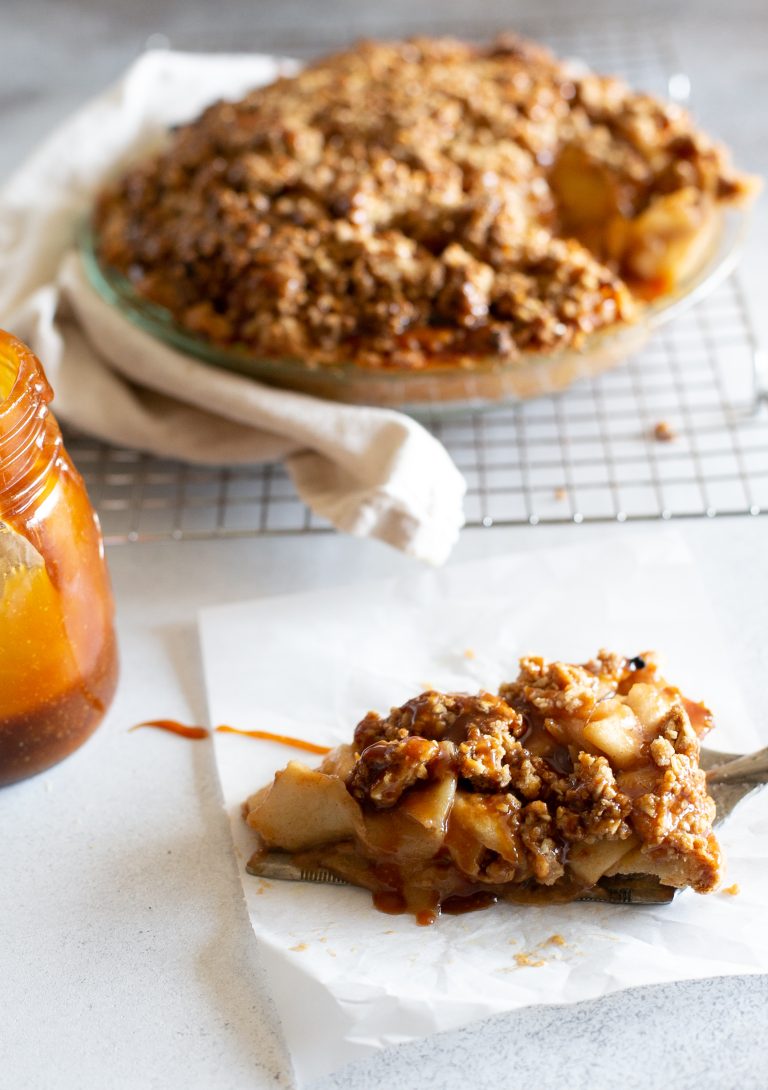 Want to streamline this Caramel Apple Crumb Pie recipe and prepare it in advance?
I like to make my pie crust at least a day in advance, spreading out the workload and making the whole thing easier to throw together. A half recipe of my Perfect Pie Crust will last up to a week in the fridge or 1 month in the freezer.
I also like to make my apple filling in advance.This Caramel Apple Pie Filling Recipe is perfect for this recipe and can also hang in the fridge for up to a week. Spooned into a flaky pie crust and topped with a crumb topping it's apple pie perfection.

What type of apples are best for this recipe?
When in doubt I always use granny smith apples or honey crisp apples, but anything slightly tart will work well.
Can I use a pre-made pie shell?
I am always an advocate of flaky homemade pie crust, but if that step feels daunting to you, a pre-made pie crust will work fine too. I do still recommend par-baking it so the bottom of the pie shell is nice and crisp.
Serving suggestions:
My favorite way to serve this Caramel Apple Crumb Pie is with a scoop of vanilla ice cream and a drizzle of homemade caramel sauce. It's to die for!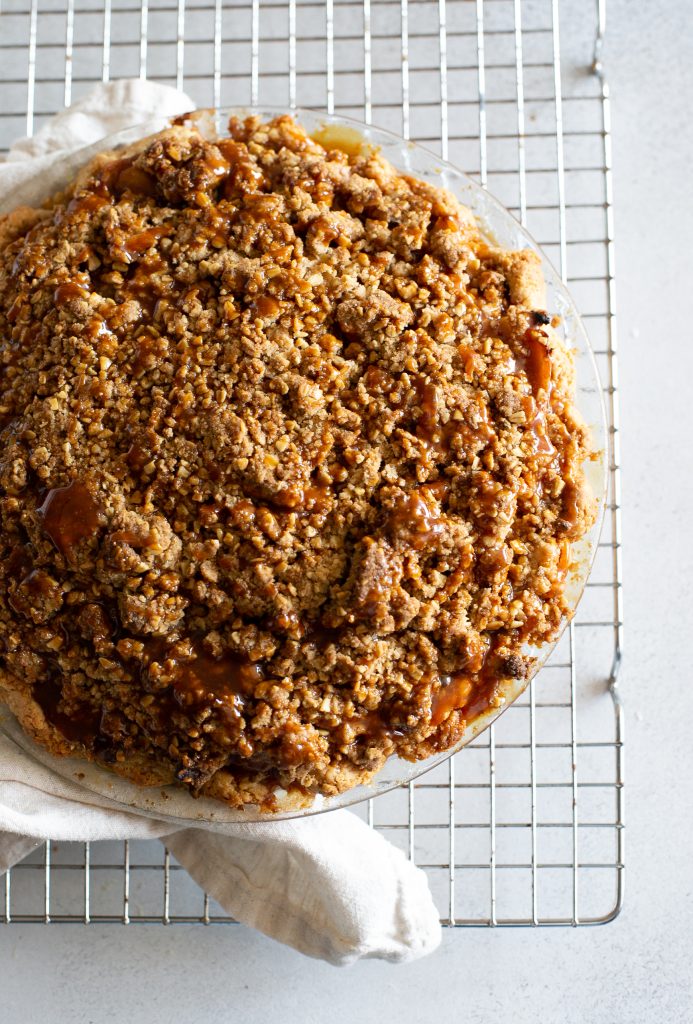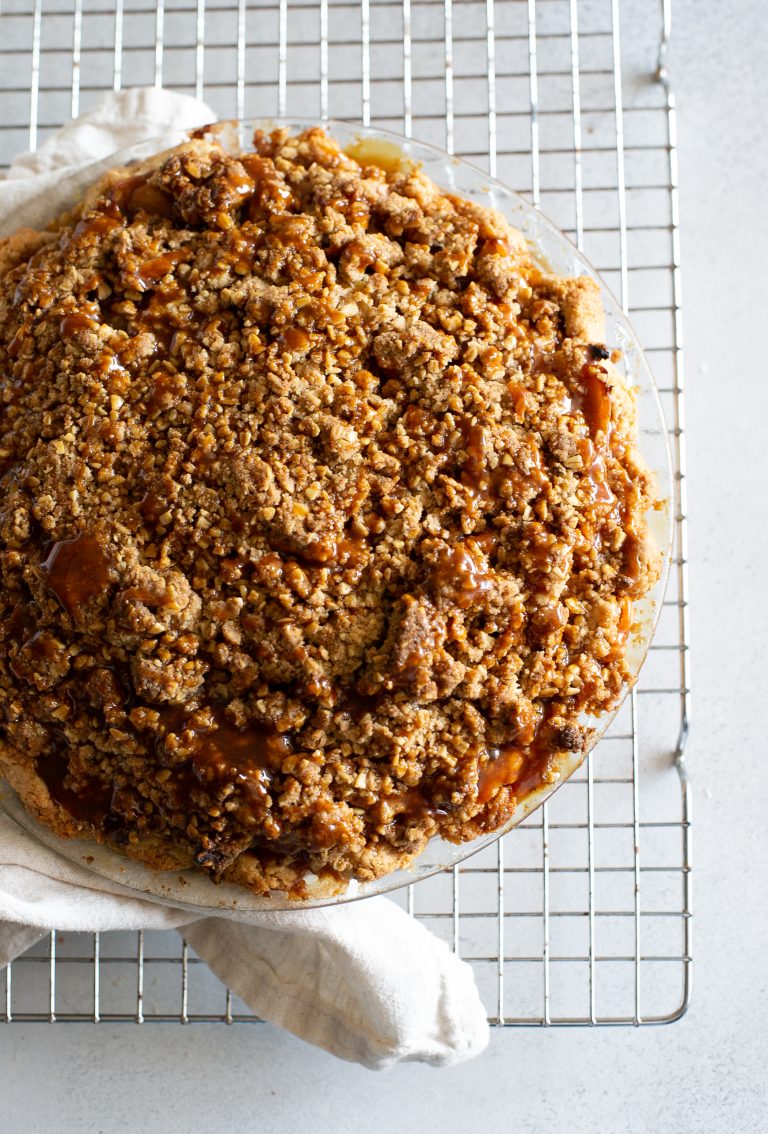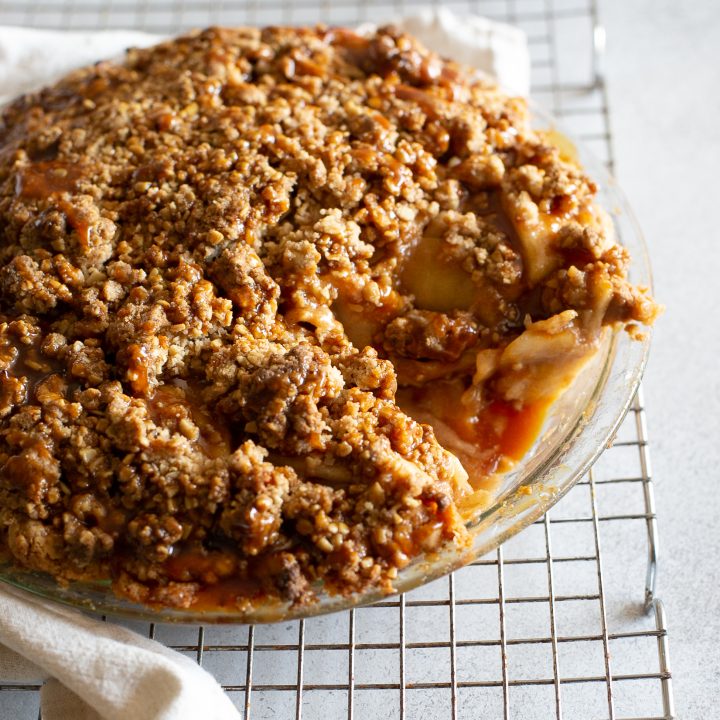 Caramel Dutch Apple Pie
Ingredients
For the Topping:
1/2 cup (40 grams) old-fashioned oats
1/2 cup (60 grams) all-purpose flour
1/2 brown sugar (80 grams)
2 T whole-wheat flour
1/4 tsp baking powder
1/4 tsp salt
1/4 tsp cinnamon
4 T (4 oz) cold butter, cut into cubes
Instructions
In a medium-large bowl combine the oats, flours, baking powder, cinnamon, and salt for the topping. Add the butter cubes and use hands ot a pastry blender to smash each piece and work it onto the dry ingredients until crumbly clumps form. Set aside.
Roll pie dough to about a 12 inch circle. Drape crust into a 9 inch pie plate and fold/trim and crimp the edges as desired. Prick bottom of the crust with a fork and pop it into the freezer while the oven preheats to 375F.
Par bake crust by placing a sheet of parchment inside the crust and filling with pie weights or dried beans. Bake at 375F for about 10 minutes and carefully remove the parchment. Return to oven for another 15 minutes or until the edges are a touch golden and bottom of the crust seemed cooked. (Reference picture in this post.)
Spoon apple filling into the pie shell and smooth slightly. Sprinkle the topping evenly over the apples.
Bake at 400F for 45-55 minutes, or until the apples are bubbly around the edges and the crumble is deep golden. If the top of the pie seems to be getting dark too quickly drape a piece of foil loosely over the top for the rest of the baking time.
Drizzle caramel sauce on the pie and serve warm with more sauce as desired.