Cherry Amaretto Cheesecake Ice Cream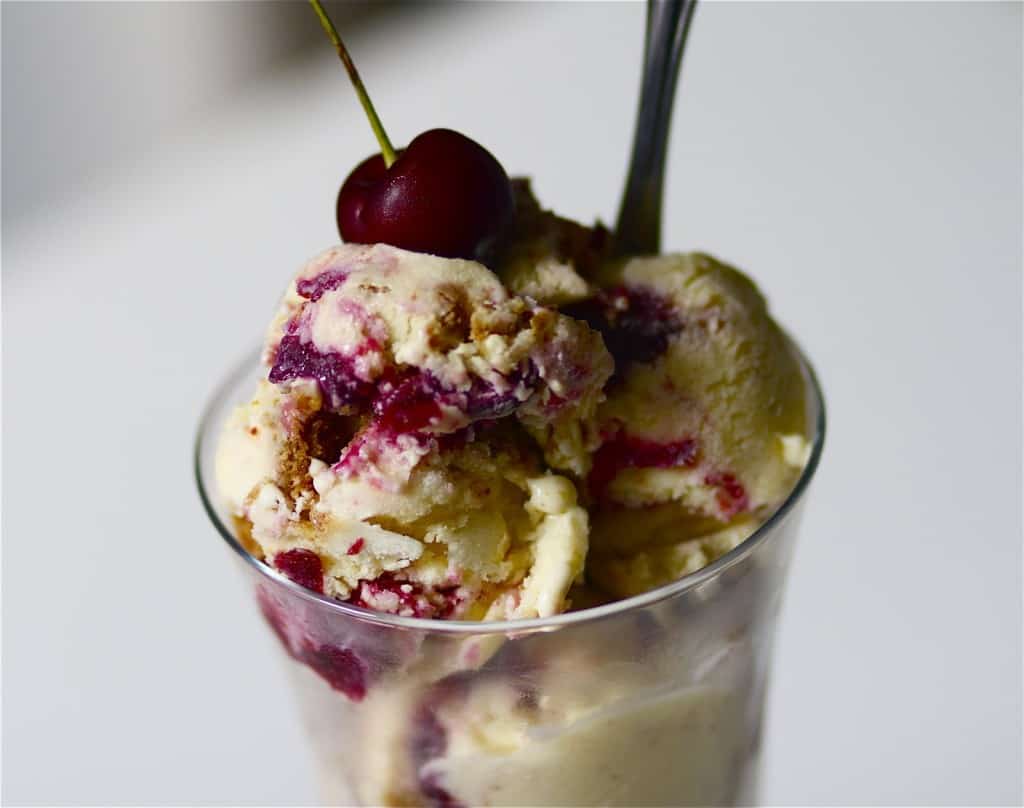 I'm sorry that my blog has been a little slower lately than normal. It's because I've been busy doing lots of really important and groundbreaking things. I have been totally pre-occupied studying and researching lots of studious baking topics.
Ok. No. Actually I've been reading the Hunger Games. Yup- in the last week I obsessively read the entire series. Have you read them? Do you like books you can't put down? I cried when I finished the last one. For real. Read them if you haven't.
Anyway- I did have time to whip up this special ice cream. It has actually been in the works for awhile. See, in my hometown of Milwaukee there is an amazing Frozen Custard place called Kopps. Since I was a kid I'd get excited driving by to see the Flavor-of-the-day especially when it was "Turtle Sundae" or "Peach Melba," my two favorites. And actually…..my first ever job at the age of 14 was behind the counter at Kopps…..(funnily enough the woman that trained me still works there.) Every time Kopps announced their flavor as being Cherry Amaretto Cheesecake my family always got some. I think it was my Mom that claimed it as her favorite, so whoever was nearby would get some of the creamy rich and delicious custard.
This recipe seemed like something I had to try when I made these cupcakes and had a half bottle of amaretto left. And then when I made this cheesecake and found a huge wedge left over waiting to be frozen. Enter cherry season and before I knew it- I was eating my hometown fave over the sink. My sisters tried it and said they liked it even better than the original and I have to agree.
The ice cream consists of a rich custardy Amaretto Ice cream, with a sweet cherry sauce and chunks of cheesecake. I know this recipe is annoying because it requires you to have a wedge of plain cheesecake lying around. But- maybe tuck it in the back of your brain and the next time you're out for dinner or baking save a slice or two so you can make this amazing concoction. I also think it would be great with brownie chunks if you have those laying around. Cherries could also be subbed for raspberries or peaches or whatever you have. Enjoy!
Note: Last time I posted an Ice Cream recipe that had egg yolks I got some comments about how that seemed like a lot. Trust me – This is a very standard formula for rich french-custardy- ice cream. It doesn't taste eggy and is SO good.
Cherry Amaretto Cheesecake Ice Cream
Ingredients
1 1/2 cups whipping cream
1 1/2 cups whole milk
6 large egg yolks
3/4 cup sugar
1 tablespoon light corn syrup
3 tablespoons amaretto
Cherry Sauce:
2 cups fresh cherries pitted and sliced in half
1/4 c. sugar
1/4 c. water
1/4 tsp. salt
1/2 tbsp. cornstarch
1/2 tbsp. water
1 large piece of cheesecake chopped into chunks, plain or could be flavored if that's what you have.
Instructions
Bring cream and milk to simmer in heavy medium saucepan. Whisk yolks, sugar, and corn syrup in large bowl to blend. Gradually whisk in hot cream mixture. Return to saucepan; stir over medium-low heat until custard thickens and leaves path on back of spoon when finger is drawn across, about 5 minutes (do not boil).
Strain into medium bowl. Chill until cold. (Really should be overnight for best results in your ice cream maker. ) Whisk in amaretto. Process in ice cream maker according to manufacturer's instructions.
Wash cherries; remove pits. Place in saucepan with sugar water and salt. Cover; bring to a boil, reduce heat and simmer 5-8 minutes. Blend cornstarch with water; add to cherries and cook 2-3 minutes or until sauce has thickened and is clear. Cool. (Make this while the Ice cream mixture is chilling and refrigerate until it until the ice cream is frozen.)
To assemble: One Ice Cream is frozen layer in a container as follows: Ice Cream, cherry sauce, cheesecake pieces.. (Repeat a few times.) Freeze for a few hours before eating. Enjoy!
Nutrition Information:
Serving Size:

1 grams
Amount Per Serving:
Unsaturated Fat:

0g