Coconut Cream Cheese Brownies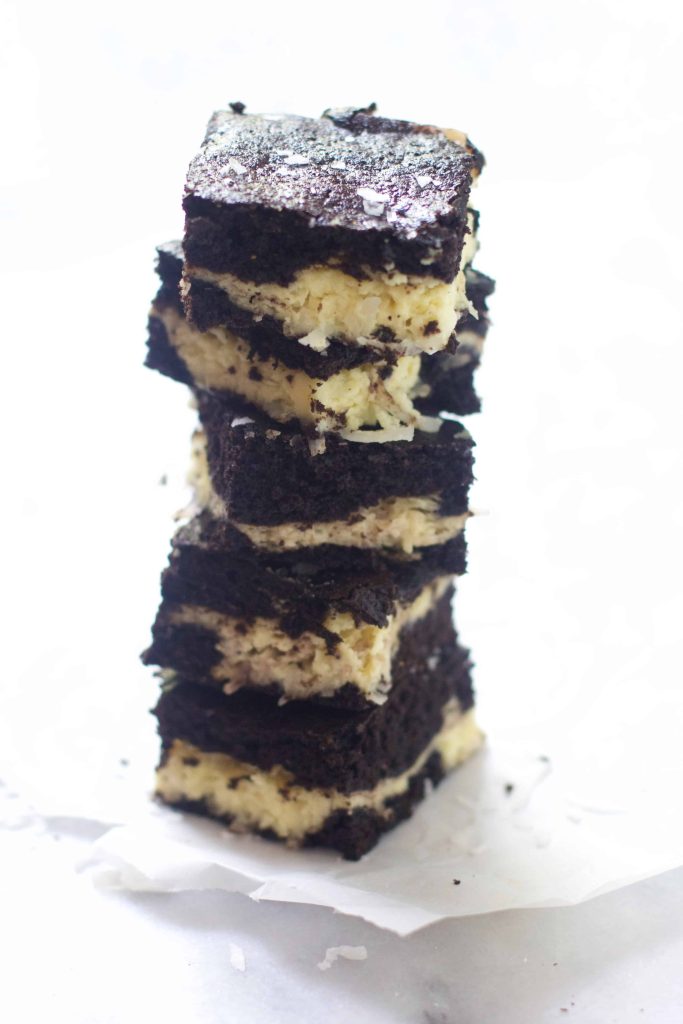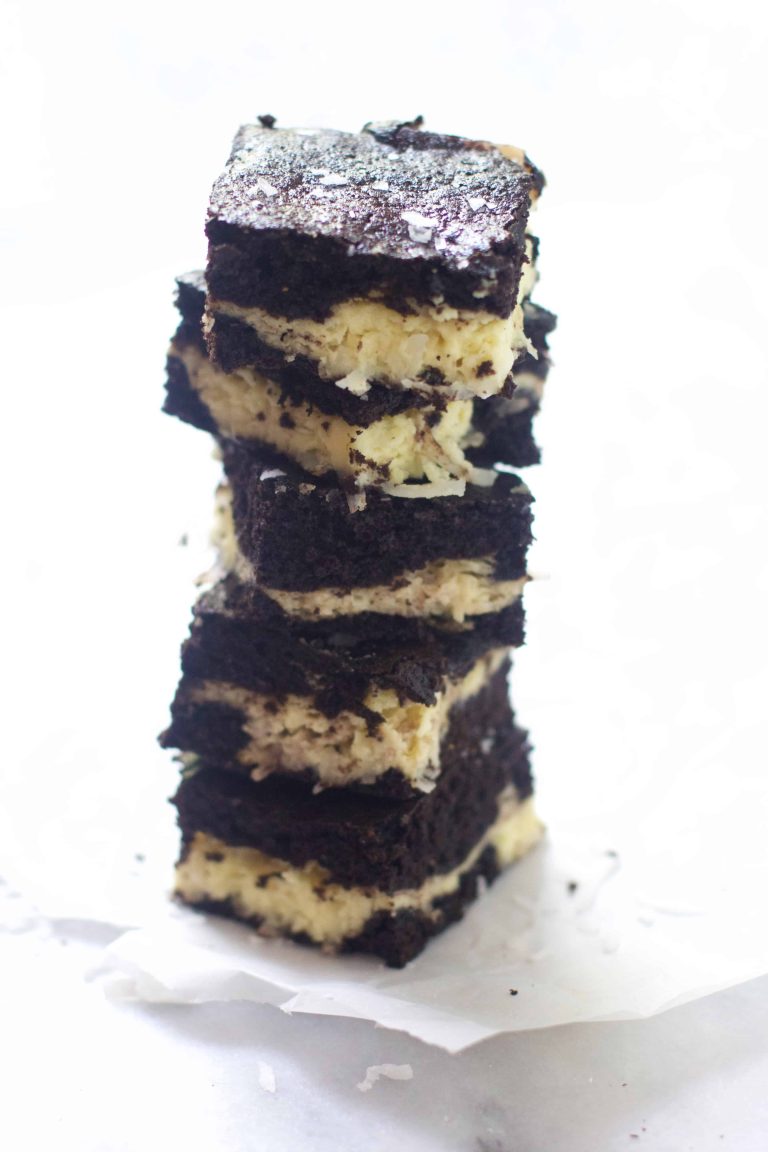 This recipe was originally posted in July 2011- it has been reworked/rephotographed and posted again because it was fabulous but desperately needed it!
No matter how many times I think I've baked up the "perfect brownie" recipe, I will always get giddy about trying something new. Man do I love a classic fudgy brownie, but I'm also such a sucker for fillings, flavors and swirls galore. I made this recipe several years ago and it needed some serious re-working so here it is.
Dark chocolate brownie layers sandwich a creamy coconut cheesecake center. These have an awesome texture- the dark chocolate brownie is moist and a little cake-like with the coconut filling really tying it all together. I can't think of a better recipe for someone who loves chocolate and coconut as much as I do. (It kinda has a "Mounds" thing going on!)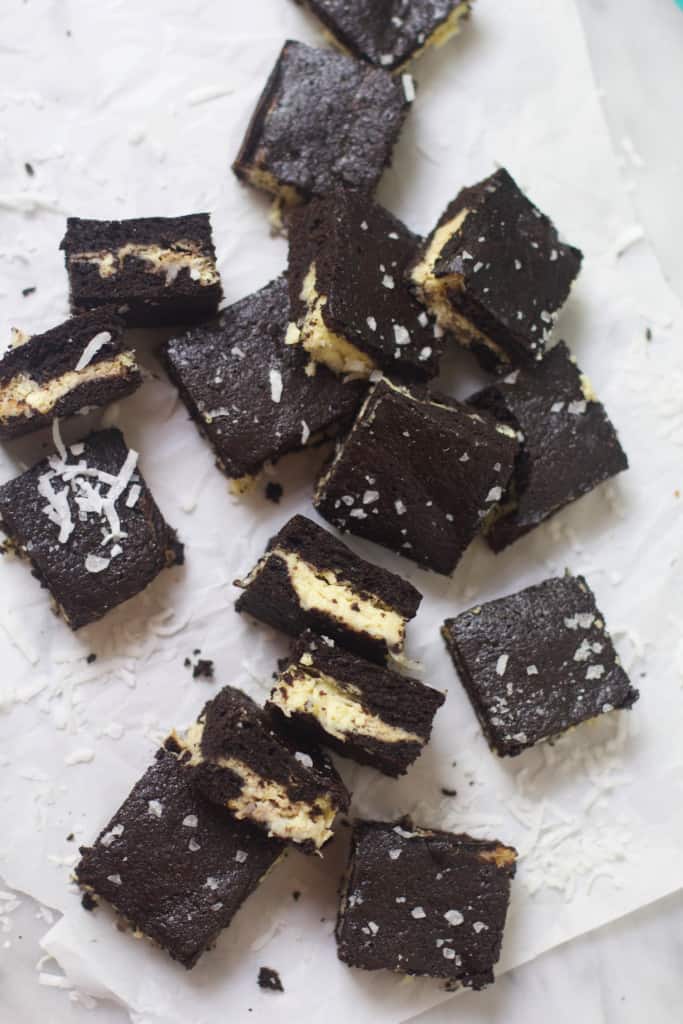 I used coconut oil in the brownie batter which as you can imagine just takes the whole flavor up a notch. You can use whatever vegetable oil you have, but I love the subtle flavor that coconut oil adds. Serve these cold (or even frozen!) for a delicious treat for cold weather. Enjoy!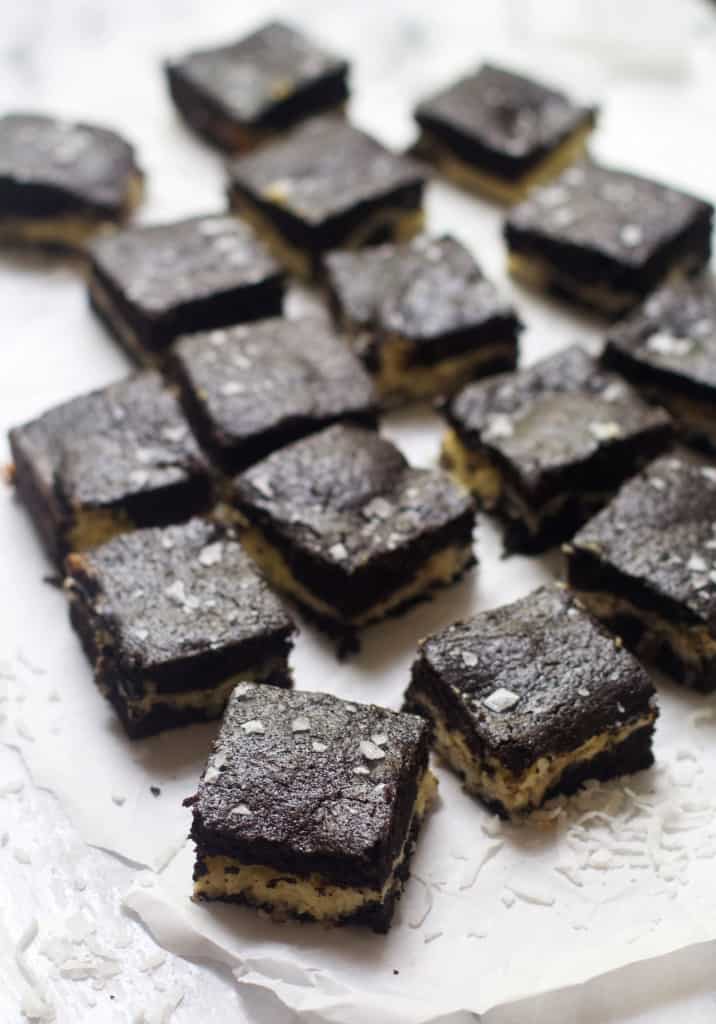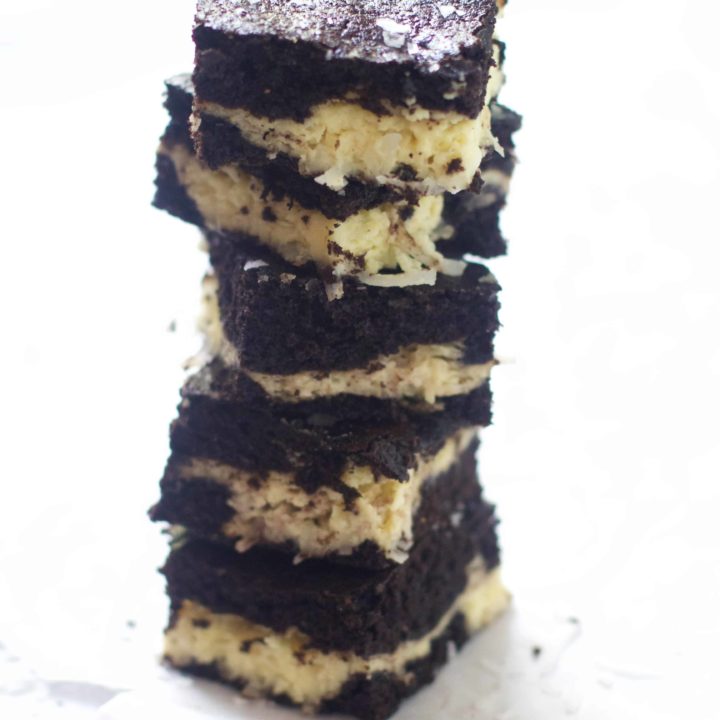 Coconut Cream Cheese Brownies
Ingredients
For the Brownies:
1/2 cup coconut oil-melted
1 cup white sugar
1 teaspoon vanilla extract
2 eggs
1/2 cup all-purpose flour
1/3 cup unsweetened cocoa powder
1/4 teaspoon baking powder
1/4 teaspoon salt
For the Coconut Filling:
1 8oz package cream cheese, softened
1/4 cup sugar
1 egg yolk
3/4 tsp vanilla extract
1/2 cup shredded coconut*
Instructions
Preheat oven to 350 degrees. Grease an 8×8 baking pan- set aside.
For the filling:
In a medium sized bowl combine the softened cream cheese, 1/4 cup of sugar, egg yolk, vanilla and coconut. Mix together using an electric mixer until well combined. Set aside and make the brownie batter.
For the Brownie Batter:
In a medium bowl, whisk together the oil, sugar, and vanilla. Beat in the eggs.
Stir together the flour, cocoa, baking powder, and salt; gradually stir into the egg mixture until smooth and just combined.
Spread about half of the brownie batter into the bottom of your prepared pan. Use a spoon to dollop the coconut filling evenly across the pan then use an offset spatula to gently spread it into an even later. Spread the remaining brownie batter over the top.
Bake for 20-30 minutes, or until a toothpick inserted into the center of the pan comes out clean. Cool completely before removing from pan and cutting into squares.
Notes
*I used sweetened coconut, if you use unsweetened, I'd add a little more sugar.
Nutrition Information:
Yield:

16
Serving Size:

1 grams
Amount Per Serving:
Unsaturated Fat:

0g