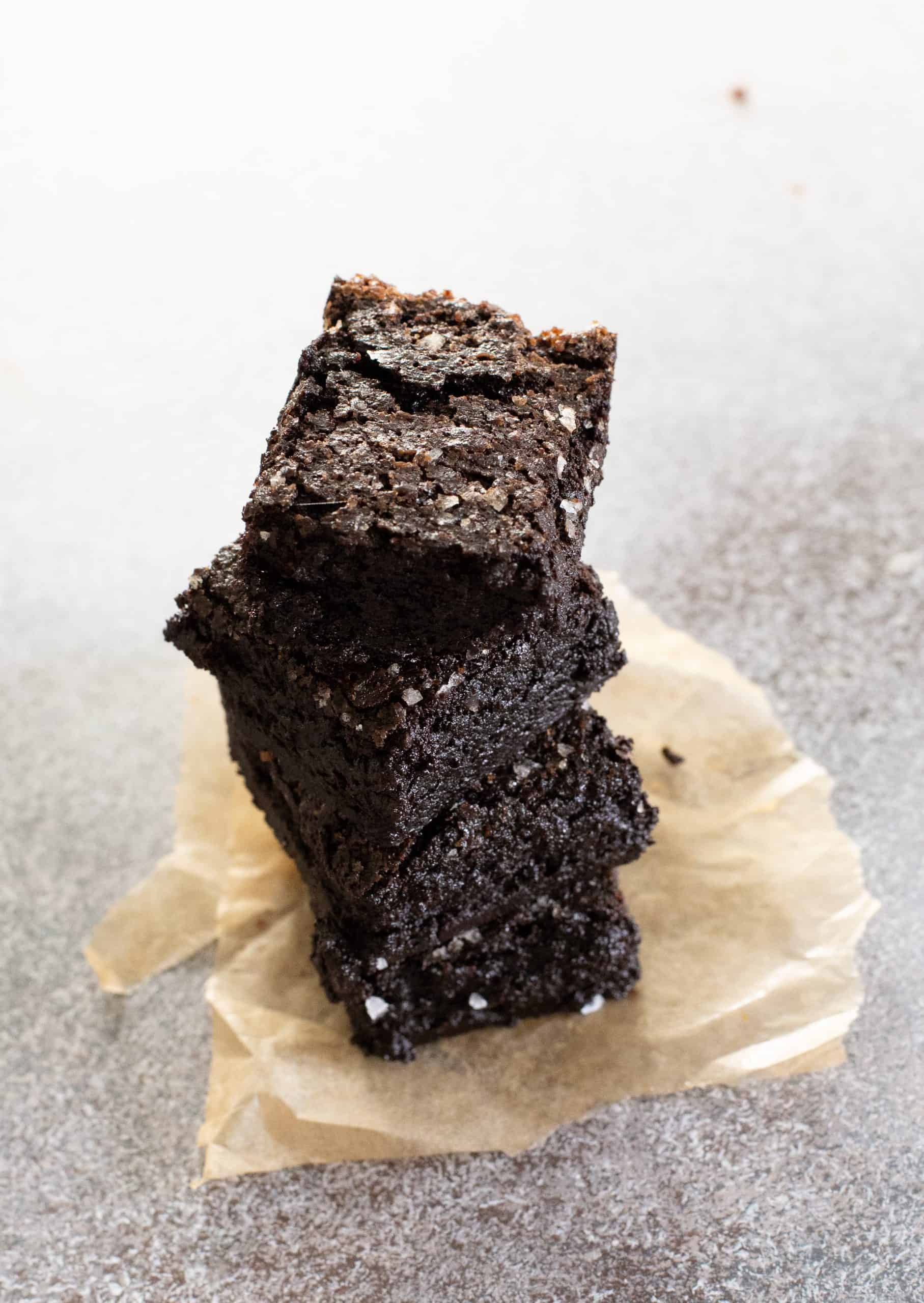 Since becoming a food blogger, I seem to analyze every dessert item I put into my mouth. At any given meal I think- "Could I recreate this?" "Is that dark chocolate?" "How is this cake so fluffy?" Sometimes I come across something so delicious that I have to keep buying it out until I figure out how to recreate it.
What am I talking about you may ask? Well yes- the Sea Salt Brownie Bites from Trader Joes. I'm obsessed. I always throw a container into my cart and often times have made a serious dent in them before I even get to checkout. (Oops.) So you are probably not surprised that I had made it my mission to recreate something as similar as possible.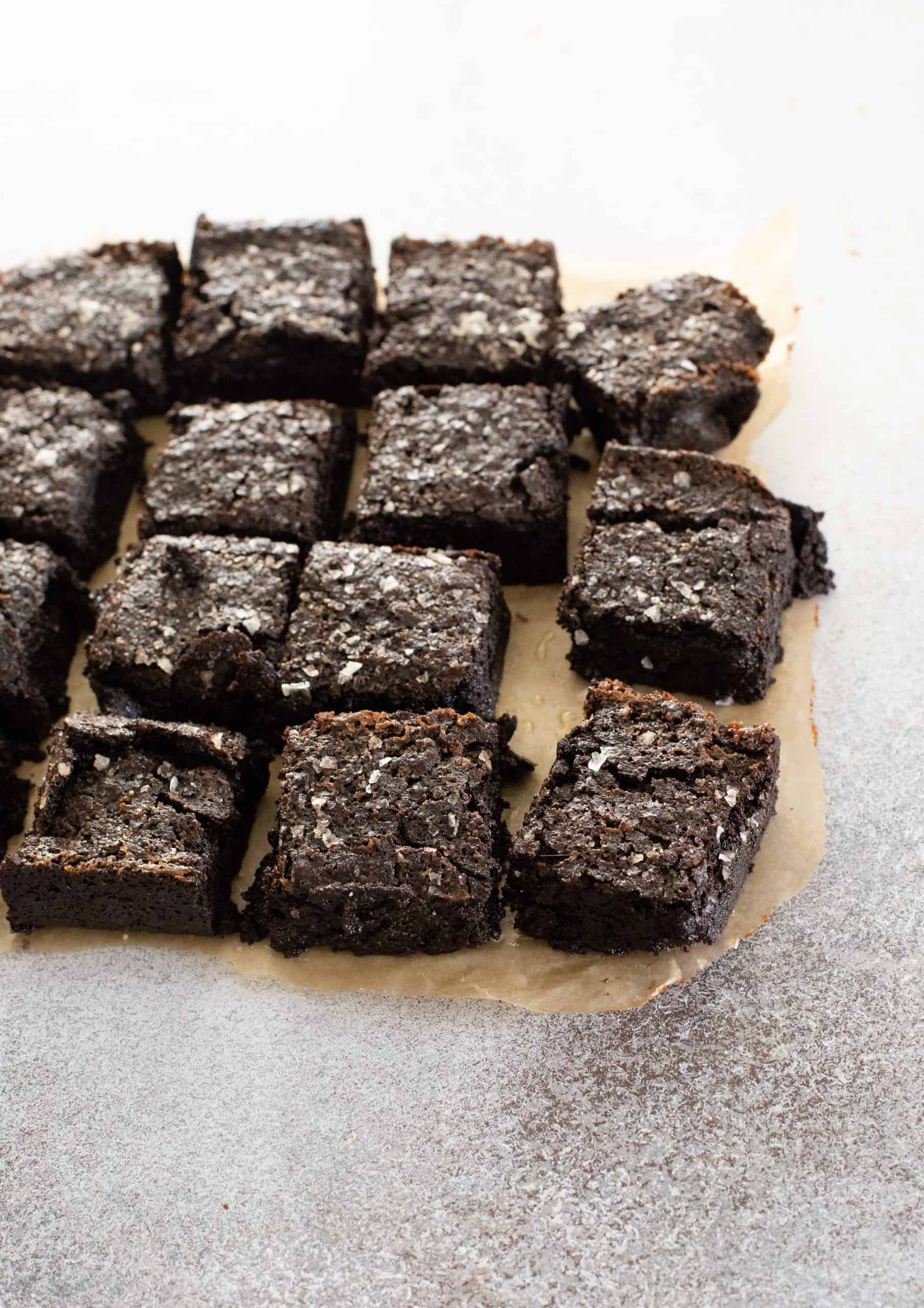 I didn't really think I could make a version of my favorite bite-sized treats that I loved more than the original, but boy was I wrong. These are in a whole other league from the store bought ones. Really they are just amazing, dark chocolate, fudgy brownies that are kicked up a notch with a sprinkling of flaky sea salt.
These dark chocolate brownies have perfectly crisp edges, a fudgy center, and just enough bits of flaky sea salt to make them truly out of this world.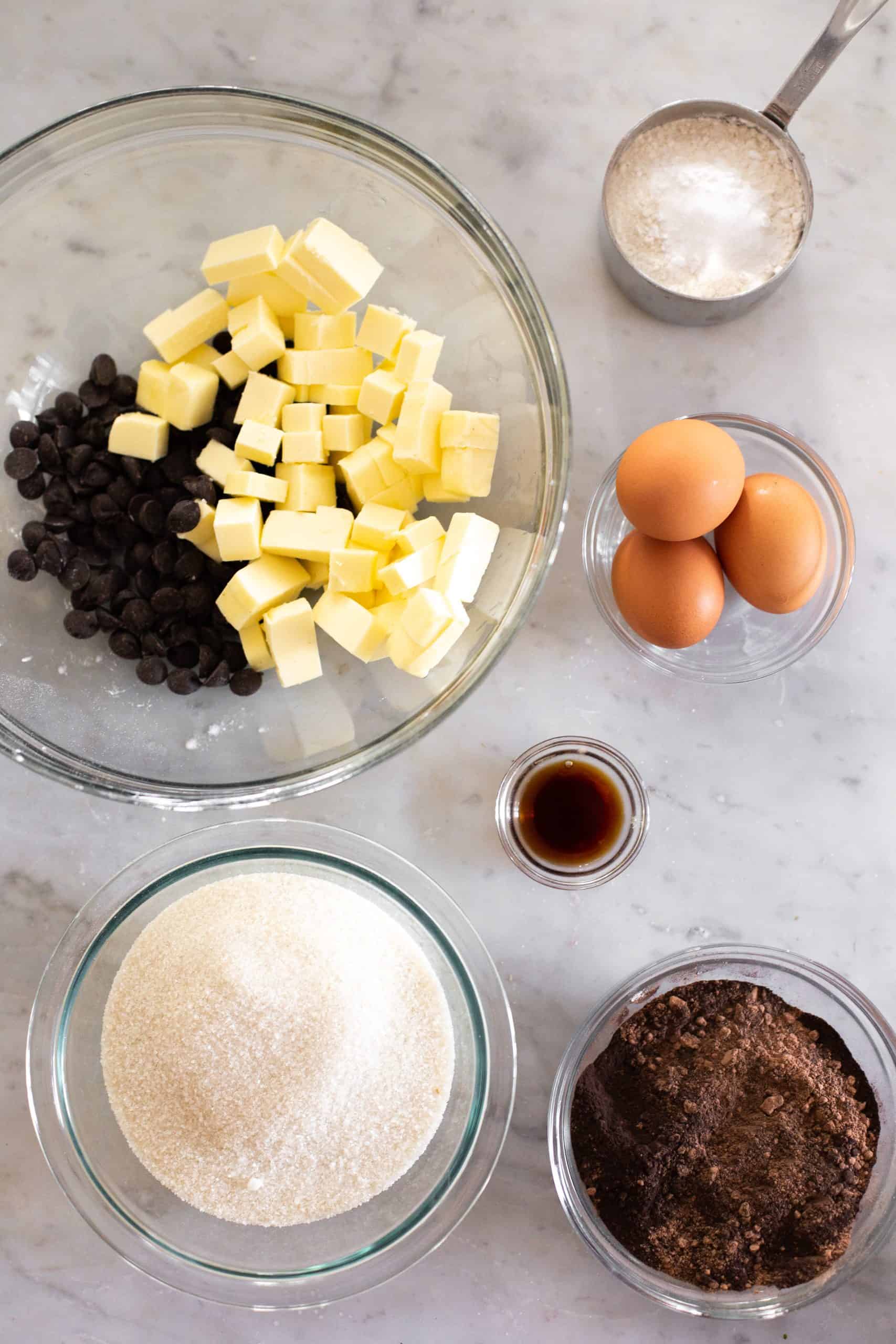 Ingredients needed for Sea Salt Brownies:
Unsalted Butter
White Sugar
Unsweetened Cocoa Powder
Dark Chocolate Bar
Vanilla
Eggs
All Purpose Flour
Cornstarch
Flaky Salt
Supplies needed for Sea Salt Brownies:
Parchment Paper,
8×8 square baking dish
Large bowl
The Process:
This recipe only uses one bowl but it also acts as a double boiler so make sure it's heat resistant. (I prefer a glass bowl!) Place it on top of a pan of simmering water over medium heat to create a double boiler. The pot should only have about an inch of water in it and it shouldn't touch the pot.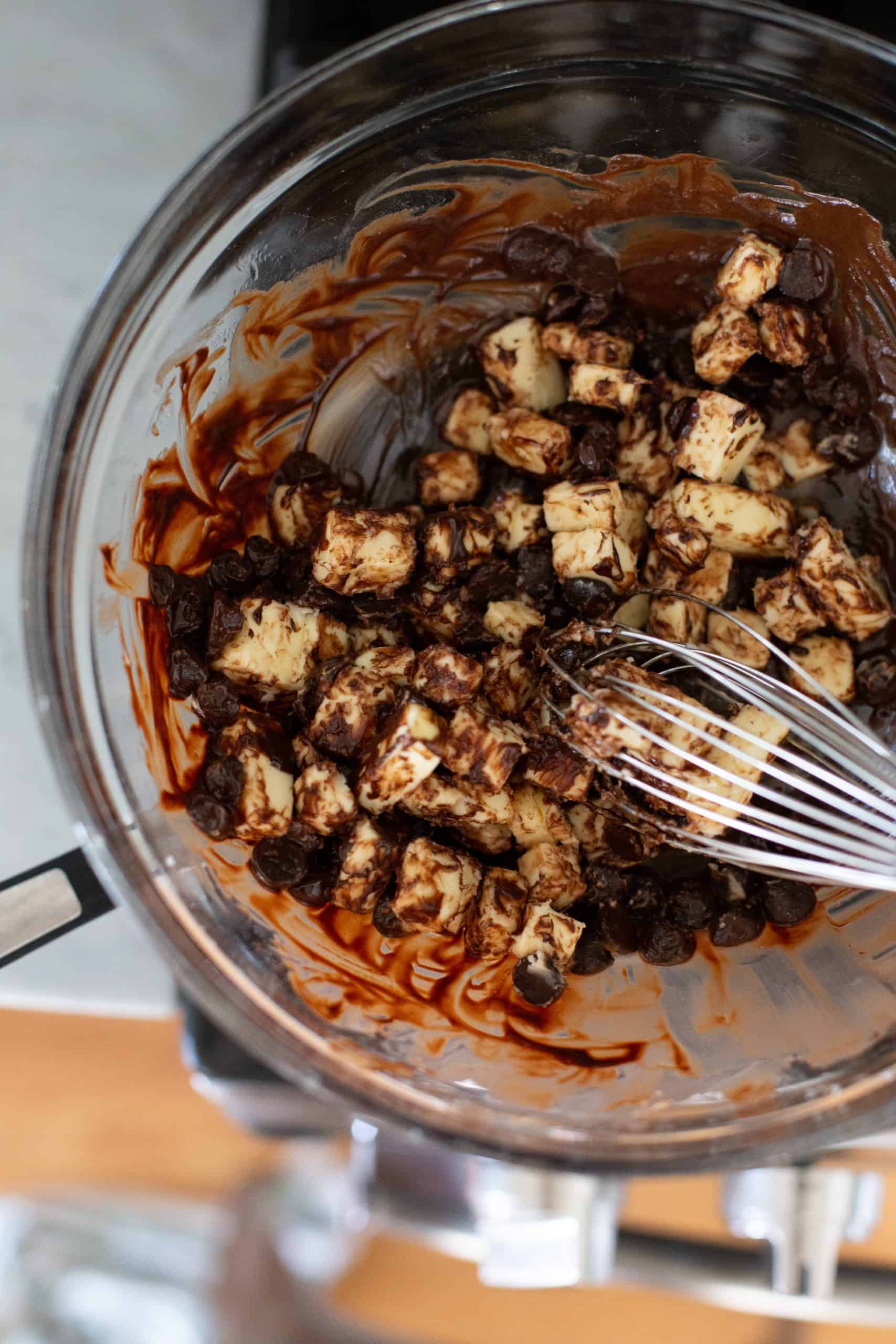 Add your butter and dark chocolate into the bowl and stir to melt. Once it begins to melt add the sugar and cocoa powder. Then remove from heat, cool slightly and add the eggs and dry ingredients. Spread the brownie batter into a prepared pan evenly. Bake in a preheated oven until a cake tester comes back with moist crumbs and cool to room temperature before cutting.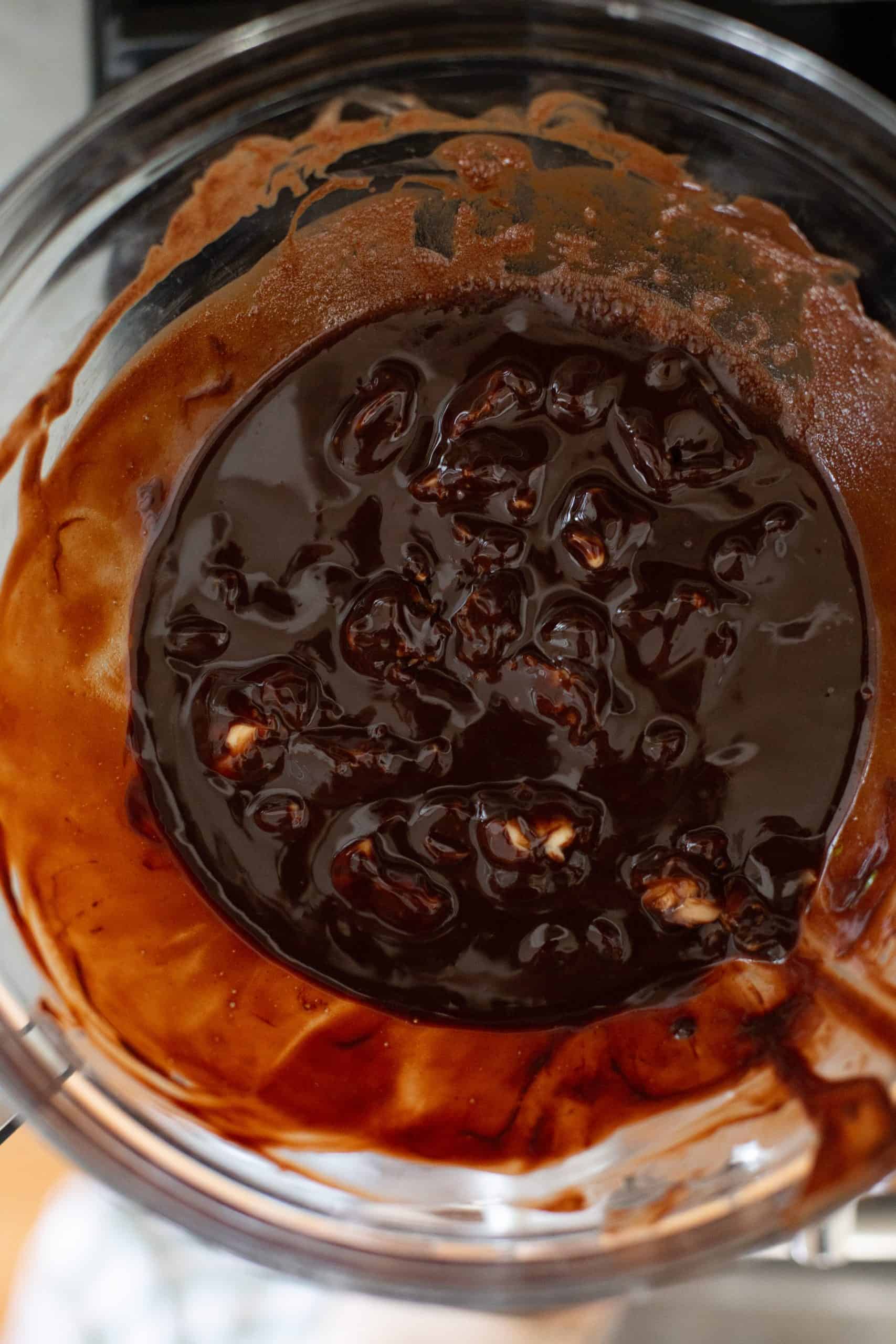 Reasons why this is my favorite brownie recipe:
The whole thing is made in one bowl and I'm a sucker for fewer dirty dishes
They have the perfect fudgy texture while also have a crisp chewiness on the edges.
The use of flakey salt adds the perfect balance & salty touch.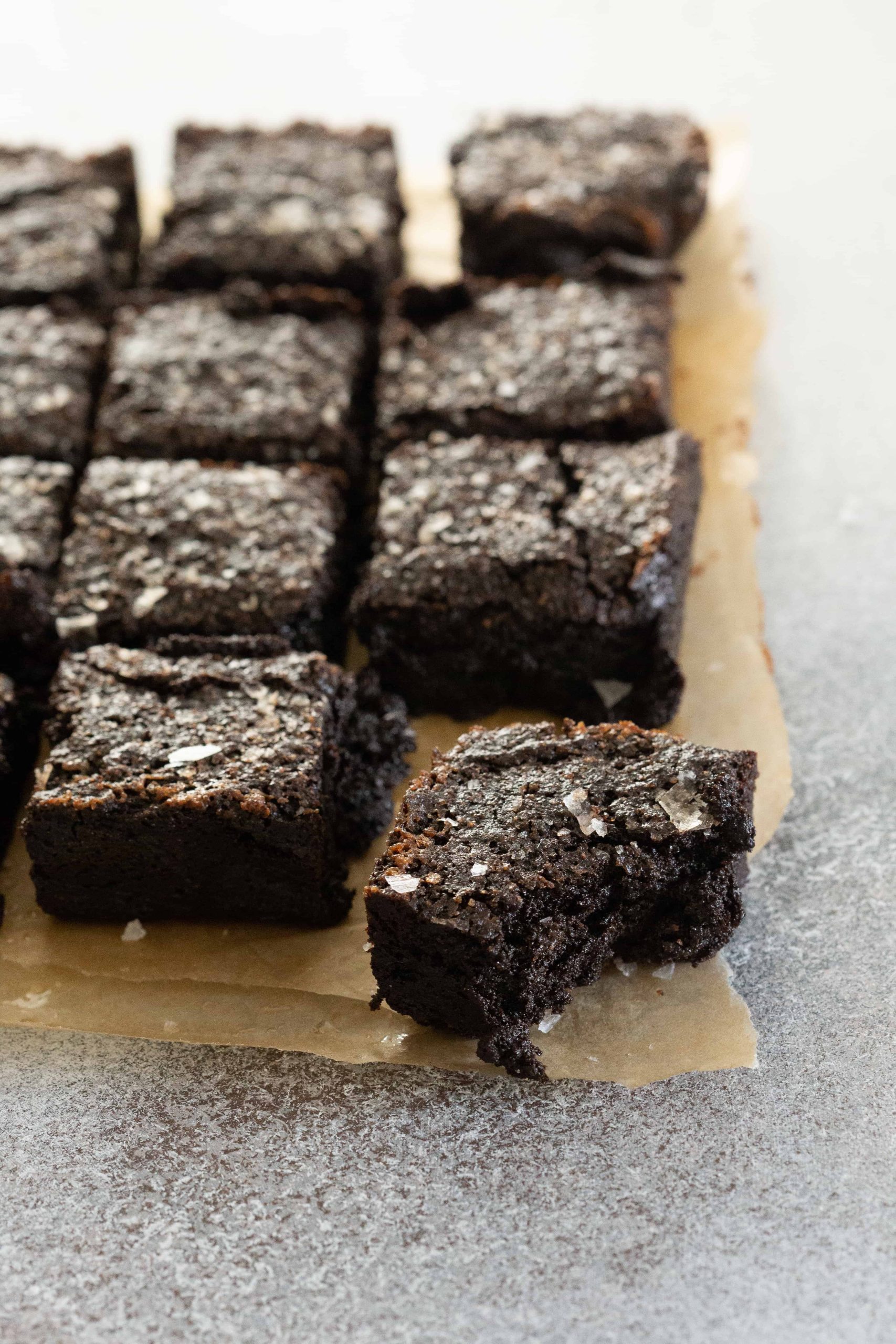 What if I don't have any dark chocolate? Can I use chocolate chips or unsweetened chocolate?
I love suggesting substitutes in recipes because I always need to use them myself, but in this case I suggest getting some dark chocolate. If you use chocolate with more or less sugar you risk the brownies being too sweet or not sweet enough. Dark chocolate is perfect in this recipe.
Tip for making these Sea Salt Brownies lift easily and effortlessly from the pan:
Line a square baking pan with alternating pieced of parchment paper with a 2-inch overhang on each side. They lift out perfectly!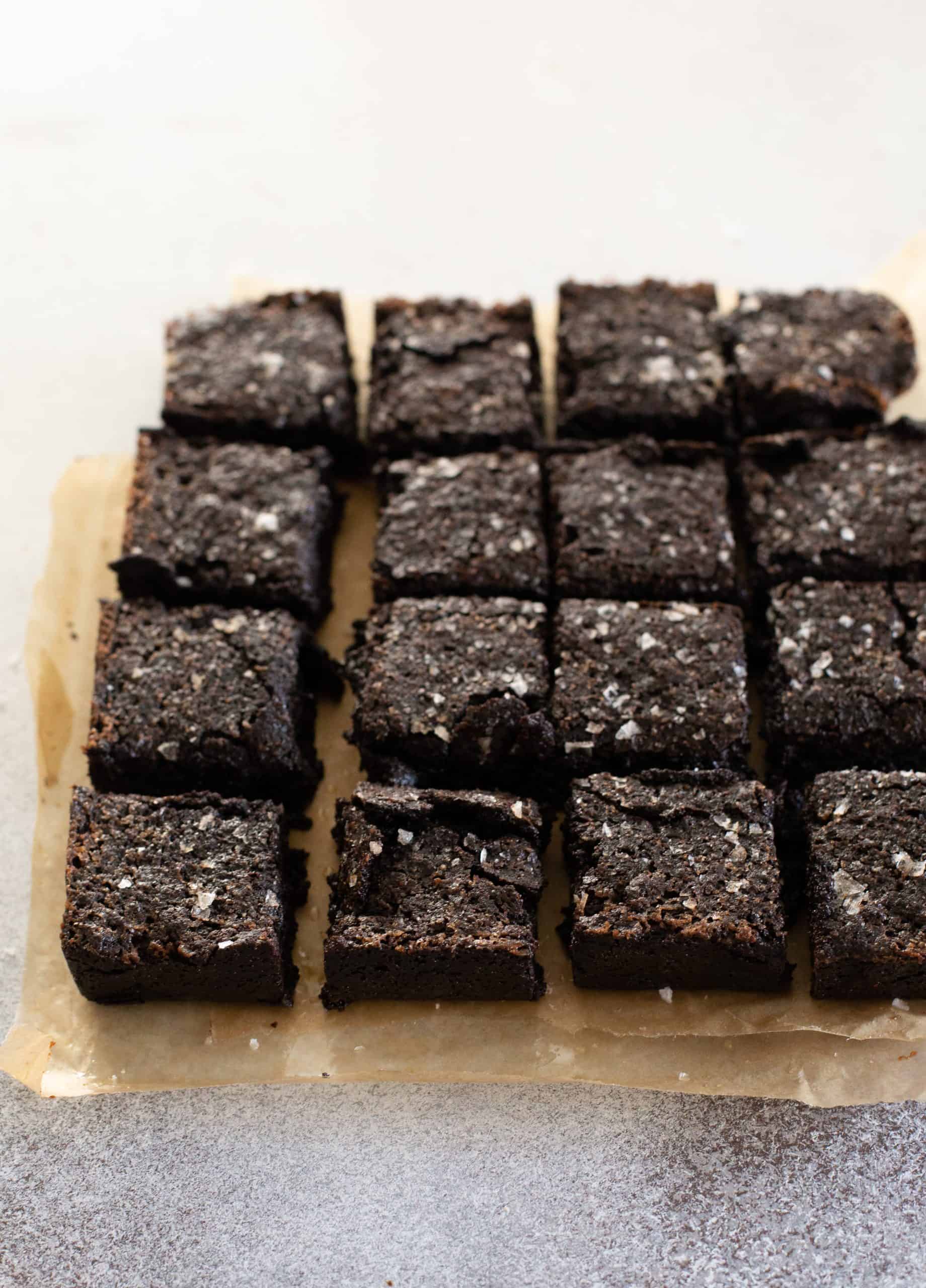 Where to find sea salt flakes? What if I don't have any?
My favorite is Maldon Sea Salt which you can find in many grocery stores or on Amazon. It adds an amazing touch but if you can't find it you can use kosher salt which is usually a bit more coarse.
This recipe doesn't contain baking powder or soda. Is that a mistake?
Nope! The lack of keeps these brownies extra chewy and fudgy.
What type of cocoa powder should I use?
I used a mix of regular and black cocoa powder in this recipe. I love the deep color and flavor derived from dutch process or black cocoa, but didn't want them pitch black so mixed in regular cocoa powder too. Any type will work for this recipe.
Other brownie recipes I love: Coconut Cream Cheese Brownies, Peanut Butter Swirl Brownies, Fudgy Date Brownies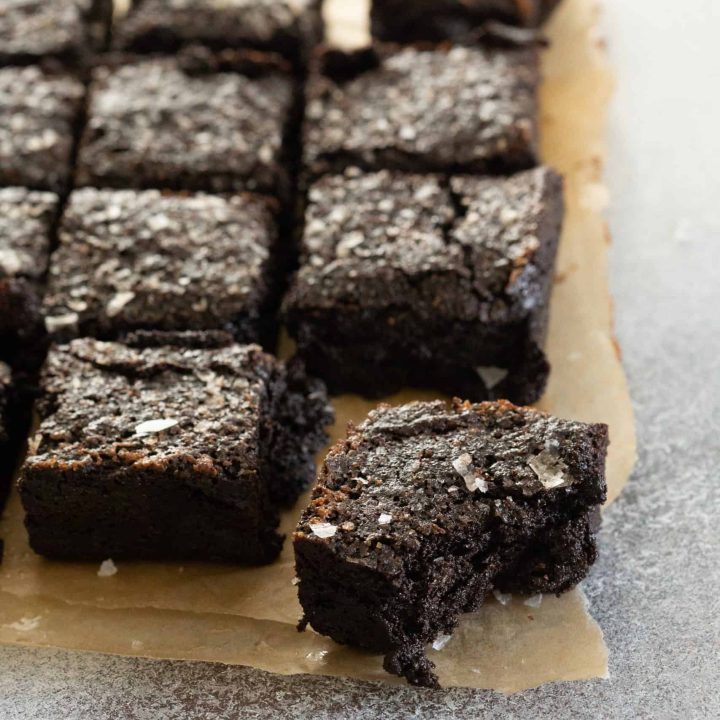 Fudgy Sea Salt Brownies
Ingredients
8 ounces (2 sticks) unsalted butter, chopped into cubes
2 cups sugar
1 cup unsweetened cocoa powder
4 ounces 70% cocoa dark chocolate bar, chopped, or dark chocolate chips
½ teaspoon salt
1 teaspoon pure vanilla extract
3 large eggs, cold
¾ cup all purpose flour
1 teaspoon cornstarch
flaky sea salt for sprinkling
Instructions
Line an 8x8 baking pan with parchment paper and spray with non-stick cooking spray. Preheat oven to 325°F with a rack in the bottom third of the oven.
Place the butter in a large heat-proof bowl set over a pot of simmering water (makeshift double boiler). When it begins to melt, add the sugar, cocoa powder and chocolate bar. Stir occasionally until the butter and chocolate have completely melted and mixture is homogenous and glossy–it may still appear a bit grainy.
Remove the bowl from the pot let it cool slightly.
Add the vanilla and stir. Then add each egg, one at a time, mixing well with a whisk after each to completely incorporate it.
Sprinkle the flour, cornstarch and salt over the batter, and mix until they are completely combined. Continue to mix for another minute to ensure the mixture is smooth, but don't over mix. The batter will be very thick but glossy & smooth.
Spread the batter into the prepared pan and sprinkle generously with sea salt. Place in the preheated oven and cook for 30-40 minutes, or until a toothpick inserted comes out covered with a few moist crumbs. Mine took about 35 minutes.
Allow the brownies to cool slightly then lift the sides of parchment to remove the brownies from the pan. Slice and serve warm, room temperature or cold- they are amazing every way!

This post contains affiliate links