Creamy White Bean Rosemary Soup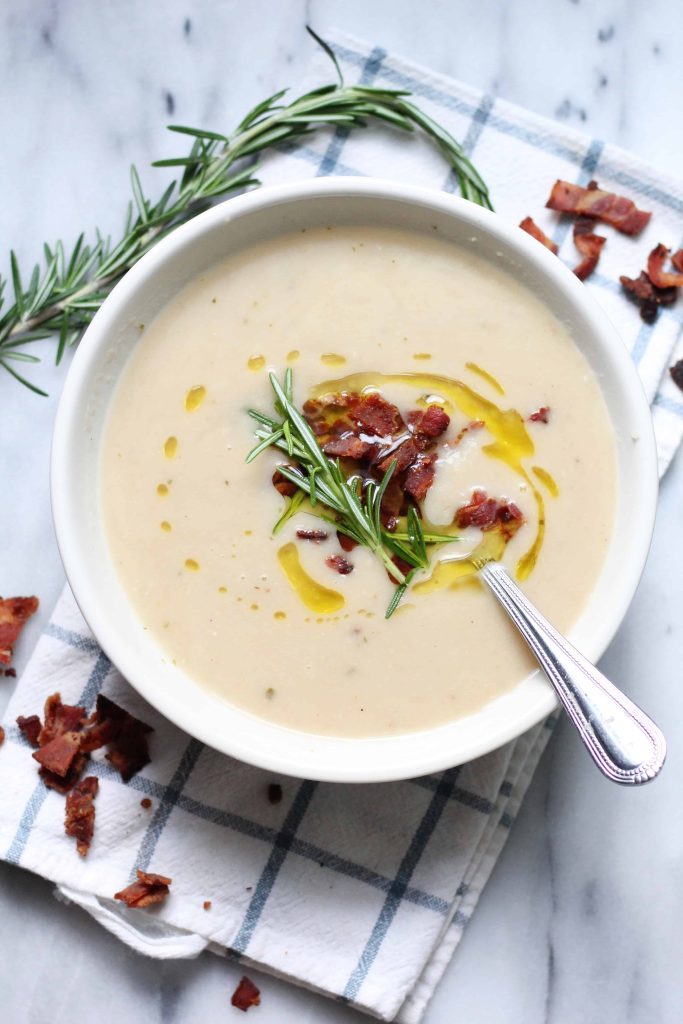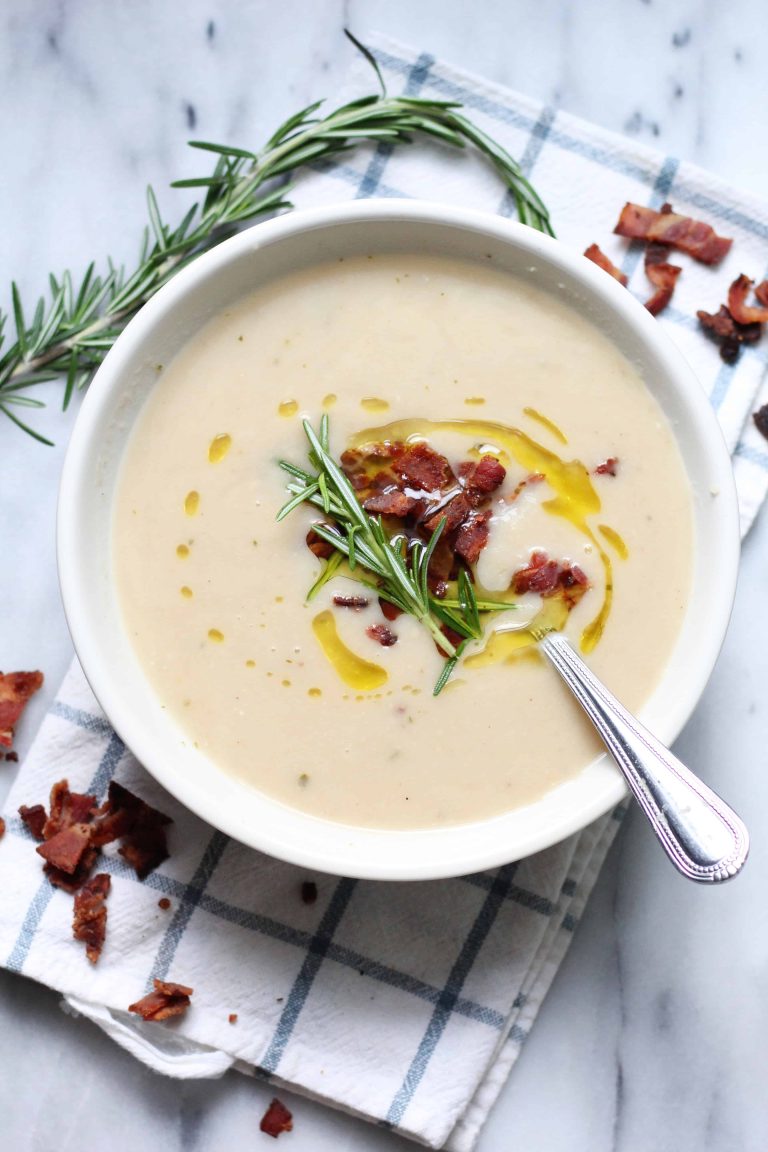 September always feels odd seasonally. It's the bridge between summer and fall and I always yearn for crisp mornings and a pot of soup on the stove even when my garden is still blooming and the weather is still warm.
One perfect chilly September morning inspired this soup as my garden rosemary was ready to be harvested and my family needed a cozy meal. This soup comes together extremely quickly, has wonderful flavor, and is the perfect comforting meal we all loved.
We topped this with some crunchy bacon and it was just so good. Next time I'm making some warm bread to go along with this, that would be perfect don't you think? I'm leaning towards my favorite Grilled Flatbread. (Which can be made on the stovetop too!)

Ingredients needed for Creamy White Bean Rosemary Soup:
Onions
Garlic
Extra Virgin
Olive Oil
3 cans of white beans
large sprig of rosemary
chicken broth or vegetable broth
sea salt & black pepper
chopped bacon for garnish (optional)

Supplies needed for Creamy White Bean Soup:
Immersion Blender (a regular blender will work in a pinch)
large soup pot or dutch oven
The process:
Heat some oil in your soup pot over medium heat. Cook the onions and garlic and then add the beans, broth, and rosemary. Cook until broth comes to a boil and then simmer for 15-20 minutes. Either puree the soup smooth or leave a few beans whole. Season with salt & pepper and some red pepper flakes if desired. Cook bacon until crispy and then place in a paper towel lined bowl. Garnish with crispy bacon and a squeeze of lemon juice if desired and serve with warm bread.

What type of white beans are best to use for this recipe?
I have used great northern beans, navy beans, white cannellini beans beans or white kidney beans all with great success
If I don't want a perfectly creamy texture can I leave some whole beans or small pieces?
Yes. I suggest using a slotted spot to reserve a cup of the whole beans and then pureé the rest and add the beans back in.
I don't like rosemary- are there other fresh herbs I can use?
This soup would be wonderful with fresh thyme or sage too. You can also use dried herbs in a pinch.
Can I use a food processor if I don't have an hand blender?
You can, but the texture of the soup will likely be not as smooth. If you don'r have any of those tools you can always just use a potato masher to smash up the beans a bit.
How to store leftover soup:
Once soup has cooled to room temperature place it in an airtight container. To reheat, warm soup up in a small saucepan over medium-low heat.
Is there a vegan version of this soup?
Sure! Turn this into a Vegan White Bean soup by using veggie broth instead of chicken and omitting the bacon.
Can this soup be made in an Instant Pot or crock pot?
Yes! For instant pot- start with the sauté function on and brown the onions and garlic. Then add the other ingredients and cook on manual high pressure for 7 minutes. Do a quick release and pureé the soup as the recipe says.
For a slow cooker, Add all the soup ingredients and cook on low for 6-8 hours or on high for 4-8. Pureé the soup after it's done cooking and top with bacon if desired.
Can the soup be frozen?
Yes! If you are using the bacon though, I'd wait and add that when you thaw and eat it.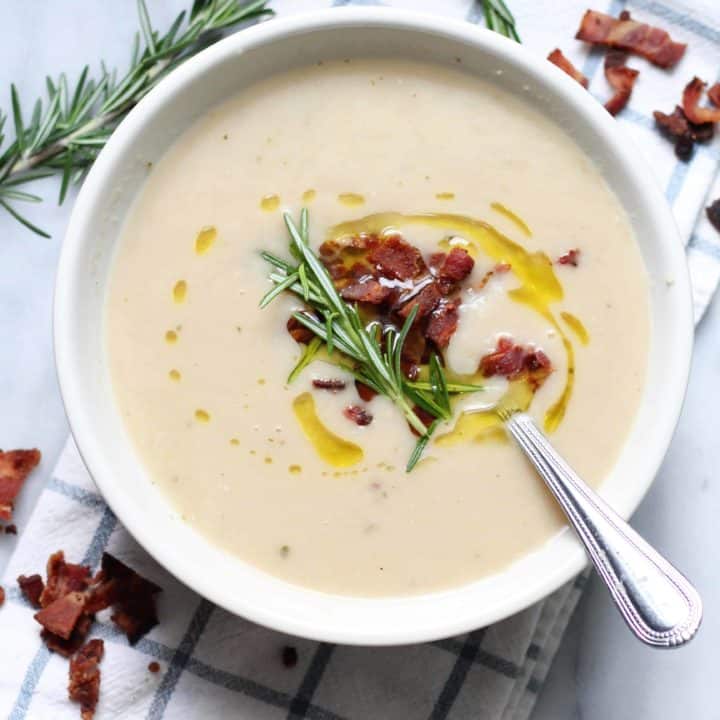 Creamy White Bean Rosemary Soup
Ingredients
3 15 oz cans white cannellini or great northern beans rinsed and drained.
4 cups sliced yellow onions (from 2 large onions)
1/4 cup olive oil
2 garlic cloves, minced
1 large branch fresh rosemary off the stem
1 1/2 quarts chicken stock
2 teaspoons kosher salt
1/2 teaspoon freshly ground black pepper
Cayenne pepper to taste (optional)
Bacon for topping
Instructions
In a 5-6 qt. large stock pot or dutch oven heat the olive oil on medium high heat. Add the onions and cook for about 15 minutes- or until soft and golden. Add the garlic and cook for another few minutes.
Add the beans, broth, rosemary, salt & pepper. Bring to a boil, and then simmer for about 20 minutes. Use an immersion blender, food processor, or regular blender to purée the soup until smooth. Add cayenne pepper to taste. Top with crispy bacon.