Dark Chocolate Swirl Buns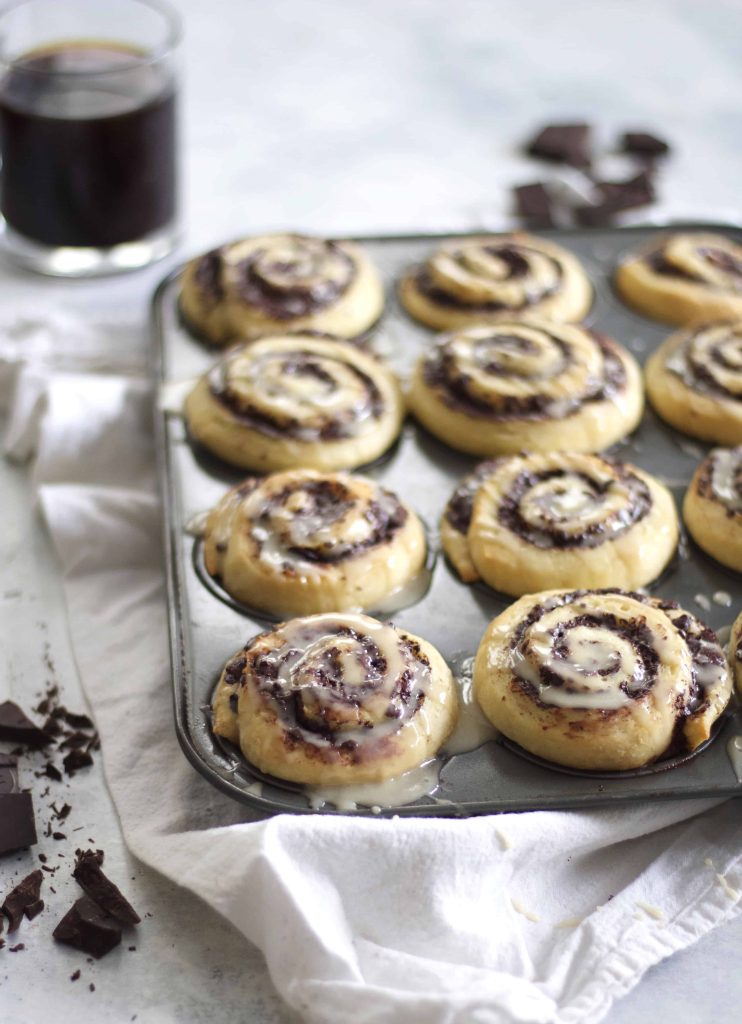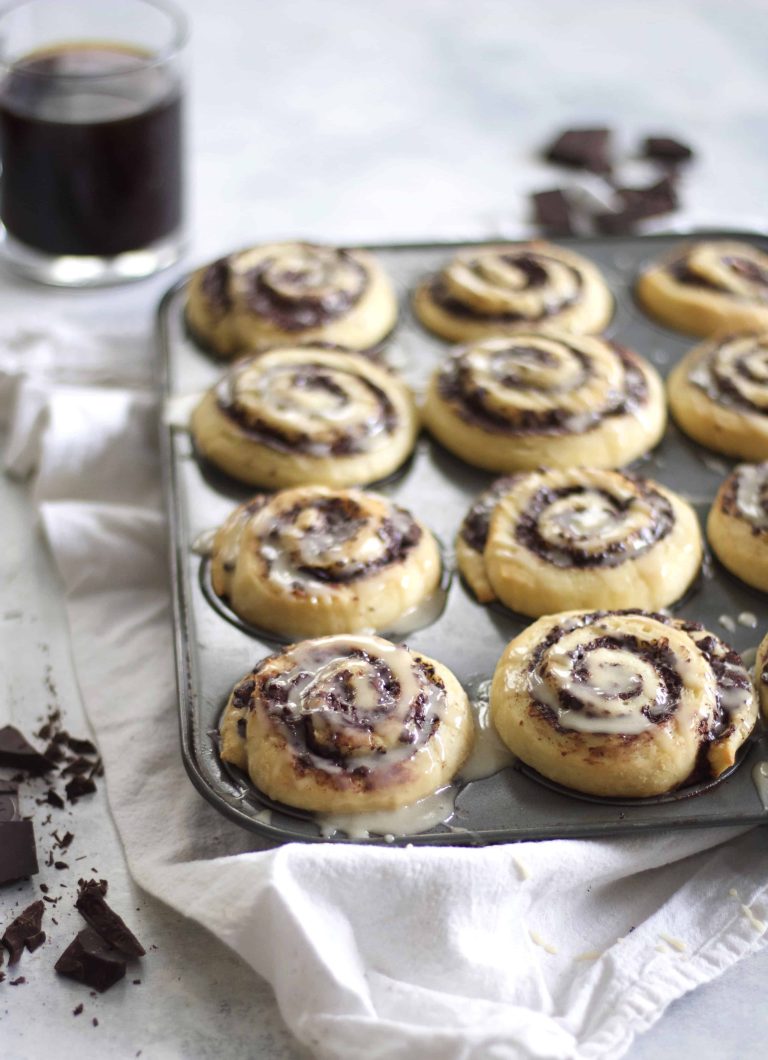 Someday, when my kids are grown, and our holiday traditions are a bit more fine tuned, I want to be that family that has our big feast over brunch.
It's my favorite meal by far, and I'm never without endless inspiration for brunch menus full of fizzy drinks, egg bakes, different varieties of hash etc…. And of course there are all the pastries, coffee cakes, and sweet rolls. Are you in? Do you do a holiday brunch instead of dinner?
These beautiful chocolate-y swirled rolls were even more delicious than when I imagined. A true sucker for homemade cinnamon rolls, I didn't know how these could compete. But, I had a vision of something chocolate babka inspired and these totally fit the bill.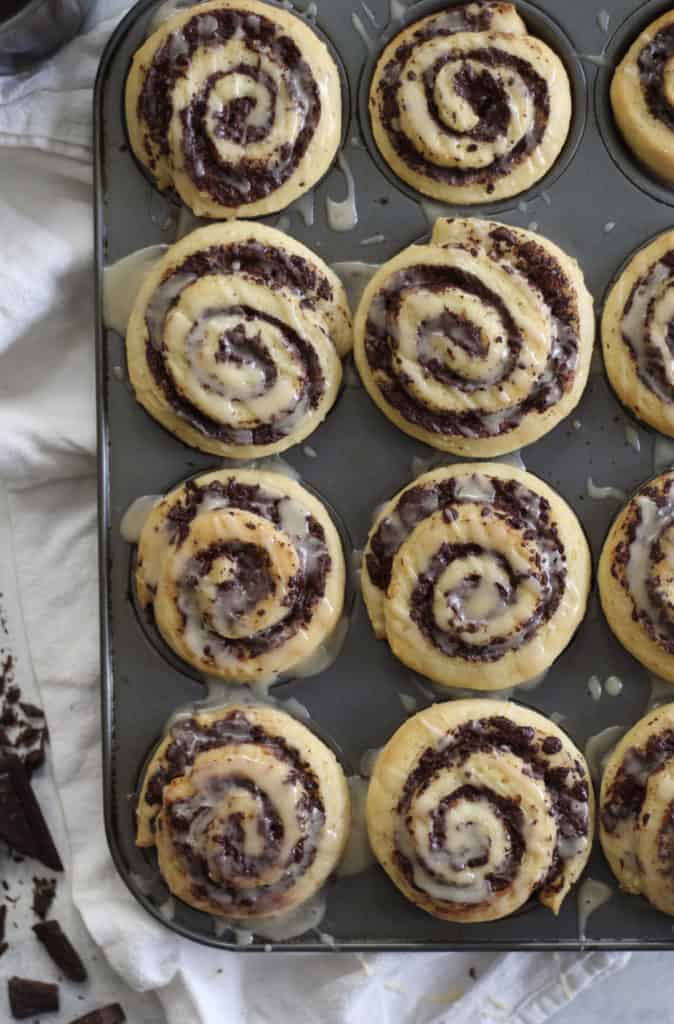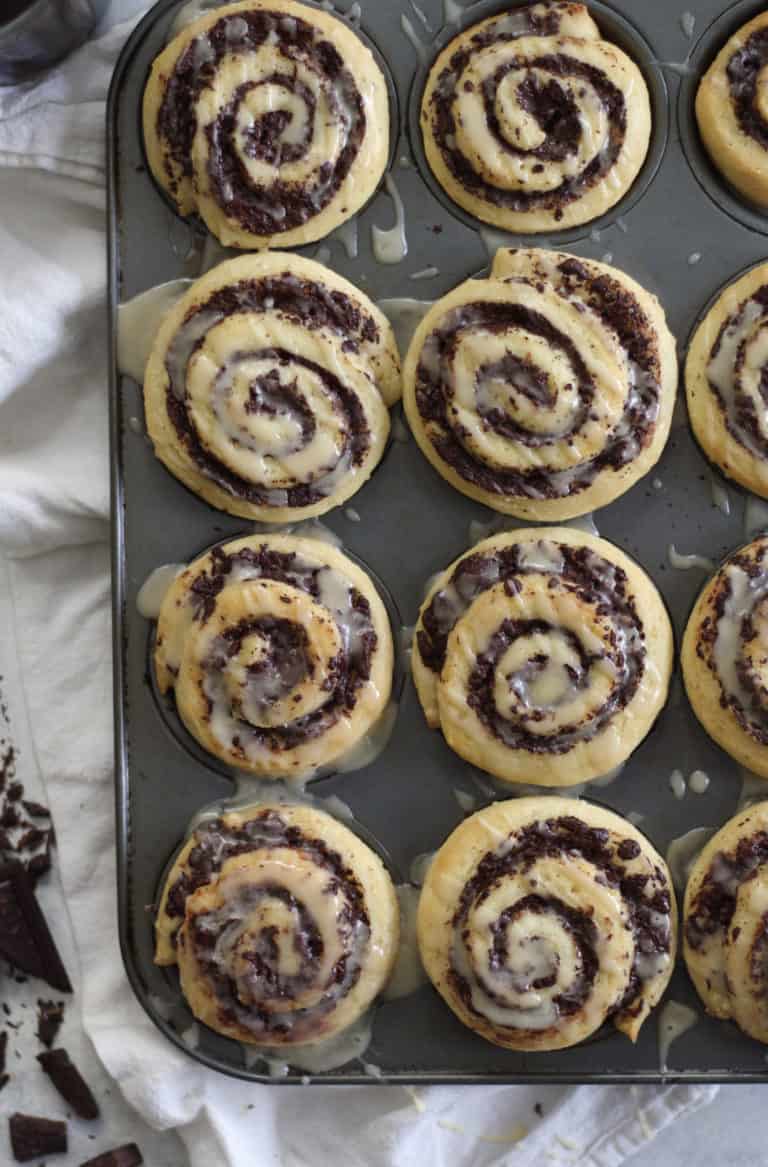 They have a soft dough, with a swirl of bittersweet chocolate filling that was neither hard or totally gooey, kinda soft and semi melty. In short- almost a dessert but still an acceptable breakfast for a special occasion. Chocolate lovers these are the sweet rolls for you!
These come together just like cinnamon rolls, but instead of spreading cinnamon sugar onto butter-topped dough, finely chopped dark chocolate gets pressed onto the dough and rolled up. After rising and baking to perfection, the rolls get drizzled with a simple vanilla glaze and are ready to be enjoyed. (Ideally alongside a cup of hot coffee.)
Ingredients needed for Dark Chocolate Swirl Buns:
All Purpose Flour
Milk
Large Egg
Unsalted Butter
Yeast
Salt
Chopped Dark or Semi-sweet chocolate or chocolate chips
Powdered Sugar
Vanilla

Supplies needed for Dark Chocolate Buns:
Large Bowl
Small saucepan
9×13 baking pan or 12 muffin tin
Plastic Wrap or clean kitchen towel
Rolling Pin
Wooden Spoon
Sharp serrated knife or unflavored floss
Wire Rack
The process:
Warm milk and butter and add to a large mixing bowl with the dry ingredients. Using a spatula mix everything together until a shaggy dough forms. Then you can either attach your dough hook if using a stand mixer or knead by hand until dough is smooth. Cover dough with a clean kitchen towel and let it rest for about 15 minutes while you prep your filling. Roll dough into a large rectangle on a lightly floured surface and spread with butter and chopped chocolate. Roll dough starting with the long side and cut into 12 equal-sized pieces. Place on a prepared baking sheet or muffin tins and let dough rise in a warm place for about 45 minutes.
Bake rolls until golden brown, cool on a top with glaze and enjoy!
In the mood for traditional cinnamon rolls instead?
Try my 90 Minute Brown Butter Cinnamon Rolls or Brioche Cinnamon Rolls
How to store Dark Chocolate Swirl Buns:
After they have cooled to room temperature you can store these buns in an airtight container for up to a week in the fridge or up to 3 days on the counter.
Want to make these extra chocolate-y? Add 1 tablespoon cocoa powder to the glaze mixture for a sweet chocolate icing!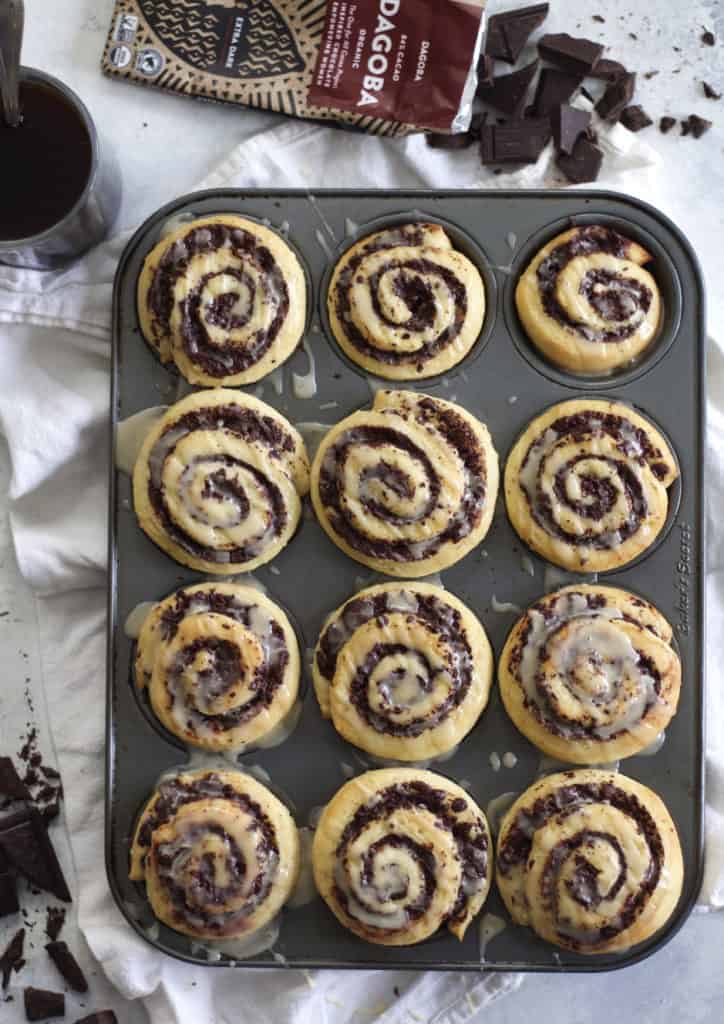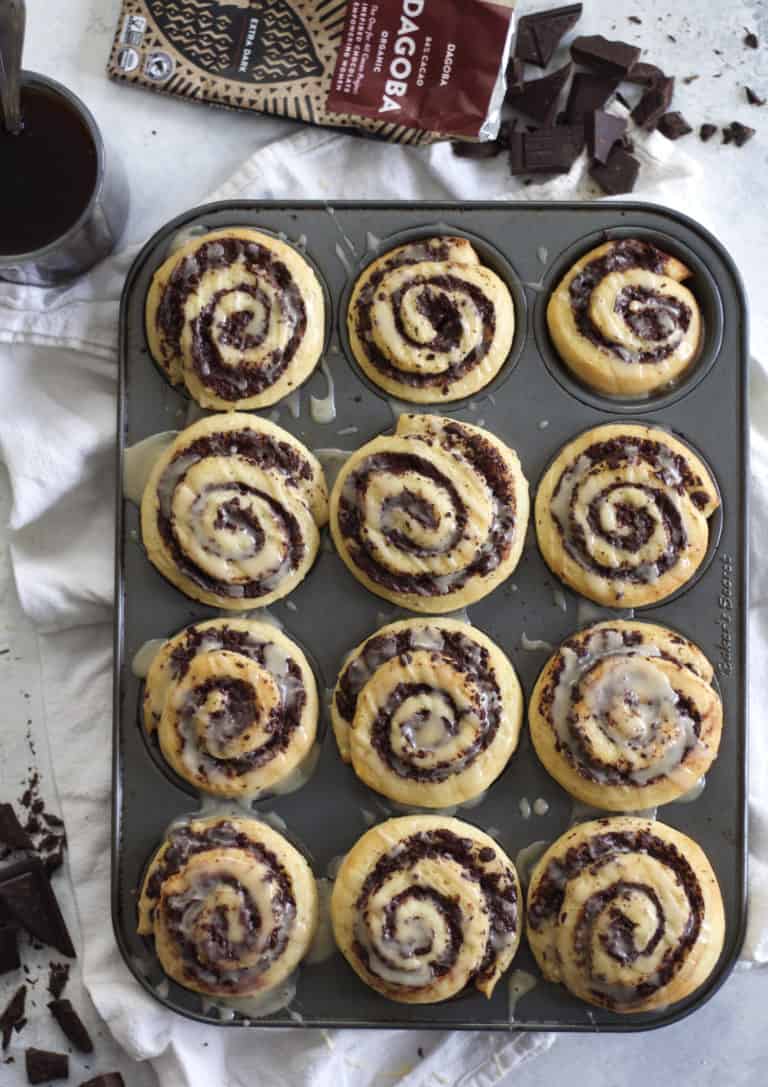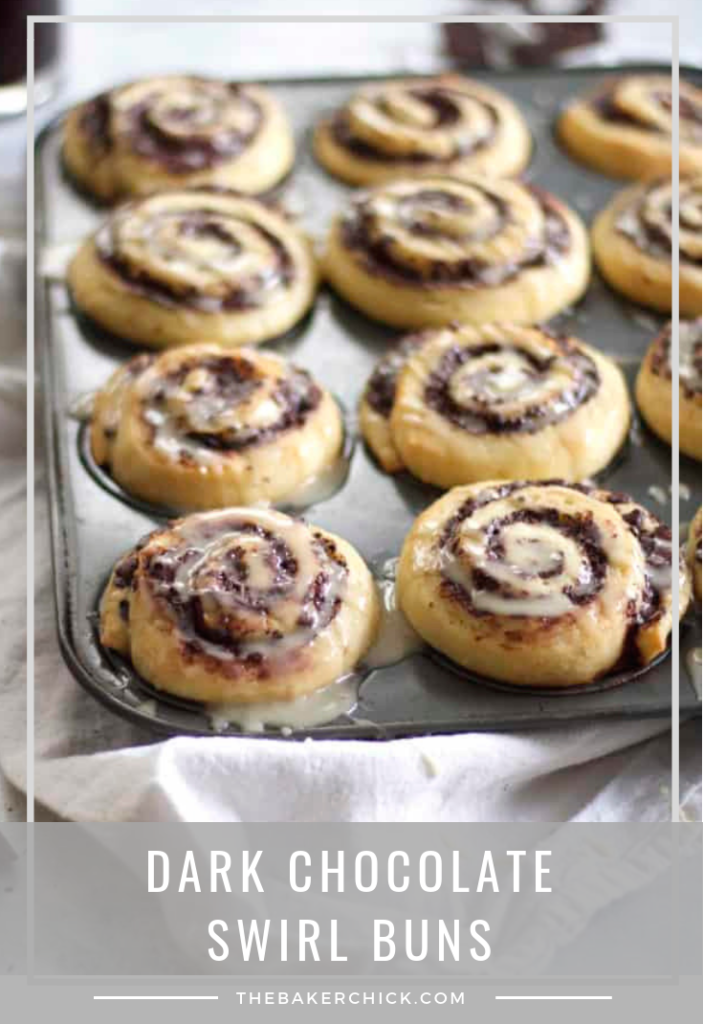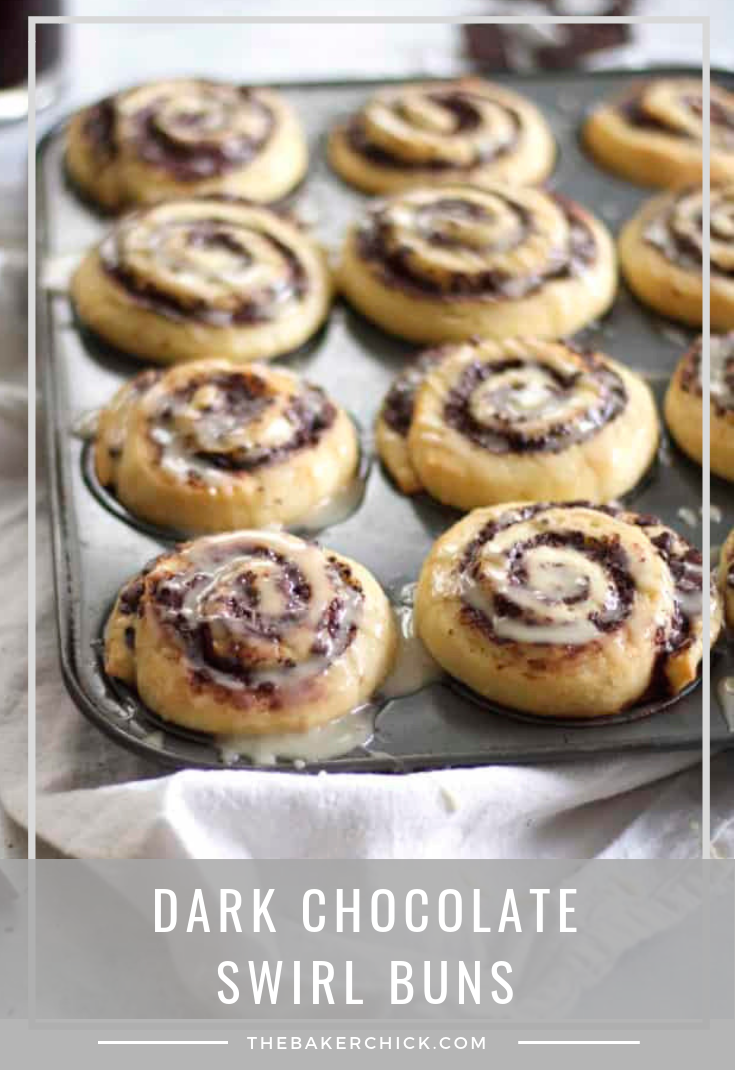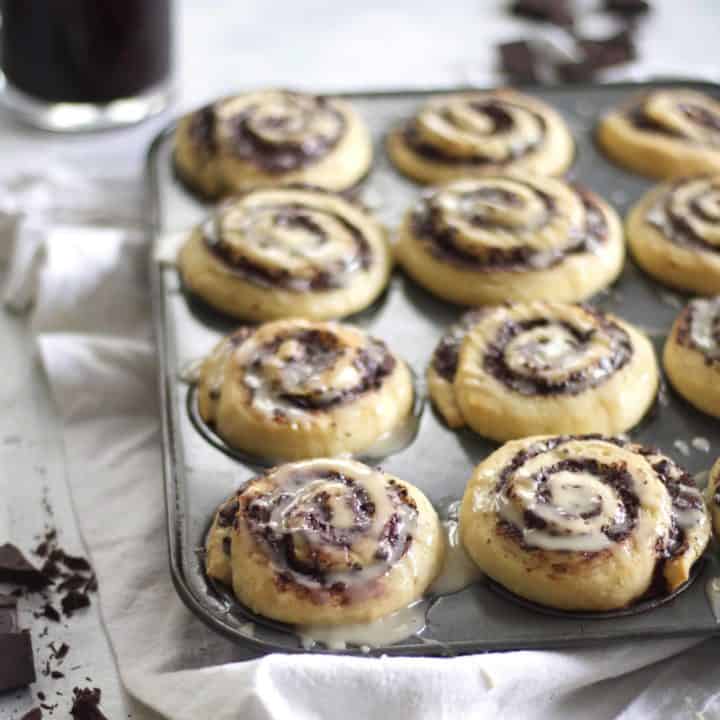 Dark Chocolate Swirl Buns
Ingredients
Dough:
¾ cup milk
¼ cup butter
3¼ cups all-purpose flour
1 (.25 ounce) package instant yeast (or 2¼ teaspoons)
¼ cup white sugar
½ teaspoon salt
¼ cup water
1 egg
Filling:
6 oz. Dark or Semisweet Chocolate, chopped (about 1 cup)
¼ cup plus 1 tablespoon of butter
Glaze:
1/2 cup powdered sugar
1 teaspoon vanilla extract
1-2 tablespoons milk
Instructions
Heat the milk in a small saucepan until it bubbles, then remove from heat. Mix in butter; stir until melted. Let cool until lukewarm.
In a large mixing bowl, combine 2¼ cup flour, yeast, sugar and salt; whisk together. Add water, egg and the milk mixture; beat well with an electric mixer. Add the remaining flour, ½ cup at a time, using a wooden spoon to stir well after each addition. (dough will be too thick and sticky to use the mixers at this point.)
When the dough has just pulled together, turn it out onto a lightly floured surface and knead until smooth, about 5 minutes, or alternately use the dough hook in a stand mixer. When ready, the dough will spring back when lightly pressed.
Cover the dough with a damp cloth and let rest on the counter for 10 minutes.
On a lightly floured surface, roll out dough into a 12x9 inch rectangle. (use your muffin tin as a guide.) Using the back of a spoon or a butter knife- slather the dough with the soft butter. Sprinkle the chopped chocolate all over the dough, using the back or your hand to press the chocolate down into the butter slightly.
Roll up dough and pinch seam to seal. Using a serrated knife, cut into 12 equal size rolls and place in a 9x13 baking dish, or 12 well muffin pan. Cover and let the rolls rise in a warm place* until doubled, about 45 minutes. Preheat oven to 375 degrees F.
Bake in the preheated oven for 17-20 minutes, or until golden. Let cool for about 10 minutes and then drizzle them with glaze. (directions below) Serve warm.
For the glaze:
Stir ingredients together, adding 1 tablespoon of milk first and adding more if needed, depending on desired consistency.