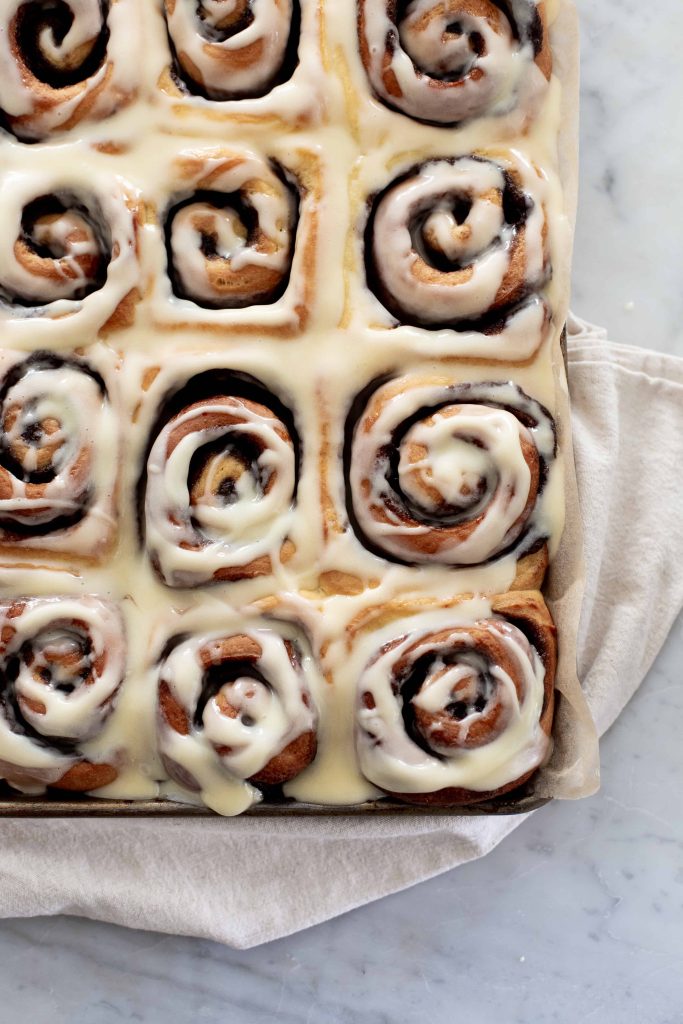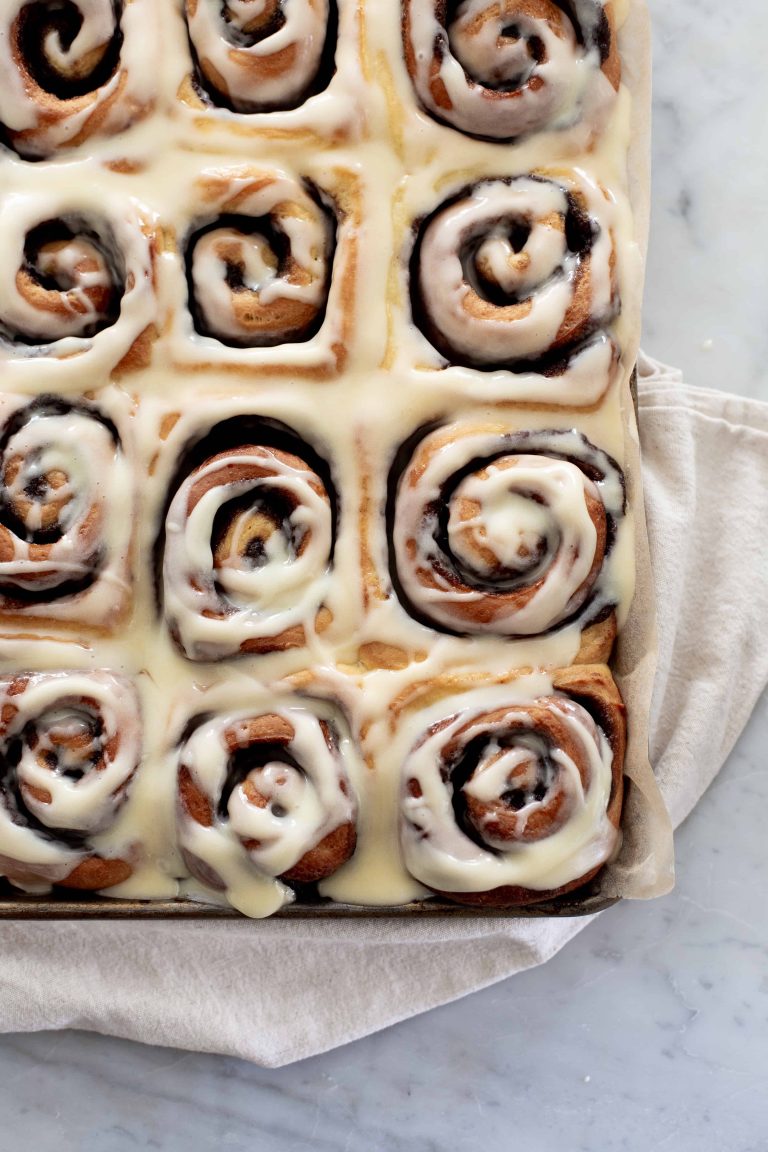 Have you ever made brioche? It was always a baking bucket list item for me and I was admittedly a bit intimidated by it. I make yeast dough all the time but for some reason brioche just felt slightly more complicated.
Last holiday season I wanted to try a new type of cinnamon roll recipe for Christmas morning and I thought something a bit more involved would be fun. My whole family fell in love with this rich, buttery brioche dough and I think the extra steps involved are so worth it. This is my new special occasion treat!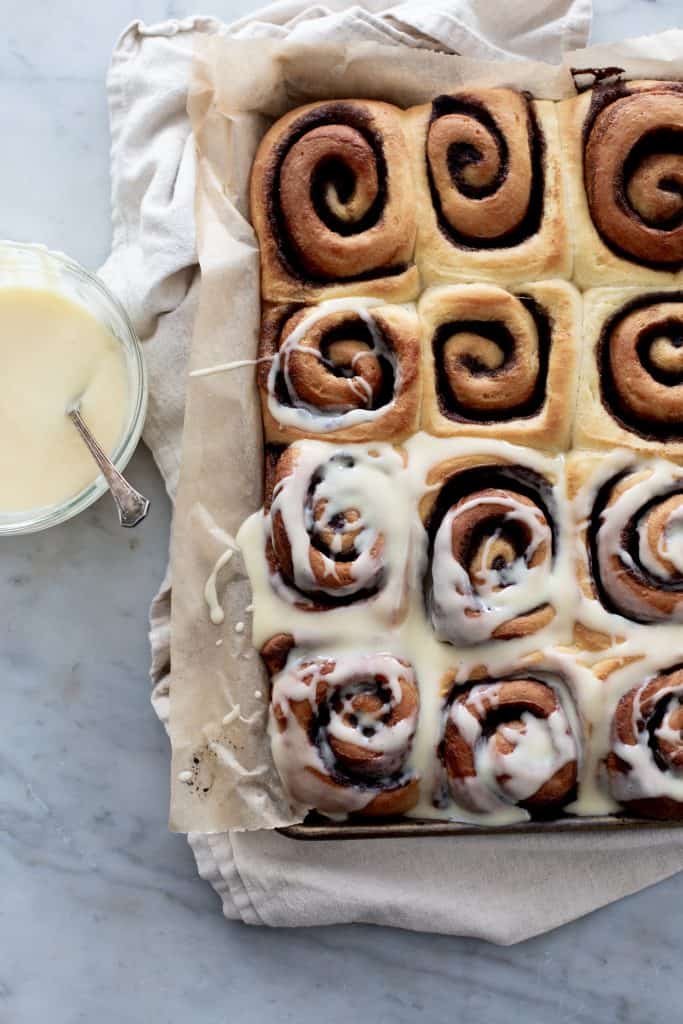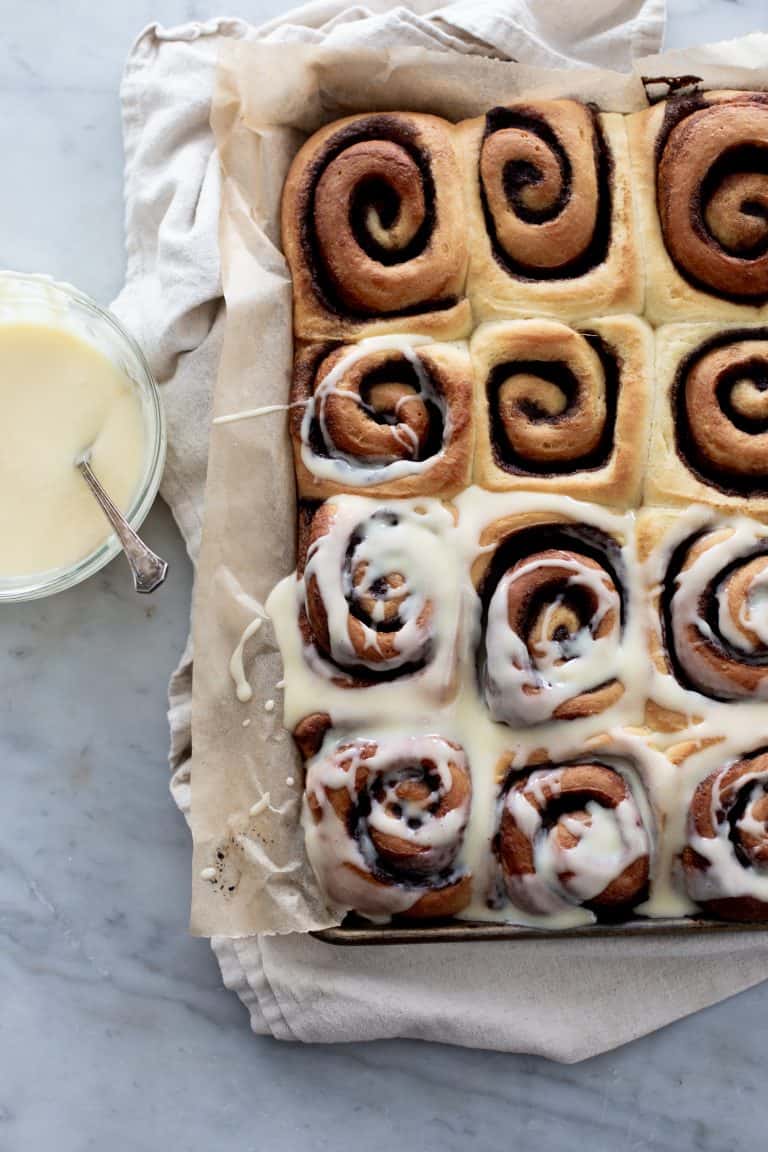 If you want to make homemade cinnamon rolls but don't have time for the overnight step, check out my 90 minute Brown Butter Cinnamon Rolls which are hugely popular and much faster!
Ingredients needed for Brioche Cinnamon Rolls:
Butter
All Purpose Flour
Active Dry Yeast
White Sugar
Brown Sugar
Cinnamon
Pinch of dark cocoa powder
Cream Cheese
Powdered Sugar
Vanilla Extract

Supplies needed for Brioche Cinnamon Rolls:
Plastic Wrap or a Tea Towel
9×13 baking pan, or two round 9 inch pans
Airtight container for storing leftovers
Wooden Spoon
Stand Mixer with Dough Hook Attachment
Bench Scraper
Serrated Knife or Unflavored Dental Floss
Medium Bowl
Small Bowl
Rolling Pin
Rubber Spatula

The Process:
Brioche dough is full of eggs and butter which makes it super rich, tender, and perfect for cinnamon rolls. You start by combining the dry ingredients and eggs in the bowl of a stand mixer, and then add room temperature butter to the dough, one small piece at a time. You need to make sure to scrape the sides of the bowl as sometimes the butter needs some help to be worked in.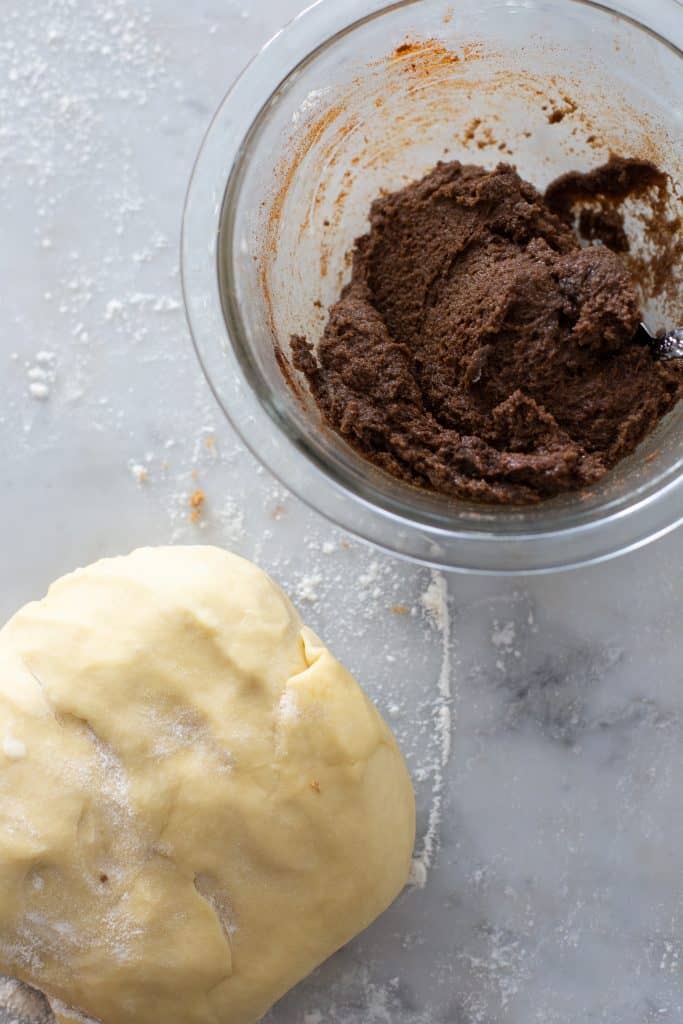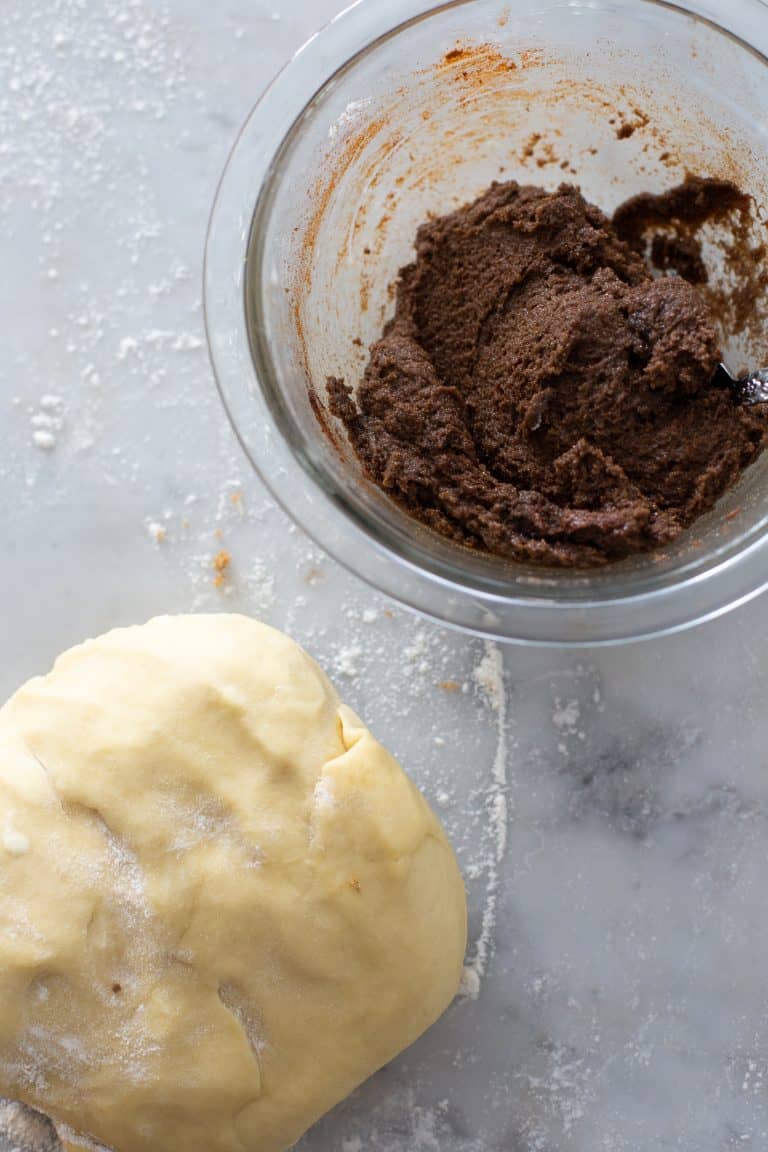 After a super soft and sticky dough has formed and clears the bowl, transfer it to a large bowl coated with a little oil, cover with a clean tea towel or plastic wrap, and proof in a warm spot for an hour. Then you pop it into the fridge to firm up a bit and be easier to handle. (Anywhere between 2-24 hours is fine.)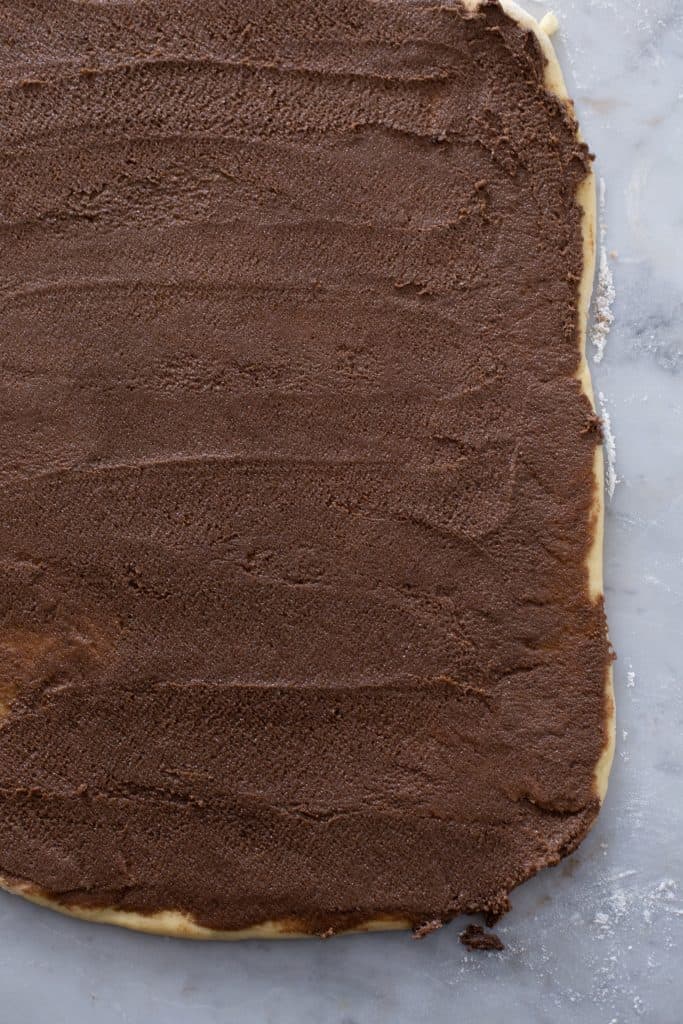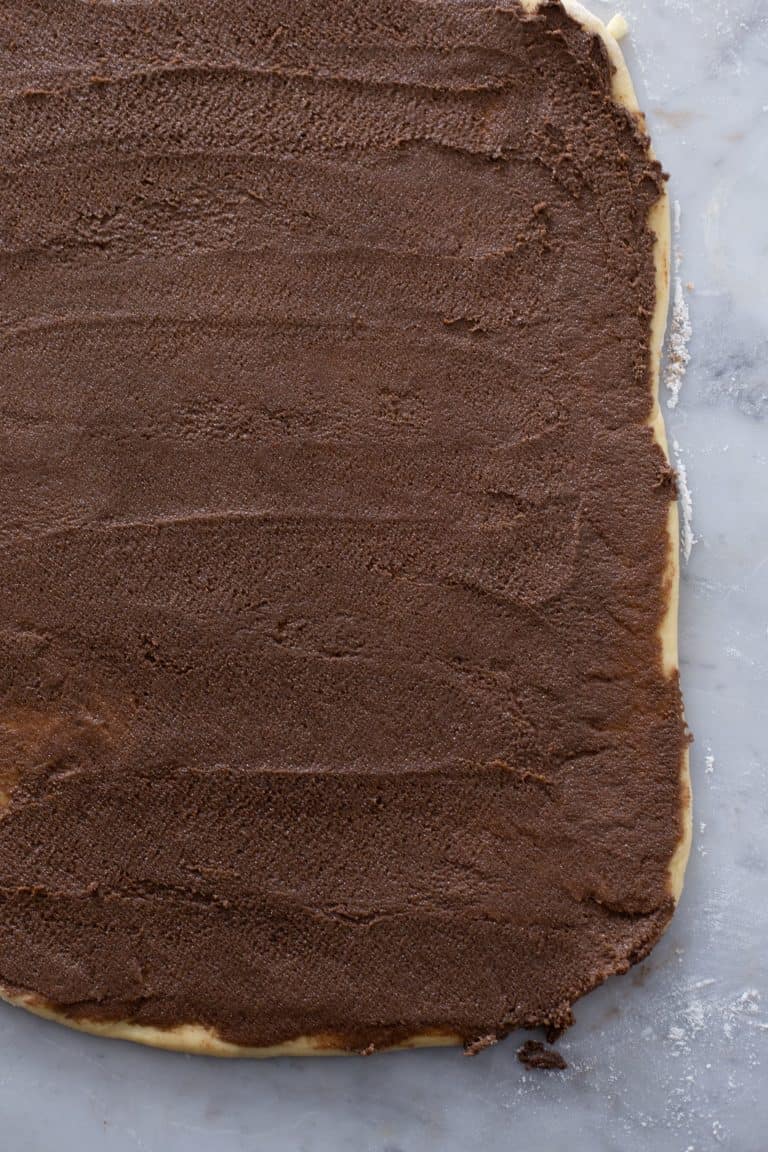 Then prep the cinnamon sugar mixture and on a lightly floured surface roll the dough out to a 10×14 rectangle. Spread the filling on the entire surface of the dough in an even layer, and starting with the long edge, roll the dough as tightly as you can. Using a super sharp knife or unflavored dental floss slice the log of dough into 12 equal pieces and place in pan let the dough rise a bit longer.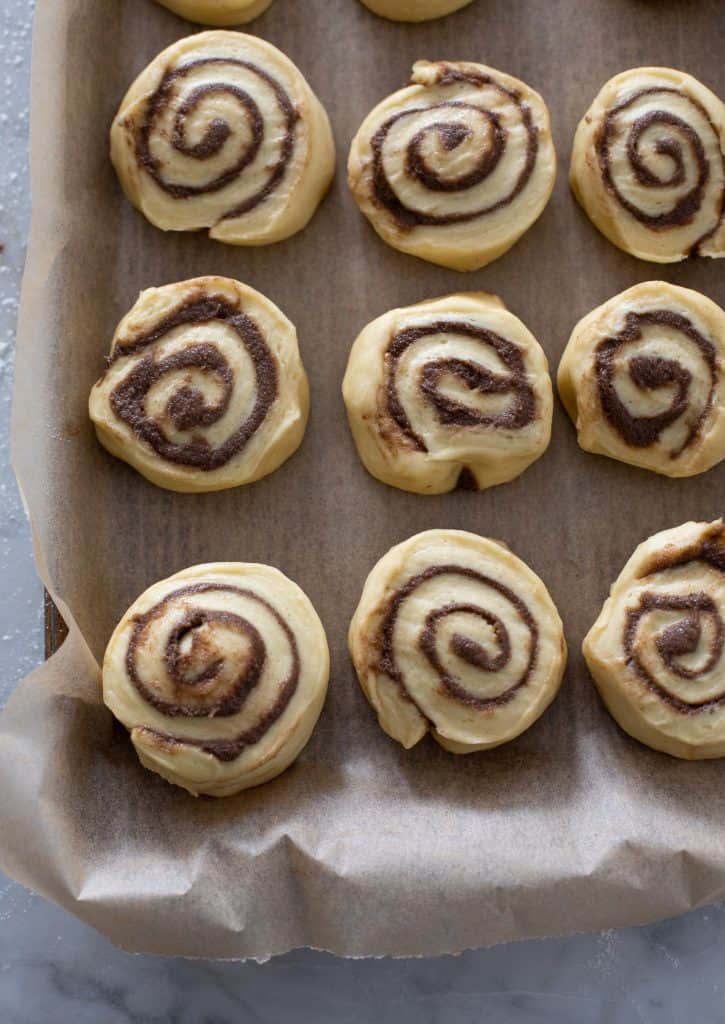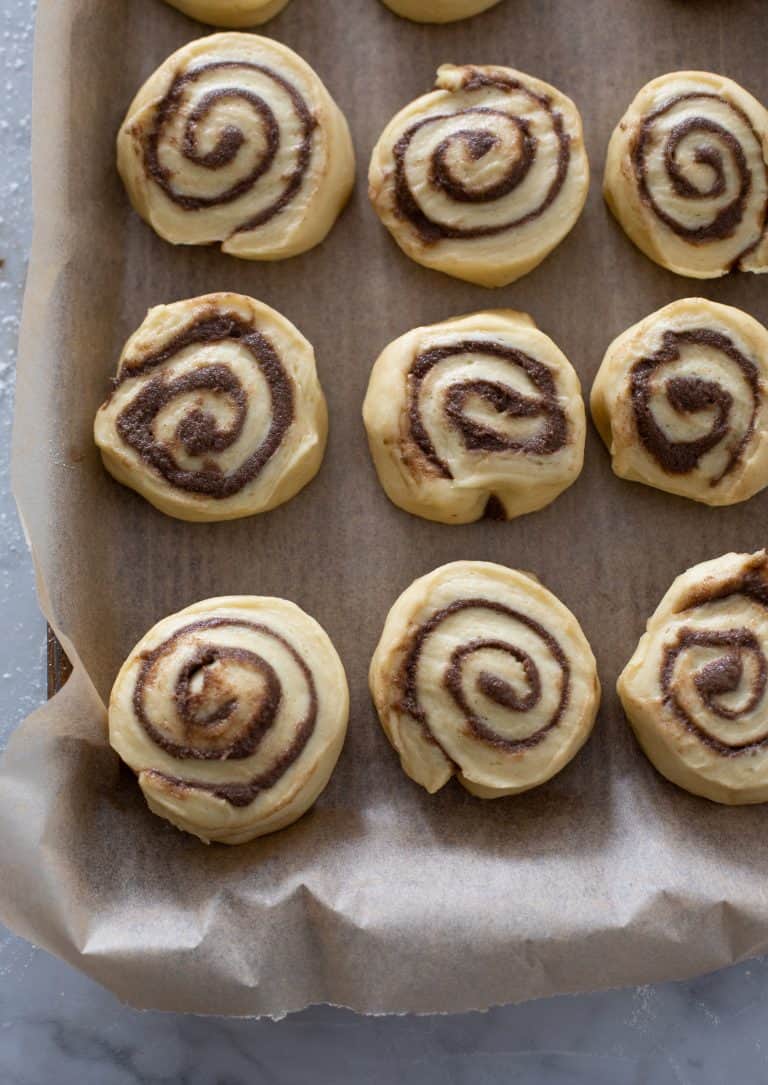 Then bake- top with the cream cheese glaze- and enjoy these rich and delicious cinnamon buns!
Can make these in advance to bake the next morning?
YES! Overnight Brioche Cinnamon Rolls are a great way to make this slightly more involved recipe in advance for a special occasion. To do this: Follow the recipe up until when you slice the dough into 12 and place them in a pan.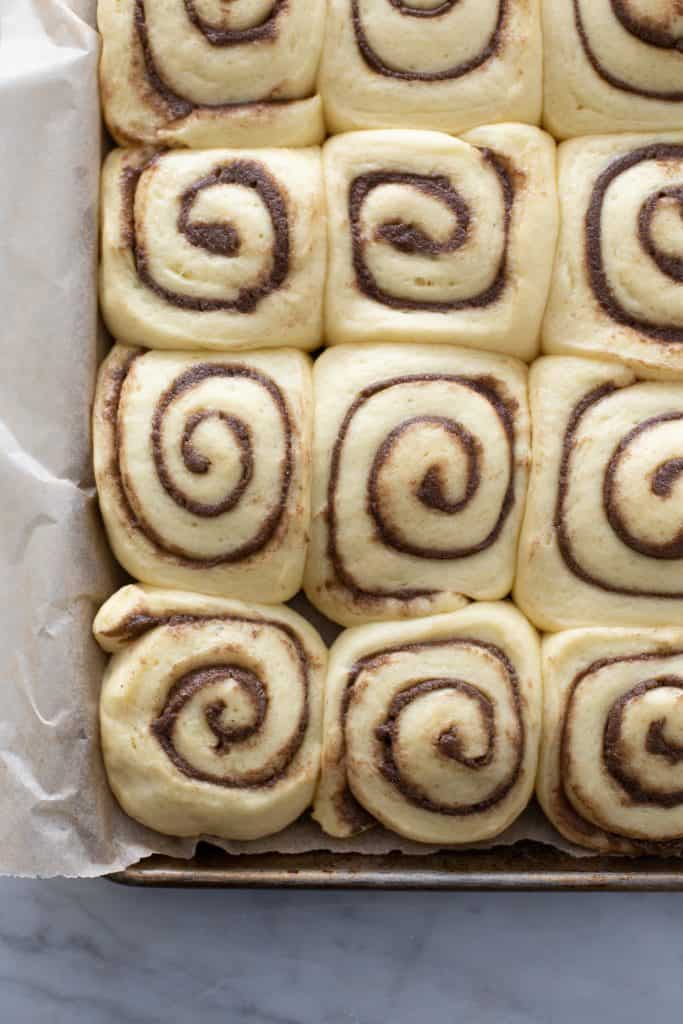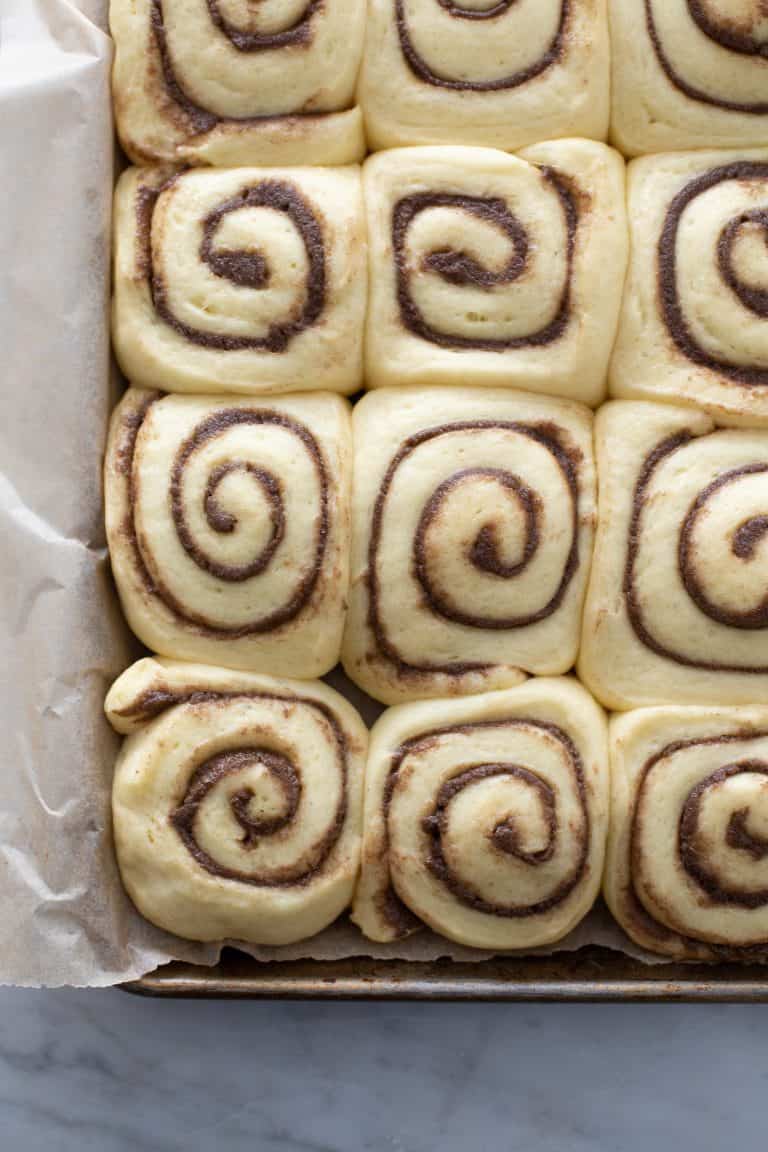 Cover tightly with plastic wrap and place the dough in the fridge to proof. In the morning, about 60-90 minutes before you want to bake them, take the pan out of the fridge and place in a warm spot in your kitchen. Let them come to room temperature and proof until doubled in size. (Refer to my pic above of the post-proofing step for an idea of what they should look like.) Bake like normal and enjoy your warm rolls!
How to reheat Cinnamon Rolls:
I got this question a lot so I wrote a whole post about my favorite ways to reheat cinnamon rolls. Check it out here: How to reheat Cinnamon Rolls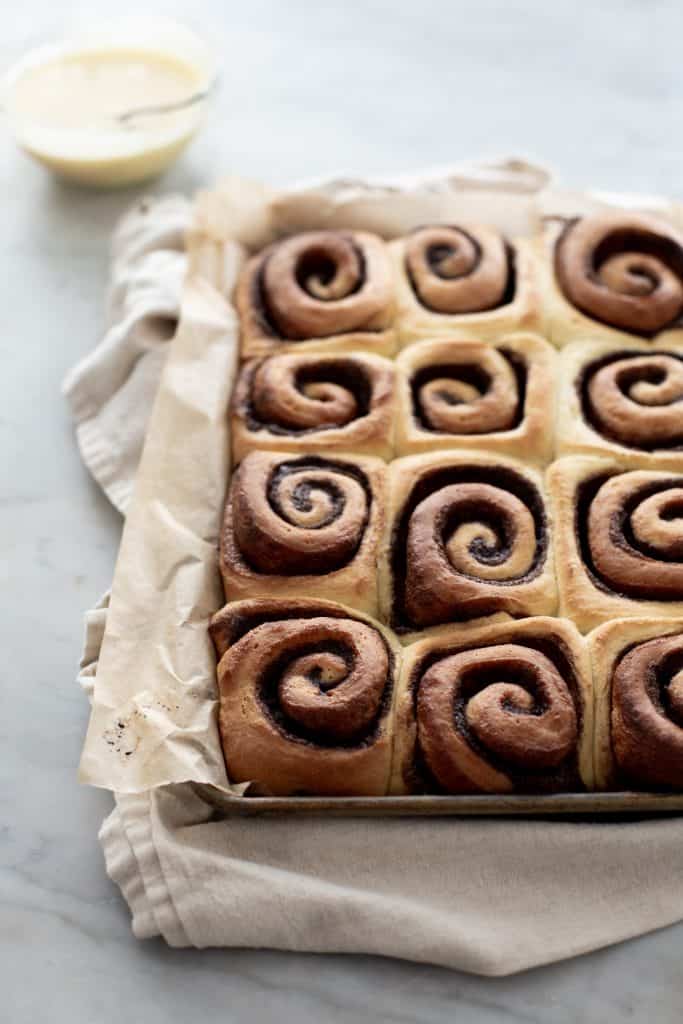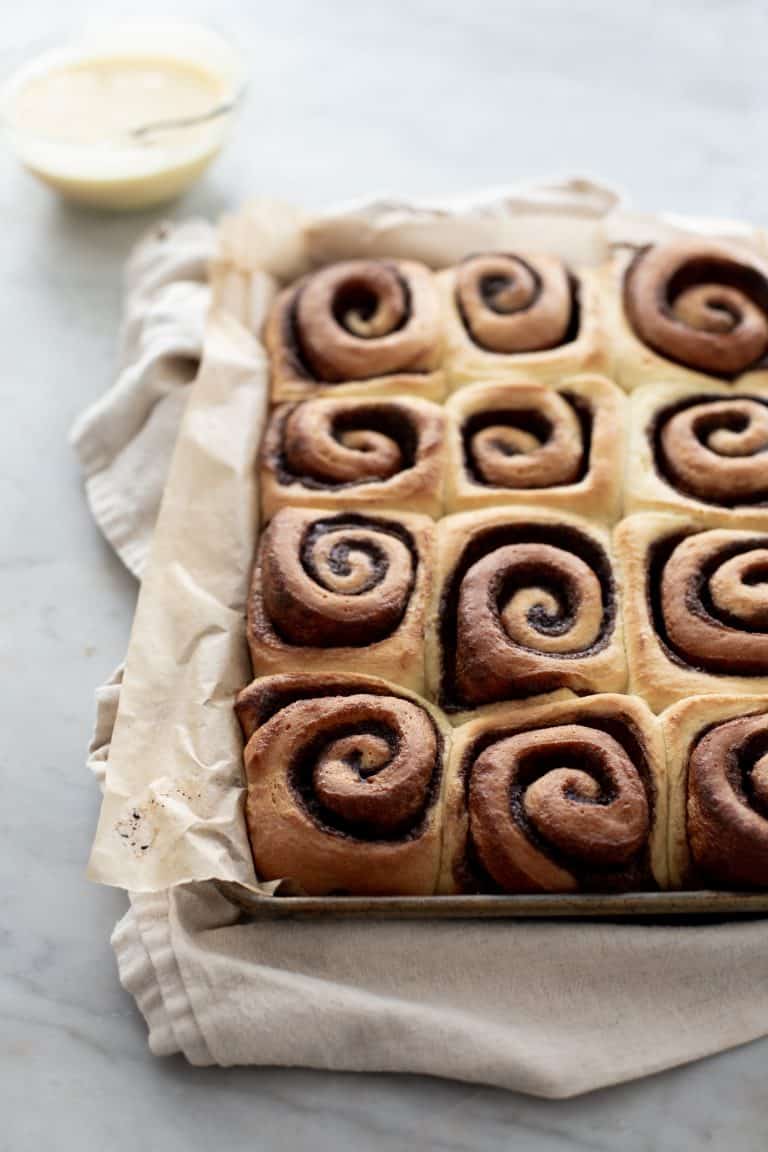 Can I use something else besides Cream Cheese Frosting?
I think my Brown Butter Frosting would be amazing in this recipe!
Happy Baking!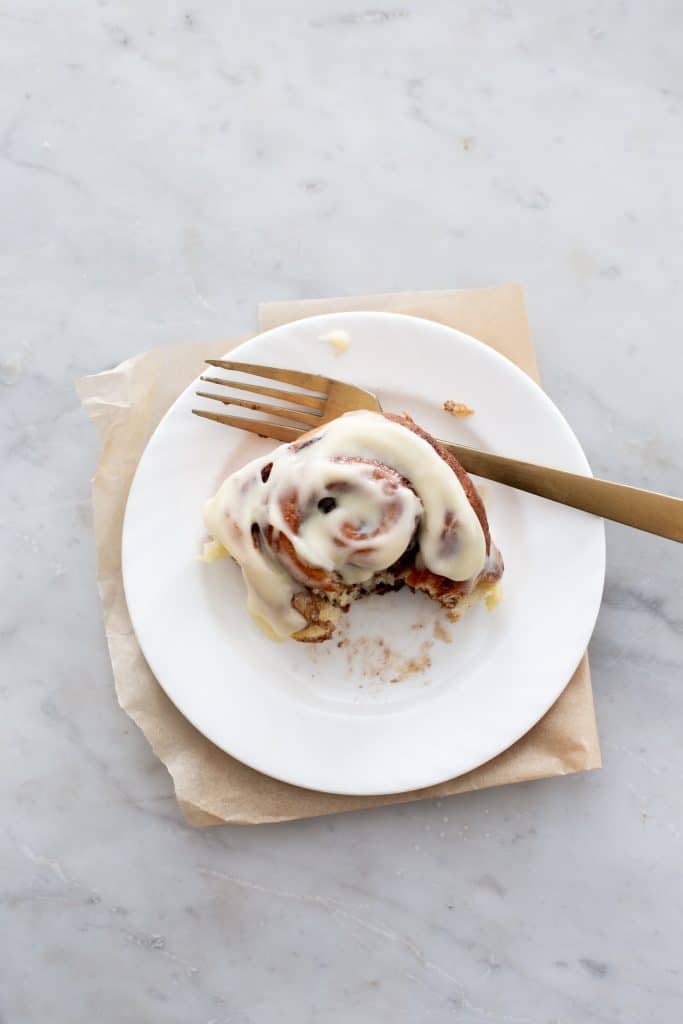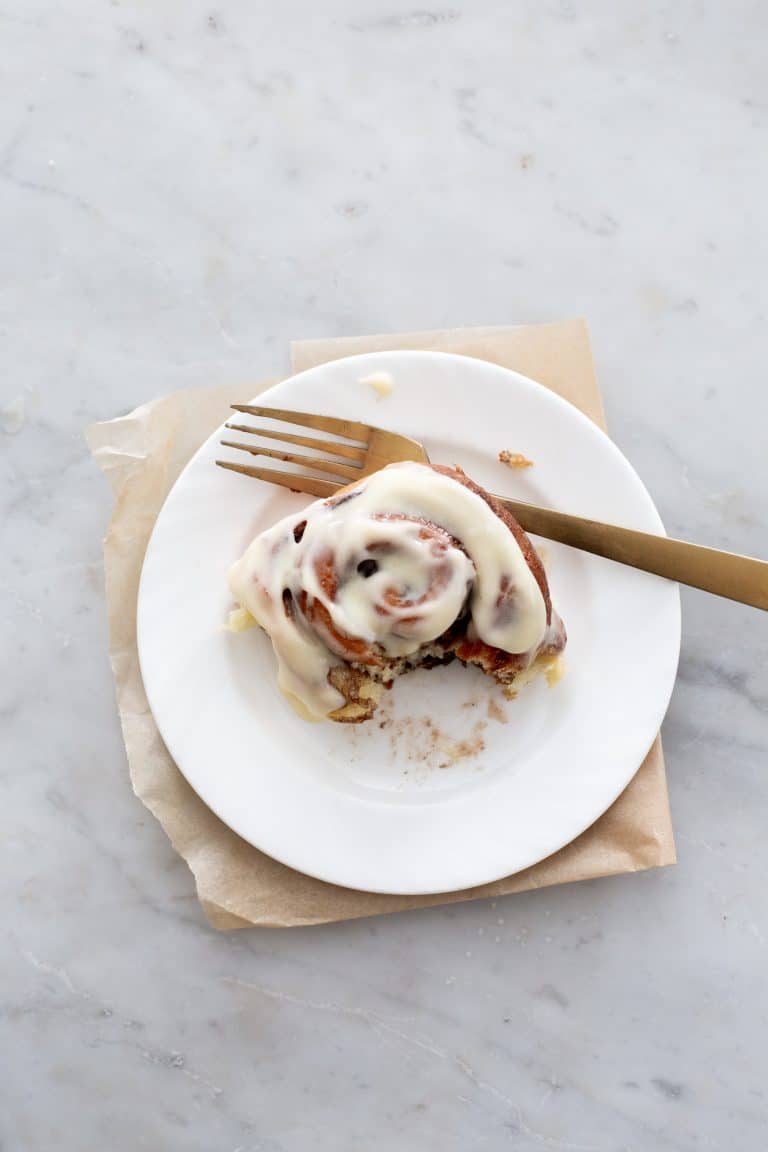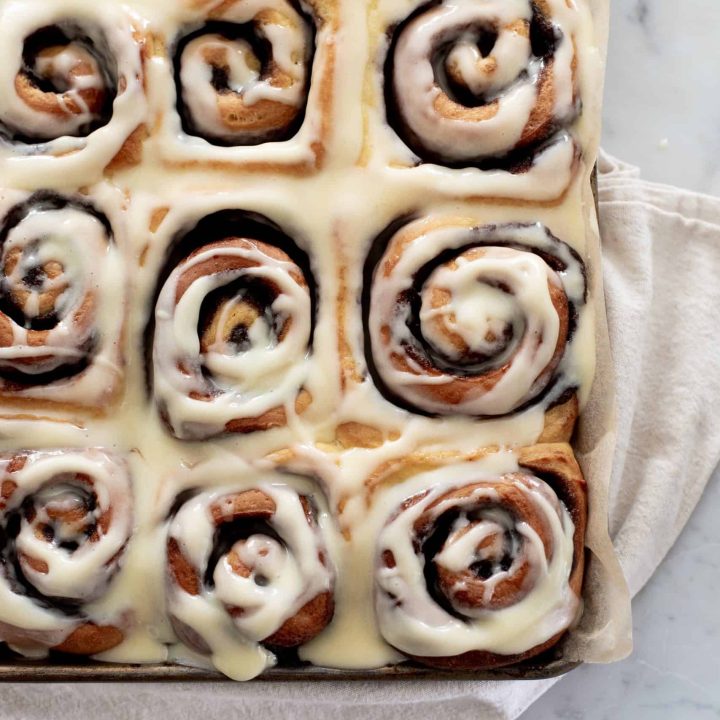 Brioche Cinnamon Rolls
Ingredients
2 3/4 cups (330g) all-purpose flour
3 tablespoons (35g) sugar
1 1/4 teaspoons (8g) salt
1 tablespoon active dry yeast
3 large eggs, cold
1/4 cup (57g) water
10 tablespoons (142g) unsalted butter, at room temperature, divided into 1 inch pieces plus 6 tablespoons (85 g) of softened butter for filling
1 cup dark brown sugar (213 g)
1 tablespoon ground cinnamon (8.28 g)
heavy pinch of dark cocoa powder*
For the Cream Cheese Glaze:
4 oz cream cheese, softened
2 oz unsalted butter, room temperature
1 teaspoon vanilla extract
1-2 cups powdered sugar
3-4 tablespoons of milk or cream
Instructions
In the bowl of a stand mixer, combine the flour, yeast, sugar, salt, water and eggs.
While running on medium-low speed, add the butter, one piece at a time, waiting until it's fully incorporated to add more. Use a rubber spatula as needed to scrape the bowl. This dough takes a good 10-15 minutes for this step so let the dough hook do it's think until a smooth, soft (sticky,) dough is formed.
Gently form the soft dough into a ball and place it in a greased bowl. Cover with a tea towel or plastic wrap and let it rise on the counter for an hour. Then pop it into the fridge for 2 hours or up to overnight. (The dough will be much easier to handle after this step.)
While the dough is in the fridge make the filling by mixing 6 tablespoons of soft butter with the brown sugar, cinnamon, and cocoa powder if using. The mixture will be like a thick paste.
Take the dough out of the fridge and on a lightly floured surface roll it into a 10x15 rectangle. Spread the filling gently with an offset spatula or the back of a spoon.
Starting with the long end, roll the dough tightly into a log, pinching the seam together gently.
Use a serrated knife or unflavored floss to cut the dough into 12 equal pieces, and place them in a greased 9x13 pan or quarter sheet pan (you could also line it with parchment.)
Cover the rolls and allow them to proof for 1.5-2 hours, or until rolls have doubled in size
Preheat oven to 350F. Bake the rolls for 20-25 minutes, or until the tops of the rolls are golden
For the glaze- whisk together the soft cream cheese and butter, add the powdered sugar and vanilla and continue to mix until smooth. Add the milk or cream 1 tablespoon at a time until a pourable glaze is formed.
Pour glaze over the warm rolls and enjoy!