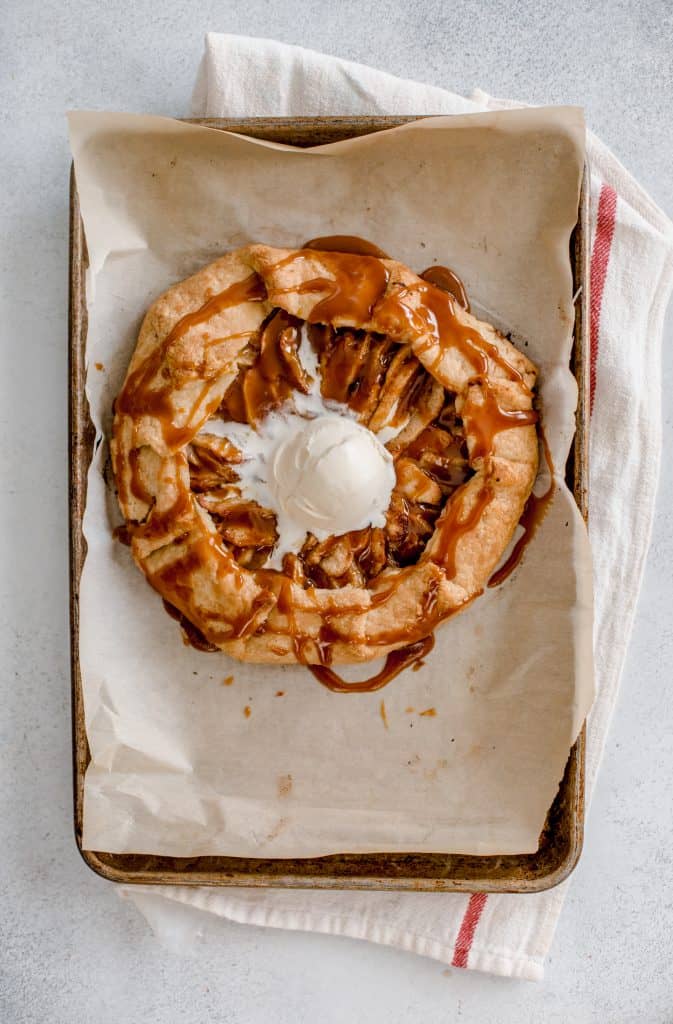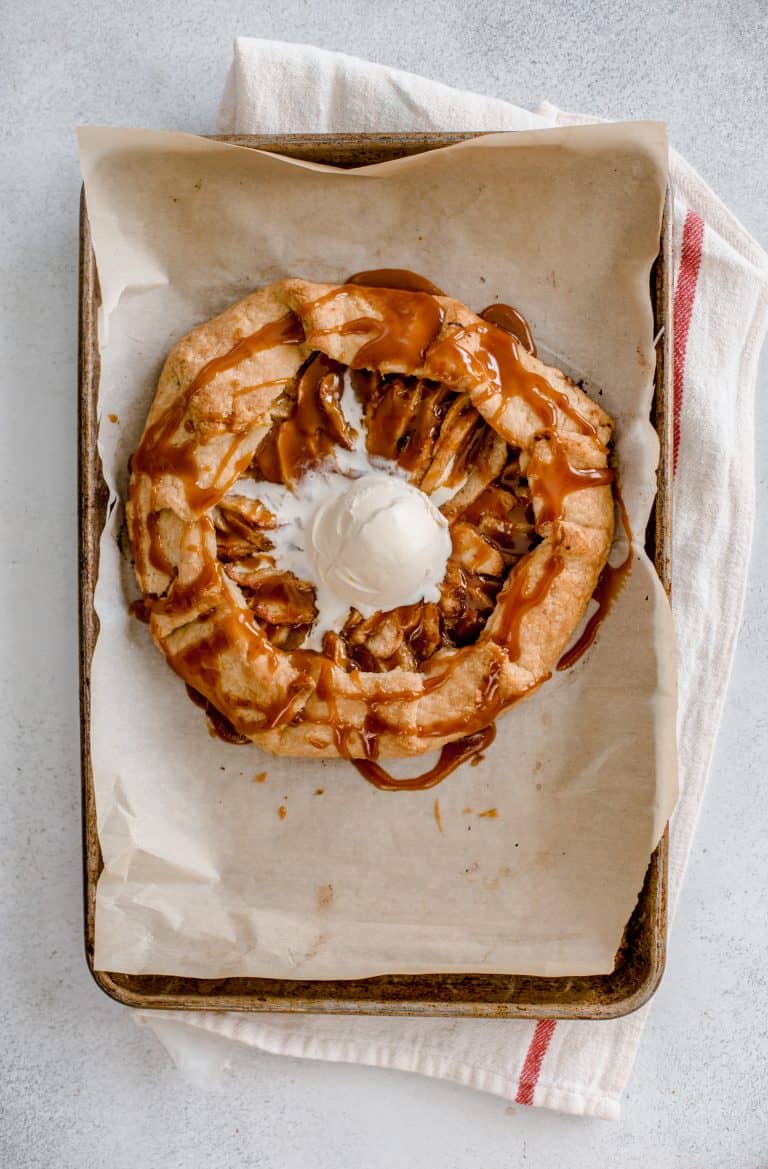 I'm here to share the perfect fall dessert, almost like a mini apple pie, that happens to be easier to make and difficult to mess up. Enter: the galette!
What is a galette? It is a french term for a cake or pie that doesn't require a tin. It's basically a free-form pie, a rustic tart and smaller and less time consuming take on a traditional pie. Galettes don't need to be perfect circles. Part of their charm is being a bit scraggly I think.
Now just for fun and since I had a jar of my Salted Caramel Sauce in the fridge, I decided to drizzle some on top, but that is totally optional. Really truly the crust with the apples (tossed in a little cinnamon sugar,) are more than enough on their own. (Though a scoop of ice cream on top is highly recommended.)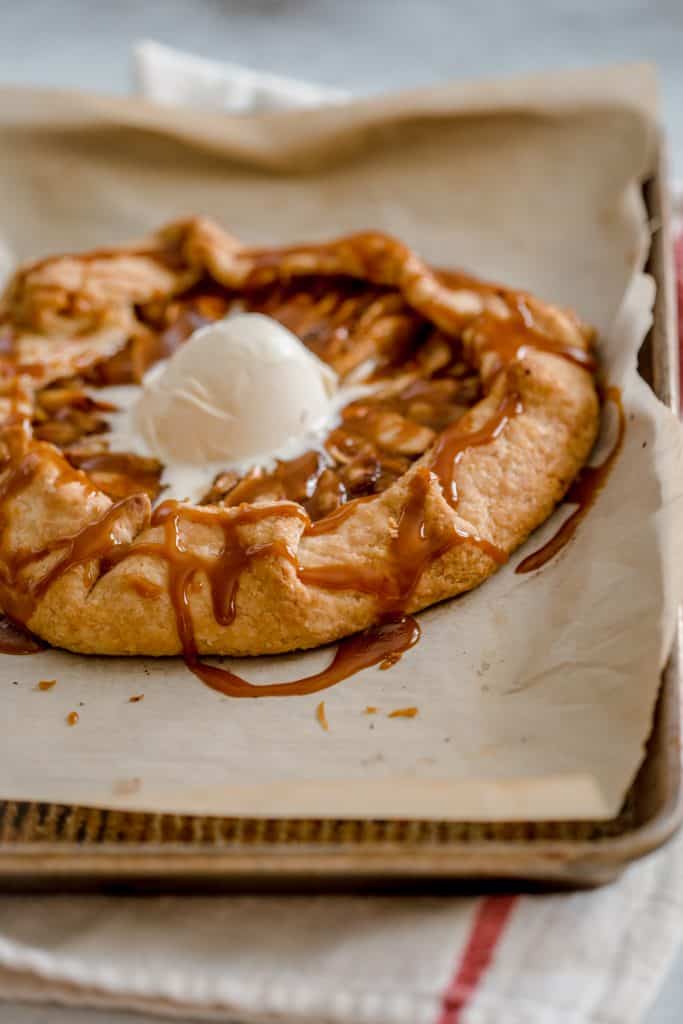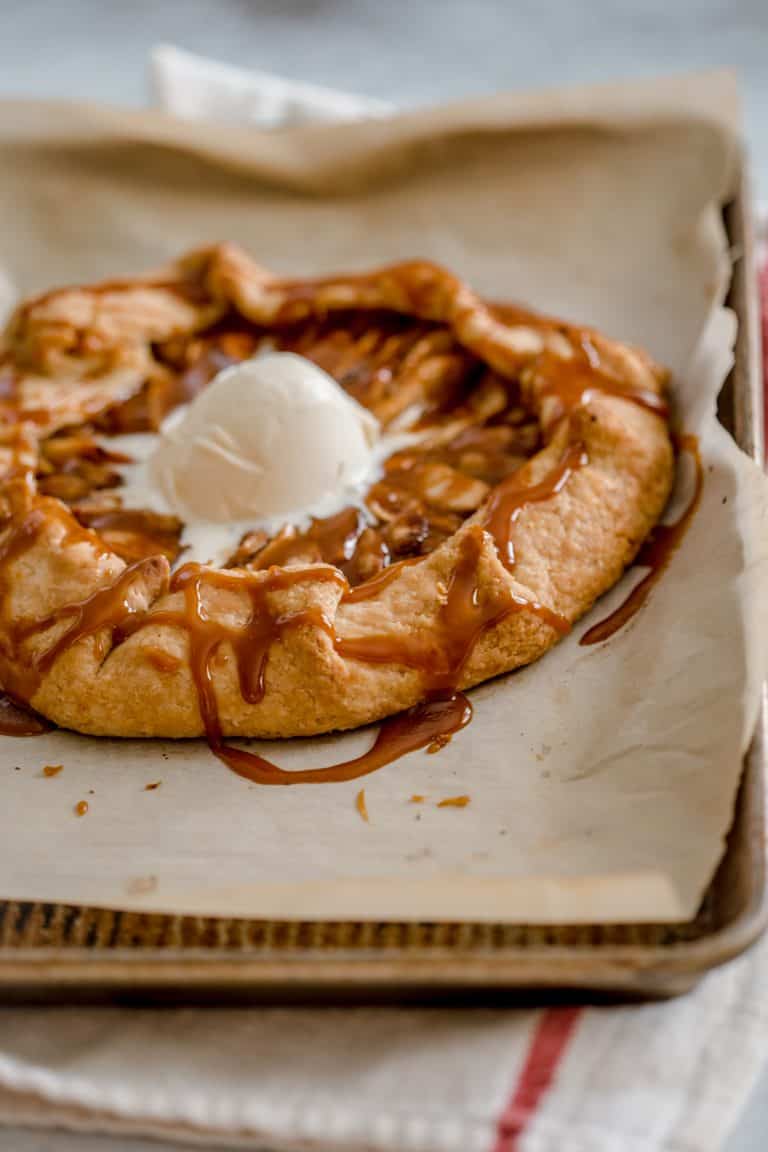 Ingredients for Easy Apple Galette
One layer of Pie Dough
Apple Slices
Cinnamon
Vanilla
Brown Sugar
Egg
Supplies needed for Easy Apple Galette:
Food Processor for crust (optional)
Baking sheet
Large bowl
Plastic wrap
Rolling Pin
The process:
Toss apples with cinnamon, brown sugar, vanilla extract and lemon juice and set aside. Roll out your galette dough to a 12 inch circle and trim edges if desired. Layer apples starting in the center of the dough leaving a 3 inch border around the perimeter. Fold the edges in, overlapping them to form a raised crust. Transfer to a baking pan lined with a piece of parchment paper. Brush with egg wash, sprinkle with coarse sugar if desired, and bake until golden brown.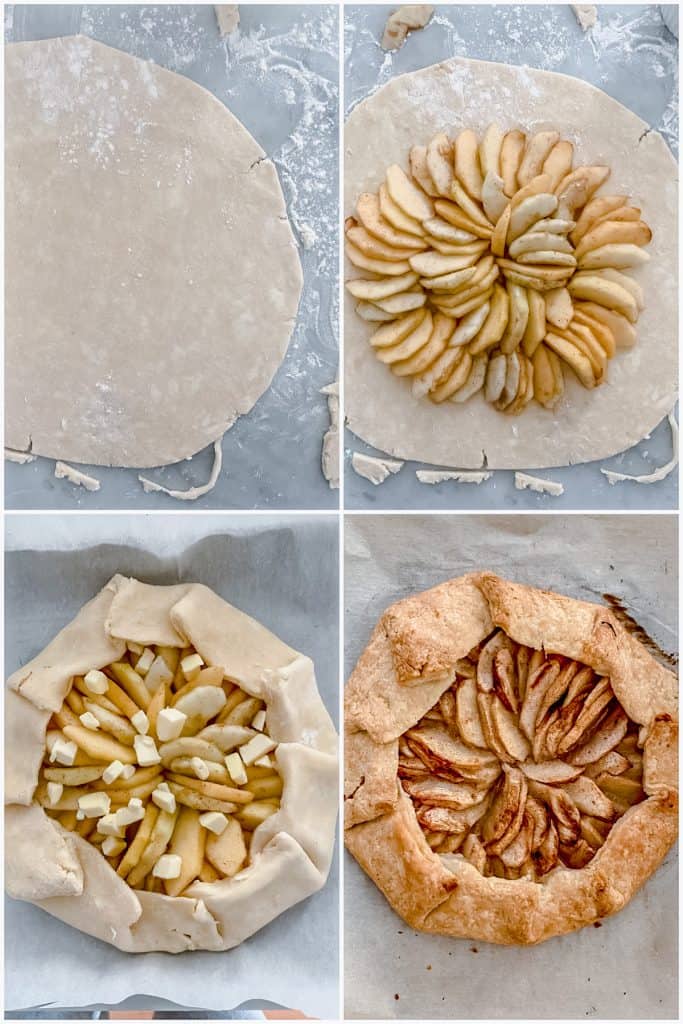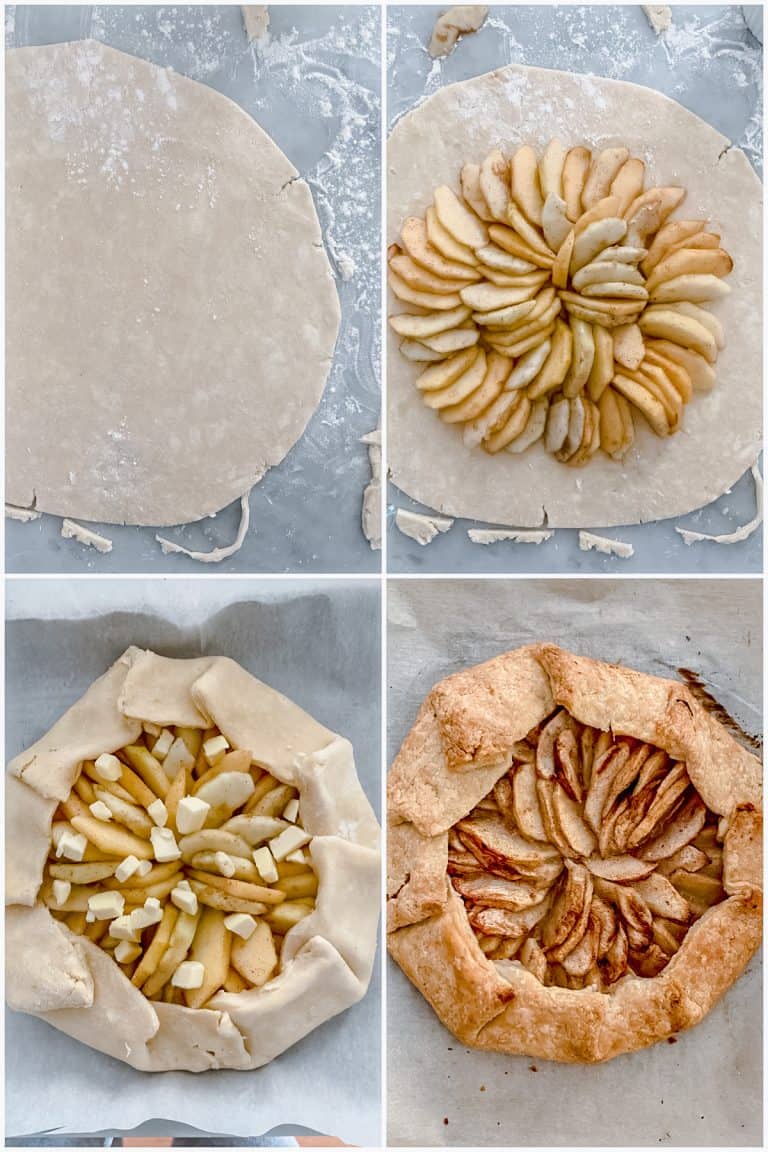 Tips for making a flaky crust:
Use all purpose flour (not bread or cake.)
Use cold butter and cold water
Sub some of the water for apple cider vinegar
Break butter up with a food processor, your hands, a pastry cutter, or two knives, but make sure to not handle it so much the butter gets warm.
Chill dough for an hour before rolling out for your galette.
What are the best apples for this Easy Apple Galette recipe?
I think different varieties of apples are ideal here. I like a mix of honey crisp, granny smith, gala and pink lady
What to serve with this Apple Galette?
I like to serve it room temperature with whipped cream or warm with a scoop of vanilla ice cream. A drizzle of salted caramel sauce is delicious too!

Do I have to use homemade pie crust? Or can I use store bought crust or puff pastry?
Sure. I think both would work fine here
Other favorite apple desserts:
Apple Cinnamon Cake with Brown Butter Frosting, Rosemary Apple Pie, Salted Caramel Apple Crisp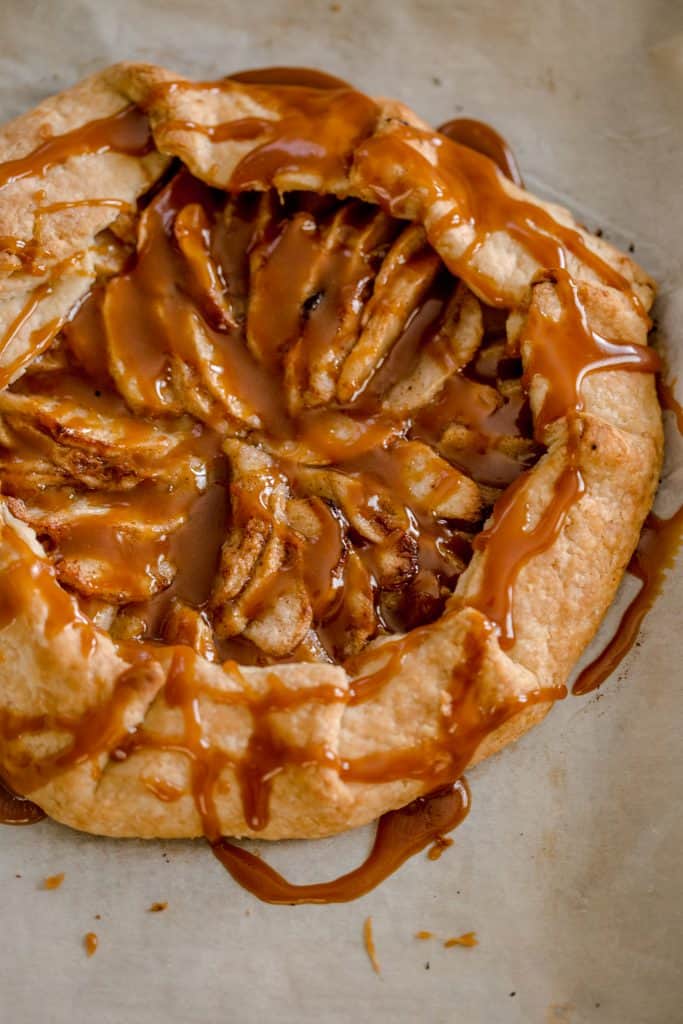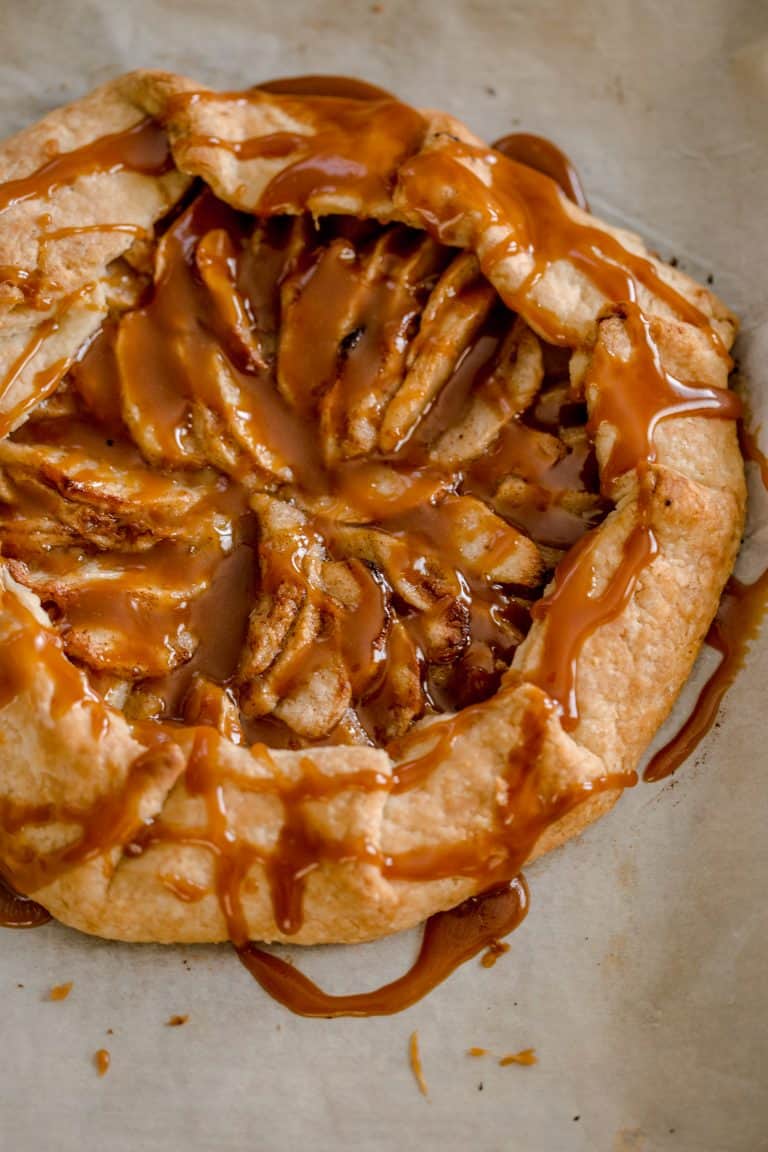 Enjoy!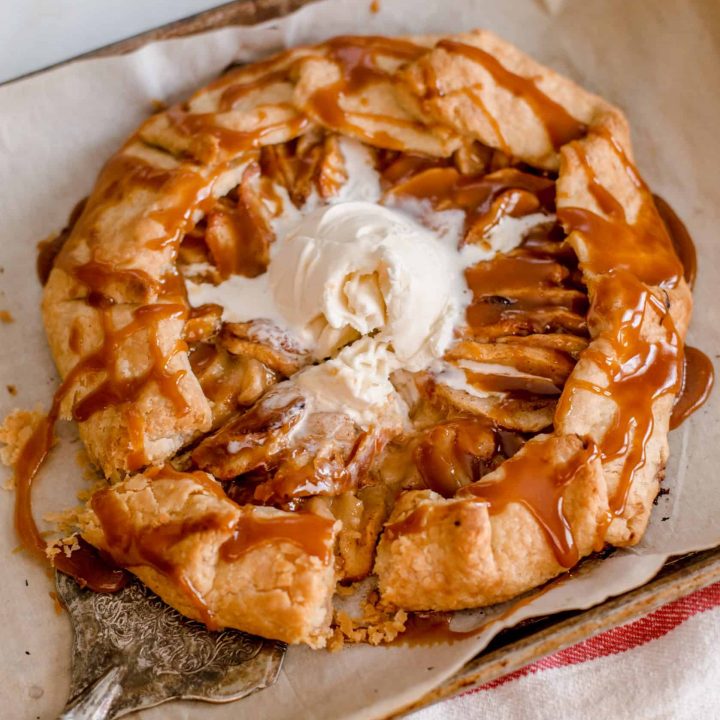 Easy Apple Galette
Total Time:
1 hour
30 minutes
A quick and easy alternative to a traditional apple pie!
Ingredients
1 9 inch round of pie crust * (link for my fave in notes!)
4 medium sized baking apples
2 tablespoons sugar
1/2 teaspoon cinnamon
1 tablespoon of butter cut into bits
Ice cream and caramel sauce for topping (optional)
Instructions
Preheat oven to 400F.
On a well-floured surface, roll your crust out to a 12-inch circle (or so, it doesn't need to be perfect.) trim edges of the circle if you'd like. Place crust on a piece of parchment paper.
Toss apples with the cinnamon and sugar, and arrange them in the middle of the crust, leaving a border of at least an inch around the edge.
Fold the crust in, overlapping the apples.
Dot the apples with the butter
Transfer to a rimmed cookie sheet, and bake for about an hour, or until the crust is golden and the filling is bubbling.
Enjoy warm with caramel sauce and/or ice cream if desired.
Notes
*For an extra flakey crust I used my standard favorite pie crust but subbed half the ice water for apple cider vinegar- the result was amazing!