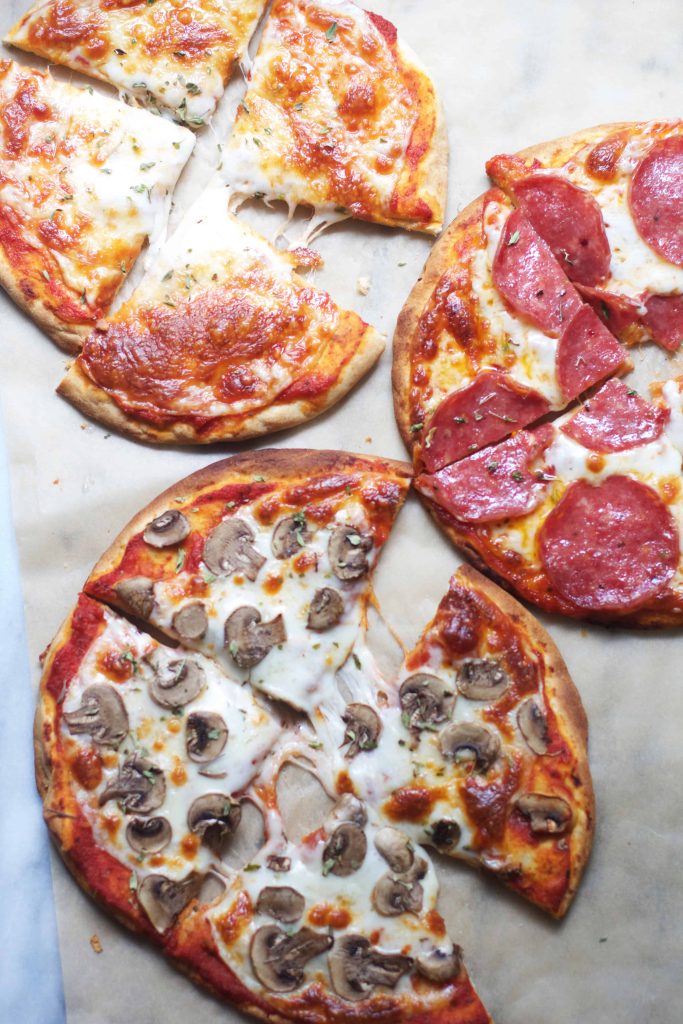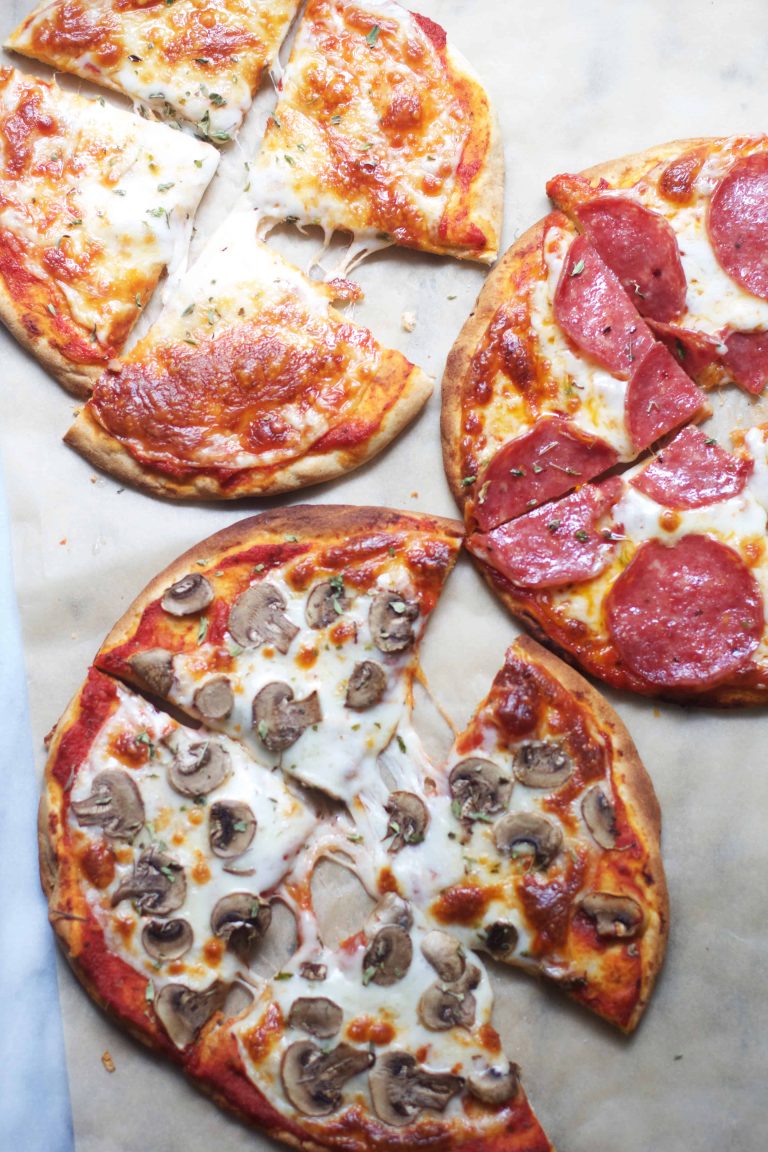 You know I am all about making your lives easier. When I share dinner ideas on the blog- they are usually easy, fast, and delicious meals that are family friendly and did I say easy? I don't have time or energy for anything else most nights, and if I can make something that all three of us like and will eat, (as well as keep the apartment clean, get my child bathed and to bed and still have some energy left at the end of the day, ) I feel like Wonder Woman.
Are Pita Pizzas a very common thing? Am I not sharing my remarkable discovery with you but instead outing myself as the last person on the planet to realize how easy and tasty these are? I hope it's the first option, but either way here it is.
Step One: Start with a piece of pocketless pita or flatbread, (I like the Greek kind that you use for Gyros.)
Step Two: Spread on the sauce of your choice, marinara, pesto, white sauce- all would be awesome .
Step Three: Toppings- Cheese of course, veggies, meat- you know the drill- top as you like. My favorite thing to use are deli slices of provolone, they melt perfectly and are so easy. But mozzarella or any cheese you have would work.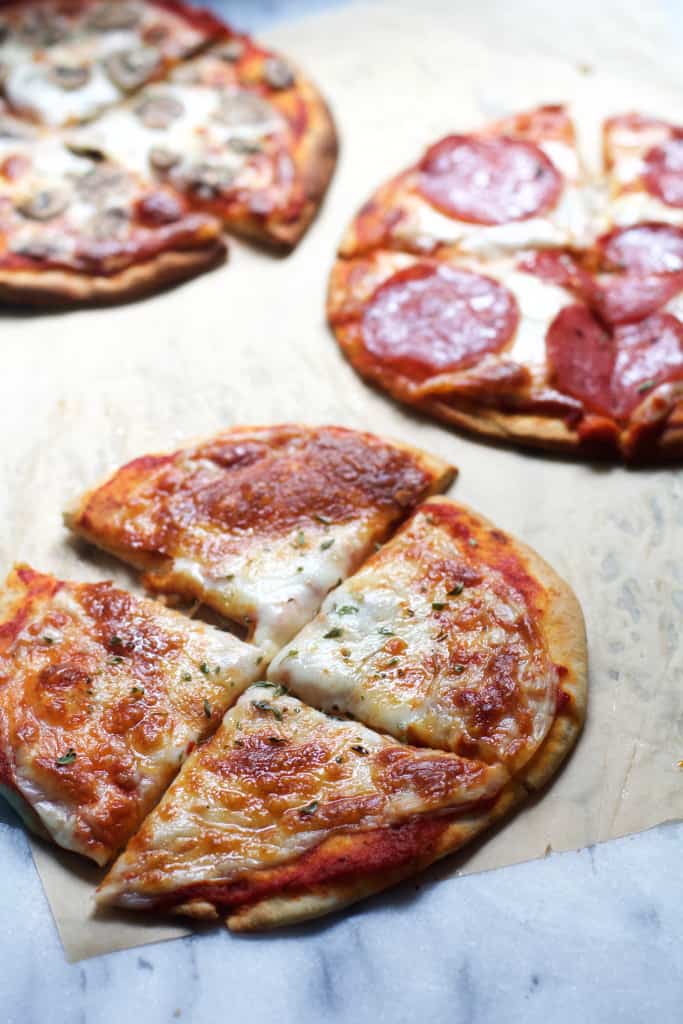 I like to make these pizzas in the toaster oven. They bake to perfection in just a couple minutes, and the crust is always super crispy. If you don' t have one, they can be made in your regular oven too of course, (I'll give instructions to both options in the recipe.)
This has saved me several times in the past few weeks. I figure I can always keep pitas, sauce and cheese in the house and then throw on whatever else we have to make a quick dinner when I have nothing else planned. Hugo loved the mushroom one but hated the meat- how easy is it to customize these for the members of your family? I love this recipe and how fast I can be eating homemade pizza with a crispy and delicious crust (I actually prefer it to some of the homemade varieties I've tried.)
Go forth- make pita pizzas- you will be so glad you did!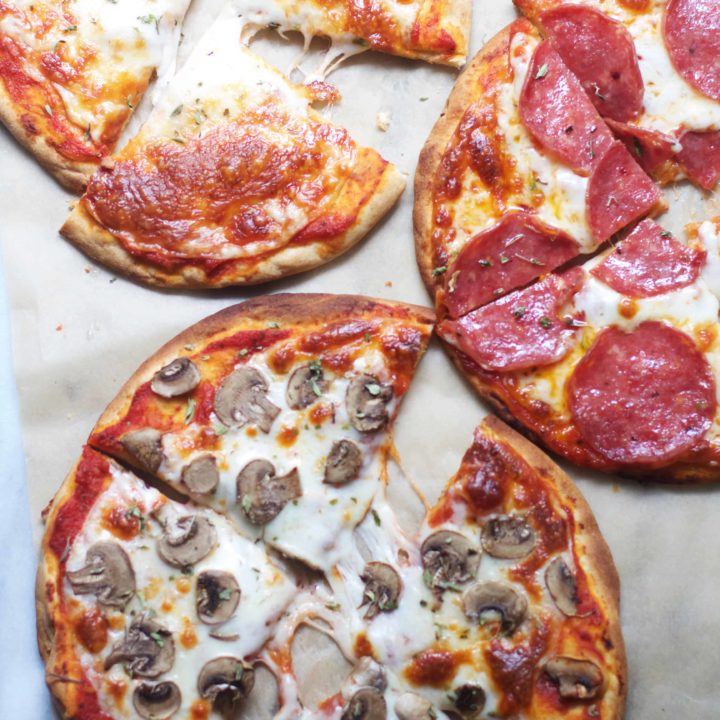 Five Minute Pita Pizzas
Ingredients
4 pockless pita flatbreads
3/4 cup of marinara sauce
12 slices of provolone cheese, mozzarella or other cheese would work well too!
Pepperoni, sausage, veggies or other toppings of your choice
Instructions
Spread a couple tablespoons of sauce on each pita, leaving a small crust around the edge. Top with 3 slices of cheese each and any meat/veggies you like.
Place the pitas one at a time directly on the rack of a toaster oven. Toast for 3-4 minutes, or until cheese is golden and bubbly.
Alternately- bake at 450F on a cookie sheet for about 10 minutes, or until golden, broiling for a minute or two to get the topping extra crisp if desired.
Nutrition Information:
Yield:

4
Serving Size:

1 grams
Amount Per Serving:
Unsaturated Fat:

0g