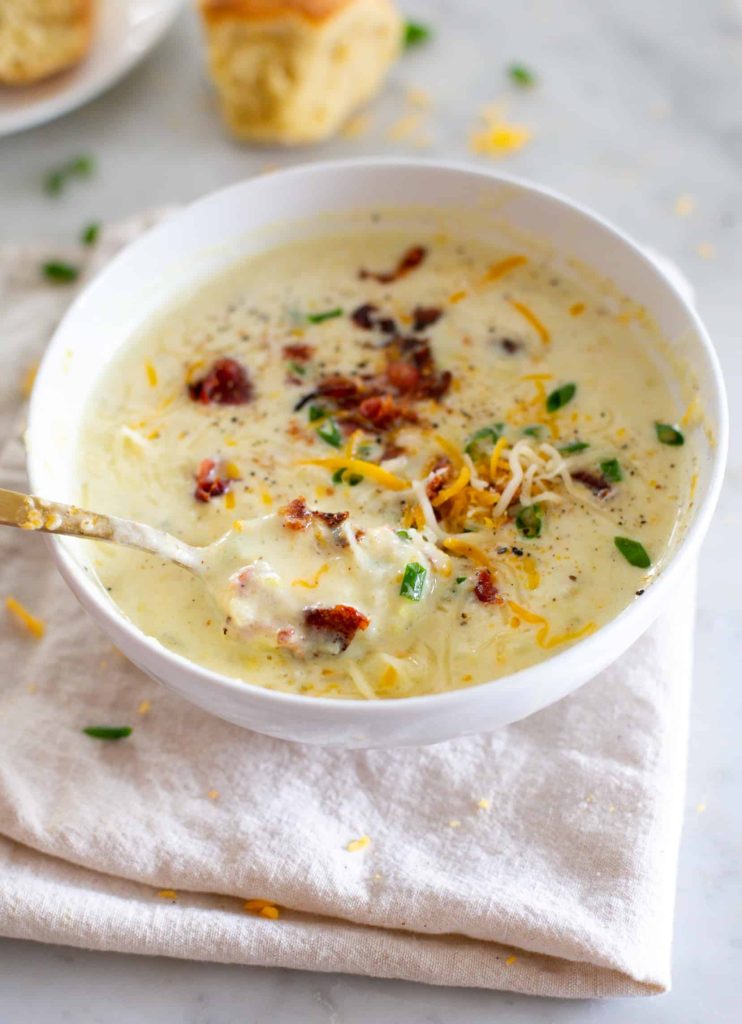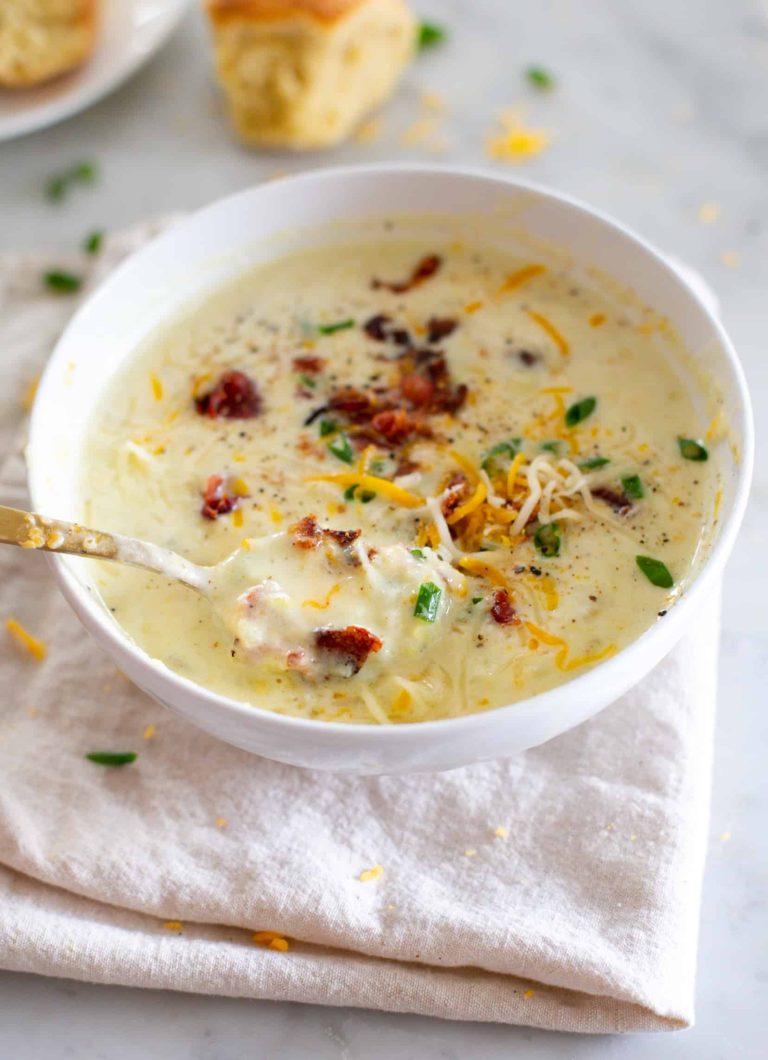 Soup season is here and not sure about you, but I'm always on the hunt for a quick and easy dinner my whole family loves. On a cold day I want a warm pot of soup simmering away
Potato soup has been a long time favorite over here, and this super easy 4 ingredient version couldn't be more simple for a weeknight dinner. This is a simple potato soup with a creamy texture, minimal ingredients, that just really hits the spot in the winter months.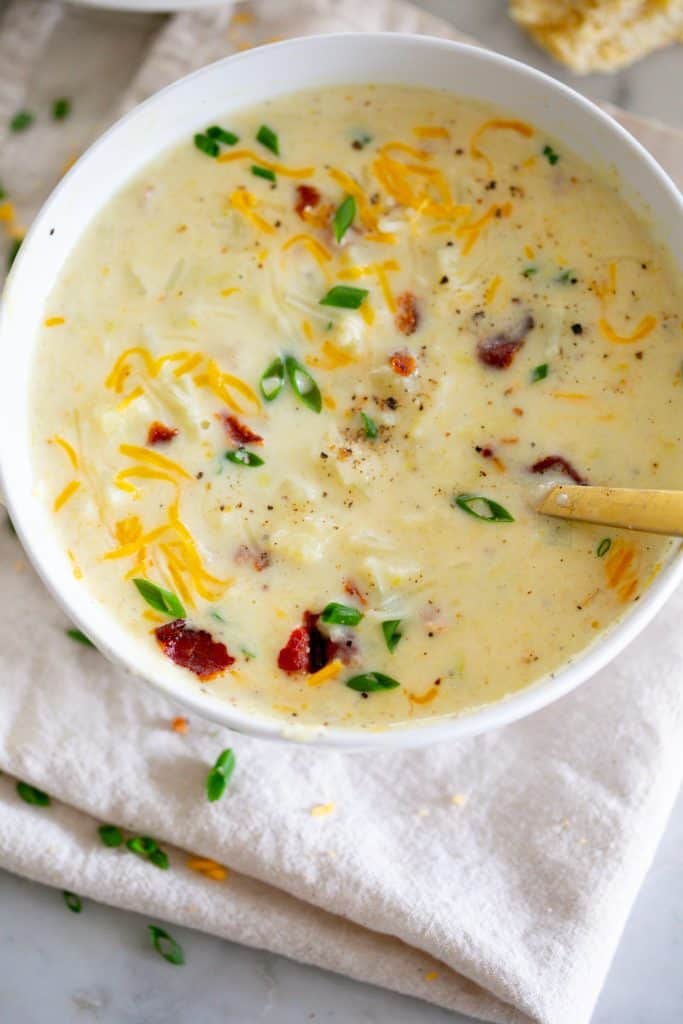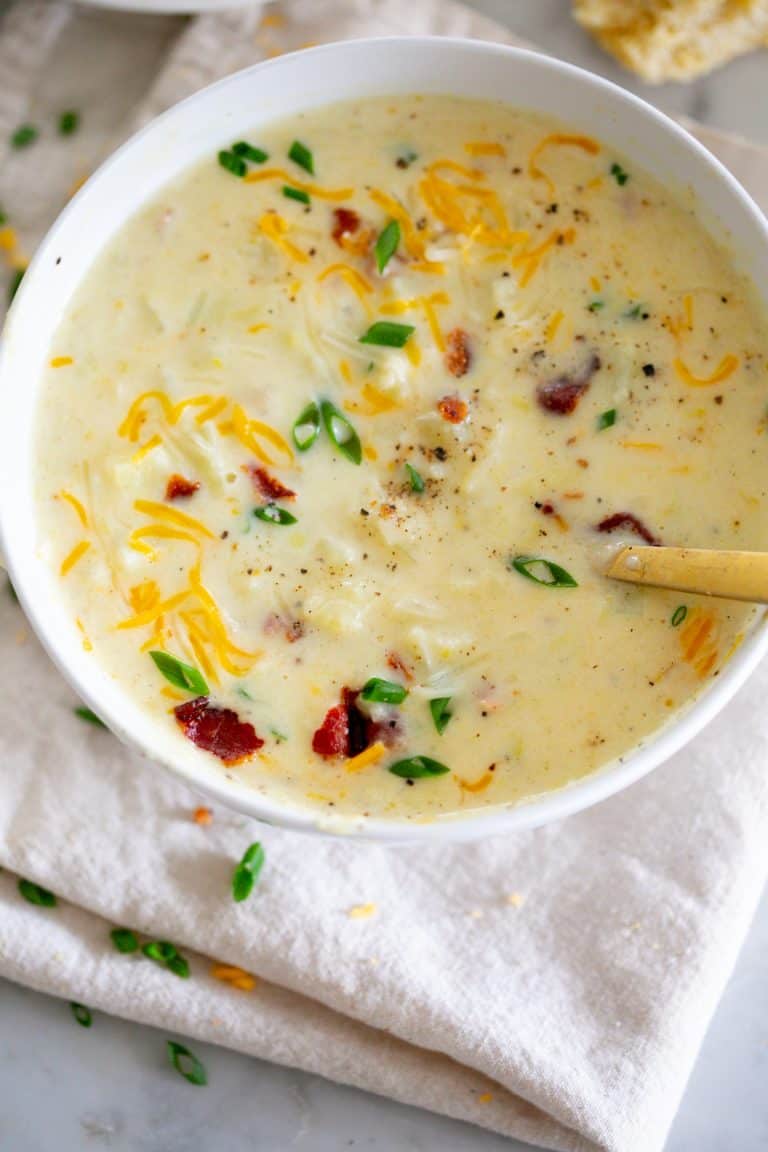 I know you must be dying to know what the 4 ingredients are so I won't gate keep. Now I don't include ingredients like salt, pepper, and olive oil in my count and you can of course go crazy on the toppings if you choose.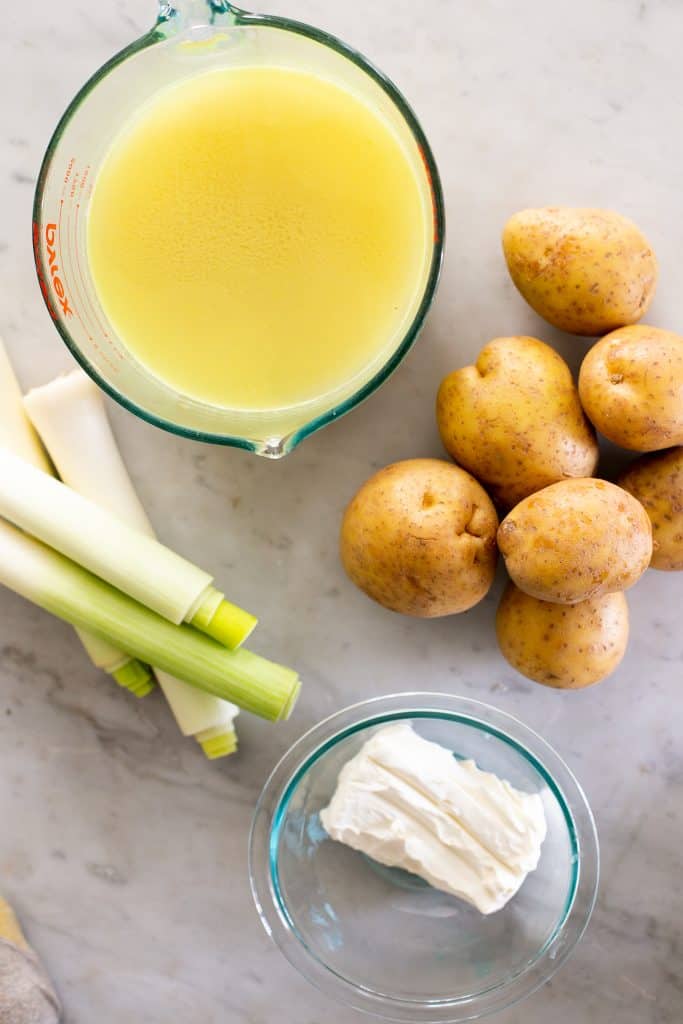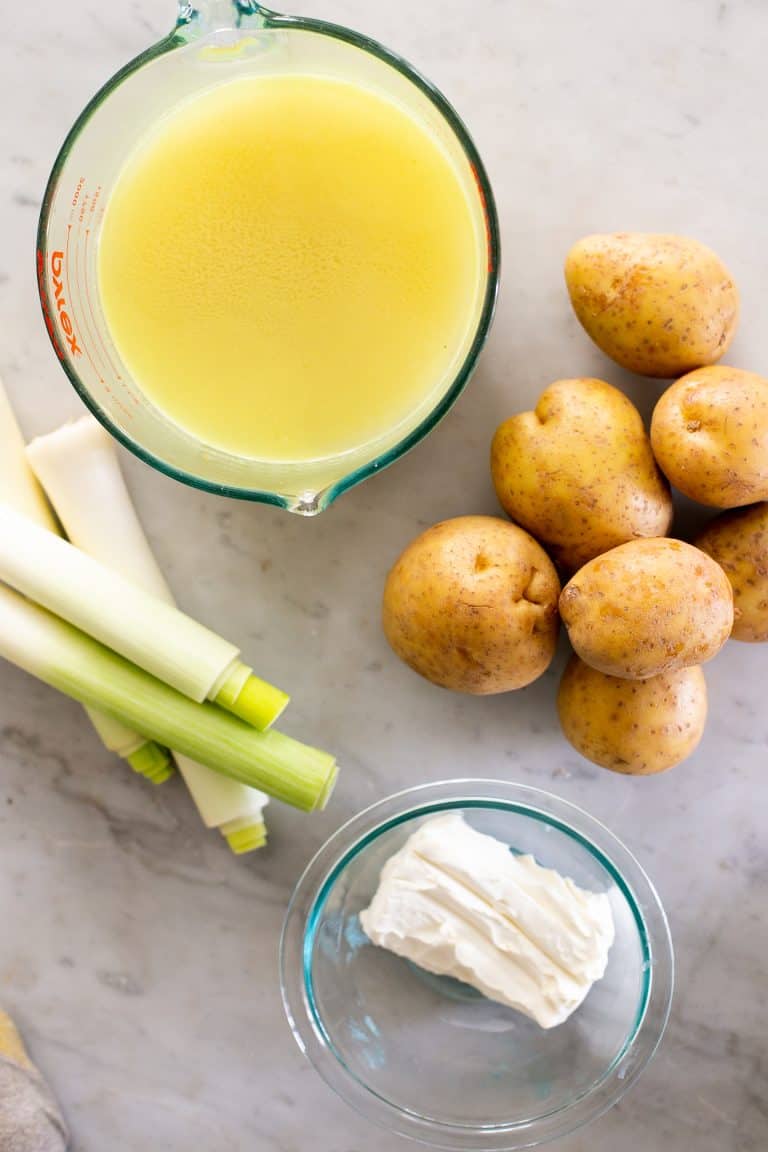 Basic Ingredients needed for 4-Ingredient Potato Soup:
Potatoes: My favorite are yukon gold potatoes but you can use russet potatoes (peeled,) or red potatoes as well
Onions: I use leeks because they are easy to cut and add a nice flavor. Yellow onion, white onion, green onion or even red onion would be great options too.
Broth: Either Chicken stock, chicken broth, vegetable broth, vegetable stock, or any sort of bouillon would be fine here.
Cream Cheese: This may not be a traditional or expected ingredient but I love the use of cream cheese to add a creamy richness to the soup. You can also use heavy cream or whole milk if that's what you have on hand.

Confession: I don't always use a recipe when I make potato soup. It's such a basic formula that once you make it a few times you can generally wing it. I start my cooking whichever onions I am using in fat (olive oil here but butter or bacon fat work too,) Then I add the diced potatoes and broth and cook until soft. Season, blend, add the cream cheese, and there you go! If your soup is too thin, dice another potato and blend that- add the creamy potato back in to thicken it up. To thin your soup out add some more broth.
Supplies needed for 4 Ingredient Potato Soup:
Immersion Blender
Large pot
Some of my favorite toppings for this creamy potato soup:
Cheddar Cheese
Chopped Bacon
Sour Cream
Sliced green onions
Fresh herbs

How to make this 4-ingredient potato soup recipe:
In a large stockpot or dutch oven sauté the leeks or onions in some olive oil over medium-low heat until soft. Season with salt and pepper. Add in the broth and potatoes and bring to a boil. Reduce to a simmer and cook until the potatoes are soft enough for a fork to go through easily. Strain out some of the potato chunks and add in the cream cheese, cut into cubes. Purée the mixture until you have a creamy soup, and add the potatoes back in. Add your favorite toppings and enjoy.
What to serve with Potato Soup:
This is one of my favorite comfort foods and a bowl of loaded potato soup with a roll or piece of garlic bread feels like a main meal to me. You could also serve it with bread bowls or some sweet Italian sausage. My favorite bread recipes on the blog that would pair well include Easy Grilled Flatbread (you can make on the stovetop in a cast-iron skillet too,) Sourdough bread, and this Rosemary Focaccia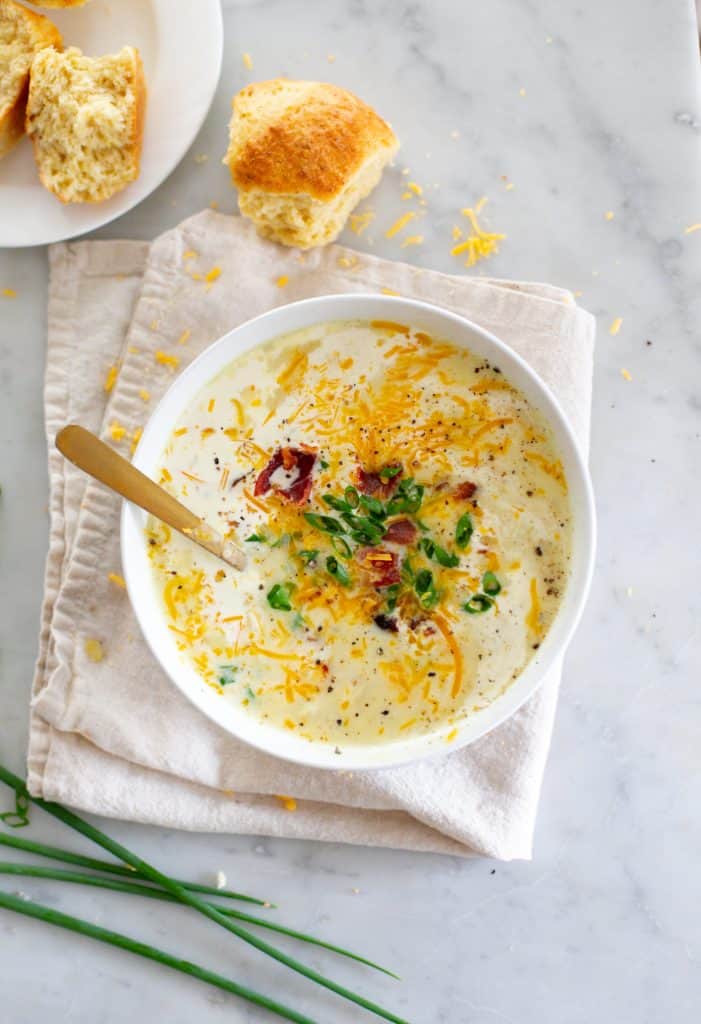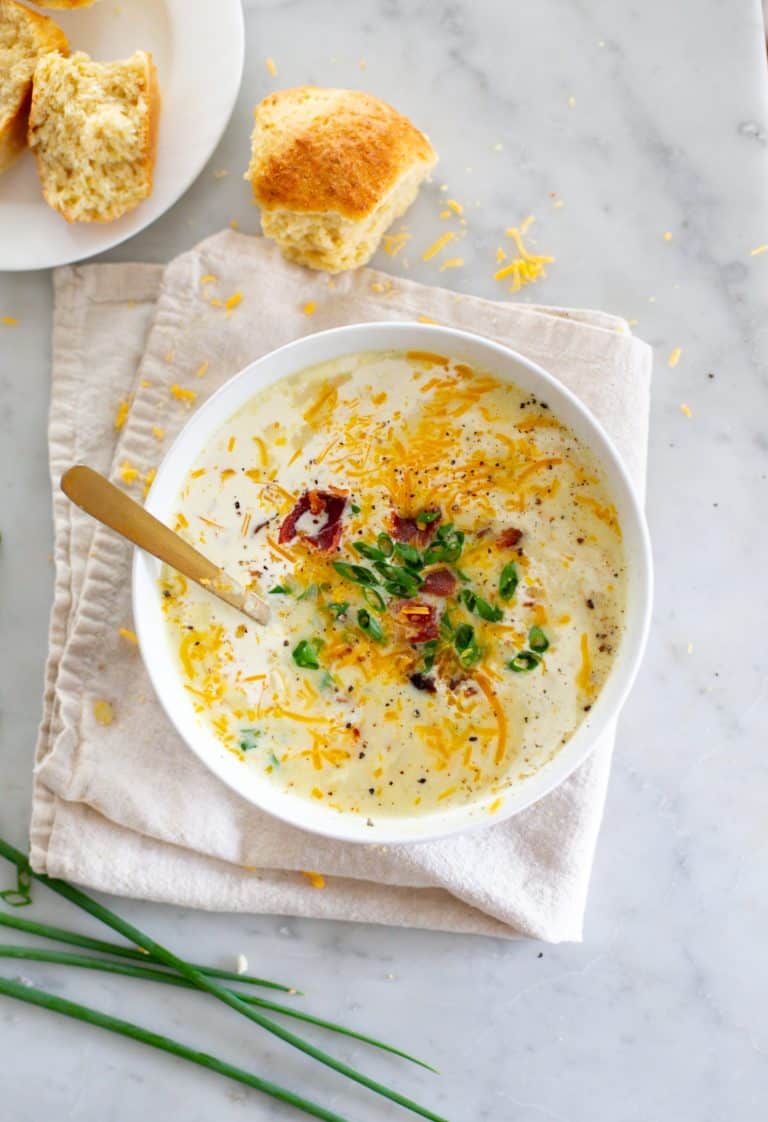 Can I make this recipe in a slow cooker?
Yes! Combine the onions or leeks, potatoes, broth, salt and pepper into your slow cooker and cook on high for 4-6 hours or low for 6-8. Then strain out some of the potato, add in the cream cheese in cubes, and puree the remaining soup. Add in the potato chunks and season with salt and black pepper.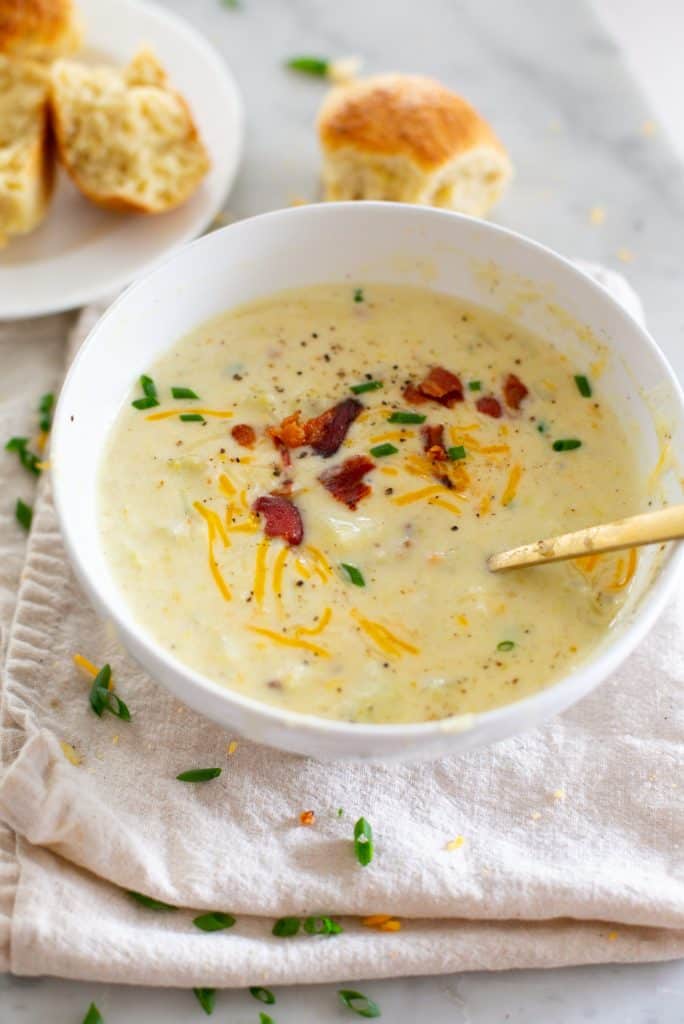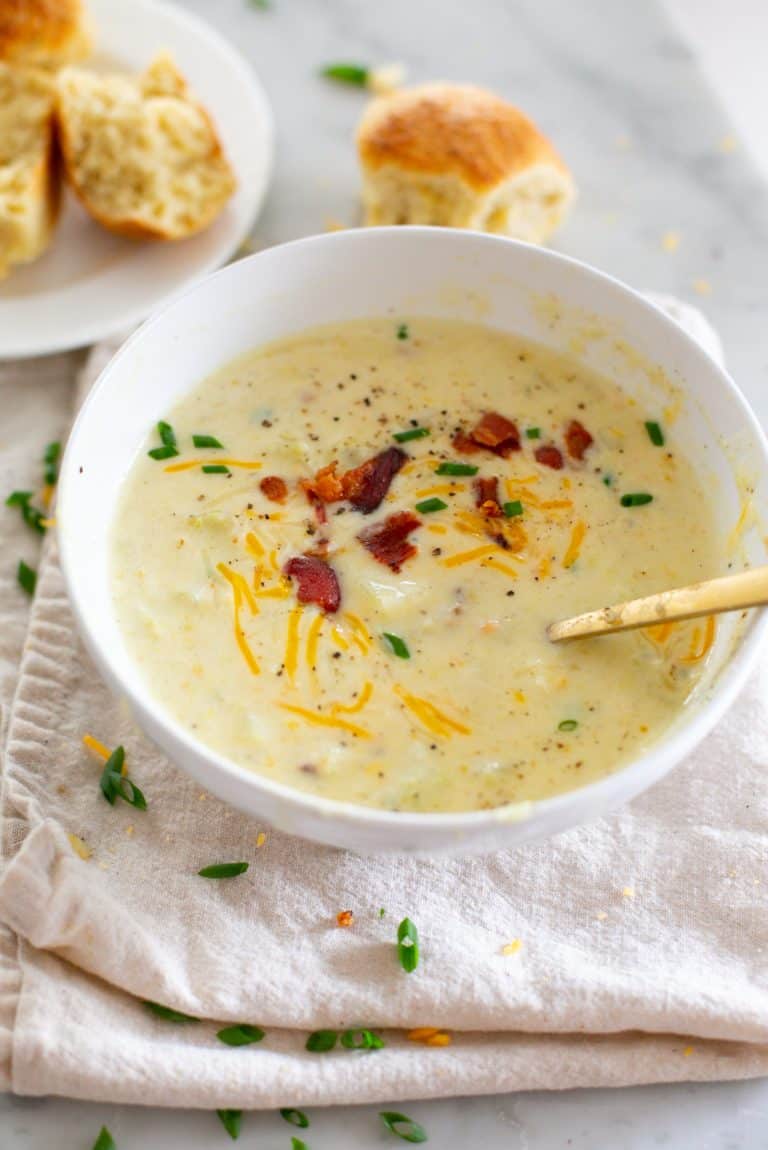 Ways to make this recipe your own:
Herbs: Adding fresh or dried herbs to the onions while they cook is a great way to add extra flavor to your liking. I love rosemary and thyme with this recipe.
Butter instead of oil: Have some good salted butter on hand? Cook your onions in that instead of oil for a richer soup.
Seasonings: Garlic powder, onion powder, chili flakes and Italian seasoning would all be great choices here.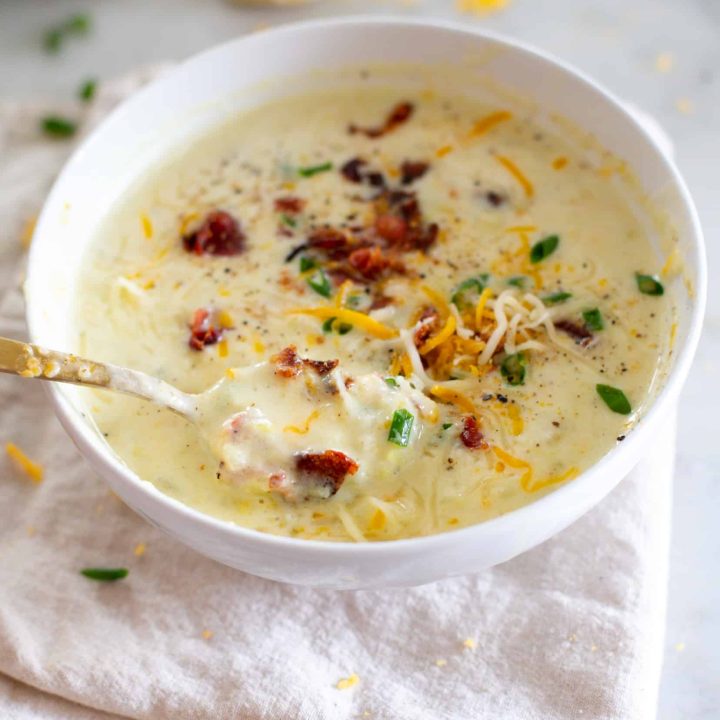 4 Ingredient Potato Soup
A quick and easy potato soup using 4 simple ingredients.
Ingredients
4 leeks sliced or 2 medium/lage onions diced
6 medium sized potatoes- yielding about 6 cups diced potatoes
6 cups of broth (chicken or veggie)
1 8oz block of cream cheese
olive oil, salt & pepper
toppings of choice (bacon, scallions, cheese etc.)
Instructions
In a large dutch oven of stock pot heat some olive oil over medium heat.
Add the leeks or onions and cook until soft and just starting to brown. Add salt & pepper.
Add the potatoes and enough broth to just cover them. (Save the rest for later.)
Bring to a boil and cook until potatoes are soft. (Test with a fork- if it goes through easily they are ready.)
Using a slotted spoon remove some of the potatoes and set aside.
Add the softened cream cheese in pieces and pureé with an immersion blender until smooth. Add the rest of the potatoes back in and season with more salt & pepper to taste. Add more broth if desired depending on how thick you want your soup and simmer for 5-10 minutes.
Top with grated cheese, scallions, bacon, herbs, or other toppings of choice
Notes
This soup is extremely adaptable. If you want a perfectly smooth thick soup- purée it all. If you want a brothier version, remove less of the potatoes to purée and add more broth