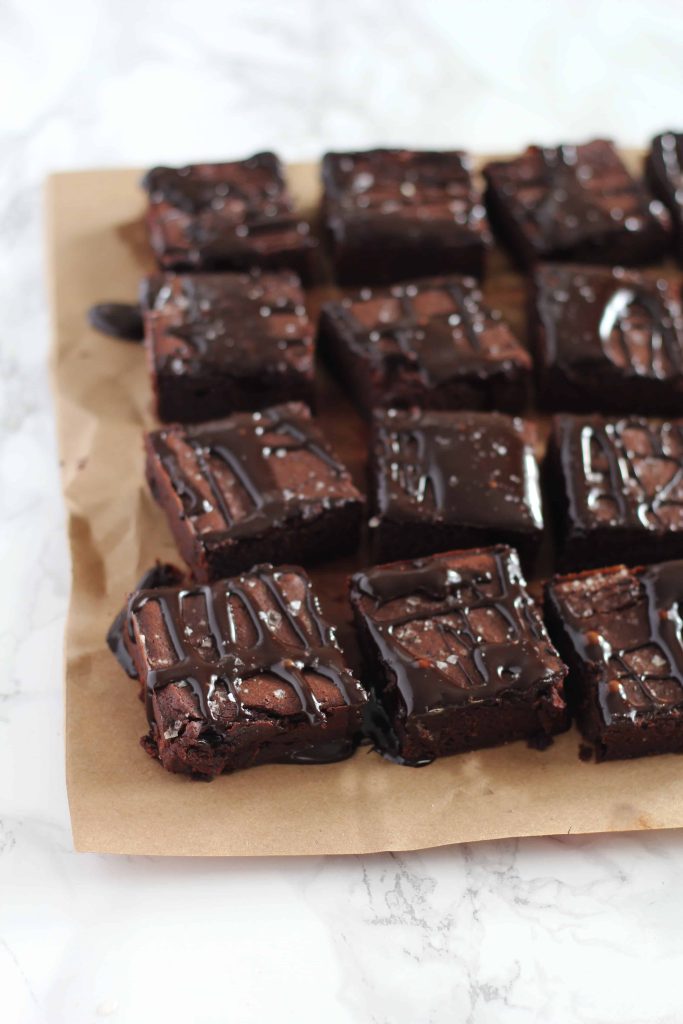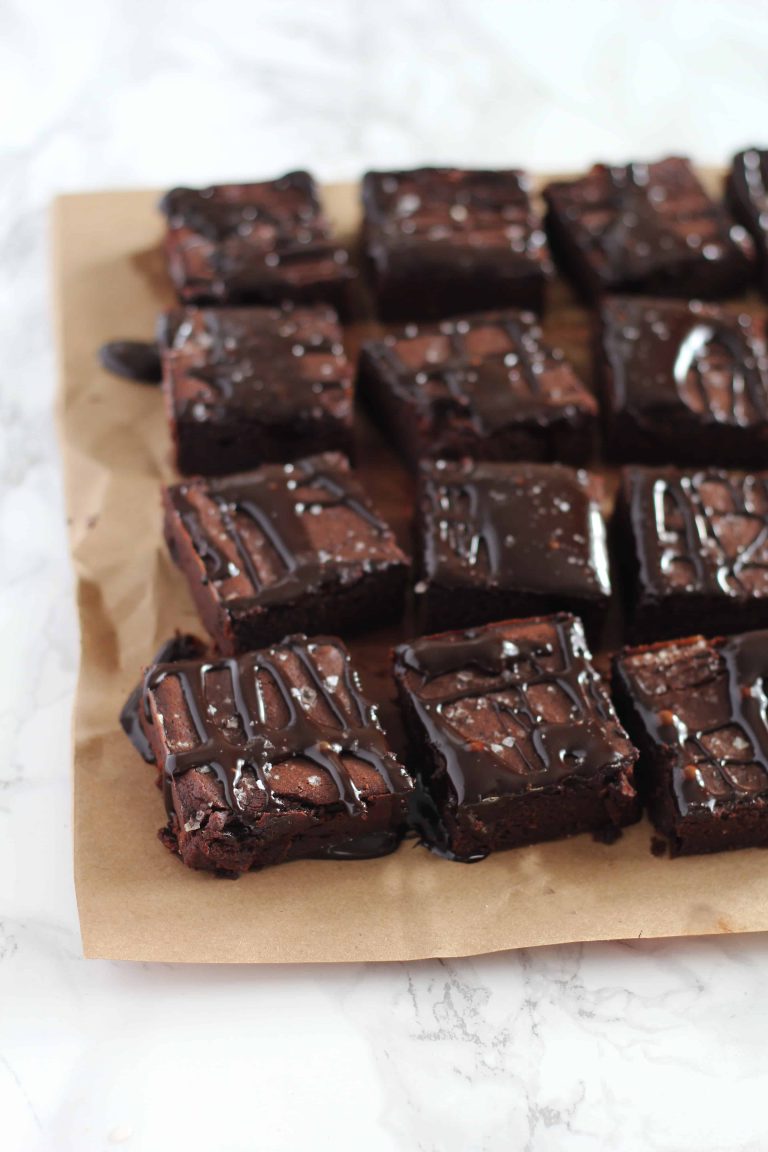 If you follow me on social media you may have seen me mention I gave up refined sugar for the month of January.
Yep- hell has frozen over and I'm trying to curb my sweet tooth just for a month to make up for an extra sweet December.
It's been almost 3 weeks and it's going pretty well. I was sick for the first week so that was easy, and since then I've been getting by on clementine oranges and large amounts of homemade pasta, (which is a future blog post don't you worry.)
All was well and good until earlier this week when I really really wanted something. I wanted a cookie or just a bite of cake or something. Part of the craving may have come from having a particularly exhausting day, but truly I just love desserts and missed them.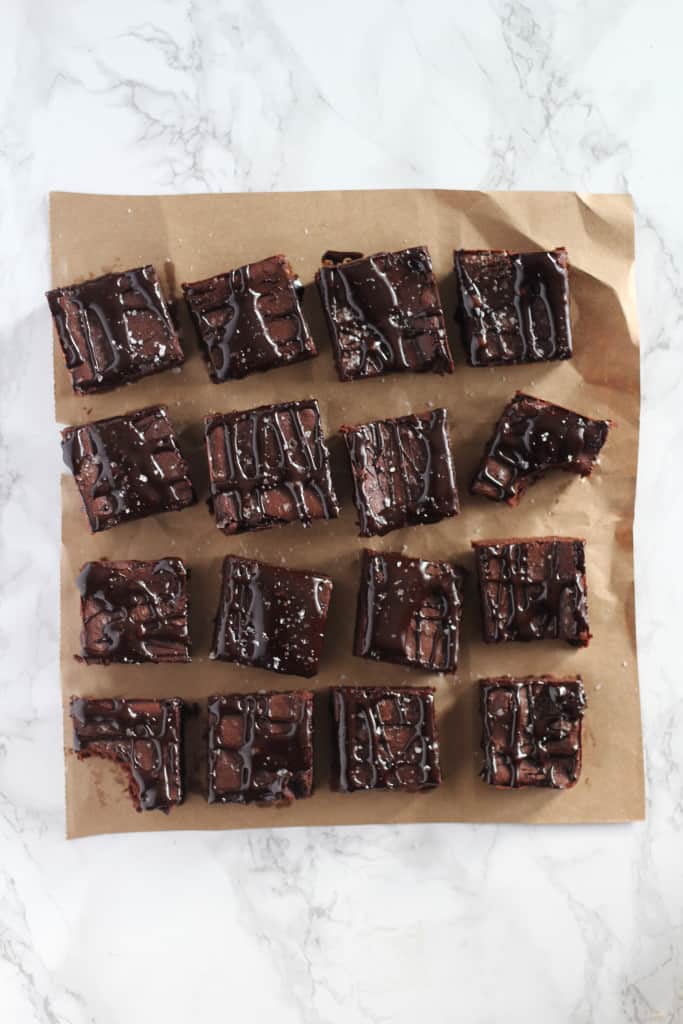 So- I starting thinking about baking with dates, something both my mom and mother-in-law both had mentioned in the past. I wouldn't have normally considered omitting sugar from something like a brownie, but desperate times were upon me so that is exactly what I did….enter these fudge date brownies!
I did some research, tried a couple different recipes and ended up with this: a super fudgy, gooey, chocolate-y date brownie that is pretty damn good if I do say so myself.
Without the sugar you don't get certain texture things I normally look for in a brownie- crispy edges and a crust on top, but I could deal with that.
They aren't overly sweet of course, but sweet enough to taste rich and decadent. Date paste is the only sweetener in the actual brownie, but I did use a little raw honey in the glaze just for fun. (You could do the same with brown rice syrup, agave, or maple syrup.)
A little sprinkle of sea salt on top and I was a happy camper. PLUS- Hugo loves these and I didn't feel the least bit guilty letting him indulge.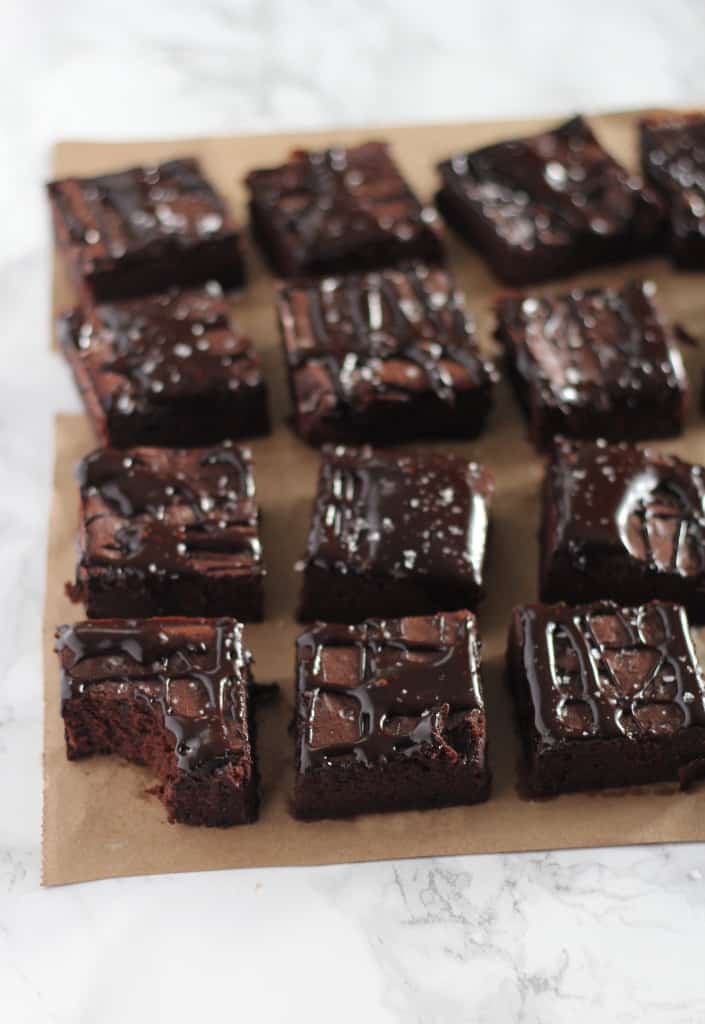 Am I a sugar-free convert? Not quite, but I am happy to be rid of the afternoon slumps, and most important to know I can give it up. I'll be back with something sweet and sinful in February don't you worry!
Check out the recipe for Fudgy Date Brownies below! Want another healthier brownie recipe? Check out this one for Fudgy Zucchini Brownies!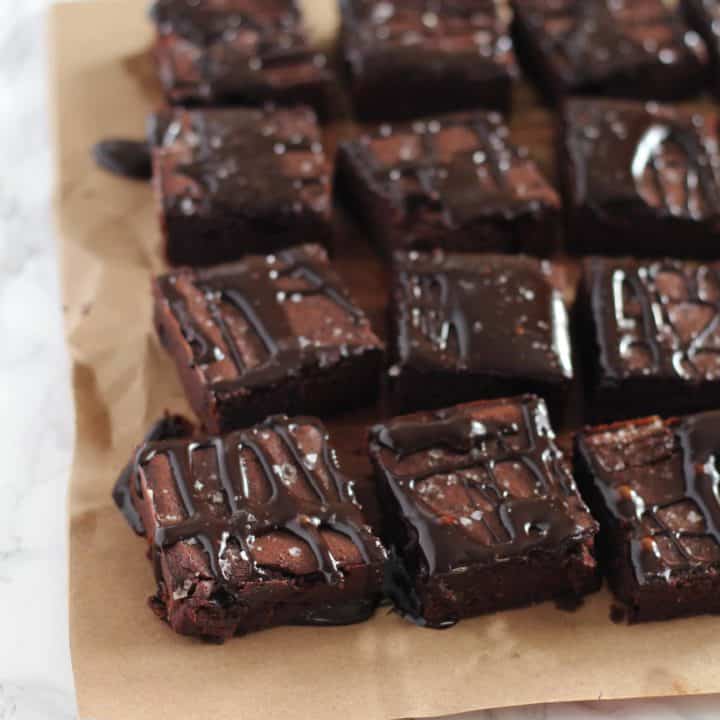 Fudgy Date Brownies
Fudgy Brownies sweetened only with dates!
Ingredients
1 1/2 cups pitted dates
1 cup hot water
3/4 cup unsalted butter* softened (1 1/2 sticks)
2 cold eggs
1 teaspoon vanilla extract
3/4 cup cocoa powder
1/2 cup plus 2 tablespoons all purpose flour
Sea salt for sprinkling
For the glaze:
3 tablespoons cocoa powder
3 tablespoons honey or other natural syrup-type sweetener
1 tablespoon melted butter or coconut oil
1/4 tsp pure vanilla extract
Instructions
Grease or line an 8x8 baking pan. Preheat oven to 350F.
In a food processor or blender, puree the dates and hot water until smooth. Measure out a cup of the paste (mine yielded exactly a cup,) and transfer to a large bowl with the butter.
Cream the butter and date paste until smooth.
Add the eggs, one at a time and vanilla extract, mixing until fluffy and smooth.
Add the cocoa and flour, and mix on low until well combined.
Spread batter into prepared pan, smoothing with the back of a spoon. Sprinkle a little sea salt on top.
Bake for 18-23 minutes, or until edges are set. Allow pan to cool while you prepare the glaze.
Whisk together the butter, honey and cocoa powder. Add vanilla and whisk until smooth. If the glaze seems a little runny- add a dash more of cocoa powder. If it seems too thick- you can add a splash of milk. Drizzle over the brownies and sprinkle with more sea salt.
Brownies will last for up to a week in a sealed container in the fridge.
Notes
*I didn't try, but I am sure coconut oil would work well as a sub for butter.
*Recipe adapted from Smitten Kitchen's Cocoa Brownies
Pin Fudgy Date Brownies for later!