*Guest Post* Lemon Lavender Pound Cake
You guys I have such a wonderful guest with me today. Cassie from Bake Your Day is one of the kindest, most generous and also most talented members of the food blogging community, and I'm so lucky that she was willing to share something with us today. This pound cake is so lovely I can't wait to try it when I'm stateside again. Thanks Cassie! xo
I can't tell you guys how excited I am about posting for Audra today. We started our blogs near the same time and it's been so fun to "grow" our blogs together. We really got to know each other better when Audra had the great idea to get a group of bakers together to tackle some of Christina Tosi's recipes in the Milk Bar cookbook. And I am so grateful for the invitation…I have learned so much from this amazing group of bloggers and I am so honored to be here posting for Audra while she is becoming a Mrs.!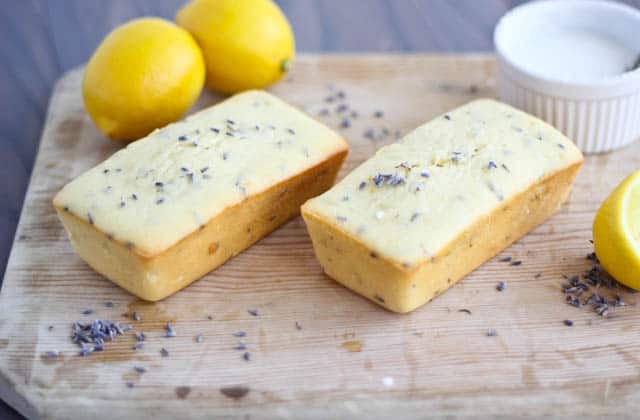 I have a major obsession with lavender – a couple of years ago I went on a bike trail ride with my mother-in-law and we stayed at a Bed and Breakfast that was called Les Lavandes – the lavender. They had lavender ice cream, lavender cookies, even lavender soap and the whole place smelled like lavender. Since then I have loved it in every way – including in baked goods.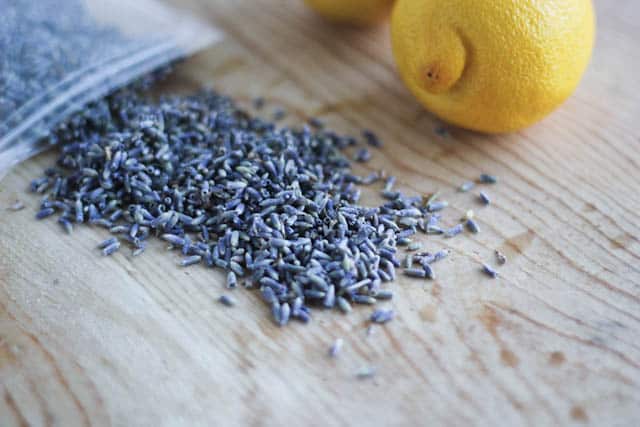 This pound cake is so moist and dense. The tart lemon balances the flowery lavender and it's so refreshing and simple to make. I made them in mini loaf pans because anything in a mini version is always better!
Congratulations Audra, I am so happy for you and Andy! Best wishes for many, many years of happiness!!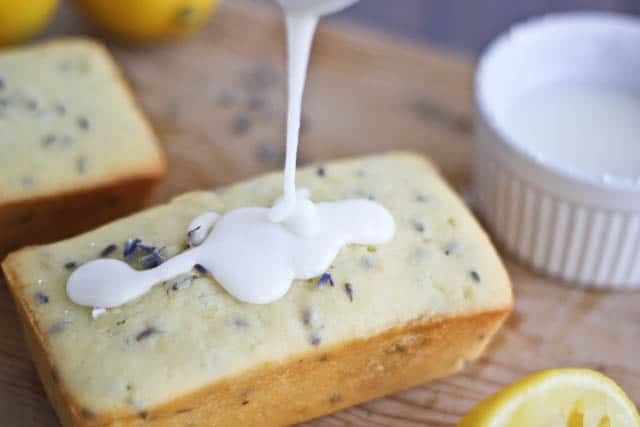 Lemon Lavender Pound Cake
Ingredients
1 1/2 cups all-purpose flour
1/4 tsp. baking powder
1/8 tsp. baking soda
1/4 tsp. salt
1/2 cup butter, softened
1 cup sugar
3 eggs
3/4 cup 6 ounces, weight 2% Greek Yogurt (I used Chobani)
1 Tbs. lemon juice
1 tsp. vanilla extract
1 tsp. lemon zest
1 Tbs. dried lavender seeds
Instructions
Preheat oven to 325 degrees. Grease one 9x5 (or two 5.75x3 mini) loaf pan and set aside.
In a medium bowl, combine the flour, baking powder, baking soda, and salt. Set aside.
In the bowl of a stand mixer, cream the butter. Gradually add the sugar and cream until light and fluffy, about 7 minutes. Add the eggs, one at a time, mixing each until fully incorporated.
Slowly add the dry ingredients, alternating with the Greek yogurt, to the creamed butter and sugar and mix just until incorporated. Add the lemon juice, vanilla extract and lemon zest and beat on low just until blended. Gently stir in the lavender seeds.
Pour the batter into the prepared pan(s) and bake for 30-35 minutes until the edges begin to brown and a toothpick inserted in the center of the loaf comes out clean. Bake at 325° for 1 hour and 25 minutes or until cake tests done. Cool in the loaf pans for 10-15 minutes before transferring to a wire rack.
Nutrition Information:
Serving Size:

1 grams
Amount Per Serving:
Unsaturated Fat:

0g