Mama's Multigrain Buttermilk Pancakes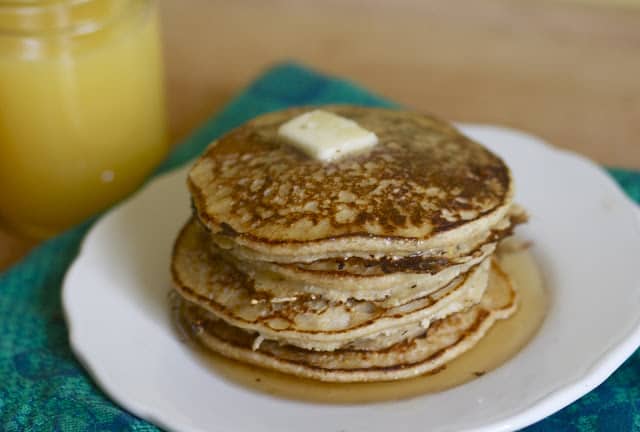 Anytime I am in Wisconsin visiting my family there are a few meals I beg my Mom and Dad to make me. Most of them are Middle Eastern dishes and other childhood favorites, and then there are these pancakes. For as long as I can remember, my Mama has been making her signature whole grain pancakes for her girls whenever we're all visiting. I think they are the fluffiest most delicious things in the whole world and I am so excited to share the recipe with you.
My Mom is a bit of a health nut, so don't be surprised when I tell you that these are actually pretty good for you. The batter consists of ground oats, cornmeal and whole wheat flour, which means these puppies are super filling. When I asked her for the recipe, she gave me very vague instructions saying she just eyeballs it and they always turn out. Well- I'm a recipe-loving-girl so I practiced these a few times to get the right quantities. This weekend though, I'd have to say I nailed it. These would make you proud Mom!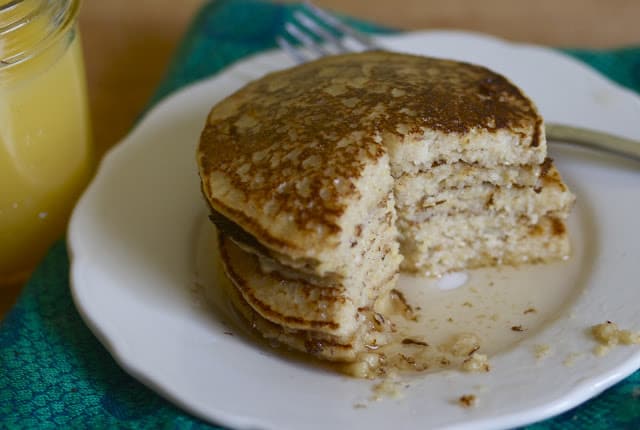 At Mama's house, we eat these topped with sliced bananas and pecans. I didn't have any fancy toppings around so I just topped these with a pat of butter and lots of pure maple syrup. Isn't it amazing how tasting certain things remind you strongly of your childhood? Well after a few bites of these, all I could imagine was sitting around the table with my whole family on a Sunday morning with a stack of these. Enjoy!
Mama's Multigrain Buttermilk Pancakes
Ingredients
1/2 cup oats, can be quick or steel cut or whatever you have
1/2 cup cornmeal
1/2 cup whole wheat pastry flour
1 tsp baking powder
1 1/2 cup buttermilk
1 egg
1 tablespoon vegetable oil
butter for the pan
Instructions
In a food processor, mix the dry ingredients until the everything is finely ground. In a large bowl, whisk in the buttermilk, egg and oil until well combined.
Heat your griddle/skillet over medium heat and coat the pan with butter.
Using a 1/4 cup measurer, scoop batter onto heated griddle and wait for bubbles to form and pop on each pancake.
After a few minutes, lift edge slightly to make sure it's browned and then flip it. Repeat with the rest of the batter. Serve with fruit, nuts, syrup or whatever you like.
Notes
*You can make the dry portion of this in a larger quantity and save it so when it's time to use you just add in the buttermilk, egg and oil. It's what Mama does :)
Nutrition Information:
Yield:

8
Serving Size:

1 grams
Amount Per Serving:
Unsaturated Fat:

0g
Adapted from my Mama's semi-famous recipe :)