Strawberry Rhubarb Compote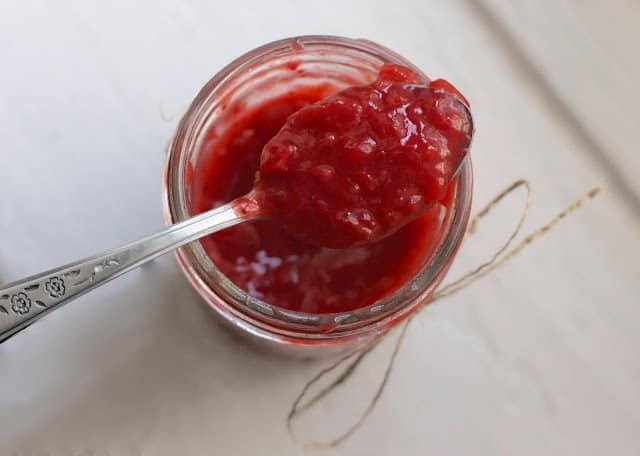 Last Saturday, Andy and I took our second ballroom dancing class- hoping to get some moves before the big day. It was a total blast and afterwards, we excitedly roamed around midtown looking for a brunch spot to sip bloody marys and review our choreography, (kinda kidding but not really.) On the way, I spotted a random farmer's market and was giddy when I saw rows and rows of farm fresh strawberries. I've been waiting for a chance to buy a quart or two and today seemed like the day! So, I picked up a quart of the most perfect berries I could find and we went on our way.
After brunch we decided to run some last minute errands, (including me getting a new camera lens which I'm obsessed with,) attempting to get last minute tickets to a show on B'way, and finally buying Andy a wedding suit, (success!) Anyway, after 4 hours of shlepping around the
city, my poor berries had seen better days. When I finally got home, they were pretty bruised and sad looking.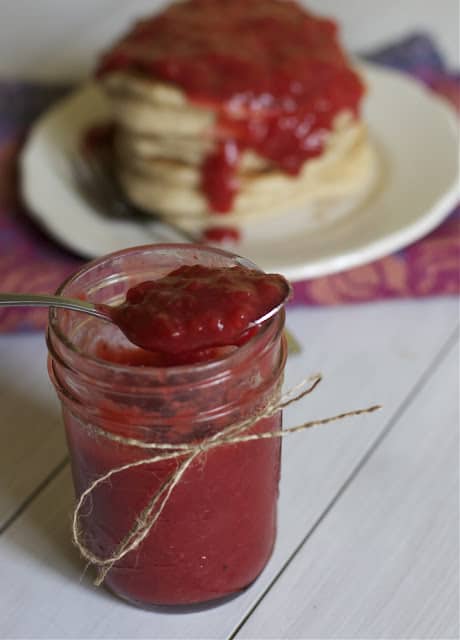 So, with many of my baking plans for them crushed, I decided that I may as well cut them up and cook them in something-figuring more stirring and smashing couldn't hurt. Plus- I remembered there were a few stalks of green market rhubarb waiting in my fridge, and I knew this was the perfect recipe to make.
I actually ended up using this compote in some amazing cupcakes that I will share on Friday, but I thought this compote was so fresh, easy, and delicious that it deserved a post of it's own. I loved it with some fluffy pancakes, but the uses for it are endless. It would be excellent swirled into some plain yogurt, on toast, or even as an ice cream topping! Mmmm.
Strawberry Rhubarb Compote
Ingredients
2 cups fresh strawberries, sliced
2 cups fresh rhubarb- diced into small pieces
1 tablespoon lemon juice
1/2 cup sugar
2 tablespoons corn starch
Instructions
Combine rhubarb, strawberries and lemon juice in 2-quart saucepan.
Cover; cook over medium heat, stirring occasionally, until fruit is
tender (8 to 12 minutes). (Test a piece of rhubarb to make sure it's soft.)
Combine 1/2 cup sugar and cornstarch in small bowl. Stir into fruit
mixture. Continue cooking, stirring constantly, until mixture comes to a
boil (about 1 minute). Continue boiling until thickened (1 minute).
Once the mixture has cooled, place it in the bowl of a food processor and pulse until the big pieces are broken down, but don't totally pureé it.
Use immediately or keep in an airtight container in the fridge for up to a week.
Nutrition Information:
Serving Size: 1 grams
Amount Per Serving: Unsaturated Fat: 0g