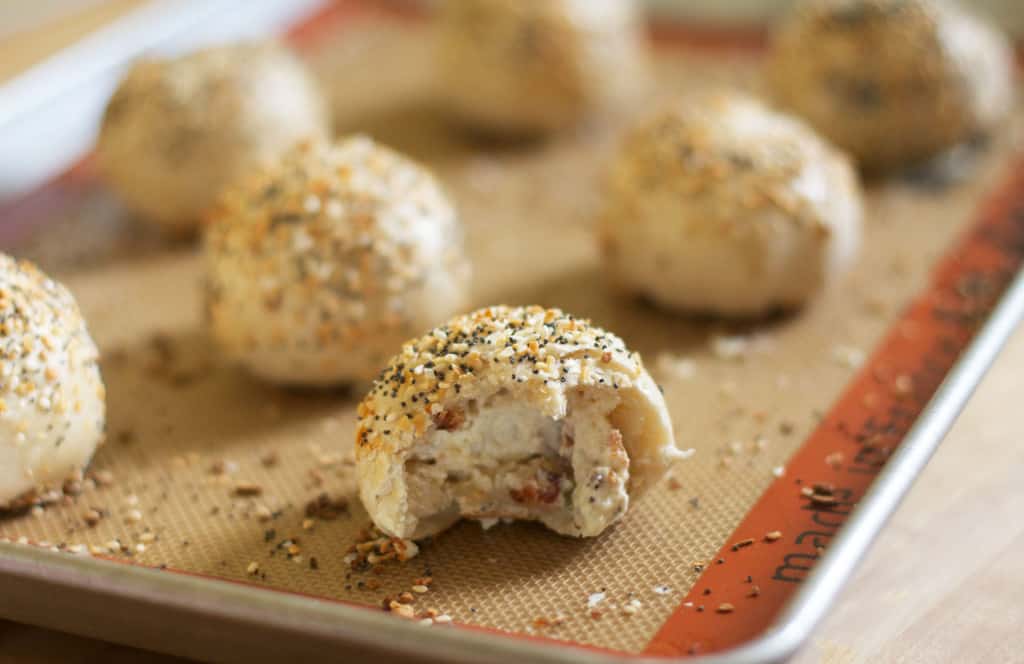 You guys there is a reason I primarily post desserts on here. Though I love my sweets, I am such a sucker for something delicious and savory. SO much so, that I find it nearly impossible to show any patience after finishing baking/cooking a savory dish. Where with sweets, I usually don't have a problem waiting to sample until my photos are done and nice looking, I have zero self control with salty deliciousness. Like these bagel bombs. I just had to try one- right away…and then another. Then I thought, "I can still take pictures of only 6 bombs," only to turn around to a hungry husband who wanted to try one too. Before we knew it, 4 of these were gone and I just figured the pictures I had snapped would have to do.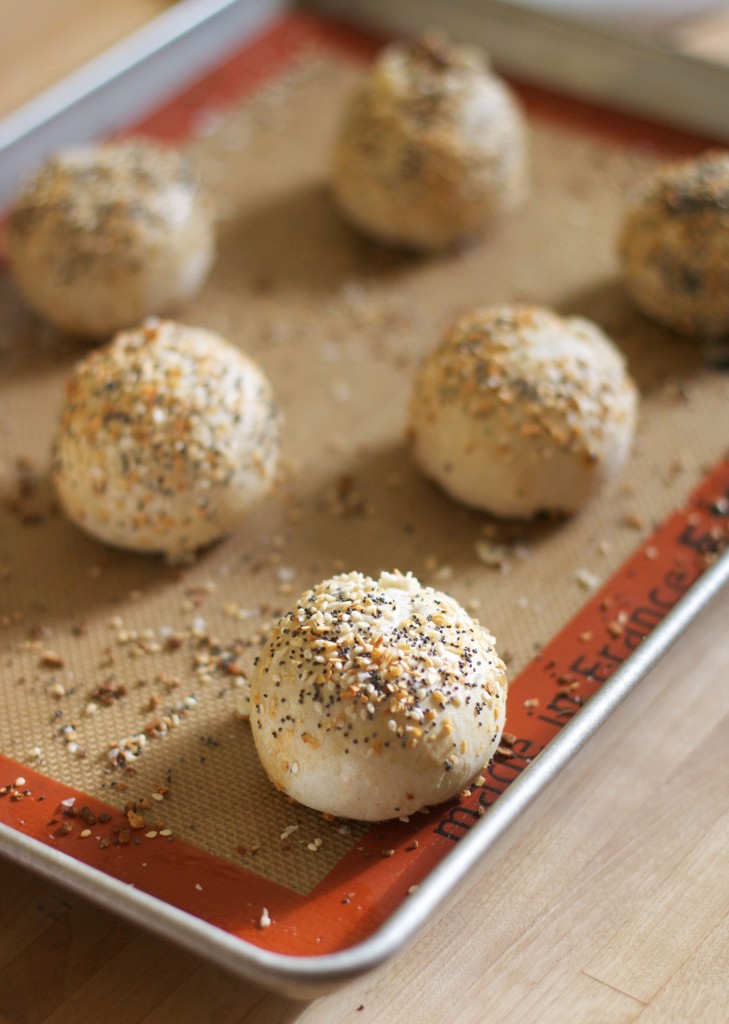 So even though I wasn't able to take much time with these photos, I hope they do the trick in showing you how delicious these babies were. I mean addictively good. Imagine a crisp and also chewy everything bagel with warm, bacon-jalapeno cream cheese oozing out. I mean come on.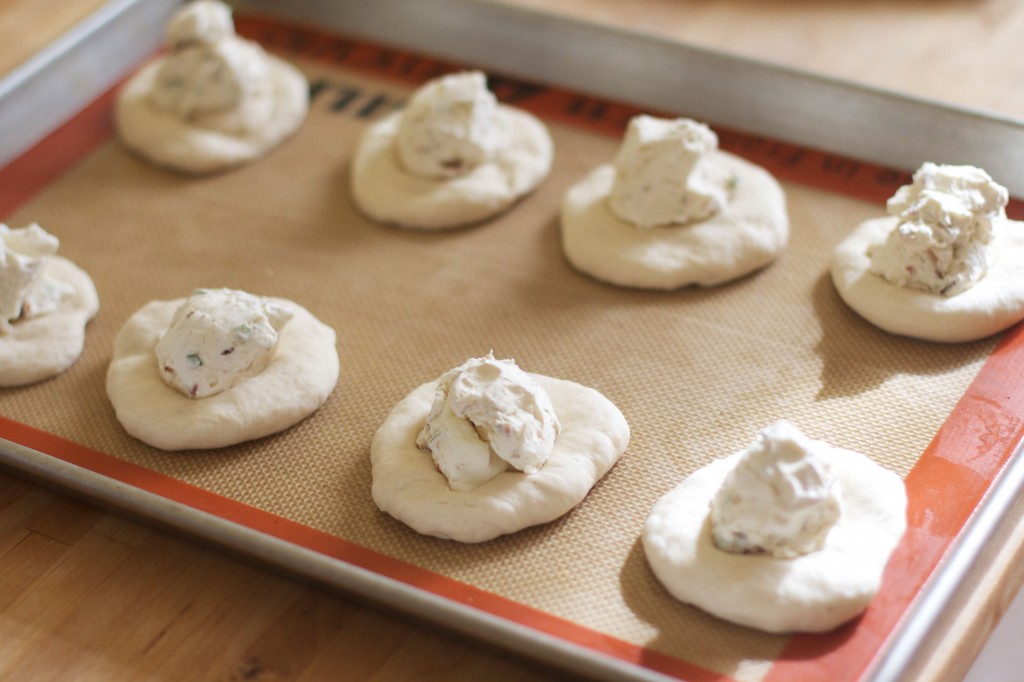 And would you all beleive that considering this is a Christina Tosi recipe, it's actually very easy? I mean as simple as making the filling, making a simple yeast dough, filling- and baking. Compared to the multi-faceted cake and dessert recipes we've made before- this one was a piece of cake. (Though much easier than the actual cakes.)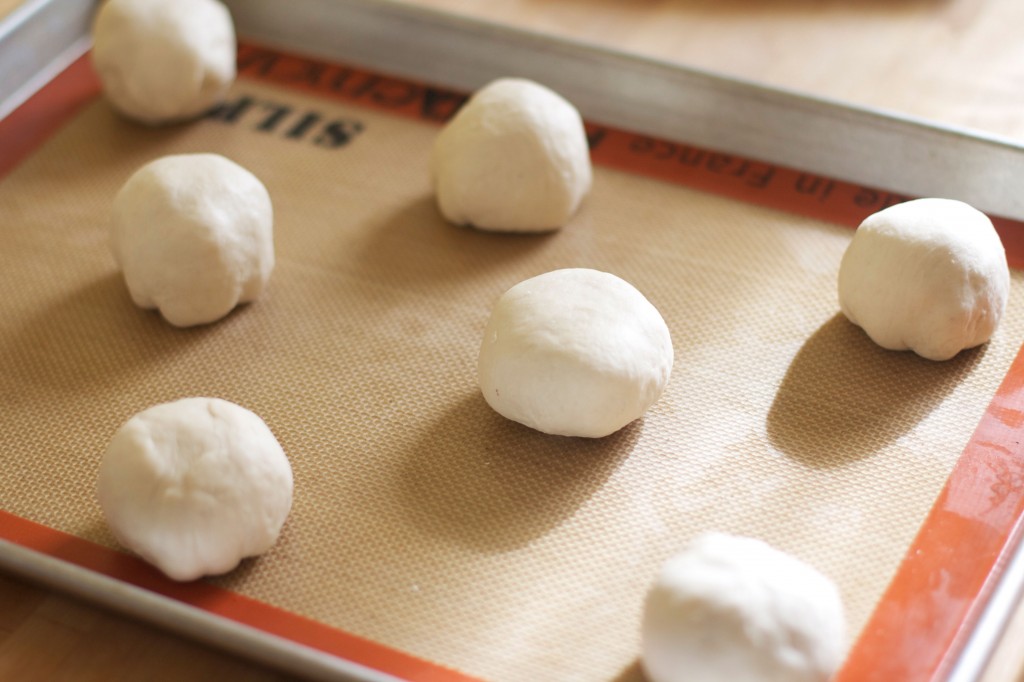 The flavor-options are limitless, and some of the other MBM girls actually put their own spin on the filling based on what they had on hand. I followed the recipe almost exactly, subbing jalapenos for scallions and using a little less of the bacon grease that Tosi suggested. (I just couldn't bear to use it all.)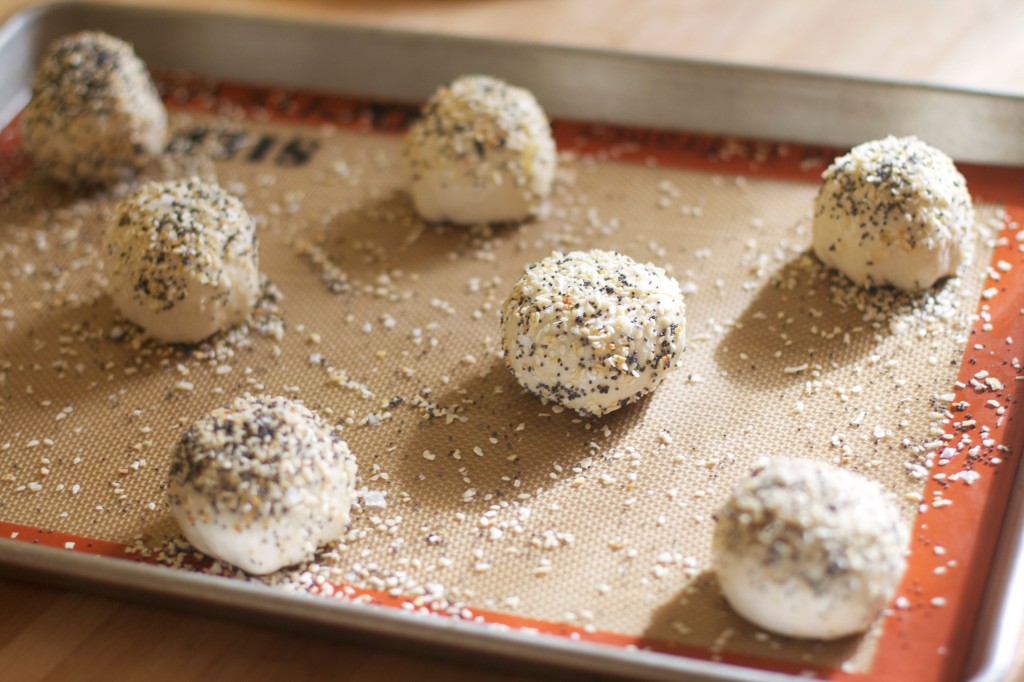 I'm already scheming other ideas- like a sweet bagel bomb with cinnamon sugar and a sweet cream cheese filling. I love the idea of a basket of these on my brunch table don't you?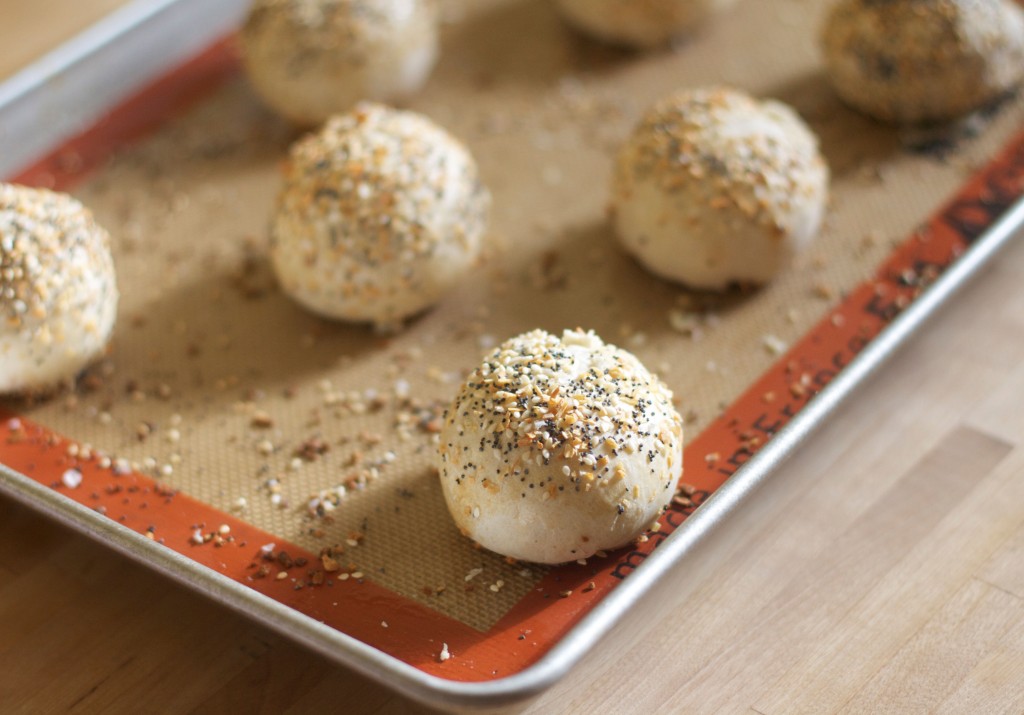 Note: Not pictures- the bombs exploding cream cheese filling after baking. No worries- just stuff the filling back in after it's cooled bit.
Please check out the beautiful "bombs" made by the other Milk Bar Monday Girls:
Cassie | Bake Your Day
Krissy | Krissy's Creations
Erin | Big Fat Baker (with the original recipe as Tosi wrote it)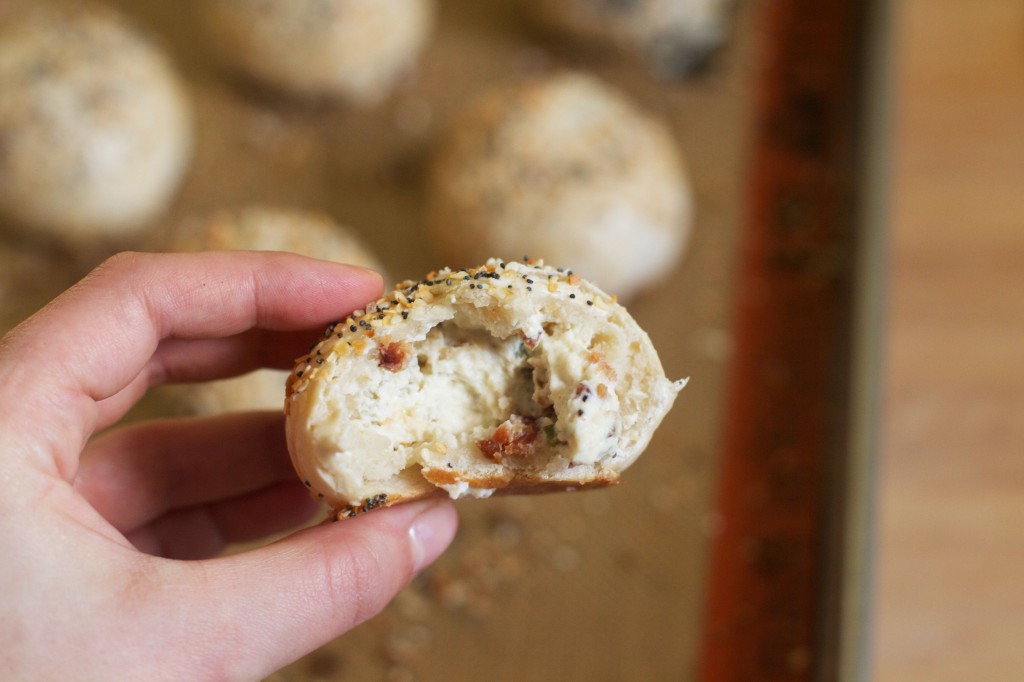 Bagel Bombs
Adapted slightly from the Momofuku Milk Bar Cookbook, by Christina Tosi
Ingredients
Bacon, Jalapeno, and Cream Cheese Stuffing:
8 slices bacon (the smokier the better)
14 oz cream cheese
1 medium jalapeno pepper- minced
2 teaspoons sugar
2 teaspoon kosher salt
For the "Mother Dough":
3½ cups flour
1 tablespoon kosher salt
1⅛ teaspoons active dry yeast
1¾ cups water, at room temperature
1 tablespoon vegetable oil
For the Egg Wash Topping:
1 egg, beaten
½ teaspoon water, at room temperature
4 tsp each of dried garlic, dried onion, poppy seeds and sesame seeds
2 tsp kosher salt
Instructions
For the Cream Cheese Stuffing:
Cook bacon in a skillet over medium heat until it's auburn brown and crunchy. Remove it from the pan and chop it into small pieces; set aside. (Reserve the bacon grease.)
Put cream cheese in the bowl of a stand mixer fitted with a paddle attachment and cream it on medium speed. Pour in 1-2 tablespoons of reserved bacon fat and continue creaming at a lower speed. Scrape down the sides of the bowl and add the chopped bacon, jalapenos, 2 teaspoons sugar, and 1 teaspoons salt. Continue mixing until everything is incorporated and creamy.
Scoop the cream cheese mixture onto a sheet pan in 16 even lumps. Freeze until rock hard (about 1 to 3 hours).
For the Mother Dough:
Stir together 3½ cups flour, 1 tablespoon salt, 1⅛ teaspoons active dry yeast in the bowl of your stand mixer -- do it by hand, using the dough hook like a spoon. Continue stirring by hand as you add 1¾ cup water, mixing for 1 minute, until the mixture has come together in a shaggy mess.
Engage the bowl and hook and have the machine mix the dough on the lowest speed for 3 minutes, or until the ball of dough is smoother and more cohesive. Then knead for 4 more minutes on the lowest speed. The dough should look like a wet ball and should bounce back softly when prodded.
Brush a large bowl with 1 tablespoon vegetable oil and transfer the dough ball into it. Cover with plastic wrap and let the dough proof at room temperature for 45 minutes.
For the Topping and Assembling:
Preheat the oven to 325 (F).
Punch down and flatten the dough on a smooth, dry countertop. Use a dough cutter to divide the dough into 16 equal pieces. Use your fingers to gently stretch each piece of dough out into a mini pizza between 2 and 3 inches wide.
Put a frozen cream cheese portion in the center of each dough circle. Bring up the edges of each round and pinch to seal so that the cream cheese plug is completely contained, then gently roll the ball between the palms of your hands to ensure that the bomb has a nice, round, dinner roll-y shape. Arrange the bombs 4 inches apart on a parchment or Silpat lined baking sheet.
Whisk 1 egg together with ½ teaspoon of water to create the egg wash. Brush a generous coat of this wash on the buns. In a small, separate bowl, stir together the salt, poppy seeds, sesame seeds, garlic and onion. Sprinkle a heavy, even coating of this mixture all over the bagel bombs.
Bake the bagel bombs for 20 - 30 minutes. While in the oven, the bombs will turn golden and a few may have cream cheese explosions. (Once they have cooled just a little, you can use your fingers to tuck the cream cheese inside, or leave them as is.) Continue baking until you see this happen.
Serve warm. Leftovers can be kept air-tight and warmed in a toaster oven before serving.