Perfect Parker House Rolls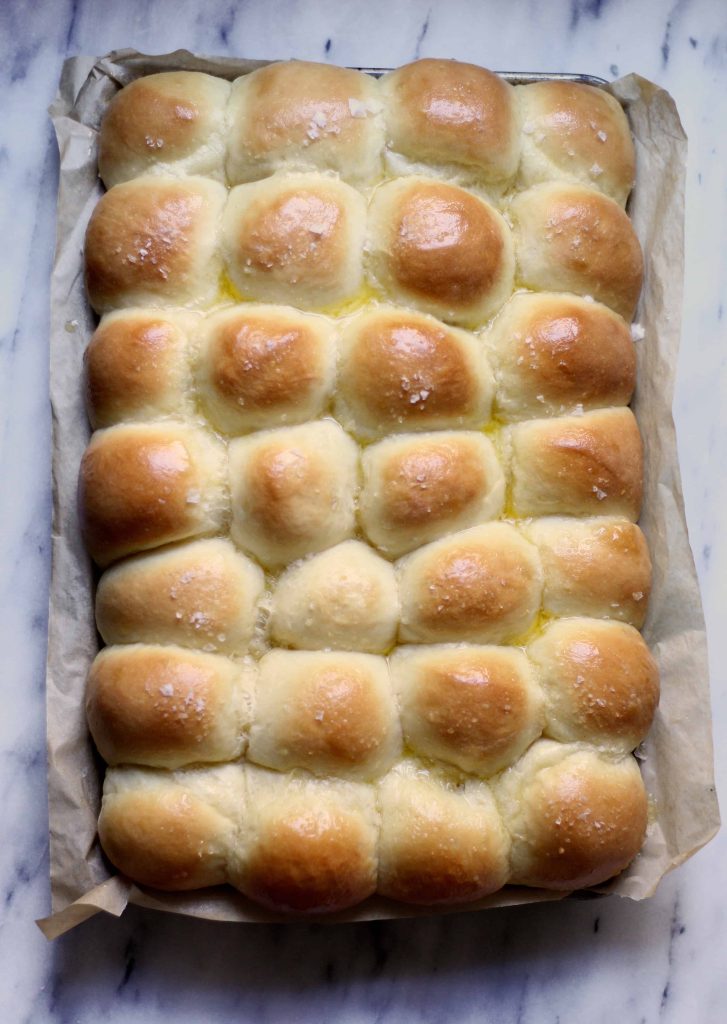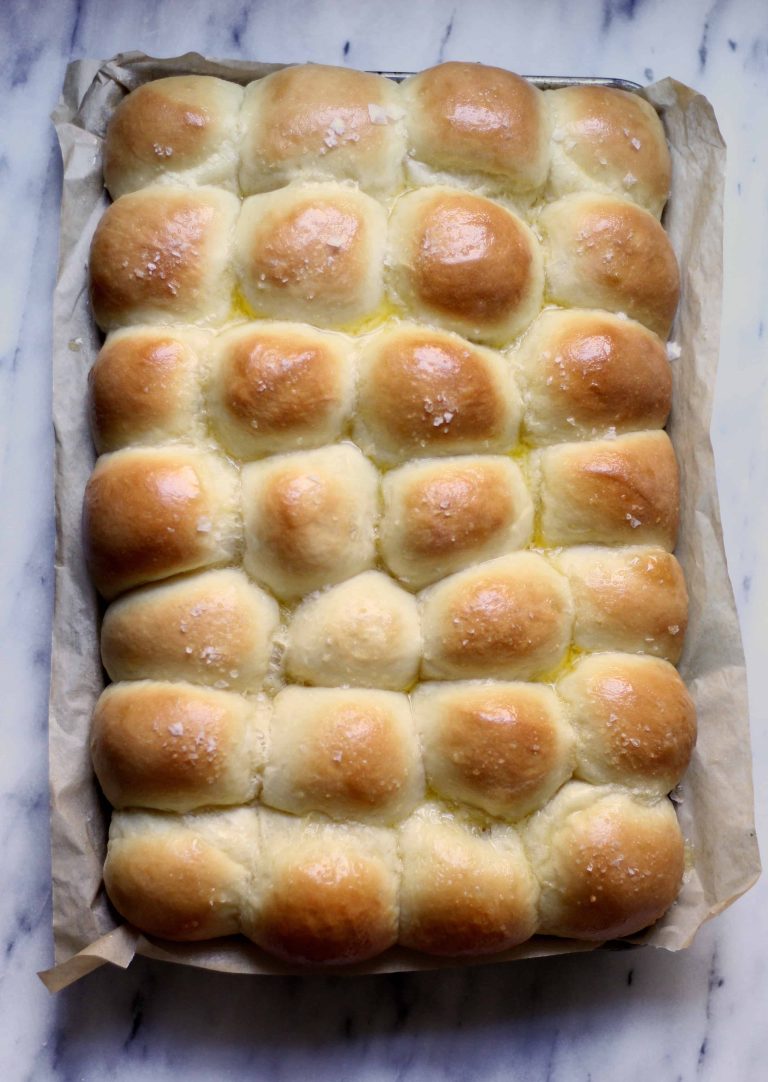 Are you dinner roll with your Thanksgiving meal people?
My family always had a bread basket on the table with rolls and a full stick of butter on the side, and I always loved sopping up the gravy and sauces and making mini turkey sandwiches later in the night when I realized I was hungry again.
Our rolls were normally store-bought, nothing special but they served their carby purpose and everyone was happy.
Well…I have now tasted what were the most fabulous, soft, pillowy, buttery rolls that I am ruined for life. Never again could I even consider a store-bought dinner roll as these were both easy and fantastic.
The texture was out of this world- they almost had a croissant-like taste, so buttery and rich. Dipped in a bowl of pea soup we enjoyed these immensely over the weekend, (Hugo had 3!) but I know they will be a huge hit with my family for Thanksgiving as well.
If your Thanksgiving spread needs a bread basket I highly recommend these gorgeous rolls make it to your table.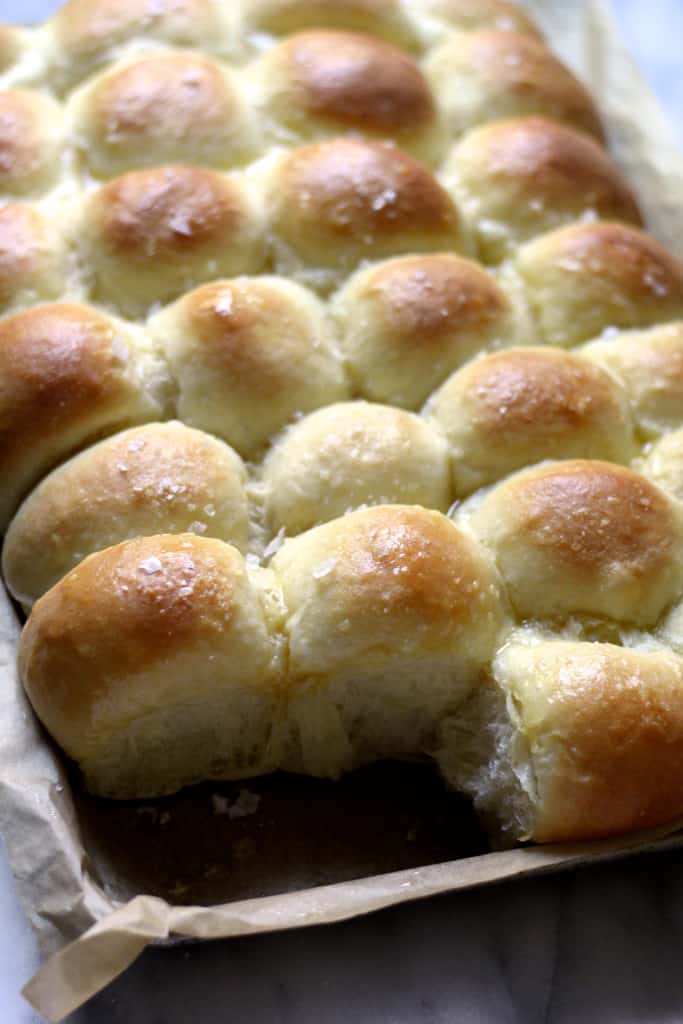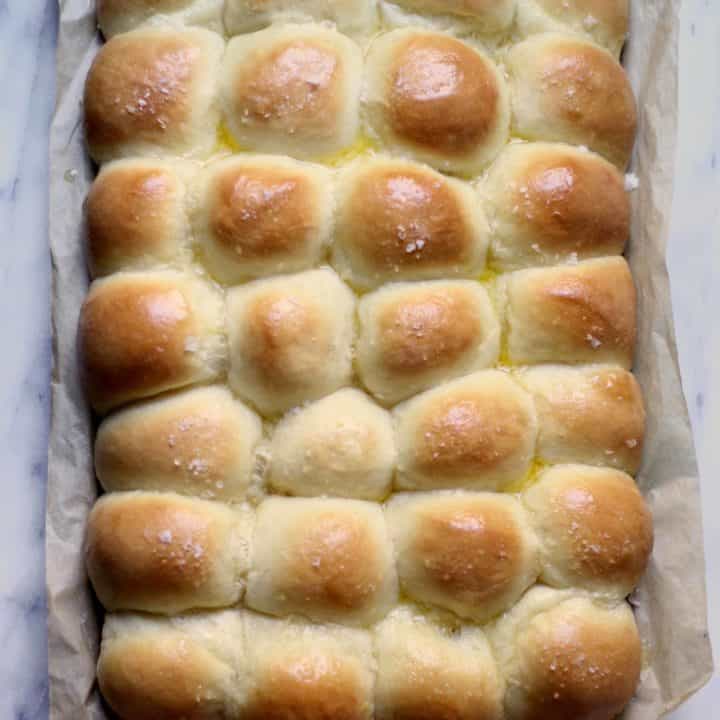 Perfect Parker House Rolls
Ingredients
1 1/2 cups milk
1 stick unsalted butter, cut into pieces, plus more for brushing
1/4-1/2 cup sugar*
1 package active dry yeast
1/2 cup warm water
3 large eggs, lightly beaten
1 1/2 teaspoons salt
6-8 cups all-purpose flour
Sea Salt for sprinkling
Instructions
Place milk in a small saucepan and bring to a simmer. Remove from the heat, stir in the butter and sugar stir until sugar is dissolved. Let cool to luke warm.
In the bowl of a stand mixer fitted with the dough hook, combine the yeast, warm water, milk mixture, eggs, salt and half the flour.
Mix for a few minutes until combined, scraping the bowl down with your spatula if needed. Add the remaining flour, 1/2 cup at a time until dough comes together and forms a soft, loose ball. (The dough will be very soft but shouldn't be too sticky. I used 7 cups total flour.)
Turn the dough onto a floured surface and knead by hand for about 5 minutes, adding a bit more flour if the dough is still very sticky, until smooth.
Place dough in a greased bowl, cover with a clean towel, and proof in a warm place for 60-70 minutes, or until doubled.
Turn proofed dough onto your floured surface, punch it down a bit, and roll or spread the dough into a rectangle. Shape into rolls and place them on a parchment lined baking sheet. **
Cover again and let rise for another 20-30 minutes.
Preheat oven to 350 F. Bake for 20 minutes or until golden.
Brush with melted butter and sprinkle with sea salt.
Notes
*The original recipe calls for 1/2 cup of sugar, which definitely gives the rolls a little bit of a sweet taste. I didn't mind it, but will cut it down to 1/4 cup next time just to make it a bit more subtle.
** If I had wanted these to be perfectly the same size, I would have measured each one to weigh 1.5 oz on my kitchen scale. I eyeballed it though and was fine with them being a bit more rustic. To shape them into round rolls, I cut off the portion of dough, turned all the edges under and pinched them together to form a ball.
Recipe adapted from The Food Network