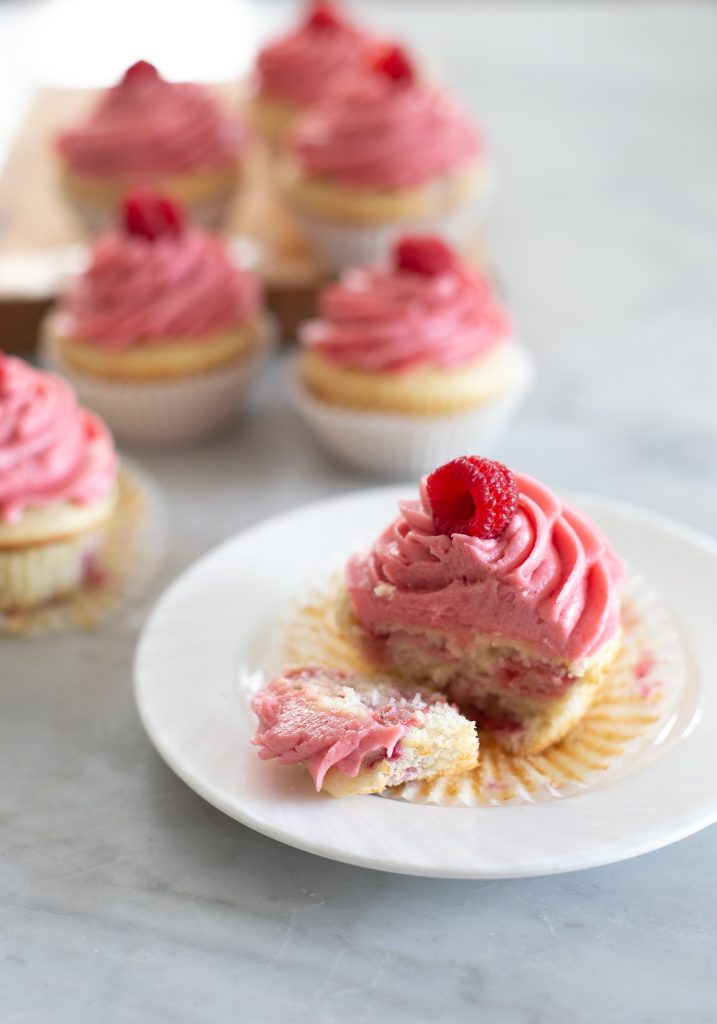 Get ready to elevate your desserts to the next level with one of my favorites: Raspberry Buttercream Frosting. This recipe combines the irresistible taste of raspberries with the rich and creamy texture of buttercream. Whether you're frosting a chocolate cake, vanilla cupcakes, or sugar cookies, this sweet/tart frosting is the perfect thing.
There are a few different ways to mix raspberries into frosting. Some people prefer to use raspberry jam, raspberry preserves or pureed fresh raspberries, but my personal preference is freeze dried raspberries ground into raspberry powder. The color is the most bright and beautiful pink, the real raspberry flavor amazing, and you don't have to risk messing up your frosting consistency by using a more liquid-y mix in.
Ingredients needed for Raspberry Buttercream Recipe:
Unsalted butter (softened to room temperature)
Powdered sugar
Vanilla extract
Lemon juice
Freeze-dried raspberries or raspberry powder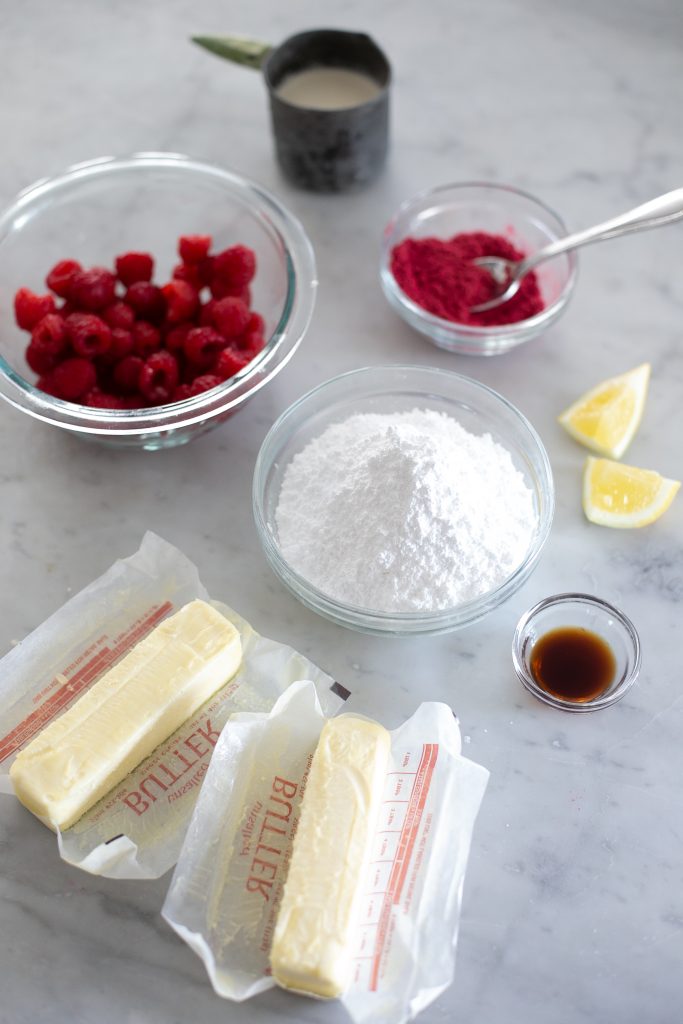 Supplies needed for Raspberry Frosting recipe:
I like to buy freeze-dried raspberries on Amazon or at Target. I usually smash them in a ziplock bag with a rolling pin and then strain the seeds out with a fine mesh strainer. I recently discovered raspberry powder on Amazon though and I'm hooked. It's basically pure freeze dried raspberries already crushed into a fine powder and it's the easiest thing to mix into recipes.

How to make Raspberry Buttercream:
In a large bowl or the bowl of a stand mixer fitted with a paddle attachment, cream the softened butter until it is light and fluffy. Gradually add the powdered sugar, mixing on low speed until fully incorporated. This will ensure a smooth and creamy consistency.
Next, add the raspberry powder to the mixture and continue mixing until everything is well combined. Add the vanilla, and lemon juice. To achieve the desired consistency, gradually add heavy cream while continuing to mix at medium speed. Start with a small amount and add more as needed until the frosting reaches a smooth and spreadable texture. Be cautious not to overmix, as it can lead to a runny frosting.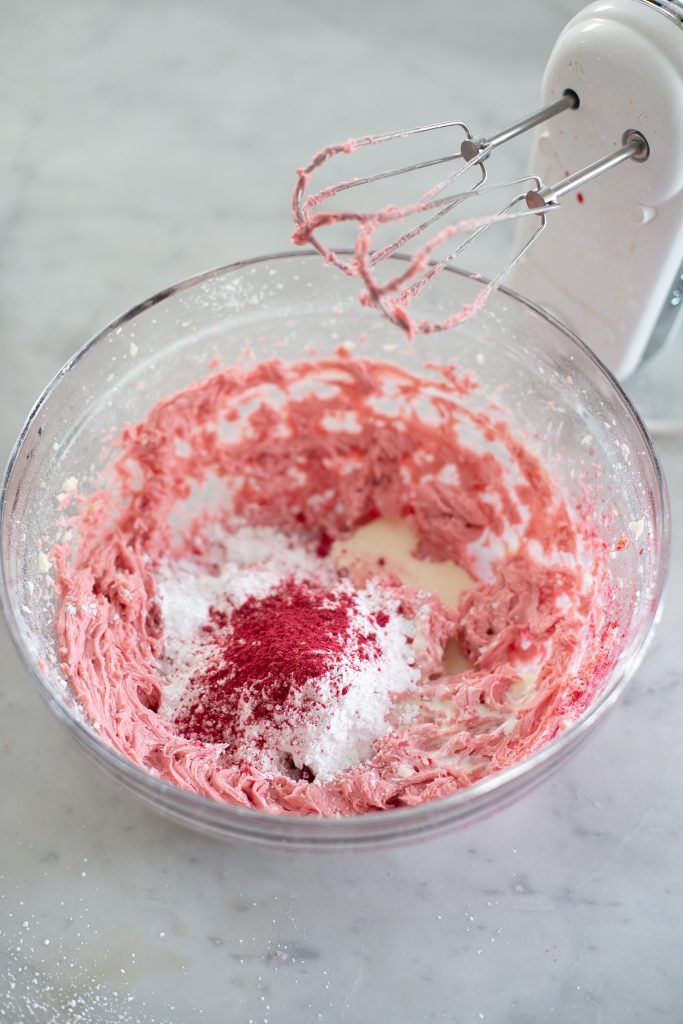 The color of your frosting is dependent on how much raspberry powder you add. Start with a little and add more as desired for taste and color.
If you find that the frosting is too thin, you can refrigerate it for a short while to firm it up. Alternatively, if it's too thick, a little more cream can be added to achieve the perfect consistency.
Once your Raspberry Buttercream is ready, it's time to frost your favorite desserts! Whether you're making a layer cake, sheet cake, Raspberry Cupcakes, or even Lemon Raspberry Cookies, this delicious frosting will add a burst of flavor and a touch of elegance. For an extra wow factor, you can drizzle raspberry puree or fresh berries on top.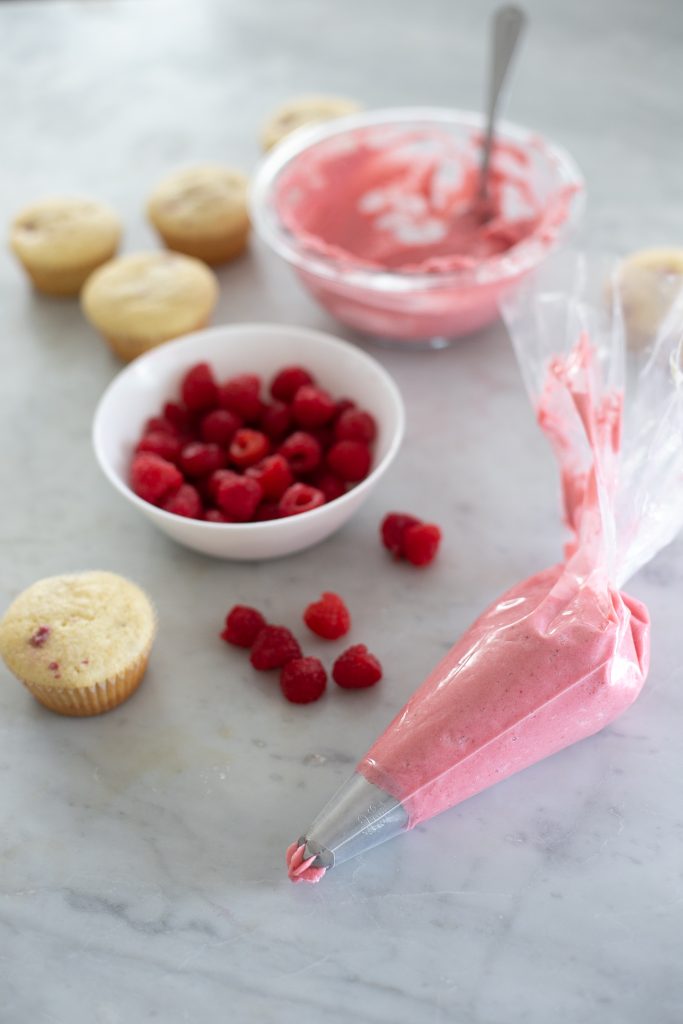 Leftover frosting can be stored in an airtight container in the refrigerator for up to a week or frozen for later use. Just make sure to bring it to room temperature and rewhip it before using it again to restore its smoothness.
So, what are you waiting for? Whip up a batch of Raspberry Buttercream and take your desserts to new heights of deliciousness. With its vibrant raspberry flavor, gorgeous color and silky texture, this homemade frosting will become your go-to recipe for adding that special touch to your favorite cakes, cupcakes, and more. Enjoy!
One of my favorite uses of this frosting are these Raspberry Lemon Cookies– they are beautiful too!
Raspberry Buttercream
Yield:
About 2 cups of frosting
Ranges in the ingredients allow you to make the frosting a variety of shades of pink and with as much raspberry flavor as you'd like!
Ingredients
2 stick of unsalted butter, room temperature
3-4 cups of powdered sugar
1-4 tablespoons raspberry powder from freeze dried raspberries (see note below)
1 teaspoon lemon juice
1 teaspoon vanilla extract
1-4 tablespoons of heavy cream
Instructions
In a mixing bowl, beat the softened butter until creamy.
Gradually add the powdered sugar, mixing well after each addition.
Stir in the raspberry powder, starting with 1 tablespoon and adding more as needed for the ideal color and flavor, lemon juice, and vanilla extract (the frosting will be super thick.
Add cream as needed, 1 spoon at a time until the frosting is smooth and fluffy.
Use frosting as desired.