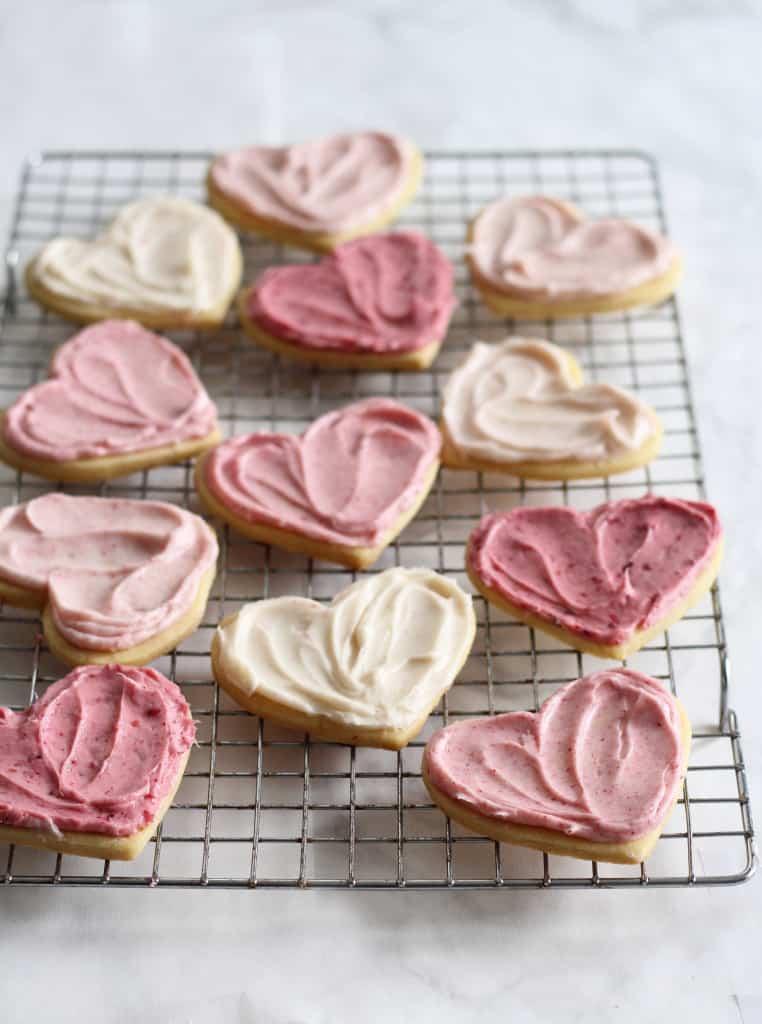 As a Mama I'm always on the hunt for ways to make baked goods festive and colorful in a healthy, natural way. I let Hugo have sweets on occasion and believe me, he loves them, but I do my best to avoid artificial colors and flavors while I still am the one who decides what he does and doesn't eat!
With Valentine's Day coming up tomorrow, I couldn't resist the chance to make something fun and festive for the occasion. I've never been huge on this holiday, but I'm excited to make Hugo's class valentine's later today, go to his little party tomorrow and eat these beautiful love-y cookies! With any luck the kids will stay asleep and Andy & I can make tacos and margaritas after they go to bed, (my idea of an exciting night.)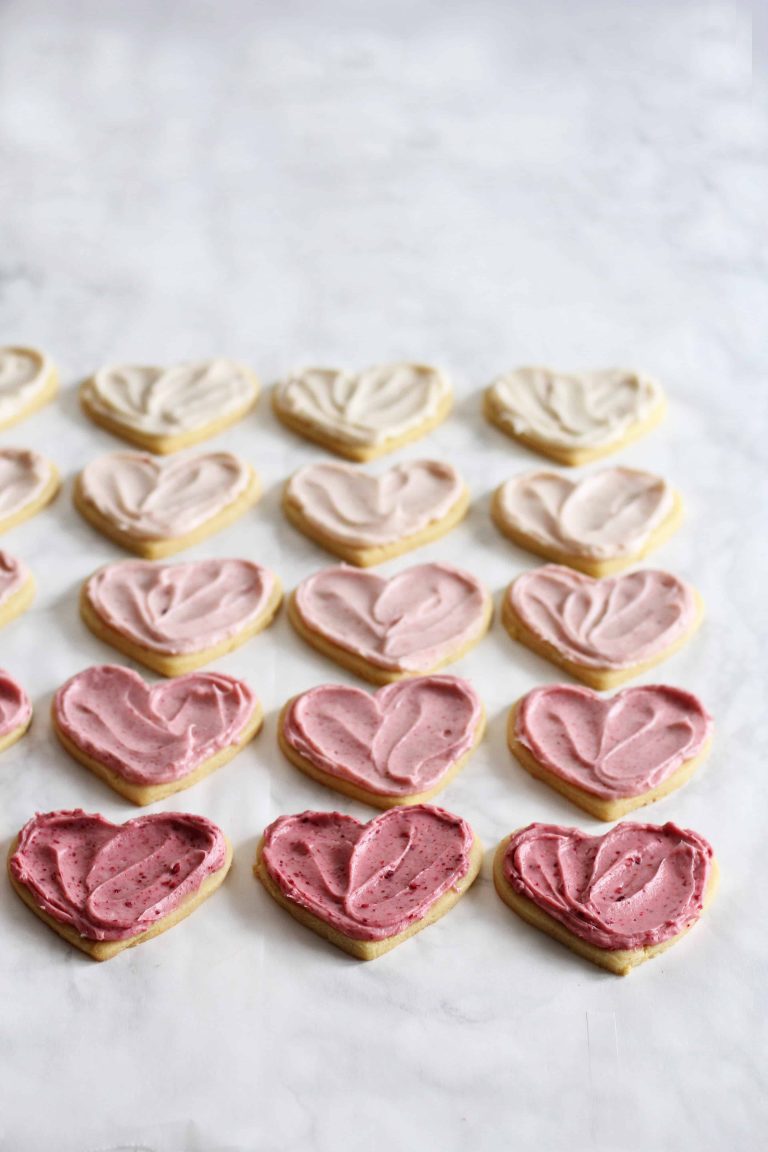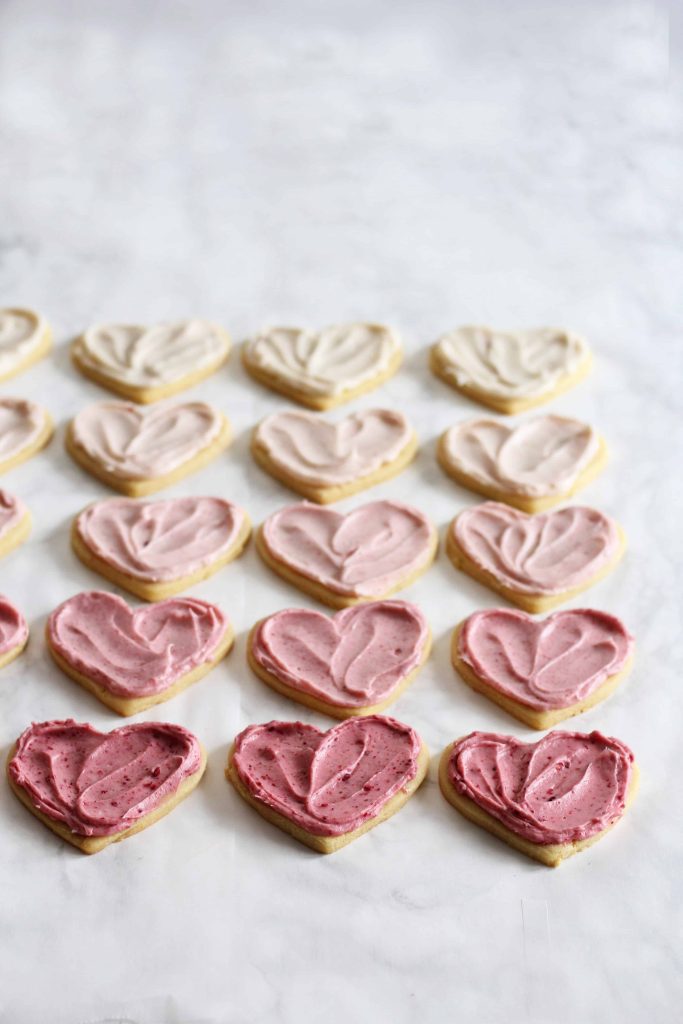 Back to the cookies. I saw some gorgeous ombré cookies in Pinterest recently and was so drawn so how lovely they were. Freeze dried berries are one of my favorite secret ingredients for flavoring/coloring baked goods, and I knew they would make the most gorgeous pink frosting. I crushed them into a powder and added it gradually to the frosting, decorating a few, and then adding more powder until the graduated color affect was accomplished. Aren't they lovely? Plus the tangy raspberry flavor is perfect with the lemony cookies making this flavor combo one of my favorites.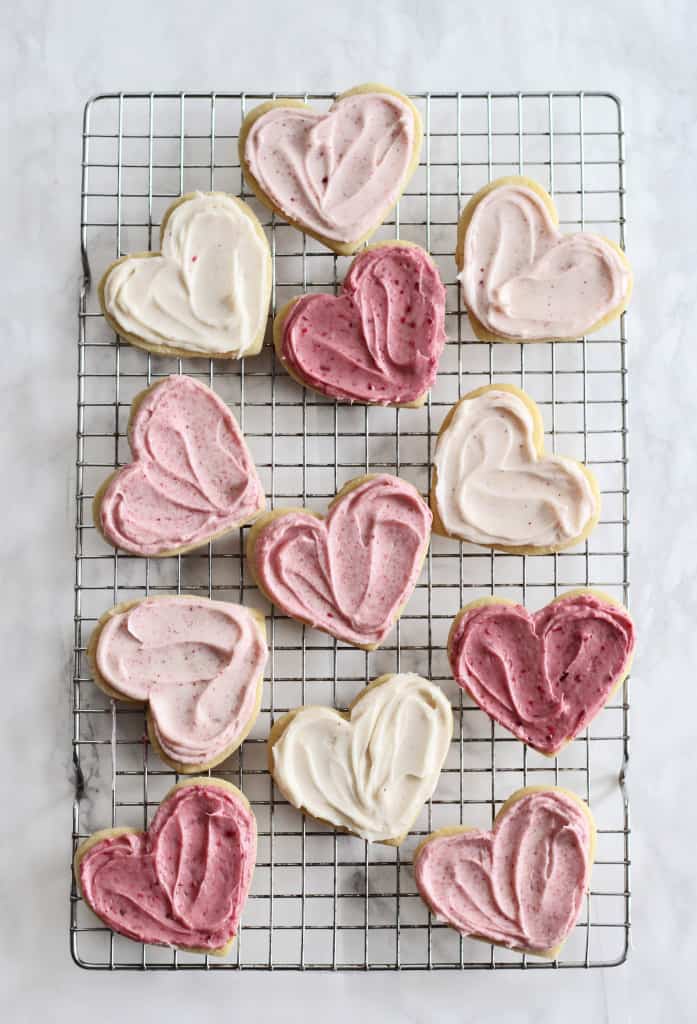 In terms of sugar cookie cut outs, this recipe is my favorite. It's from Bake at 350, the queen of sugar cookies, and I've made it several times. This version has lemon zest mixed into the sugar which releases all the oils and makes the lemon flavor shine. The dough requires no chilling ahead of time, and this whole project was done in just about an hour. Not bad right? (If you're feeling ambitious today I get my freeze dried berries from Trader Joes, but I've ordered them in bulk from Amazon as well.) Happy Love Day!!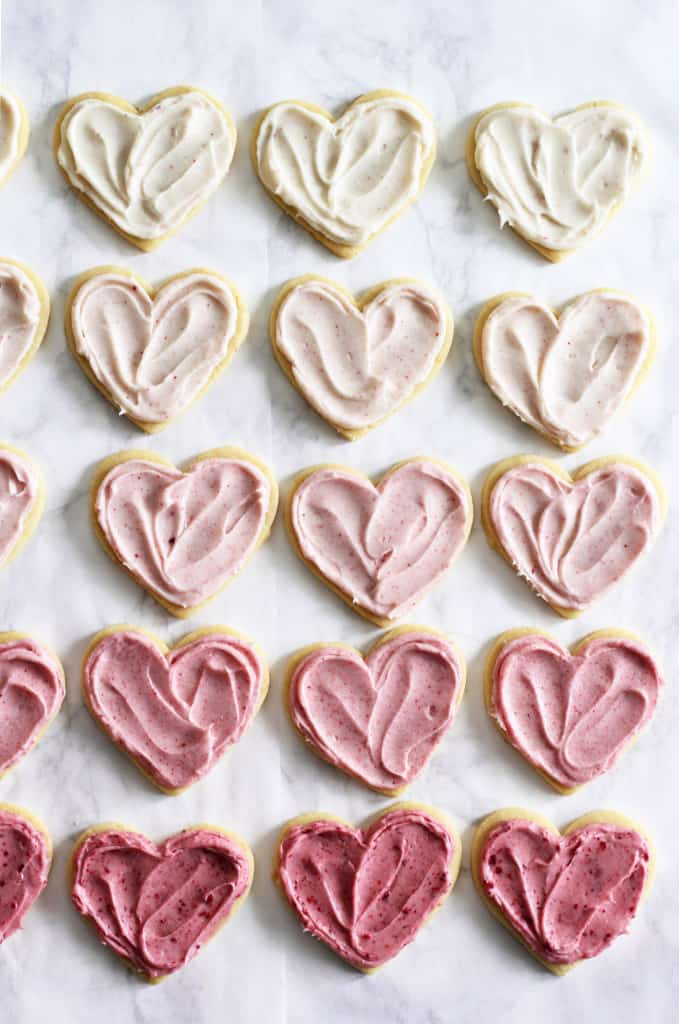 Ombré Raspberry Lemon Sugar Cookies
Yield:
about 3 dozen 3-inch cookies
Ingredients
For the Cookies:
3 cups all-purpose flour
2 teaspoons baking powder
1 cup sugar
2 sticks (salted) butter, cold & cut into small chunks
1 egg
1 tsp vanilla extract
zest and juice of 1 lemon
For the Frosting:
4 oz cream cheese, softened
12 tablespoons of butter, softened
2-3 cups powdered sugar
2-3 tablespoons freeze dried raspberry powder*
1 tablespoon lemon juice
Instructions
For the Cookies:
Preheat oven to 350F. In a small bowl stir the flour and baking powder together, set aside.
In a large mixing bowl add the sugar and lemon zest. Use your hands to work the zest into the sugar, releasing the oils.
Add the butter, and use an electric mixer to cream until fluffy. Add the egg, vanilla, and lemon juice and mix until creamy and well mixed.
Add the flour mixture and mix on low speed until combined. Dough will be crumbly.
Turn dough onto a floured surface and knead until the dough comes together.
Roll dough to ¼ inch thickness and cut out using cookie cutters. Place cut out cookies on a lined cookie sheet 1-2 inches apart and freeze for 5 minutes before baking.
Bake each batch 10-12 minutes. Allow to cool on the cookie sheet for 5 minutes and then move to a cooling rack.
For the Frosting:
Cream together the cream cheese and butter with an electric mixer until smooth. Add lemon juice and the powdered sugar, one cup at a time until fluffy and creamy.
Add a sprinkle of the raspberry powder and decorate the first few cookies. Add a little more raspberry powder and decorate a few more, gradually adding more powder to each batch, creating a gradual darker pink.
Cookies last up to a week stored in an air tight container in the fridge.
Notes
*To make the raspberry powder, scoop about ⅔ cup freeze dried raspberries into a ziplock bag. Crush them into a powder using a rolling pin. Sift them using a fine mesh sieve to create a fine powder, or add some of the seeds in for a more textured look. (The darkest color cookies have some seeds added!)
Sugar Cookie barely adapted from
Bake at 350