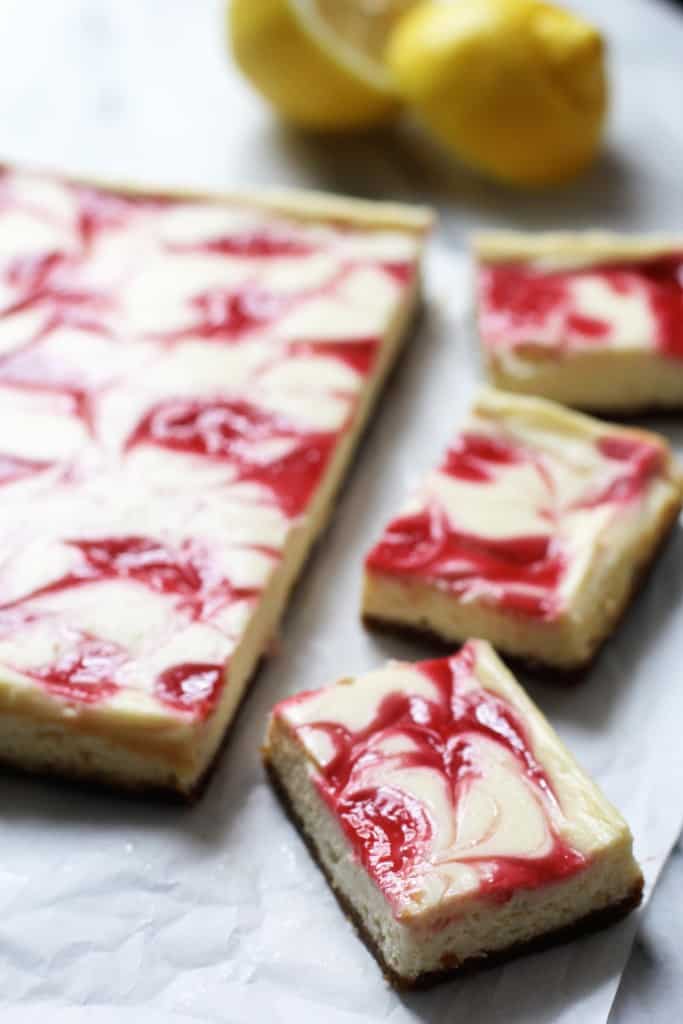 Have you ever heard of a true sign that you're about to go into labor is a huge burst of energy? Apparently last week before Hugo was born my Mom told my sisters that when/if I had this surge of nesting/active energy labor would soon follow. Well- I have to say she's right. In the 36 hours before my labor began I roasted a chicken and then 4 quarts of stock, made 3 pans of lasagna for the freezer, and figured I'd squeeze one more blog post in with these bars. (It actually ended up being perfect because when I went into labor I still had a full pan of these in the fridge which my labor team were able to snack on after the birth!)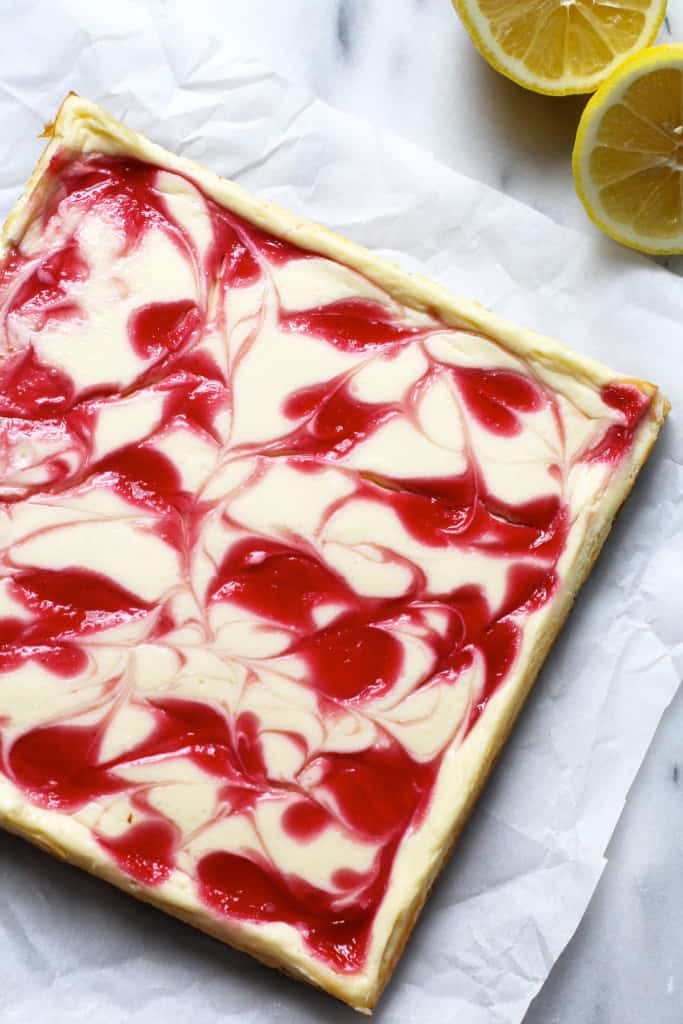 These bars are perfection. They are the creamiest cheesecake bars I've ever had with a thick graham cracker crust and a tangy raspberry swirl. They are surprisingly easy to make and so bright and delicious. I think they are another great idea for a Valentine's dessert that isn't over the top but fun and festive at the same time. The base recipe is so easy and fail-proof that I know I'll be making it again and again!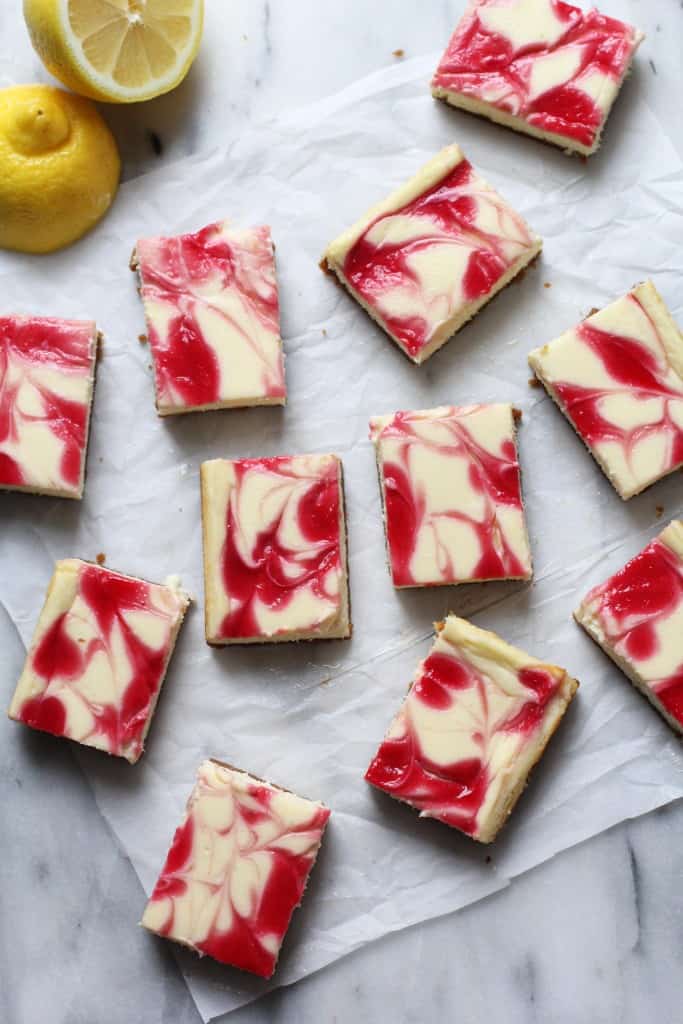 PS- Thanks for all the sweet well-wishes on the birth of little Hugo. My life has been turned upside down in the last week but I'm really loving every second of it. I've been very blessed to have my Mom here for a full two weeks which has been so amazing and helpful. It is so weird that I was pregnant just a few days ago and now instead of a huge belly I'm the mother to a sweet little boy. The miracle of life sure is crazy huh? :)
Raspberry Swirled Lemon Cheesecake Bars
Ingredients
For the Crust:
1½ cups graham cracker crumbs
4T butter
For the Cheesecake:
16 ounces cream cheese- room temperature
½ cup sugar
2 tablespoons lemon juice
Zest of a lemon
4 tablespoons milk
2 eggs- room temperature
1 teaspoon vanilla extract
For the Raspberry Swirl
4 oz. of fresh raspberries (about ½ cup)
2 tablespoons sugar
Instructions
Preheat oven to 350F. Line an 8x8 baking pan with parchment paper, criss-crossing two rectangular pieces so there is an overhang on either side for easy lifting. Set aside.
For the crust
In a medium sized bowl mix together the crumbs and butter with a spoon until moist. Press into the prepared pan and bake for about 10 minutes or until crust is set around the edges.
Meanwhile make the filling:
Beat together the white sugar, and cream cheese until smooth.
Add the egg, milk, lemon juice, and vanilla and beat until smooth and creamy. Spread filling mixture over baked crust.
For the Raspberry Purée:
In a food processor or blender, purée the raspberries until smooth. Press through a fine mesh sieve, getting as much liquid out as possible. Discard the solids. Stir in the sugar.
Dot the raspberry mixture over the filling and use a toothpick or skewer to swirl together.
Bake for 30 minutes or until set around the edges and slightly jiggly in the center. Cool completely on a wire rack and then chill until cold before serving.