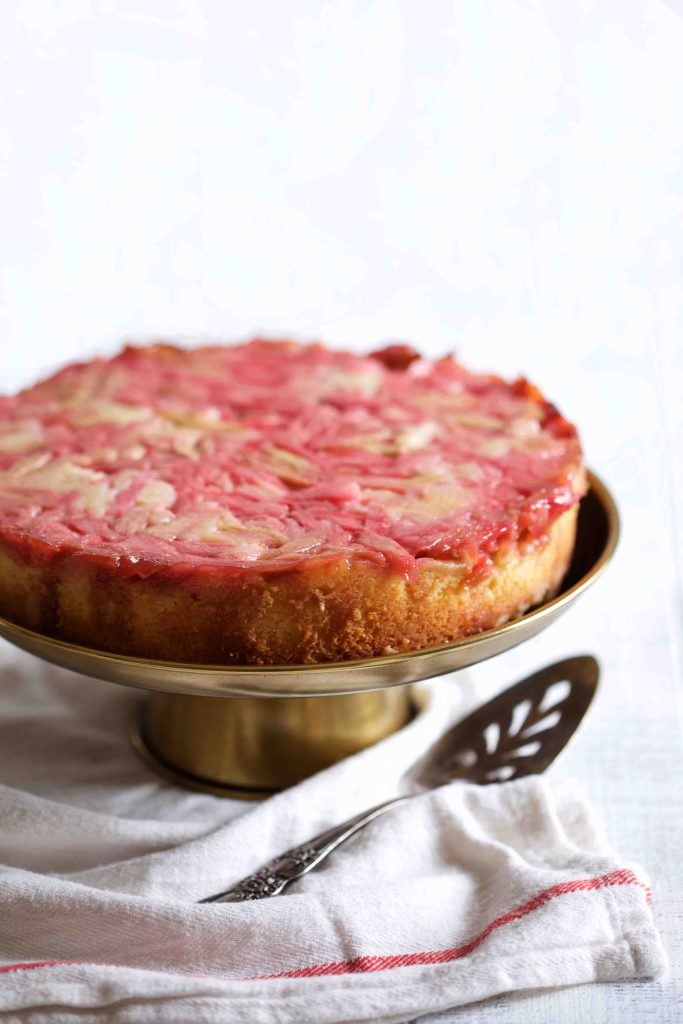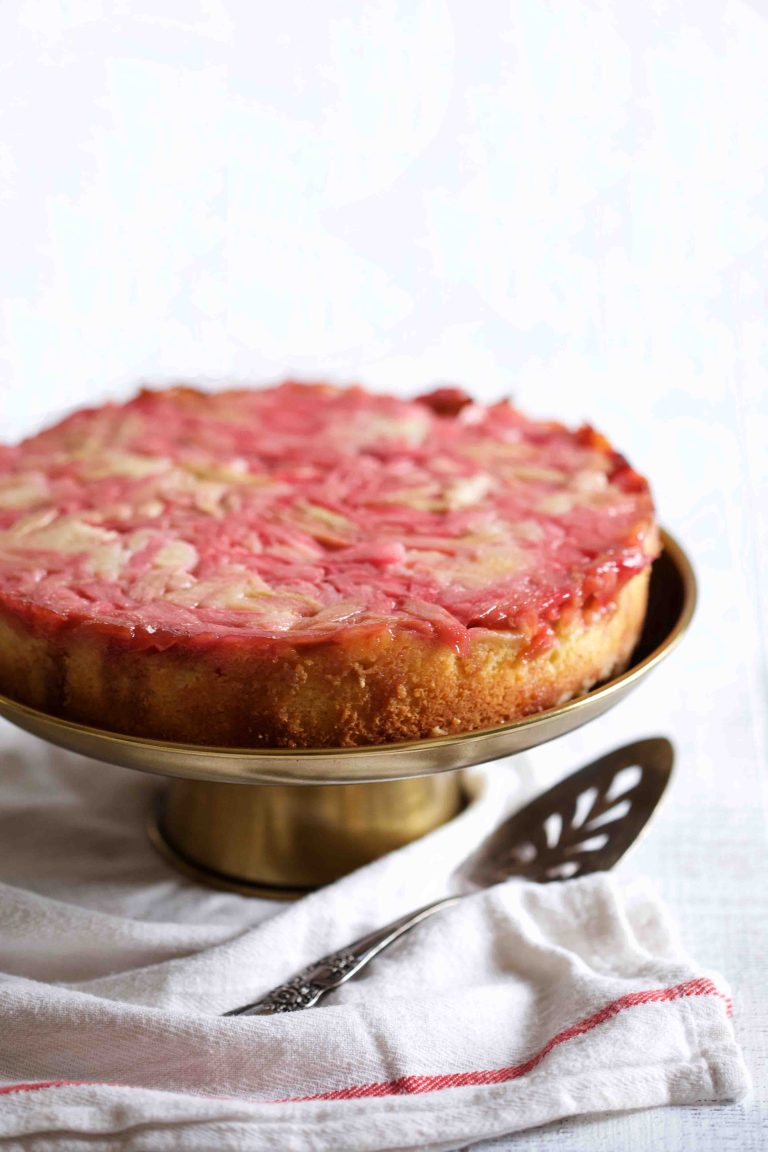 Hello there! Remember me? The person who used to actually blog regularly and post weekly new recipes? It's been a strange few weeks but I'm happy to report I'm inspired and excited and have lots of wonderful recipes to share.
Earlier this year I mentioned my goal to start knitting, and I've become a bit obsessed. (You can check out my knitting projects here or here.)
Also, 3 weeks ago our house was broken into and my camera, among other things, was stolen. Everything is ok now, we have a security system in place that I feel really good about, and I have finally replaced my camera, but it's been a weird few weeks.
All that aside- spring is almost here in Chicago, (well after the snow we're supposed to get today,) and that means rhubarb season is upon us!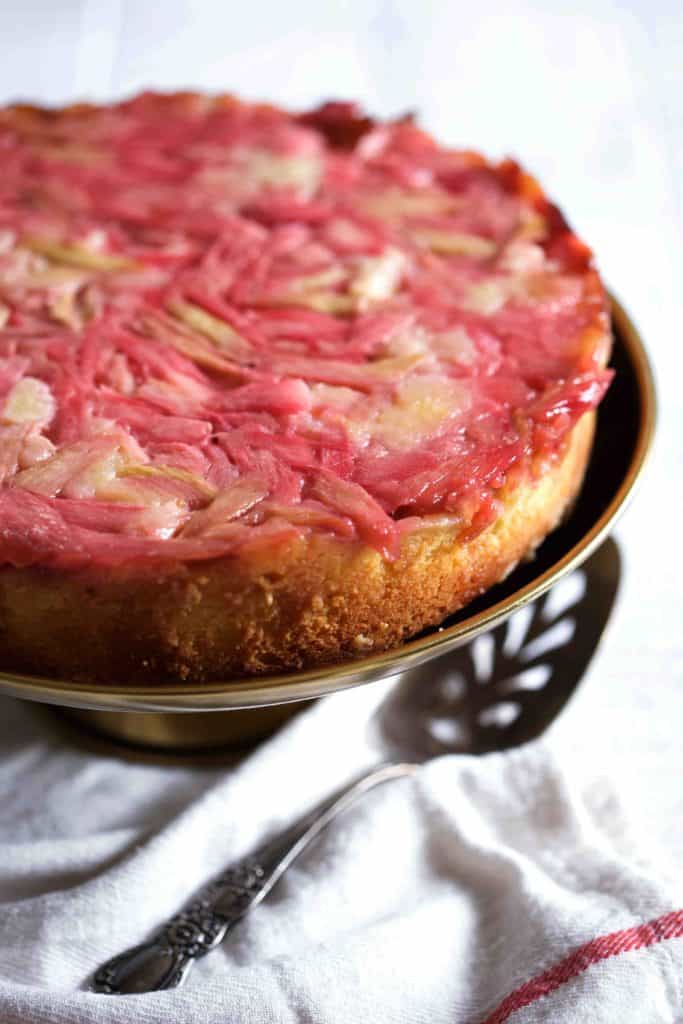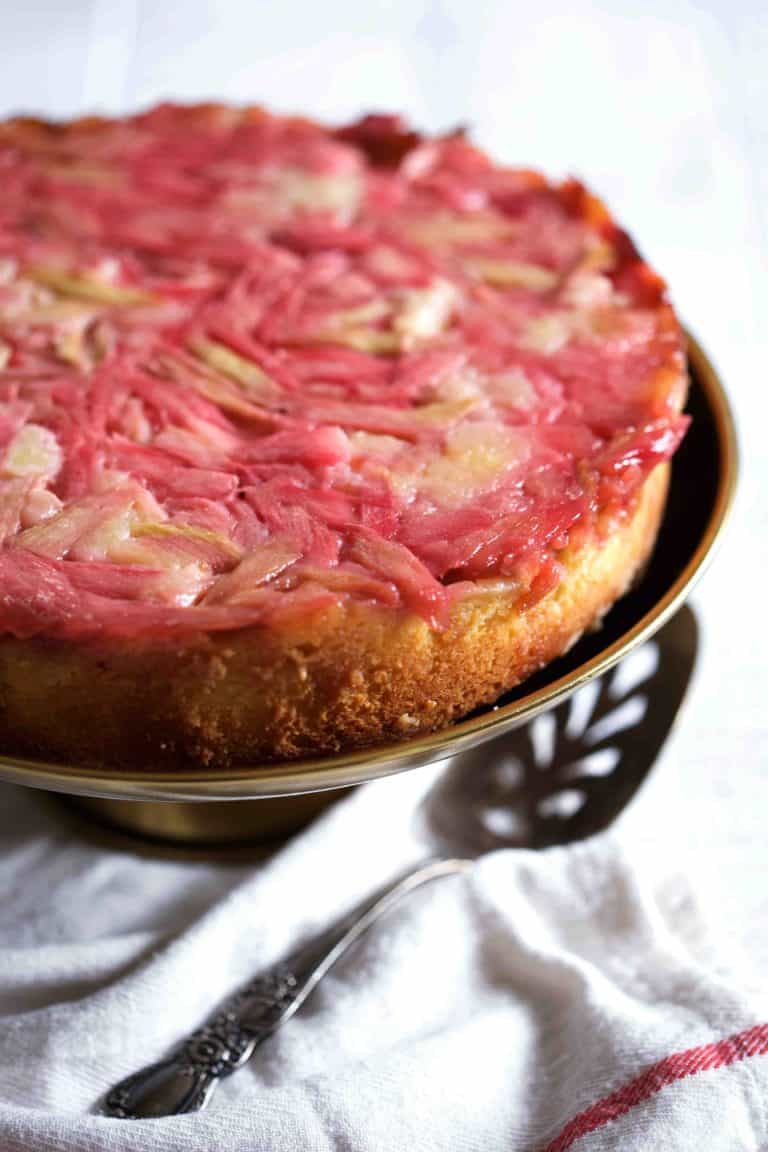 If you've been following this blog for awhile you know how much I love rhubarb.
Yes it's wonderful when paired with berries, (Strawberry Rhubarb Dump Cake and Mini Raspberry Rhubarb Pavlovas are a couple faves,) but I really love when a dessert let's it shine on it's own too.
Enter this cake, which is my new favorite thing ever.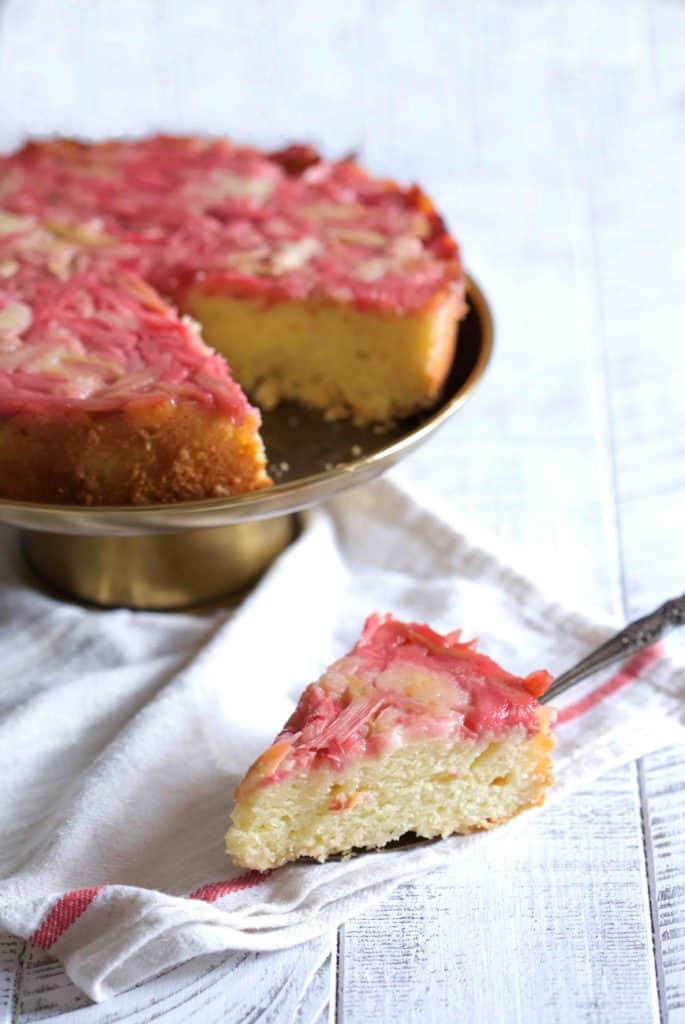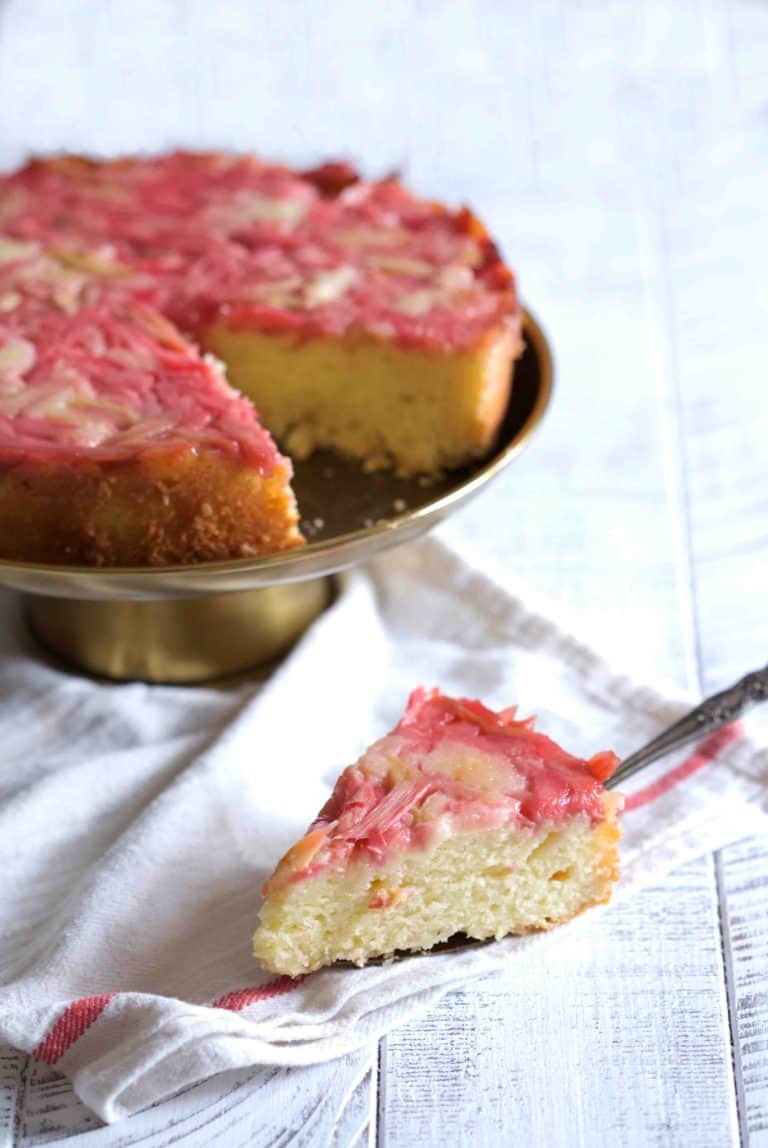 It's an upside down cake, so you layer your pan with sliced rhubarb (macerated with vanilla bean and sugar,) layer it with a thick and creamy batter, and top it with a shortbread-like crumble.
When you invert the cake, the crumble becomes into a crust of sorts, giving each bite lots of layers and dimension, buttery crumble on the bottom, melt-in-your-mouth cake, and then tart and juciy rhubarb on top. It's really so wonderful.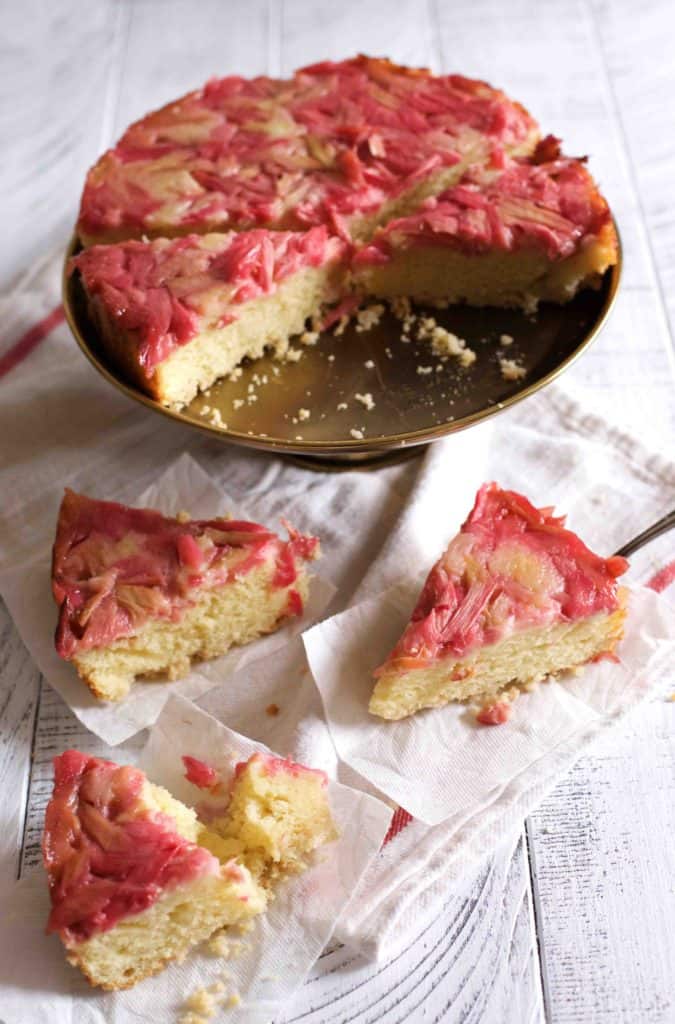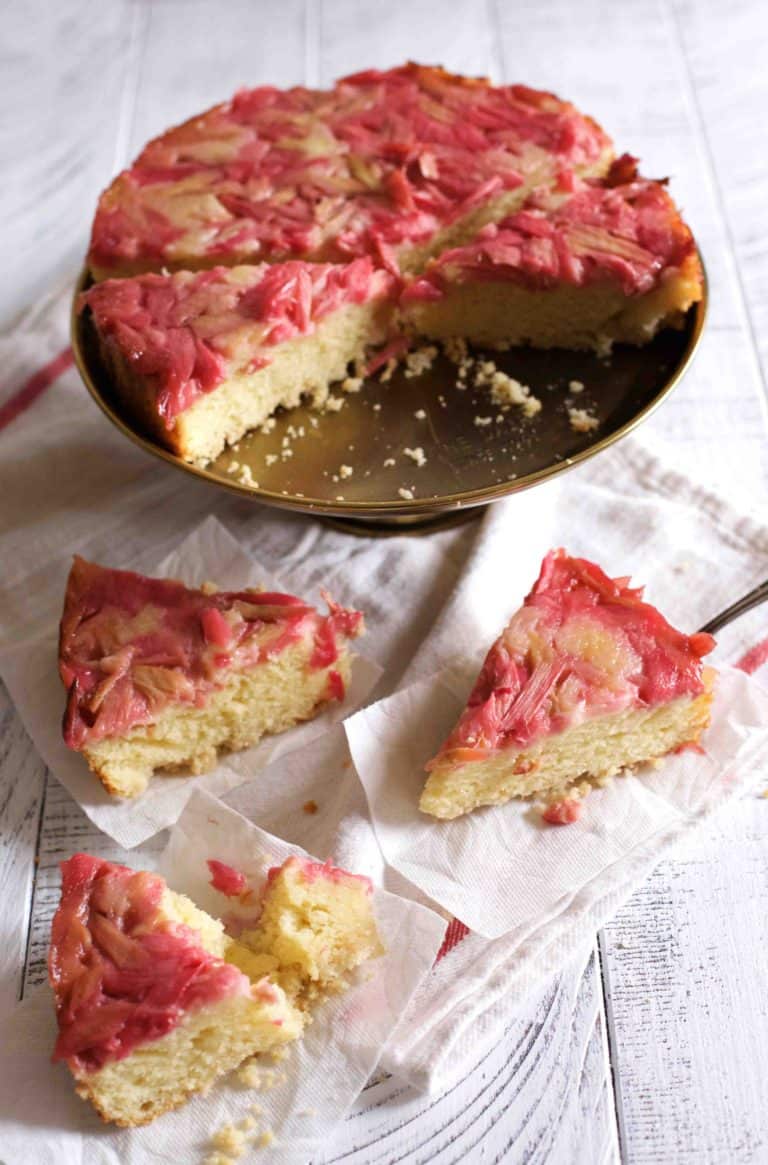 This springy cake would be perfect for a Mother's Day brunch, or for a not too-sweet afternoon snack with tea.
One note on the pans: I used a 9 inch Springform pan that I lined (on the outside,) with foil. I placed it on a cookie sheet to bake, and still some juices from the rhubarb bubbled up over the top and onto the pan.
A regular round cake pan wont do, you want something with higher edges if possible. Next time I plan to try my bundt cake pan, a 9×9 square baking dish, or my 10 inch round tube pan.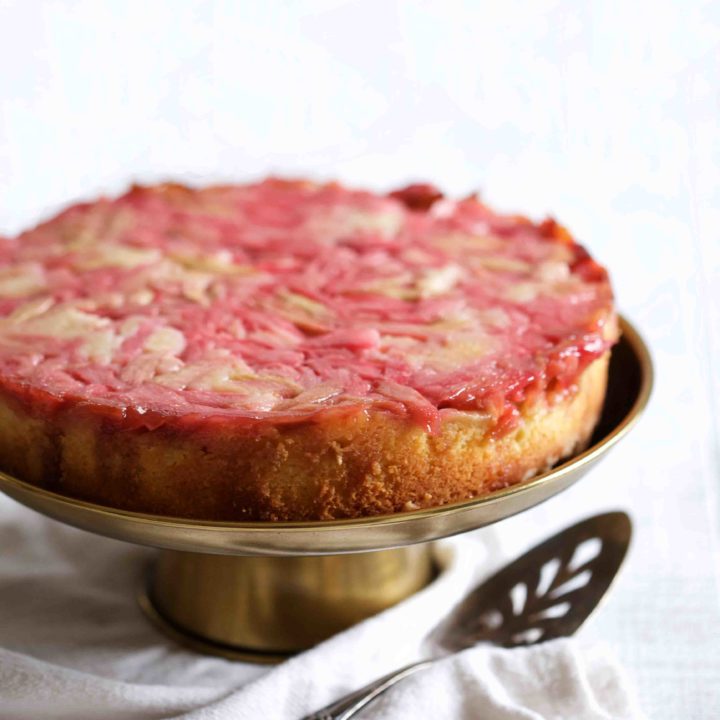 Rhubarb Upside Down Cake
Ingredients
For the Topping
4 tablespoons unsalted butter, very soft
1/2 cup all-purpose flour
1/4 cup sugar
1/4 teaspoon salt
For the Cake
1 1/2 sticks (12 tablespoons,) unsalted butter, room temperature, plus more for buttering pan
1 pound rhubarb, trimmed and cut on a very sharp diagonal about 1/2 inch thick
1 3/4 cups sugar
2 teaspoons vanilla bean paste, extract (or vanilla beans scraped from a pod.)
1 1/2 cups all-purpose flour
1 1/2 teaspoons baking powder
1 1/2 teaspoon salt
zest of 1 lemon
2 large eggs, room temperature
1 cup sour cream
Instructions
Preheat oven to 350F.
For the topping:
Use a fork to stir together the soft butter, flour, sugar and 1/4 teaspoon salt until crumbly. Set aside.
For the cake:
Butter and flour your 9 inch pan. Cut 4 tablespoons of butter into bits and dot the bottom of the pan. Toss the rhubarb with 3/4 cup sugar and 1 teaspoon vanilla bean paste. Let it sit for a couple minutes and then toss again. Spread rhubarb into the bottom of the pan.
Whisk together flour, baking powder, and 1 1/2 teaspoons salt, set aside. Cream the remaining stick of butter and cup sugar with a mixer on medium speed until pale and fluffy.
Add in zest and vanilla. Add eggs, 1 at a time, until incorporated, scraping down sides of bowl.
Add the flour mixture in 3 additions, alternating with sour cream, until smooth. (Don't overmix!) Spread evenly over rhubarb. Sprinkle the topping over the batter.
Bake in the middle rack on top of a cookie sheet, until a toothpick inserted into the center comes out clean and top springs back when touched, about 1 hour, depending on pan size.
Let cool for 10 minutes, then run a knife around the edge and invert cake.
Notes
*I recommend a 9-inch spring form lined on the inside with foil, a bundt pan, or a 9 inch cake pan with extra high sides!

Recipe barely adapted from Martha Stewart