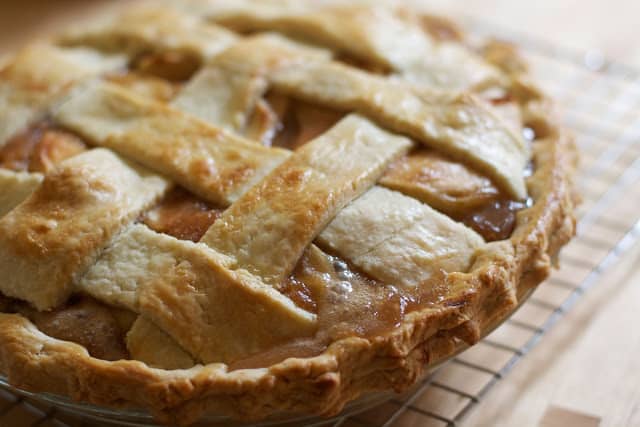 As much as I'd like to stay "hunkered down" for another week or more, doing nothing but baking and watching Game Of Thrones, it seems like life is slowly getting back to normal here in NYC. As lucky as Andy & I were to not be hit very hard by Hurricane Sandy, it is very sad to see the city I know and love struggle. So many are still without power and water, and with public transportation not quite back to normal, I can't imagine the toll it's taking on small businesses and workers around the city. Please continue to send thoughts and prayers from the other parts of the world! If you want to donate to the American Red Cross to help victims that are suffering- you can get more info here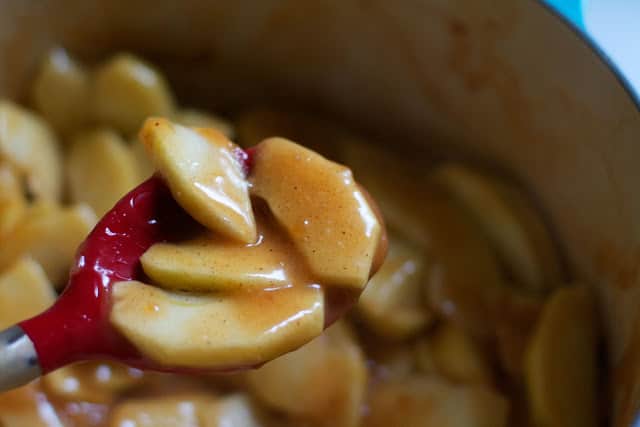 Anyway, since we were fortunate to have power and gas, I spent most of the storm baking and eating. I made this pie right before the city went into lockdown and took it to a Fall-themed party outside the city. It was the perfect comforting apple pie that everyone knows and loves with an extra twist. Caramelizing the filling before baking creates a rich caramel that keeps the pie gooey and the apples soft. I of course added an extra touch of sea salt to the filling to create my favorite sweet & salty duo.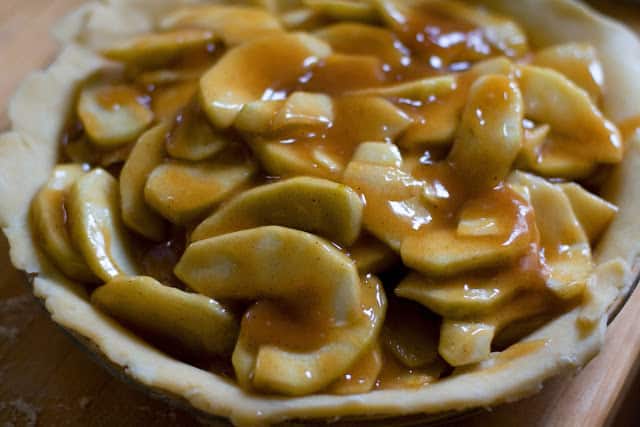 Most apple pies I've made it the past involve filling the crust with raw apples that are tossed with spices, and then dotting the pie with butter. Though I've loved this method, I don't think I can possibly make apple pie any other way after trying this delicious concoction. The filling is so full of flavor to begin with, that baking it only makes it even more gooey and caramelized. I also dislike apple pie where the apples aren't quite soft enough, and these are perfectly tender. (This also allows you to make your filling in advance and then just toss it in the shell when you're ready.)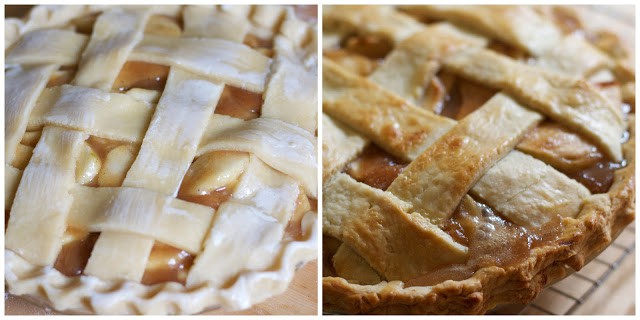 This recipe is already on my preliminary Thanksgiving menu, and I'm already excited for a chance to make it again. (Except for the peeling apples part- that's always a pain. Anyone have a handy tool or a shortcut I should know about?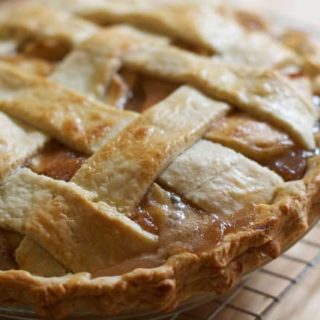 Salted Caramel Apple Pie
Ingredients
1 double pie crust
6 -7 cups tart apples, peeled and sliced (Jonathan or Granny Smith)
1/2 cup packed light brown sugar
1/2 cup sugar
1/4 cup all-purpose flour
1 teaspoon cinnamon
1/4 teaspoon nutmeg
1 teaspoon sea salt
1 tablespoon lemon juice
1 teaspoon vanilla
4 tablespoons heavy cream
4 tablespoons butter
Instructions
Roll out one disc of chilled dough and place inside a pie dish with a small over-hang around the edges. Let chill in fridge until filling is ready.??
Preheat oven to 450 degrees F.
For filling:
Sprinkle apples with lemon juice. Combine dry ingredients in large bowl and add apples. Toss to mix. Add vanilla and cream.
Melt butter in heavy skillet. Add apple mixture and cook approximately 8-10 minutes, until apples are soft and the liquid has turned golden. Turn into pie shell.
Cover with a lattice top or just drape the whole second (rolled out) crust over the filling and crimp the edges. If you don't have enough over-hang to turn it over to seal the pie, use my trick: roll out a thin 1/2 inch wide strip of extra dough and place it around the edge.
Use a fork or your finger to decorate the edge.
Brush the top of the crust with heavy cream and bake for 15 minutes. Then reduce the heat to 350 and bake for another 45 minutes, or until the crust is golden and the filling is bubbly.
Nutrition Information:
Serving Size:

1 grams
Amount Per Serving:
Unsaturated Fat:

0g
Filling recipe adapted from:
Food Network

Crust recipe from:
Martha Stewart