Caramel Apple Pie Filling Recipe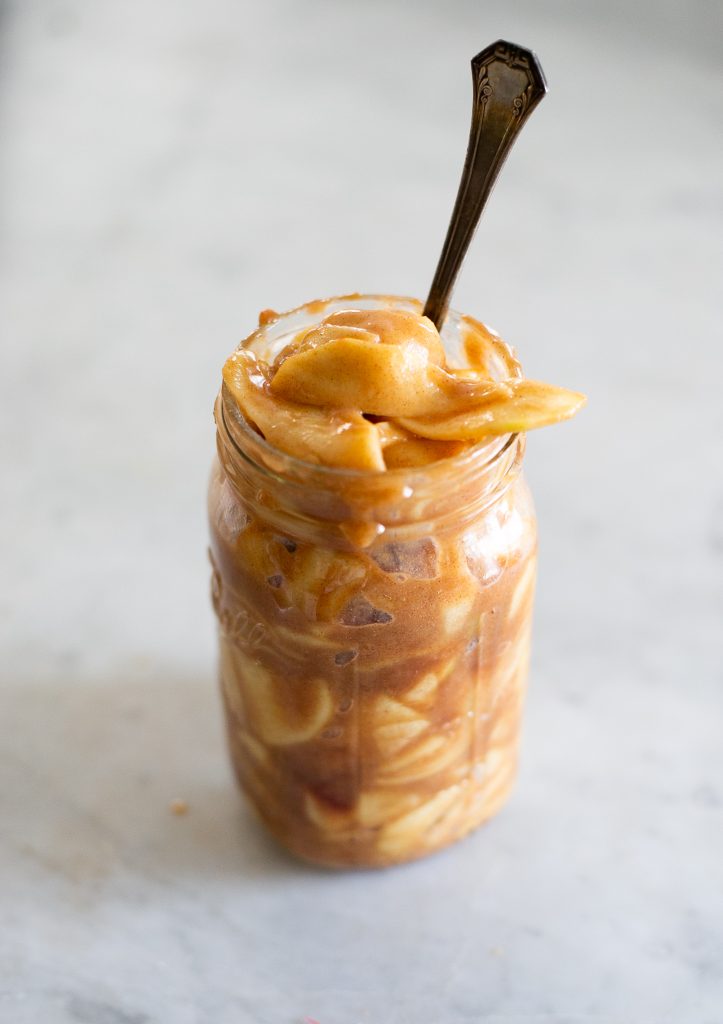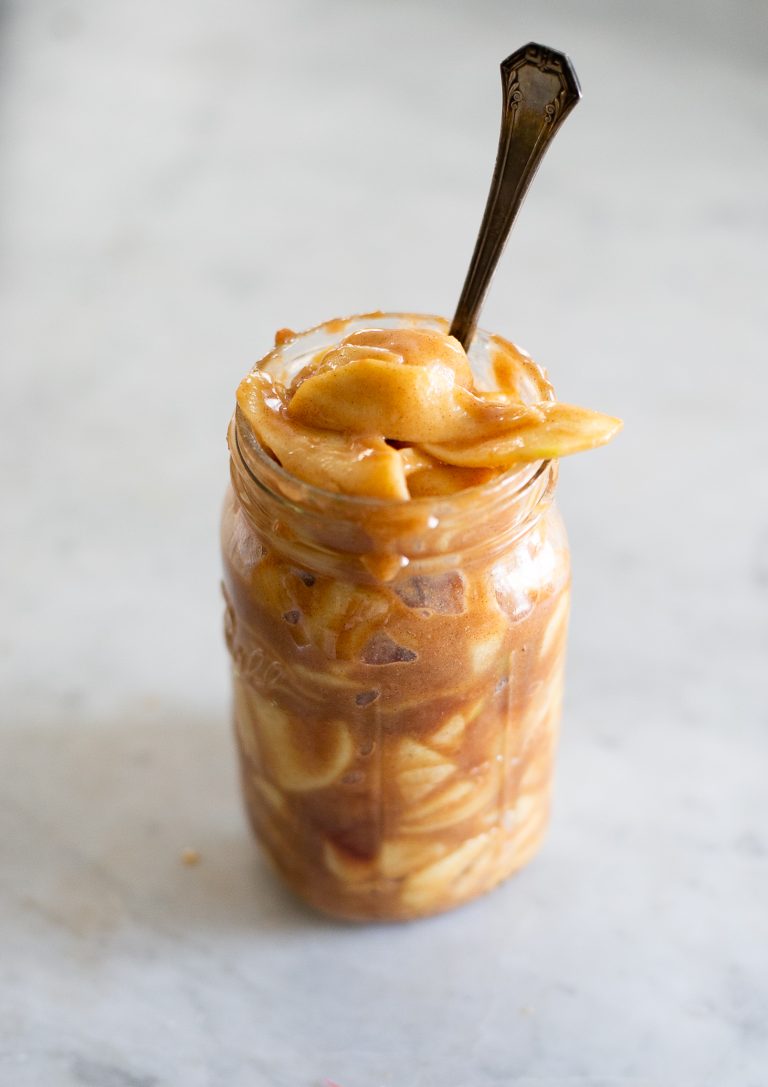 Fall season is here and homemade apple pie is a must. I love classic apple pie all year round, but it is a must for my Thanksgiving table as well.
One of the easiest ways to streamline your Thanksgiving dessert prep is to make as much of your meal in advance as possible. I make my stuffing, green bean casserole, and au gratin cauliflower ahead of time and then bake on Thanksgiving Day.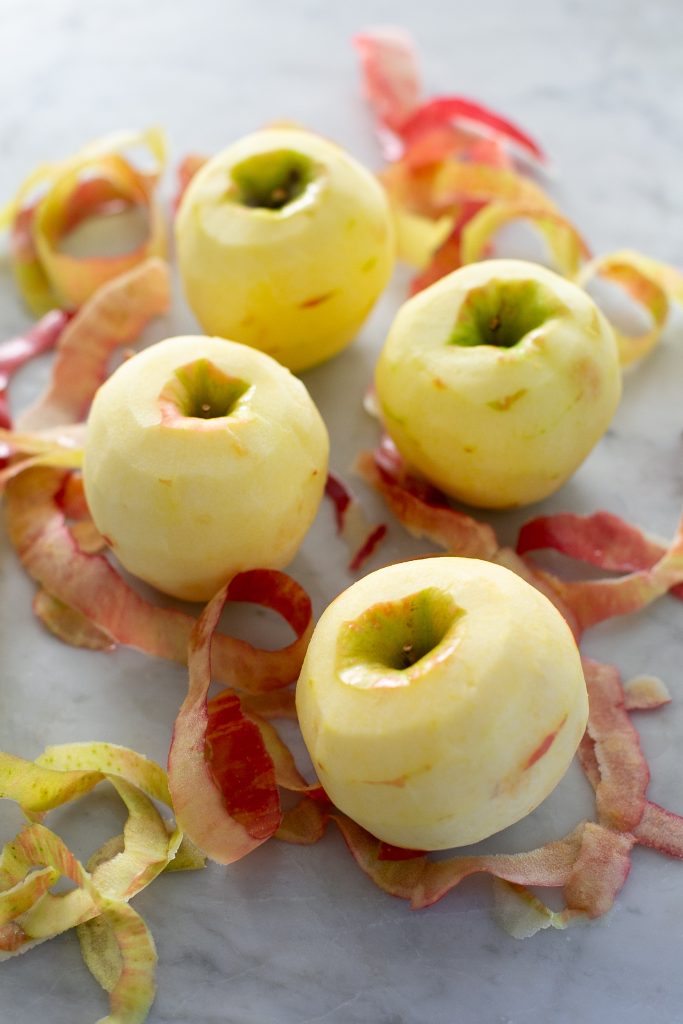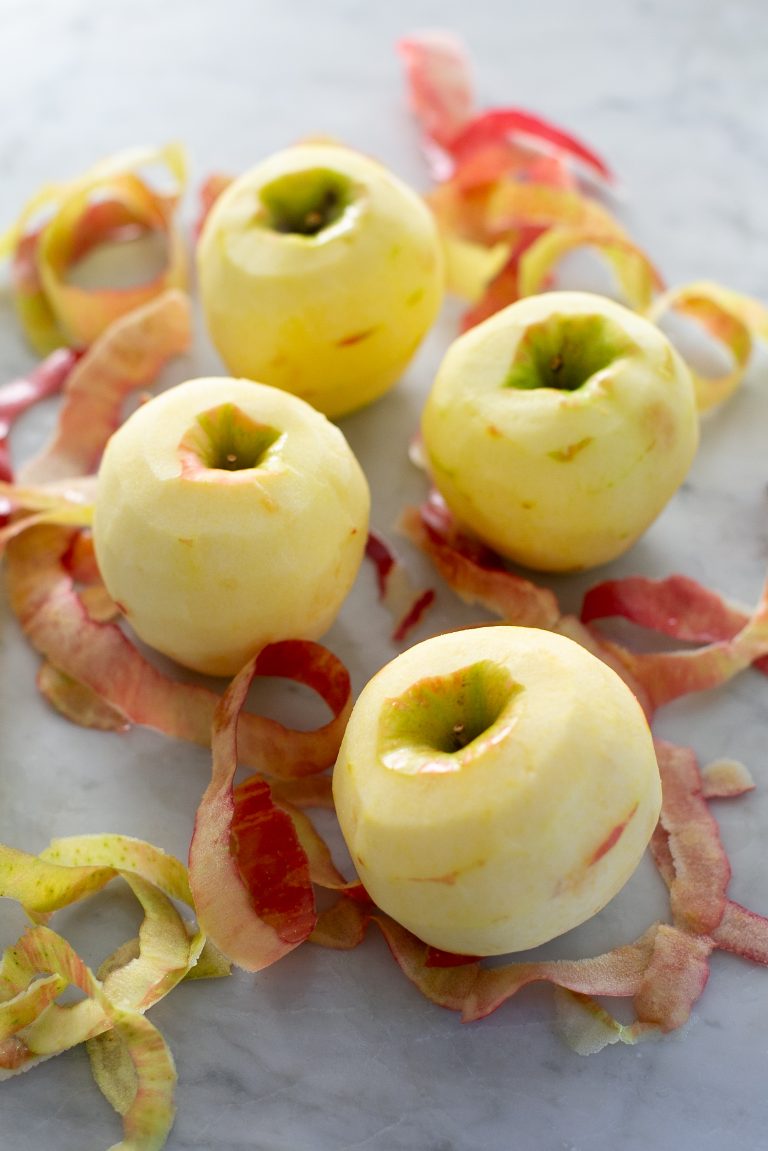 In terms of desserts, I make all my pie dough early in the week as well as prep any fillings or toppings to make pie making a breeze. Prepping Caramel Apple Pie Filling a few days before Thanksgiving is the perfect make-ahead step for a variety of delicious fall desserts.
Ingredients needed for this Caramel Apple Pie Filling Recipe:
Apples
Brown Sugar
All purpose flour
Vanilla
Heavy Cream
Lemon Juice
Cinnamon
Nutmeg
Supplies needed:
Large Bowl
Dutch oven or large saucepan
Supplies needed for Pie:
Rolling Pin
Plastic Wrap
Aluminum Foil
Pie Pan

The Process:
Add apples to a large bowl and toss with lemon juice. Add the dry ingredients and stir them together toss to combine, Drizzle in the cream, vanilla and toss. Melt butter in a large saucepan or dutch oven and then add apple mixture. Cook over medium-low heat and cook for 10-15 minutes, stirring frequently. Apples should be soft but not fully cooked, (with a touch of crispness.)
At this point you can store your filling in mason jars or another heat-safe container and store in the fridge for up to a week before using.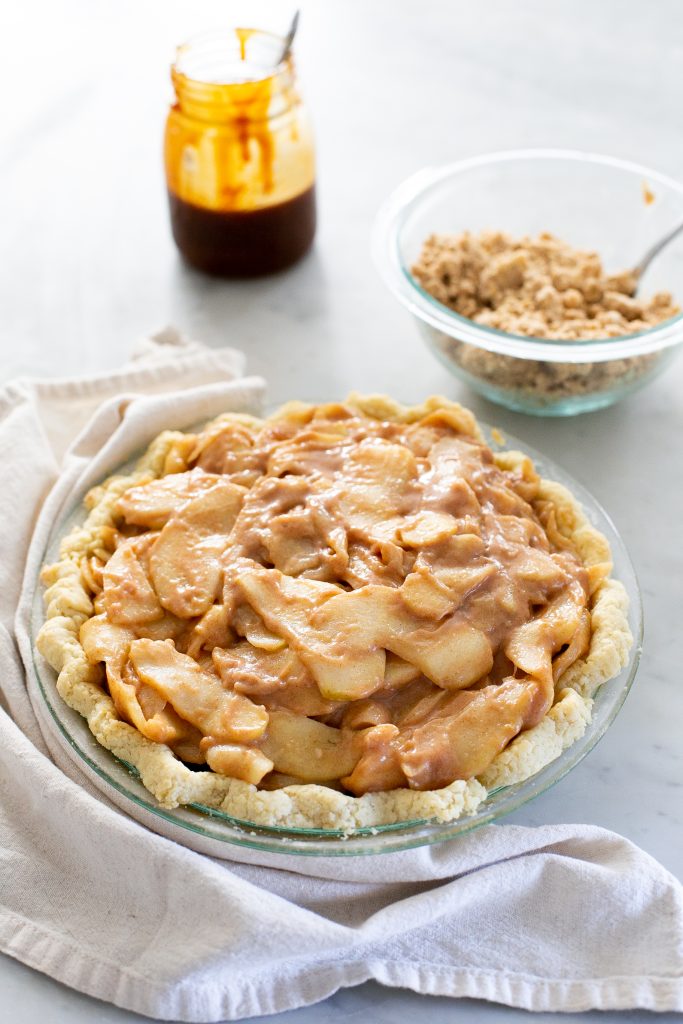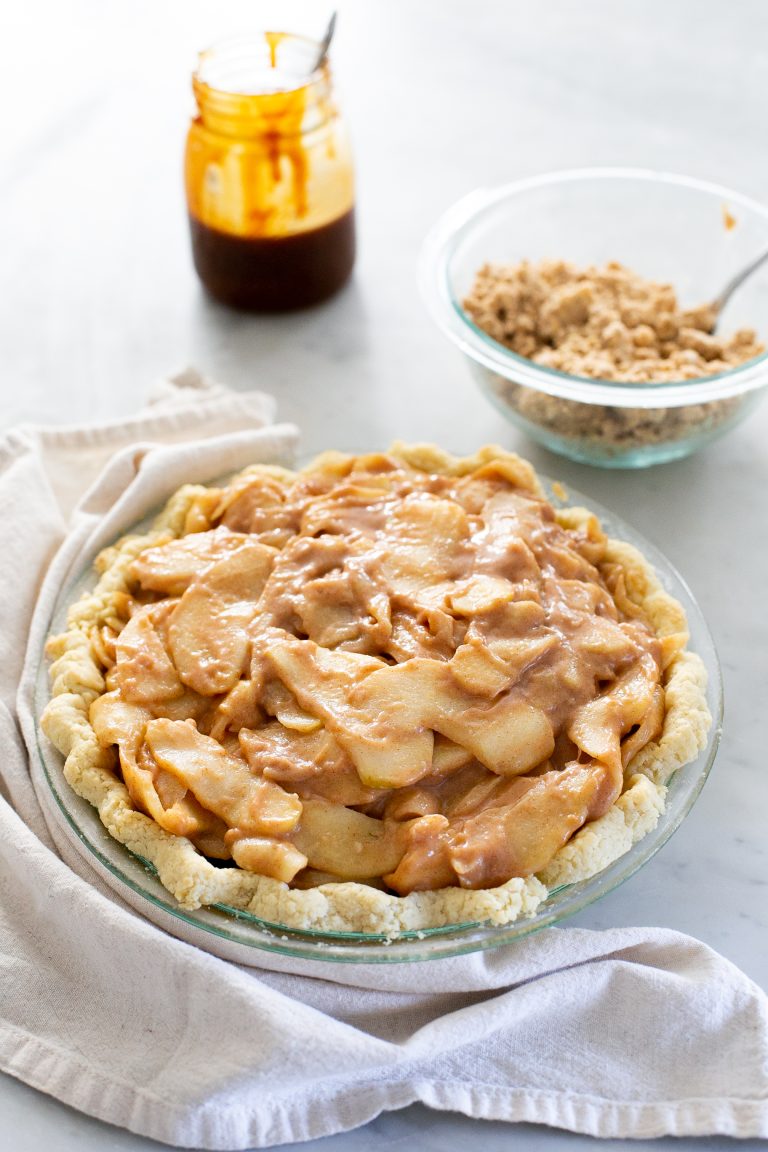 To Make The Pie:
Start with homemade pie crust. Roll out your bottom crust and drape it over your pie dish. If making a crumb topped pie, I recommend par-baking the crust with pie weights. (A great post on that here.) If you are using a top crust or lattice crust, you can add the filling and drape the crust on top of the pie. Use a sharp knife or pastry cutter to trim the edge of the crust and crimp as desired. Brush your top crust with egg white or heavy cream for an extra golden brown crust.
Bake your pie at 400 degrees F for about 45-55 minutes, until the flaky crust is golden and the filling is bubbly. Serve warm or room temperature with salted caramel sauce and ice cream!
What are the best apples are best to use with this recipe:
In general when it comes to apple recipes, a variety of apples is best. However I also think you can use what you have and most tart apples work just fine. We had recently picked a lot of apples so I had some honey crisp and gala for this recipe. Granny Smith apples are always a safe bet too!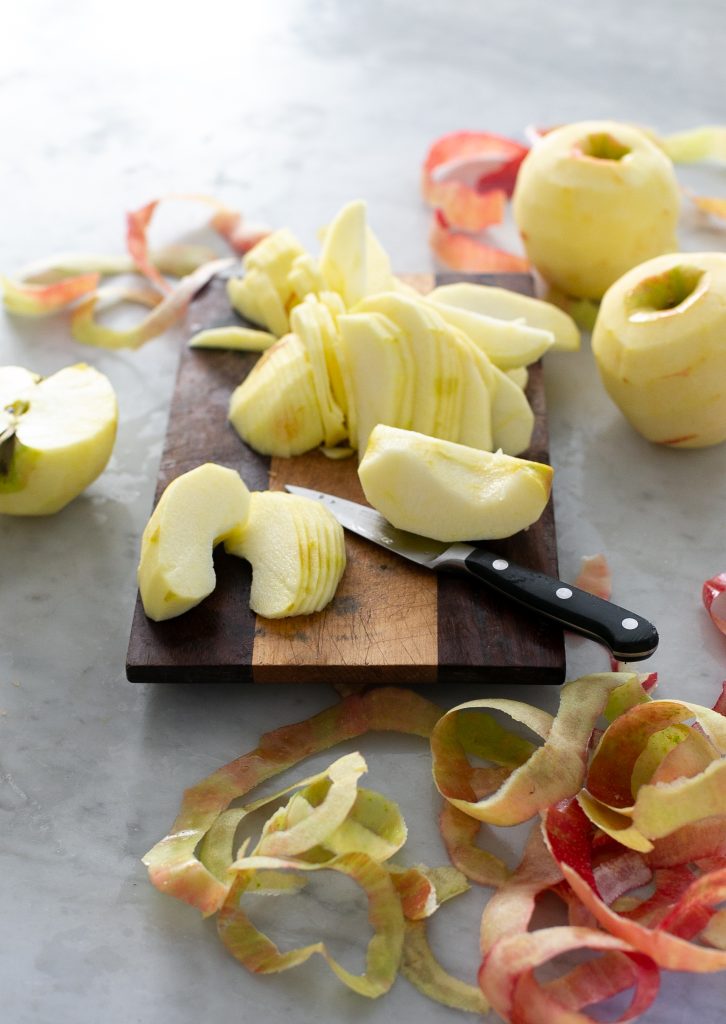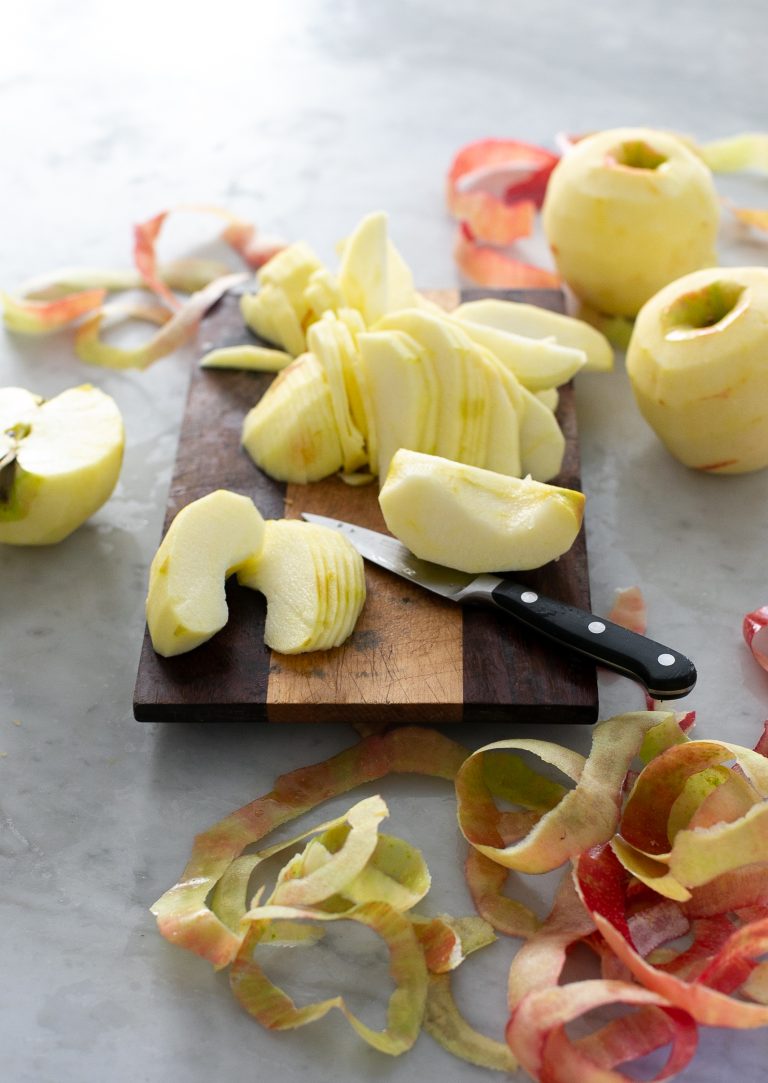 Ways to use Homemade Caramel Apple Pie Filling Recipe:
Dutch Apple Pie: My Caramel Dutch Apple Pie is the perfect use for this filling. You can make the topping ahead of time too!
Traditional Apple Pie: This Easy Caramel Apple Pie is a double crust pie that is more classic. Adding this filling to the pie would be perfect.
Salted Caramel Apple Crisp: Not in the mood to make a crust? This crisp couldn't be easier. Just toss the filling into a pie plate and add a crumb topping.
Apple Pie Sundae: You can also making an amazing dessert by adding this apple mixture to a scoop of vanilla ice cream drizzled with homemade caramel sauce.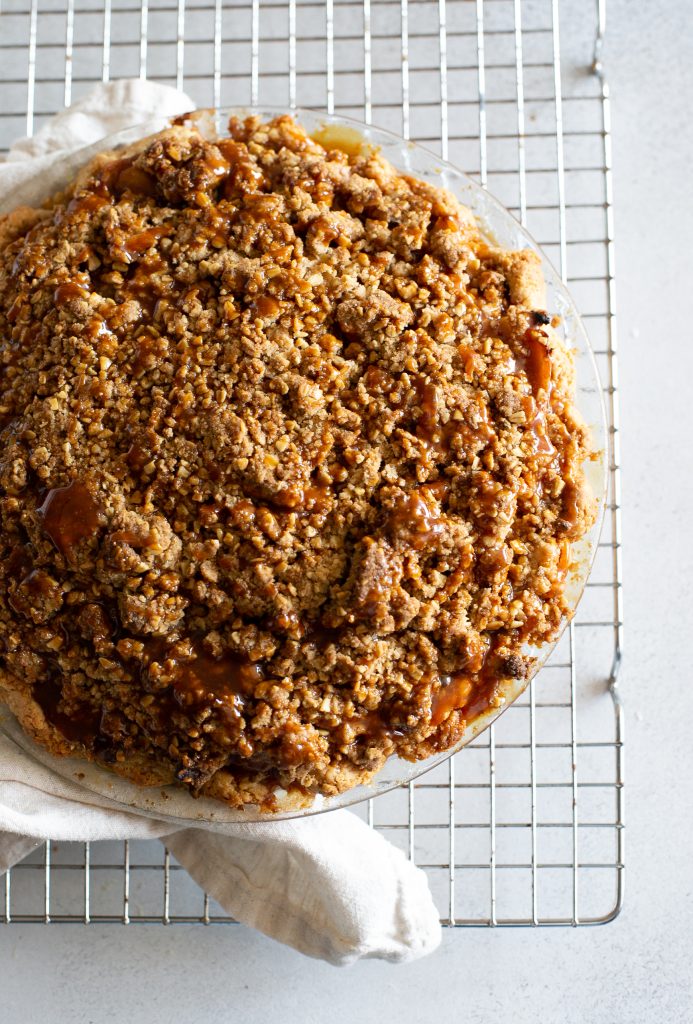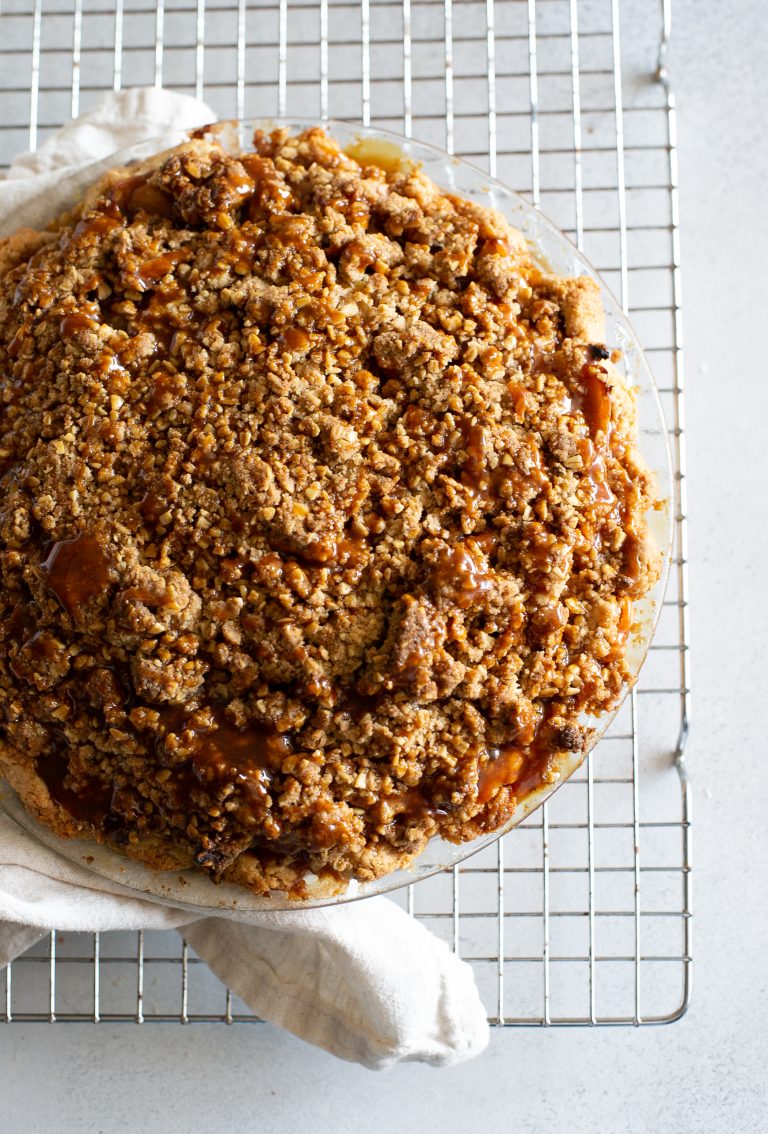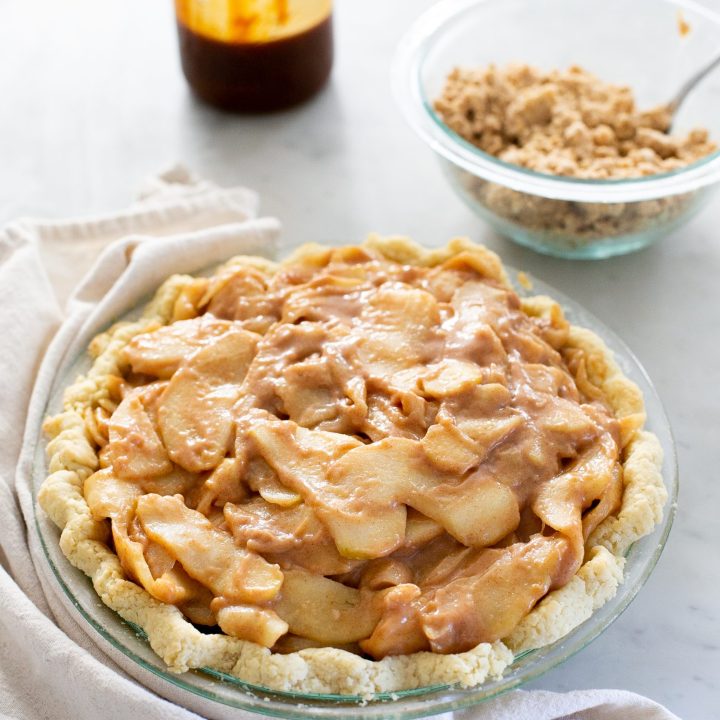 Caramel Apple Pie Filling Recipe
Yield:
Enough for 1 9-inch pie
Easy and delicious Caramel Apple Pie Filling ready to use for your favorite pie or fall dessert!
Ingredients
6 -7 cups tart apples, peeled and thinly sliced
1/2 cup packed light brown sugar
1/2 cup sugar
1/4 cup all-purpose flour
1 teaspoon cinnamon
1/4 teaspoon nutmeg
1 teaspoon sea salt
1 tablespoon lemon juice
1 teaspoon vanilla
4 tablespoons heavy cream
4 tablespoons butter
Instructions
Sprinkle apples with lemon juice. Combine dry ingredients in large bowl and add apples. Toss to mix. Add vanilla and cream.
Melt butter in heavy skillet. Add apple mixture and cook approximately 8-10 minutes, until apples are soft and the liquid has turned golden.
Cool filling and use right away in a pie or store in the fridge for up to a week.
This post contains affiliate links