Strawberry and Cream Muffins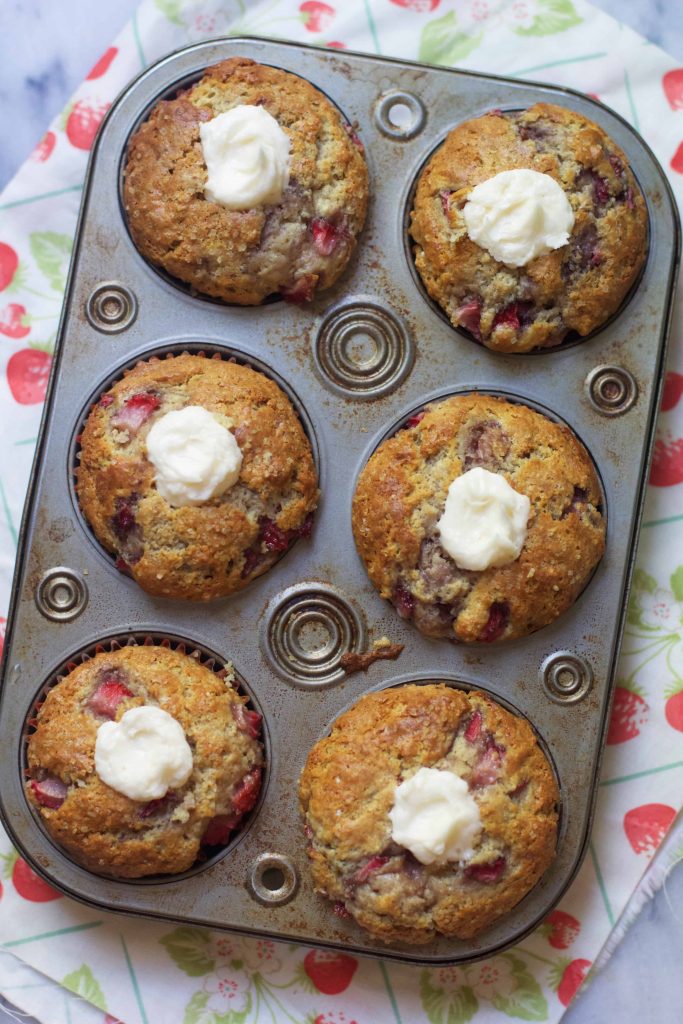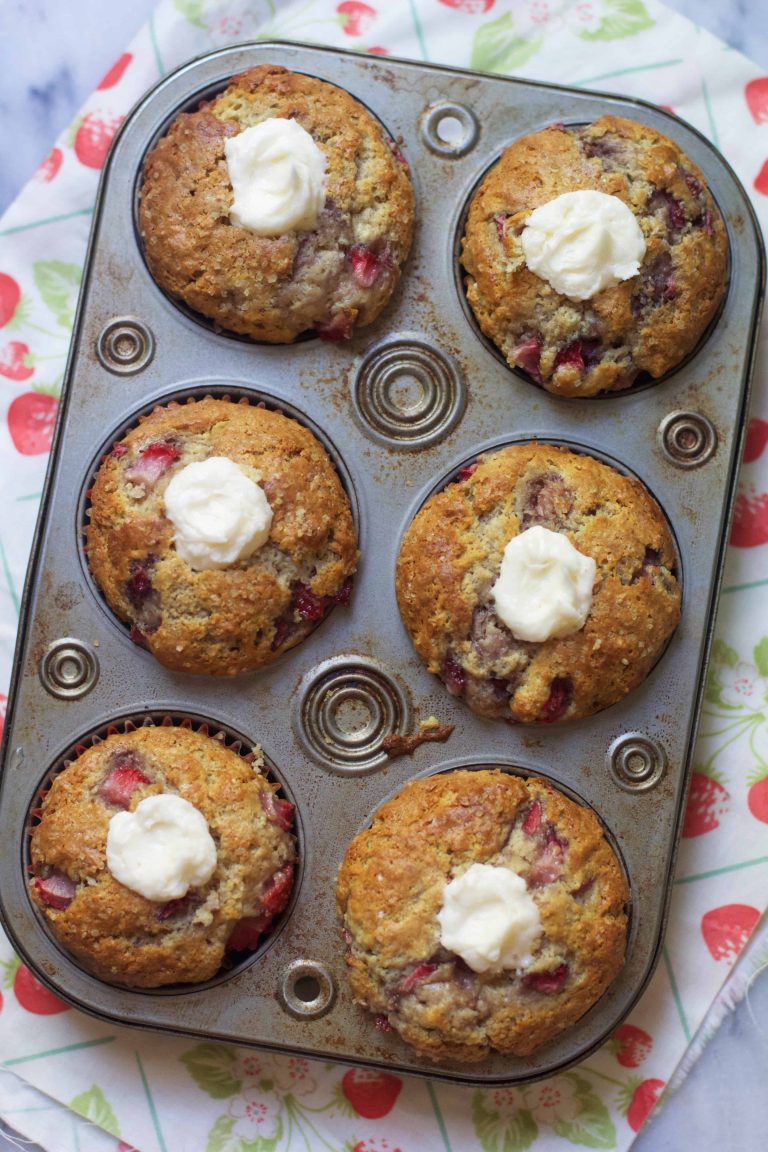 Summer is here! Ok maybe not officially for another month or so, but it was 80s and humid today so I think that counts. I took Hugo downtown to the West Village and he they had the sprinklers on which to him, is probably the most exciting thing on the planet. Seriously- I don't think I have ever ever loved anything as much as that child loves running through a sprinkler. It's really pretty awesome to watch- everyone was laughing and just in awe of his joyful shrieks!
Anyway- I may not love baking with summer fruits as much as Hugo loves sprinklers, but it's pretty darn close. Fresh and juicy strawberries seem to be popping up all over and I just love baking them into a variety of treats. I realized that it has been ages since I've posted a muffin recipe so I figured it was time to change that with these fruity beauties.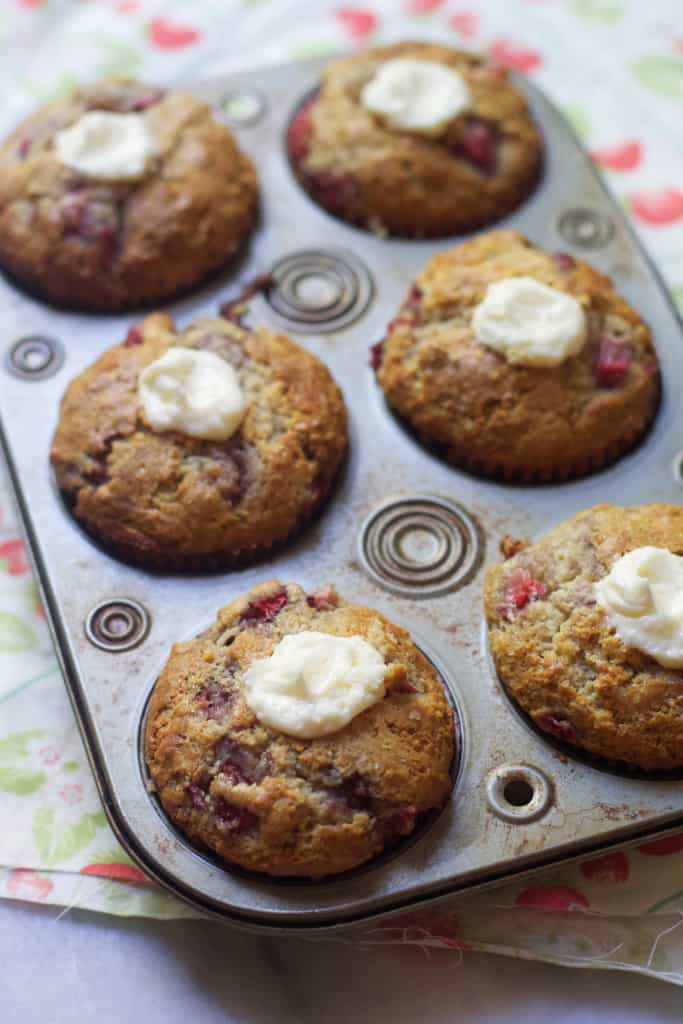 These soft and tender muffins are full of juicy berries with a creamy filling that just takes them over the top. They have a crisp, sugared top and the filling just adds a little extra bit of richness to this already wonderful recipe. I think these would be the perfect addition to a gorgeous brunch spread don't you?
Hooray for summer, more recipes with our favorite seasonal fruits, and babies running through sprinklers…(I'm gonna have to post a video of that to Instagram soon!)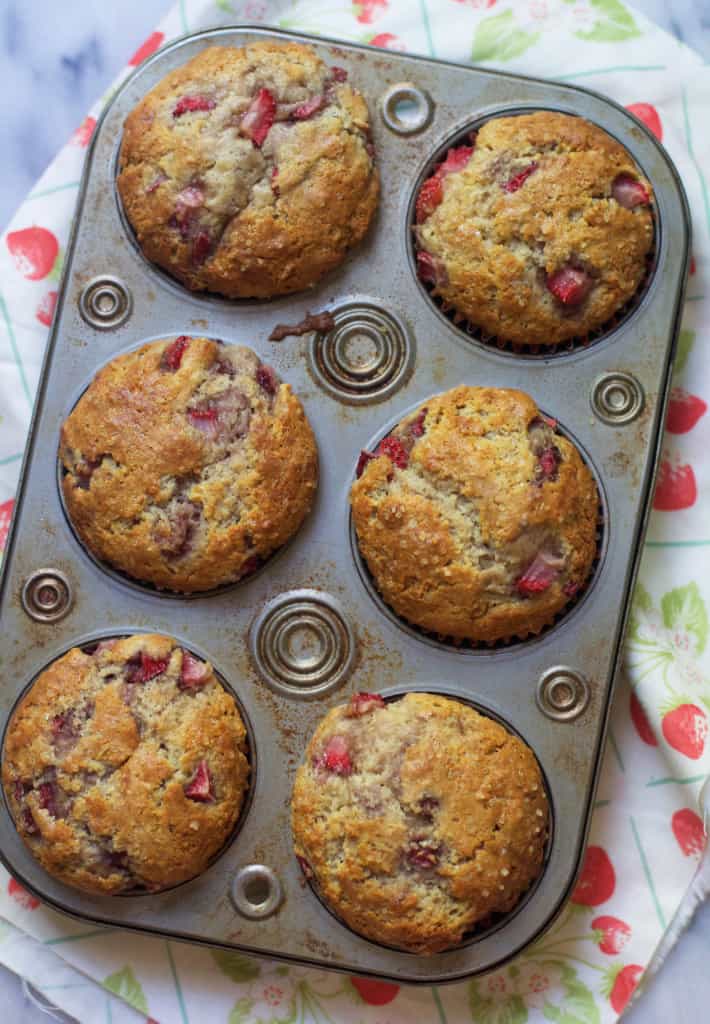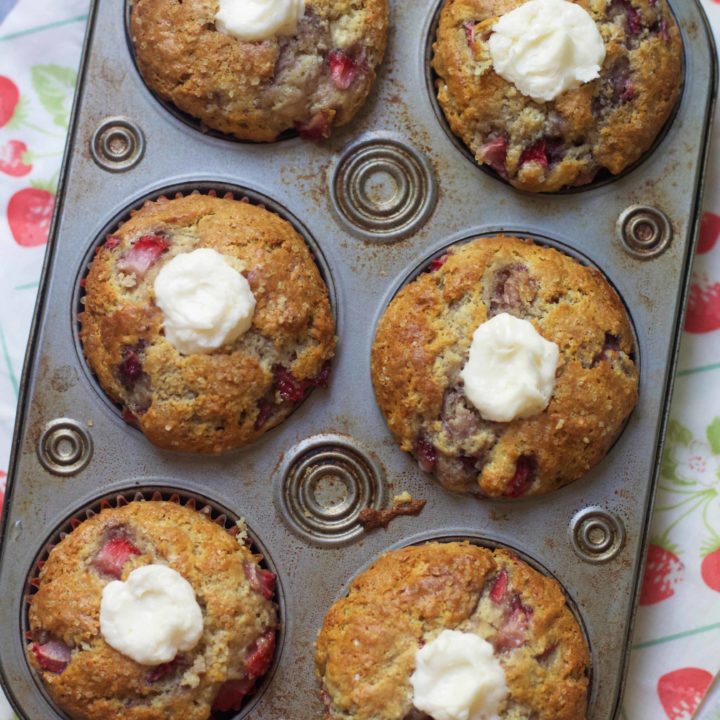 Strawberry and Cream Muffins
Ingredients
1/2 cup coconut oil, melted
3/4 cup whole milk, room temperature
2 eggs, room temperature
2 teaspoons vanilla extract
1/2 cup white sugar
1/2 cup brown sugar
1/2 teaspoon salt
1 1/2 teaspoons baking powder
1/2 teaspoon baking soda
2 cups all-purpose flour
2 cups chopped strawberries
coarse sugar for sprinkling
For the filling:
8 oz cream cheese, softened
1/2 cup powdered sugar
1/2 teaspoon vanilla extract
Instructions
Preheat oven to 375F. Fill 12 muffin cups with paper liners.
In a large bowl, whisk together the oil, milk, vanilla, and egg. Add the sugars and whisk until smooth.
Sprinkle the salt, baking soda and flour over the wet ingredients. Whisk gently to combine. Fold in the strawberries.
Fill muffin cups 3/4 of the way full (batter will be thick.) Sprinkle with raw sugar.
Bake for 18-20 minutes, or until the tops bounce back when lightly pressed and/or a toothpick inserted into the center comes out clean.
Cool on a wire rack.
For the filling:
Cream together the cream cheese, powdered sugar and vanilla until smooth. Use a sharp paring knife to core out a small hole in the top of each muffin. Pipe or dollop some filling into each hole.
Serve immediately or store in the fridge for up to 3 days. Bring to room temp before serving.
Nutrition Information:
Yield:

12
Serving Size:

1 grams
Amount Per Serving:
Unsaturated Fat:

0g