Thumbprint Cookies with Icing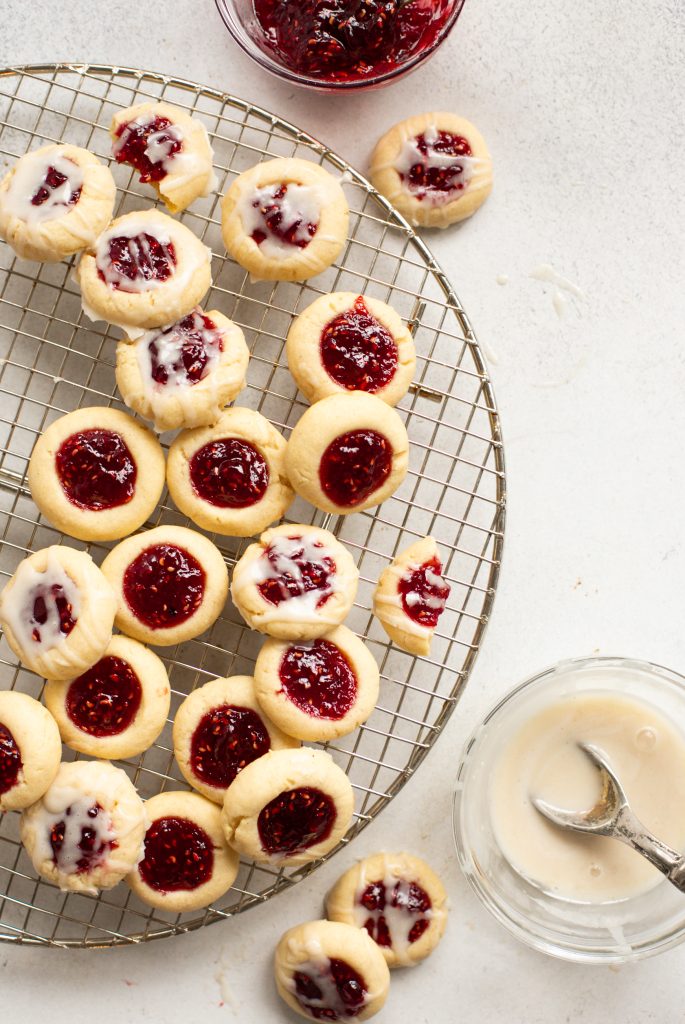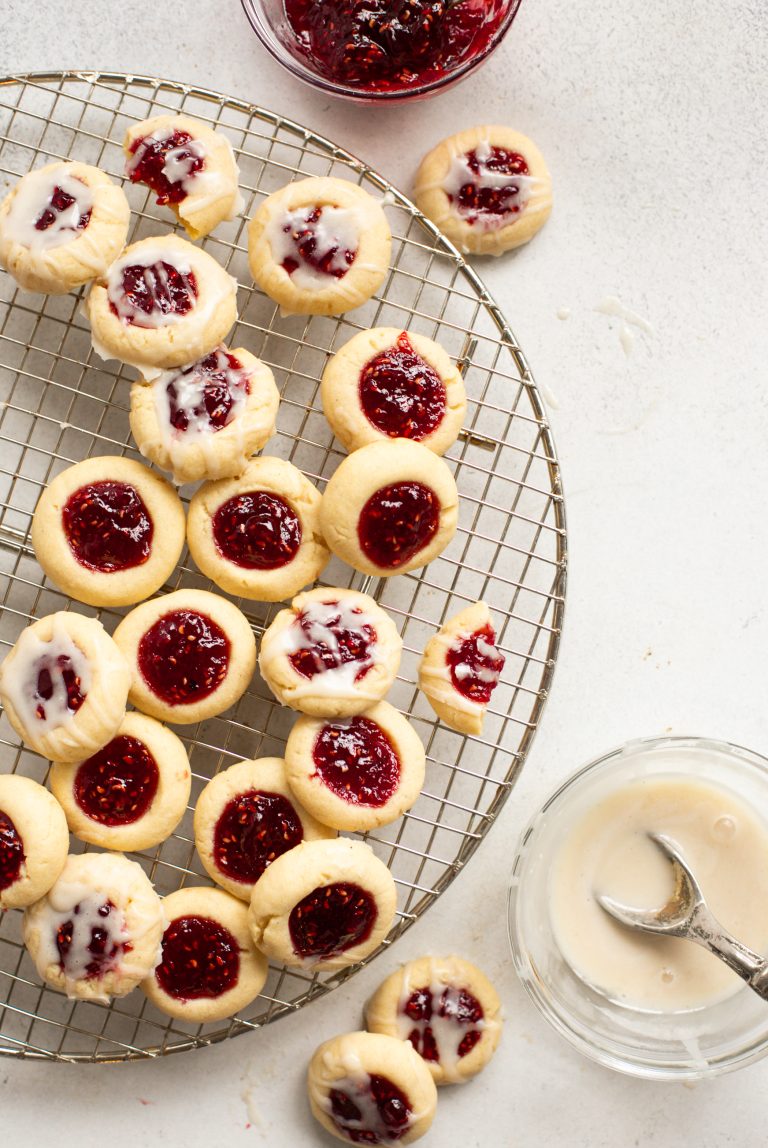 These buttery shortbread thumbprint cookies are perfect for your holiday boxes, dessert table or a cookie exchange. They are bite-sized cookies which is the perfect portion for a greater sampling of different cookie flavors don't you think? (I also love them around Valentine's day with a double thumb "heart" shape in the cookie instead!)
The cookies use simple ingredients you probably have in your pantry and can be filled with a variety of jams and fillings based on what you feel like. I like a sweet icing on these cookies flavored with almond extract, but I give lots of other options and flavor combos at the bottom of this post!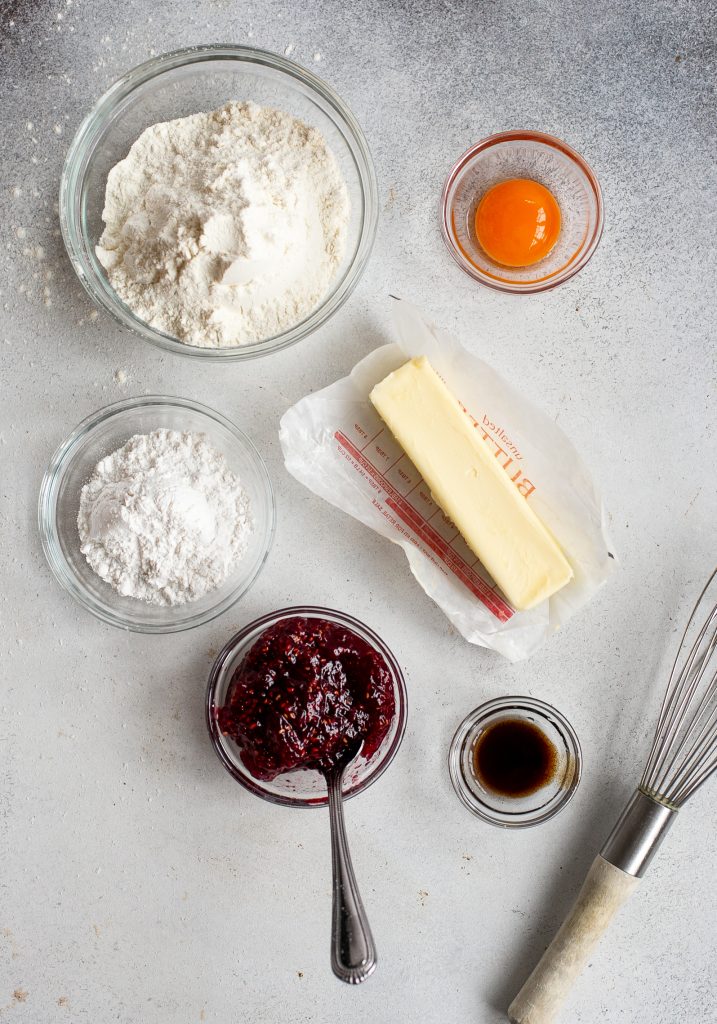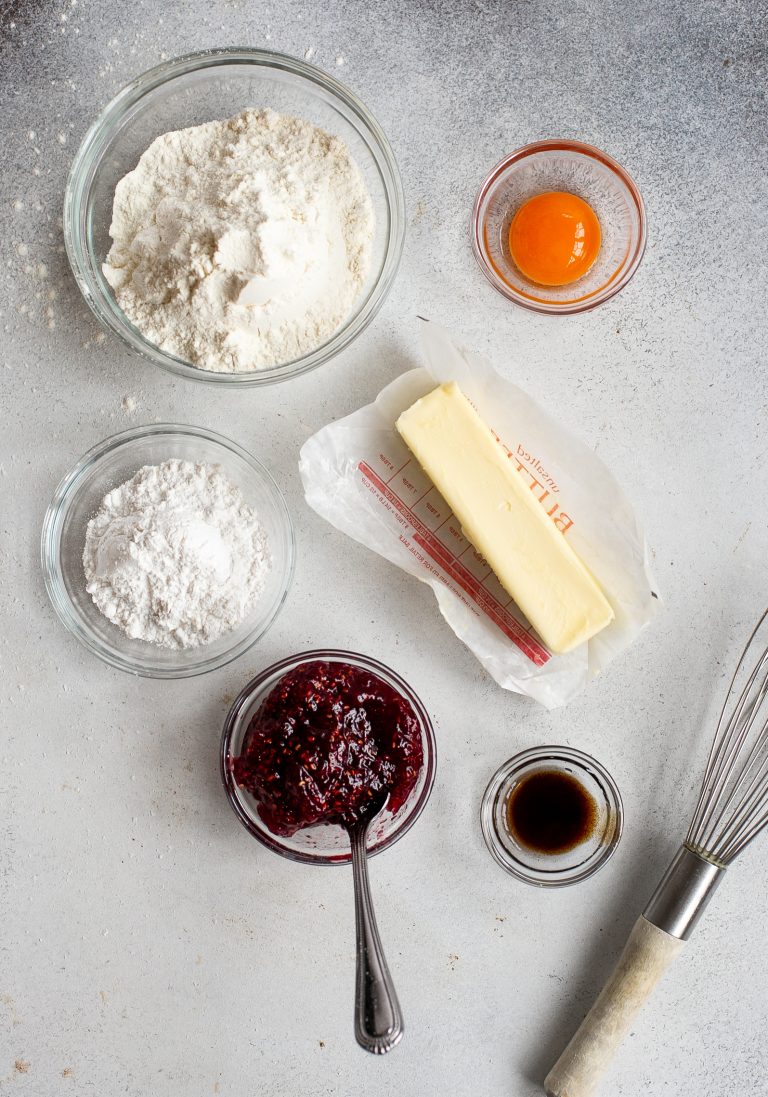 Ingredients needed for Iced Thumbprint Cookies Recipe:
Unsalted Butter
Powdered Sugar
Vanilla Extract
Almond Extract
Salt
Egg Yolk (save egg whites for another use.)
All purpose flour
Jam, preserves or curd of choice
Milk or cream for the icing

Supplies needed for Thumbprint Cookies with Icing:
Cookie Sheet
Large Bowl
Cooling rack
Parchment Paper
Small cookie scoop
Piping Bag (for jam- you can also use a little spoon.)
Electric Mixer
Rounded bottom of wooden spoon for "thumbprints" if you'd like.

The Process:
Start with room temperature butter and cream with an electric mixer until soft and fluffy. Use a small cookie scoop to scoop dough into 1 inch balls. Place your dough balls about 1 inch apart from either other on a prepared baking sheet. (They don't spread much.) Use your thumb or the back of a measuring spoon to make an indent into the center of each cookie. Fill with jam or curd and bake until just barely golden. Drizzle with a simple glaze.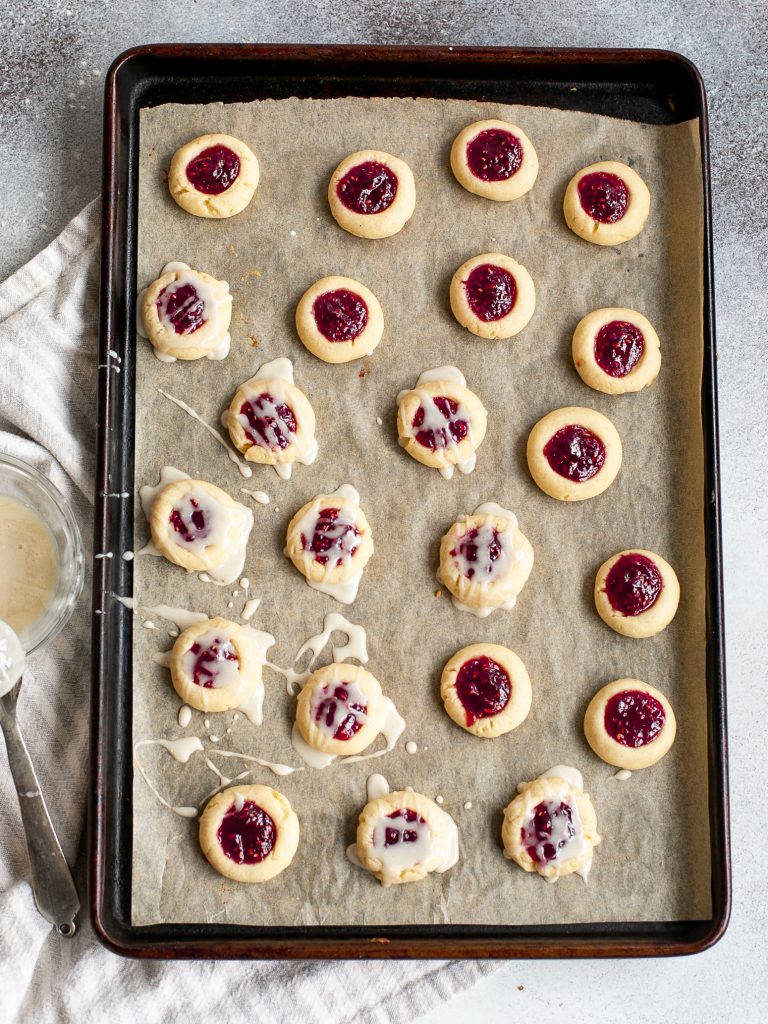 Flavor variations to try for these classic thumbprint cookies:
Raspberry Almond: I love using a really high quality raspberry preserve as my filling with lots of almond flavor in the icing. This combo is just the best!
Strawberry Lemon: Strawberry jam with a lemon glaze is bright and refreshing. Use lemon juice in the glaze instead of almond extract.
Salted Caramel: For this version, fill the cookies with caramel sauce and drizzle a chocolate icing (adding some cocoa powder in place of the powdered sugar!) top with flakey sea salt.
Lemon Bar: Fill with tart lemon curd and top with a simple vanilla glaze or a dusting of powdered sugar in this version.

Can I make these cookies in advance?
Yes! I like to bake the cookies and freeze them in an airtight container before filling/icing them. They will last for up to a month in the freezer or a week in the fridge.
Why confectioner's sugar instead of granulated sugar in this cookie dough?
This is my first recipe using this method to create tender cookies with a soft melt in your mouth texture and it worked so well!
My other favorite holiday cookie recipes:
This post contains affiliate links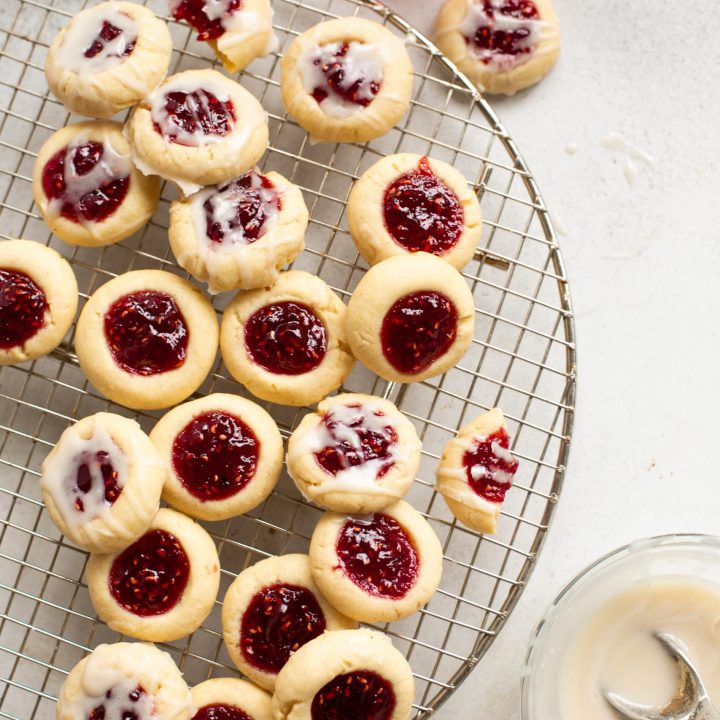 Thumbprint Cookies with Icing
Yield:
About 2 dozen cookies
A soft and buttery shortbread cookie with jam filling and a sweet icing on top.
Ingredients
1 stick unsalted butter, at room temperature
⅓ cup powdered sugar
1 teaspoon vanilla extract
⅛ teaspoon almond extract
¼ teaspoon salt
1 large egg yolk
1 ¼ cups flour
1/2 cup jam, preserves, or curd of choice
For the Icing:
1/2 cup powdered sugar
1 tablespoon of milk or cream
1/4 teaspoon almond extract
Instructions
In a mixing bowl cream together the butter and powdered sugar.
Add in the egg yolk and extracts and cream until smooth.
Add the flour and salt and mix until just combined. Dough will appear crumbly but should come together into a nice ball when you gather it all together with your hands.
Use a small scoop to portion 1/2 inch rolled dough balls and distribute evenly on a cookie sheet. (These cookies don't spread much.)
Use your thumb or the bottom of a rounded wooden spoon to make an indentation in the middle of each cookie.
Pipe or spoon jam or other filling inside the cookies.
Bake at 325F for 13-15 minutes, or until the edges are firm and just barely turning golden.
In a small bowl mix together the icing ingredients, adding more liquid or powdered sugar as needed for desired consistency.
Cookies can be stored at room temperature for 3-5 days in an airtight container or 7-10 days in the fridge.