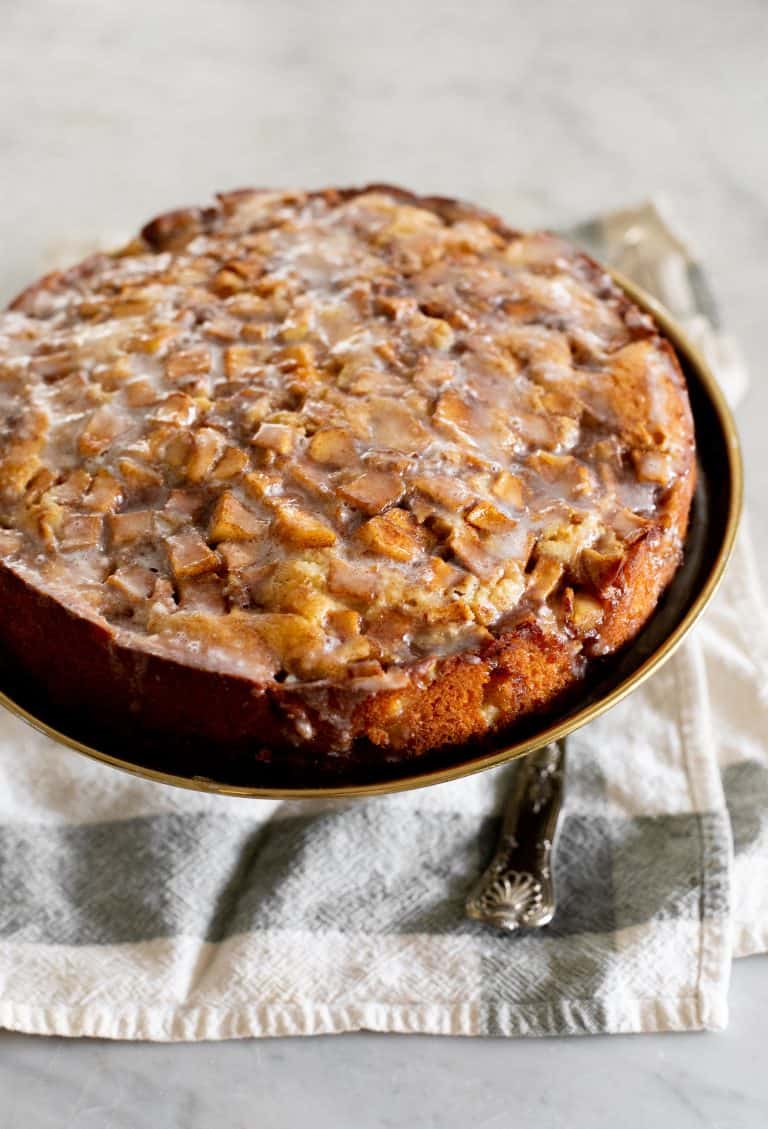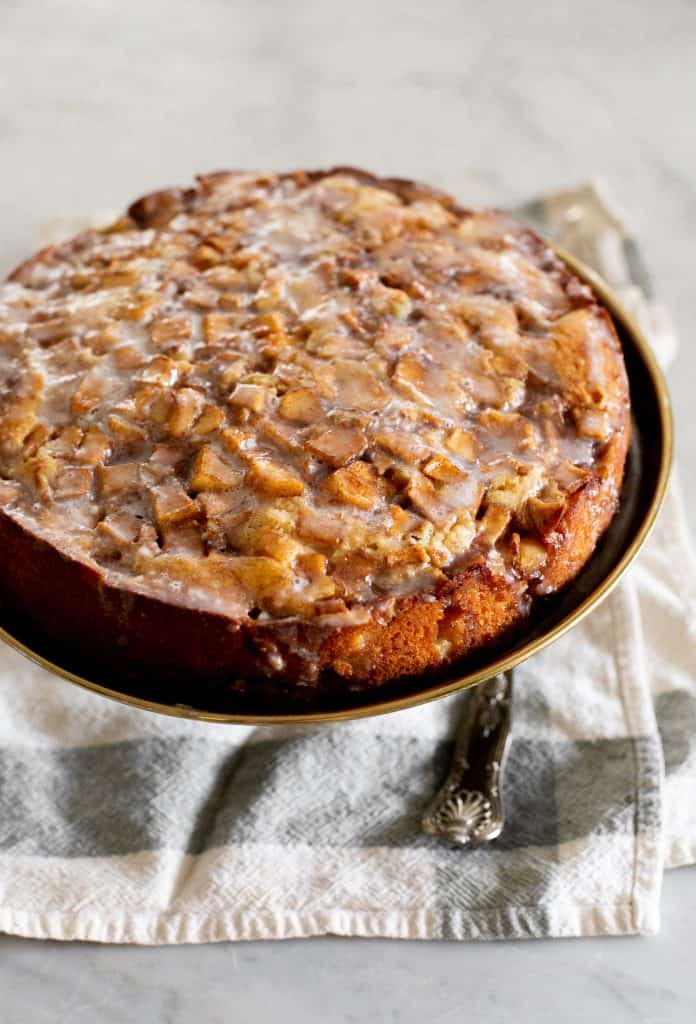 Fall is here! There is a chill in the air and all I want is a cozy sweater and a trip to the apple orchard.
Bags of picked apples mean load of apple recipes and this is a great one. This is a delicious glazed apple cake loaded with chunks of juicy apples and a sweet glaze on top. The goal was to imitate my favorite old fashioned doughnut- an apple fritter, and I think I did it!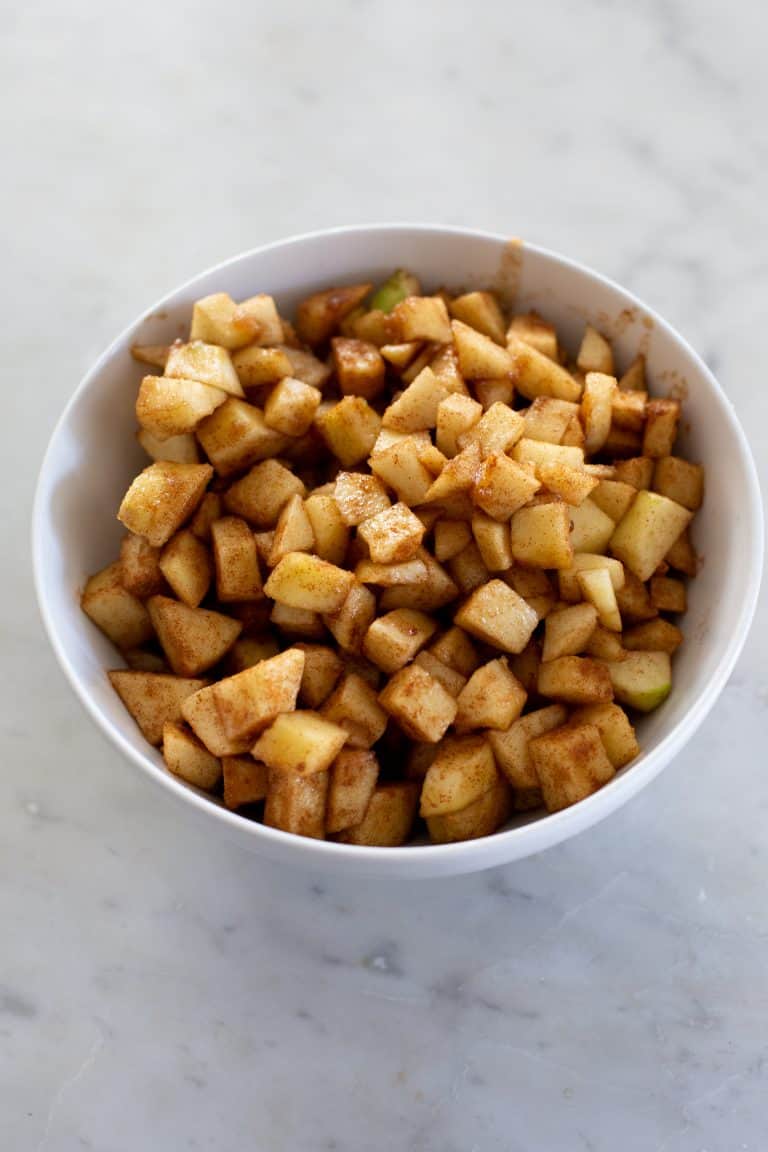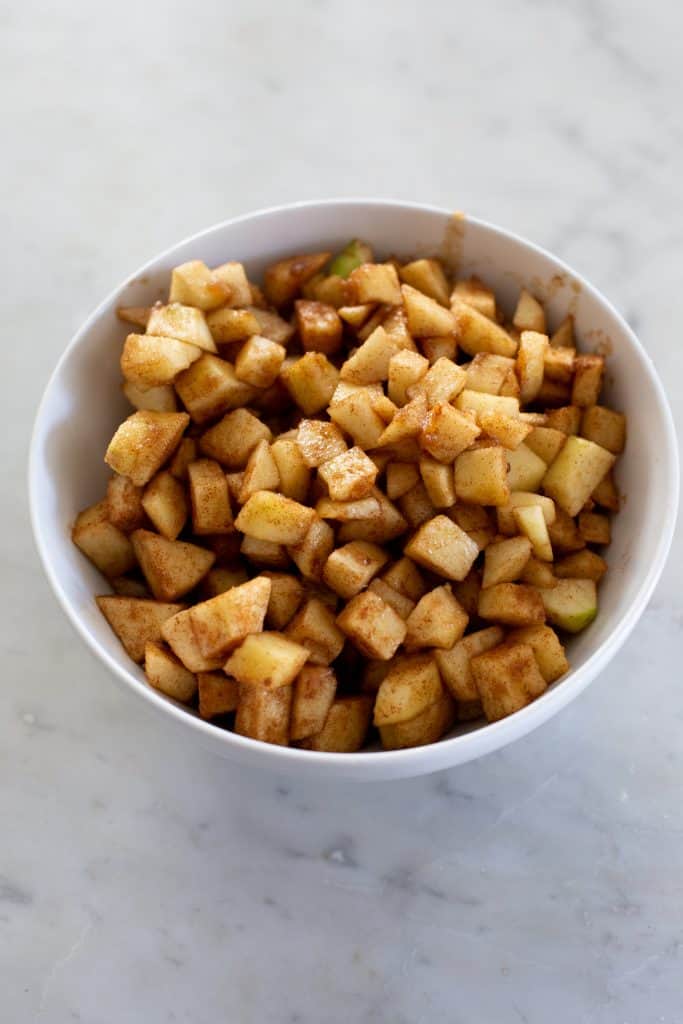 This cake is a simple recipe involving a basic batter and a luscious filling of cinnamon apples in every bite. The flavor of homemade apple fritters wouldn't be complete without the final component- an almost crunchy sweet glaze on top so I couldn't skip that either. I served this Apple Fritter Coffee Cake with a warm cup of coffee for some Mom friends and it was huge hit. If you make it please let me know!

Ingredients needed for Apple Fritter Cake Recipe:
All Purpose Flour
Baking Soda
Salt
Butter
Milk
Eggs
Vanilla
Cinnamon
Brown Sugar
Vanilla extract
Lemon juice
Apples
Powdered sugar

Supplies needed for Apple Fritter Cake
Large Mixing Bowl
Electric Mixer
Medium Sized Bowl for Apple Topping
9 inch round baking pan (I used a springform pan.) or 8×8 square baking pan
Parchment paper
Rubber Spatula
The Process:
Peel and dice apples and then add them to the medium bowl. Toss with cinnamon, brown sugar, vanilla and lemon juice and set aside.
In a large bowl cream butter and sugar until smooth. Add the eggs (best at room temperature,) and vanilla and then the dry ingredients alternating with the milk until a smooth batter is formed.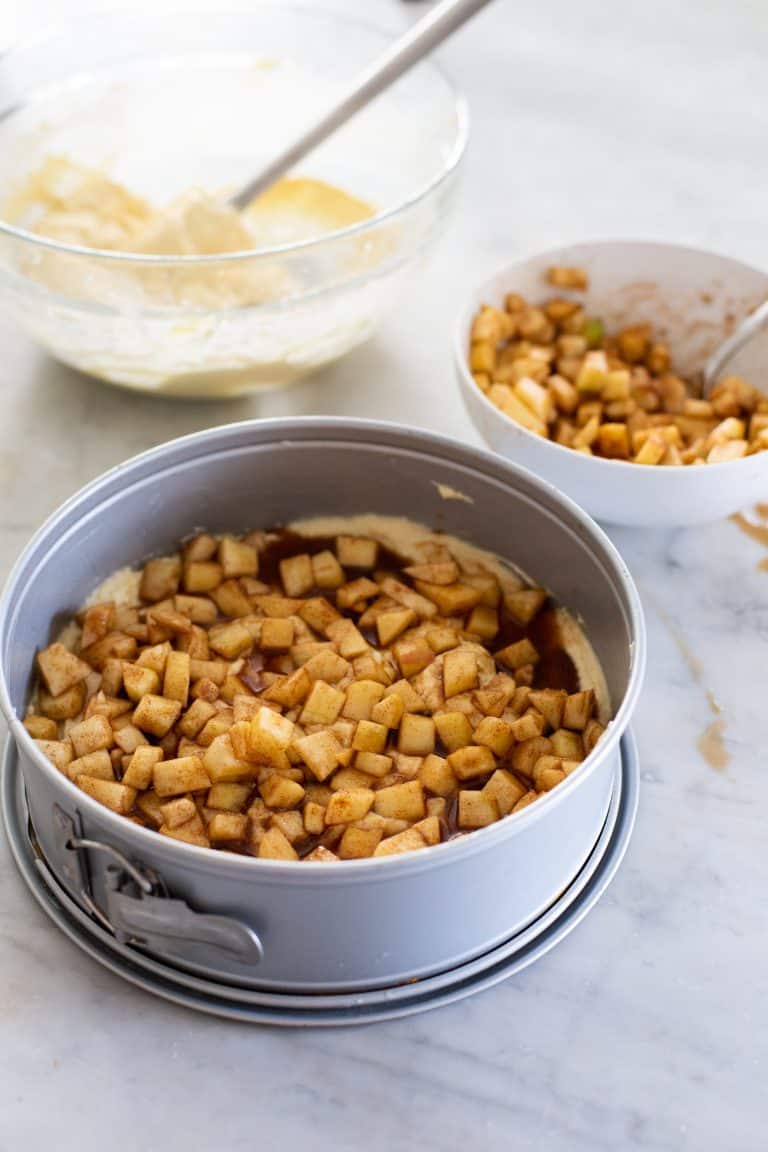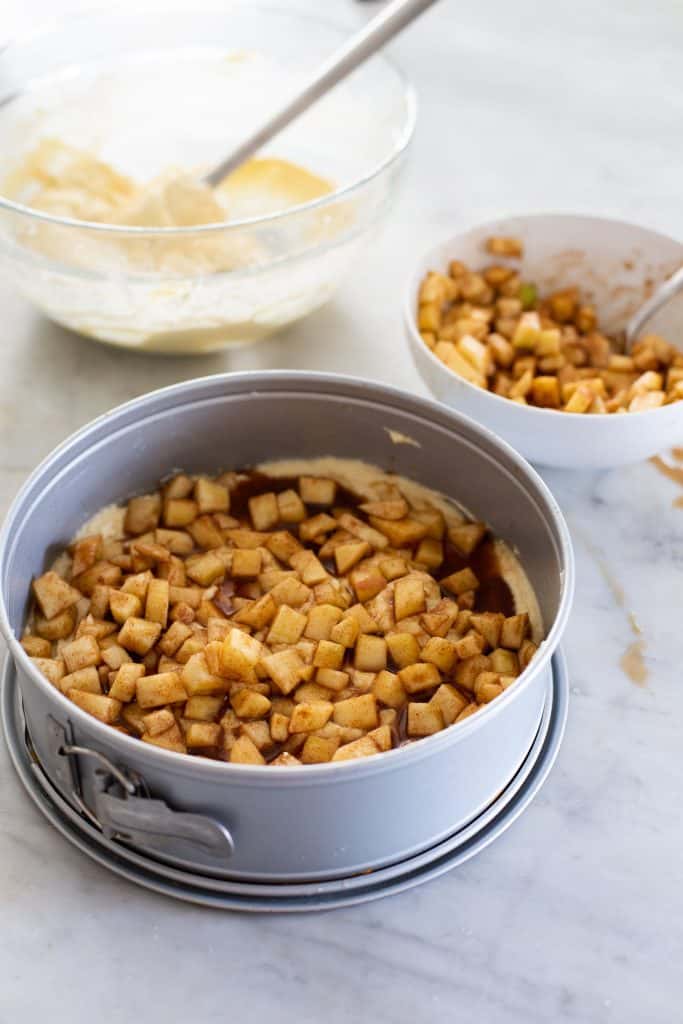 Prepare your pan and spoon half the batter into the pan. Then add half the apple-brown sugar mixture to the top of the batter, the last half of the cake batter and then the rest of the apples. Press the top of the apple filling in gently. Bake in preheated oven for 45-55 minutes and cool slightly. Whisk together glaze ingredients and pour glaze over the warm cake. Allow a crispy sugar glaze to form and then slice and enjoy!
What type of apples is best to use for this recipe?
I used honey crisp because that's what I had on hand, but any tart apples would do. I also like granny smith!
I don't have milk- can I use anything else?
Yes you can sub sour cream or a 1 cup greek yogurt or regular plain yogurt for the milk.

What is the best pan to use for this cake:
I used a deep 9 inch springform pan and it was perfect. I would think an 8×8 or 9×9 square pan or even a bundt pan would also be perfect. The one thing to keep in mind is that you don't overfill whatever pan you use. This cake has been known to overflow when baked in a too-small pan. So make sure not to fill the pan more than 3/4 of the way full- give lots of room to rise. If your pan is too small you can always make a few muffins with leftover batter.
Why do my ingredients need to be room temperature?
When you use cold ingredients like milk and eggs they can chill your butter and leave it clumpy. When everything is room temp is will blend more easily and smoothly.

How to store Apple Fritter Cake?
Leftover cake can be wrapped in plastic wrap or store in an airtight container for up to a week in the fridge or 3 days on the counter.
Other favorite apple desserts:
Apple Cinnamon Cake with Brown Butter Frosting, Salted Caramel Apple Pie Bars, Rosemary Apple Pie, French Apple Custard Cake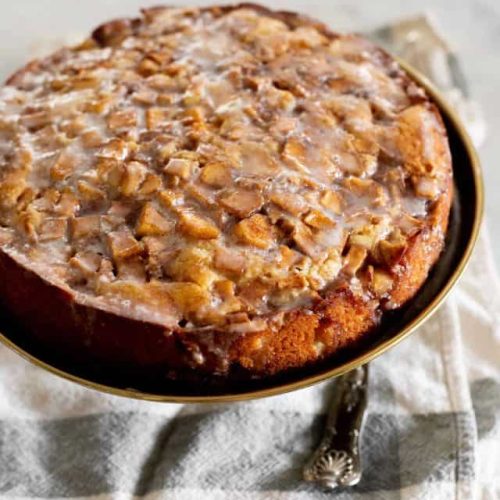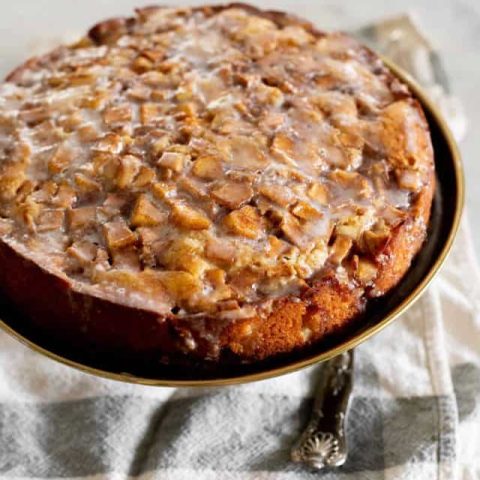 Apple Fritter Cake
Total Time:
1 hour
5 minutes
A moist fall cake that will remind you of your favorite donut- the apple fritter!
Ingredients
For the cake:
2 1/4 cups (270g) All purpose flour
2 1/2 teaspoons baking powder
3/4 cup (149 g) white sugar
1 teaspoon salt
1/4 teaspoon freshly grated nutmeg
12 tablespoons (170g) unsalted butter, room temperature
3 large eggs, at room temperature
2 teaspoons vanilla extract
1 cup milk at room temperature (240g)
For the filling:
3 1/2 cups of apples, diced (396g)
1/2 cup plus 1 T brown sugar (123g)
2 teaspoons cinnamon
juice of 1 lemon
For the glaze:
1 cup powdered sugar (110 g)
3 tablespoons milk (43g)
1 teaspoon vanilla extract
Instructions
In a medium sized bowl combine the apples, brown sugar, cinnamon, lemon juice and 1 teaspoon vanilla. Toss to combine and set aside.
In a large bowl with an electric mixer (or the bowl of a stand mixer with the paddle attachment,) cream the butter and sugar until smooth and fluffy. Add the eggs, one at a time, followed by 1 teaspoon vanilla extract.
Combine the dry ingredients in a small bowl and then sprinkle half of it on top of the batter. Alternate adding milk and the dry ingredients, ending with the rest of the flour, until the batter is smooth but not over-mixed. (I always like to end with a rubber spatula.)
Prepare your pan with nonstick spray or butter and flour it. If using a square pan you can line it with parchment. Spoon half of the batter into the pan, add half the apple brown sugar cinnamon mixture, top with the rest of the batter and then the remaining apples.
Bake at 350F for 45-55 minutes or until a cake tester inserted into the center of the cake comes out clean. When cake has cooled run a butter knife around the edges and release from pan if desired.
Prepare the glaze and pour over warm cake. Enjoy
Notes
Recipe adapted from King Arthur Flour