How to Reheat Cinnamon Rolls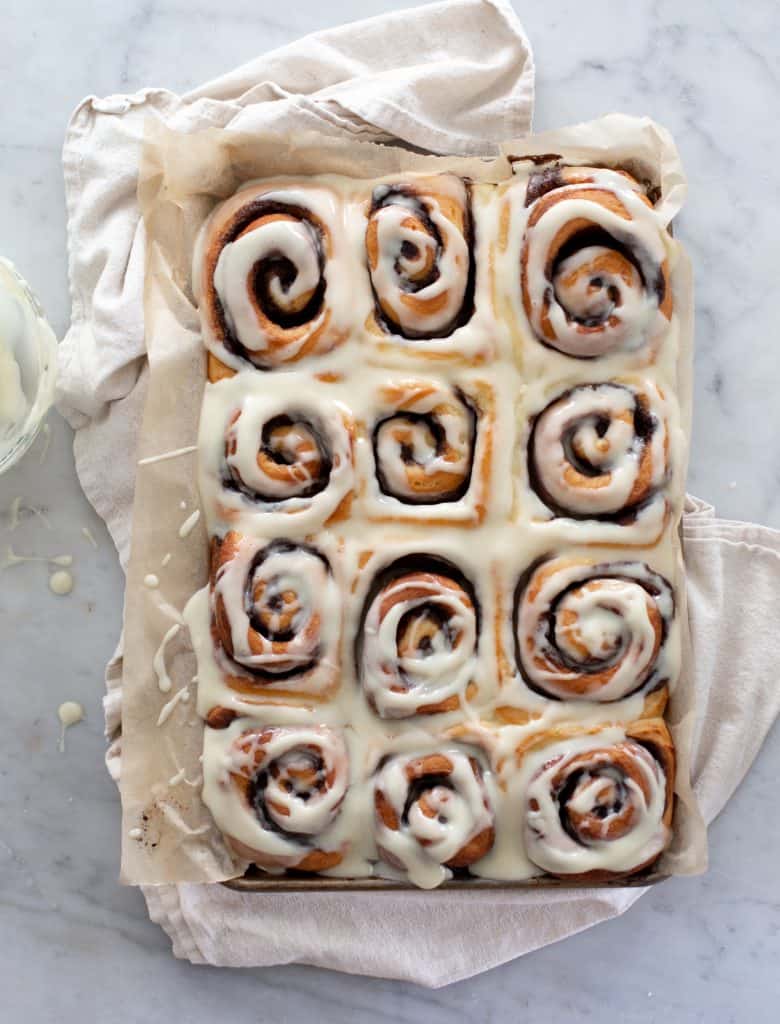 Freshly baked cinnamon rolls are a a wonderful treat for a cozy morning or special occasion. If you make them often, the recipes are usually for 12 rolls, and sometimes with a smaller group it's hard to eat a whole batch of cinnamon rolls in one go. This post is outlining some of the different ways to reheat cinnamon rolls and retain their texture and flavor.
First up let's talk about storing cinnamon rolls. I suggest letting them cool to room temperature before putting them in an airtight container or plastic wrap in the fridge or freezer.
If you know you won't be eating them all right away wait to frost them. The best option is to save some glaze or cream cheese frosting and to store the cinnamon rolls unfrosted. Then the next day or whenever you are ready to reheat them, they will still be fresh.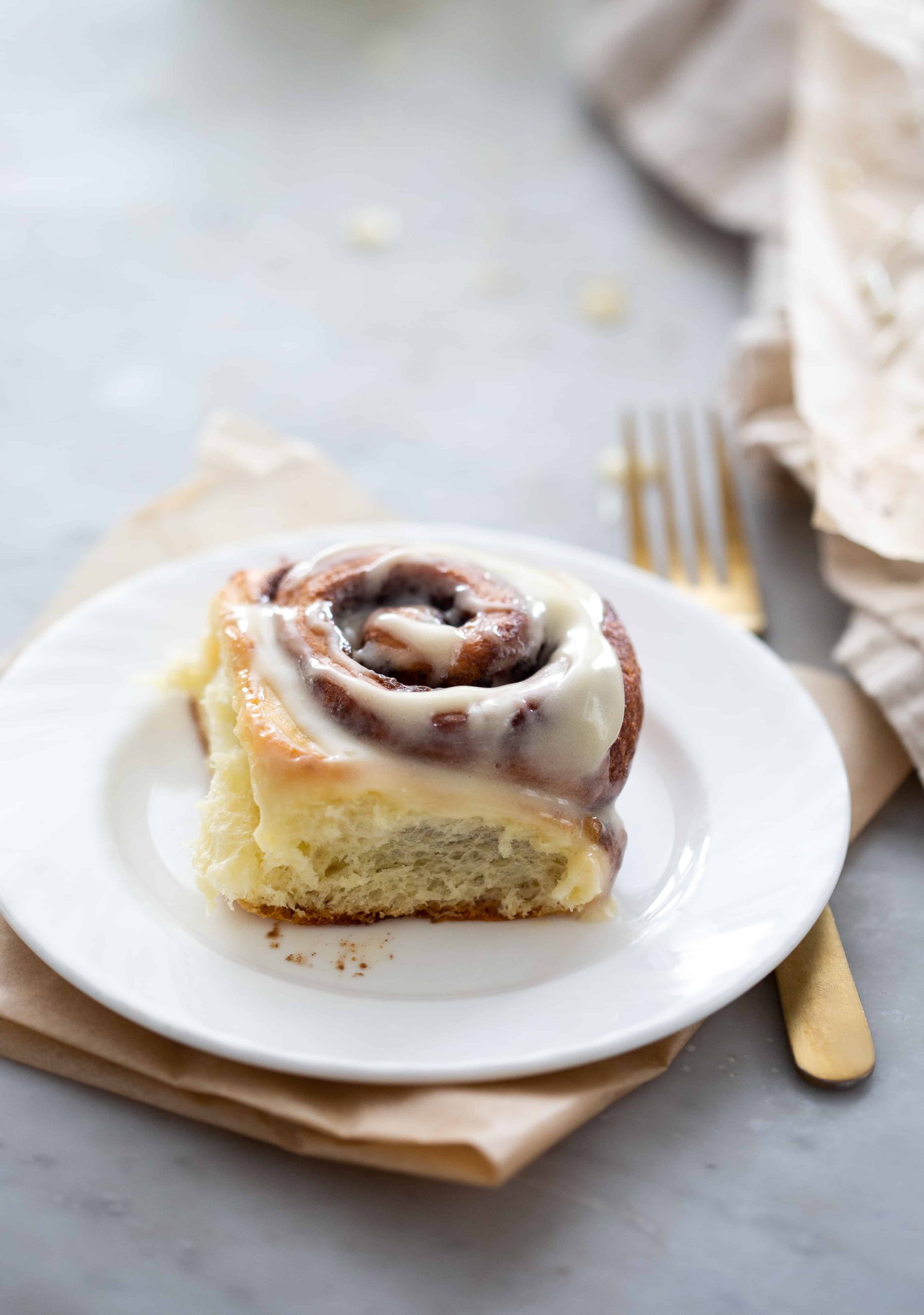 If you freeze your baked cinnamon buns, always let them thaw on the counter and come to room temperature before trying to reheat them. Same for if you are just storing them in the fridge.
Best ways to reheat cinnamon rolls:
Microwave with damp paper towel
Air Fryer
Oven
Supplies used to reheat leftover cinnamon rolls:
Parchment Paper
Small baking tray
Microwave-safe plate
Paper Towel

First reheating method- Microwave:
This is a super convenient method that creates some steam in the microwave and transforms leftover homemade cinnamon rolls that may be hard or cold into warm, gooey cinnamon rolls. If I don't have much time- this is always how I get the best results. It's also how many coffee shops and bakeries reheat cinnamon rolls in a pinch!
First step: Lightly wrap your roll in a piece of paper towel dampened with about 1 tablespoon of water and microwave for 30 seconds- 1 minute depending on your own microwave wattage. Mine is pretty powerful so 20-30 seconds does the trick. This reheating process is simple and fast and gives great results. The extra step of using the damp paper towel keeps the cinnamon roll soft and gooey.

Air Fryer:
I know not everyone has an air fryer, but if you do, I find this to be a great method to warm up your delicious cinnamon rolls. I turn the heat to 300 and on the baking pan or a piece of aluminum foil place the cinnamon roll in the air fryer basket and cook for about 3 minutes. You can check your roll at this point and see if it's warm on the inside, if not give it a minute or two more. This cinnamon roll ends up a little bit toasty on the outside, but I love the texture in combination with the gooey glaze. You can also put a bit of butter on top of the cinnamon roll which will make the top extra gooey.
The Oven Method:
This method is my personal preference if I have plenty of time. Preheat the oven to 275F and place a cup of water in a shallow baking dish on a lower shelf of the oven.
Place the cinnamon roll on a baking pan and bake for 10-15 minutes or until the roll is warmed through.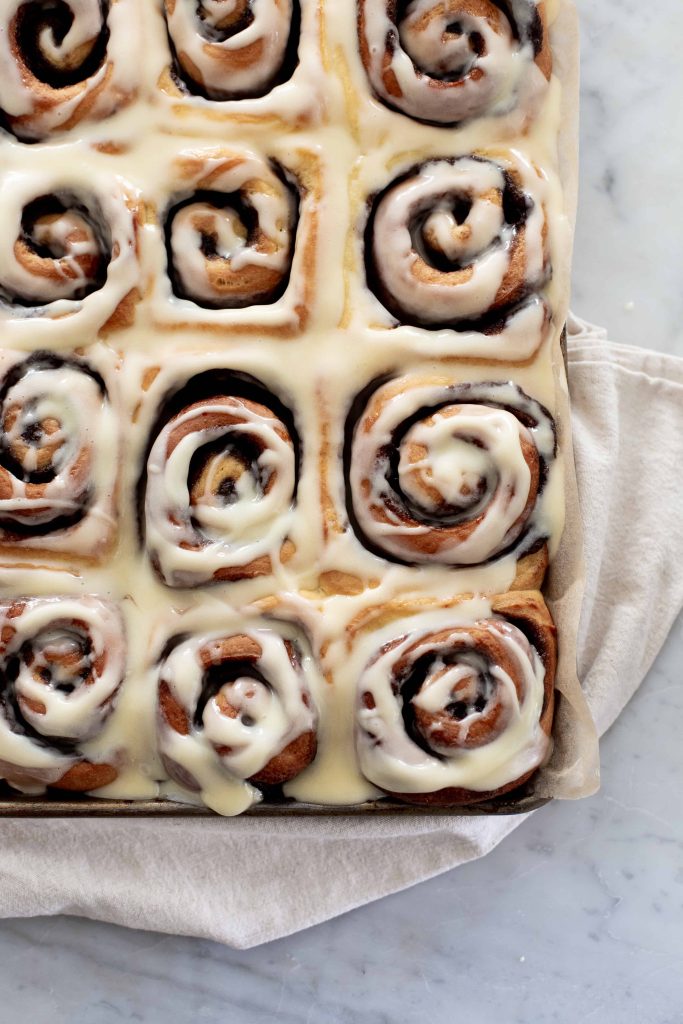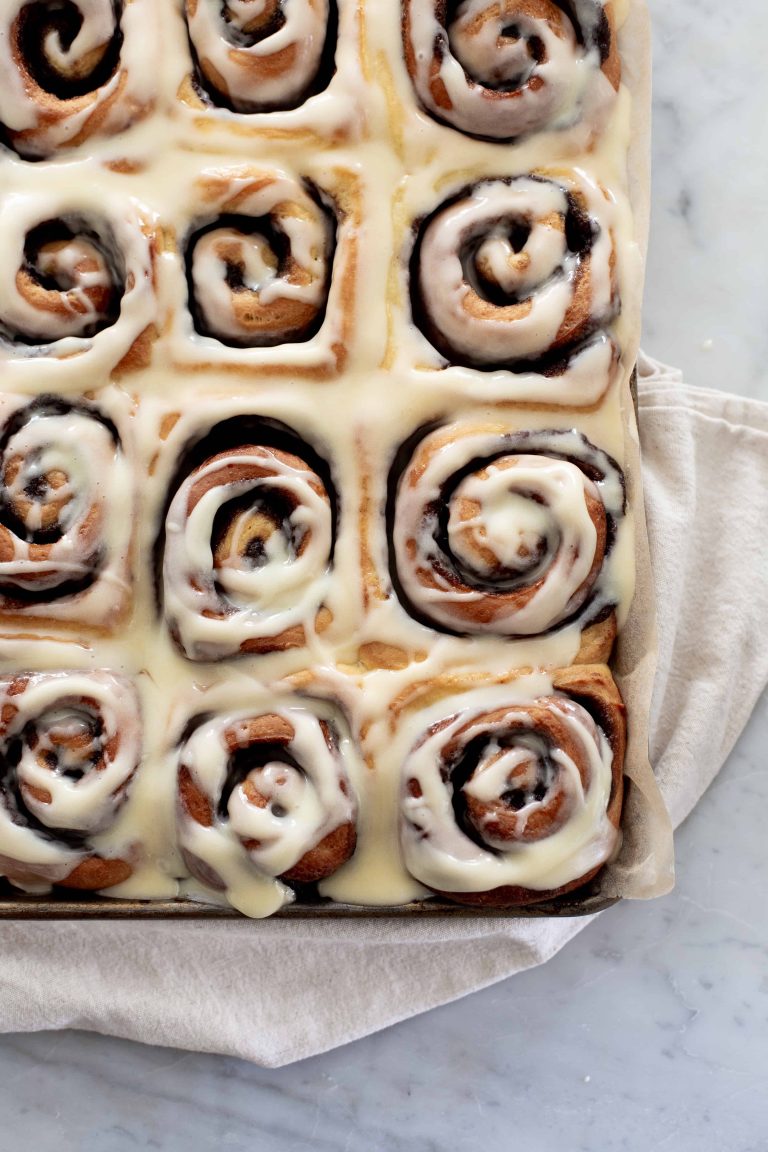 Make sure to check out my favorite quick Cinnamon Roll Recipe: 90 Minute Brown Butter Cinnamon Rolls. Or if you have a little more time- these Brioche Cinnamon Rolls are to die for! This method also would work well for Lemon Poppyseed Buns or Dark Chocolate Swirl Buns!
To Summarize:
Next time you make a large batch of freshly-baked cinnamon rolls, don't despair that you have extras. They can hang in the fridge or freezer for a couple of days and using different methods you can easily warm them up . Reheated rolls can be just as warm and delicious as fresh cinnamon rolls and there are lots of options on how to do it.