Caramel Glazed Pumpkin Scones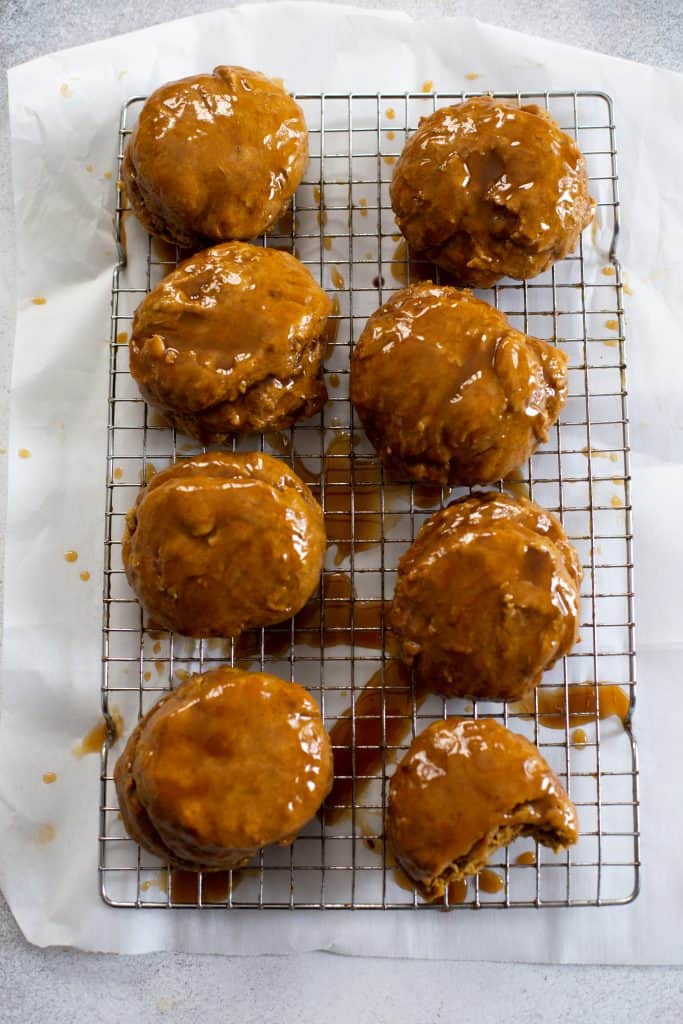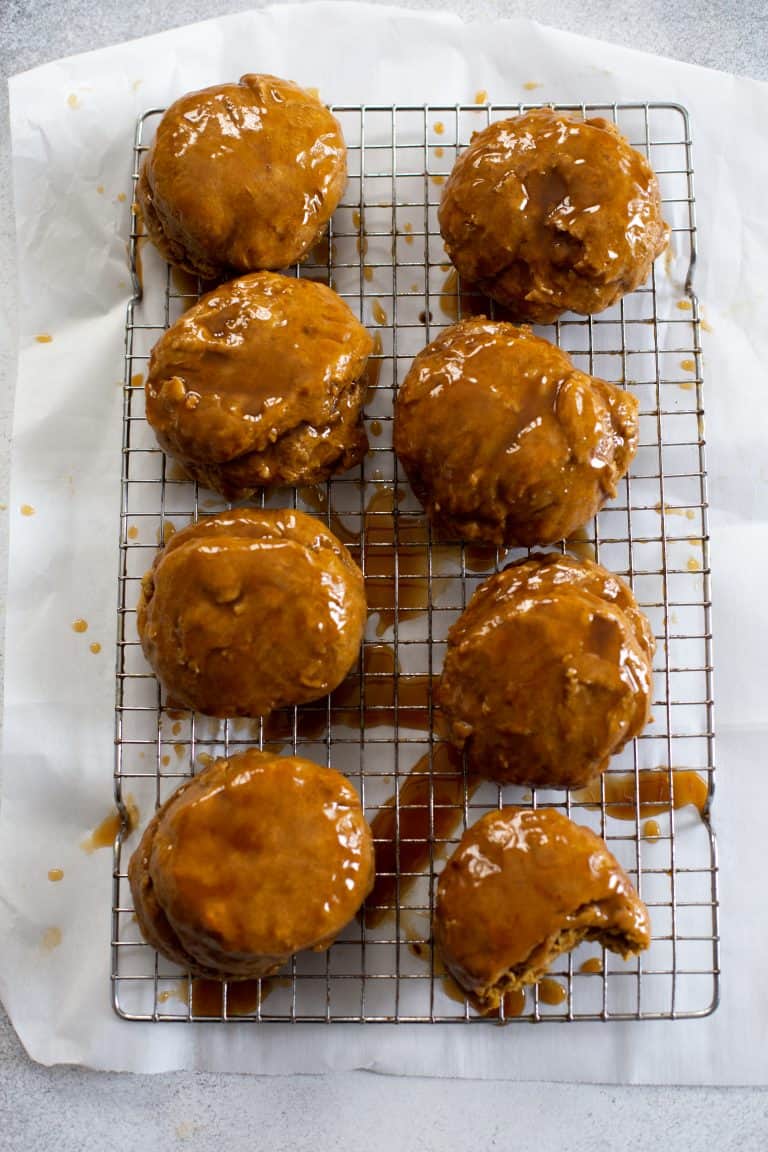 When visiting New York City, there is an overwhelming amount of amazing food options. You can honestly and truly eat any kind of food you ever want at any given moment. I mean it wasn't until I'd already lived here a couple of years when I discovered a lovely spot called Alice's Tea Cup.
It is any whimsical, sparkle-loving girl's dream come true with it's fairy-tale decorated walls, fancy china and some of the most delicious baked goods I've had. After a lovely afternoon sipping Indian Chai and snacking on tea sandwiches and scones, I knew this place was my new favorite. And since then, I probably go there at least twice a month. It is the perfect "Let's meet for an afternoon-snack-bite-something" place.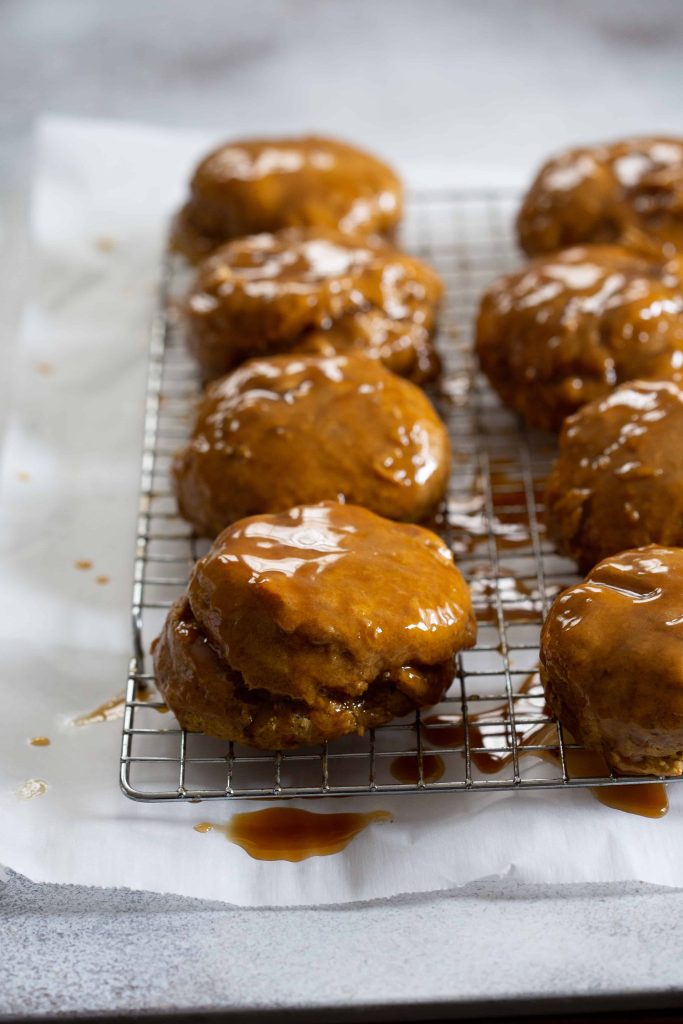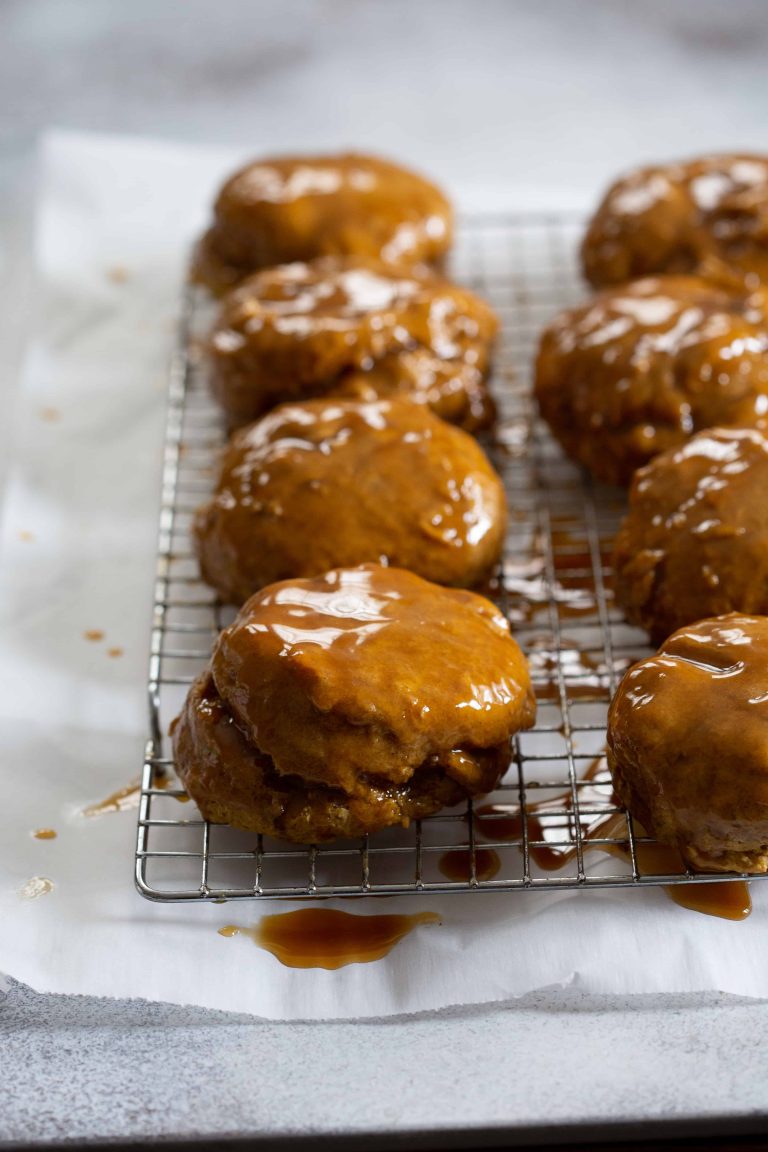 There is one item on Alice's menu that is ordered every time I go without fail. Even in the middle of the hot summer, a visit isn't complete without one of their pumpkin scones. It is just so incredibly good that I sometimes have to take a couple to go. They are so spicy, and soft and the caramel glaze is perfection. They are served warm with cream and jam. With a cup of hot tea, nothing is more delicious I tell you!!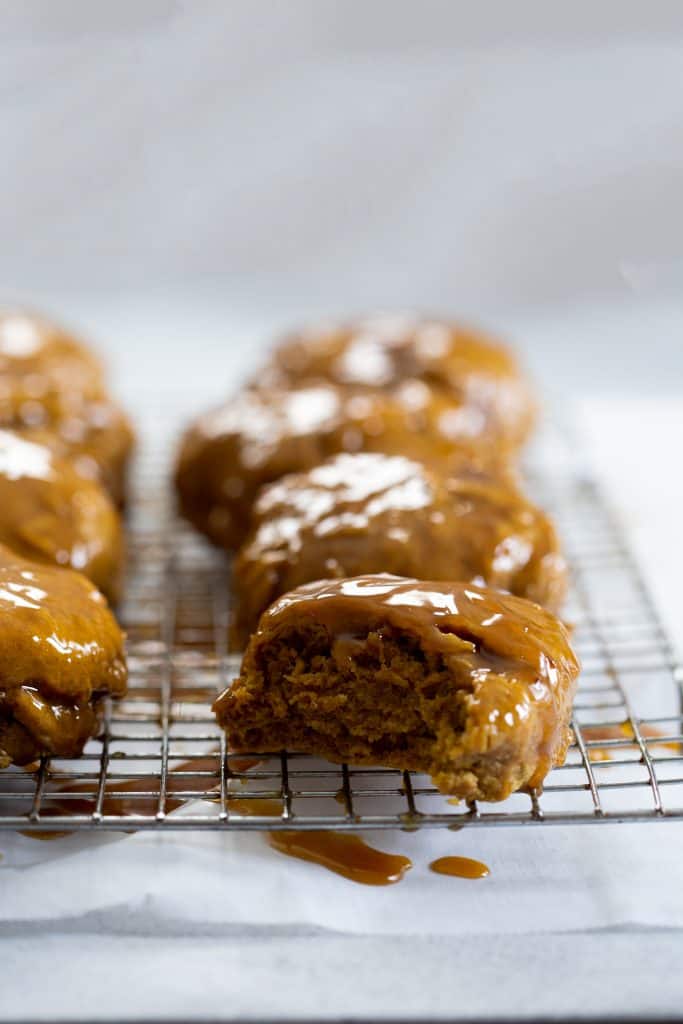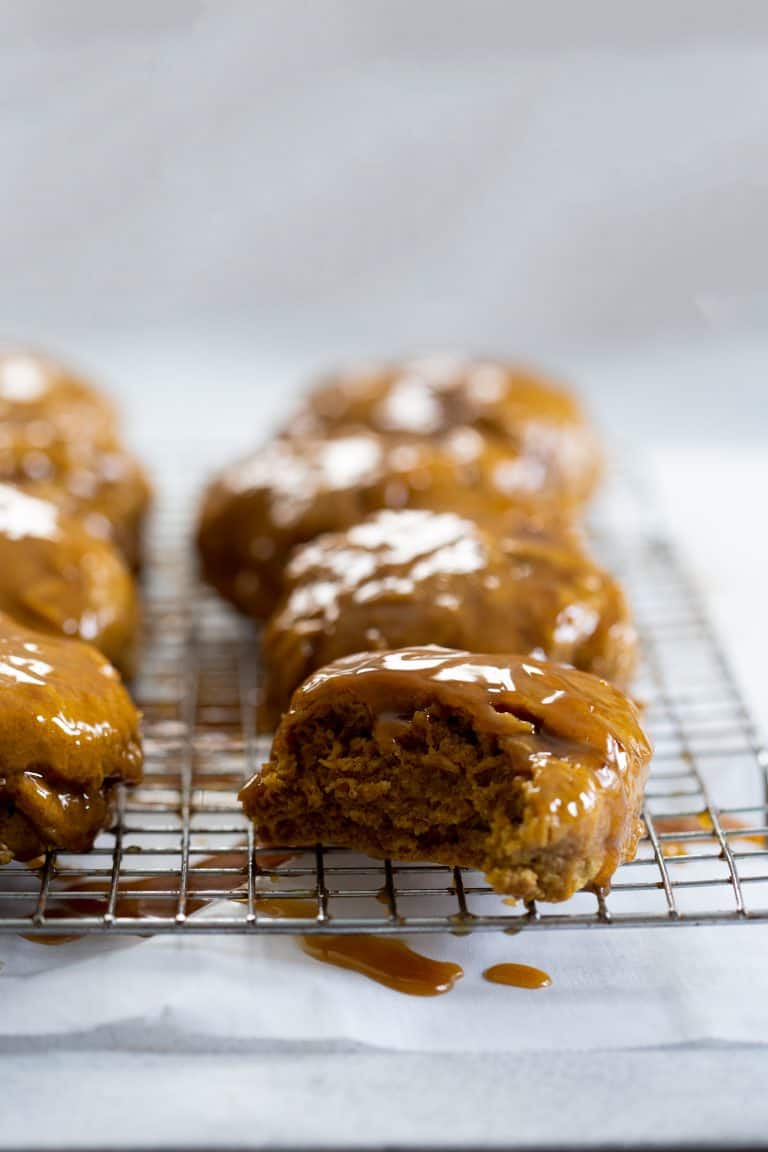 Ingredients needed for Alice's Tea Cup Pumpkin Scones:
All Purpose Flour
Sugar
Brown Sugar
Baking Soda
Baking Powder
Salt
Ginger
Cinnamon
Butter
Buttermilk
Pumpkin Puree
Vanilla
Cream
These are NOT your typical dry crumbly scone, (which I personally don't really care for.) I like my scones to have a bit of a crisp edge, but for the insides to be tender and buttery. These are almost gooey with the sticky glaze and soft texture from the pumpkin. The are bursting with spice and flavor and I beg you to make them asap!
Do I really need 3 tablespoons of cinnamon and ginger!?
YES. Don't skimp on the spices in these scones- that's what makes them so iconic.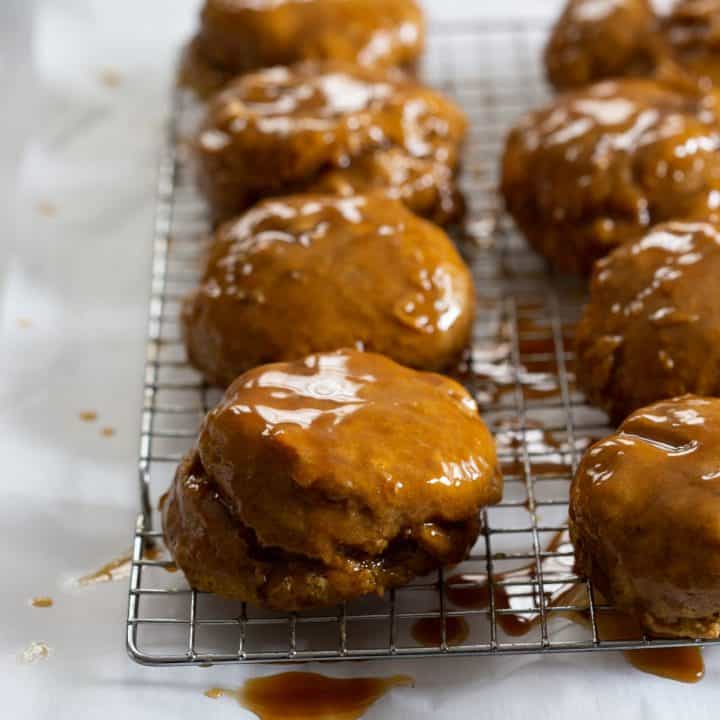 Alice's Tea Cup Pumpkin Scones
Additional Time:
10 minutes
Alice's Tea Cup's famous Caramel Glazed Pumpkin Scones!
Ingredients
For the scones:
3 cups all-purpose flour
⅓ cup sugar
½ teaspoon baking soda
2-1/2 teaspoons baking powder
3/4 teaspoon kosher salt
3 tablespoons ground ginger
3 tablespoons ground cinnamon
1-1/2 sticks (3/4 cup) unsalted butter, cut into ½-inch pieces
3/4 cup-1 cup buttermilk
1 cup canned pumpkin puree
2 tablespoons pure vanilla extract
Caramel glaze:
1 stick unsalted butter
½ cup firmly packed light brown sugar
¼ teaspoon freshly squeezed lemon juice
⅛ teaspoon kosher salt
¼ cup heavy cream
Instructions
Preheat the oven to 425 degrees
In a large mixing bowl, combine the flour, sugar, baking soda, baking powder, salt, ginger, and cinnamon.
With clean hands, work the butter into the dry mixture until it is thoroughly incorporated and has the consistency of fine breadcrumbs. (Or use a pastry cutter)
Make a well in the center of the dry ingredients, and pour the buttermilk, pumpkin puree, and vanilla extract into the well. Using a wooden spoon, combine ingredients until dry mixture is wet. Don't over mix.
Use a 3-inch biscuit cutter dipped in flour to cut out your scones, combining the scraps as needed. Place on a parchment or Silpat-lined baking sheet 2 inches apart. Bake for 12 minutes or until puffy and golden.
While the scones are cooling, prepare the caramel glaze: Place the butter, brown sugar, lemon juice, and salt in a saucepan over medium heat and whisk gently until the mixture is smooth. Just as the mixture comes to a light boil, add the heavy cream and reduce the heat to low. Whisk well for 2 minutes, or until the glaze is thickened and smooth; then remove the pan from the heat.
To glaze a scone, hold it by the bottom, dip the top in the warm caramel glaze, and place it back on the baking sheet. (I used salad tongs to help me with this!)