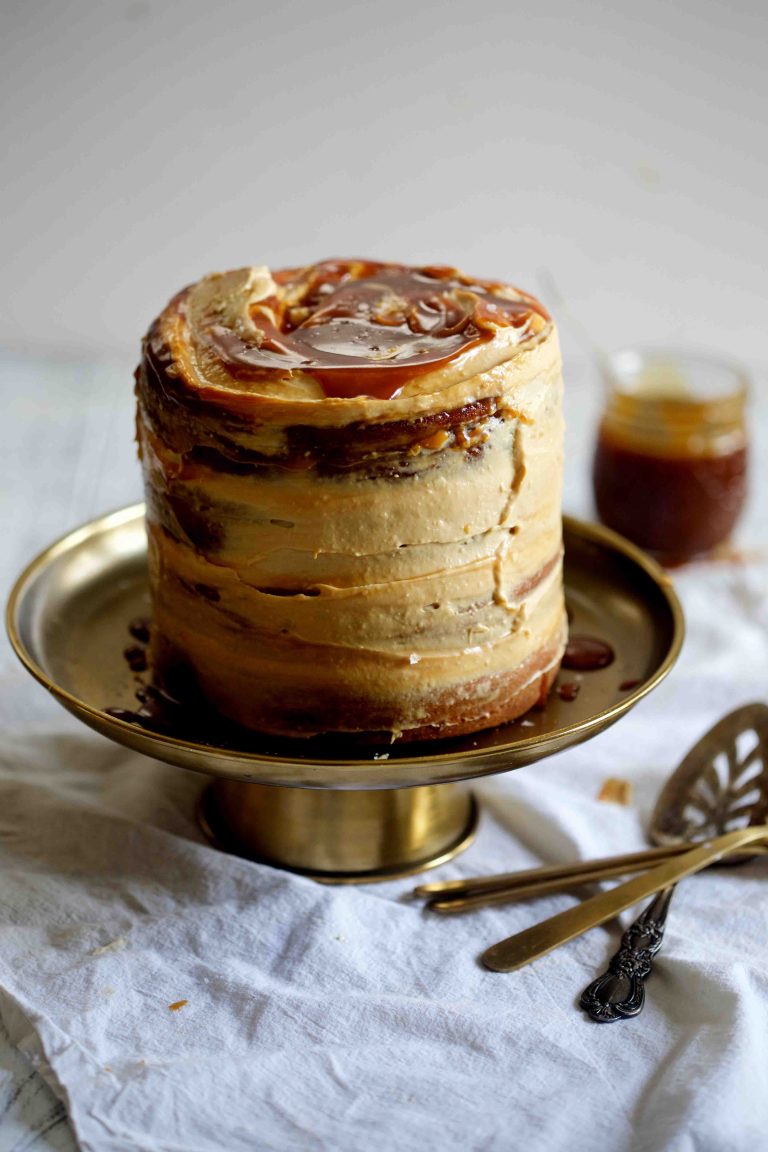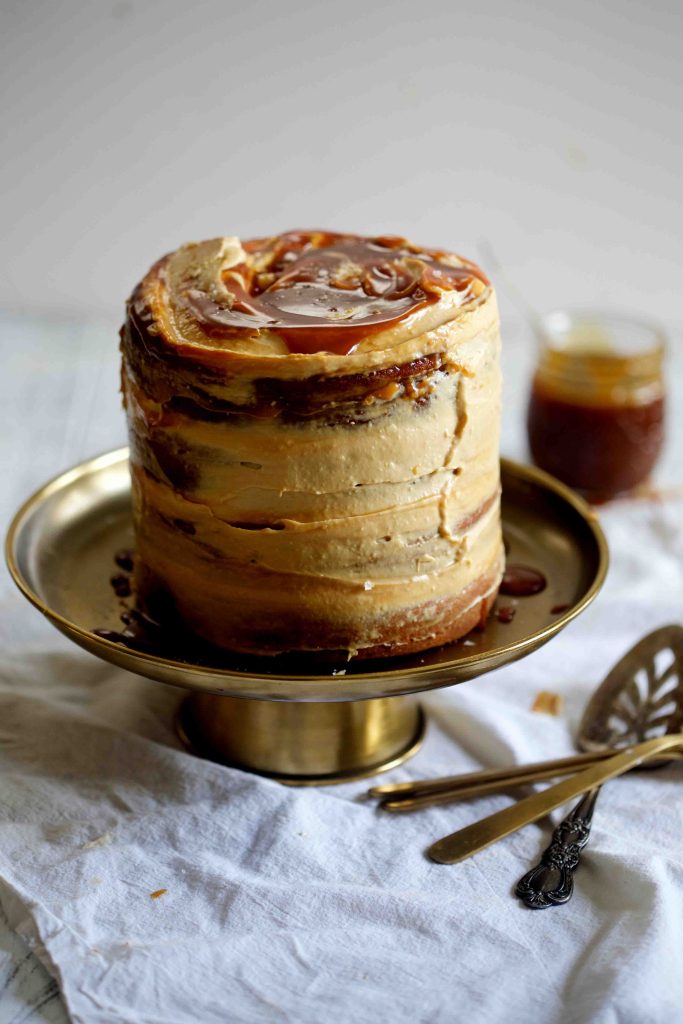 Halloween is over and now my mind is on one thing…..Thanksgiving! Are you with me?
The month of November is one of my favorite's as a food blogger, because I love inspiring you with ideas for your dinner and of course dessert table!
Today I'm sharing a recipe I've loved for years. In fact I made it on the blog 7 years ago today but thought it needed a fresh new post and a bit of a revamp. It's as wonderful of a recipe now as it was then though- and I've tweaked it a bit to make it even better!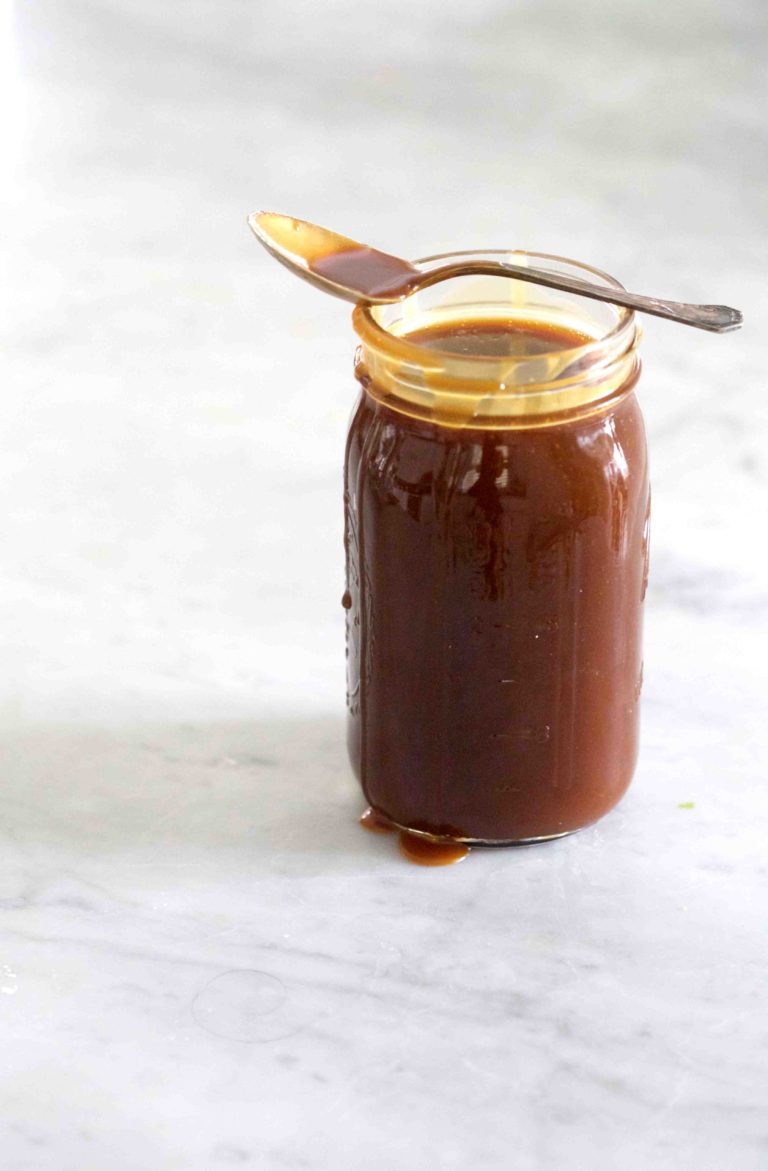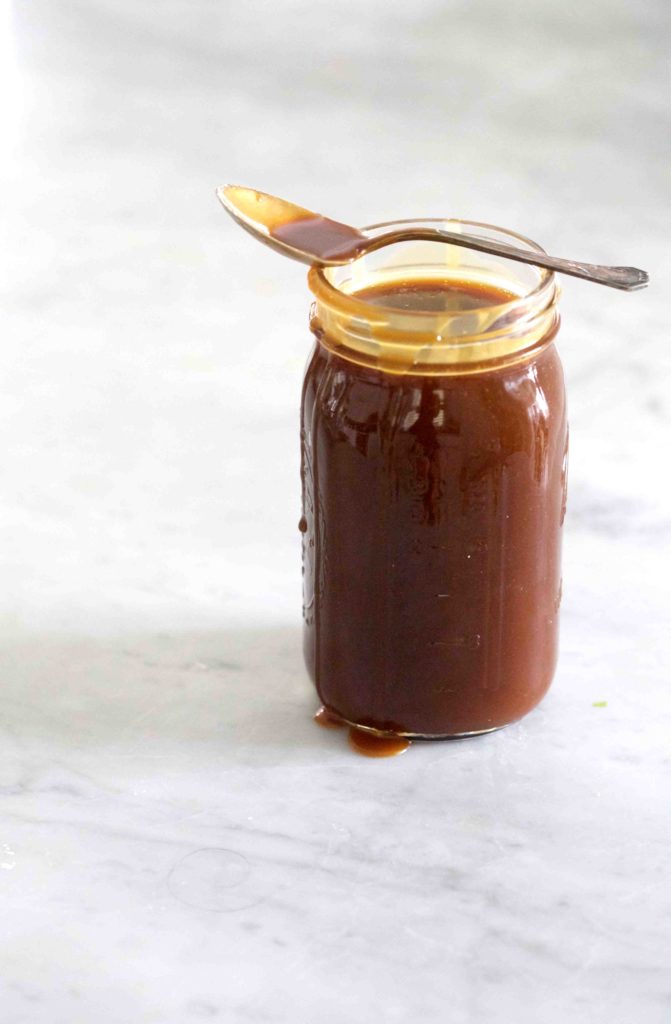 I adore pie, but am also a huge fan of a show-stopping fall dessert to change things up a bit during the fall. This cake is all of that and more. A perfectly moist and textured cake, a rich caramel-y cream cheese frosting, and of course a generous drizzle of homemade salted caramel sauce!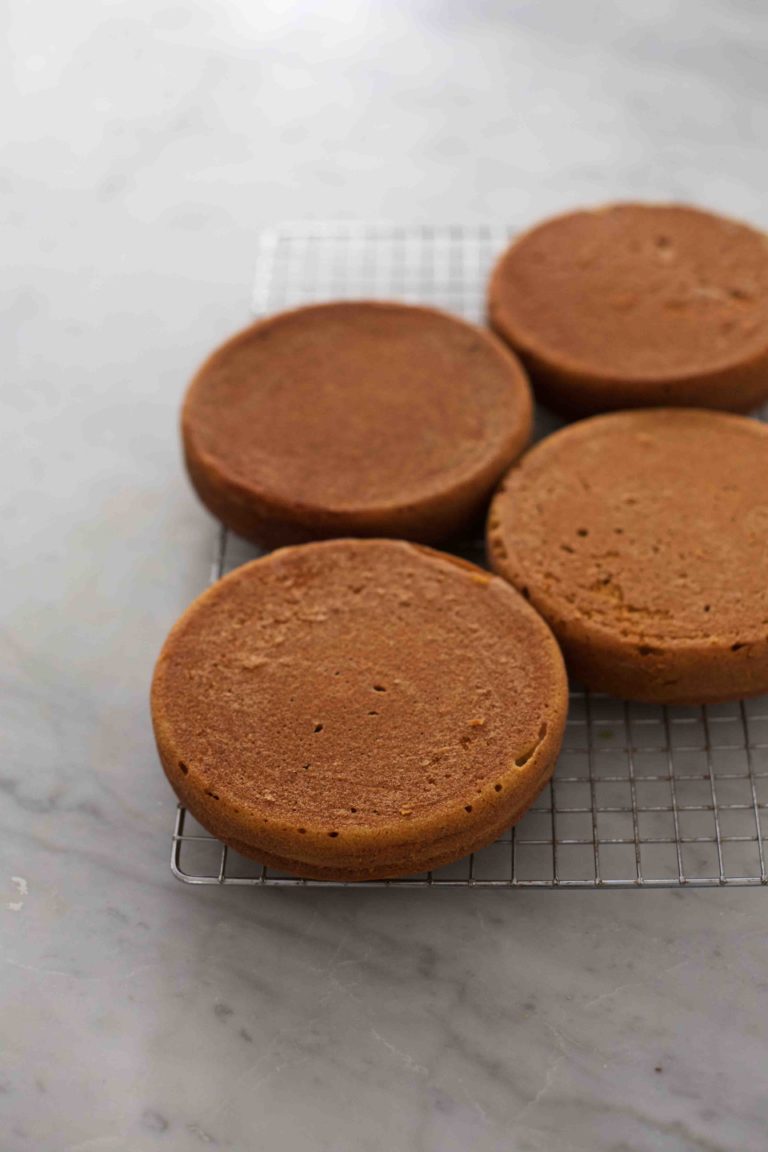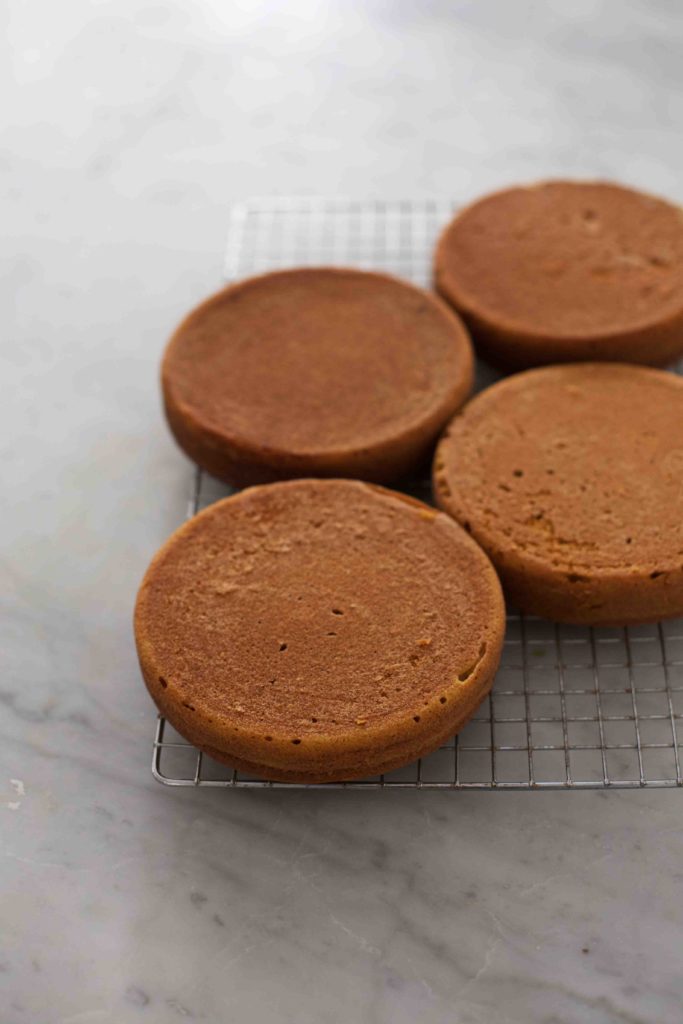 I baked this cake in 4 layers using separate 6-inch pans, but you could also use 2 or 3 8-inch pans.
This would also be great as a bundt cake with the frosting on top, similarly to what I did in the Pumpkin Buttermilk Bundt Cake with Brown Butter icing. (It's actually the same cake recipe!)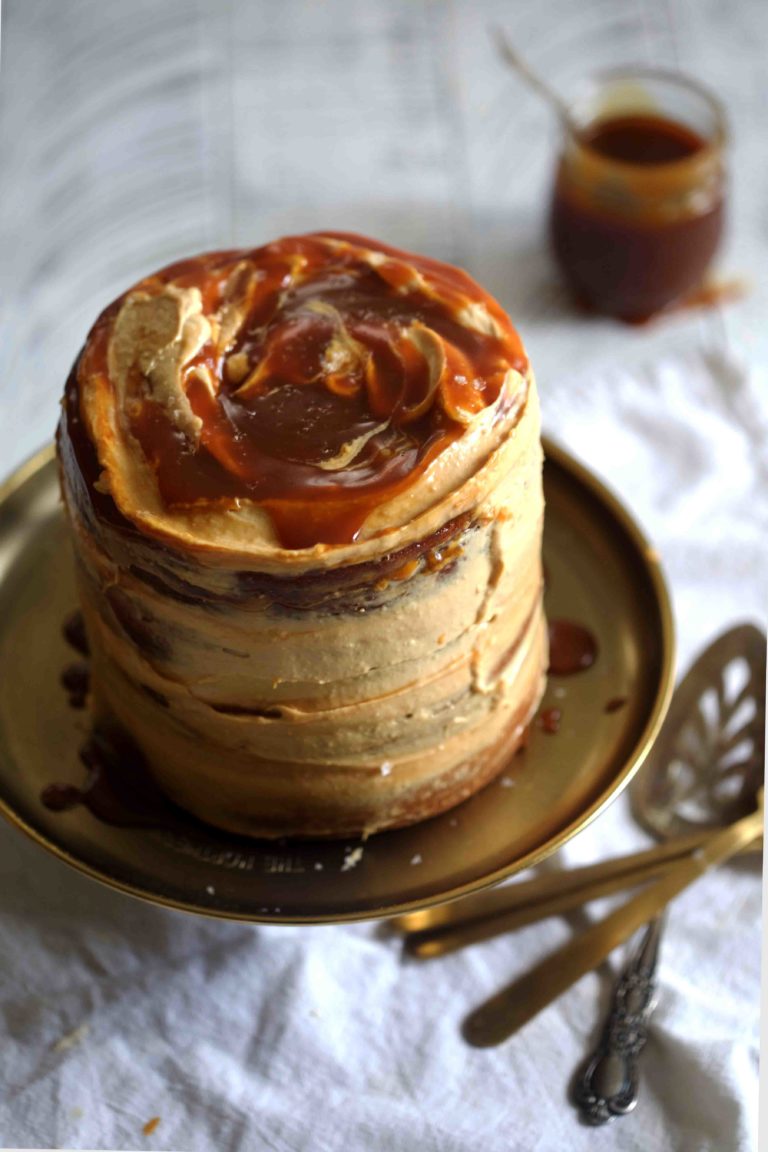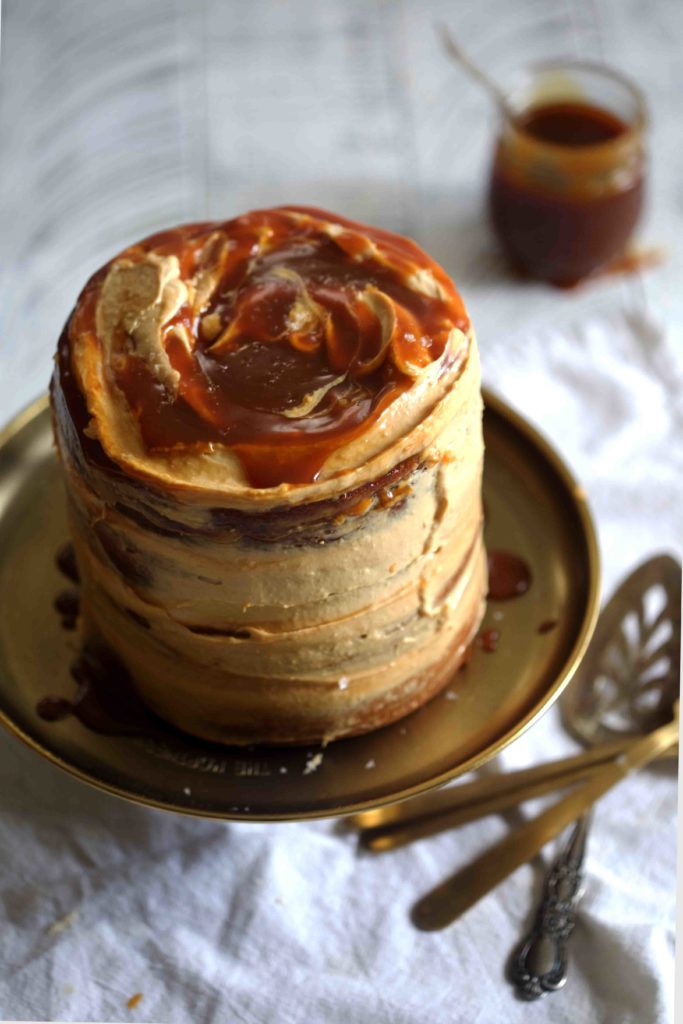 Everyone that tried this cake was over the moon for it. I let my caramel sauce get nice and dark which gave the frosting a rich slightly smoky flavor which was to die for. Trust me you must make this! (PS I made a double batch of my Salted Caramel Sauce and I really recommend you do too!)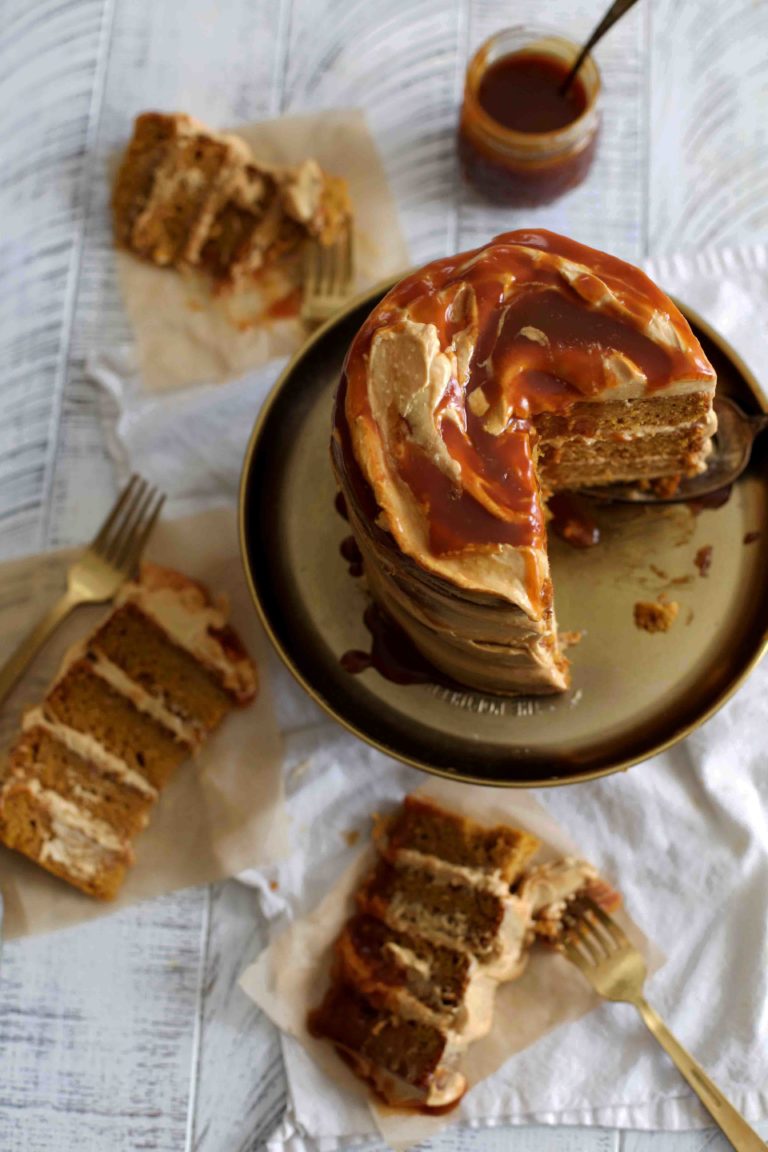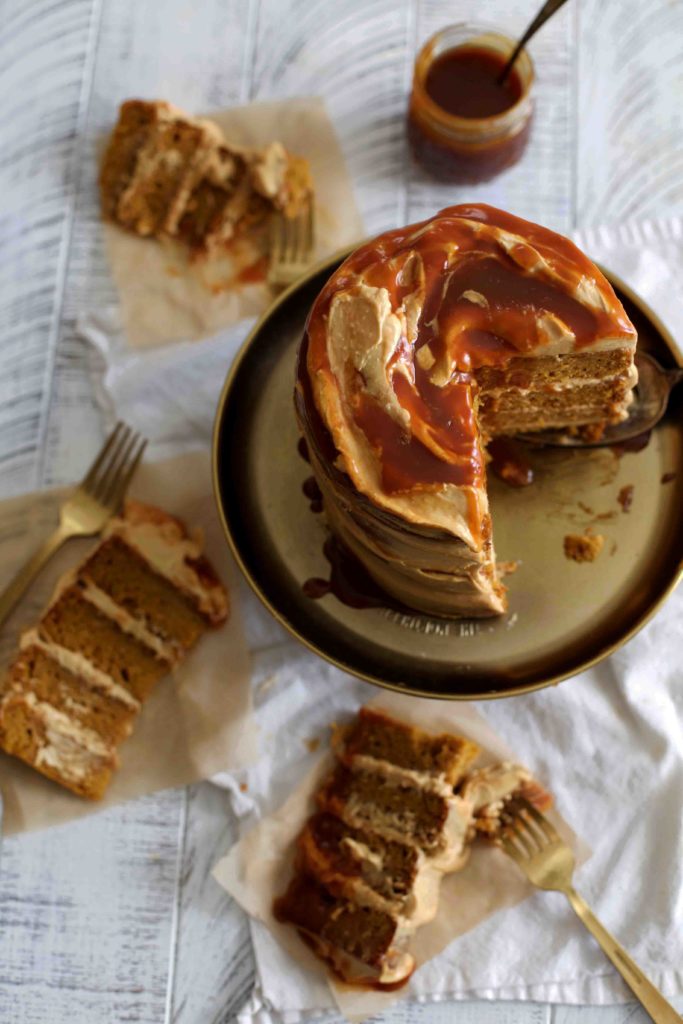 What I love about this frosting is that it only contains cream cheese and caramel sauce, nothing else! That does mean it needs a bit of time to chill in the fridge, so plan accordingly and make it first and let it hang while the cake is baking. (I usually speed this up in the freezer!) Enjoy!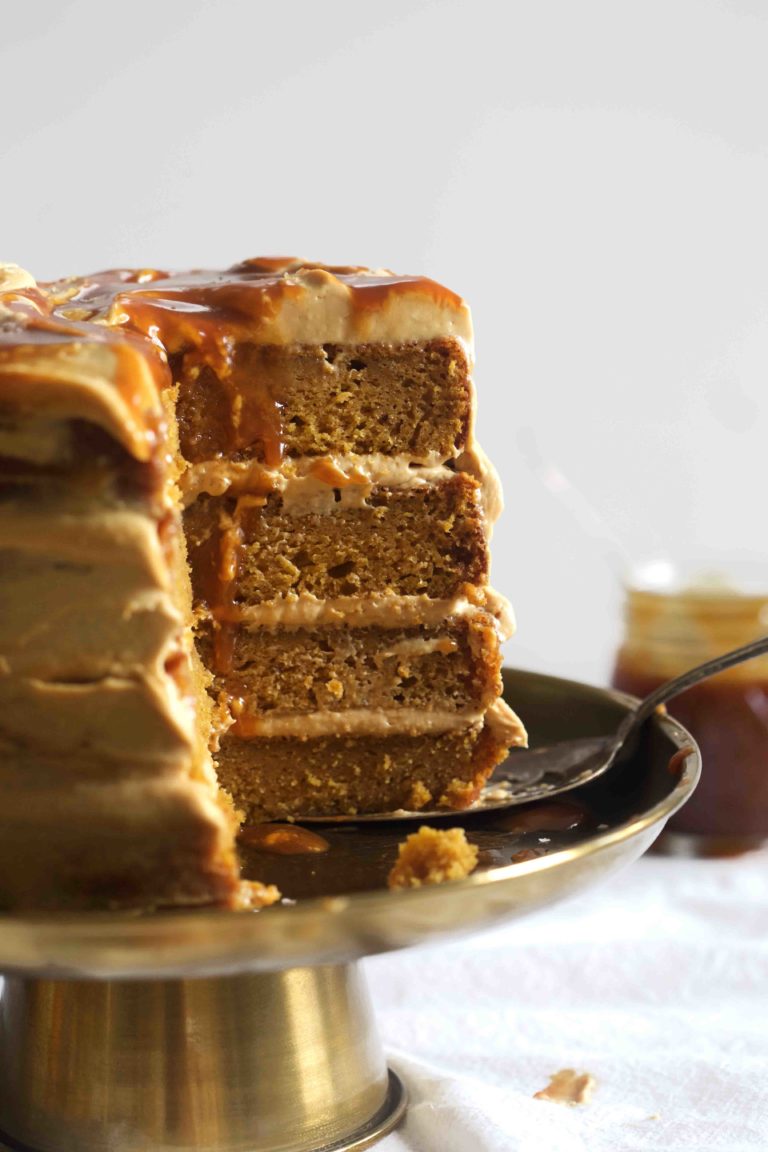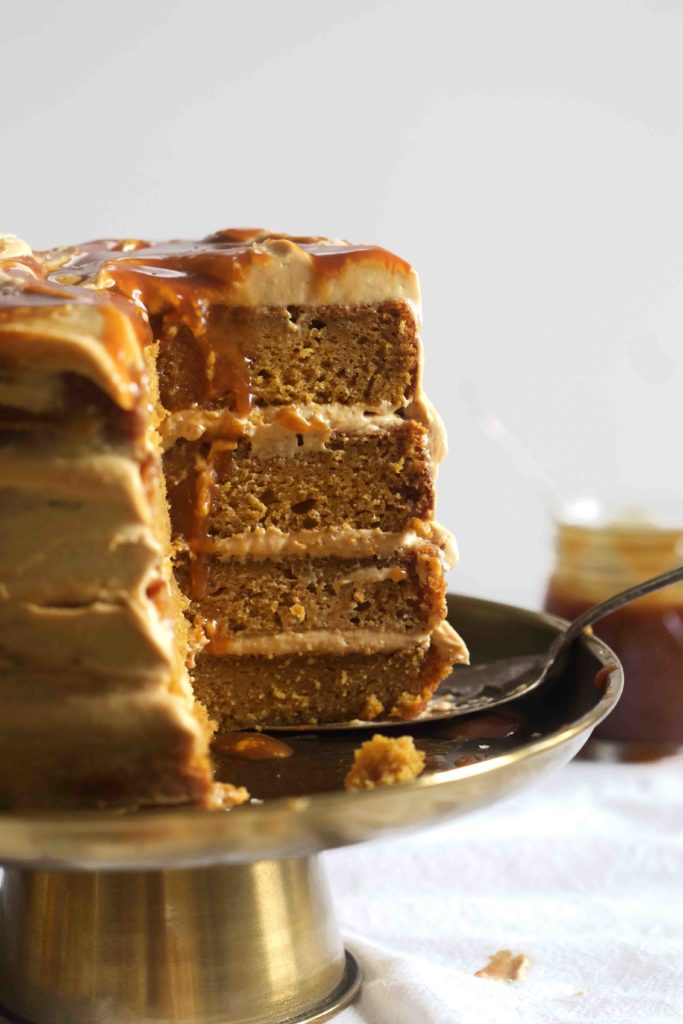 Pumpkin Salted Caramel Layer Cake
A perfectly textured pumpkin cake with a cream cheese and salted caramel frosting: perfection!
Ingredients
Frosting:
Cake:
2 cups all-purpose flour
2¼ teaspoons baking powder
1 teaspoon salt
1 teaspoon cinnamon
1 teaspoon ground ginger
¾ teaspoon baking soda
½ teaspoon freshly grated nutmeg
¼ teaspoon ground cloves
1¼ cups light brown sugar
4 large eggs
¾ cup vegetable oil
One 15-ounce can pumpkin puree
½ cup whole milk
Extra salted caramel sauce for drizzling (optional)
Instructions
Transfer the hot caramel to a large bowl and using an electric mixer, beat at low speed until the caramel cools slightly and comes together, about 5 minutes.
With the mixer on, beat in the cream cheese, 1 cube at a time and beating well between additions, until silky.
Transfer the frosting to a bowl and refrigerate until very firm. (this took about 90 minutes in the freezer for me, but you can also chill in the fridge for several hours.)
For the cake:
Preheat the oven to 350°. Butter and flour 4 6-inch cake pans (or 2 or 3 8 inch pans.)
In a medium bowl, whisk the flour with the baking powder, salt, cinnamon, ginger, baking soda, nutmeg and cloves.
In a large bowl, using an electric mixer, beat the brown sugar and eggs at medium-high speed until fluffy, 3 minutes. Beat in the oil, then the pumpkin puree. Alternately add the dry ingredients and the milk in 3 batches, starting and ending with the flour, mixing until just combined. (Don't overmix!)
Pour the batter into the prepared pans.*
Bake for 40 to 45 minutes, until a toothpick or knife inserted into the center of the cake comes out clean. Let cool in the pans for about 20 minutes.
Run a knife around the edges to loosen the cakes, then invert them onto a wire rack to cool completely.
Place one layer of cake on a cake plate and layer with the frosting and cake. Drizzle with salted caramel sauce.
Notes
*I chose to weigh my pans before baking to make sure they were all filled equally, but this is optional!
One batch of my
Salted Caramel Sauce
should be enough for the frosting and a little extra to drizzle on top!
Recipe adapted from
Food and Wine