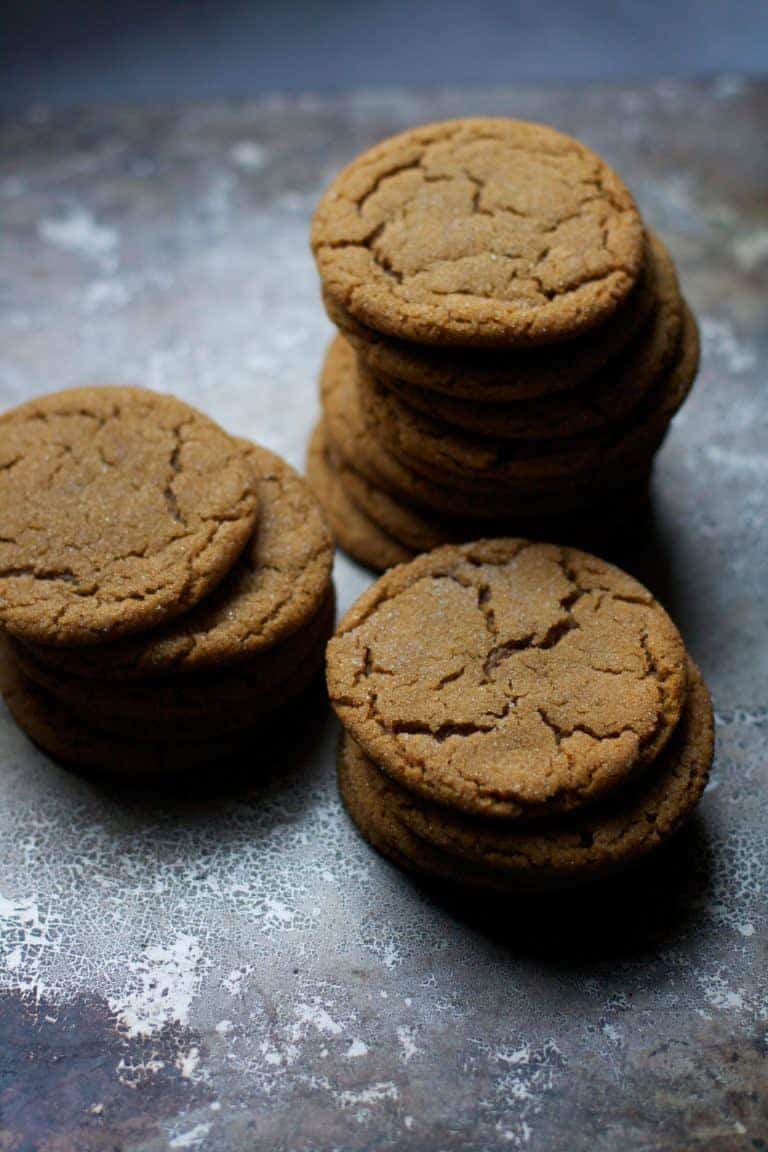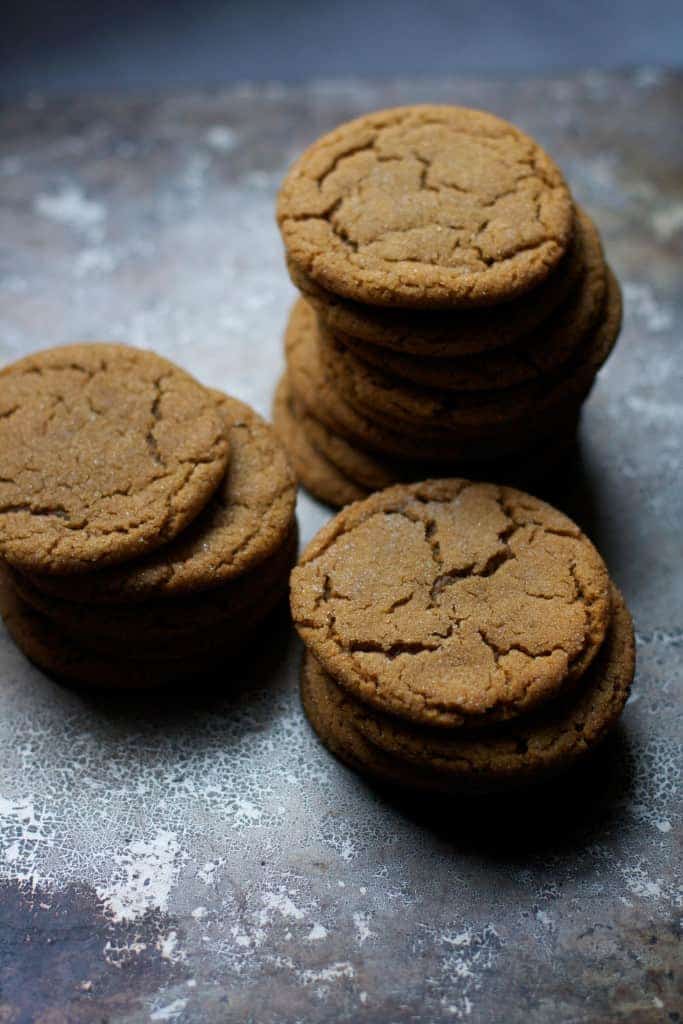 I thought I was done with my cookie baking- I really did. In fact- I had big plans to not bake anything until Christmas Eve so I could give my body a bit a of a break from the sweets. (you know- so I don't end up with an 11 lb. baby…) But then- I felt an impulse to bake some cookies to send with my sisters who left today for Wisconsin for Christmas. It's my first year in my 30 years to not be with my family, but the rest of the NYC crew is actually taking a fun road-trip home and I wanted to give them some treats for the journey.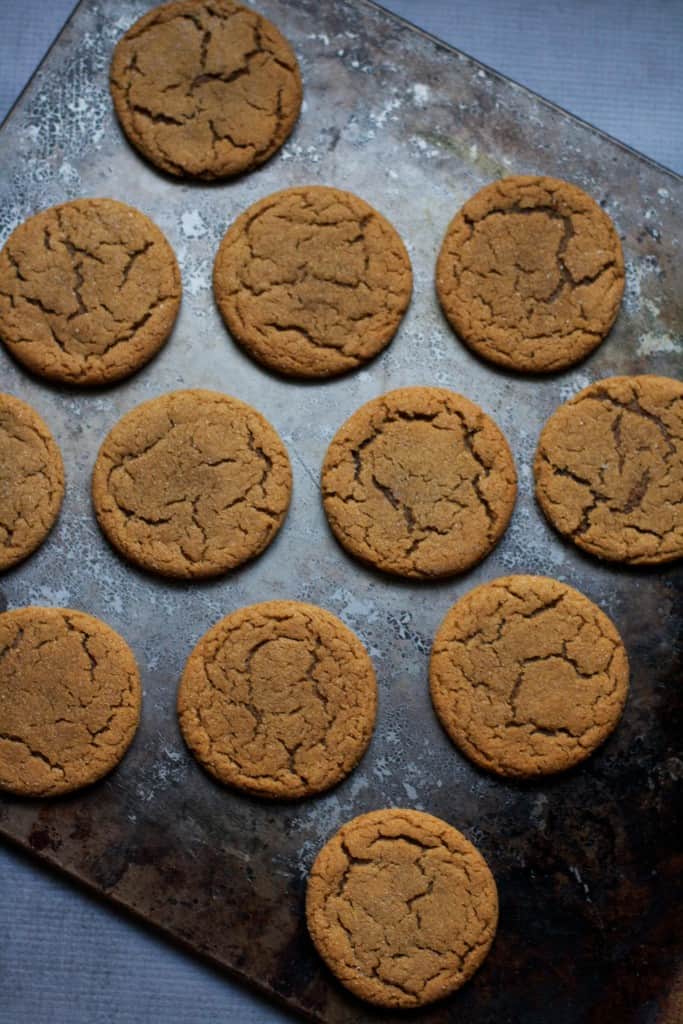 I made a batch of these last night,without the intention to blog them, (you see I had a whole different post planned for today,) but they were so good and so incredibly easy that I had to wake up early just to snap pictures before sending them with the sisters. (And then when Andy got home last night and heard that he was only allowed one of these as I was sending the rest, he promptly ran to the store to buy me more flour so I could make him his own batch.) You guys need this recipe. These cookies are so delicious and exactly what I wanted. They are crackly and crispy edged, with super chewy middles and lots of molasses flavor. Plus I used olive oil in them instead of butter so that makes them kinda healthy right?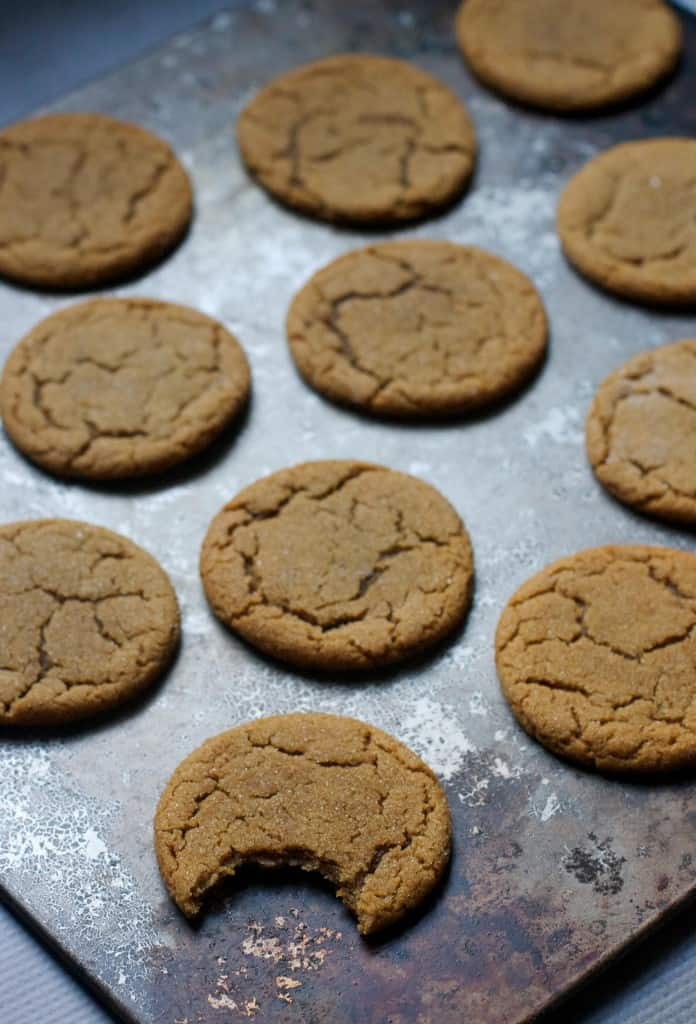 Also- after sharing two fancy recipes this week- I felt the strong need to give you one more easy as pie recipe before your holiday baking is over. If you want to add one more cookie variety to your spread- these can be baked and done in no time. Seriously- they are the easiest. I'll share my last recipe for a festive Christmas breakfast on Monday and then take a few days off to enjoy a quiet NYC Christmas with Andy while we're still a party of two. Have a great weekend!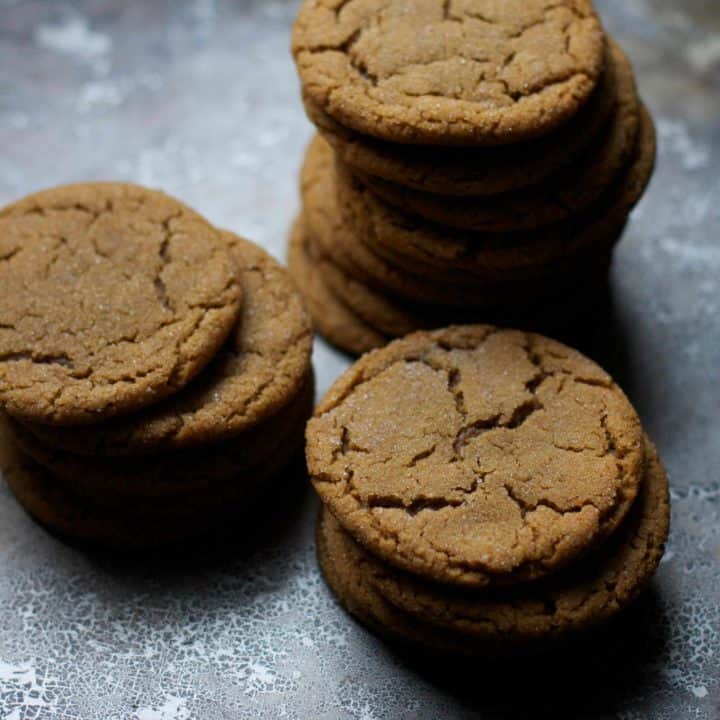 Easy Molasses Crinkle Cookies
Yield: about 2 dozen cookies

Prep Time: 10 minutes

Cook Time: 10 minutes

Additional Time: 10 minutes

Total Time: 30 minutes

These easy molasses cookies are perfection- crispy edges, chewy middles, and full of rich molasses and ginger!
Ingredients
2/3 cup vegetable oil*
1/2 cup sugar
1/2 cup brown sugar
1/4 cup molasses
1 egg
1 teaspoon ginger **
1 teaspoon cinnamon
1/2 teaspoon cloves
1/2 teaspoon vanilla extract
2 teaspoons baking soda
2 cups plus 2 tablespoons all purpose flour
Sugar for rolling (optional)
Instructions
Preheat oven to 350. Prepare a baking sheet with a silpat or parchment paper. Set aside.

In a large mixing bowl, combine oil and sugars, whisking until smooth. Add molasses, vanilla and egg and whisk until well-combined.

Sprinkle the spices, baking soda and flour over the wet ingredients and fold together gently using a spatula or wooden spoon.

Either just scoop dough onto the cookie sheet 2-3 inches apart and bake as is, or roll 1 1/2 inch sized balls in sugar and place onto the cookie sheet.

Bake for 8-10 minutes until the edges are set and the middles are cracked. Place cookies a piece of wax paper to cool. Cookies will stay chewy for up to a week in an air-tight container.
Notes
*I used light olive oil the first time I made these and then made a second batch with half light olive oil and half coconut oil. They tasted great both ways, but I think light olive oil or other vegetable oil gives a much more cracked appearance.

**These cookies aren't overly spicy letting the molasses flavor shine. If you want more spice use heaping teaspoons of the ginger and cinnamon.

Recipe adapted from: All Recipes