Easy Molasses Crinkle Cookies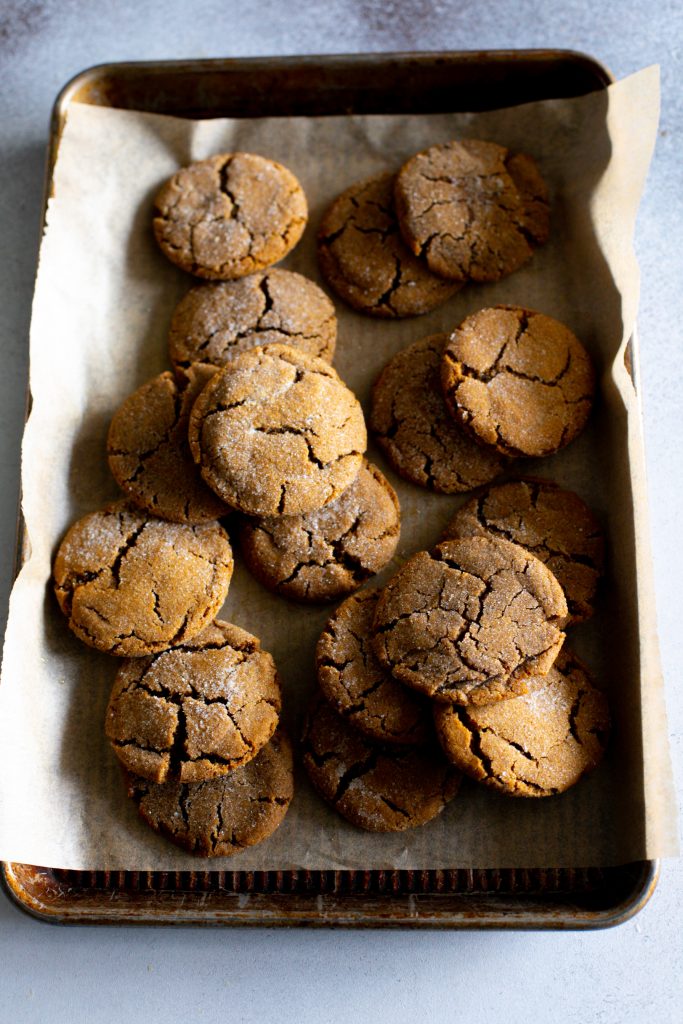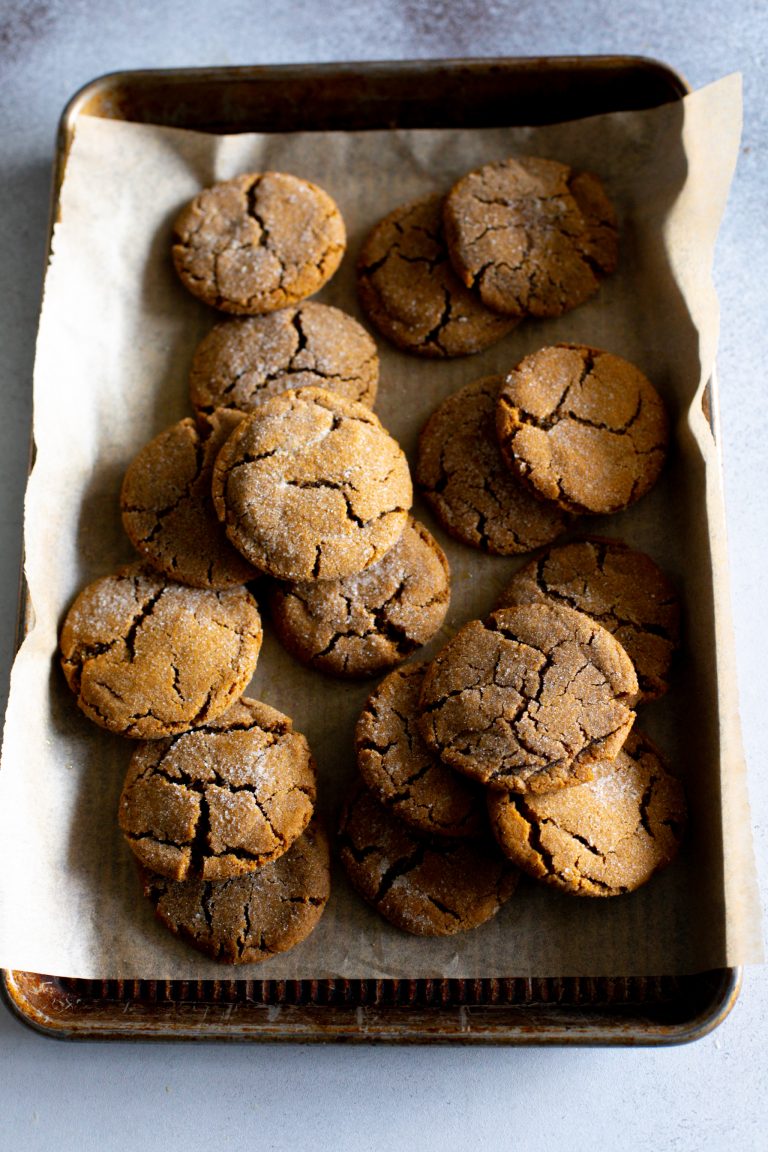 You guys need this recipe. It is my favorite cookie to make around the holidays and if you try them you'll see why!
These molasses ginger cookies are so delicious and exactly what I wanted. They have crispy edges and crackly tops with a super chewy texture and lots of molasses and ginger flavor. They are super fast to make and have become my favorite recipe for a cookie swap or holiday cookie box. Happy holiday baking!

Ingredients needed for Chewy Molasses Crinkle Cookies
All purpose flour
Ginger
Cloves
Vanilla extract
Baking soda
Granulated Sugar
Light Brown Sugar
Molasses
Cinnamon
Oil
Egg

Supplies needed for Molasses Crinkles:
Large bowl
Cookie Sheet
Wire Rack
Parchment paper or Sil-pat
Electric Mixer (you can also mix these by hand.)
The Process:
In a large bowl combine all your dry ingredients including the sugars and mix to stir. In the center of the flour mixture start adding your wet ingredients, the egg, oil and vanilla. Whisk everything together until smooth and well combined. (You can also use a hand mixer.)
Scoop the dough into equal portions and roll each dough ball in sugar if desired or sprinkle some sugar onto the top of the cookie. Bake on a prepared baking sheet for 10-12 minutes and cool on a wire rack. Cookies can be stored in an airtight container for a few days on the counter, a week in the fridge, or up to 2 months in the freezer.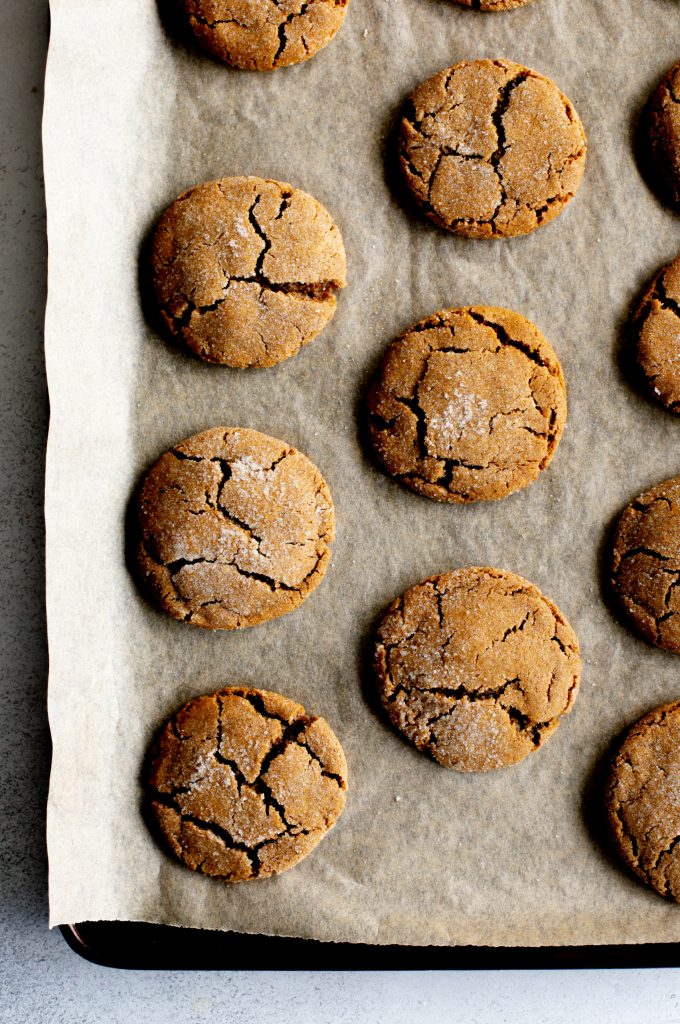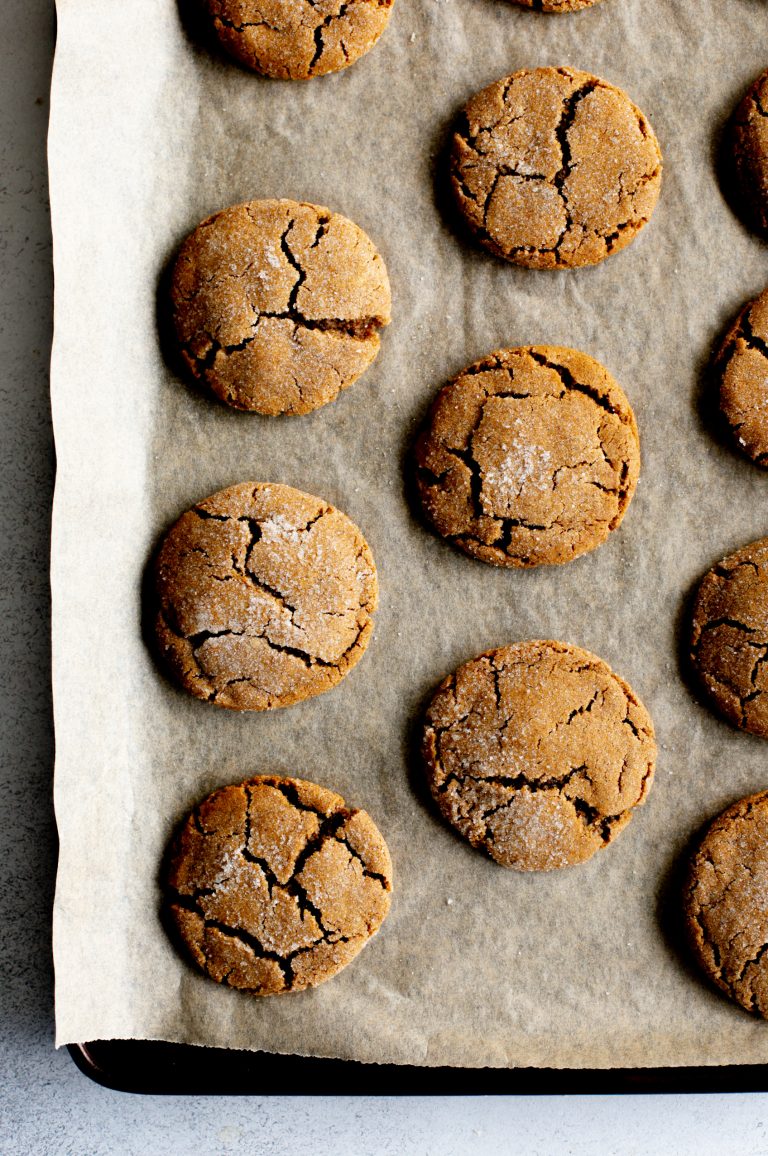 Pro tips for making these cookies ahead of time:
I like to make a double batch of this dough at the start of the season, roll it into balls and freeze them. When I need some holiday cookies in a pinch, I take out a few cookie dough balls and bake them to order. It's works super well and saves time when wanting a wide variety of cookie types.
You can also keep your bowl of cookie dough in the fridge covered in plastic wrap for up to a week and scoop the dough to bake as needed.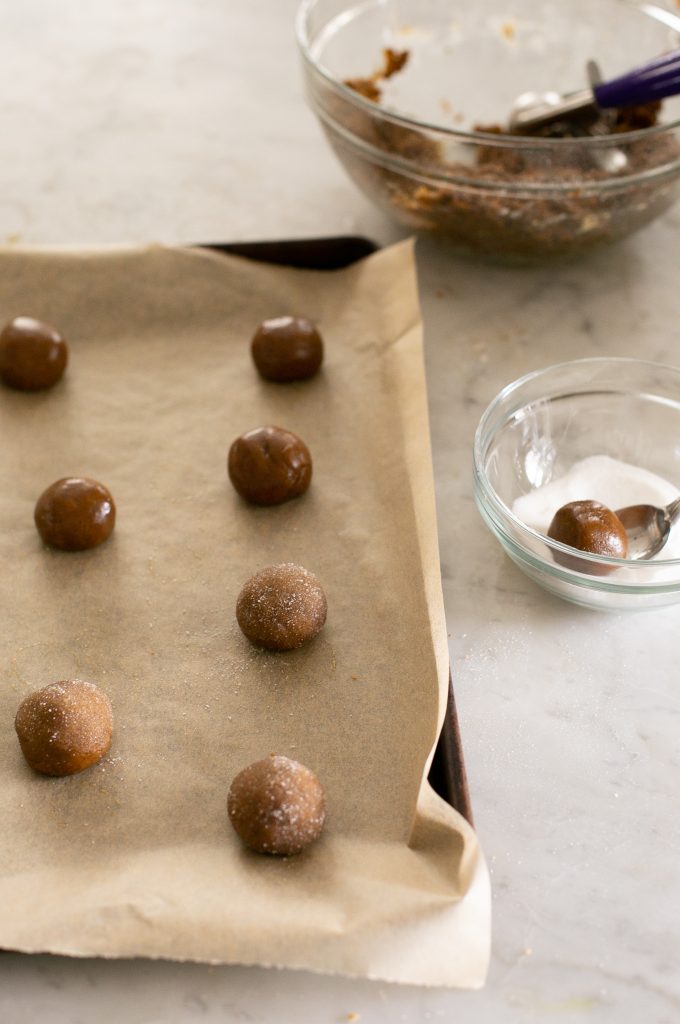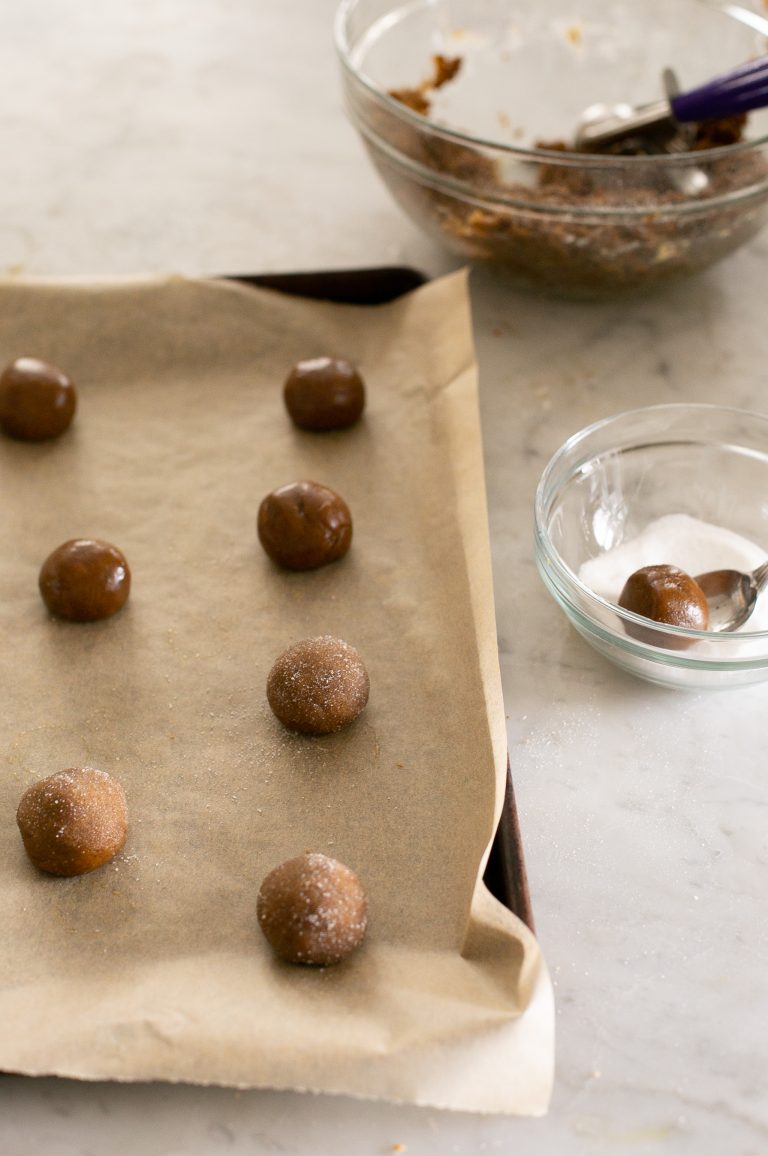 A note on rolling the cookie balls in sugar:
I have made these without that step and they are still sweet and delicious. Instead of rolling them in white sugar you can also roll them in turbinado sugar for some extra crunch or a cinnamon sugar mixture for a snickerdoodle like finish.
Can I use blackstrap molasses?
If you love that deep and rich dark molasses flavor I think you can definitely sub blackstrap molasses. If you want a more mild flavor I'd stick with regular molasses.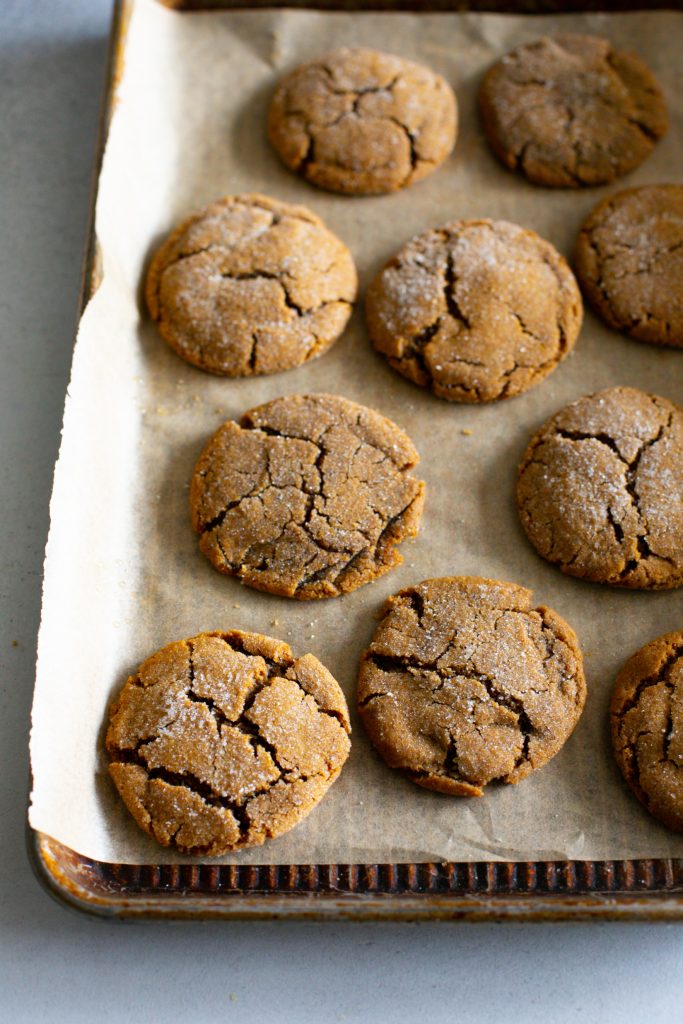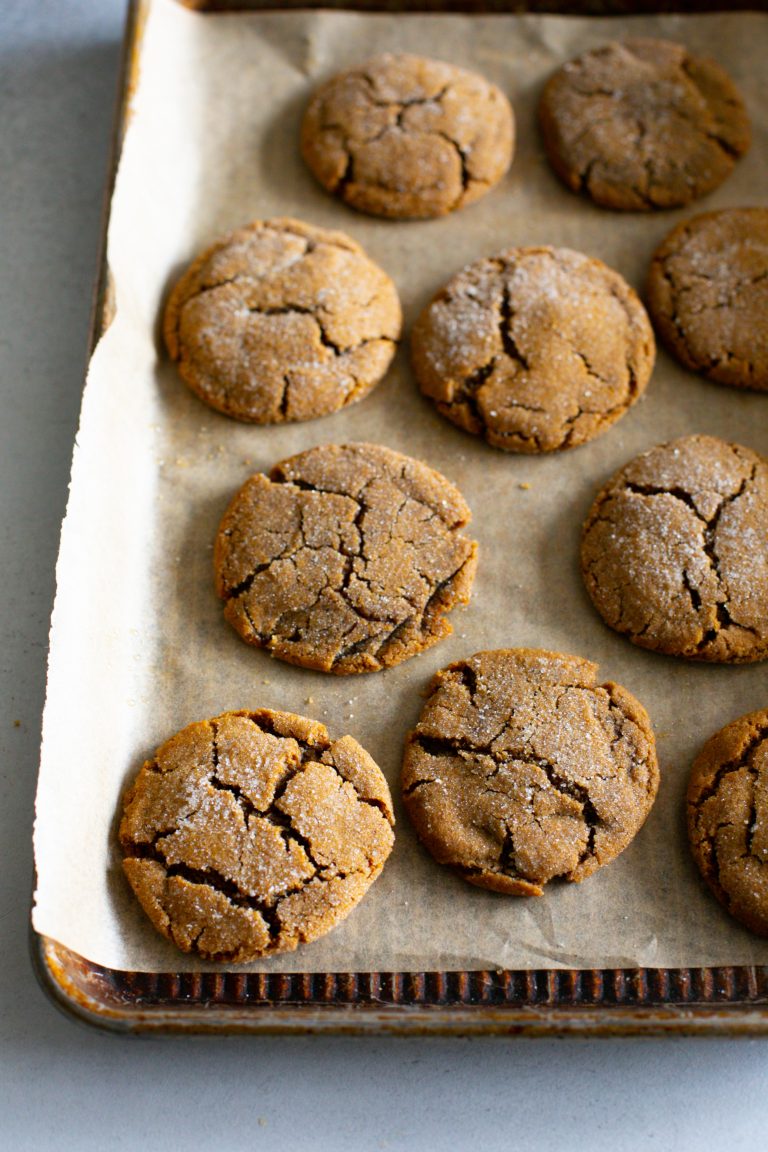 Looking for Cut out Gingerbread Cookies?
This recipe for Soft and Chewy Gingerbread Men is the best!
Other favorite recipes to bake around the holidays for Cookie Exchanges or gift boxes: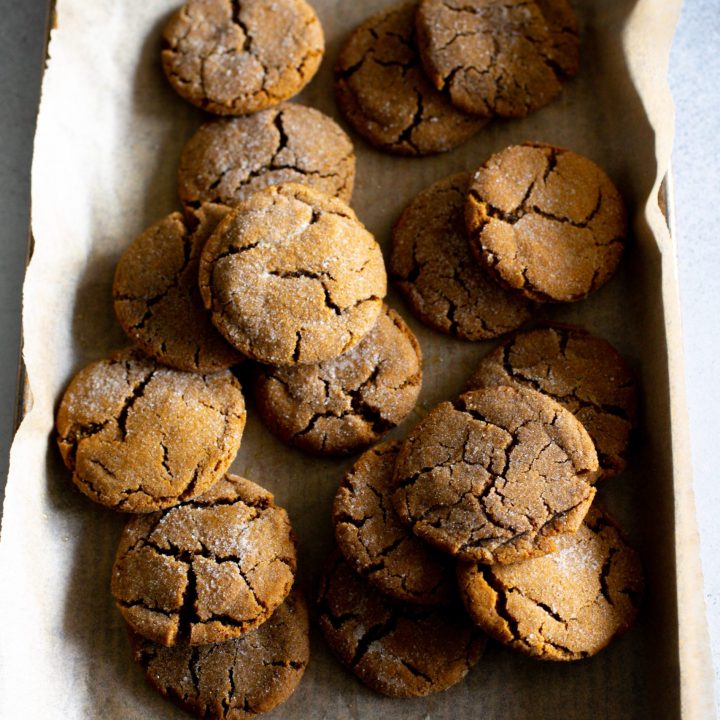 Easy Molasses Crinkle Cookies
Yield:
about 2 dozen cookies
Additional Time:
10 minutes
These easy molasses cookies are perfection- crispy edges, chewy middles, and full of rich molasses and ginger!
Ingredients
2/3 cup vegetable oil*
1/2 cup sugar
1/2 cup brown sugar
1/4 cup molasses
1 egg
1 teaspoon ginger **
1 teaspoon cinnamon
1/2 teaspoon cloves
1/2 teaspoon vanilla extract
2 teaspoons baking soda
2 cups plus 2 tablespoons all purpose flour
Sugar for rolling (optional)
Instructions
Preheat oven to 350. Prepare a baking sheet with a silpat or parchment paper. Set aside.
In a large mixing bowl, combine oil and sugars, whisking until smooth. Add molasses, vanilla and egg and whisk until well-combined.
Sprinkle the spices, baking soda and flour over the wet ingredients and fold together gently using a spatula or wooden spoon.
Either just scoop dough onto the cookie sheet 2-3 inches apart and bake as is, or roll 1 1/2 inch sized balls in sugar and place onto the cookie sheet.
Bake for 8-10 minutes until the edges are set and the middles are cracked. Place cookies a piece of wax paper to cool. Cookies will stay chewy for up to a week in an air-tight container.
Notes
*I used light olive oil the first time I made these and then made a second batch with half light olive oil and half coconut oil. They tasted great both ways, but I think light olive oil or other vegetable oil gives a much more cracked appearance.
**These cookies aren't overly spicy letting the molasses flavor shine. If you want more spice use heaping teaspoons of the ginger and cinnamon.
Recipe adapted from: All Recipes