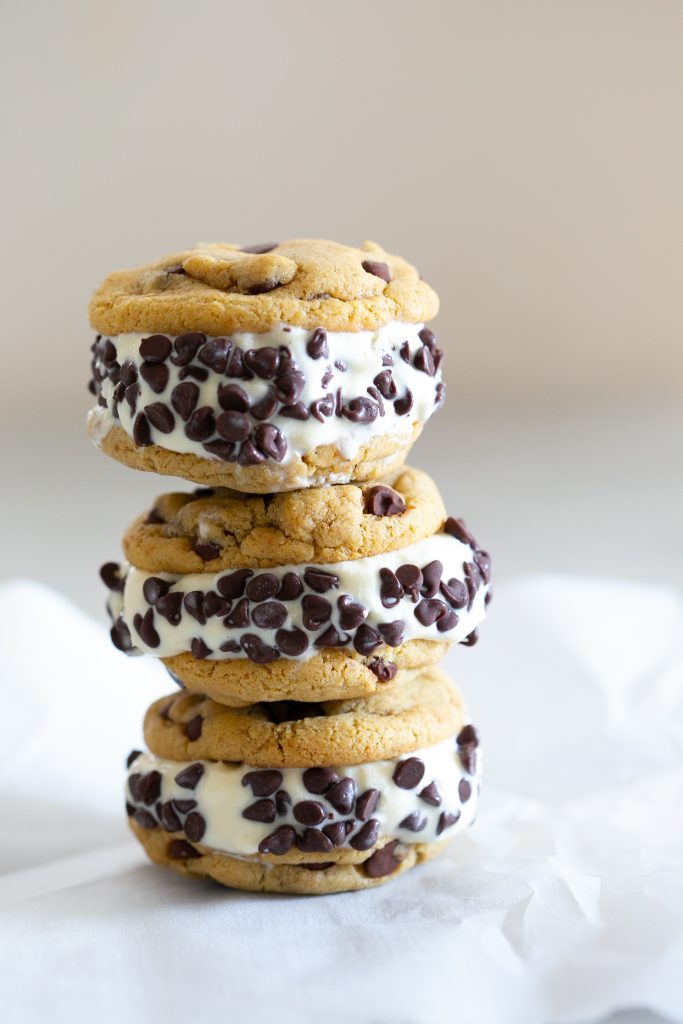 Introducing the Homemade Chipwich: The Ultimate Ice Cream Sandwich!
There's something special about biting into a cold, creamy ice cream sandwich on a hot summer day. For me it always brings back fond memories of my childhood ice cream truck fave, and now you can recreate that magic right in your own kitchen with this easy recipe for Homemade Chipwiches.
Ingredients needed for Homemade Chipwiches:
All purpose flour
Baking Soda
Salt
Butter
Sugar
Brown Sugar
​Vanilla
Eggs
Chocolate Chips
Vanilla Ice Cream (store bought or homemade, ice cream recipe below!)

Supplies needed:
Plastic Wrap
Baking sheets
Parchment Paper
Ice Cream Scoop
The Process:
In a large bowl, whisk together the flour, baking soda, and salt. In another bowl, cream together the butter, granulated sugar, brown sugar, and vanilla extract until light and fluffy. Add the eggs one at a time, mixing well after each addition. Gradually add the flour mixture to the wet ingredients, mixing until just combined. Stir in the mini chocolate chips with a wooden spoon.
Using a cookie scoop or measuring cup, portion out the dough onto the prepared baking sheets lined with parchment paper. Bake at 350°F for about 10-12 minutes or until golden brown around the edges. Once baked, transfer the cookies to a wire rack to cool completely.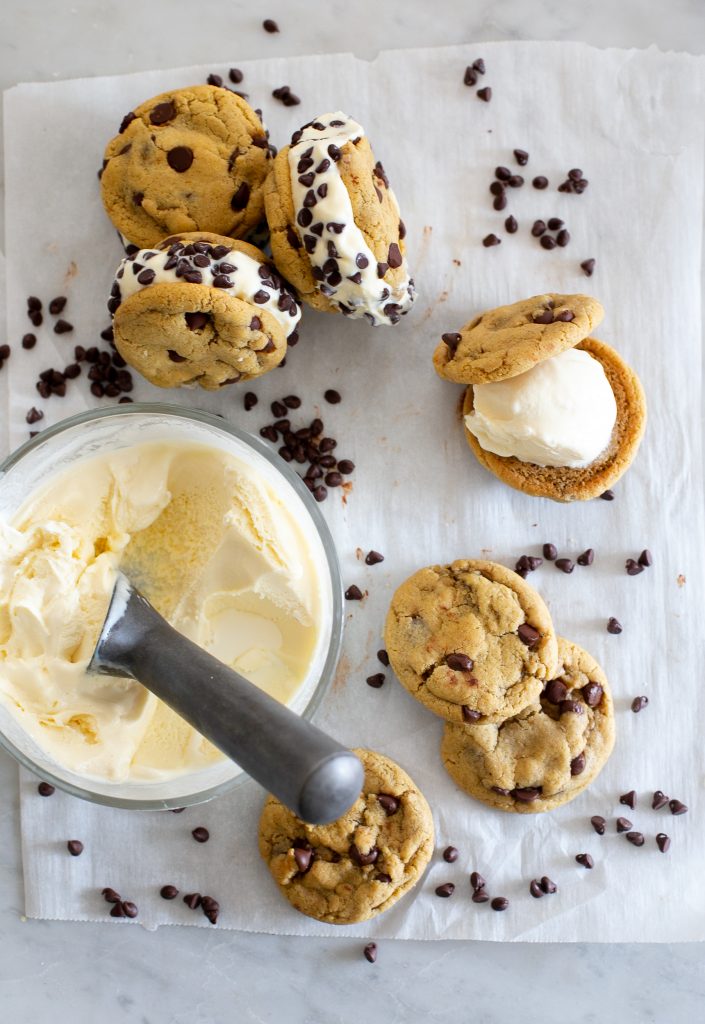 While the cookies cool, it's time to prepare the ice cream filling. You can use any flavor you like, but creamy vanilla paired with chocolate chip cookies are the classic choice. Make sure your ice cream is slightly softened, but not melted.
Take one cookie and place a scoop of ice cream on the flat side. Top it with a second cookie, pressing down gently to create a sandwich. You can also roll the sides of the sandwich in mini chips for an extra touch of authenticity!
Wrap each Chipwich tightly in plastic wrap and place them in an airtight container. Store them in the freezer for at least a couple of hours or until the ice cream is firm.
When you're ready to enjoy your Homemade Chipwiches, unwrap them from the plastic wrap and savor the perfect combination of chewy chocolate chip cookies and creamy ice cream. These delightful treats are perfect for picnics, parties, or simply indulging on a hot summer day.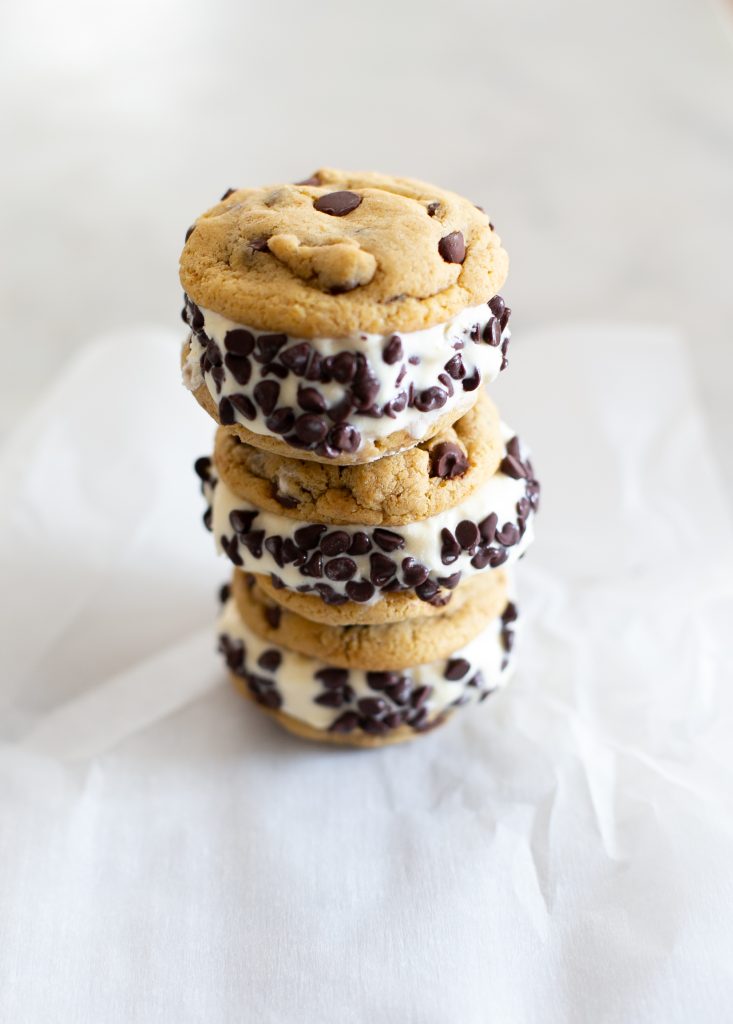 A few tips and tricks:
When sandwiching the ice cream between the cookies, work quickly to avoid melting the ice cream too much. If needed, chill the cookies in the freezer for a few minutes before assembling.
If you want the mini chocolate chips to stick to the sides of your Chipwiches, roll the sides of the sandwiches in the mini chips immediately after assembling while the ice cream is still soft.
Wrap each Chipwich tightly in plastic wrap to prevent freezer burn and to keep them fresh. Placing them in an airtight container will further protect them.
If you're planning to make a large batch, you can stack the Chipwiches in the airtight container, separating each layer with parchment paper or plastic wrap to prevent sticking.
Now the original Chipwich include homemade Chocolate Chip Cookies and creamy vanilla ice cream , but I think there are lots of other flavor combos that would be awesome:
What about Chewy Lemon Cookies with Blueberry Buttermilk Ice Cream?
I think these Peanut Butter Miso Cookies would be delicious with chocolate ice cream as well.
Am I crazy to think a Cinnamon Roll Ice Cream Sandwich would also be amazing? The possibilities are endless. Get creative and have fun experimenting with different flavors and combinations.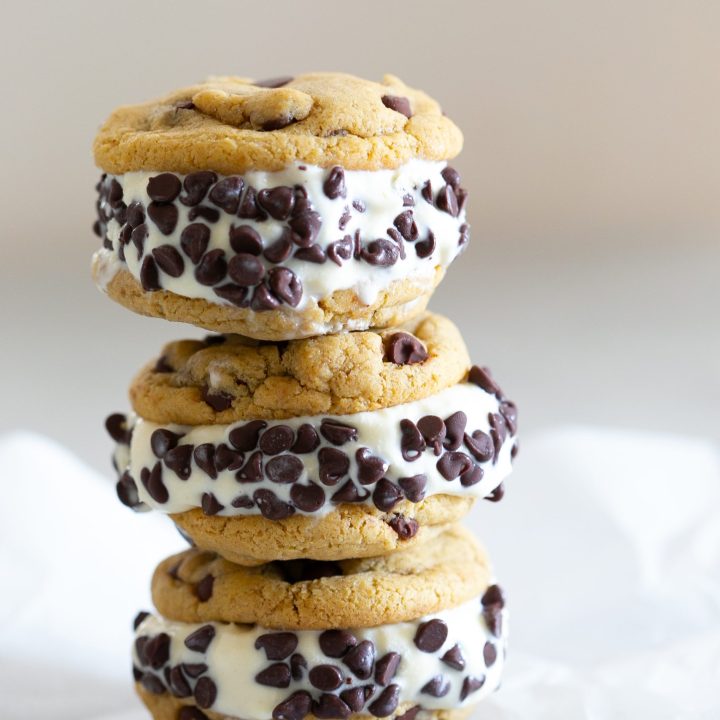 Homemade "Chipwich" Ice Cream Sandwiches
Yield:
1 dozen cookie sandwiches
Ingredients
1-2 cups mini chocolate chips
3 cups heavy cream, or 2 cups heavy cream and 1 cup whole milk
¾ cup sugar
Pinch of salt
1 vanilla bean, split in half lengthwise
¾ teaspoon vanilla extract
Instructions
Place cookies in the freezer to harden and chill them for at least 15-20 minutes.
Before assembling cookie sandwiches, have the mini chocolate chips in a shallow dish ready to go, as things will melt quickly and you have to work fast.
Allow ice cream to soften at room temperature for a few minutes while the cookies are in the freezer.
Once cookies are cold and hardened, scoop ice cream onto one cookie, sandwich it with another, and quickly roll it the mini chocolate chips, making sure to push any loose chips in. Place each finished chipwich in the freezer before you start the next! Once they are all complete, wrap them tightly in plastic wrap and foil and store in the freezer for up to two weeks!
For Ice Cream:
Pour 1 cup of the cream into a medium saucepan and add the sugar and salt. Scrape the seeds from the vanilla bean into the saucepan and add the pod to the pot. Warm over medium heat, stirring, until the sugar is dissolved.
Remove from the heat and add the remaining 2 cups cream (or the remaining 1 cup cream and the milk) and the vanilla extract.
Chill the mixture thoroughly in the refrigerator. (Overnight!) When ready to churn, remove the vanilla bean, rinsing and reserving it for another use (I stuck mine in my sugar container,) and then freeze the mixture in your ice cream maker according to the manufacturer's instructions.
Nutrition Information:
Serving Size:

1 grams
Amount Per Serving:
Unsaturated Fat:

0g