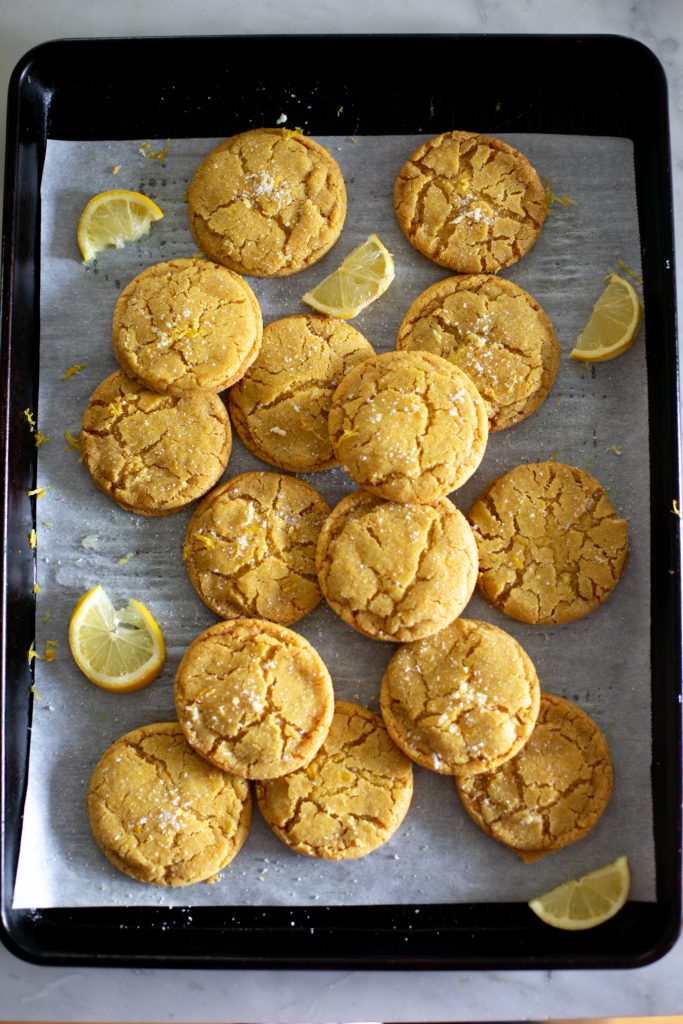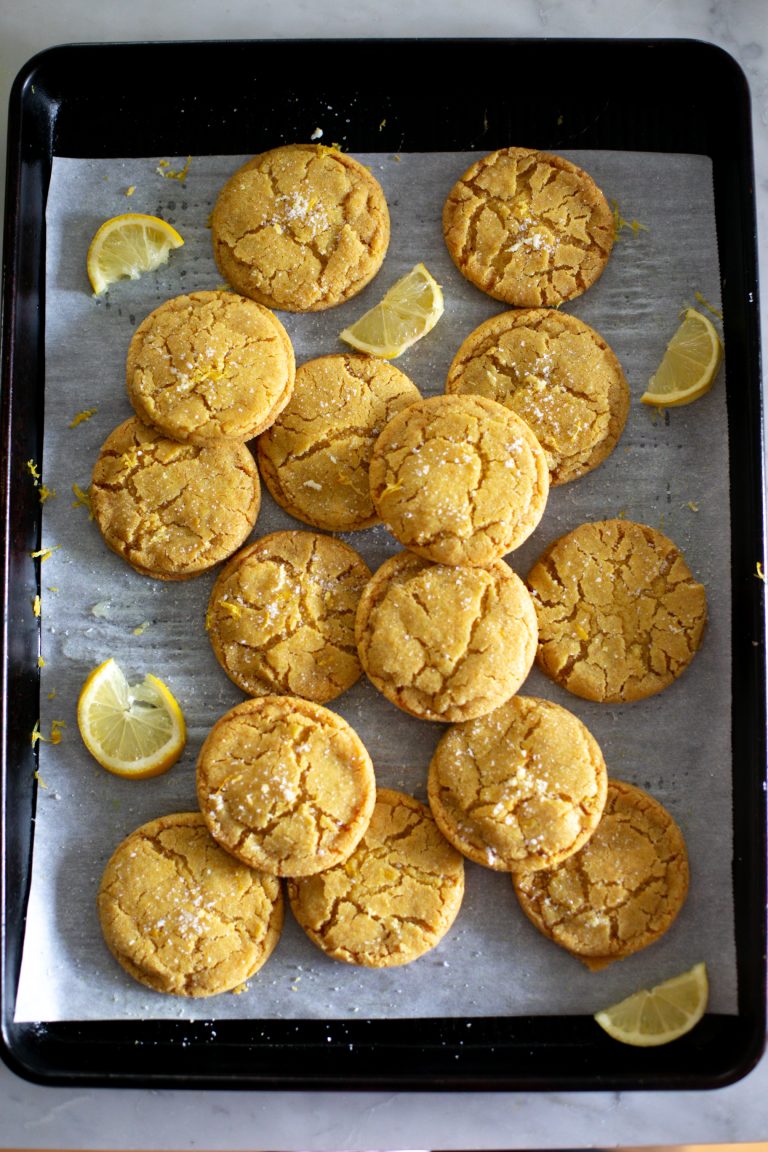 Lemon lovers this is the cookie recipe for you! It is full of plenty of lemon zest and juice from fresh lemons, a crisp edge and a super chewy center. They are easy to make, have beautiful crackled tops, and are just so addictively good!
These chewy lemon sugar cookies contain simple ingredients you probably have on hand, plus one you may not- cream of tartar. What does cream of tarter do in this recipe? It gives these cookies their gorgeous cracked tops. You can leave it out but I love the crackly look on my cookies.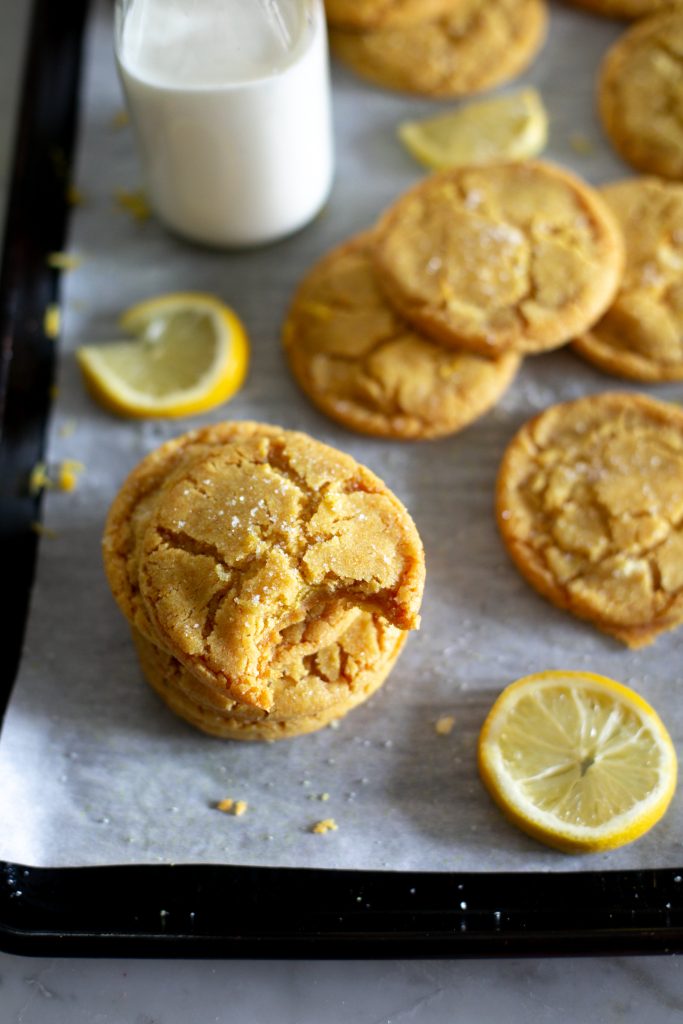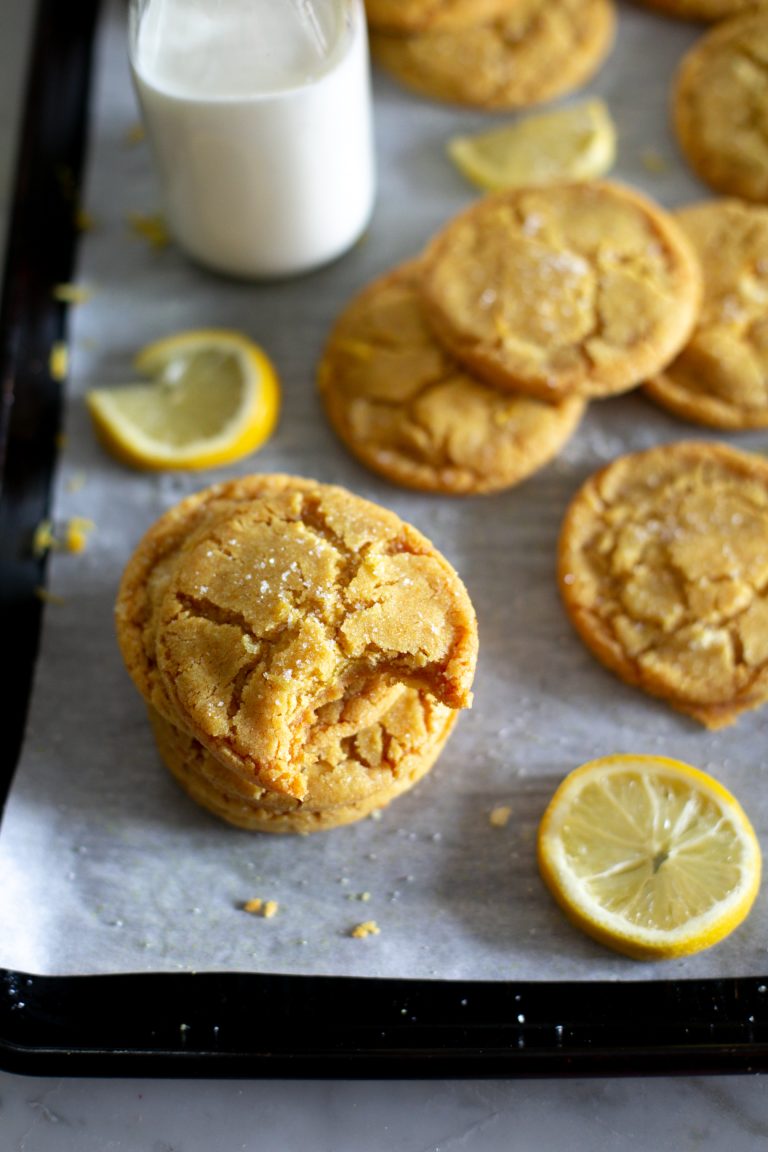 Ingredients needed for Chewy Lemon Cookies:
All purpose flour
White sugar
Brown sugar
Cream of tartar
Baking soda
Salt
Ground turmeric (optional, for color!)
Unsalted Butter, room temperature
Fresh lemon juice
Lemon zest
Egg yolks

Supplies needed for this Lemon Cookie Recipe:
Baking sheet
Parchment paper
Hand mixer or stand mixer
Large mixing bowl
Small bowl for sugar
Wire rack for cooling
Airtight container for storage
How to make the best Chewy Lemon Cookies:
In a large bowl (or the bowl of a stand mixer) cream together the butter, sugars, and lemon zest on medium speed. Add the egg yolks and lemon juice to the butter mixture and cream until smooth. Add the flour mixture and then mix until just combined. (The dough will seem a touch dry and crumbly so use your hands to squeeze it into a mass if needed.)
Scoop dough into balls and roll them in the sugar/lemon zest mixture. Place the cookie dough balls on a cookie sheet 2 inches apart. Bake for 9-10 minutes or until the edges are firm and the tops have beautiful cracks. Place on a cooling rack and enjoy warm, room temperature, (or even cold!)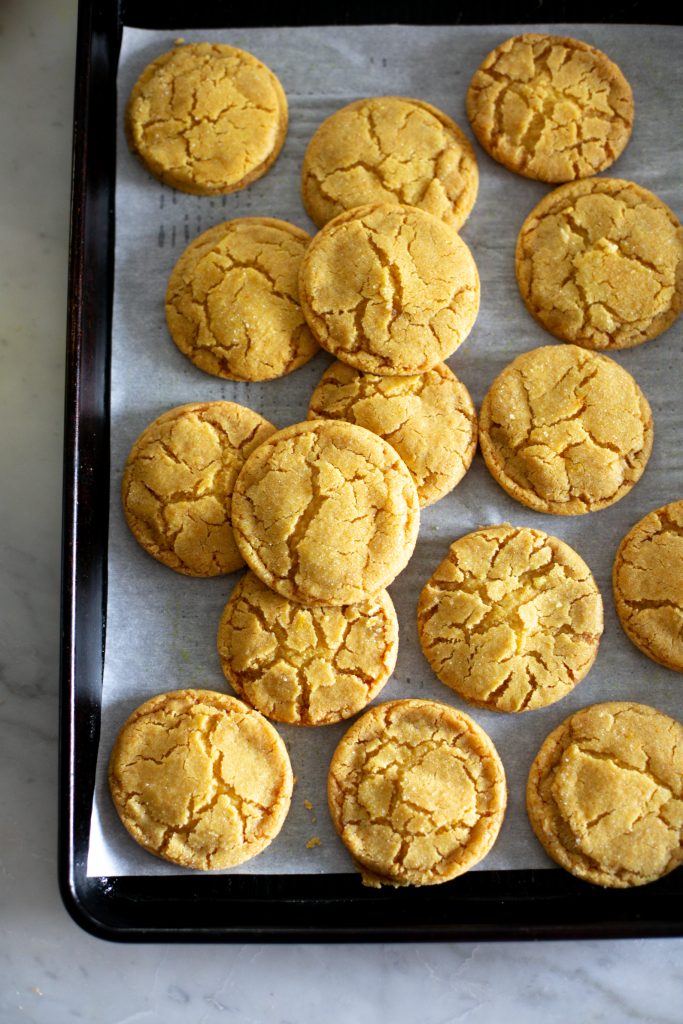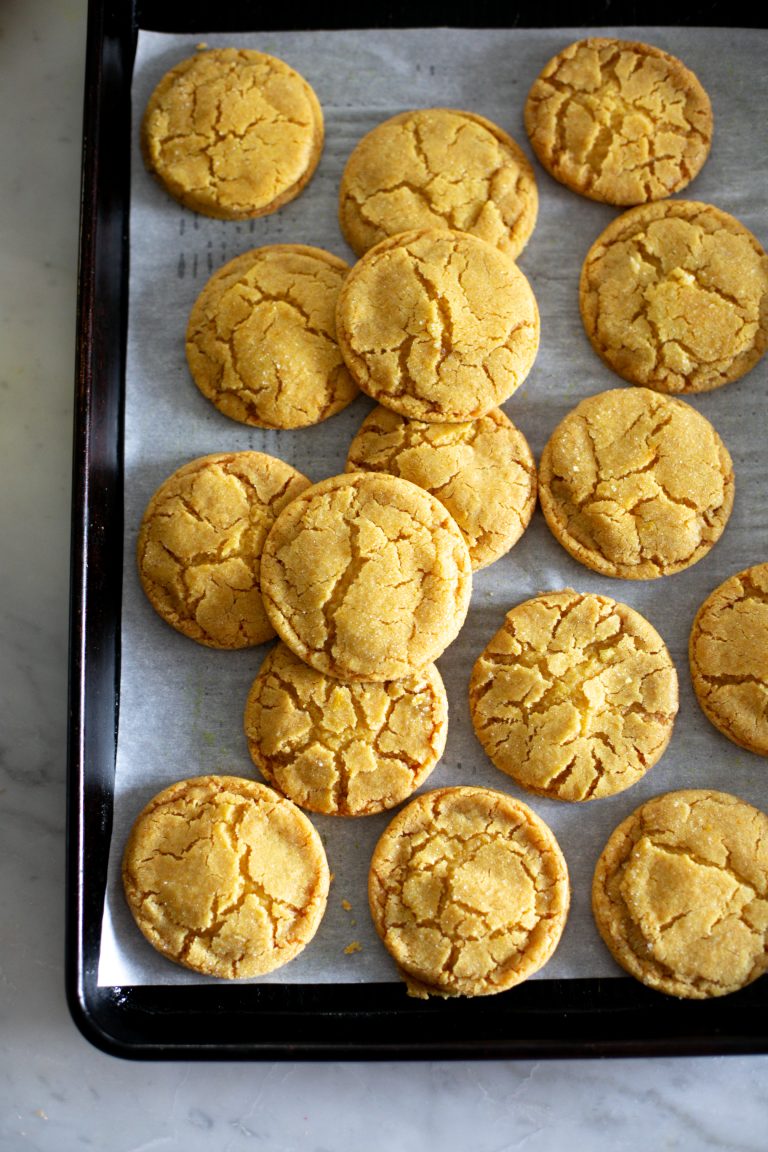 Other Favorite Lemon Desserts:
Other Favorite Cookie Recipes:

Why does this recipe use turmeric? Can I leave it out? Will I taste it?
I love using turmeric for a natural yellow food coloring. I prefer natural dyes in general and I find adding just 1/4 teaspoon to this recipe gives the cookies a golden yellow color without any turmeric flavor! If you want to leave it out you may, or you can sub regular yellow food coloring if you prefer.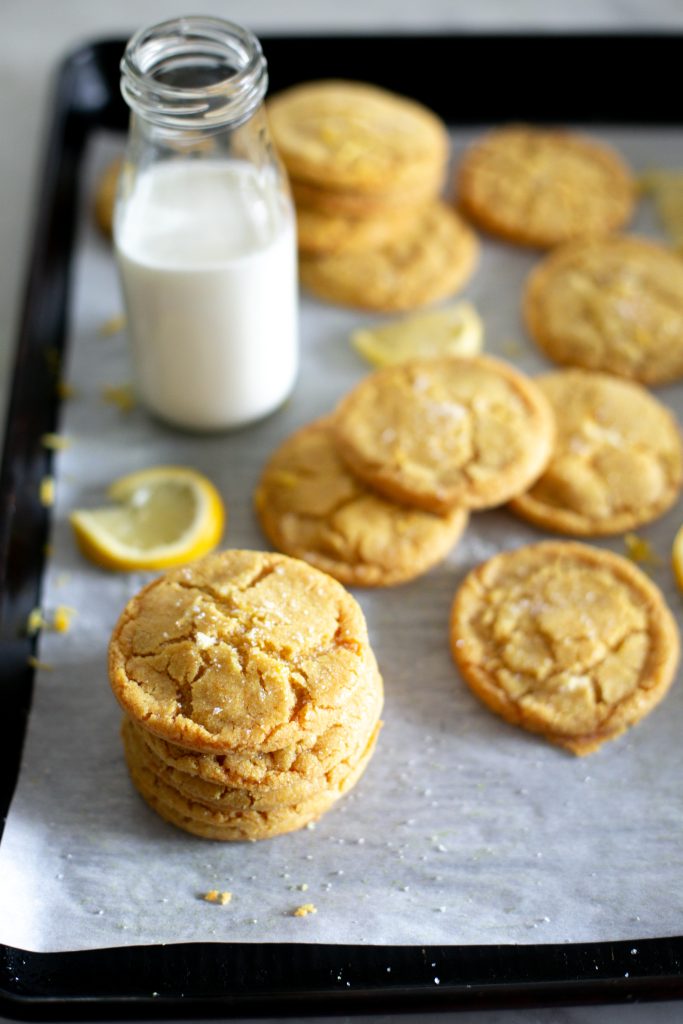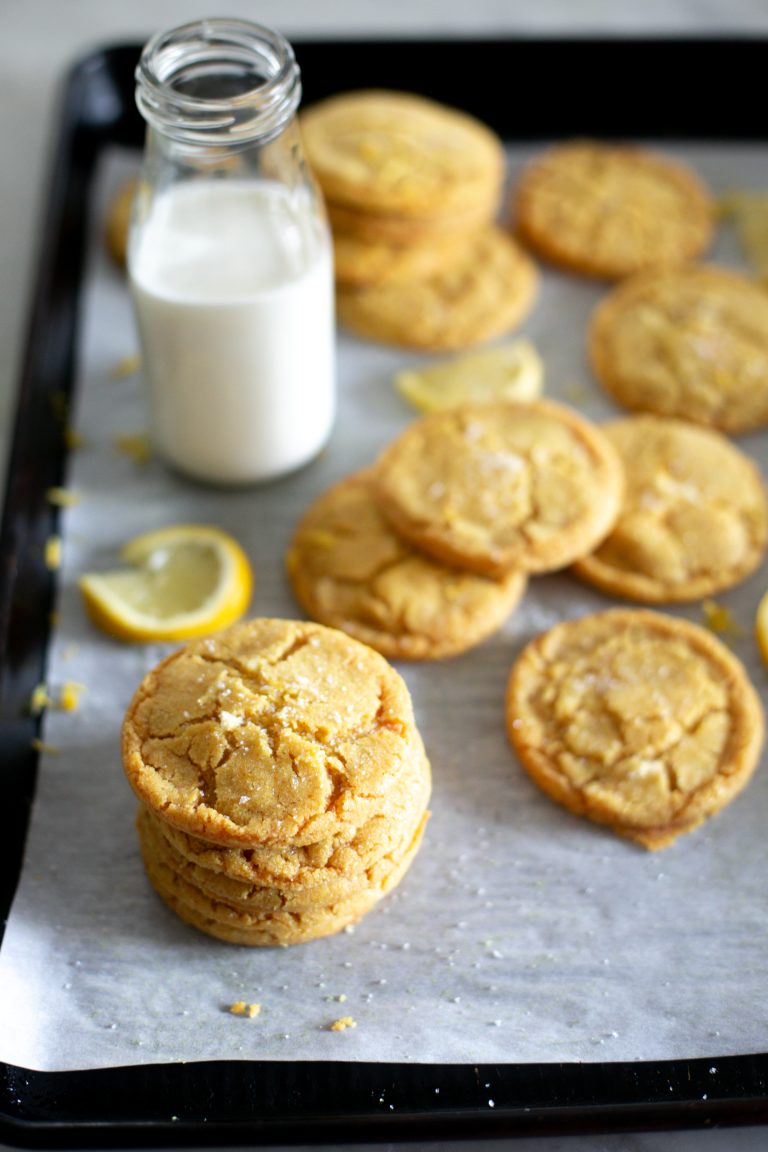 Can I use lemon extract or lemon oil in place of the real lemon juice?
I think these cookies have a really fresh and natural lemony taste, but if you want a more bold lemon flavor, you may add a 1/4 teaspoon to the butter/egg mixture.
Can I add any mix ins?
Sure! Add 1/2 cup of white chocolate chips and/or macadamia nuts for some crunch and texture.
Can I make this dough in advance and store in the fridge or freezer?
Yes! I recommend scooping and rolling the dough first, coating in sugar, and then storing the dough balls in a single layer in the fridge or freezer until ready to bake. They can go straight into the oven from the fridge without changing the baking time, but if baking from the freezer you'll want to add a couple minutes of bake time- keep an eye on them!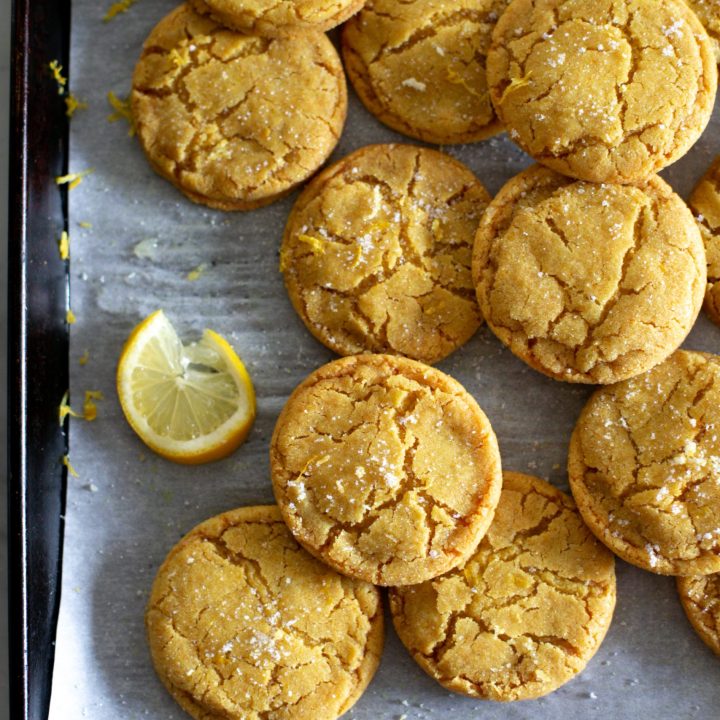 Chewy Lemon Cookies
Ingredients
1/2 cup sugar
1 cup brown sugar
1 cup butter (2 sticks or 8 oz.)
2 egg yolks
juice of 1 lemon
zest of 1 lemon
2½ cups flour
2 teaspoons baking soda
¼ teaspoon salt
2 teaspoons cream of tartar
1/4 teaspoon turmeric
For rolling:
1/4 cup granulated sugar
1 teaspoon lemon zest
Instructions
Preheat oven to 350F.
In a medium sized bowl combine the flour, turmeric, cream of tartar, salt, and baking soda. Set aside.
Cream together the butter, lemon zest, and sugars until smooth and fluffy. Add the egg and lemon juice and mix together until smooth.
Add the dry ingredients and mix on low until well combined. (This mixture may appear dry and crumbly, if so just user your hands to smush everything into one mass.) Scoop dough into 1.5 inch balls and roll with your hands to smooth. Roll dough balls in the lemon sugar mixture. Place 2 inches apart on a cookie sheet.
Bake for 9-10 minutes or until the tops are crackled and the edges are set.
Cool on a wire rack. Cookies will last in room temperature for about 5 days if in an airtight container.
Notes
If you don't want to bake all the cookies at once, scoop the dough and roll the balls in sugar. Freeze them on a plate or tray and then transfer them to a ziplock back or other freezer safe container. They will last in the freezer for up to a month!
When ready to bake- let dough balls thaw slightly and add 1-2 minutes to your baking time as needed.