Lemon Raspberry White Chocolate Chip Cookies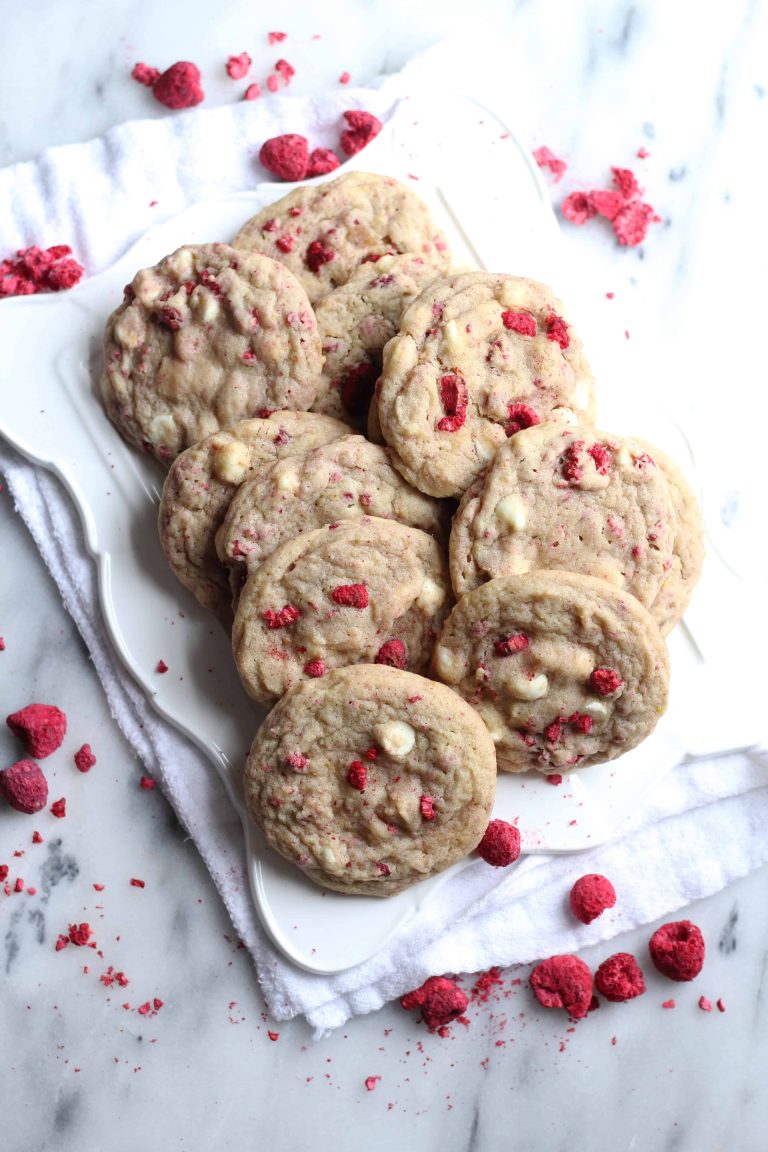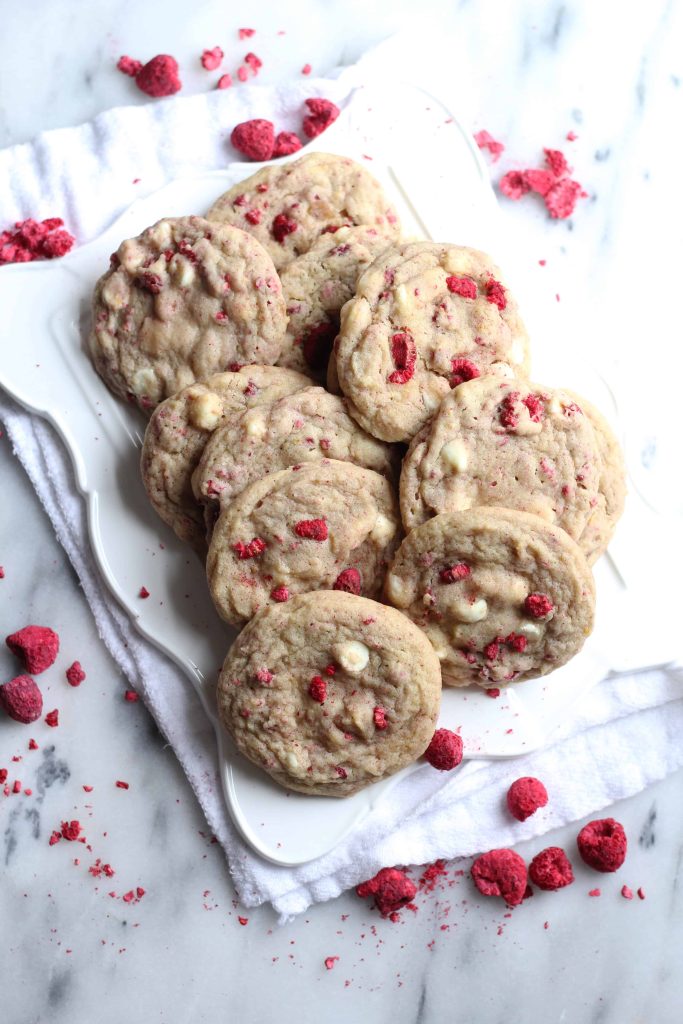 No you aren't seeing things, I am posting 2 recipes in 2 days. After my month of self induced maternity leave, here you go- my first new sweet treat recipe in what feels like ages! These chewy, citrusy, tart and sweet cookies are the perfect fun and festive, springy treat don't you think? The bright red freeze dried raspberries give the cookies a pink hue, and the vivid berry bits make the combo of flavors spot on.
Freeze dried berries may be my favorite new baking secret. They can be added to cookies, bars and other baked treats without getting mushy or changing their consistency, and you can crush them up and mix the powder into frosting for a super flavorful and colorful addition without food coloring or runny frosting. (I can tell you first hand that adding freeze dried raspberry "powder" to a simple buttercream yields a beautiful hot pink frosting that is so naturally delicious!)
Had I shared this recipe a few months ago it would be just perfect as a festive Valentine's Day treat, but I think their pink-ness is also quite appropriate for a baby shower don't you? Especially one welcoming a beautiful baby girl!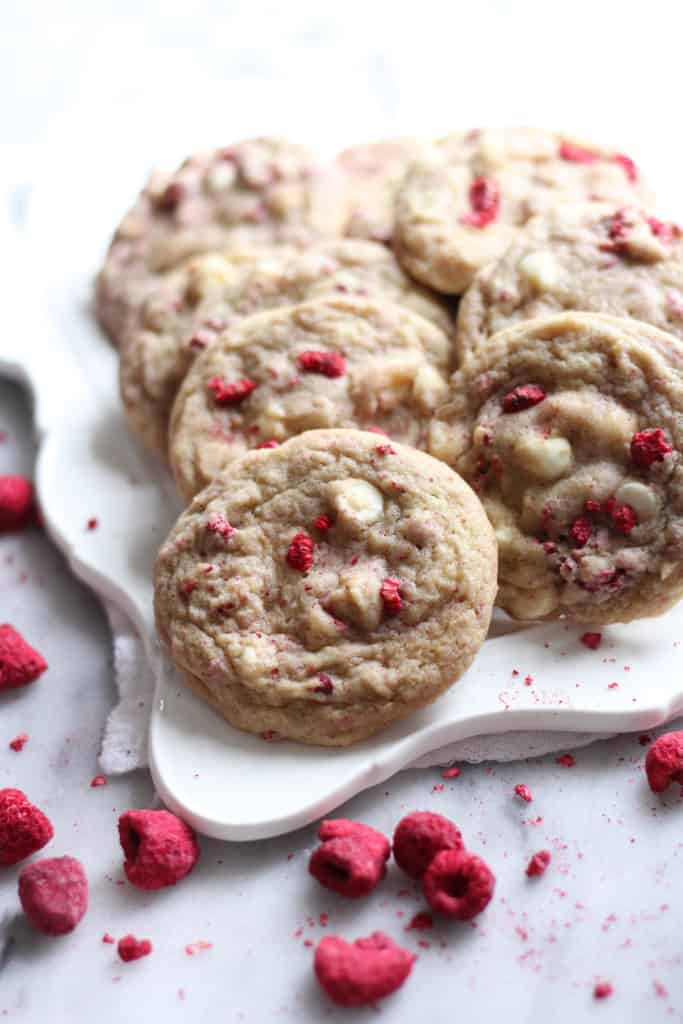 Well it just so happens today a bunch of food bloggers are rallying together to celebrate our sweet friend Joanne and the baby girl she is welcoming in a few short weeks. I couldn't be more excited for her to become a Mama. I have seen first hand how wonderful she is with kids and I know her little one will be so lucky to be raised by such a kind, smart and talented lady. She just came by to visit Fiona a few weeks ago, and you should have seen her sitting on the floor with Hugo, coloring and being so sweet and patient. She was 35 weeks pregnant at the time and still handled it all so sweetly. I really couldn't be more excited to get to return to favor and visit her sweet girl after she makes her grand appearance someday very soon. (with some lactation cookies in tow no doubt, my favorite new Mama gift!)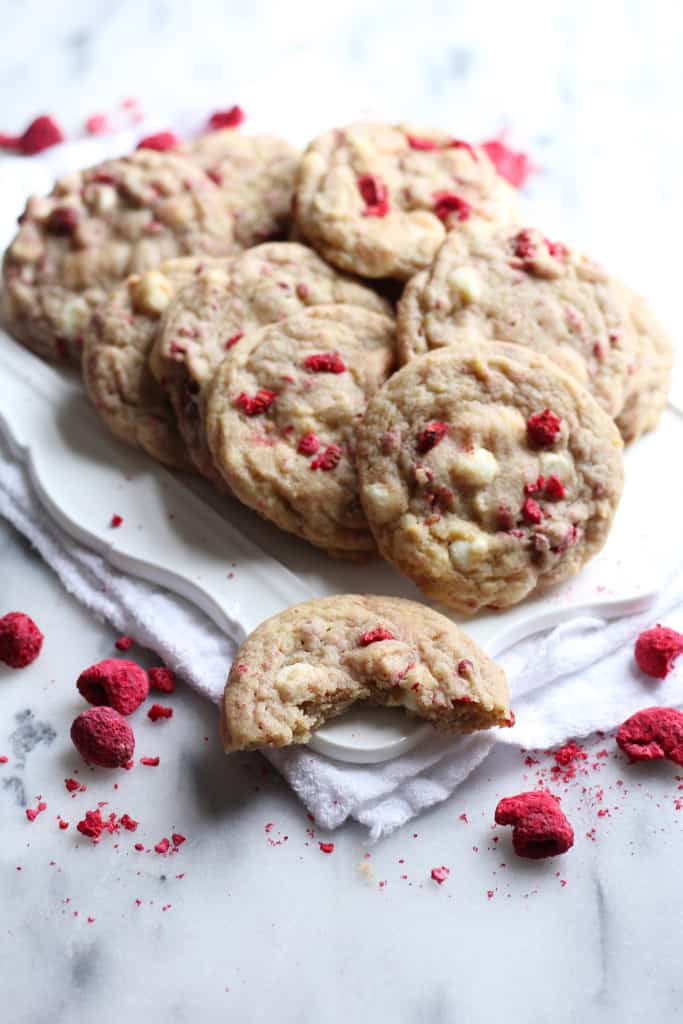 Happy Virtual Baby Shower Joanne! I hope these cookies hit the spot!
Be sure to check out the rest of the shower menu!
Orange Ginger Spritzer from The Lemon Bowl
Asparagus and Pea Puff Pastry Tarts from Belly Full
Blood Orange Doughnuts from Cook Like a Champion
Lemon Raspberry Cheesecake Cups from Keep It Sweet Dessert
Meyer Lemon Soufflé from Blahnik Baker
Strawberry Tartlets from The Cooking Actress
New York-Style Rhubarb Crumb Cake from Warm Vanilla Sugar
Berry Fool Tarts from Bake or Break
Mini Pineapple Upside-Down Cakes from Baker by Nature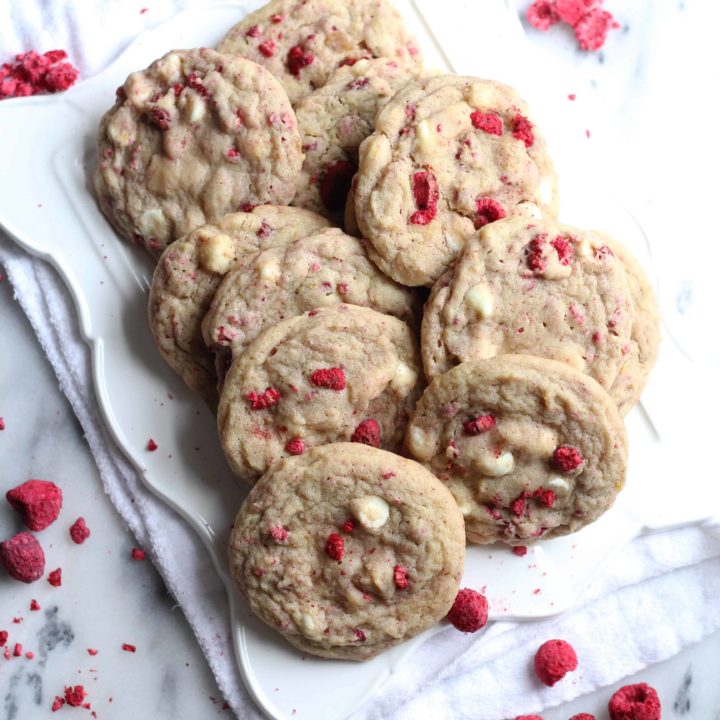 Lemon Raspberry White Chocolate Chip Cookies
Yield:
2-3 dozen cookies, depending on size
Ingredients
2 cups plus 2 tbsp. all-purpose flour
½ tsp. baking soda
½ tsp. salt
12 tbsp. unsalted butter, softened
1 cup brown sugar, packed
½ cup granulated sugar
1 large egg plus 1 egg yolk
juice and zest of 1 lemon
1 ½ cups white chocolate chips
1 cup freeze dried raspberries
Instructions
Preheat oven 350°F. Line cookie sheets with parchment paper or a silpat.
Whisk dry ingredients together in a medium bowl; set aside. With electric mixer, cream butter and sugars until thoroughly combined. Beat in egg, yolk,, zest and lemon juice until combined. Add dry ingredients and beat at low-speed just until combined. Stir in white chocolate chips and freeze dried berries.
Scoop dough into balls and place on cookie sheet 2 inches apart. Bake for 9-11 minutes, or until edges are set.
Cool cookies on sheets until able to lift without breaking. Transfer to a wire rack to cool.