White Chocolate Raspberry Cookies
As berry season rolls around, it's the perfect time to indulge in the vibrant flavors of fresh raspberries. What better way to enjoy these juicy gems than in the form of mouthwatering white chocolate raspberry cookies? With the combination of tart raspberries, creamy white chocolate chips, and a hint of lemon, these cookies are the perfect fruity treat.
While I love fresh raspberries, freeze-dried berries may be my favorite new baking secret. They can be added to cookies, bars and other baked treats without getting mushy or changing their consistency, and you can crush them up and mix the powder into frosting for a super flavorful and colorful addition without food coloring or runny frosting. (I can tell you first hand that adding freeze dried raspberry "powder" to a simple buttercream yields a beautiful hot pink frosting that is so naturally delicious!)
Ingredients for White Chocolate Raspberry Cookies Recipe:
Unsalted butter
White sugar
Brown sugar
2 large eggs, at room temperature
1 egg yolk
Pure vanilla extract
All-purpose flour
Baking soda
Salt
White chocolate chips or chopped white chocolate
Freeze-dried raspberries, crushed into small pieces
Lemon zest and juice

Supplies needed for Raspberry White Chocolate Cookies:
​Cookie Sheet
Large Bowl
Spatula
Electric mixer
How to make White Chocolate Raspberry Cookies:
Preheat your oven to 350°F (175°C) and line a large baking sheet with parchment paper. In a medium bowl, whisk together the flour, baking soda, and table salt. Set aside.
In the bowl of a stand mixer or a large mixing bowl, cream together the butter and sugars until light and fluffy. (This process can also be done using an electric mixer)
Add the eggs, egg yolk, vanilla extract, and lemon juice/zest to the butter-sugar mixture. Mix until well combined and scrape the sides of the bowl down with a spatula
Gradually add the dry ingredients into the wet mixture, mixing on low speed until just combined. Be careful not to overmix, as it can result in tough cookies.
Gently fold in the white chocolate chips and crushed freeze-dried raspberries. The freeze-dried raspberries will add a burst of intense raspberry flavor and a lovely pink hue to the cookies. Using a large cookie scoop or a tablespoon, portion out the cookie dough balls onto the prepared baking sheet, spacing them about 2 inches apart.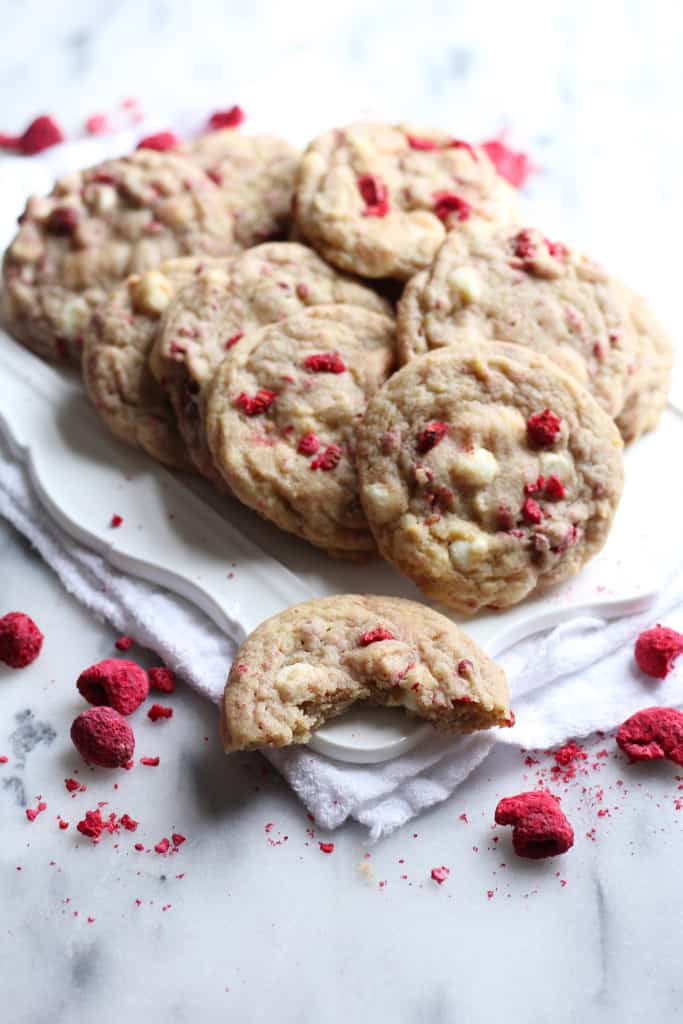 Bake the cookies for about 10 minutes, or until the edges are golden brown. The centers may still appear slightly soft, but they will firm up as they cool. (Remember that slightly underbaking the cookies will result in chewy cookies.)
Once baked, remove the cookies from the oven and let them cool on the baking sheet for a few minutes. Then, transfer them to a wire rack to cool completely.
Once the cookies have cooled, enjoy them as they are or store them in an airtight container for future indulgence. They can be stored at room temperature for a few days or stored in a freezer bag in the freezer for a few weeks!
Other favorite recipes using freeze dried fruit: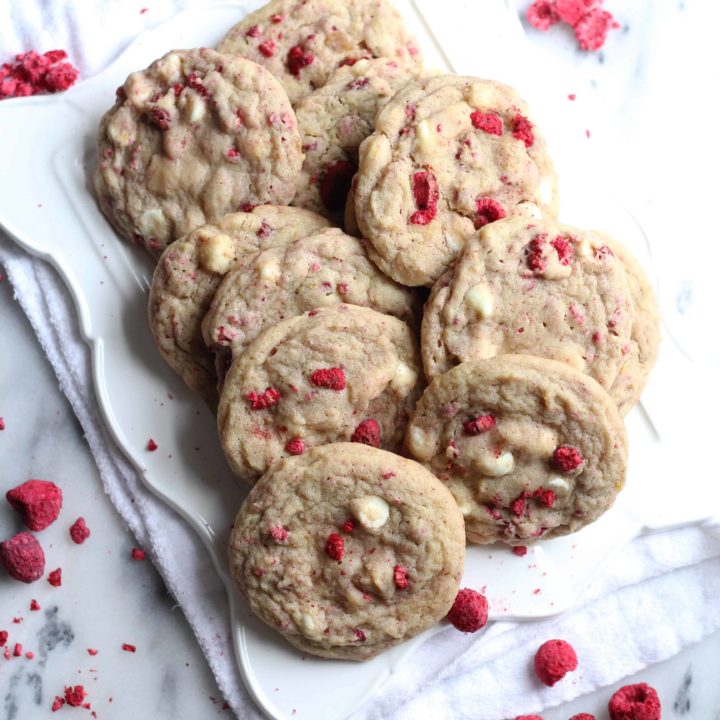 Lemon Raspberry White Chocolate Chip Cookies
Yield:
2-3 dozen cookies, depending on size
Ingredients
2 cups plus 2 tbsp. all-purpose flour
½ tsp. baking soda
½ tsp. salt
12 tbsp. unsalted butter, softened
1 cup brown sugar, packed
½ cup granulated sugar
1 large egg plus 1 egg yolk
juice and zest of 1 lemon
1 ½ cups white chocolate chips
1 cup freeze dried raspberries
Instructions
Preheat oven 350°F. Line cookie sheets with parchment paper or a silpat.
Whisk dry ingredients together in a medium bowl; set aside. With electric mixer, cream butter and sugars until thoroughly combined. Beat in egg, yolk,, zest and lemon juice until combined. Add dry ingredients and beat at low-speed just until combined. Stir in white chocolate chips and freeze dried berries.
Scoop dough into balls and place on cookie sheet 2 inches apart. Bake for 9-11 minutes, or until edges are set.
Cool cookies on sheets until able to lift without breaking. Transfer to a wire rack to cool.