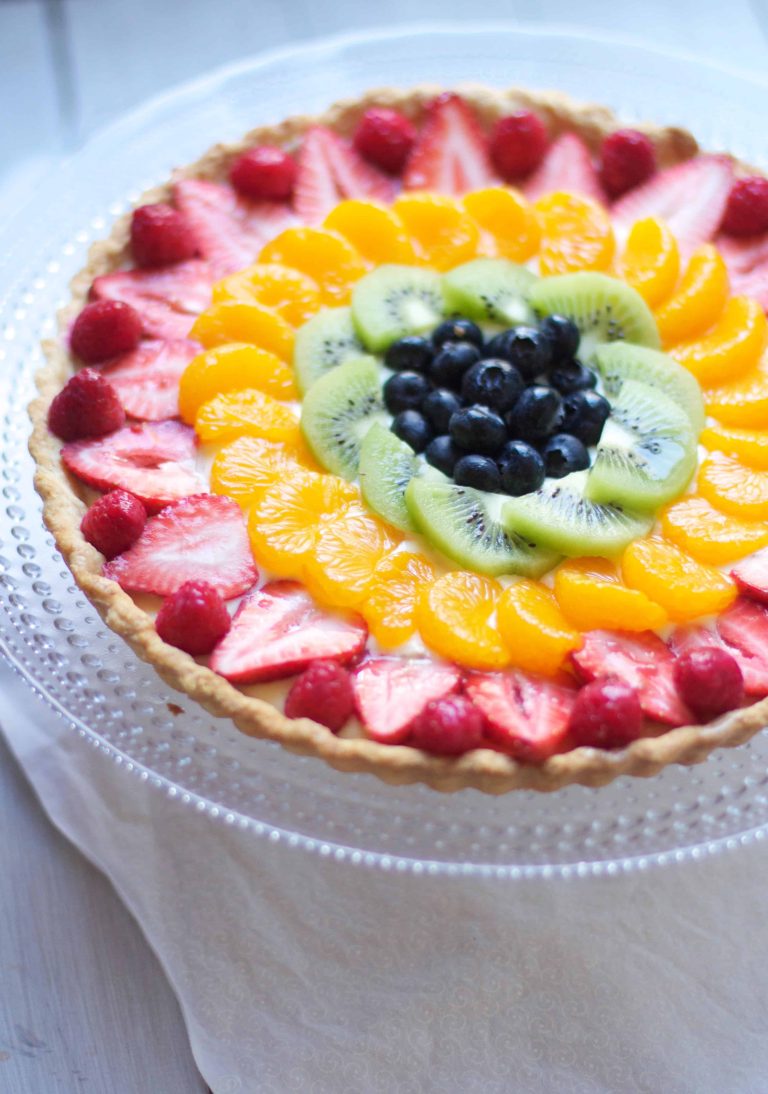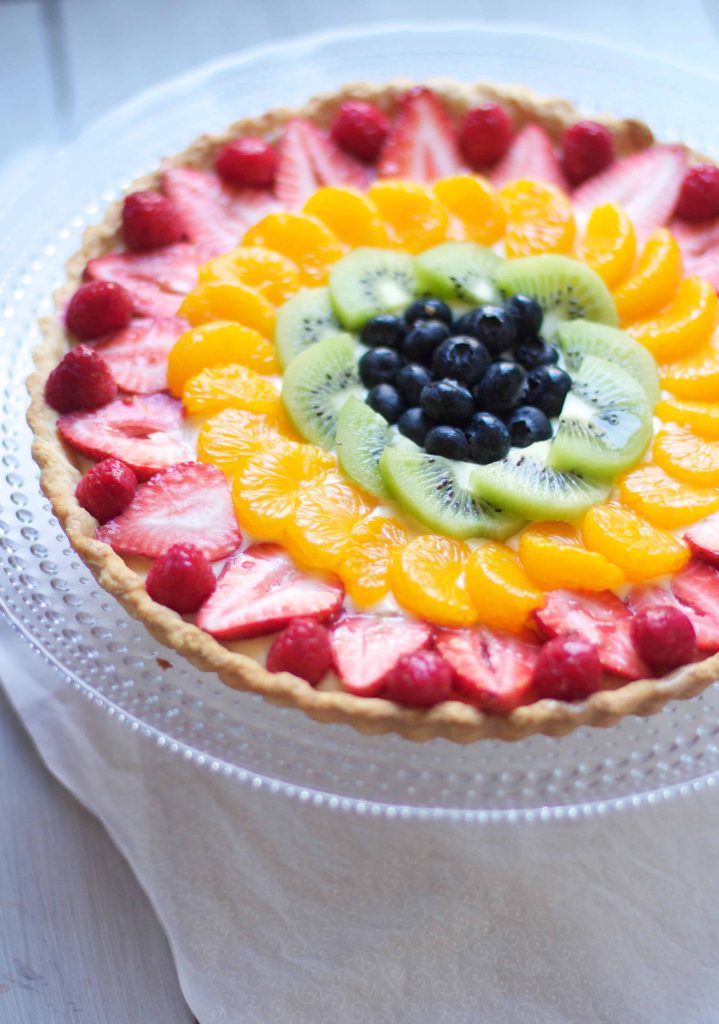 This is my favorite dessert.
No seriously. I mean …… I may say that a lot in the course of this blog, but as a teenager and young adult at least, this was absolutely my fave.
Anyone in my family can vouch that I chose this instead of a birthday cake every year from 14 until I moved to New York at 23. What is not to love about a fruit tart? Perfectly flaky buttery crust….creamy filling….and tart and refreshing fruit on top.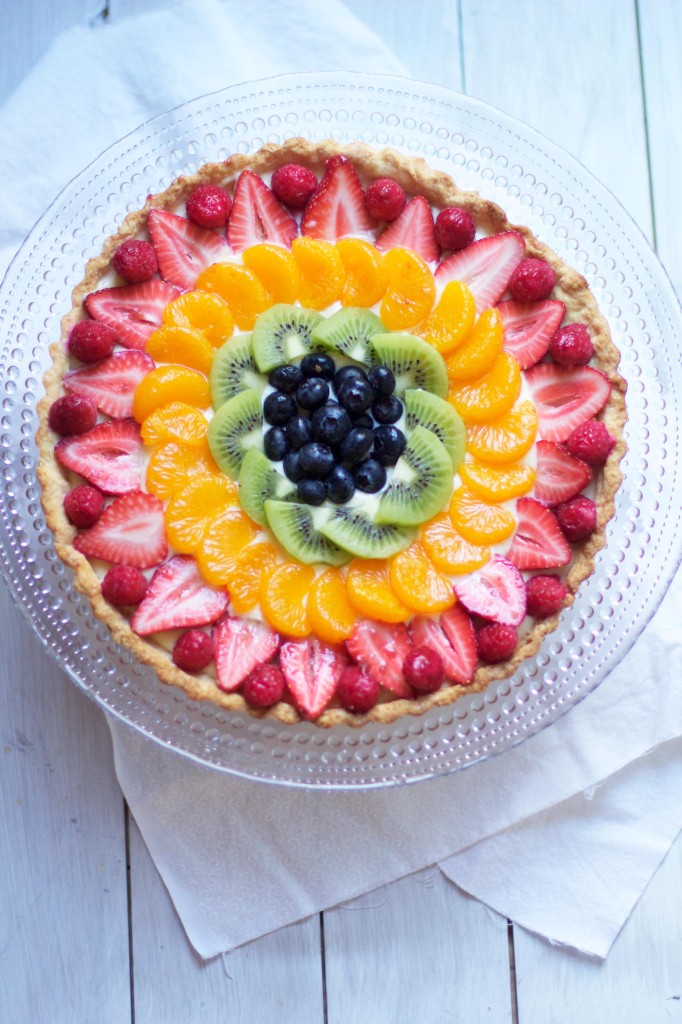 Until now though, my only hope of eating this was to either venture to an Italian bakery in the city or go back to the one in Milwaukee that served these up back in the day.
For some reason making tarts always seemed super daunting. They are like the fancy step sister to Pie wouldn't you agree? And since today, (3/14) is "Pi Day" I thought a tart counted. It counts right?
Turns out making tarts is in many ways easier than pies because you just mold the crust into the shell and call it a day. No fancy decorating or lattice work called for!
I also thought this dessert would be appropriate to share today because well I don't know about you- but I'm still in a bright summery phase.
I am desperate for sunshine and until we get it these types of desserts make me happy. It's the perfect type of treat for warmer days, but as far as I'm concerned there is never an off season for something so light and delicious!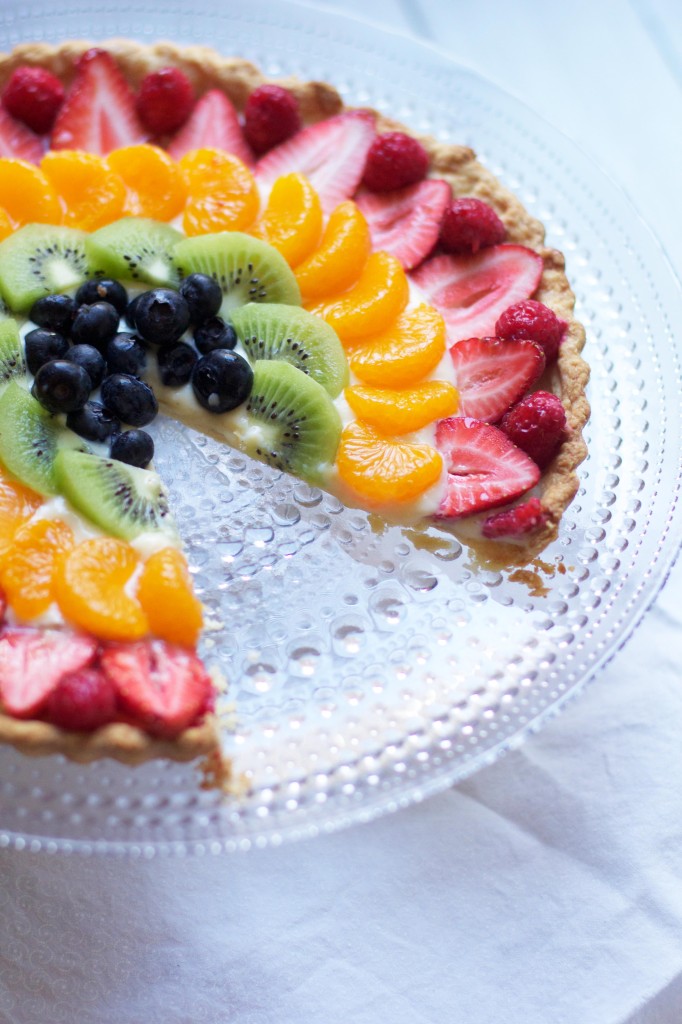 We start with a simple buttery crust, similar to pie dough, that is pressed into a fluted tart pan and blind baked. Then it's filled with luscious pastry cream and the brightest, most colorful fruit you can find is arranged on top. (My favorite part- so fun!) If desired you can brush a simple jam glaze on top, but I skipped it this time.
The final result- A light and summery dessert that everyone will love!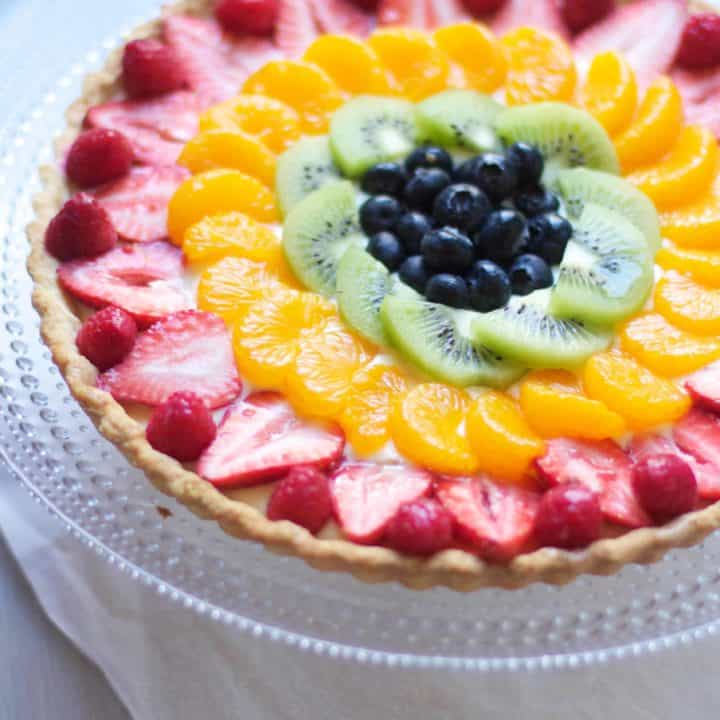 My Favorite Fruit Tart
Ingredients
Crust:
1 stick of butter, cold, chopped into pieces
1 1/4 cups flour
1 1/2 tablespoons sugar
1 egg yolk
1/8 cup ice water
Pastry Cream:
2 cups milk
1/4 cup white sugar
2 egg yolks
1 egg
1/4 cup cornstarch
1/3 cup white sugar
2 tablespoons butter
1 teaspoon vanilla extract
Fresh fruit for topping. (I used, Strawberries, Kiwi, Mandarin Oranges, Raspberries and Blueberries)
3/4 cup Apricot Jam (optional)
Instructions
To make pastry:
In a food processor, mix the flour and sugar together for a few seconds. Add the butter and process for a 20-30 seconds until coarse crumbs form. With the machine running add the yolk and ice water until dough comes together. Form into a disc and wrap with plastic wrap- chill for at least an hour.
Roll pastry large enough to cover base and sides of a 9-inch fluted tart pan sprayed with Baker's Joy; trim edges; place sheet of foil into pastry and fill with pie weights (or dried beans); bake 20-25 minutes at 375F. Remove foil and beans and bake a further 5 minutes; allow to cool.


For pastry cream:
In a heavy saucepan, stir together the milk and 1/4 cup of sugar. Bring to a boil over medium heat.
In a medium bowl, whisk together the egg yolks, egg, sugar, and cornstarch. When the milk comes to a boil, slowly stream it into the bowl while mixing constantly so that you do not cook the eggs. Return the mixture back to the saucepan, stirring constantly until cream is thick and bubbling like lava.
Remove from heat and stir in the butter and vanilla. Pour into a heat-proof container and place a piece of plastic wrap directly on the surface to prevent a skin from forming. Refrigerate until chilled before using.
For the glaze*:
Mix 2 tablespoons of water with the jam and heat in a small saucepan until it becomes thin and liquid-y.


To assemble:
Spread chilled pastry cream into the cooled crust.
Arrange fruit over the filling. (The fun part!!) Using a pastry brush, spread the glaze generously over the fruit to seal it in.
Serve day of making as if you wait too long the colors from the berries may bleed onto the filling and not look as pretty. Refrigerate any leftovers!
Notes
*the glaze is optional. I didn't use it this time because I thought I had some apricot jam but actually didn't. It adds a little extra sweetness and seals the fruit in.
Crust recipe from Martha Stewart
Pastry Cream recipe from All Recipes
Adapted from this recipe.