Roasted Garlic Cauliflower Soup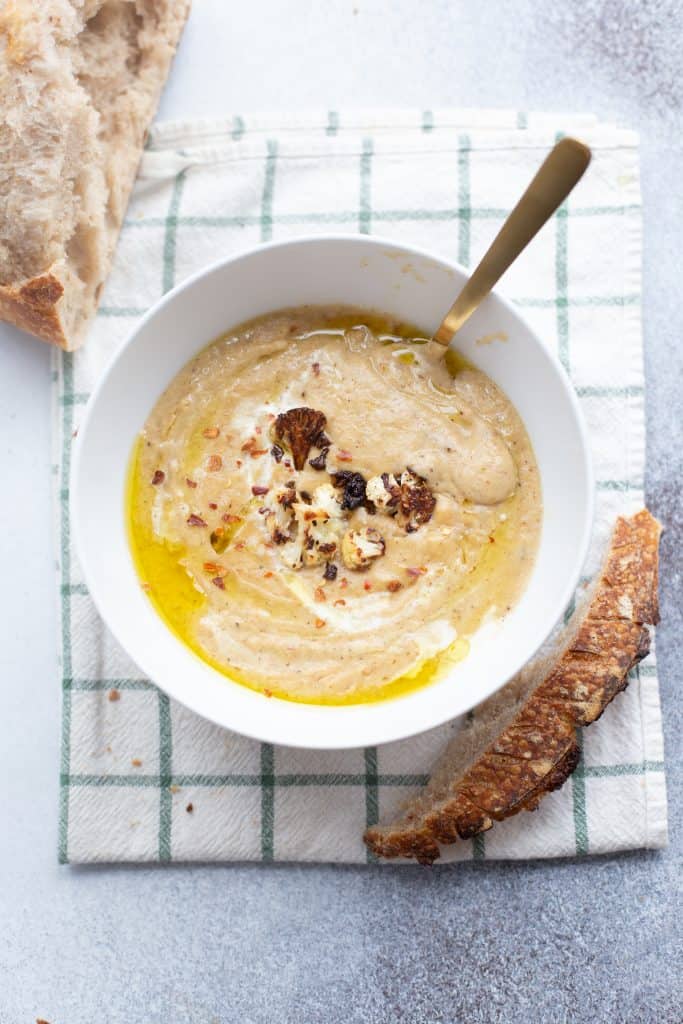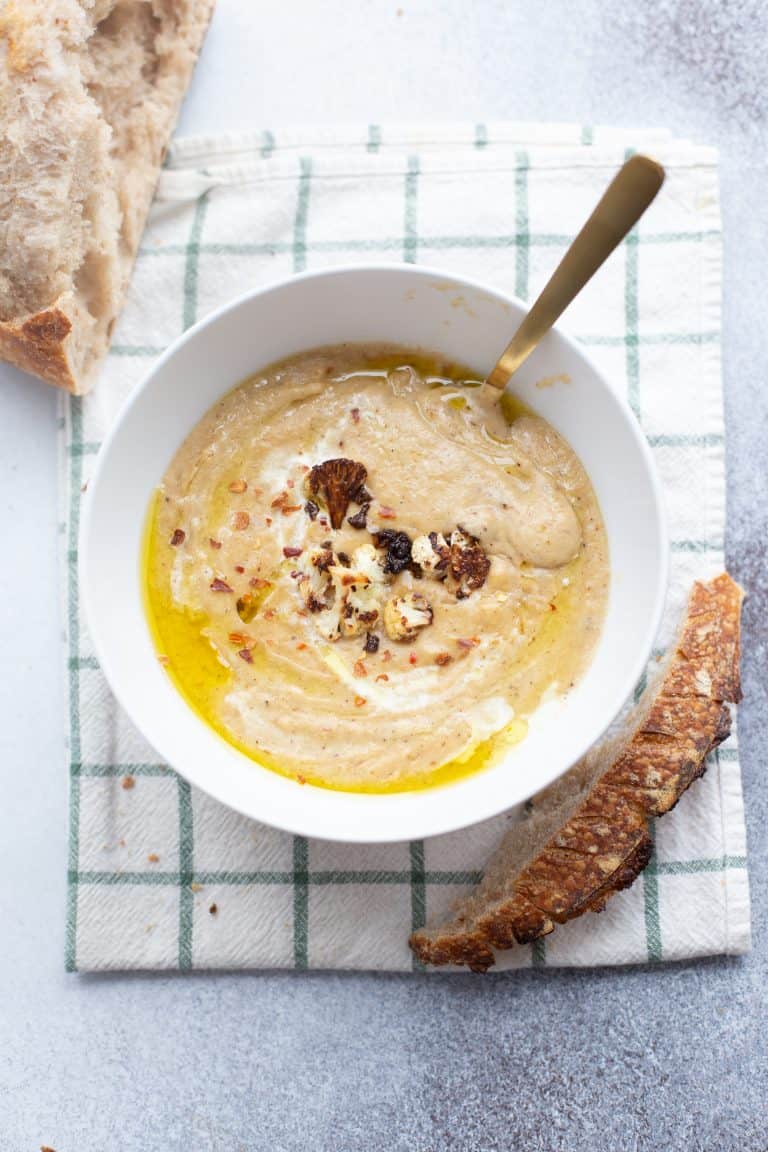 These cozy winter days are for soup and all things warm and delicious don't you agree? I have gotten into the habit of baking a fresh loaf or two of sourdough every Monday morning, and preparing a quick pot of soup to go with it.
This soup uses a handful of simple ingredients to create a creamy soup with amazing flavor my whole family loved. Cauliflower Garlic Soup meets Potato Leek Soup and the final result is so so good! Creamy roasted garlic is one of my favorite flavors and it works so well in this recipe.
The soup is made in two parts- roasting the cauliflower and garlic to add that caramelized, mellow flavor that is so great about roasting, and also sautéing the leeks or onions until soft and golden and cooking them in the broth with potatoes.
At the end everything is combined together and blended until smooth- making the whole thing ready in about 30 minutes!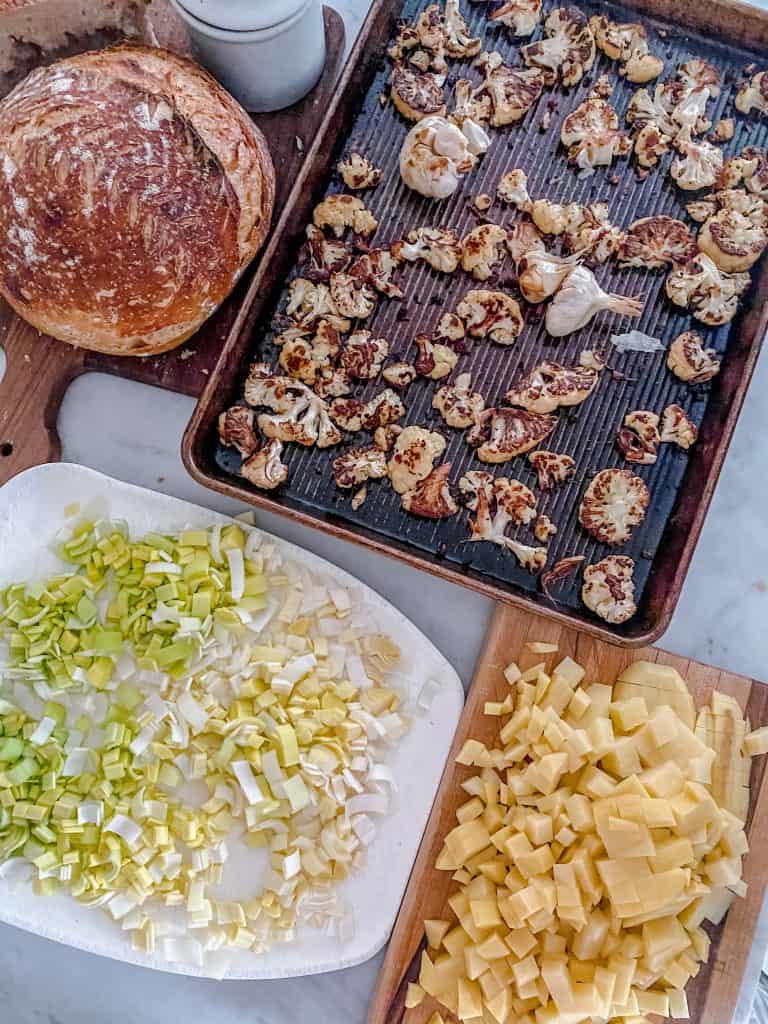 Ingredients needed for Roasted Garlic Cauliflower Soup:
Cauliflower Florets
Olive Oil
2 heads of garlic
Leeks, onion or shallot
Potatoes
Heavy Cream
Salt
Black Pepper
Herbs: Fresh Thyme, Rosemary or Parsley
Supplies needed for Roasted Garlic Cauliflower Soup:
Immersion blender, regular blender, or food processor
Baking sheet
Small skillet or pan for roasting garlic
Aluminum Foil
Large Pot or large dutch oven
How to Roast Garlic:
Place a garlic head on a small piece of foil and cover with 1-2 tablespoons of olive oil. Wrap garlic cloves with foil to create a seal and roast at 400F for an hour.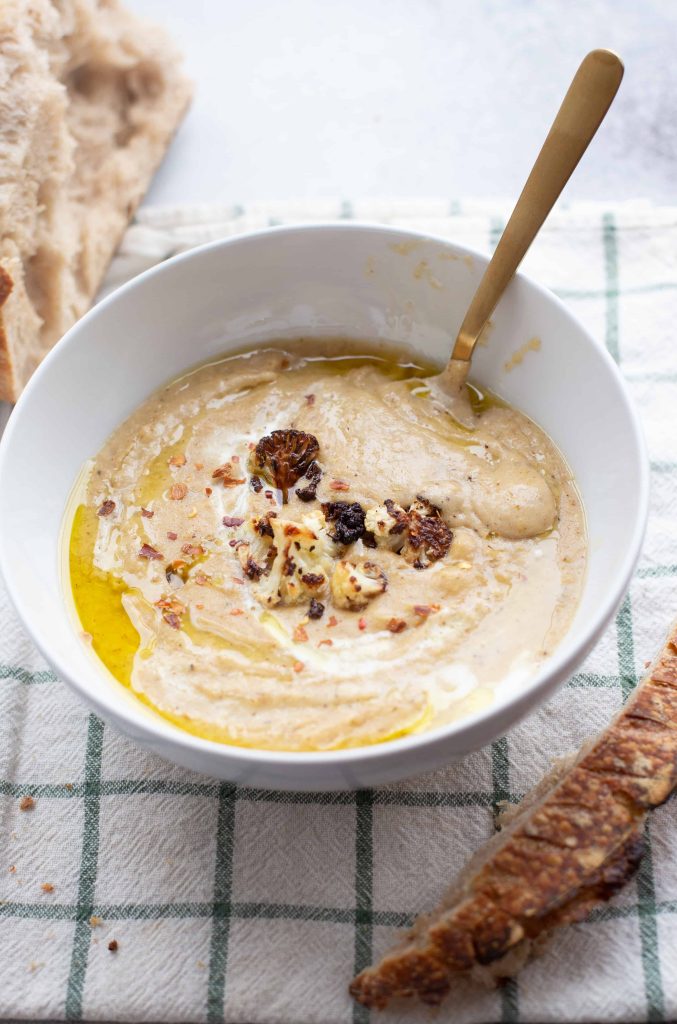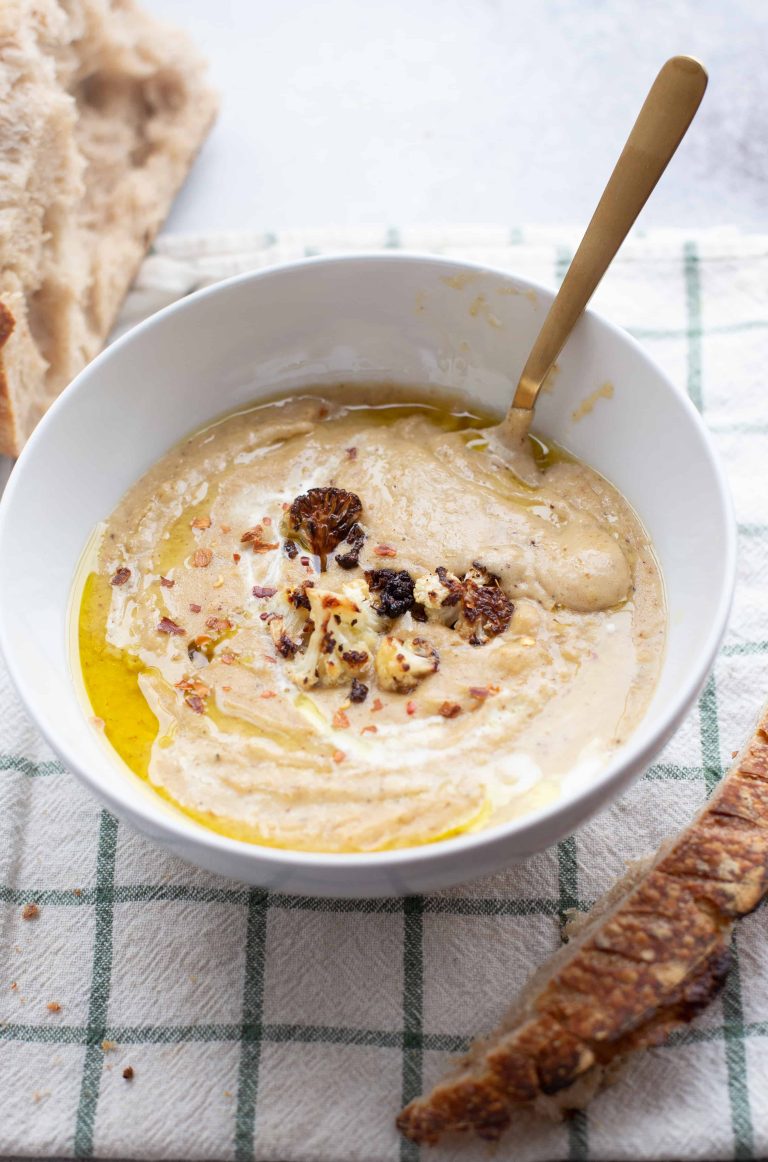 The Process:
Place cauliflower in a single layer on a baking sheet and toss with a tablespoon of olive oil, salt & pepper. Place in the oven at 400F for about 25 minutes, flipping cauliflower as needed. The garlic needs longer to roast but they can share the oven.
Then in a large soup pot over medium-high heat cook the leeks or onions until soft, add broth and potatoes and simmer until potatoes are soft. Add the roasted cauliflower and garlic back in as well as some cream. Blend hot soup until smooth, leaving some larger pieces out if desired depending on your ideal soup texture. Add additional broth if needed.
Can I make this into Vegan Roasted Cauliflower Soup?
Definitely! It is super easy to adapt this recipe by using coconut milk instead of cream and vegetable stock instead of chicken stock
Ways to adapt this soup and make it your own:
Add any fresh herbs you like to the cauliflower when you roast it
Use coconut milk instead of cream for a new flavor
Switch out chicken broth for any broth/or stock you want to use.
Add crushed red pepper for a touch of spice.
Top with some cripsy bacon, fried onions, or lemon juice
How to store Roasted Garlic Cauliflower Soup?
Soup will last in the fridge for 2-3 days in an airtight container. You can also freeze for up to a month.
Want to save time? You can meal prep by roasting the garlic and cauliflower ahead of time and then just added them to the soup when ready.
Let's make Bowl of Soup Mondays a thing shall we? If you make this Cauliflower Soup recipe please let me know what you think!
More Favorite Soup Recipes:
Creamy White Bean Rosemary Soup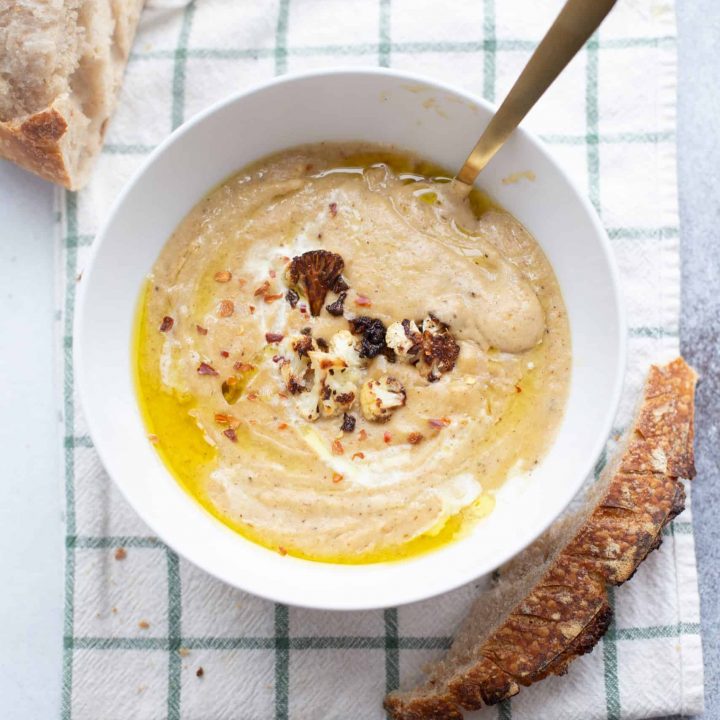 Roasted Garlic Cauliflower Soup
Ingredients
2 small/medium heads of cauliflower, cut into small, flat pieces
2 heads of garlic
2 leeks or 1 medium size onion- sliced/diced into small pieces
2 golden potatoes small diced
1 cup heavy cream
salt, pepper and extra virgin olive oil
4-6 cups chicken or veggie broth
Instructions
Preheat oven to 425F.
Toss cauliflower with olive oil, salt & pepper and spread amongst 2 cookie sheets, making sure it's not over-crowded.
Slice the bottom off of each whole clove of garlic and place on a square of foil- drizzle with olive oil and seal the foil around the garlic.
Place the wrapped up garlic on the cookie sheets and place both in the oven. Roast for 20 minutes total, flipping the cauliflower half way through to make sure both sides get nice and golden.
At the same time, heat 2 tablespoons of olive oil in a large pot or dutch oven, add the leeks or onions and sauté until golden.
Add 4 cups of broth and the diced potatoes, and bring to a boil. Reduce heat to medium and cook until potatoes are tender
Using a slotted spoon, remove about a cup of the diced potatoes and set aside about a cup of the crispiest small bits of cauliflower.
Add the rest of the cauliflower to the pot as well as the garlic cloves. (Just use the flat part of a butter knife to gently squeeze them out.)
Add the heavy cream, salt and pepper and pureé soup until smooth using an immersion blender or a regular blender.
Add the reserved potato and cauliflower back to the soup- add more salt pepper as needed, and a bit more broth of soup is too thick for your liking.
Notes
Want to make the soup vegan? Add full fat coconut milk instead of the heavy cream!