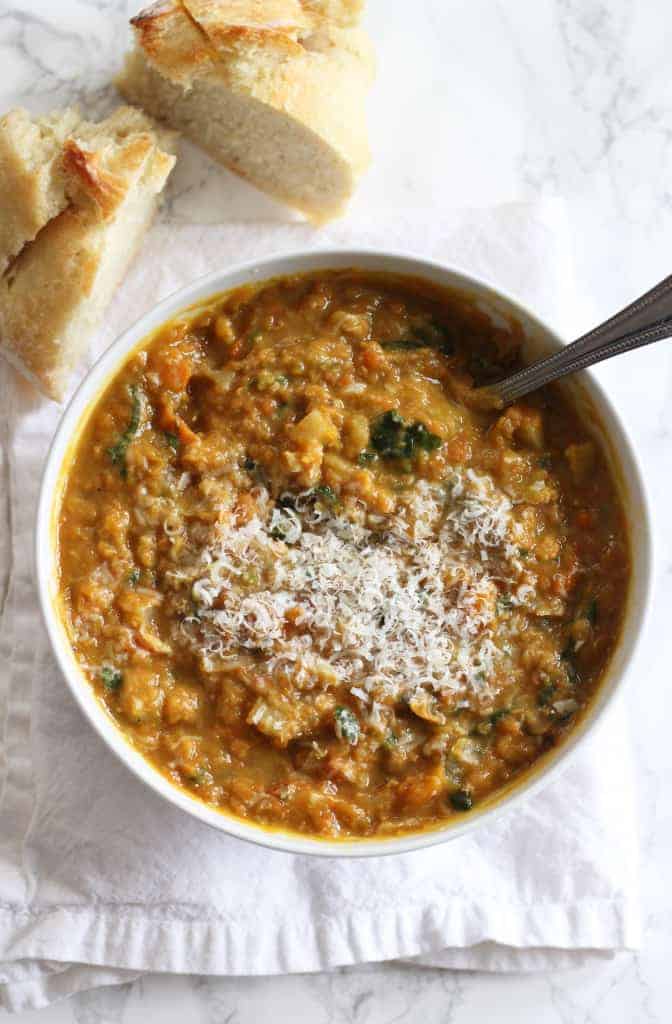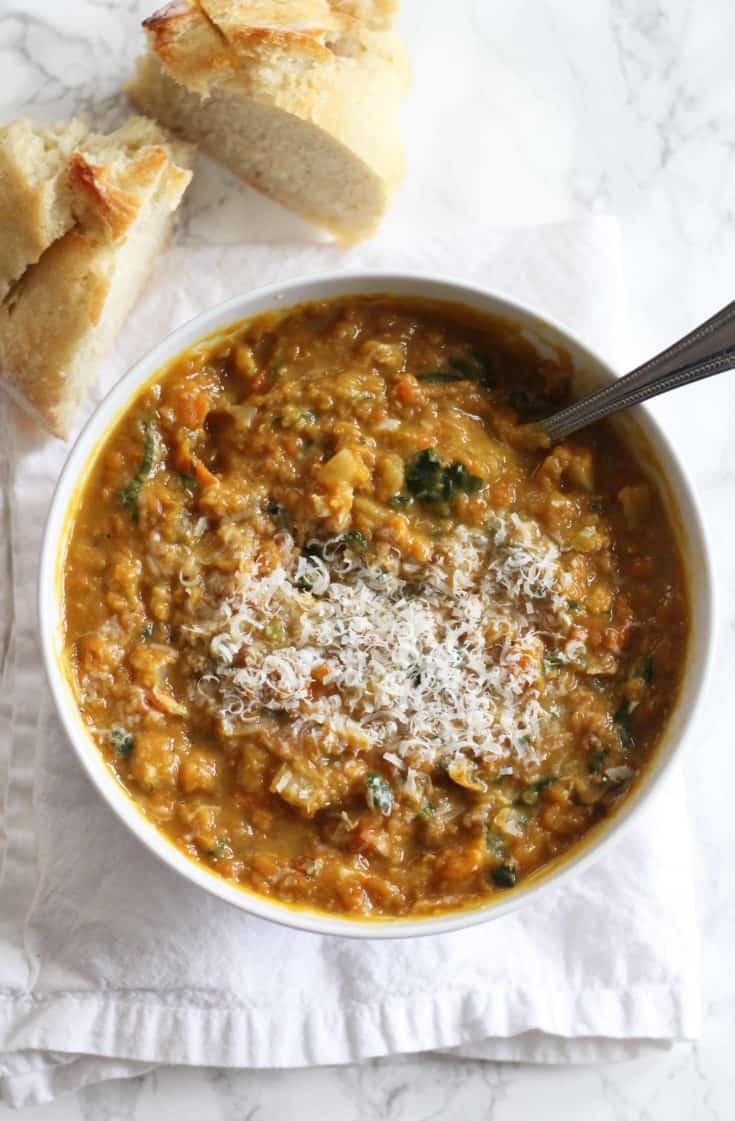 It's December, and while I feel like everyone is chomping at the bit for gingerbread, peppermint, and cookies galore, I'm here with a super healthy and hearty dinner idea for you.
Don't worry, all of those other things are coming soon, but I have been desperate for some wholesome meals to balance out all the over-indulging.
This dinner was so cozy and wonderful, and to my joy all THREE of my family members loved it. That'a a successful dinner now don't you agree?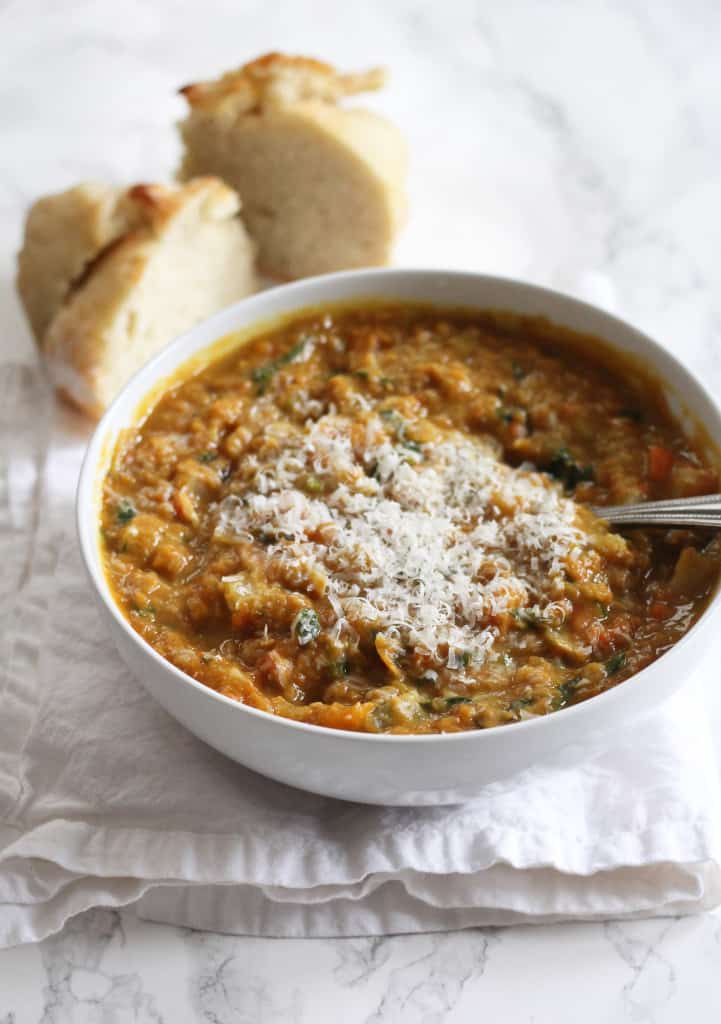 This soup uses red lentils, which are my favorite, but green lentils, or split peas would work well too.
It is full of veggies, I used butternut squash, spinach, carrots, celery & potato in this, but you could sub sweet potato, or kale if that's what you have!
Chopping the veggies takes a little prep time, but once that is done everything cooks up in about 30 minutes and dinner is served.
In my opinion the secret to making this a fantastic soup is the smoked paprika. If you don't have this spice in your cabinet get on it stat!
Everyone that tasted this asked if I had made it with bacon, and when I told them it was meat free they were shocked! The smoked paprika adds a really nice flavor and (in my opinion,) is a great addition to almost any dish.
I made a loaf of Crusty No Knead Artisan bread to go alongside this and it was fabulous to dunk right into the warm soup. My only regret is that I didn't double this recipe and freeze leftovers. Guess what's going back on the meal plan for next week?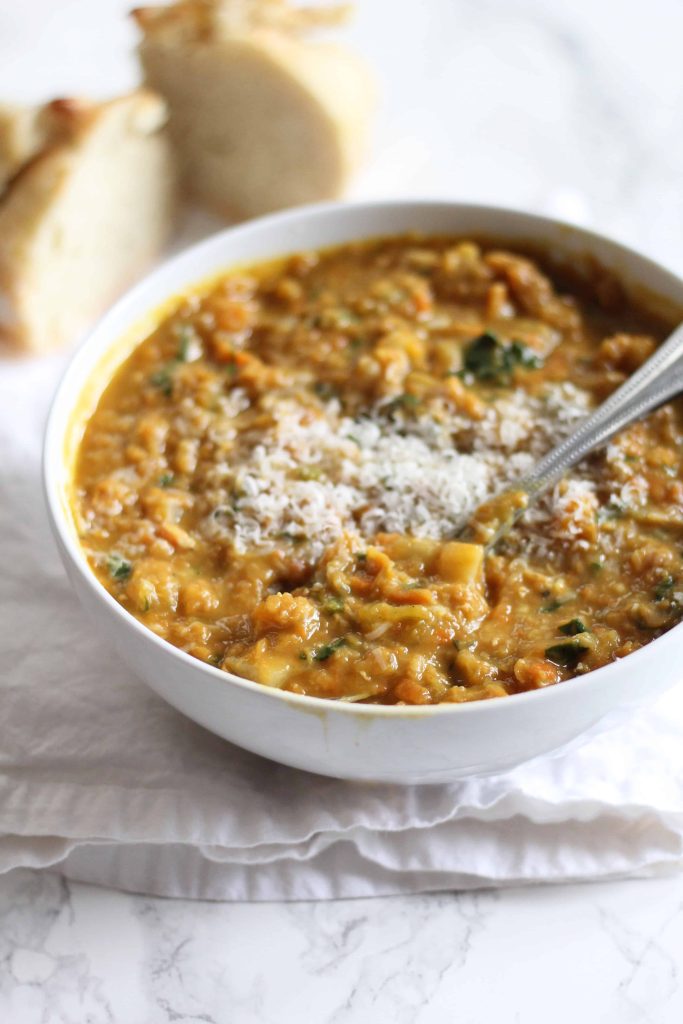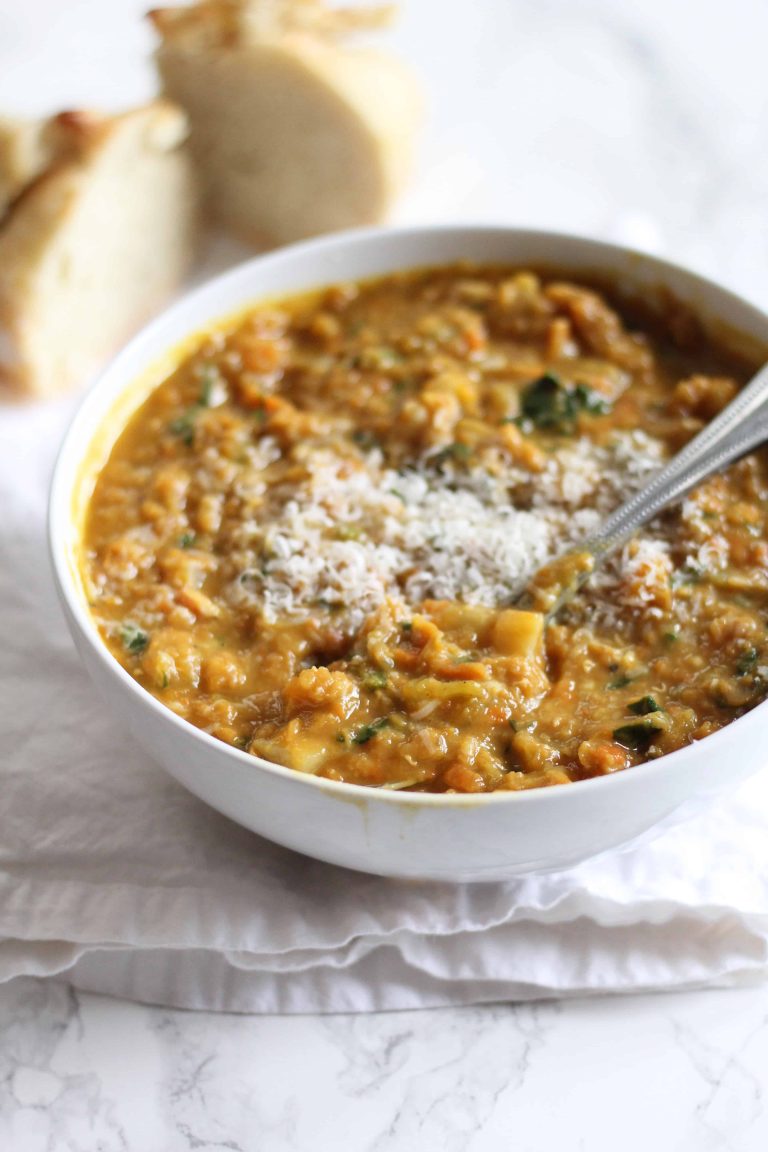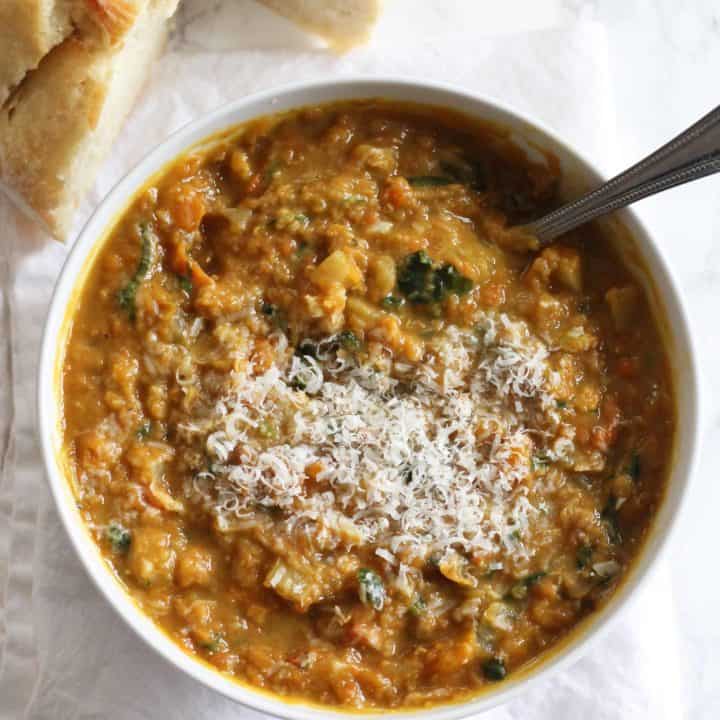 Red Lentil Soup
A quick and hearty red lentil soup- perfect for a chilly night!
Ingredients
2 tbsp. olive oil
1 cup diced celery
1 medium sized onion, diced
2 cup grated carrots (you could also dice them,)
10-12 cups chicken or vegetable stock
1/2 teaspoon smoked paprika
salt & pepper to taste
1 sprig rosemary
1 sprig thyme
2 tsp. vinegar
2 cups dried red lentils
2 cups cubed butternut squash*
1 large russet potato, diced
2 cups finely chopped spinach
grated parmesan cheese (optional)
dash of cayenne pepper (optional)
Instructions
In a large dutch oven or pot, sauté the onion and celery in olive oil for 5-7 minutes or until soft. Add the carrots and continue to cook until golden, another 3-5 minutes.
Add the stock, paprika, alt & pepper, fresh herbs, vinegar, lentils, squash, and potato. Bring to a boil, and then reduce to low, simmering for about 20 minutes, or until the lentils have broken down and all the vegetables are soft.
Stir in the spinach right before serving, and top with parmesan cheese and a dash of cayenne if desired.
Notes
*I was lazy and bought the pre-peeled and cubed squash from Trader Joes. I then cut it into bite-sized pieces.

Recipe adapted from Life Made Simple Bakes