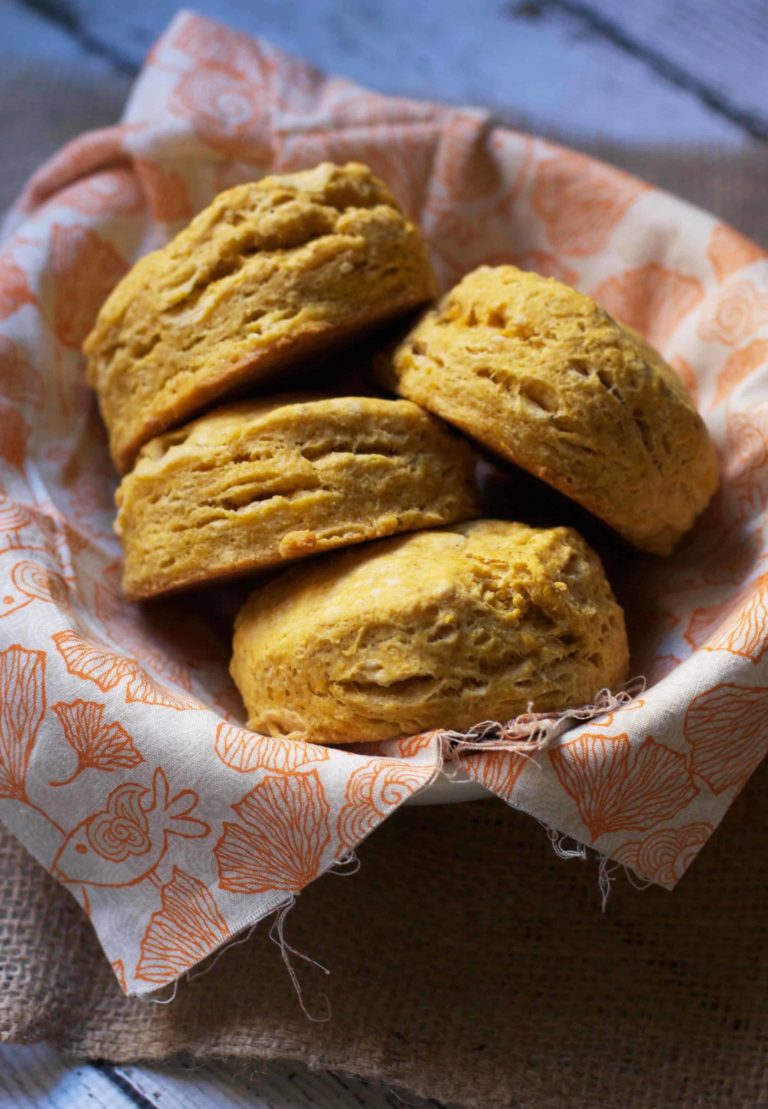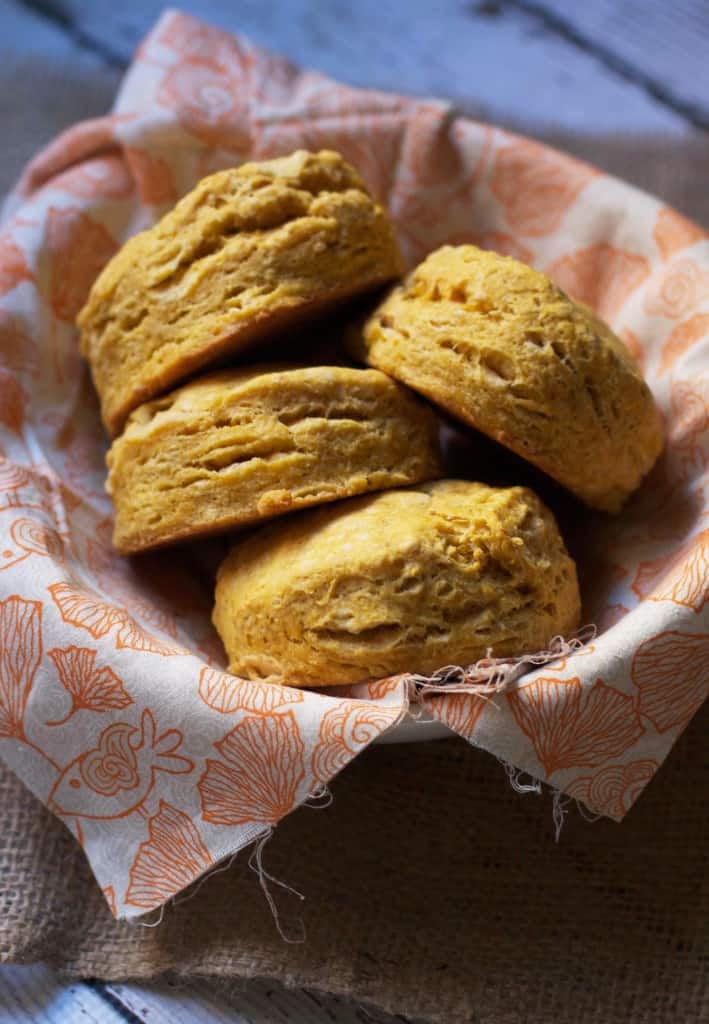 I am so not over pumpkin you guys. I have heard that words "over pumpkin" around the interwebs and I for one don't understand it. I feel like 9 months of the year I have to be all closeted about my pumpkin love, but September, October and November are the only "acceptable" times to be obsessed with it. (I also think it's perfectly OK in December but it seems like gingerbread and peppermint take center stage.) Anyway I am still going strong in my adoration of these spicy fall flavors as can be noticed with these super flaky Spiced Pumpkin Buttermilk Biscuits.
Last week my friend Rebecca posted a tutorial on how to make flaky biscuits and it left me very inspired. I've been wanting to make pumpkin biscuits for awhile, but after seeing her perfect layers and well-explained techniques I thought this was the time. (I strongly recommend checking out her biscuit making tips and tutorial on her blog Foodie with Family.)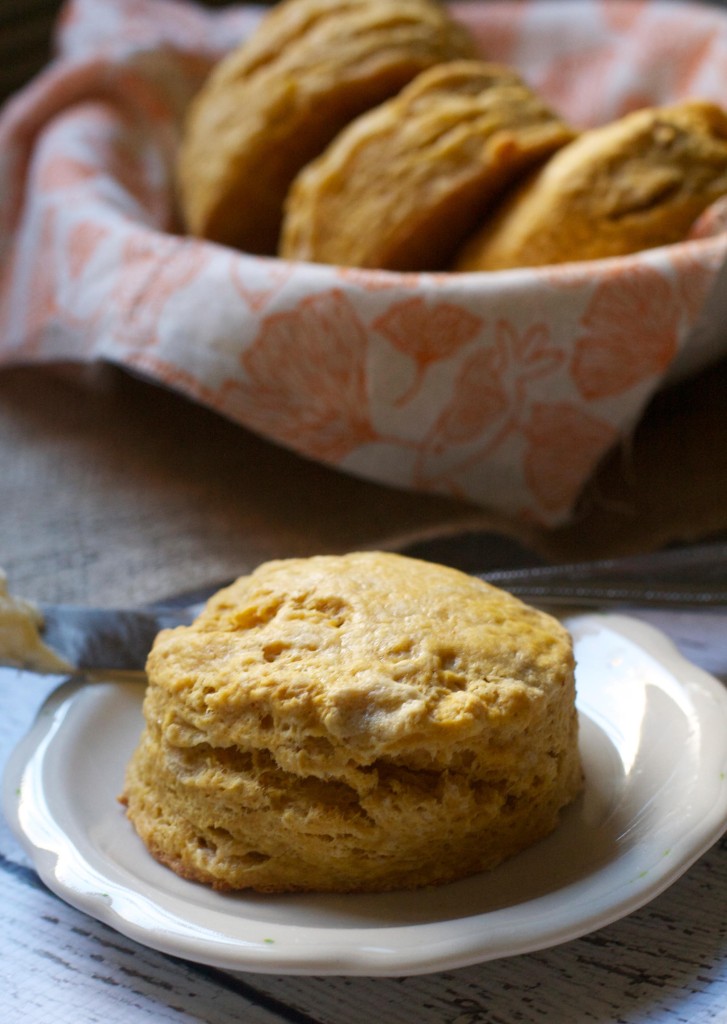 Also- since I am hosting Thanksgiving this year, and to my delight my mom, dad and sister are joining the rest of us here in NYC (at my place.) My Thanksgiving menu has already been on the brain. My Dad is a bread guy. It must come from his Middle Eastern roots, where some freshly baked or toasted pita is always on the table, but no meal is complete for my Dad without some delicious bread. I'm still brainstorming ideas for our bread basket, but I think these would make an excellent addition. (Plus you can actually freeze them un-baked which makes prep oh so easy!!)
Though lightly spiced with a hint of maple syrup, these aren't really sweet at all, and I enjoyed with with a slather of honey butter. I can also imagine dunking them in gravy and cranberry sauce can't you?
Spiced Pumpkin Buttermilk Biscuits
Yield:
10 3-inch biscuits
Ingredients
2 cups all-purpose flour
1 tablespoon sugar
2½ teaspoons baking powder
½ teaspoon salt
1¼ teaspoons pumpkin pie spice
5 tablespoons chilled butter, cut into small pieces
⅓ cup buttermilk (plus more for brushing)
¾ cup pumpkin puree
3 tablespoons pure maple syrup (or honey)
Instructions
Preheat oven to 400° F and line a baking sheet with parchment paper or a silpat.
In a large bowl, whisk together the flour, sugar, baking powder, salt and pumpkin pie spice.
Add the butter and use your hands to work it into the flour mixture. Continue to squeeze it through your fingers, working it into the dry ingredients until the butter pieces are no bigger than small peas. Cover and chill 10 minutes.
In a small bowl, whisk together the buttermilk, pumpkin and maple syrup until well blended. Make a well in the dry ingredients and pour the buttermilk mixture in, stirring until just moistened. (Dough will be a bit shaggy.)
Turn dough out onto a lightly floured surface; knead 3 or 4 times, gradually adding additional flour as needed. (dough may still seem a bit ragged, but don't knead it too much.)
With floured hands, press or pat dough into a ½-inch-thick 9 x 5 inch rectangle. Sprinkle top of dough with additional flour. Fold dough over onto itself in 3 sections, starting with 1 short end. (like how you'd fold a letter,) Repeat entire process 1 more time, beginning with pressing into a ½-inch-thick 9 x 5 inch rectangle and then folding like a letter.
Press or pat dough to ¾-inch thickness on a lightly floured surface; cut with a 3-inch round cutter (try to get as many cuts as you can as the scrap dough pieces won't make as flaky of biscuits.)
Place biscuits, 1 inch apart, on prepared baking sheet and brush with buttermilk.
Bake at 400° for 13-15 minutes or until golden. Remove from baking sheet and cool 2 minutes on wire racks. Serve warm.