Spiced Pumpkin Buttermilk Biscuits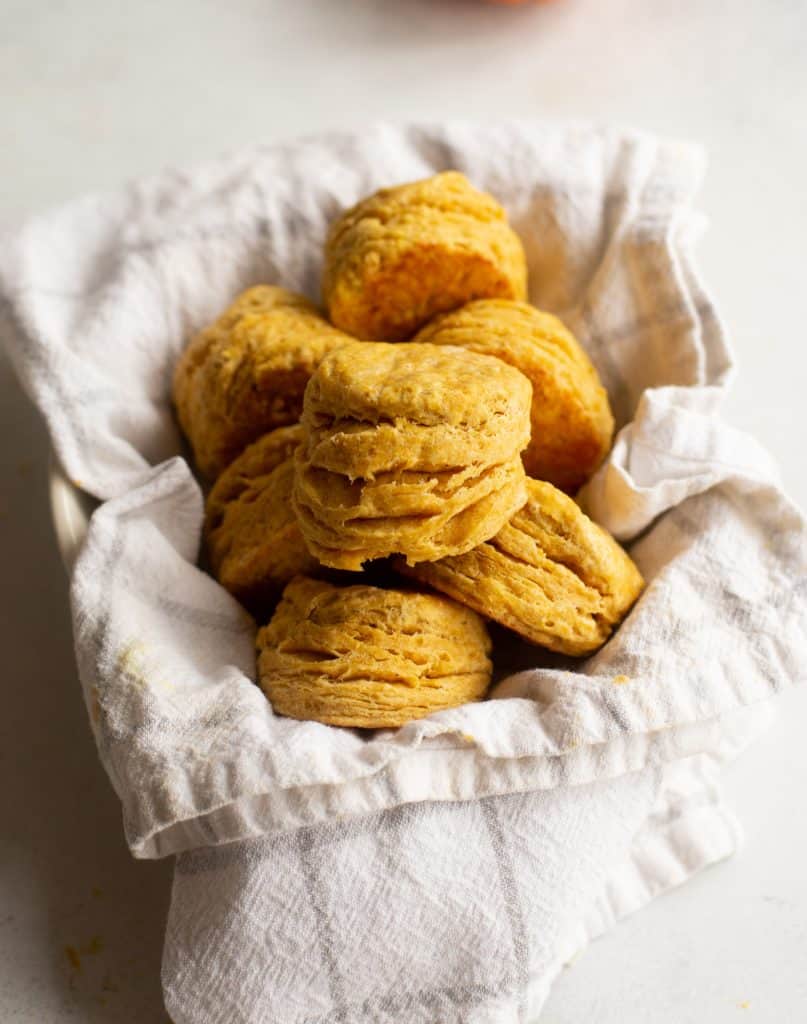 Thanksgiving is around the corner, and fluffy, flakey, Spiced Pumpkin Buttermilk Biscuits are so fun and festive for your holiday spread.
Why make Pumpkin biscuits instead of regular rolls?
They are just barely sweet but full of pumpkin spice, just festive enough without taking away from the other dishes on your table.
They are super easy and fast to make.
You can prep these biscuits in advance and keep the in the fridge for up to 48 hours until you are ready to bake them.
In addition to being a great Thanksgiving side dish these are also to die for with some warm honey butter and a cup of tea, and a fabulous topping for a fall veggie pot pie!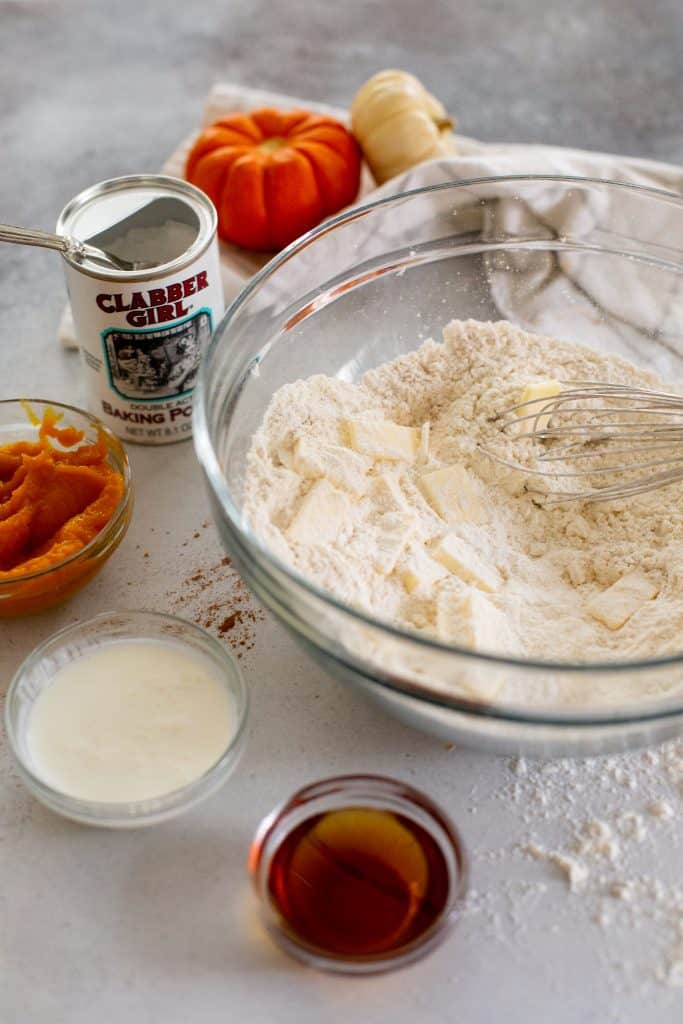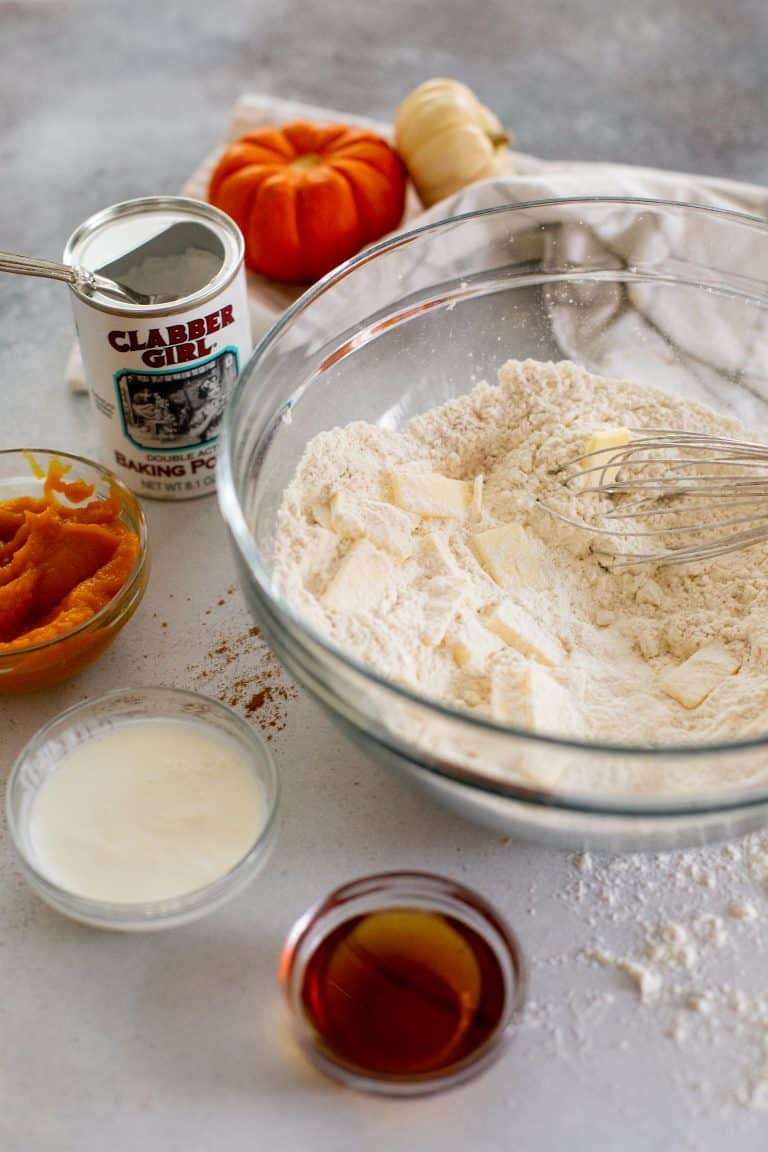 Some of the ingredients in Spiced Pumpkin Buttermilk Biscuits:
Pumpkin Pureé
Buttermilk
Cold butter (sliced to make the biscuit texture extra fluffy.)
Maple Syrup
Warm spices like cinnamon, nutmeg, ginger and cloves
The key to amazing biscuits is the fluffy texture and there are a few tips and tricks for achieving that: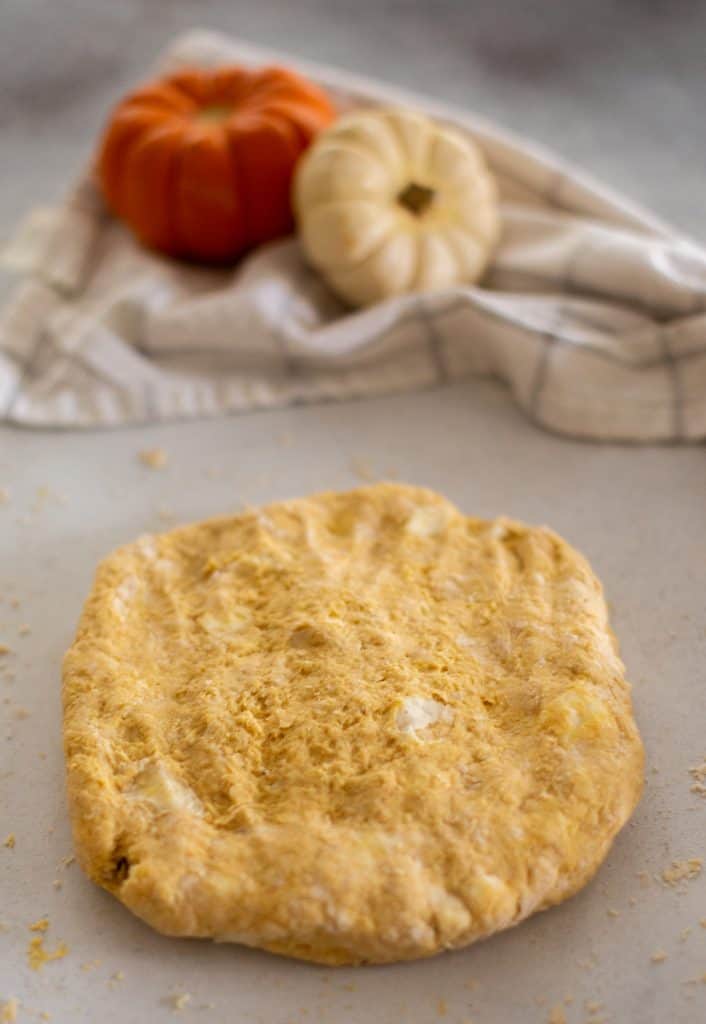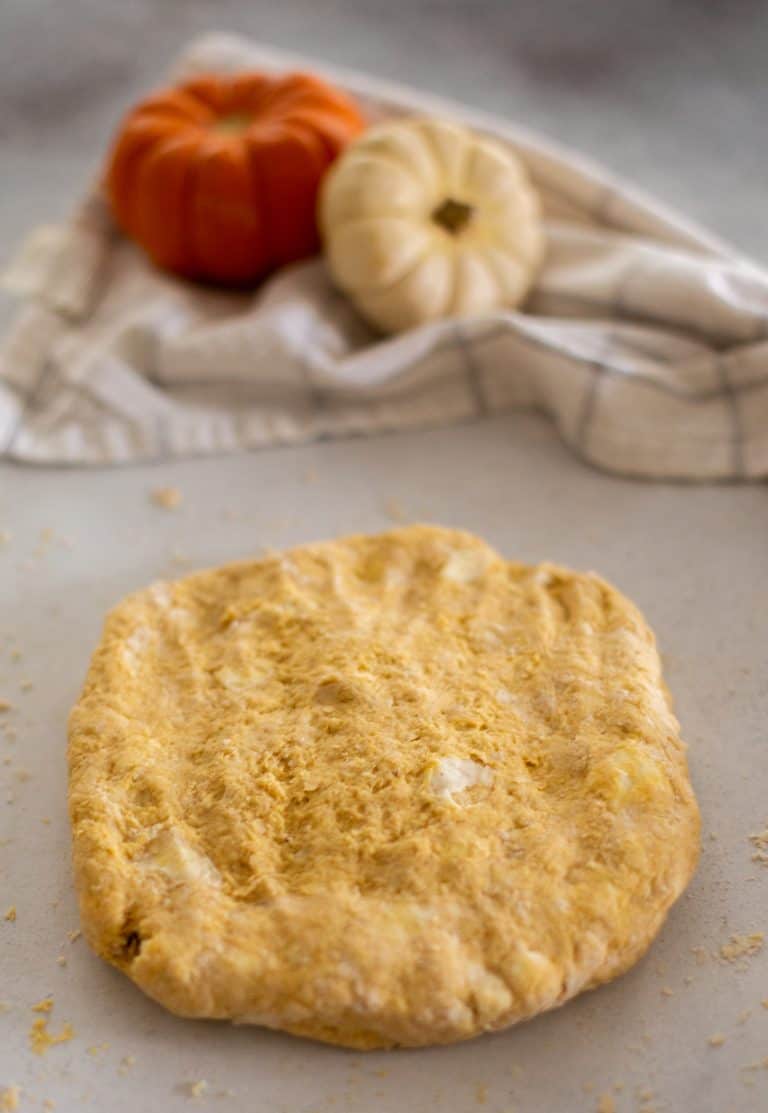 1- Don't over-mix your ingredients once the butter is added. The melted butter is what creates the flakes in the biscuits, so you want to make sure the butter is well distributed but still in small pieces distributed throughout the dough.
2- When you mix the wet and dry ingredients, make sure to NOT mix past the point of the dry ingredients being well distributed. Once the dough looks cohesive (see picture above,)
3- Never twist your biscuit cutter when cutting them out. A straight up and down motion is best for keeping those buttery layers.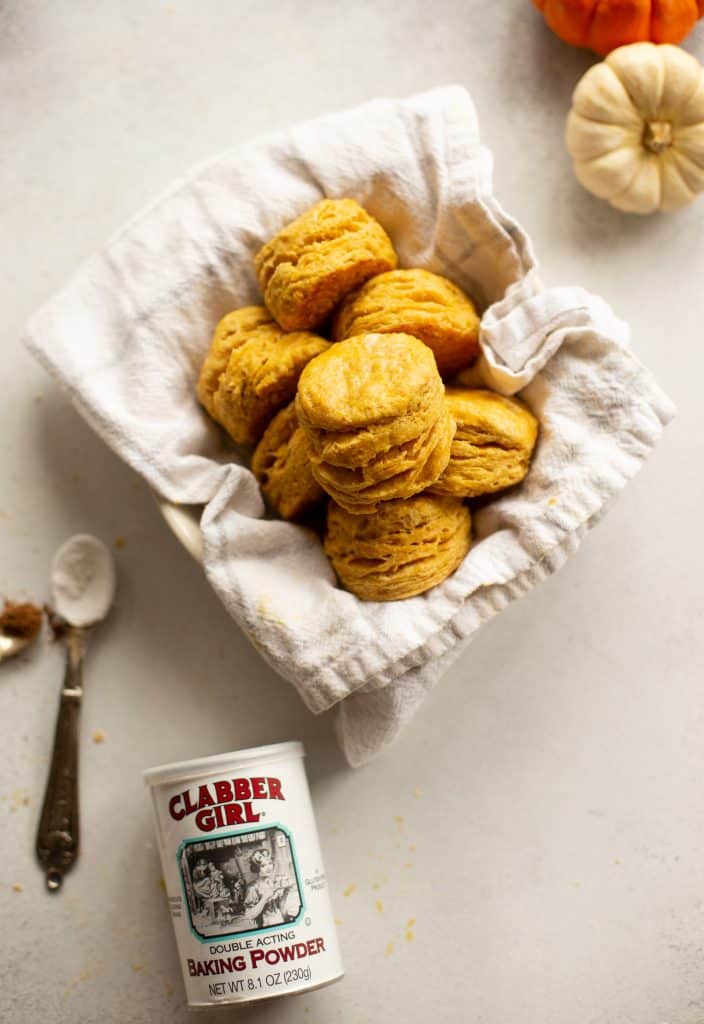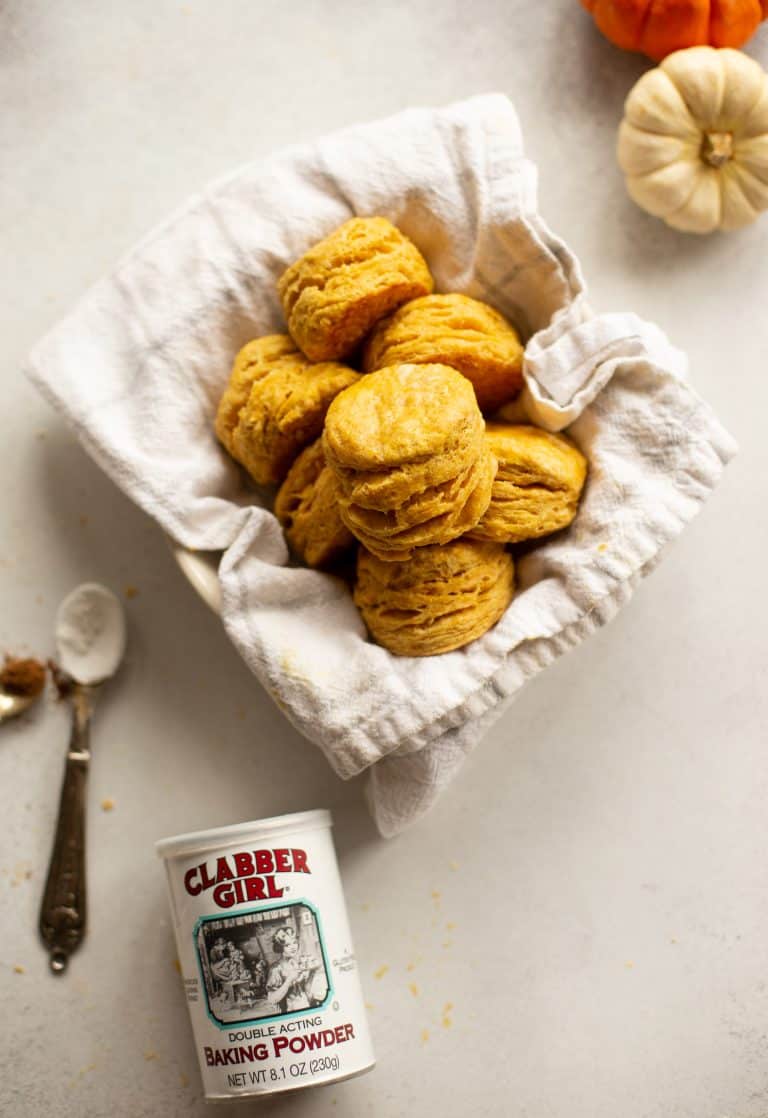 If these make their way to your Thanksgiving table please let me know- they are an all time favorite!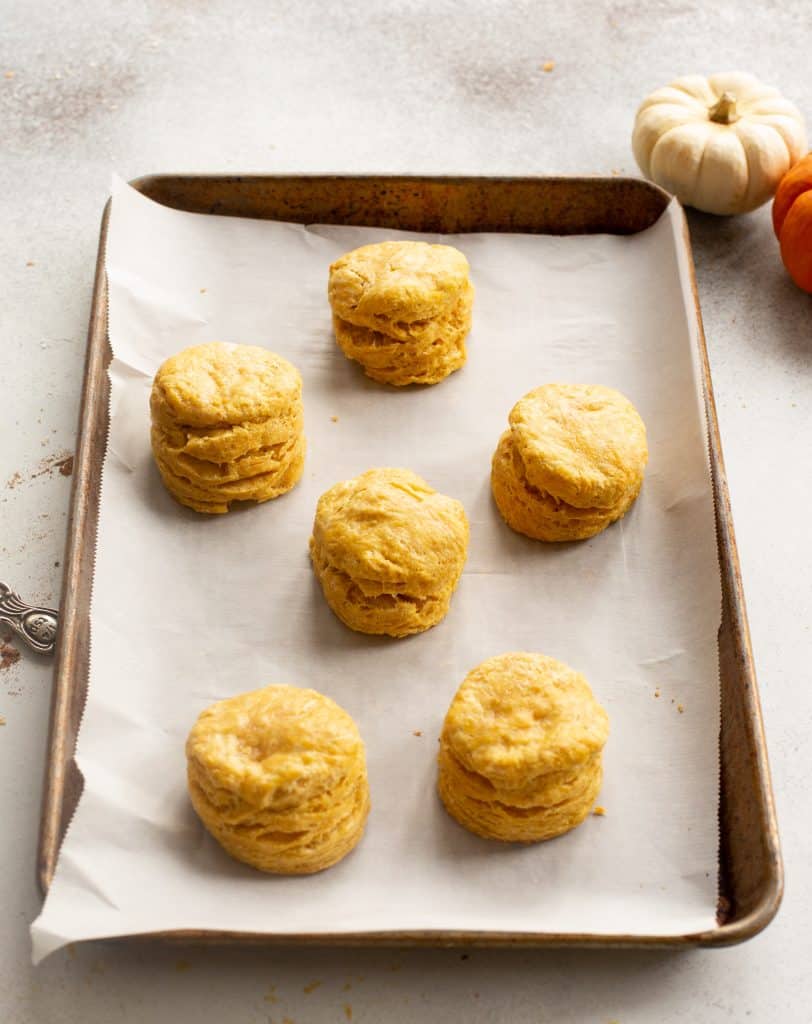 More Thanksgiving bread ideas: Pumpkin Parkerhouse Rolls And Perfect Parker House Rolls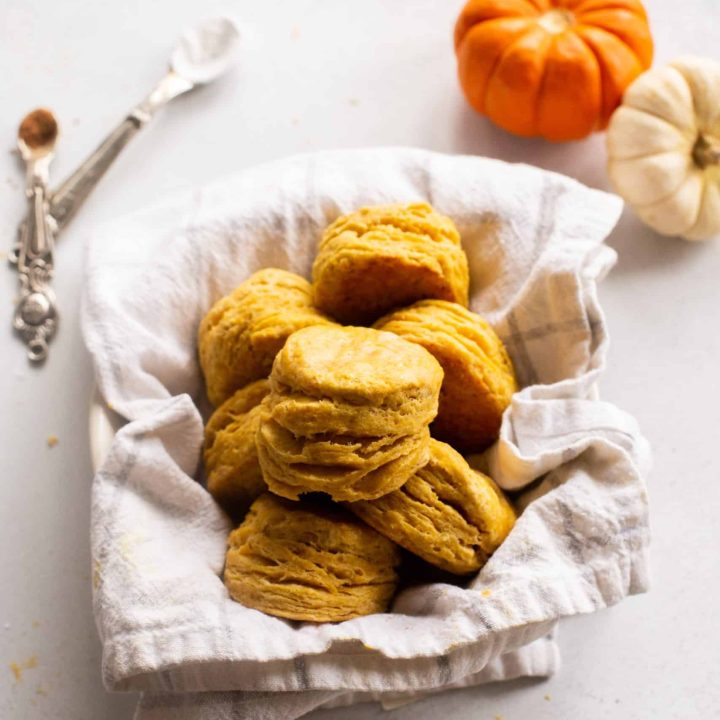 Spiced Pumpkin Buttermilk Biscuits
Ingredients
2 cups all-purpose flour
2½ teaspoons Clabber Girl Baking Powder
1/2 teaspoon salt
1/2 teaspoon Spice Islands Ground Saigon Cinnamon
1/4 teaspoon Spice Islands Ground Ginger
1/4 teaspoon Spice Islands Ground Cloves
1/4 teaspoon Spice Islands Ground Nutmeg
5 tablespoons chilled butter, cut into 1/8 inch slices
⅓ cup room temperature buttermilk (plus more for brushing)
¾ cup pumpkin puree
3 tablespoons Maple Grove Farms of Vermont maple syrup (or honey as a substitute.)
Instructions
Preheat oven to 400° F and line a baking sheet with parchment paper. In a large bowl, whisk together the flour, baking powder, salt and spices.
Add the butter and use your hands smash each slice flat and toss with flour. Work it this way until butter is pea-sized.
In a small bowl, whisk together the buttermilk, pumpkin and maple syrup. Make a well in the dry ingredients and pour the buttermilk mixture in, stirring until just moistened. (Dough will be a bit shaggy.)
Turn dough out onto a lightly floured surface; knead 3 or 4 times, gradually adding additional flour as needed. (dough may still seem a bit ragged, but don't knead it too much.)
With floured hands, press or pat dough into a ½-inch-thick 9 x 5 inch rectangle. Sprinkle top of dough with additional flour if needed. Fold dough over onto itself in 3 sections, starting with 1 short end. (like how you'd fold a letter,) Repeat entire process 1 more time, beginning with pressing into a ½-inch-thick 9 x 5 inch rectangle and then folding like a letter.
Press or pat dough to ¾-inch thickness on a lightly floured surface; cut with a 3-inch round cutter (It's important to not twist the cutter, just a simple up and down motion is best.) Cut more with scraps as needed. Place biscuits, 1 inch apart, on prepared baking sheet and brush with buttermilk.
Bake at 400° for 13-15 minutes or until golden. Remove from baking sheet and cool 2 minutes on wire racks. Serve warm.