Strawberry Rhubarb Crumble Bars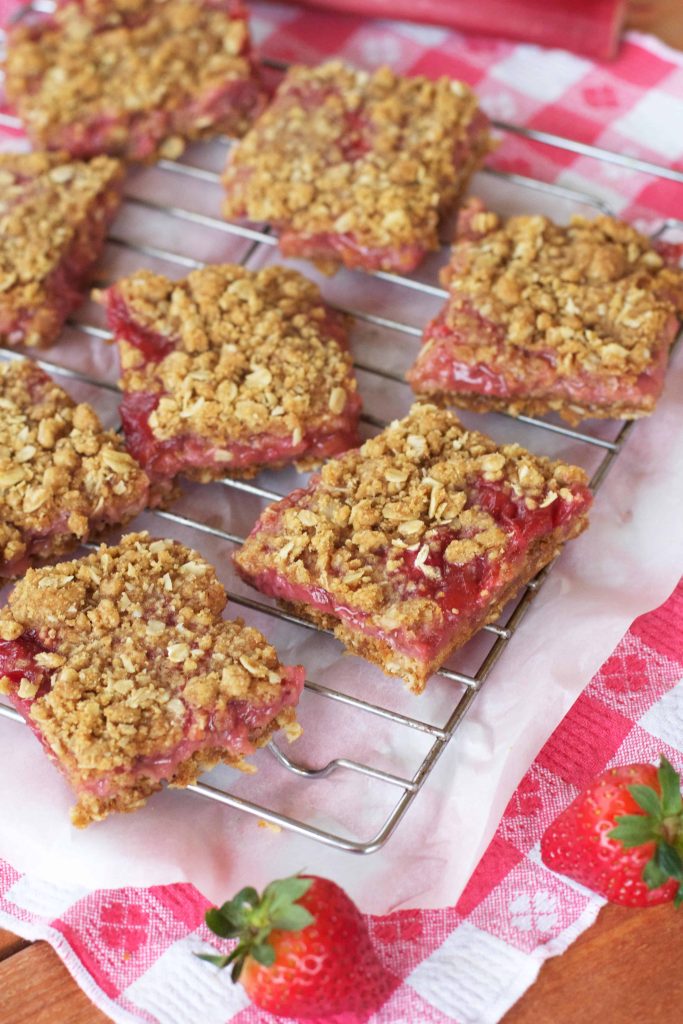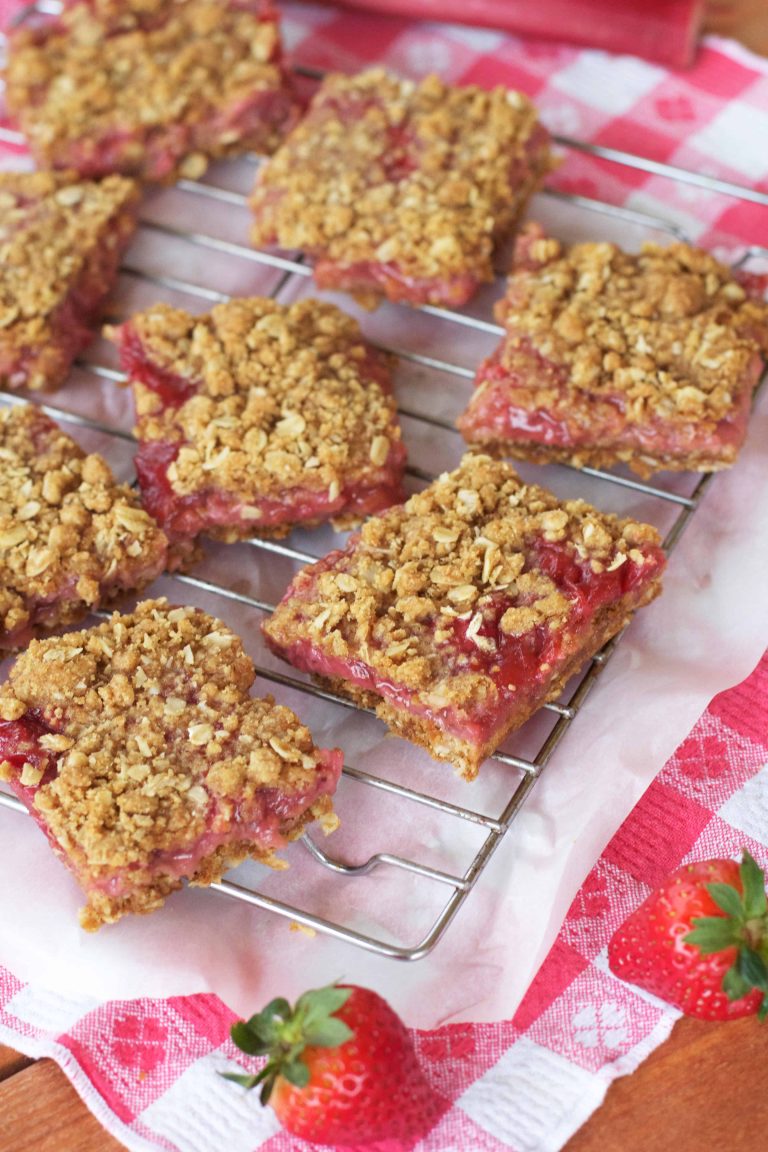 One by one I will get through all my old ugly picture posts and revamp them! You see some of those oldies are really really delicious but too poorly photographed to get any notice at this stage in the game. I made these Strawberry Rhubarb Crumble Bars when my blog was a baby but they sure were amazing. I've been dying to re-make them for awhile and last weekend with my in-laws was the perfect chance.
When I originally made these it was my first experience with rhubarb and I've been in love ever since. I just adore it's tartness combined with sweet strawberries. The buttery crumb-y crust is the perfect home for a layer of the sweet-tart filling, making an easy and delicious dessert.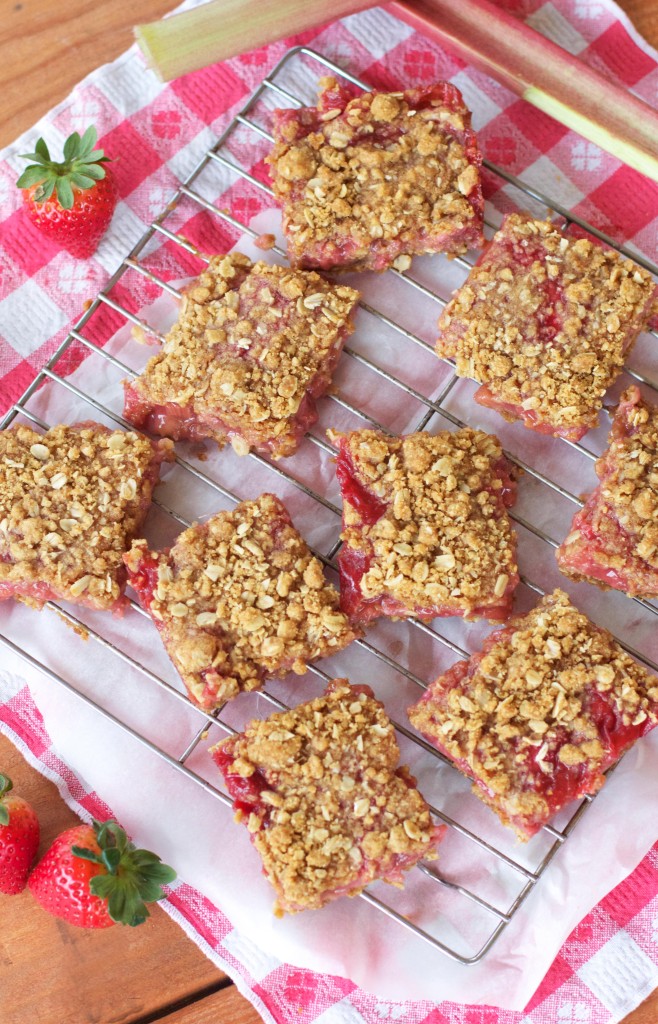 We enjoyed these with a scoop of vanilla ice cream, but they are really great on their own as well. Rhubarb desserts always mark the beginning of spring for me, and man am I glad it has finally arrived! These bars are perfect for warm weather cook-outs and picnics because they're easy to transport and great at room temperature. (Now I just need to be invited to a cook out or picnic so I can make them!)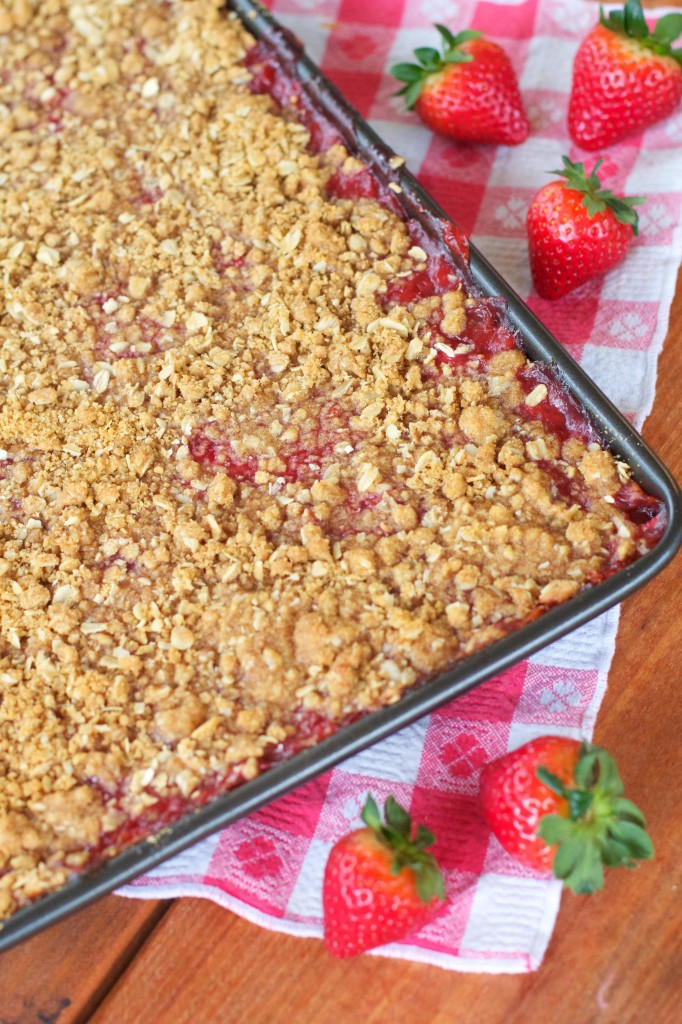 Get the recipe for Strawberry Rhubarb Bars below!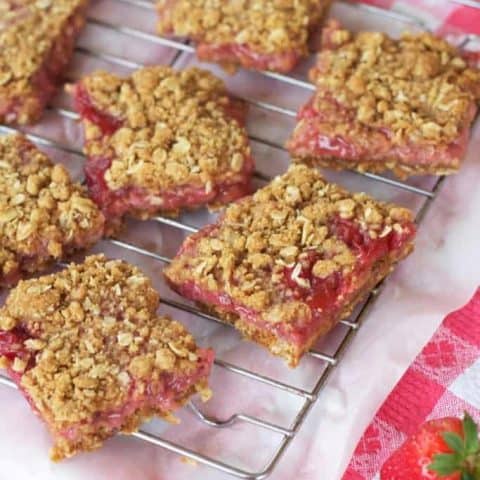 Strawberry Rhubarb Crumble Bars
Ingredients
2 cups rhubarb, cut into 1-inch pieces
2 cups sliced fresh strawberries
1 tablespoon lemon juice
½ cup sugar
2 tablespoons cornstarch
Crust
1½ cups all-purpose flour
1½ cups uncooked quick-cooking oats*
1 cup firmly packed brown sugar
¾ cup butter, softened
½ teaspoon baking soda
¼ teaspoon salt
Instructions
Combine rhubarb, strawberries and lemon juice in 2-quart saucepan. Cover- cook over medium heat, stirring occasionally, until fruit is tender (8 to 12 minutes).
Combine ½ cup sugar and cornstarch in small bowl, stir into fruit mixture. Continue cooking, stirring constantly, until mixture comes to a boil (after about 1 minute). Continue boiling until thickened-remove from heat, and set aside.
Preheat oven to 350°F. Combine all crust ingredients in large bowl. Combine by hand or with an mixer on low speed, scraping bowl often, until mixture resembles coarse crumbs.
Reserve 1½ cups of the crumb mixture. Press the rest of the crumb mixture onto bottom of a greased 13x9-inch baking pan. Spread filling over crust. Sprinkle with reserved crumb mixture.
Bake for 30 to 35 minutes or until golden brown. Cool completely before cutting into squares and serving.
Notes
*If you don't have quick oats, you can pulse some old fashioned oats in a food processor to break them down a bit :)

Recipe adapted from: Land O'Lakes
Pin Strawberry Rhubarb Crumb Bars for later!