Strawberry Rhubarb Scones
When it's rhubarb season these Strawberry Rhubarb Scones are the perfect way to use seasonal rhubarb and the first strawberries of the year in one delicious pastry. The tender scone is full of sweet strawberries and tart rhubarb. They are a must make!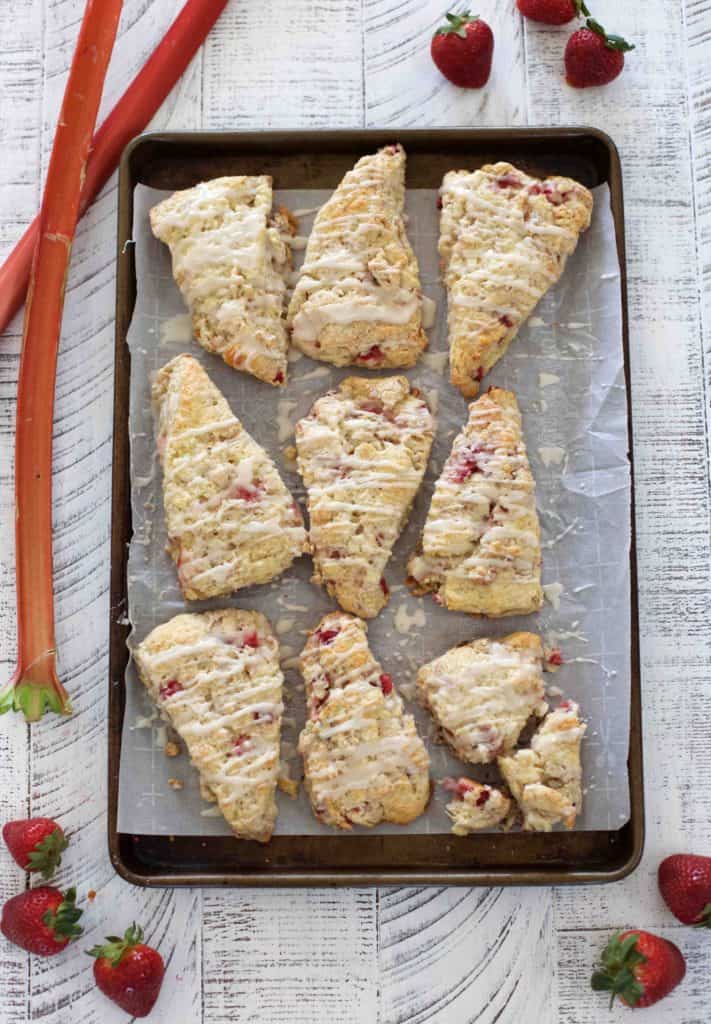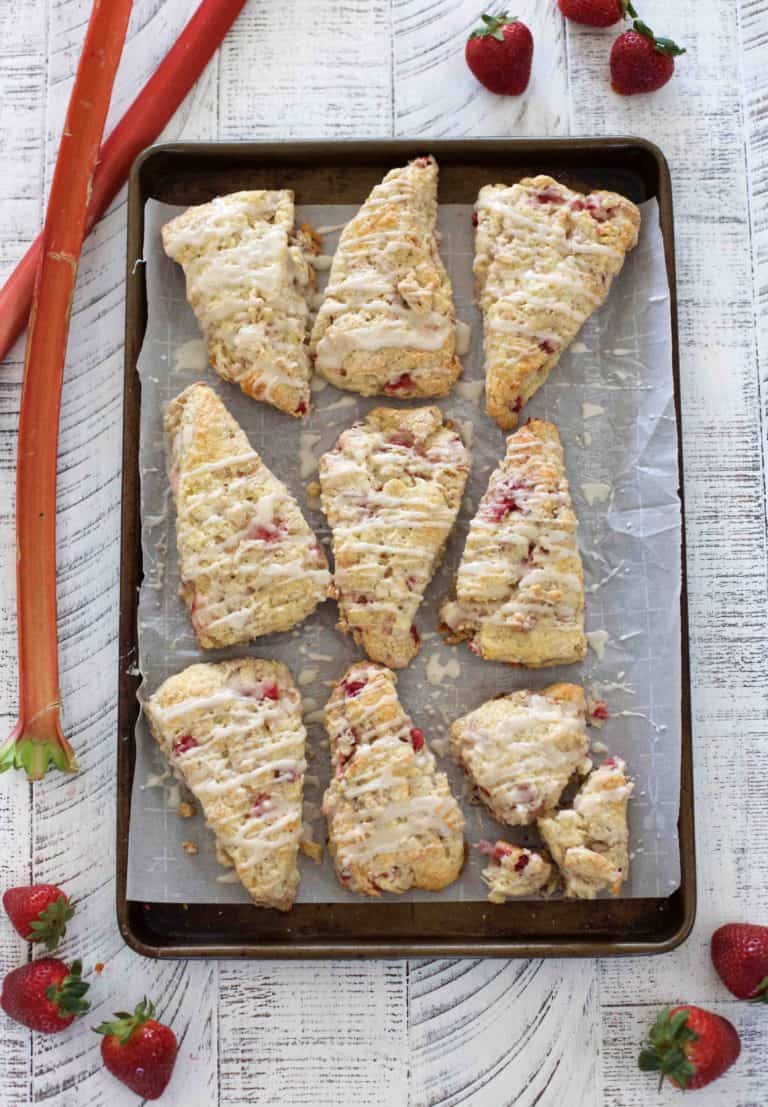 The recipe uses the scone recipe I learned at the King Arthur's Flour headquarters several years ago, (Seen here in these Triple Cinnamon Scones and also these Vanilla Bean Scones.) They are the best scones and t's the perfect starting place for adding in any number of mix-ins and toppings.
In this case, chopped rhubarb and fresh strawberries get folded into the batter and baked to tender, flakey perfection.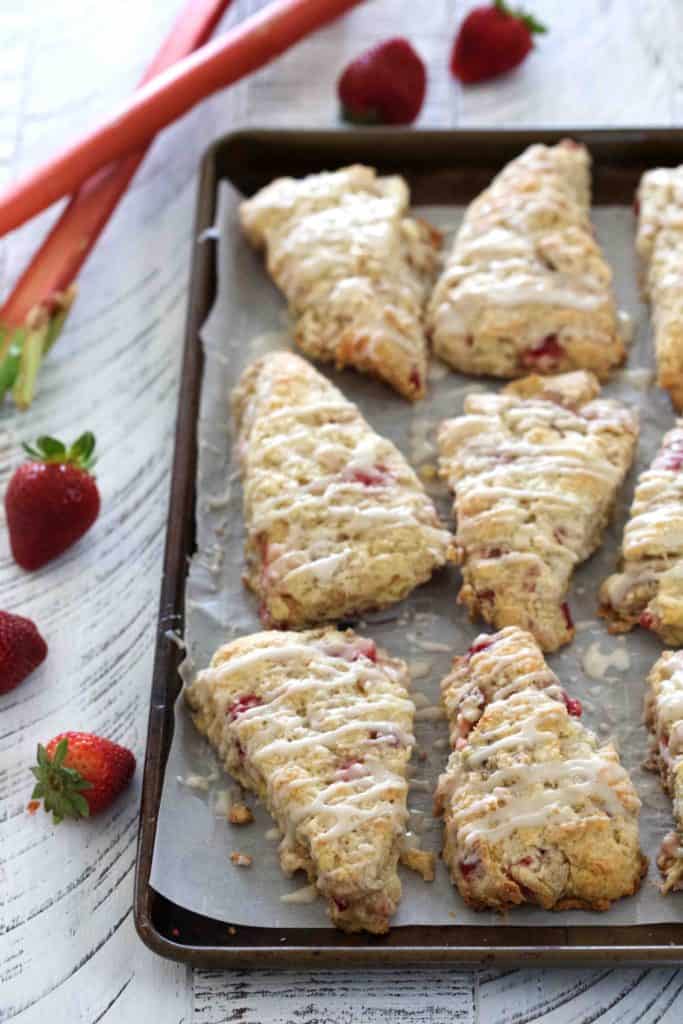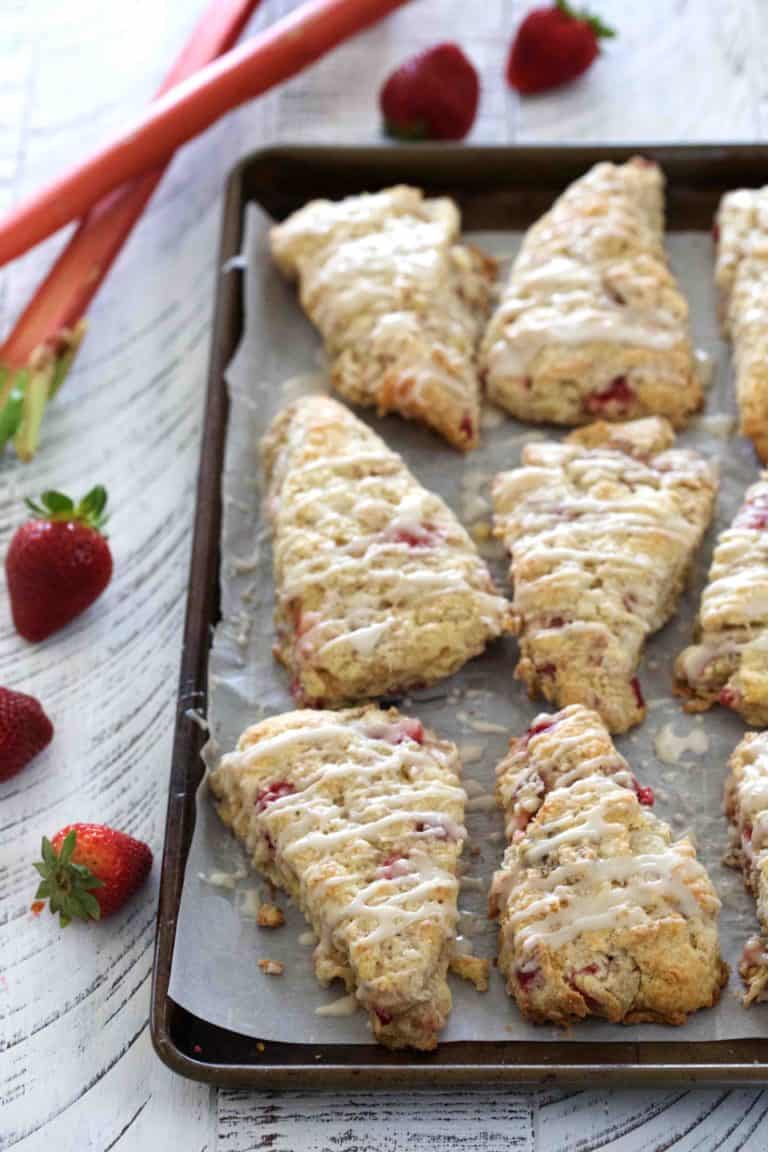 If you like your scones on the not so sweet side you can leave them as is, but a vanilla bean glaze is a wonderful addition otherwise. Make a pot of coffee and a batch of these springy scones- you won't be sorry!
Ingredients needed for Strawberry Rhubarb Scones:
All purpose flour
White sugar
Baking powder
Baking soda
Salt
Cold butter (unsalted butter ideally, cut into cubes)
Egg
Buttermilk or yogurt
Strawberries
Fresh rhubarb
Powdered sugar
Vanilla extract
Heavy cream or milk
Supplies needed for Strawberry Rhubarb Scones:
Large Bowl
Pastry Blender (if you have, otherwise you can use your hands.)
Parchment paper
Sheet pan
Cooling rack
Lined baking sheet
Food processor (optional but a fast way to make scone dough)
To make Strawberry Rhubarb Scones:
Preheat oven. Cut rhubarb and strawberries into small pieces. In a large mixing bowl combine the dry ingredients. Add cubed butter and use your hands or a pastry cutter to work the butter into the flour. Keep breaking it down until the butter pieces are pea-sized with a coarse crumb. Fold in the strawberries and rhubarb.
Separate the egg and add the egg yolk and the buttermilk together and add to the flour mixture. Poor wet ingredients into the flour and then work the scone dough until it comes together and then place dough on a lightly floured surface.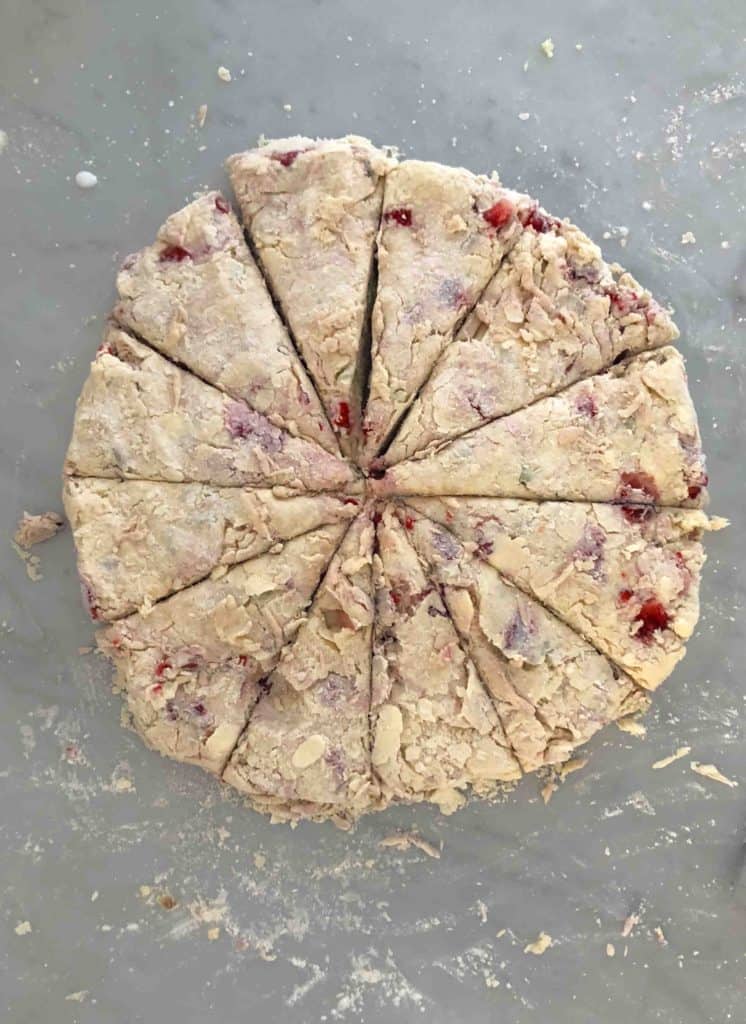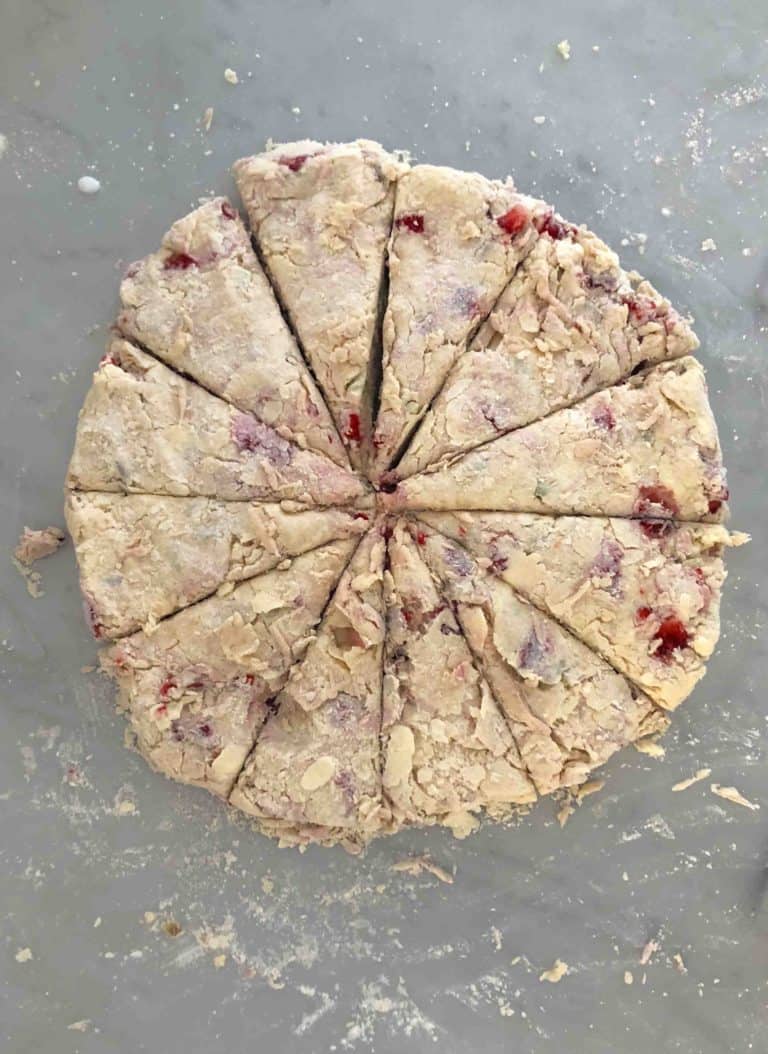 Flatten the dough to a disk and cut scones into wedges using a bench scraper or large knife. Brush tops of scones with egg whites, placed on a prepared baking sheet and bake for 18 minutes or so or until they are just golden brown on the edges. Cool on a wire rack.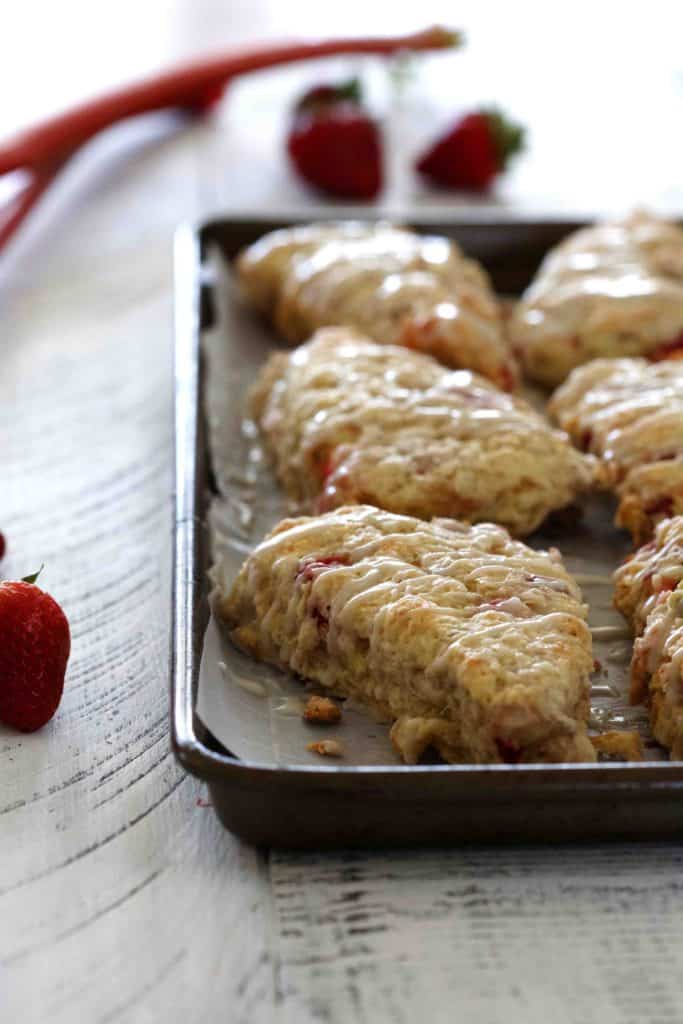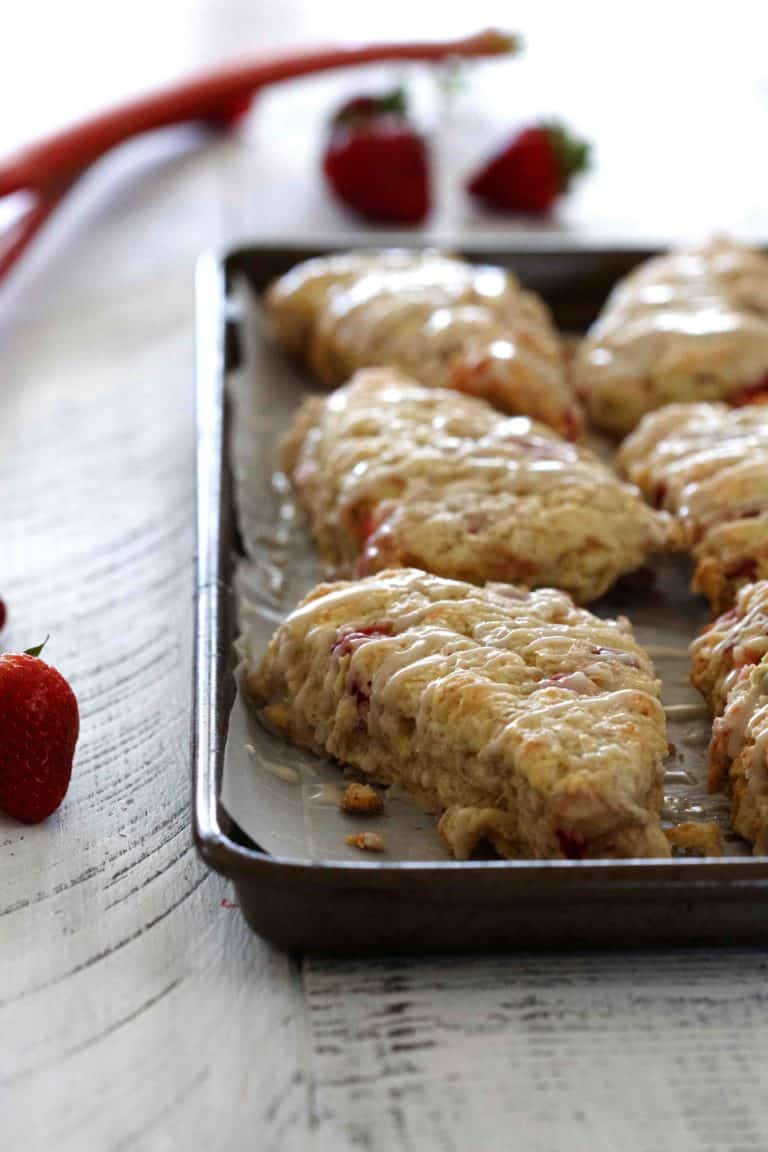 Whisk the vanilla glaze ingredients together and drizzle the cooled scones with glaze. Scones are best enjoyed fresh but if you have any leftover store in an airtight container.
Can you freeze scones?
YES! Check out my informational blog post on how to do that here: How to Freeze Scones.
Other Strawberry Rhubarb Recipes: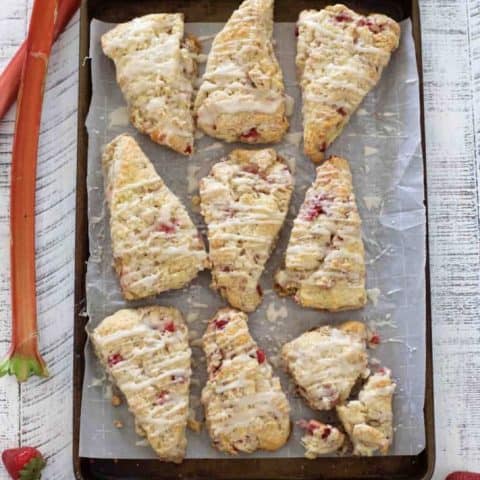 Strawberry Rhubarb Scones
Ingredients
2 cups all purpose flour
3 tablespoons sugar
2 teaspoons baking powder
1/2 teaspoon baking soda
1/2 teaspoon salt
1 stick of unsalted butter, chilled and cut into chunks
1 egg, separated
3/4 cup buttermilk (I have also used yogurt!)
3/4 cup diced rhubarb
3/4 cup diced strawberries
For the glaze:
1/2 cup powdered sugar (more if needed)
1 teaspoon vanilla extract
1-2 teaspoons of milk
Instructions
Preheat oven to 375 F.
Combine flour, sugar, baking powder, baking soda, and salt in large bowl.
Add the butter chunks and use your hands or a pastry blender to work the pieces into the flour. Keep breaking it down until the butter pieces are the size of currants. (Smaller if you want "cakey" scones.) Fold in strawberries and rhubarb.
Whisk the buttermilk and egg yolk together and gradually add it to the flour mixture. (You may not need all of it if you use white flour.)
Transfer the dough to a floured surface and knead it slightly until it comes together in a ball.
Flatten the dough into a 7-inch disk and cut it into wedges. Transfer wedges to a parchment-lined baking sheet and brush with egg white.
Bake for 18-25 minutes or until slightly golden. Cool on a wire rack.
For the glaze
Add the powdered sugar to a small bowl. Add the milk one teaspoon at a time and stir together. Add more milk or powdered sugar until the glaze is your desired consistency. Drizzle over cooled scones.