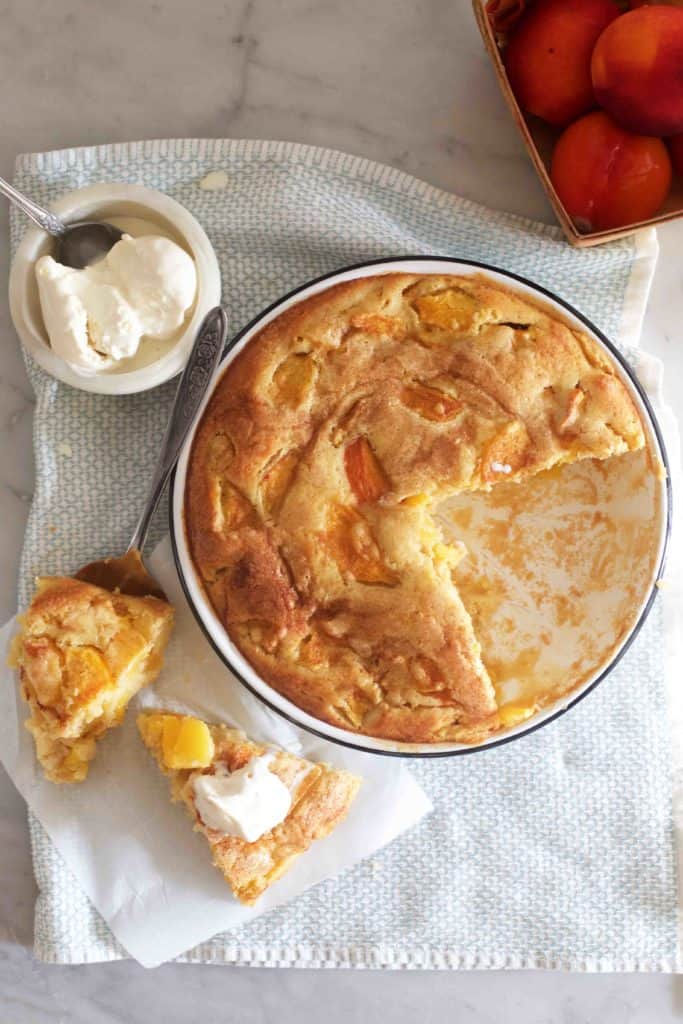 When it comes to baking with summer fruit, my philosophy is that the perfect, seasonal deliciousness should always be front and center.
I'm talking pies full of tons of cherries, muffins that are mostly blueberries, and in this case, a "cake" that tastes like baked peaches with a little cake holding it together. 75% fruit- 25% cake is the ratio I'm comfortable with come August. Do you agree?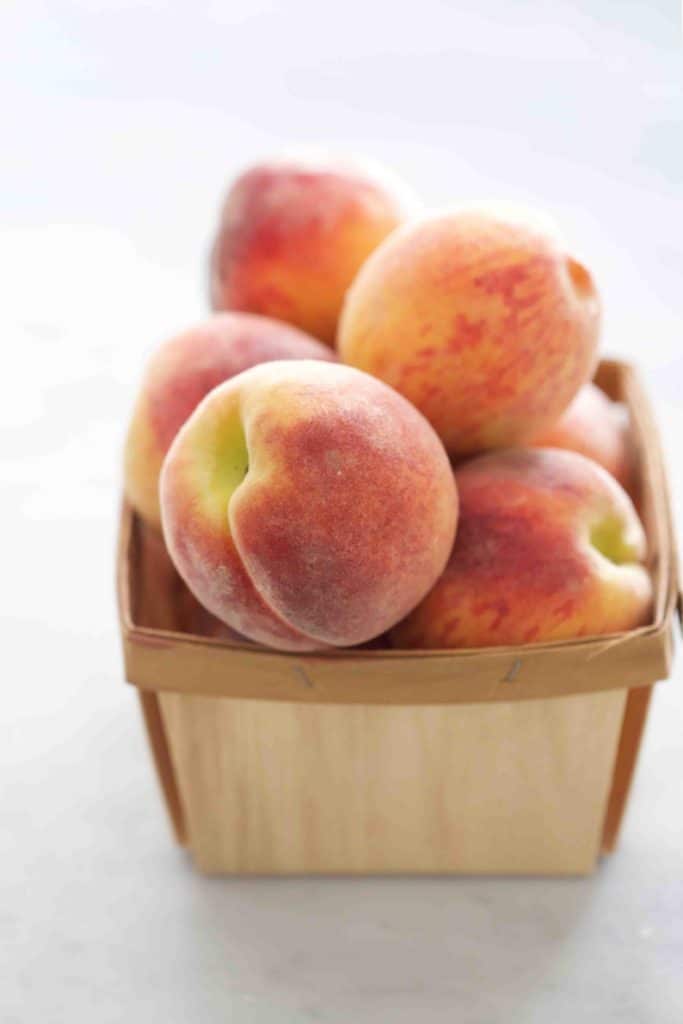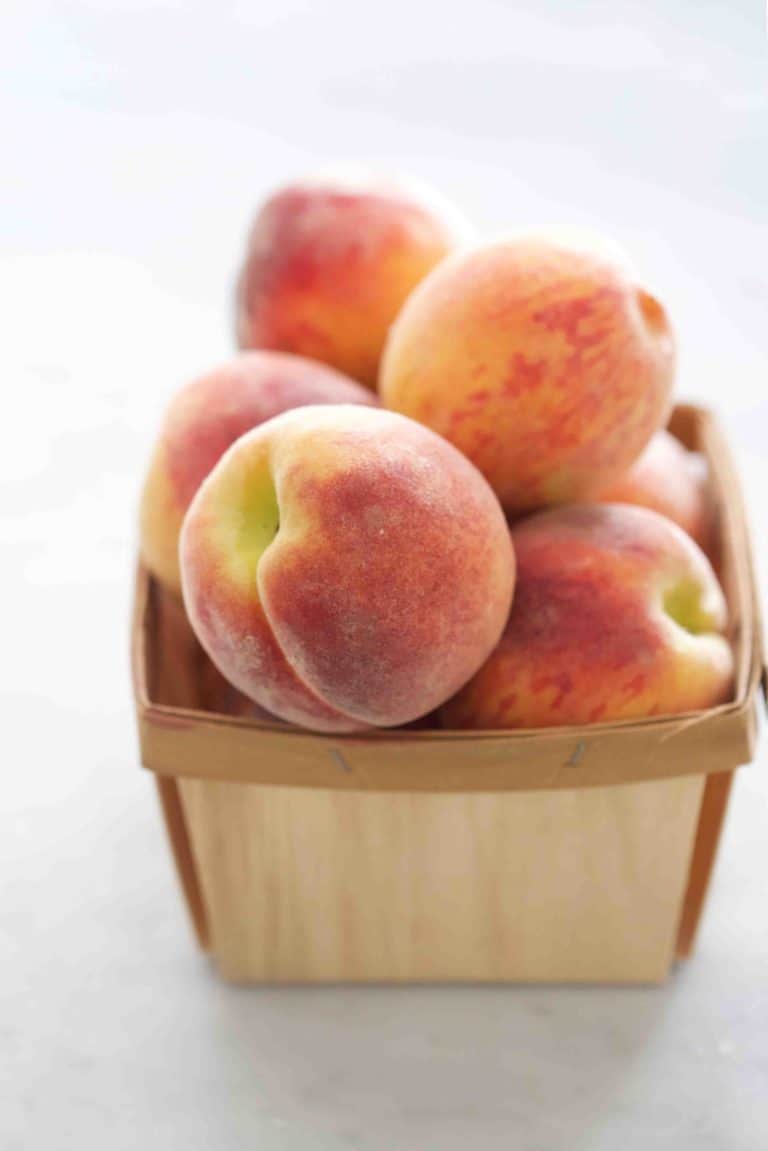 When I got the perfect Michigan peaches from the farmer's market a few weeks ago, I knew I wanted to bake with them, and this buckle recipe was the first thing that came to mind.
I posted a pic of the batter from a blueberry version on my instagram a few weeks ago, and as you can tell with that, the berries really do take over that pie dish. Just the way it should be right?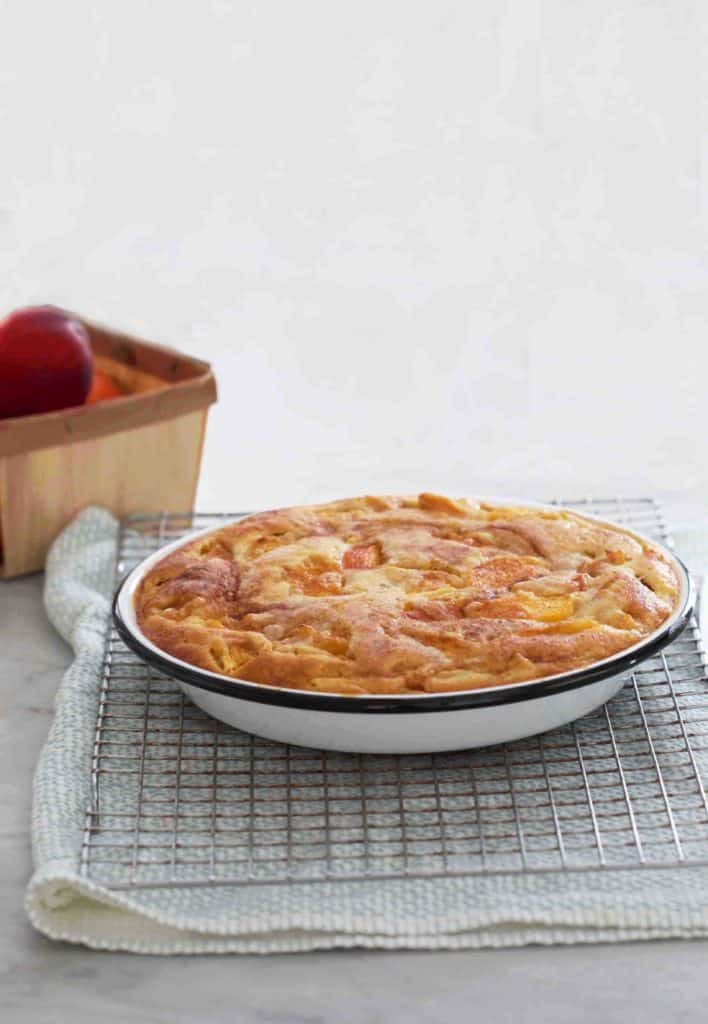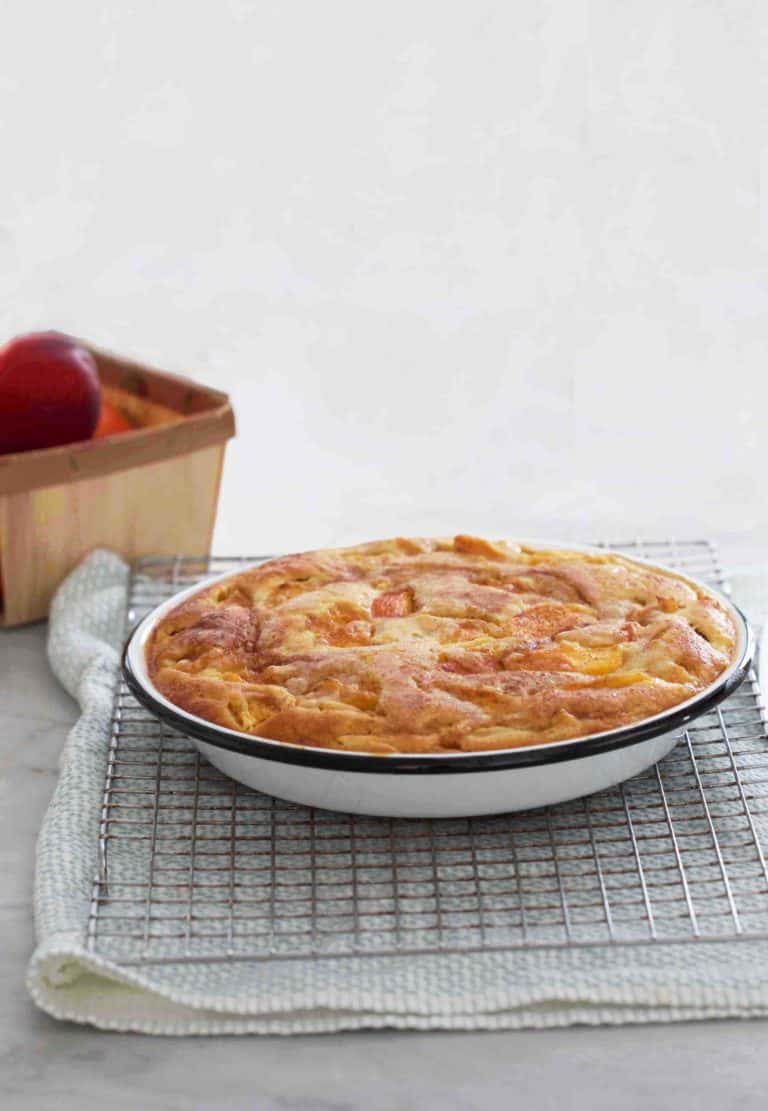 This is a super easy recipe that can be used with peaches or really any summer fruit or berry. Blueberries, blackberries, raspberries, nectarines and plums would all be wonderful here.
Whip up a quick and easy vanilla cake batter, fold in the fruit, sprinkle with a little cinnamon sugar if you'd like, and you're good to go. This is a simple summer dessert that is bound to impress and please a crowd. Top it with some whipped cream or ice cream, thank me later.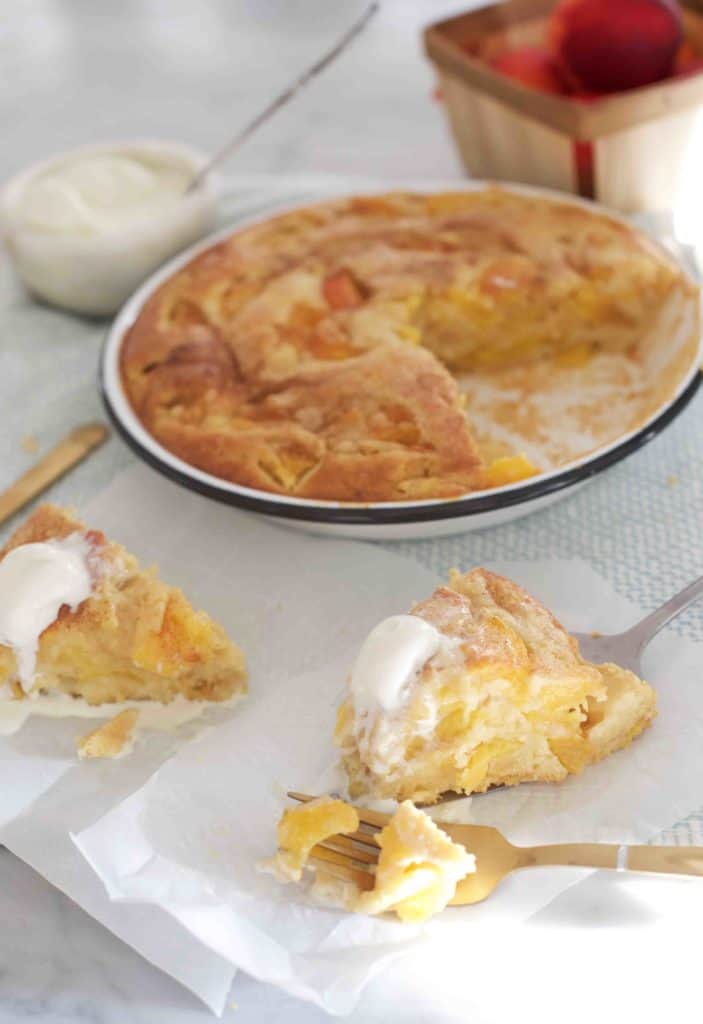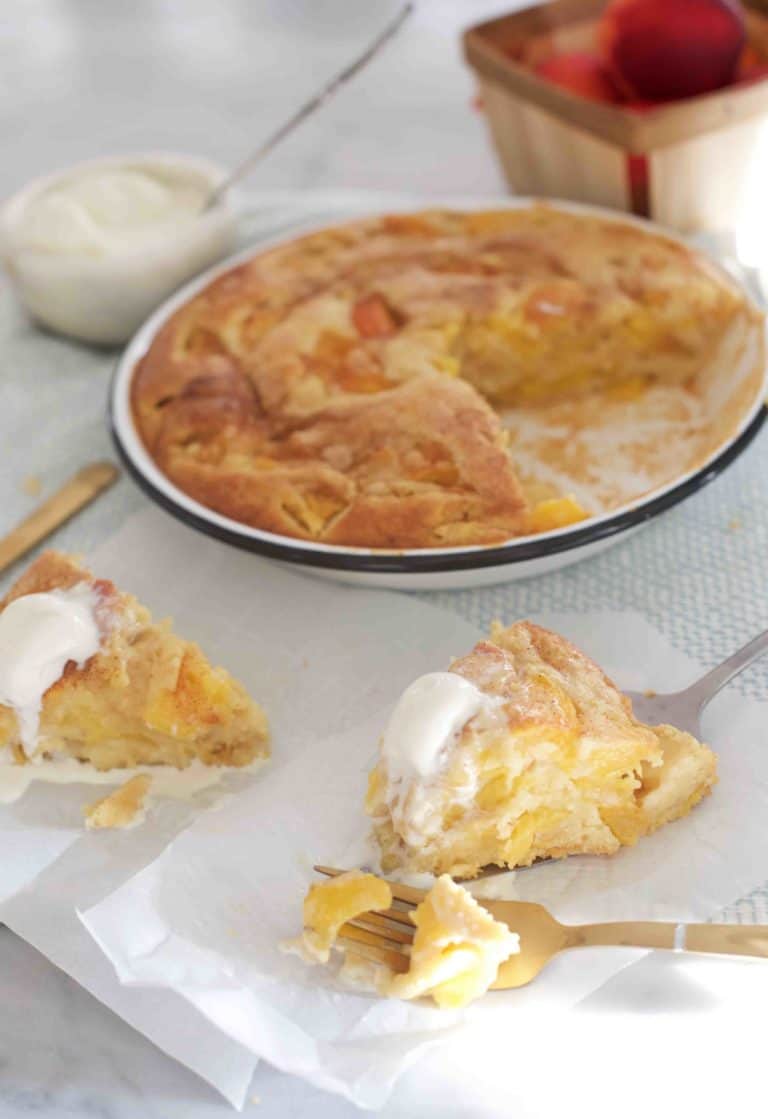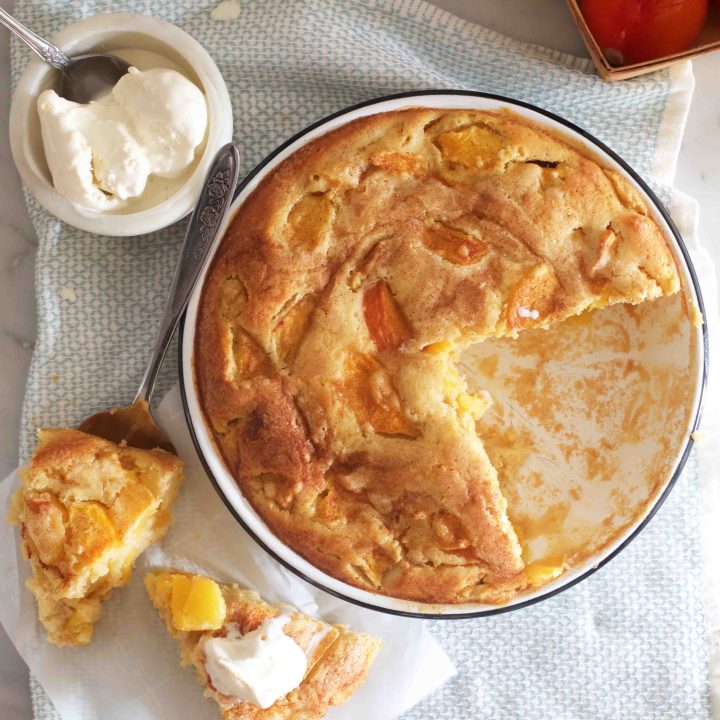 Summer Peach Buckle
Ingredients
1 stick unsalted butter at room temperature (4 oz)
1/2 cup sugar
1/4 cup light brown sugar
3 large eggs, at room temperature
zest of 1 lemon
2 teaspoons vanilla extract
1 1/4 cups all-purpose flour
1/2 teaspoon sea salt
1/4 teaspoon baking powder
4 ½ cups peeled, sliced, peaches*
cinnamon and sugar for sprinkling
Instructions
Preheat oven to 375F. Grease and flour a 9 inch cake pan or pie dish. (an 8 or 9 inch square pan would work too.)
In a large bowl combine the butter and sugars. Cream with an electric mixer until light and fluffy.
Add the eggs, one at a time, mixing well after each.
Add the lemon zest and vanilla and mix well.
Sprinkle the flour, sea salt, and baking powder on top of the wet ingredients and slowly mix in on low speed making sure not to over-mix.
Fold in the peaches.
Turn the batter into your prepared dish and sprinkle with cinnamon and sugar. (I mixed about 1/2 teaspoon of each together in a small bowl.)
Bake for 40-50 minutes, or until the top is golden and toothpick inserted into the middle of the cake comes out clean.
Allow cake to cool and serve with whipped cream or ice cream, if desired.
Notes
Make sure to slice the peaches over a bowl to get all the juices into the cake. I used clingstone peaches for this which means the pits don't come out easily. I had to be creative about slicing them.

Recipe slightly adapted from: New York Times